Jack and Coke ice pops are a fun boozy popsicle. This is a 2 ingredient boozy ice pop that is full of your favorite mixed drink flavor.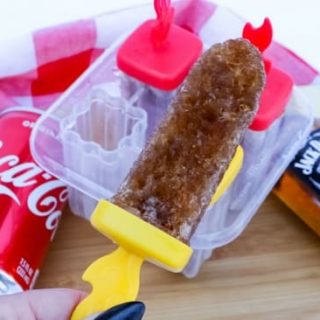 Jack and Coke Popsicles are a fun summer ice pop to make for adults. A frozen jack and coke that is going to cool you down. The perfect amount of Jack Daniels and Coca Cola in every bite.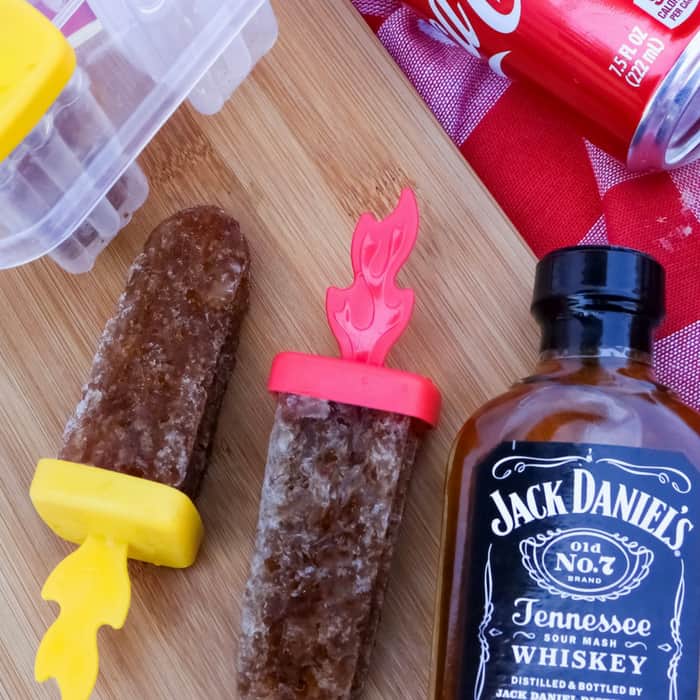 Jack and coke popsicles are awesome for summer cookouts, hosting a bbq, or a treat at the end of the night. A coke freeze with a bit of a boozy twist.
The biggest thing about this Jack Daniels recipe is to not add too much whiskey or it will prevent the cola from freezing in the ice pop tray.
🍺Ingredients
Coca Cola
Jack Daniels Whiskey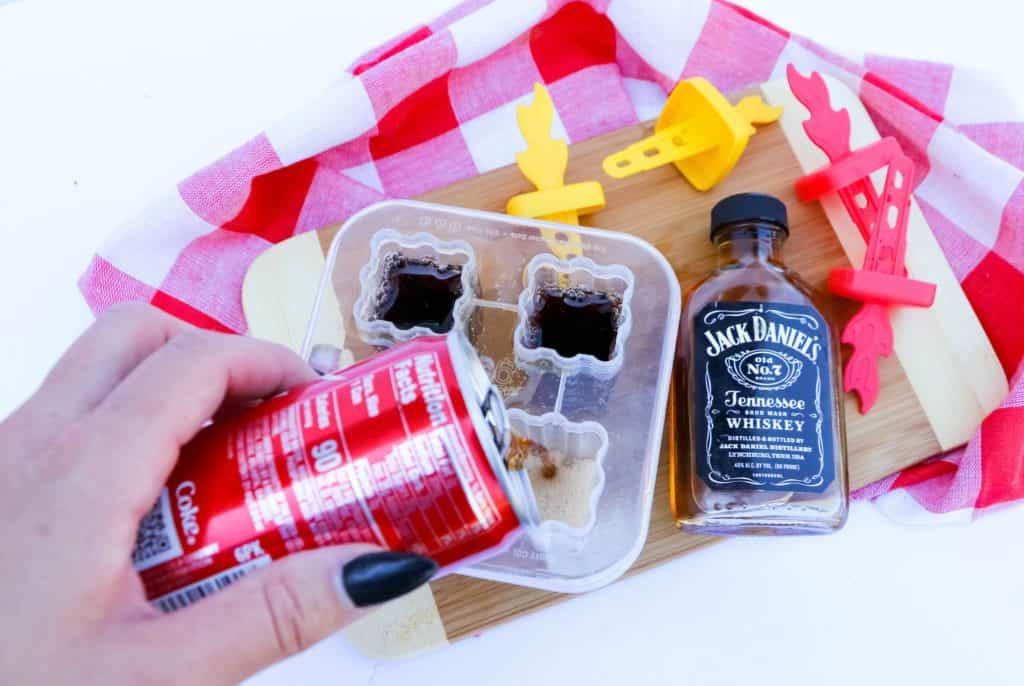 🍹How to Make
The process of making these boozy ice pops is a breeze. Pour just a little Jack Daniels in the bottom of your molds, and then top with coke. The more booze you put in it, the less they will freeze. Alcohol doesn't freeze, as you probably know, so just a quarter of booze seems to be the perfect amount to allow the Coke to take over and still freeze.
🧊 Best Molds For Homemade Popsicles
Depending on how many of these you make, will depend on how much of Coke and Jack you need. So grab a 2-liter of Coke and some Jack and get to making.
I will share a few of my favorite molds for making your own ice pops. I find that the Ozera silicone molds are great and they come with a brush to really get them nice and clean.
Or grab the ULuck molds for a different style of popsicles, but still just as nice. BPA Free and silicone and great for re-using over and over.
This Cool Gear Popsicle Mold is similar to the one I used for this recipe, I can't find the exact one online.
📌Recipe FAQs
Can you make a diet coke Jack Daniels ice pop?
I have not tried using Diet Coke to make these, so I can't say for sure if it will or won't work. I am a straight Coke drinker.

You could use other flavors of pop if you prefer, maybe a Cherry Coke, Dr. Pepper, or any other pop you like to mix with your Jack Daniels! 
Can you make alcohol ice pops?
Use a 5:1 ratio when you make an alcoholic ice pop. So 5 parts pop or juice to 1 part alcohol. Most alcohol won't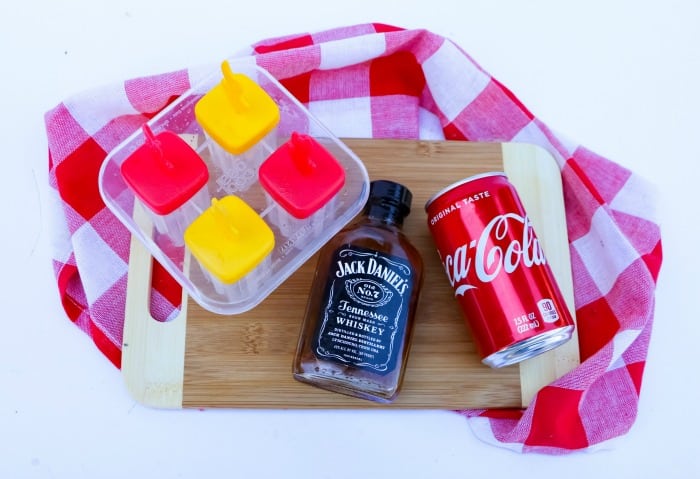 More Boozy Delights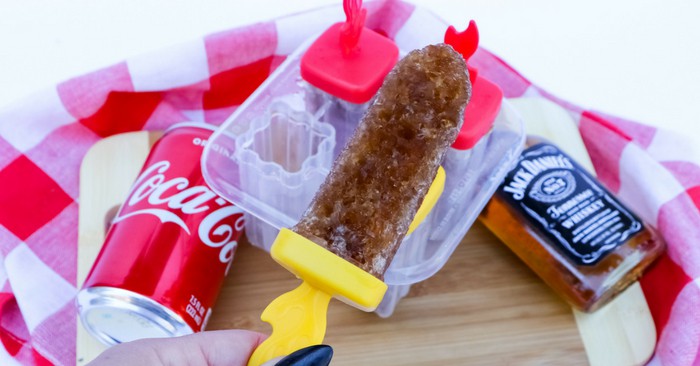 Jack and Coke Frozen Ice Pop
Servings 4 popsicles
Jack and Coke ice pops are a fun boozy popsicle. This is a 2 ingredient boozy ice pop that is full of your favorite mixed drink flavor.
Ingredients
1 part Jack Daniels
5 parts Coke
Supplies
Instructions
The very first thing you are going to want to do is to take your popsicle mold apart by removing the popsicle sticks.  

Then, fill each section of the mold with a part of Jack Daniels.

Grab your can of Coke and pour in 5 parts of Coca Cola.

Place the tops of the ice pop trays, and pop in the freezer for 3 hours to overnight. Once the frozen popsicles are fully set, remove and enjoy a boozy popsicle.
Notes
Use 1:5 ratio on alcohol to the soda. Otherwise, too much alcohol will not allow the frozen ice pops to set up, leaving it slushy. Store your leftover frozen cocktail popsicles for up to a month in the freezer. Feel free to use another flavor of pop. Cherry coke, Dr. Pepper, etc are all great options.
Nutrition
Serving: 1popsicleCalories: 72kcalCarbohydrates: 12gSodium: 12mgSugar: 12g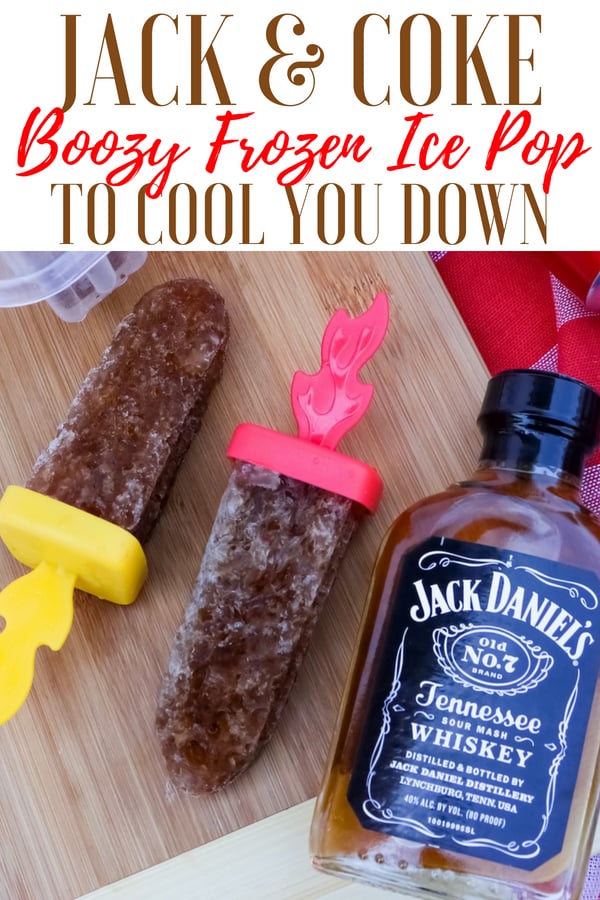 What is your favorite boozy drink to whip up? Do you think you would like trying it in an ice pop form?
Reader Interactions