Serve up these Jack and Coke Boozy Frozen Ice Pops at your next bbq, and let all the adults go crazy for them! Who said ice pops were just for kids?! Here is a tasty option for adults, to have a tasty treat and cool down with. I am not a huge drinker but if I do drink I reach for Jack Daniels and pair it with coke, it is a great way to unwind after a long work week.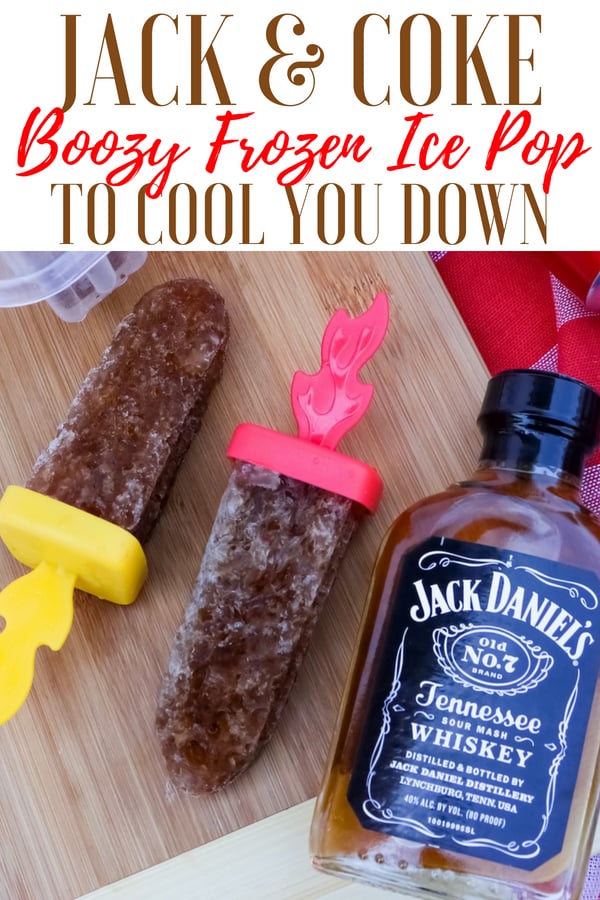 While most love to serve up a cold drink on the rocks, I still reach for these boozy popsicles, because there is nothing like an icy popsicle to make you feel refreshed and still enjoy your favorite adult beverage at the same time. The hardest part about these jack and coke ice pops is waiting for them to freeze! Whip these up in the morning and come home to a perfectly frozen boozy popsicle waiting for you!
More Boozy Delights
How to Make Jack and Coke Frozen Ice Pops
The process of making these boozy ice pops is a breeze. Pour just a little Jack Daniels in the bottom of your molds, and then top with coke. The more booze you put in it, the less they will freeze. Alcohol doesn't freeze, as you probably know, so just a quarter of booze seems to be the perfect amount to allow the Coke to take over and still freeze.
Boozy Frozen Ice Pop
Depending on how many of these you make, will depend on how much of Coke and Jack you need. So grab a 2-liter of Coke and some Jack and get to making. I will share a few of my favorite molds for making your own ice pops. I find that the Ozera silicone molds are great and they come with a brush to really get them nice and clean. Or grab the ULuck molds for a different style of popsicles, but still just as nice. BPA Free and silicone and great for re-using over and over. This Cool Gear Popsicle Mold is similar to the one I used for this recipe, I can't find the exact one online.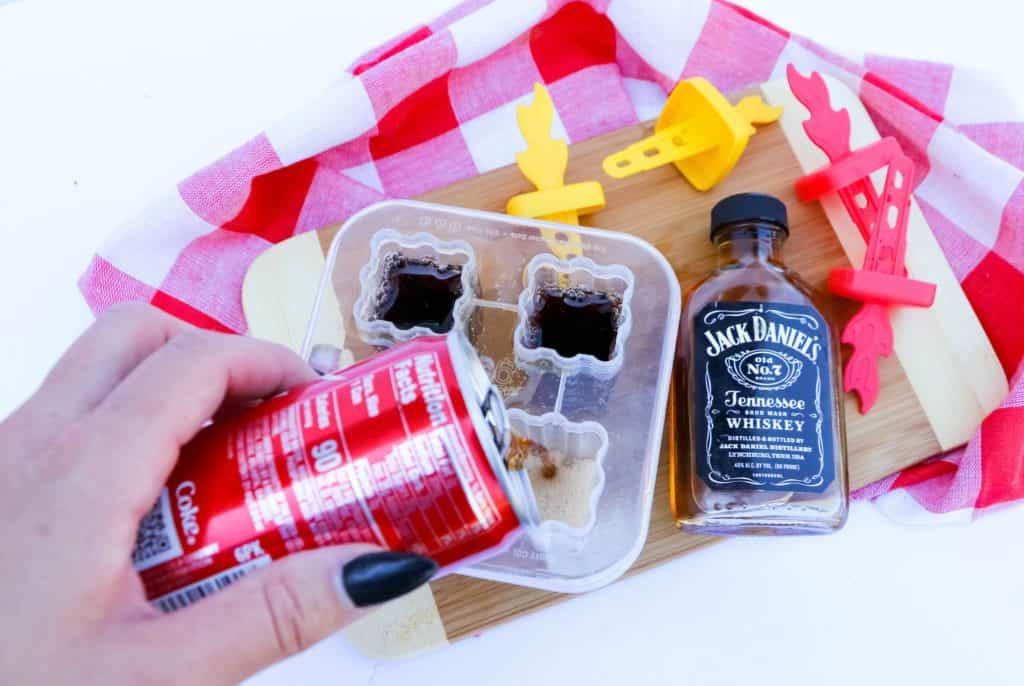 I have not tried using Diet Coke to make these, so I can't say for sure if it will or won't work. I am a straight Coke drinker. You could use other flavors of pop if you prefer, maybe a Cherry Coke, Dr. Pepper, or any other pop you like to mix with your Jack Daniels!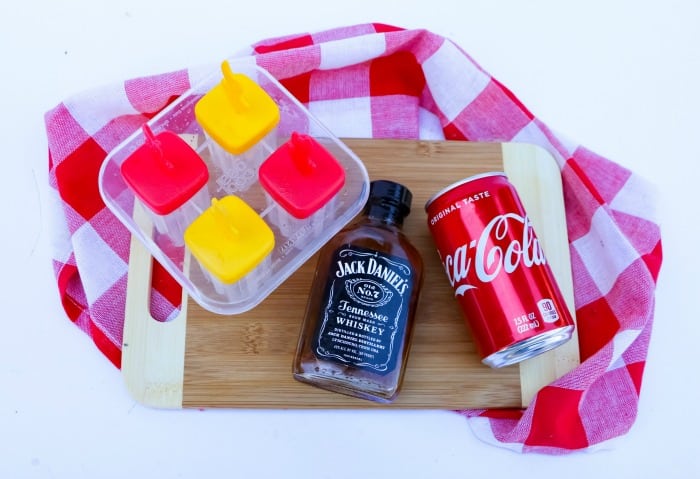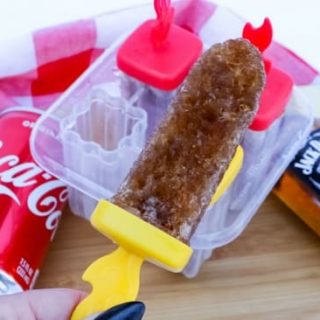 Jack and Coke Frozen Ice Pop
Total Time:
3 hours
5 minutes
A mix of Jack Daniels and Coke come together to create a tasty adult frozen ice pop. Serve these up at the end of the night after grilling out for a treat to cool you down!
Ingredients
Jack Daniels
Coke
Popsicle Mold
Instructions
The very first thing you are going to want to do is to take your popsicle mold apart by removing the popsicle sticks.
Then, fill each section of the mold with a quarter of Jack Daniels. I know it doesn't sound like much, but the more alcohol you add, the less frozen your popsicle will be. You don't want a slush puppy! A quarter of Jack makes the perfect textured popsicle!! Nice and frozen!
Grab your can of Coke and top each section of the mold off.
It's now time to take those popsicle sticks and place them back into the mold. Once you have your mold back together, place your Jack & Coke popsicles in the freezer for several hours.
Once your Jack & Coke Popsicles are frozen solid. Rinse your mold off with a little bit of hot water. This will loosen the popsicles just enough to slide right out of the mold without breaking.
Recommended Products
As an Amazon Associate and member of other affiliate programs, I earn from qualifying purchases.
Nutrition Information:
Yield:

4
Serving Size:

1 popsicle
Amount Per Serving:
Calories:

72
Total Fat:

0g
Saturated Fat:

0g
Trans Fat:

0g
Unsaturated Fat:

0g
Cholesterol:

0mg
Sodium:

12mg
Carbohydrates:

12g
Fiber:

0g
Sugar:

12g
Protein:

0g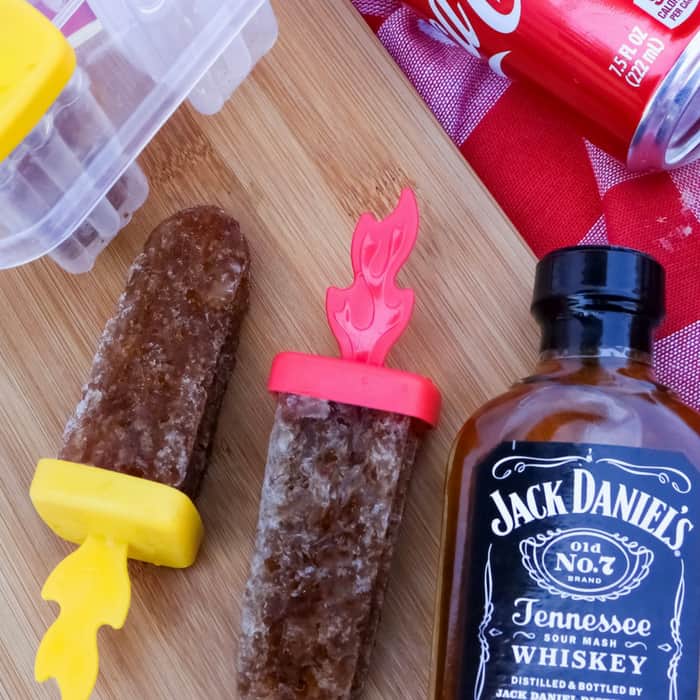 What is your favorite boozy drink to whip up? Do you think you would like trying it in an ice pop form?