Whiskey and Ginger Ale with a splash of lime is one refreshing adult beverage to whip up in a hurry. Light, refreshing, and bursting with fresh flavors. This whiskey cocktail is a must make.
Think again, with this light and refreshing whiskey and ginger drink, it will change your mind!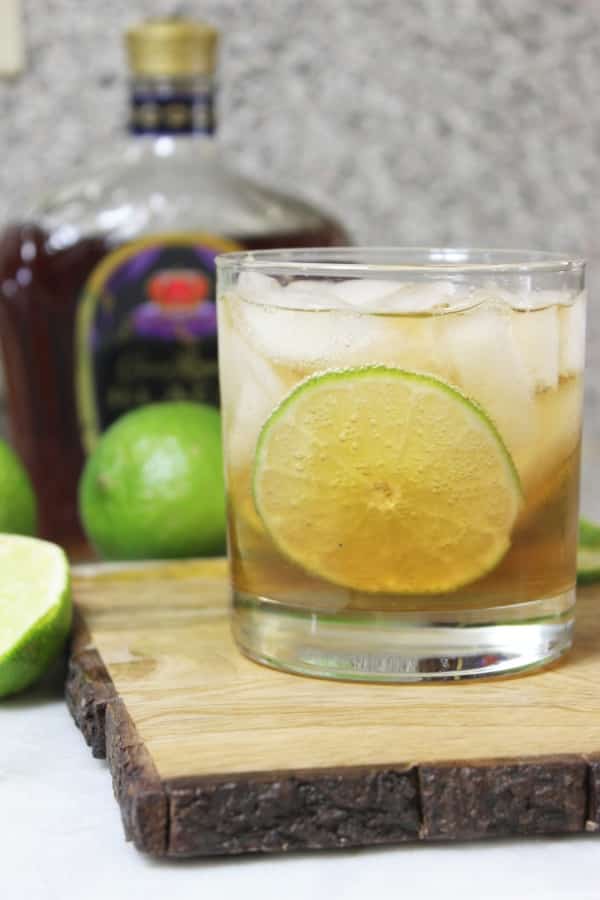 Whiskey is something we generally have tucked in our freezer. It is a great base for so many whiskey drinks. Jack Daniels, Crown Royal, are two of our favorites.
But we don't discriminate against all other whiskey brands on the market. Pick your favorite whiskey and make this whiskey and ginger cocktail! 
Why Make This Whiskey And Ginger Ale…
Easy
Minimal Ingredients
Versatile on soda you use
Pick your favorite whiskey
Refreshing
Cool down and relax after a hard day
Try my Jack and Coke boozy frozen ice pop, to chill you down on a hot summer day as well!
Ingredients Needed
Whiskey
Ginger Ale
Lime
Ice
How to Make
Step 1: Place your ice into your cup. Feel free to adjust the ice to your preference.
Step 2: Add a shot of whiskey into the glass, then top with ginger ale. Add in a splash of lime juice and some thin sliced lime, and serve.
What To Mix With Whiskey?
Wondering what to mix with whiskey? You are in luck! Whiskey is one incredible base for mixed drinks and cocktails. Let me share some ideas below, on how you can use your whiskey as the base to a cocktail.
Lemon or Lime Juice will help bring the woodiness out of the whiskey.
Ginger ale or Lemon Lime Soda of course! I couldn't miss including this in the list.
Lemonade is a wonderful base, might sound weird but trust me!
Club soda offers a nice fizz and bubble without changing the flavor too much.
Apple Cider is a great base for fall and winter months where you want a warmer drink.
Coffee for a kickstart of caffeine mixed with your whiskey.

What Is Whiskey and Ginger Ale Called
Whiskey Ginger, Ginger Whiskey, Jameson and Ginger, Irish Buck, and the list goes on. However you choose to call your whiskey and ginger ale, it is an incredible duo that shouldn't be overlooked!
Can You Mix Jack Daniels With Ginger Ale?
Yes, you can mix Jack Daniels with Ginger Ale! I used Black Crown Royal for this recipe, but we have many times used Jack Daniels instead.
Recipe FAQs
More Whiskey Recipes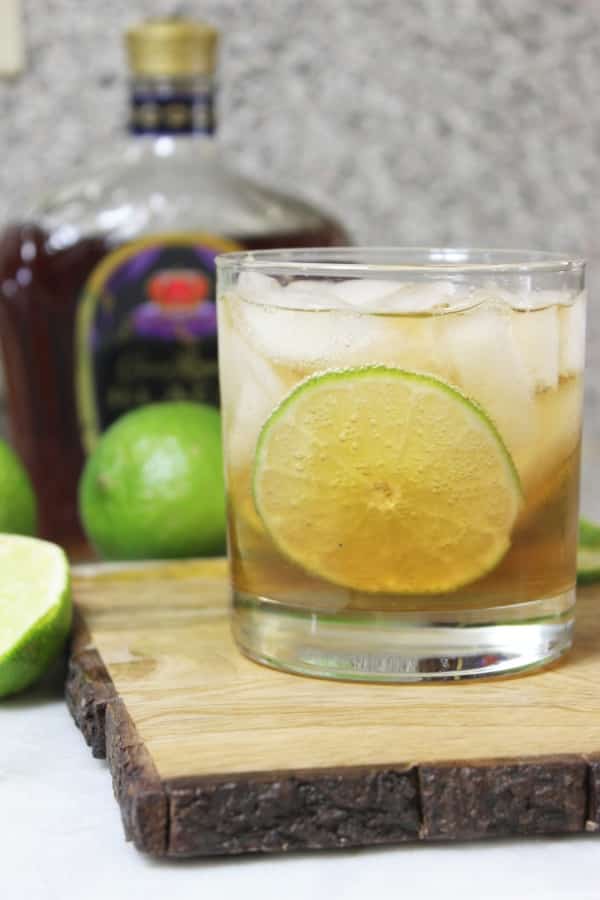 Whiskey And Ginger Ale With A Splash of Lime
Servings 1 drink
Whiskey and Ginger Ale with A Splash of Lime is a refreshing, light, and bright cocktail to serve up. Give this whiskey ginger cocktail a try.
Ingredients
2 ounces whiskey
4-5 ounces ginger ale
Fresh Lime Juice
Ice
Instructions
Start by placing ice in your cup. Then add in your whiskey shot to glass.

Pour ginger ale over the top, and squeeze in some fresh lime juice.

Stir and enjoy your whiskey and ginger ale!
Notes
Make this as strong or light as you would like. Add more or less whiskey to fit your preference. You can use diet ginger ale to replace. If you make this cocktail in advance leave out the ice or it will melt down and water your cocktail. Reach for any brand of your favorite whiskey for this cocktail.
Nutrition
Serving: 1cupCalories: 347kcalCarbohydrates: 57gSodium: 44mgSugar: 55g
Have you tried a whiskey and ginger ale before?
Reader Interactions