3 ingredients are all it takes to whip up this incredible air fryer chicken legs. A whiskey chicken that is smothered in barbecue sauce, and air fried to perfection. An easy weeknight dinner that takes just 30 minutes to make.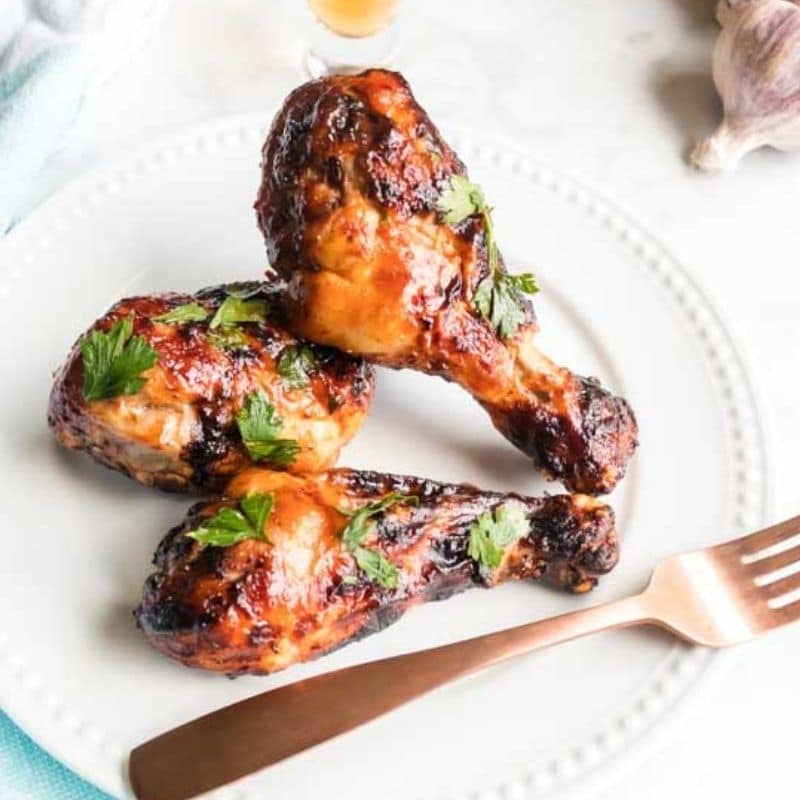 My air fryer is one of my favorite ways to cook chicken. You get that crispy skin with a juicy chicken when you bite into it. This air fryer drumsticks recipe has a little bit of a sticky glaze texture. Which is finger-licking good.
If you are looking for simple drumsticks in an air fryer recipe, here is one. Give this recipe a whirl and see for yourself how you enjoy it.
This would also be a fantastic Instant Pot Duo Crisp chicken leg recipe. Or Ninja Foodi if you own one of those.
🍗Why You Will Enjoy This Recipe
3 ingredients
30-minute dinner
Affordable
5-minute prep
A sticky glaze that is so good
Great stored leftover
Gluten-Free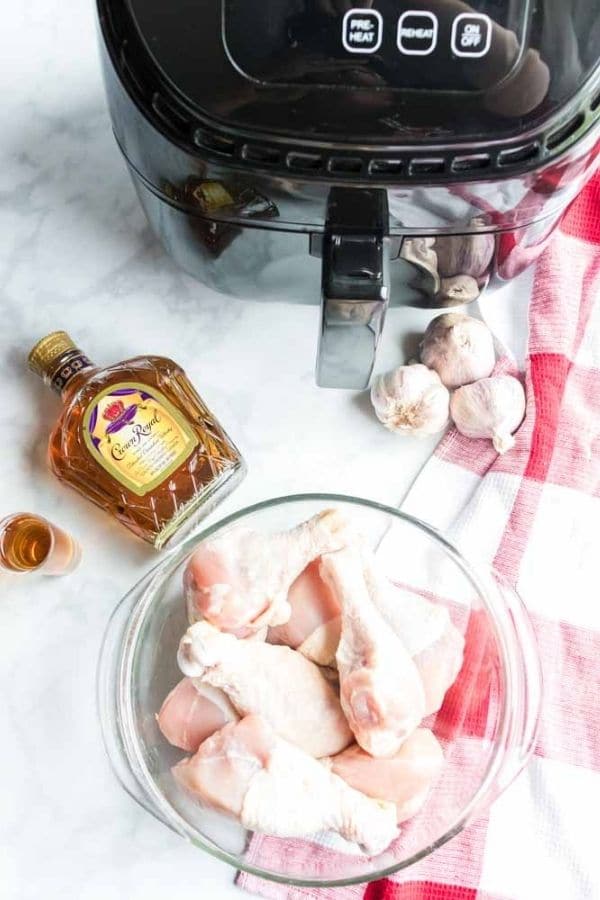 🍑 Ingredients Needed
Chicken Legs | Bone in chicken is key for this recipe. The bone helps to keep the chicken moist and provides more flavor. Feel free to reach for chicken thighs, wings, etc.
BBQ Sauce | Go ahead and reach for any of your favorite sauces to use. We love the Guy Fieri Kansas City Style BBQ Sauce or Head Country.
Whiskey | For this chicken drumsticks recipe I used a whiskey for flavoring. I reached for Crown Royal. But, feel free to do Peach flavored Crown to transform this into a peach whiskey chicken!
👩‍🍳 How To Make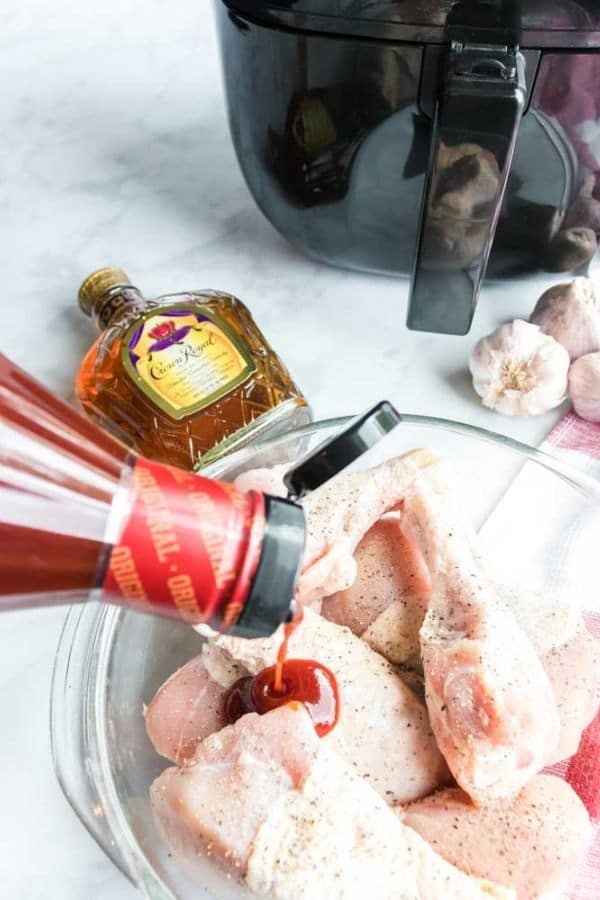 Season chicken with salt and pepper.
Pour in barbecue sauce and whiskey, and mix up until all the chicken is coated.
Preheat the air fryer, and use an oil mister to spritz with oil.
Add chicken and cook for 10 minutes, flip, and cook until chicken is fully cooked.
Remove, let the chicken rest, and serve.
Full directions and measurements are in the recipe card below.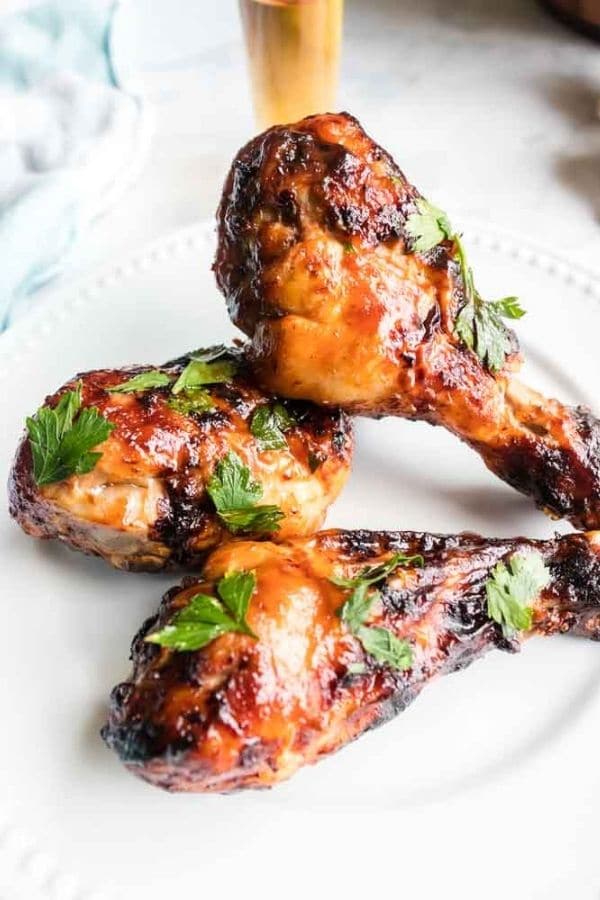 🍺 Storage
This chicken legs recipe is great for saving for later. Just allow the chicken to cool and then transfer to a proper container and refrigerate. Chicken can store for around 3 days in the fridge.
Use the leftover chicken to prep for an easy lunch, reheat for dinner, and more. You can also freeze leftover chicken drumsticks, for up to three months.
🍽️ Expert Tips for Chicken Drumsticks in Air Fryer
Feel free to use a different cut of chicken. Chicken thighs are also delicious. Just adjust the cooking time as needed.
Chicken needs to reach an internal temperature of 165 degrees Fahrenheit. You can't serve undercooked chicken.
Change up the ingredients you use. Leave out the whiskey and just do BBQ sauce if you want.
You can make bake chicken legs in the oven if you do not own an air fryer.
Use a low carb barbecue sauce to make this lower in carbs.
🍽️ Recipe FAQs
Here are a few helpful bbq chicken legs in air fryer common questions that I answered.
Can Whisky be used in cooking?
Whiskey can be used in cooking. You will find that when you use whiskey it helps to draw out the smokey, rich flavors in your chicken.

Or it can elevate the flavor of a dessert. Sweet and savory recipes are options for cooking with whiskey.
Is Crown Royal a bourbon?
Technically Crown Royal is a Canadian Whiskey. Some call it more like Bourbon, but it is whiskey.
How do you get BBQ sauce to stick to chicken?
Adding salt and pepper to your chicken before you cover in the sauce is key. The salt and pepper create texture to your chicken.

Then as you use the sauce it will help to stick to the meat.
Can frozen chicken be air fried?
Frozen chicken works great in the air fryer. The biggest thing with frozen is it will take longer for the chicken to fully cook. The other thing to watch for is that you want to cook the chicken partly plain.

Remove and season, and then finish cooking. Otherwise, the sauce will overcook and burn,
Can you use cooking spray in an air fryer?
Cooking spray will eat and ruin the lining on your air fryer. I recommend investing in an oil mister. You pour your own oil in, and it gently mists onto the area you want.

It will not ruin your trays or baskets.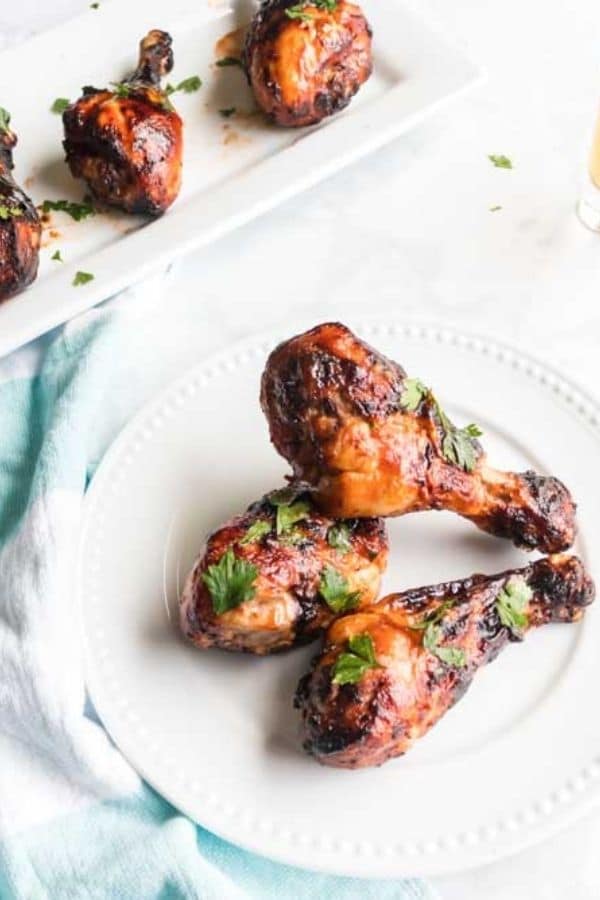 More Chicken Recipes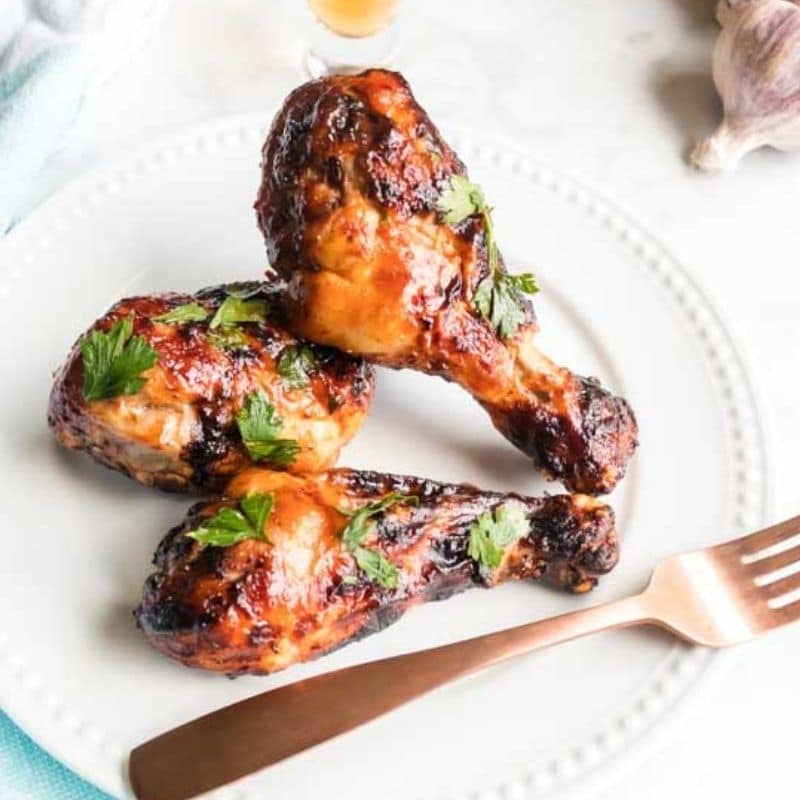 Whiskey BBQ Air Fryer Chicken Legs
Servings 8 -10
Whiskey BBQ Air Fryer Chicken Legs is a simple and delicious chicken leg recipe. Season and air fry these chicken drumsticks and serve with your favorite sides. A 30-minute air fryer chicken recipe.
Ingredients
Ingredients For Air Fryer Chicken Legs
8-10 chicken legs
2-3 ounces of Whiskey
1 cup barbecue sauce
Salt and Pepper
Instructions
Preheat your air fryer to 400 degrees.

Then start by seasoning your chicken with salt in pepper. Place the seasoned chicken in a bowl.

Now you will add in your whiskey, and the bbq sauce. Mix until the chicken is fully coated.

Spritz your cooking tray or basket with an oil mister to prevent sticking.

Cook chicken for 10 minutes, then flip the chicken over, and cook another 10 minutes.

You will cook your chicken until it reaches 165 degrees internally. Make sure to not touch a bone with thermometer or you will get a false reading.

Once chicken is done, remove and allow the chicken to rest 5 minutes before serve.

This whiskey bbq air fryer chicken legs recipe is so simple, affordable and it pairs with any of your favorite sides.
Notes
You can use a peach whiskey to make this a peach whiskey chicken. The cooking time will vary depending on how thick your chicken is. You can use a different cut of chicken if you want. Any of your favorite bbq sauces and whiskey will work. Feel free to adjust.
Nutrition
Serving: 1gCalories: 562kcalCarbohydrates: 12gProtein: 62gFat: 23gSaturated Fat: 6gPolyunsaturated Fat: 14gCholesterol: 328mgSodium: 573mgSugar: 9g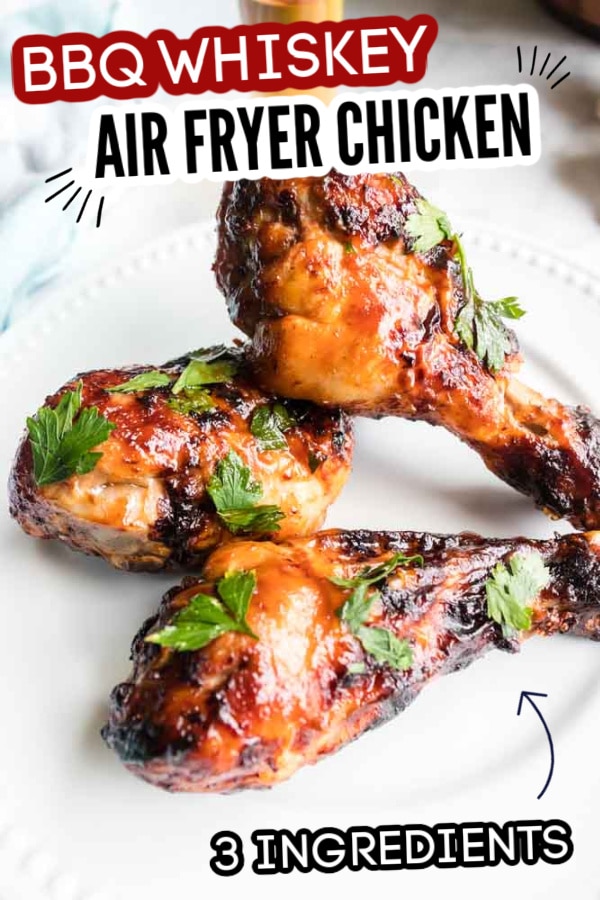 Reader Interactions