Bloody Maria is a twist on a Bloody Mary cocktail. This hangover cure cocktail uses tequila, tomato juice, hot sauce, and more all in one and garnished with celery, pickles, green olives and more. A must make brunch cocktial recipe.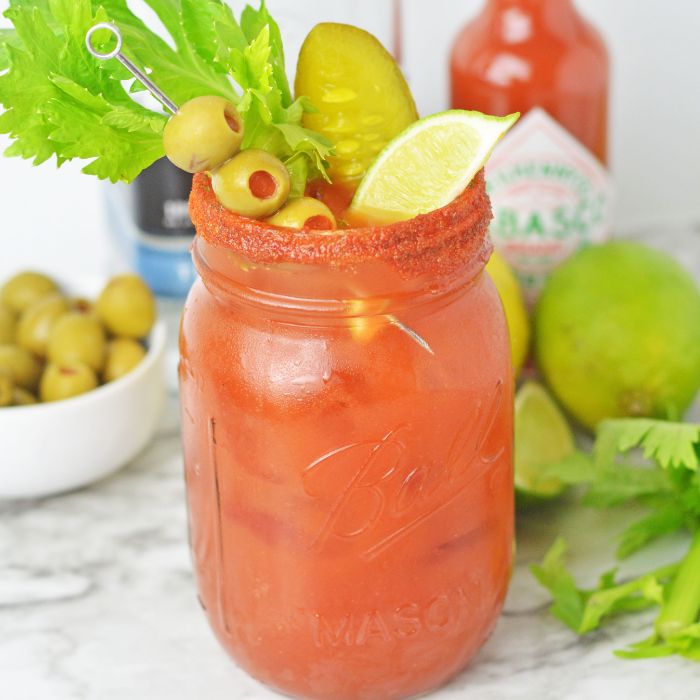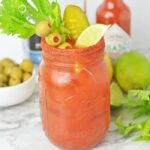 A Bloody Maria is similar to a Bloody Mary but with an extra kick of spice. A tomato juice-based cocktail paired with tequila, hot sauce, pepper, Worcestershire sauce, and more. This is a flavor-packed Mexican Bloody Mary cocktail.
The Maria is like the Mary's second half! Now the Bloody Maria can be made with tequila or vodka so just know it is versatile in your ingredients.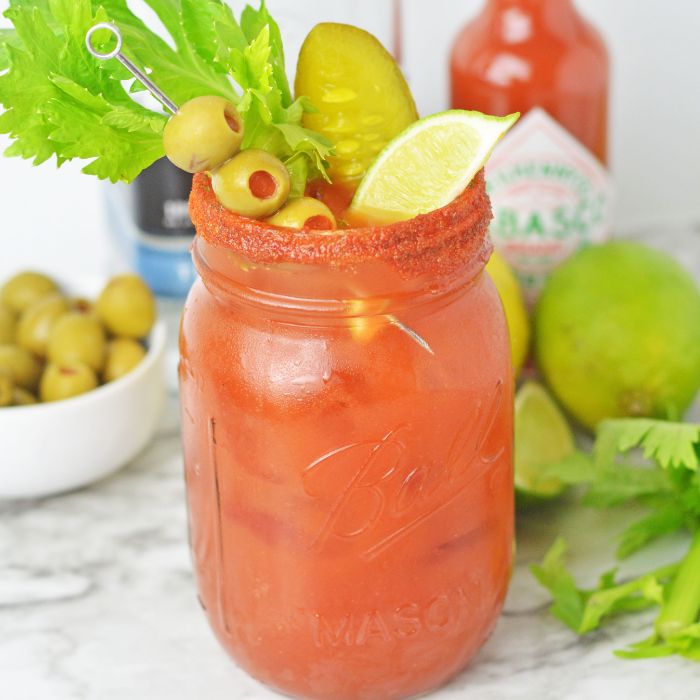 Want more easy cocktail recipes to sip on? Try this tequila orange juice mixed drink, whiskey and ginger ale, or even this strawberry mojito.
What Is A Bloody Maria?
The Bloody Mary is a brunch cocktail that is also known for being a hangover cure. The Bloody Maria was created as a Mexican mixed drink as it uses tequila instead of a vodka base. Plus the Maria can be a bit spicy if you like to flavor it up with extra hot sauce.
Why We Love This Tequila Cocktail
Spicy Flavor – You will love the tequila paired with the tomato juice. Then the hot sauce added allows you to control how spicy and savory you make the cocktail.
Hangover Cure Drink – This variety of ingredients helps to soothe you from a hangover. The spicy and savory tomato base can help relieve nausea, and the electrolytes in the tomato juice can help get you feeling back on track.
Cinco De Mayo – The perfect mixed drink to whip up for Cinco de Mayo celebrations!
Versatile – You can mix up and change ingredients and also dress with fun toppings to dip in the drink and snack on.
Brunch Approved – This is a brunch-approved cocktail or even a social drink to pour and serve for your family and friends on a summer night.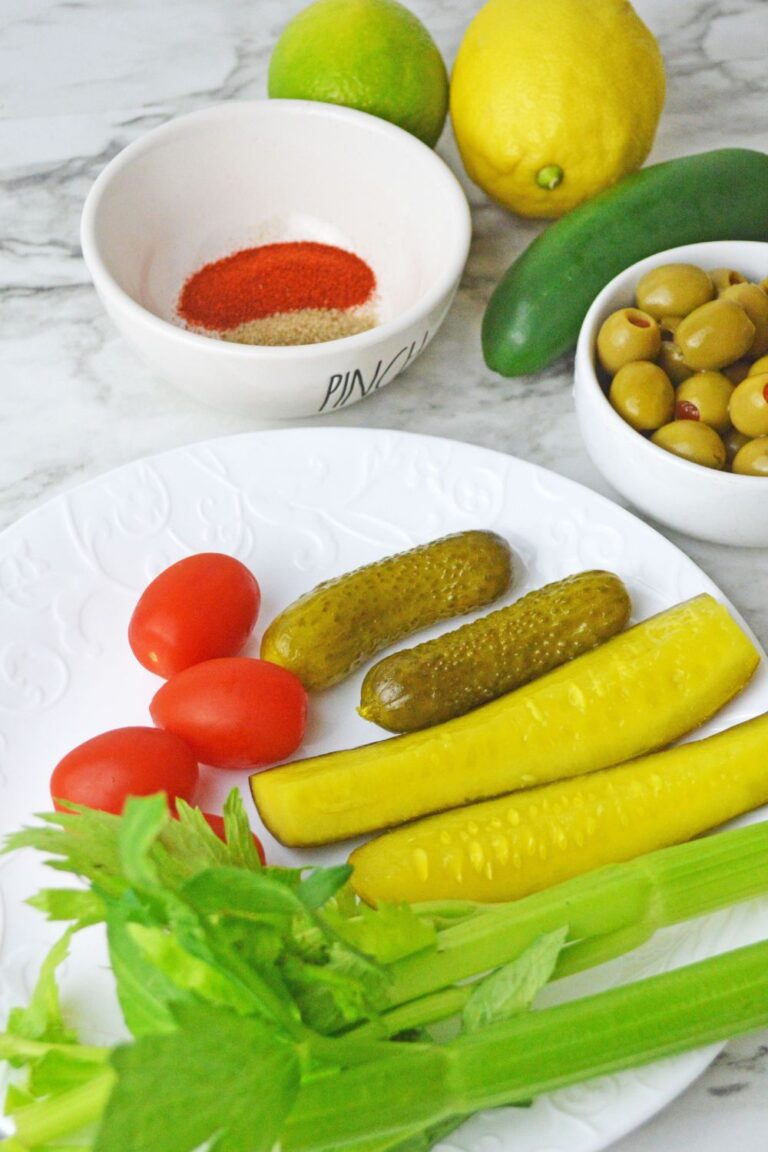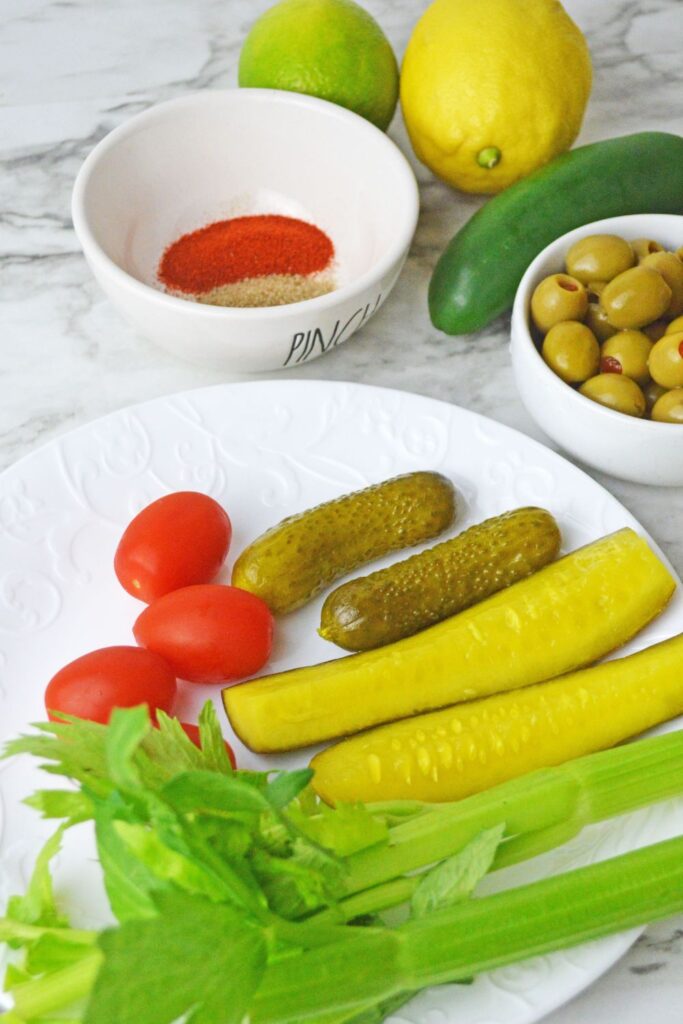 Ingredients Needed
Tequila – Reach for your favorite brand of tequila to use in this cocktail. It is going to give it that boozy punch.
Tomato Juice – Reach for tomato juice as the base for this tomato cocktail. You can use classic tomato juice or even V8 juice.
Lime and Lemon – I used both for this cocktail.
Worcestershire Sauce – The Worcestershire sauce gives a smokey flavor to the drink.
Tabasco – Use a little or a lot to ramp up the spice factor.
Seasonings – Black pepper, celery salt, and paprika are what I used for flavoring the drink.
Toppings – Optional toppings but I used tomatoes, pickles, celery, jalapeno slices, olives, and lime and lemon wedges.
Variations to Recipe
Use Mezcal for a smoky flavor to your Tequila.
Use Chipotle pepper for added richness with spices.
Tomatillos for garnish instead of tomatoes.
Clam juice is great for adding a splash to the cocktail.
Top with cooked bacon for that salty component to the savory.
Use beer to create a Bloody Maria Michelada for a fizzy and lighter flavor instead of tequila.
Use Tajin for the garnish on the rim for an extra kick of flavor.
How to Make
Full steps are in the printable recipe at the bottom of the post. This is a visual and quick walk-through.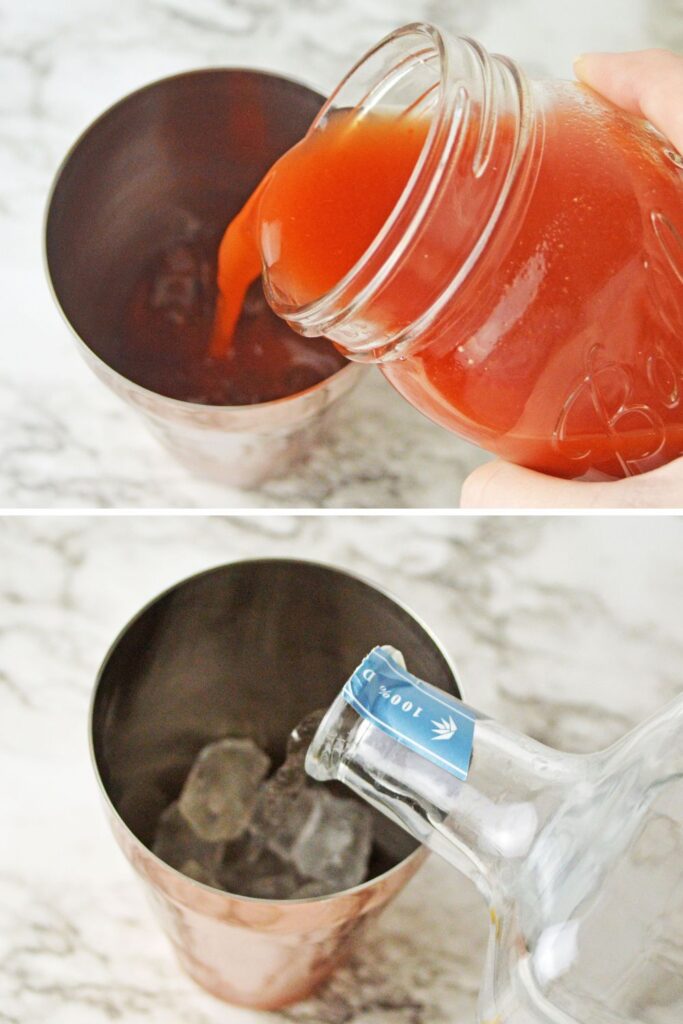 Start by adding your ice into your shaker, or a glass. Then pour in the tomato juice, and tequila.
Next, add the remaining ingredients to the glass. Shake well to combine the drink.
Pour the mixture into a glass that is garnished with seasoning around the rim. Then garnish with your favorite toppers.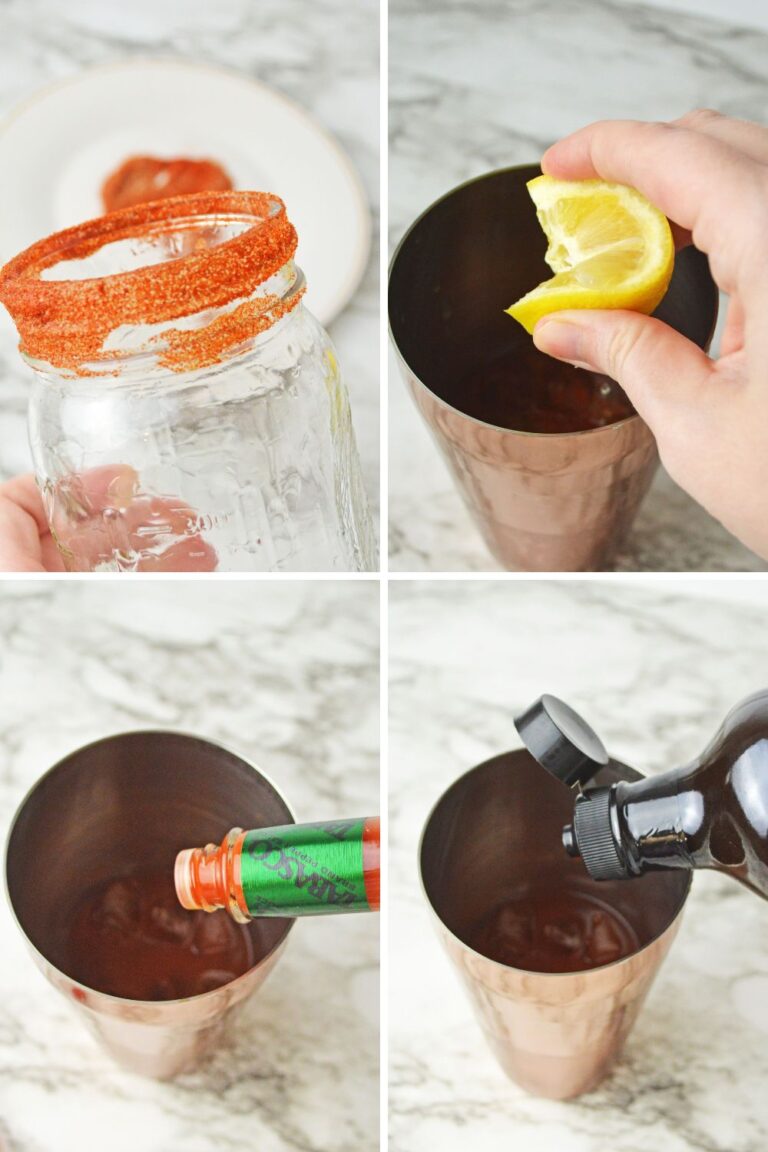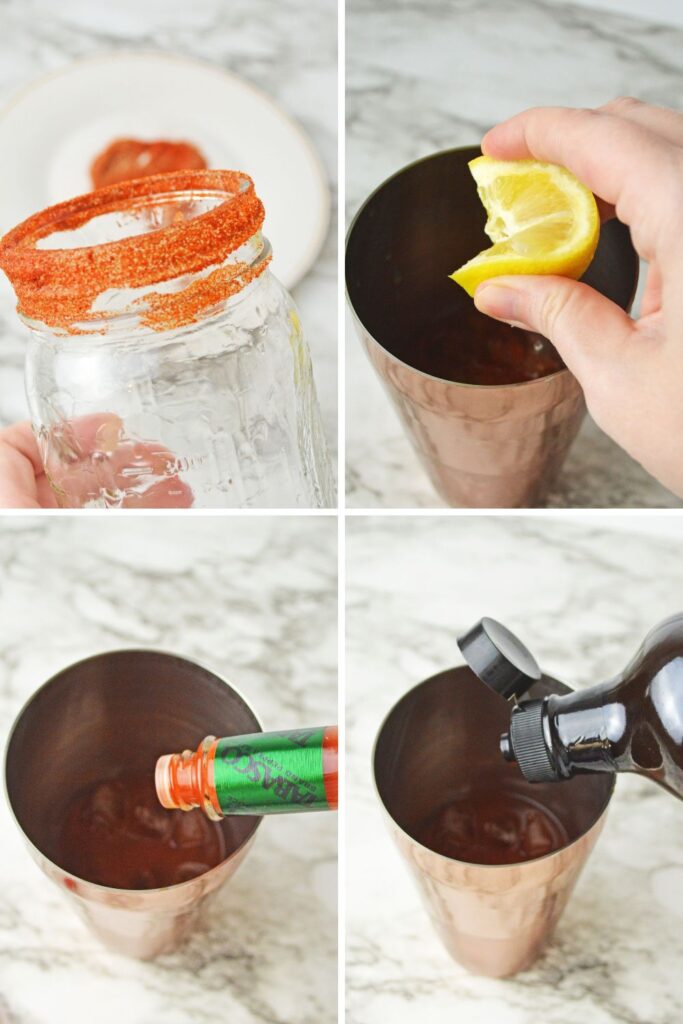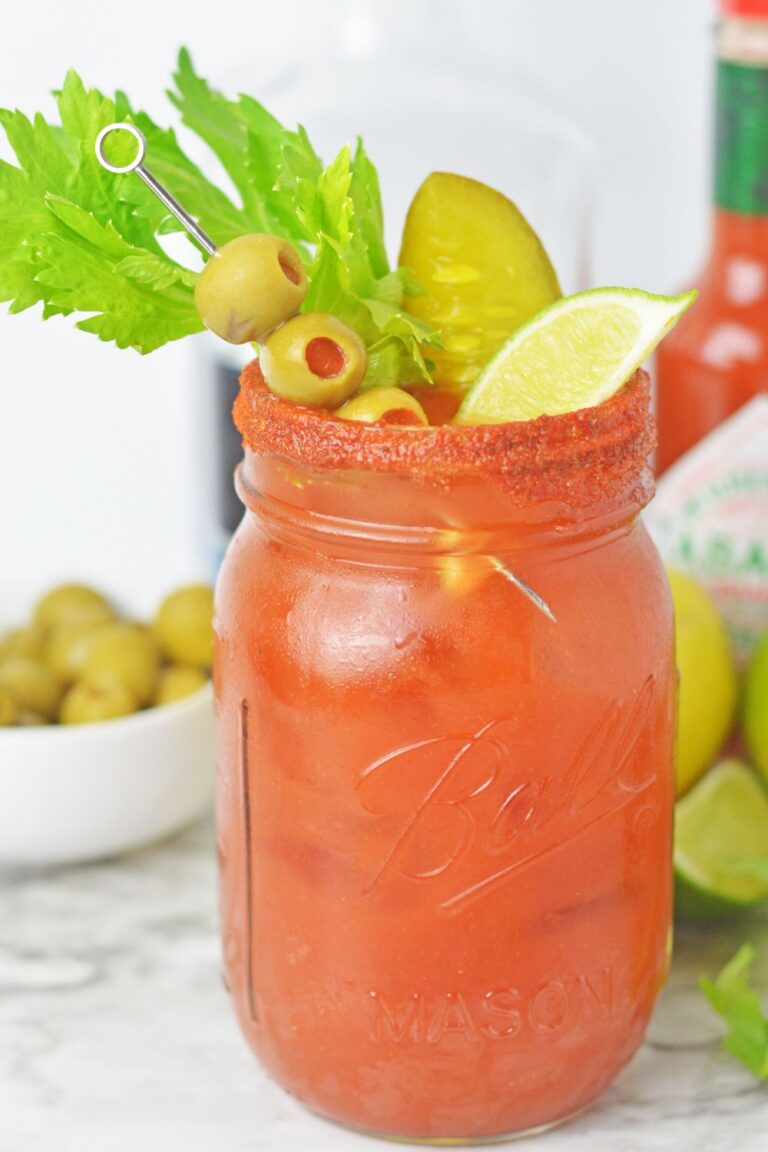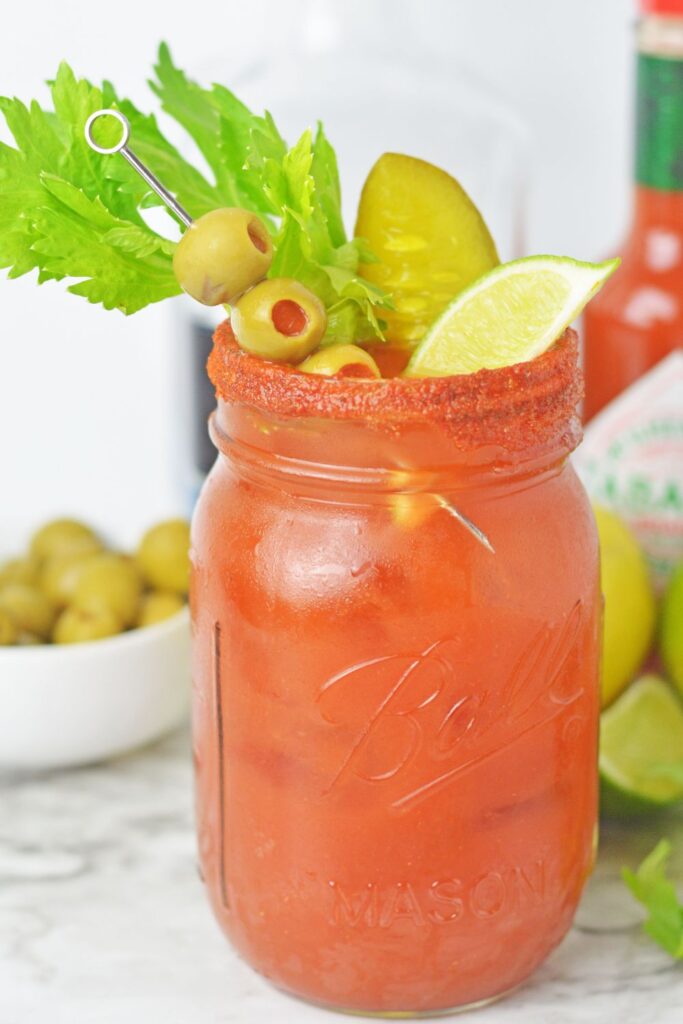 Toppers for Cocktail
Here is a list of ideas on how to garnish this delicious savory cocktail. Pick and choose what you will.
Green Olives
Pickles
Jalapenos
Celery
Cucumbers
Bacon
Shrimp
Lime or Lemon Wedges
Tomatoes
Tomatillos
Pickled Vegetables – Okra, green beans, etc.
Cheese cubed
What to serve with
You can serve up your drink with a brunch feast like a breakfast casserole or quiche. Or you could pair it with a shrimp boil, charcuterie board, or even chips and queso for snacking. Another great option is pairing it with a juicy burger or grilled steak.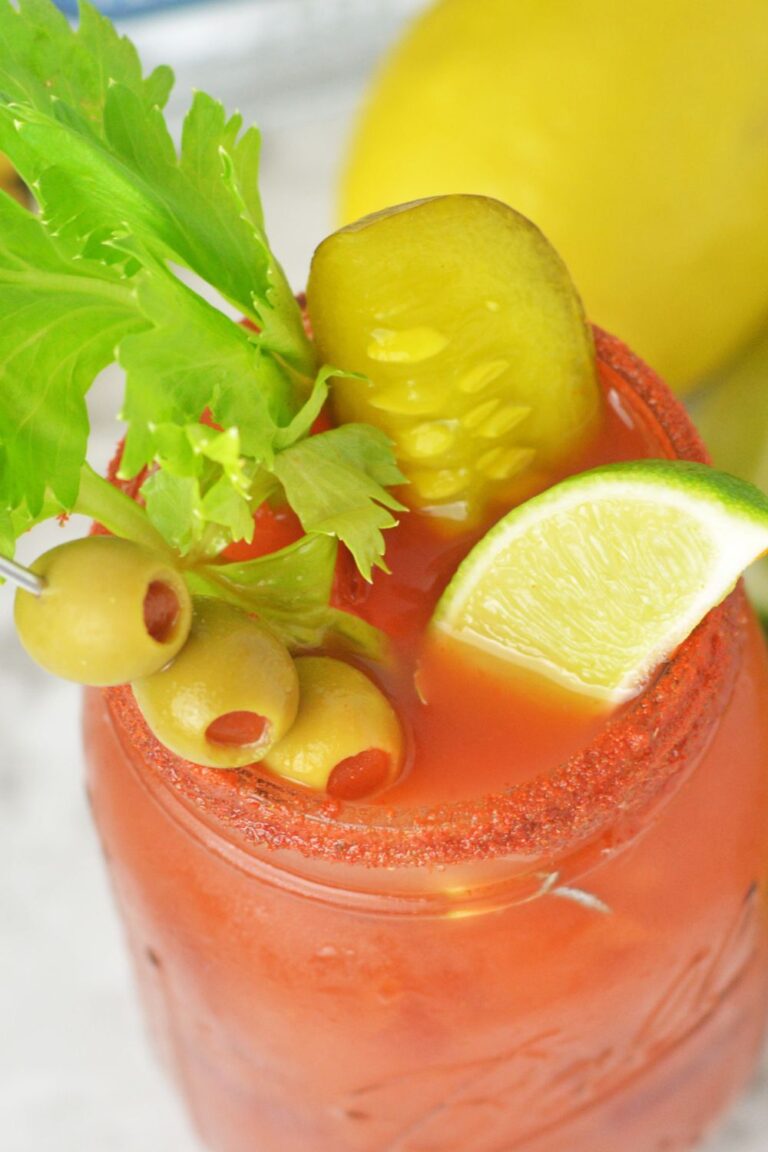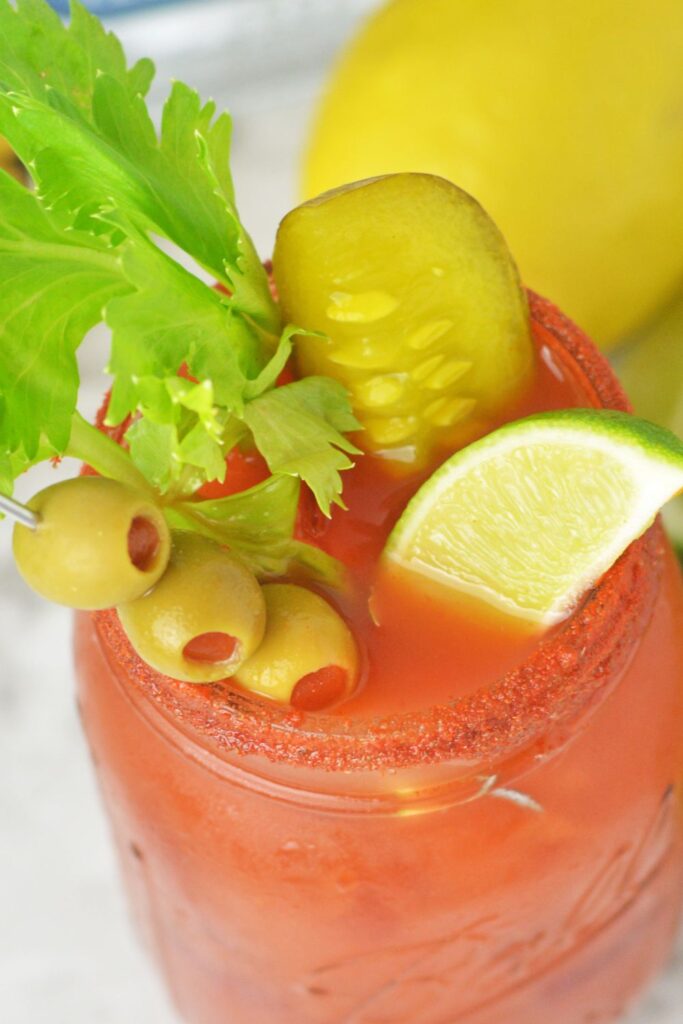 Tips and Suggestions
Quality ingredients are key, to creating a crowd-pleasing drink.
Fresh lime and lemon juice are needed over bottled juice.
Rim the glass with seasonings to help for each sip to really give you that flavor pack.
Freeze your glass for 30 minutes before you pour the cocktail so you have an extra chilled cocktail.
Ice is a must for this drink. It will melt and dilute the drink a bit, but help to blend the flavors as it melts.
Storing
Refrigerate
Once you whip up your Bloody Maria mix you need to place in a sealed container and refrigerate it. You will find your mix can store for up to 1 week in the fridge.
Freezing
Go right ahead and freeze any of the mixture you do not drink right away. Just place it in a freezer bag or sealed container. Leave room for it to expand as it freezes.
Thaw in the fridge overnight. Then shake well and pour and sip and enjoy.
FAQs
What's the difference between a Bloody Mary and a Bloody Maria?
Bloody Mary drinks are made with vodka, whereas Bloody Maria is made with tequila. You will find other ingredients are similar.
How do I make a spicy Bloody Maria?
Toss in extra hot sauce, and jalapeno peppers, and use some cayenne pepper for added heat. Adjust the spice to fit your preferred spice.
Can I make a non-alcoholic version of a Bloody Maria?
Want a non-alcoholic version? Simply use extra tomato juice and leave out the tequila.
Can I make a batch of Bloody Maria ahead of time for a party?
You can make your drink up a day in advance if you want, and store in the fridge. Then serve your mixture in glasses that have ice and garnishes of choice. Just stir well before you go to pour it into glasses.
Related Recipes
Craving more tasty drink recipes? Here are a few of my favorites to try out.
Have you tried the recipe? If so, please leave a star ⭐️⭐️⭐️⭐️⭐️ rating in the recipe card below or drop a comment. Also stay in touch with me through social media by following me on Facebook, Pinterest, or My Facebook Group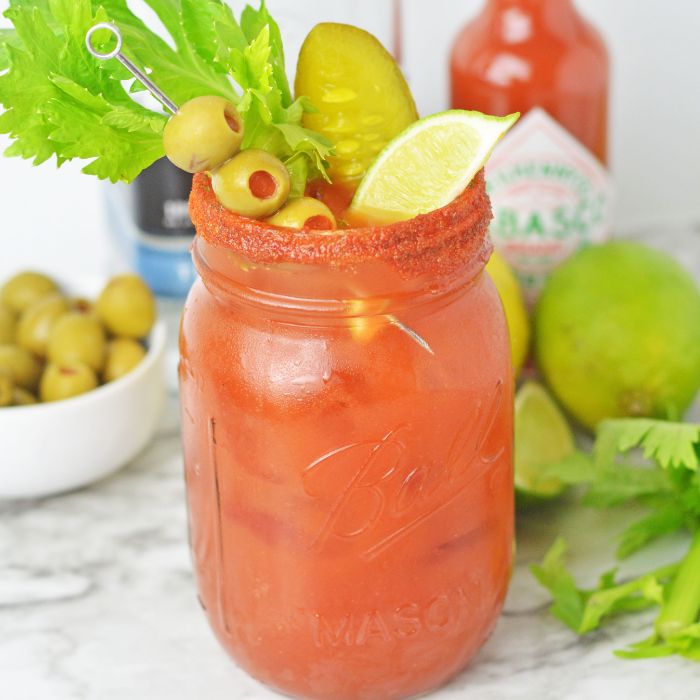 Bloody Maria
Servings 1 serving
Bloody Maria is a twist on a Bloody Mary cocktail. This hangover cure cocktail uses tequila, tomato juice, hot sauce, and more all in one and garnished with celery, pickles, green olives and more. A must make brunch cocktial recipe.
Ingredients
2 cups ice
2 oz. tequila
4 oz. tomato juice
1 Juice of 1 lime wedge
1 Juice of 1 lemon wedge
½ tsp. Worcestershire sauce
¼ tsp. Tabasco
1 Pinch celery salt
1 Pinch smoked paprika
1 Pinch black pepper
Rim Seasoning
1 tablespoon celery salt
1 tablespoon smoked paprika
Instructions
Place the celery salt and paprika on a plate for the rim. Then mix and set to side. Grab your glass and rub a lime wedge around the rim. Then roll the glass in the seasoning mixture that is on the plate to coat the rim.

In a cocktail shaker add 1 cup of ice, tequila, tomato juice, lime and lemon juice, tabasco, Worcestershire sauce, and pinch of seasonings. Shake well to combine and chill the mixture.

Pour the Bloody Maria mixture in a glass of ice. I do strain the mixture into the glass. Then garnish your drink with celery, pickles, green olives, roma tomatoes, or any toppers you want.
Notes
Tequila – Use quality tequila for this recipe. Or use Mezcal Tequila for a smoky flavor.  Alcohol – Add more or less to create the perfect amount in your drink. You can also swap the tequila with vodka if you prefer.  Spice – Want it to be extra spicy, add more hot sauce, or less if you prefer mild. You can also add in cayenne pepper to the cocktail for added spice.  Toppers – You can garnish your bloody maria or leave it plain. Tomatoes, tomatillos, pickles, green olives, bacon, cocktail shrimp, and more are all great topper ideas.  Storing – You can store any leftover Bloody Maria mixture in the fridge in a sealed container for up to a week. Shake well before you go to pour into a glass. 
Nutrition
Serving: 1gCalories: 175kcalCarbohydrates: 10gProtein: 2gFat: 1gSaturated Fat: 0.2gPolyunsaturated Fat: 1gMonounsaturated Fat: 0.1gSodium: 7121mgPotassium: 467mgFiber: 3gSugar: 5gVitamin A: 4455IUVitamin C: 22mgCalcium: 51mgIron: 2mg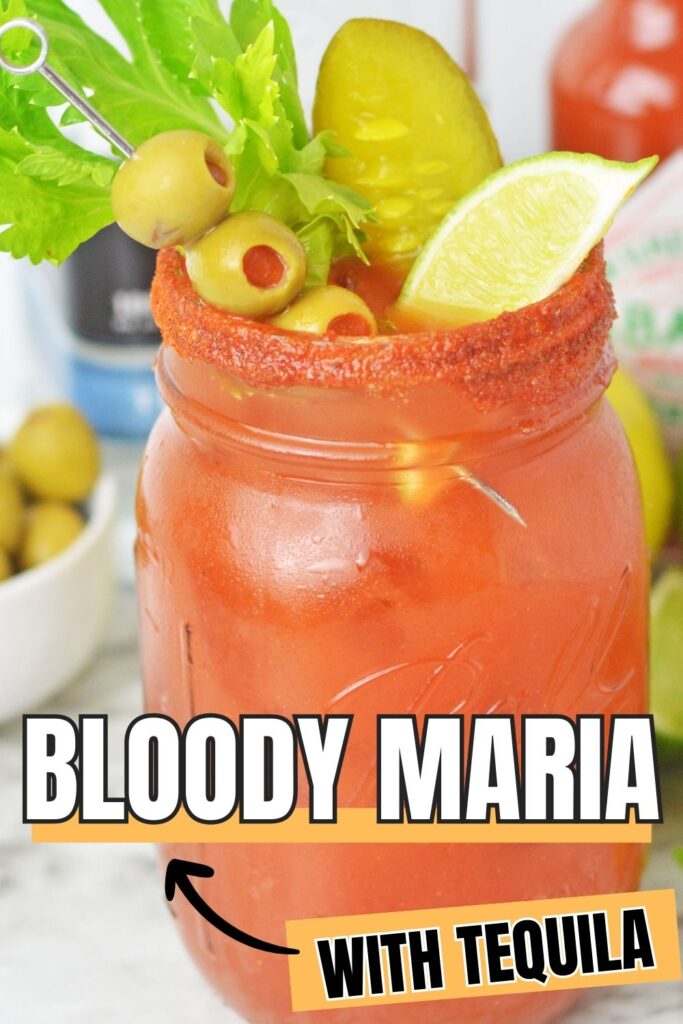 Reader Interactions