Instant Pot Shrimp Boil is one incredible Instant Pot shrimp recipe. Sausage, potatoes, corn on the cob, shrimp, and Cajun seasoning that comes together in one incredible low country boil recipe.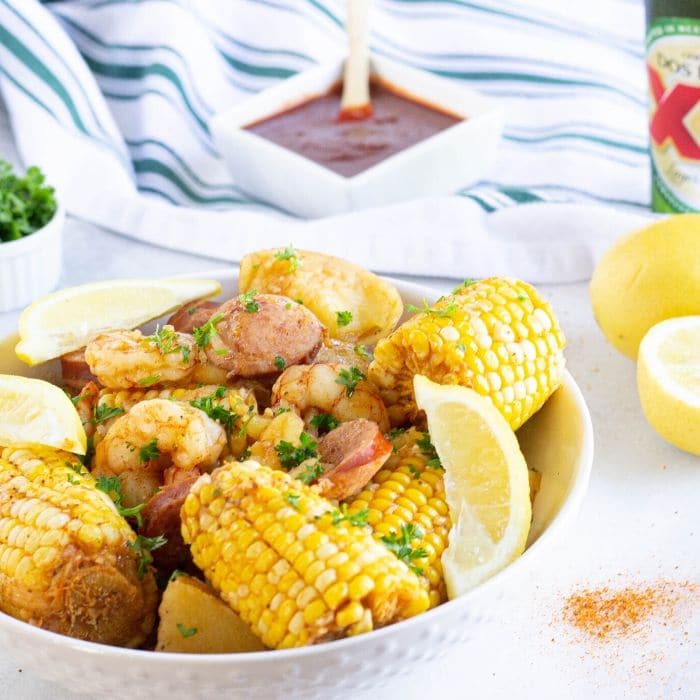 Why You Will Love This Recipe
However you call it, this Instant Pot seafood recipe will blow your tastebuds out of the water. A fantastic frozen shrimp Instant Pot recipe that comes together in literally minutes.
Try my Instant Pot lobster rolls if you are looking for more seafood recipes.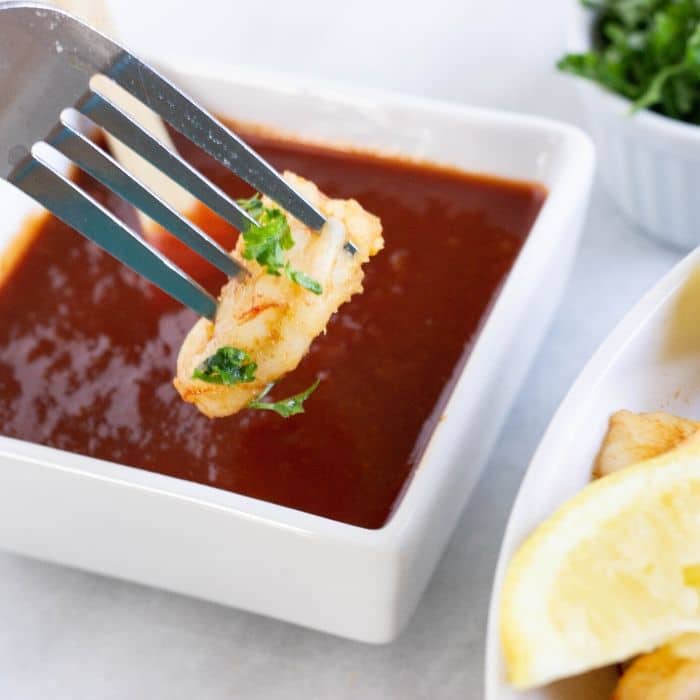 What Is The Best Size Shrimp To Use
I used a larger size shrimp and a 1 pound package. I think smaller would work you would just want to do 0 minutes, instead of 1 minute. As the shrimp would overcook I think at the 1-minute mark.
Best Potatoes For Low Country Boil
For this cajun seafood recipe, you will find yellow or even red potatoes will be a great fit. I quartered my potatoes, but you could even half them and call them good.
Mine got a little mushy, but boy they were packed with incredible cajun spice.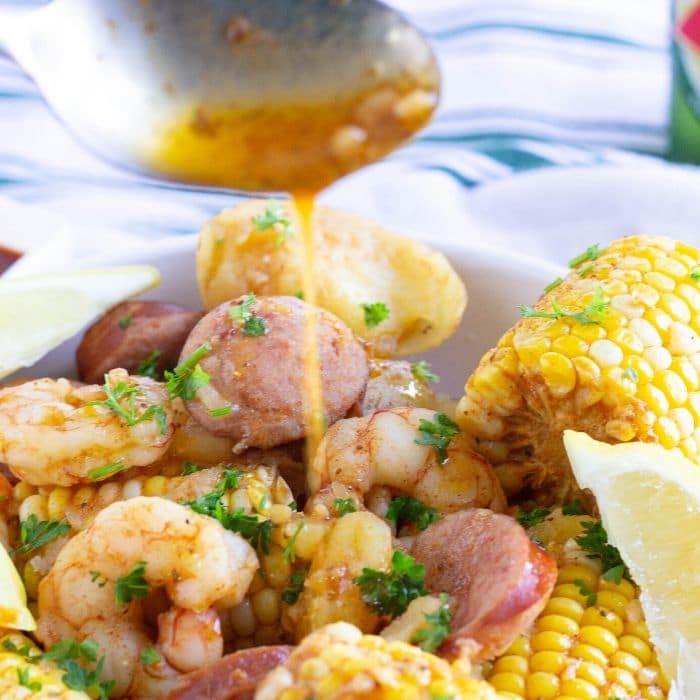 How To Serve Instant Pot Low Country Shrimp Boil
I melted butter with more Old Bay seasoning and drizzled it over the shrimp, sausage, and vegetables. It adds even more flavor.
You can also pair with your favorite dipping sauce or even shrimp cocktail sauce. Splash on hot sauce if you want more heat factor.
Lager Beer Adds Incredible Flavor
Skip the broth or water, and reach for a Lager beer. I used Dos Equis, and boy was it a fantastic pairing. You are welcome to use any lager beer that you like.
Or if you prefer to not cook with alcohol, chicken broth or stock will work as well.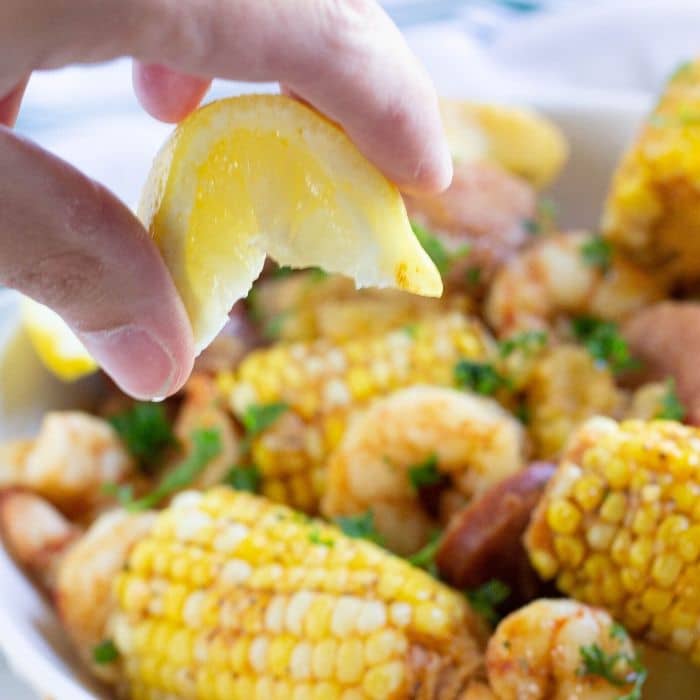 How To Make Instant Pot Shrimp Boil
Start by prepping your ingredients. Then you will toss your potatoes, sausage, onion, and 3 tablespoons of Old Bay seasoning onto the mixture.
Stir it around and then pour in your beer and top with your corn on the cob. Seal and cook on high pressure for 5 minutes with a quick release.
Once done, toss in frozen shrimp, cook 1 minute with quick release.
Then if you want to do the butter mixture to drizzle on top you will find those directions in the printable card below.
Easy Pressure Cooker Shrimp Boil
Easy, quick, and loaded with tons of flavor. Trust me, this is one of the best shrimp boils we have ever had. It beats the classic method and is so much simpler if you ask me.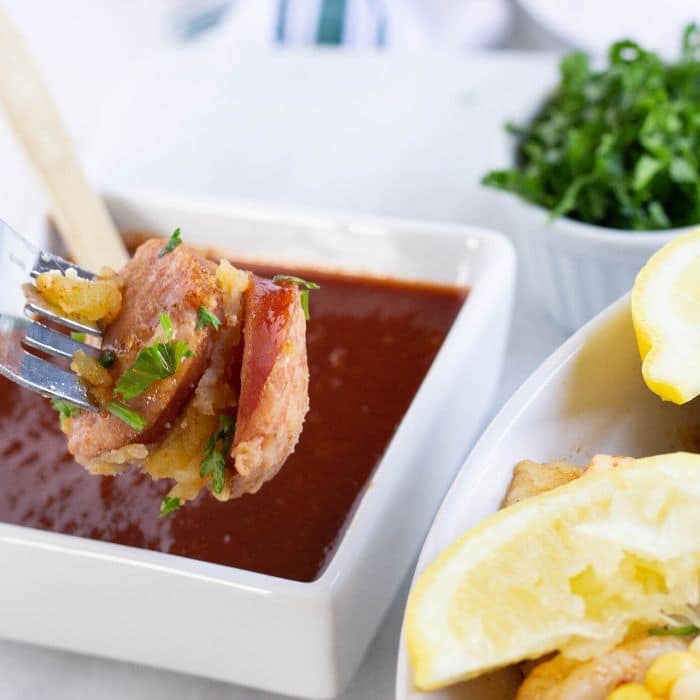 What Goes With Shrimp Boil
Variations To Recipe
Add in crab for a crab boil
Toss in whole mushrooms when you add in shrimp
Reach for a Cajun seasoning other than Old Bay Seasoning
Add a teaspoon of hot sauce for more flavor
Skip adding sausage and replace with another meat or do only shrimp
Pressure cook and enjoy this easy shrimp boil dinner. Toss on some paper on the table, or pour into a bowl.
Craving More Shrimp Recipes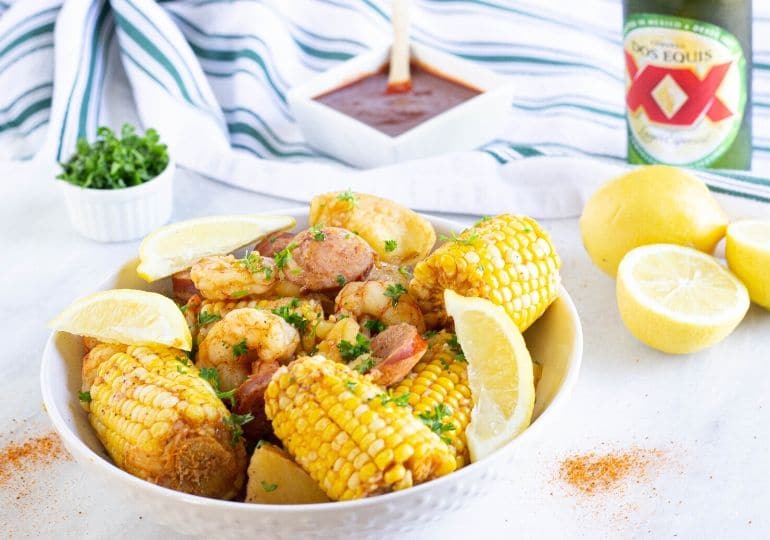 Instant Pot Shrimp Boil
Servings 8 servings
Instant Pot Shrimp Boil is the perfect Instant Pot Shrimp Recipe. This low country shrimp boil is made right in your pressure cooker. Tons of Old Bay Seasoning, tender shrimp, sausage, and more in each bite.
Ingredients
1 pound raw shrimp I used large size (deveined)
1 Sausage Andoulie or Kielbasa thinly sliced
1 small onion sliced
1/4 cup water
1 – 16 oz Lager Beer
3 tablespoons Old Bay Seasoning
3-4 corn on the cob cut into smaller pieces
6-8 yellow or red potatoes sliced
Lemon Slices optional
Parsley optional
Butter Topping (optional)
1 cup butter
1/4 teaspoon garlic
1 tablespoon Old Bay Seasoning
Instructions
Prep your shrimp boil ingredients, and then take your potatoes, sliced Kielbasa sausage, and onions and place into Instant Pot. Add in 3 tablespoons of Old Bay Seasoning. Give it a quick stir.

Top with the corn, and then pour your beer in, and 1/4 cup water. Do not stir, cover, and make sure the lid is to sealing. Do 5 minutes of high pressure, and a quick release.

Now, toss in your frozen shrimp, and place the lid back on. 1-minute high pressure with the lid sealed. Followed by a quick release.

While your shrimp is cooking you can heat up a stick of butter, garlic, and Old Bay seasoning on the stove. Do low heat, and stir until melted.

Once your shrimp boil is done, you can drizzle with the butter mixture if you would like. Add a squeeze of fresh lemon, or parsley if you would like, or pair with shrimp cocktail sauce.
Notes
You can add mushrooms or crab legs at the same time you would add shrimp. Then do 1-minute high pressure with a quick release. If your shrimp if not frozen, then do 0 minutes high pressure with a quick release. Feel free to swap out ingredients to fit your preference. Any type of lager beer will add great flavor. If you don't want to use beer reach for a chicken broth or stock. Season to your liking. You can spice it up or keep it kind of mellow in the spice department.
Nutrition
Serving: 1gSodium: 1721mgSugar: 7gFiber: 6gCholesterol: 137mgCalories: 619kcalTrans Fat: 1gPolyunsaturated Fat: 14gSaturated Fat: 16gFat: 33gProtein: 19gCarbohydrates: 61g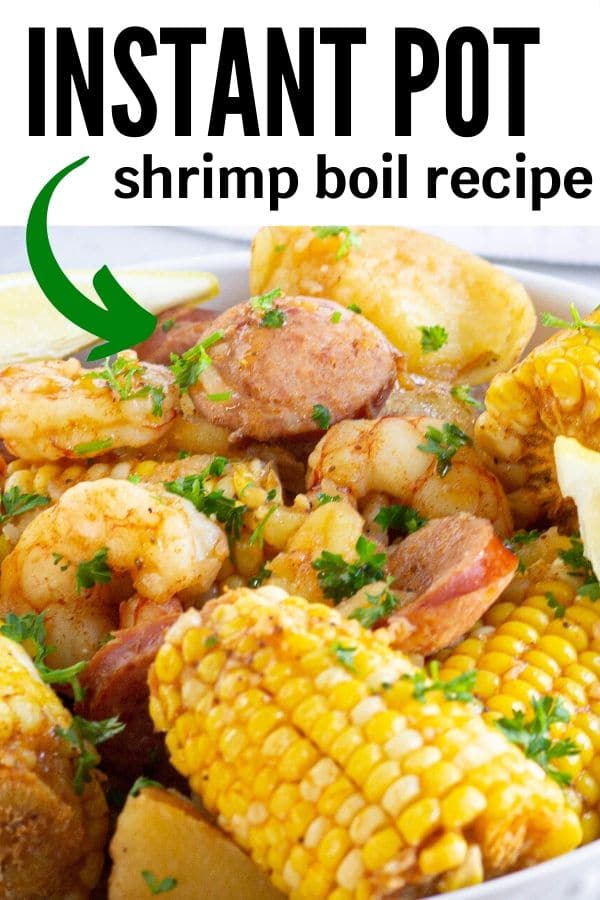 Reader Interactions