Creamy shrimp pasta with sun-dried tomatoes is the perfect recipe to add to your meal planning. A shrimp and pasta dish that is creamy, cheesy, and bursting with vibrant flavors. This garlic shrimp pasta is what comfort foods are made out of!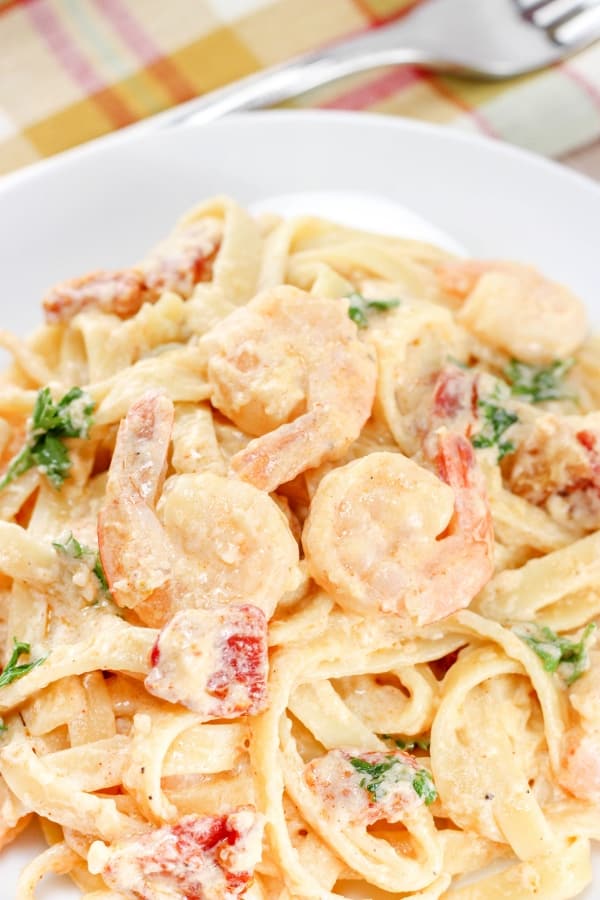 Creamy Shrimp Pasta
The main seafood that I eat is shrimp and on occasion crab. I am not a fan of fish, but my husband is obsessed with all things seafood. I do my best to create shrimp recipes that he will enjoy, to get that seafood fix. Try shrimp pesto pasta as well for a tasty twist.
More Seafood Recipes
The Best Creamy Shrimp Pasta Recipe
I recently created this shrimp and pasta dish with a cream sauce, and boy was it a home run. Shrimp, sun-dried tomatoes, half and half for that creamy base to the sauce, garlic, and of course parmesan cheese to bring this dish to a cheesy fold.
How To Make Creamy Shrimp Pasta At Home
Start by dicing up your sun-dried tomatoes along with the juice and garlic in a skillet and cook for 1-2 minutes or until the garlic is fragrant. In another pot work on cooking your fettuccini noodles as directed on the package.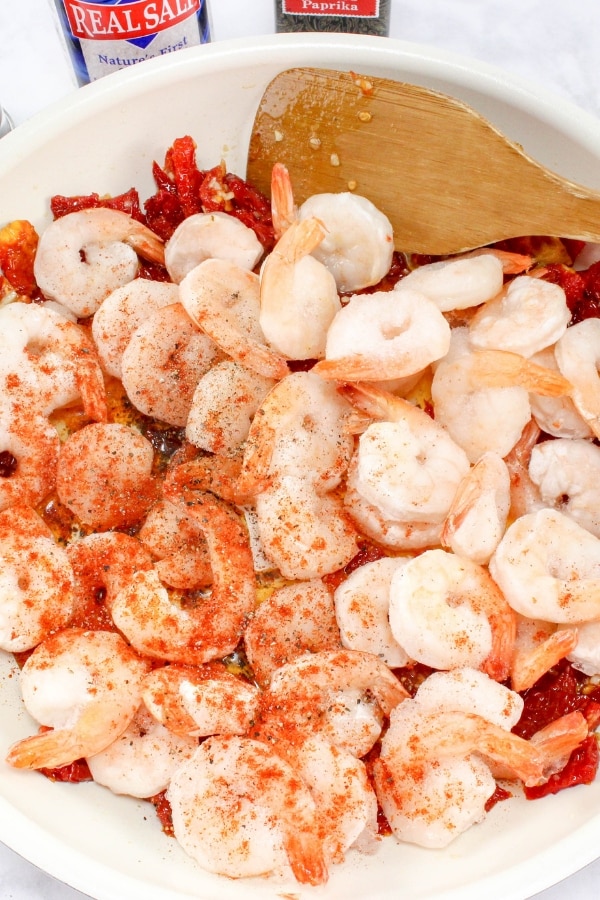 Next, add in your shrimp and paprika and saute for around 3-4 minutes. The smoked paprika
adds a lot of flavor to the dish.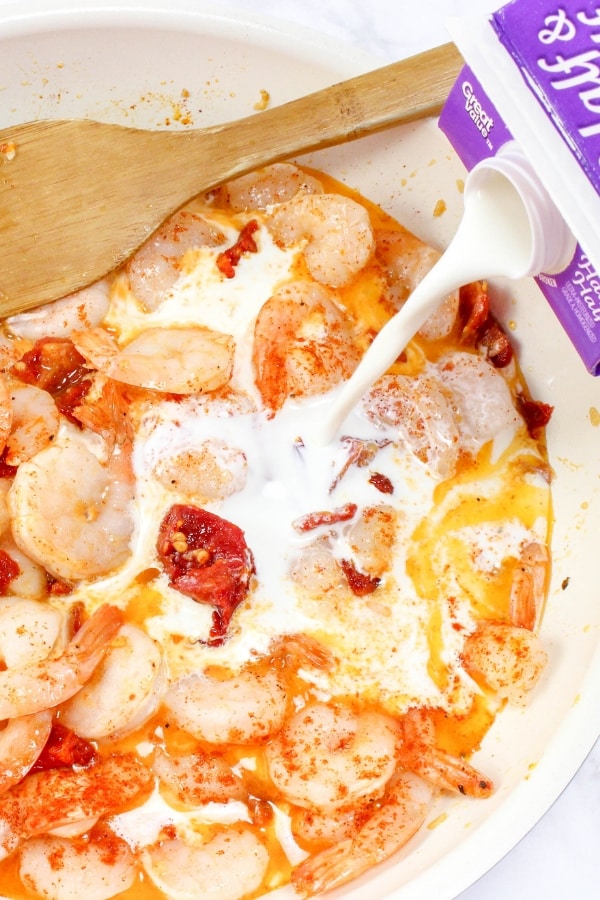 Then add in your half and half, and parsley, and allow to boil for around 2 to 3 minutes to help thicken it up and create a creamy sauce. This sauce is where all the magic happens! It creates a thick and creamy sauce that will be bursting with flavor.
Toss in the parmesan cheese and allow it to melt down and thicken the sauce even more. Once done top with more fresh parsley, a sprinkle of cheese if you want more, and grab a plate and serve it up!
How Do You Make Shrimp Pasta
Start by cooking your pasta in one pan, while you cook your shrimp in sauce in another. Once pasta is done you drain it and set aside until your shrimp base is done. Then combine and serve hot!
What To Make With Shrimp and Pasta
I am very basic when it comes to what I pair next to my shrimp pasta recipe. This dish is hearty enough to eat alone, or pair with a Cheddar Bay Biscuit or even a Caesar or chopped salad.
What Sauce Goes with Shrimp Pasta
I do a creamy sauce that is similar to an alfredo for shrimp pasta. I find the white sauce is a really nice pairing to shrimp over a tomato-based sauce like you use in spaghetti dishes.
Can I Use Spaghetti Noodles for the Creamy Shrimp Pasta Recipe
Yes! Feel free to reach for spaghetti noodles or even angel hair pasta to replace the fettuccine noodles if you prefer. Or you could even go with a ziti past if you have that on hand.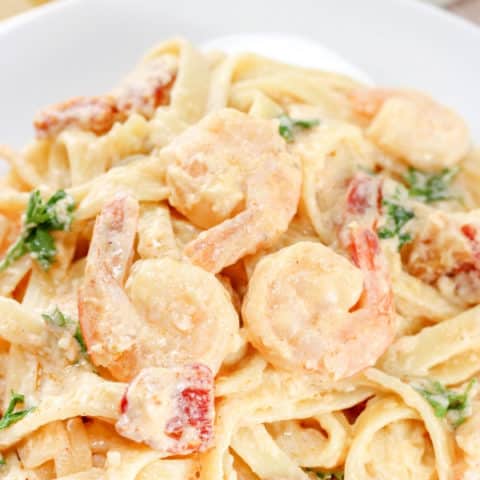 Creamy Shrimp Pasta
Creamy shrimp pasta with sun-dried tomatoes is the perfect recipe to add to your meal planning. A shrimp and pasta dish that is creamy, cheesy, and bursting with vibrant flavors.
Ingredients
12 oz. Fettuccini
12 oz. Shrimp, medium cooked
1 cup Half and Half
5 oz. Sun Dried Tomatoes in Olive Oil
1 ½ cups Parmesan Cheese, shredded
2 tsp. Chopped Garlic
1 tsp. Smoked Paprika
¼ cup Fresh Parsley, chopped
Instructions
Start by cooking your pasta as directed on the box.
Then in a skillet on the stove add in your diced tomatoes with the olive oil, and garlic. Saute for around 2-3 minutes.
Then add in your raw shrimp and paprika and saute for around 3-5 minutes.
Pour in your half and half and fresh chopped parsley and allow to boil, then reduce to a simmer for 3 minutes.
Pour in your cheese, and turn stove to low, and let the cheese melt. Once it is fully melted, take your pan off the heat.
Add in your cooked pasta, and give it a good stir. Top with fresh parsley, paprika or more cheese if desired.
Nutrition Information:
Yield:

6
Serving Size:

1 cup
Amount Per Serving:
Calories:

370
Total Fat:

14g
Saturated Fat:

7g
Trans Fat:

0g
Unsaturated Fat:

6g
Cholesterol:

148mg
Sodium:

930mg
Carbohydrates:

35g
Fiber:

4g
Sugar:

11g
Protein:

28g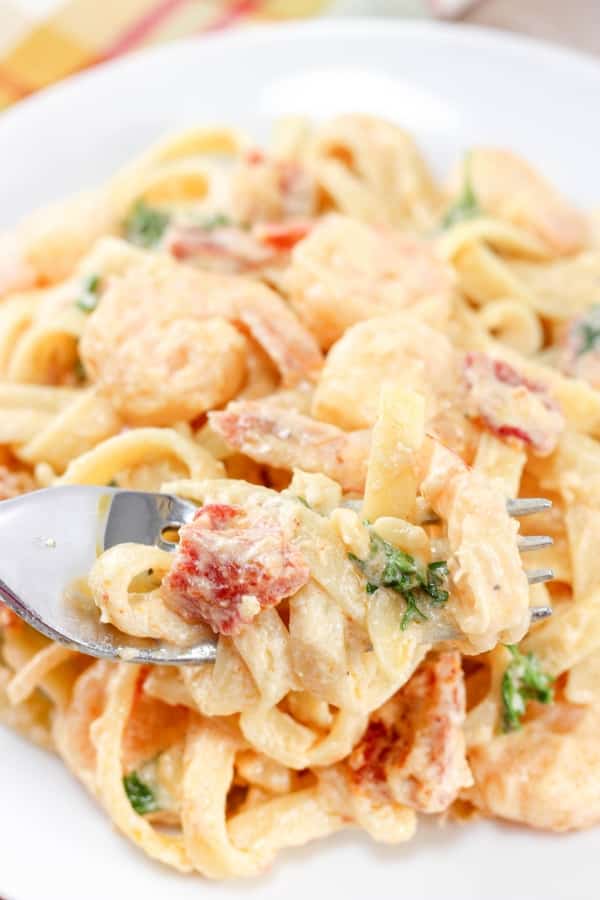 How Long Will Shrimp Pasta Last in The Fridge
You can expect the leftovers to last up to 3 days. I recommend allowing your pasta to cool slightly then place in an airtight container and tuck in the fridge. The shrimp will not be as good reheated but it is still good for a few days. You don't want to run the risk of eating spoiled shrimp, as it puts you at risk for food poisoning.
How to Reheat Shrimp Pasta
To reheat your shrimp pasta you can reheat in the microwave or place your pasta dish on the skillet. If you do a skillet you might need to add a splash of milk or half and half when heating it up. I say this because you will need to make the sauce creamy again so you don't over-dry your shrimp as you cook it up.
Can I Make Shrimp Pasta with Chicken Instead
Absolutely! If you are not a fan of seafood but the recipe sounds tasty, feel free to swap your shrimp with chicken. Just make sure you cook your chicken all the way through before you move on to making the creamy sauce.
Does Pasta Taste Different
The pasta itself does not really taste different only unless a different variety, like whole wheat, etc. BUT, the reason why spaghetti noodles taste different than say bowtie, is because you have a different ratio of pasta when you bite into it. So that is why a lot of recipe mention to use one or two types of pasta.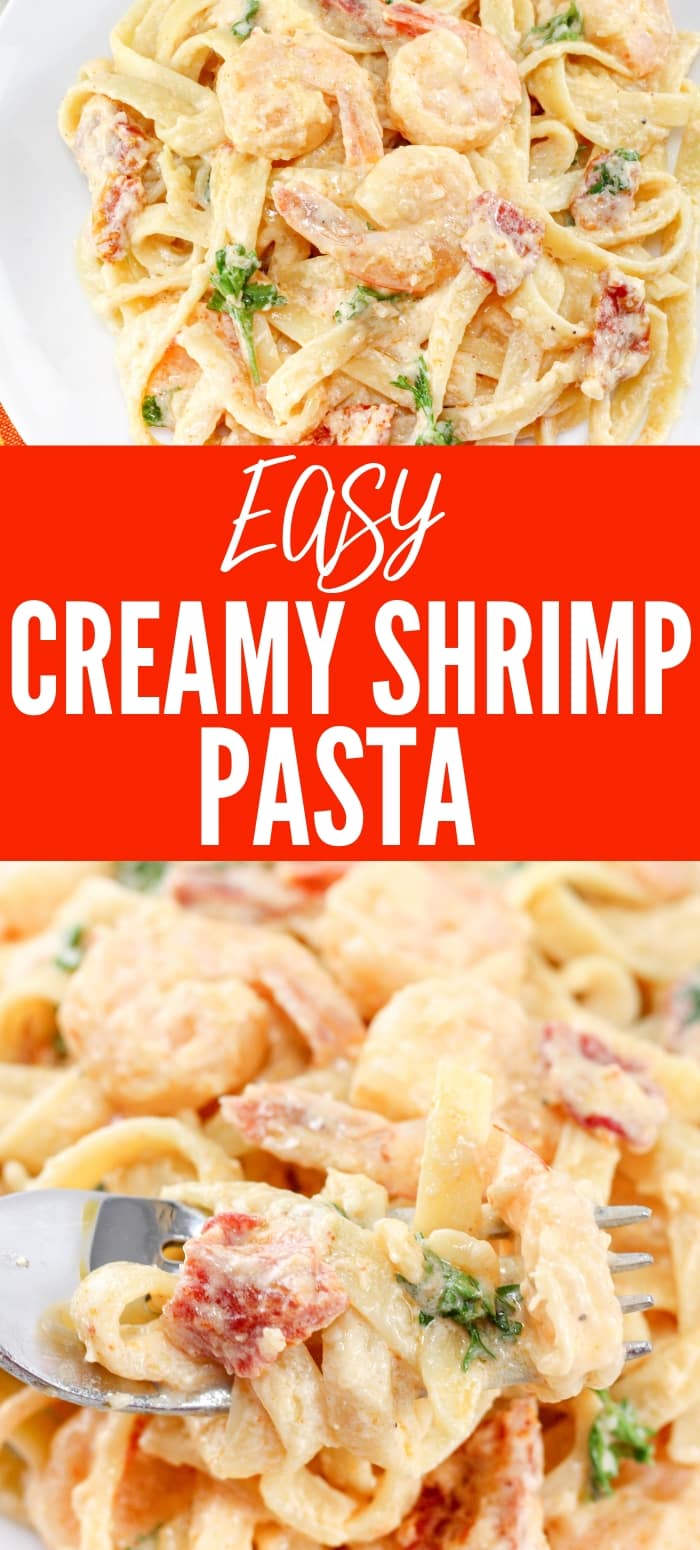 Give my creamy shrimp pasta recipe a try today! I think if you are a fan of pasta and shrimp you will enjoy this tasty creation!
Have you tried a creamy shrimp pasta before?