Looking for a tasty and easy Wassail Recipe? If you say yes, I have one that is made right in your slow cooker! Cranberry juice, orange juice, apple cider and more come together for one mouthwatering hot drink. Check out my slow cooker wassail recipe.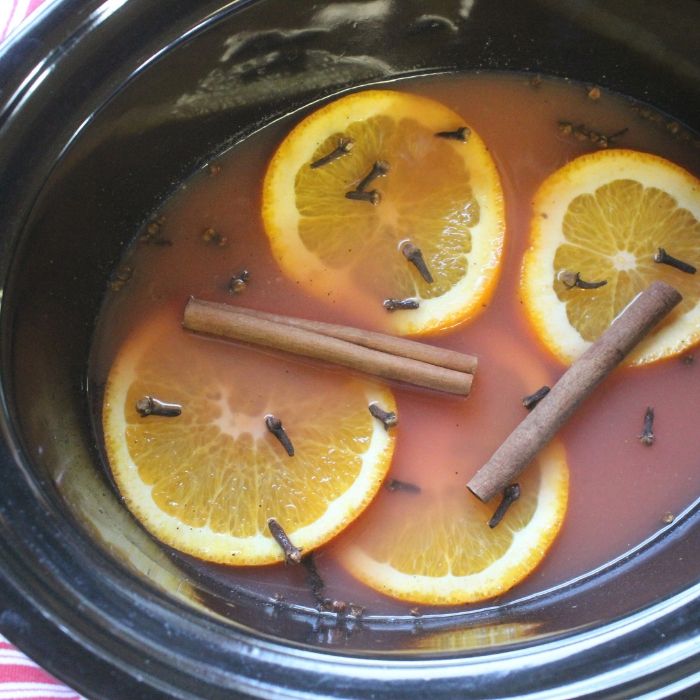 A Christmas punch that will warm you up from the inside out! This hot holiday drink is one that is a classic. There are a variety of ways to make this recipe, but this is my favorite. A cider wassail recipe that takes less than five minutes to toss in the slow cooker and let it fill your home with an incredible fragrance.
Try my vodka cocktail – Bloody Mary recipe. Such a tasty hangover cure drink. Try my Instant Pot Eggnog recipe as well for a holiday drink.
Wassail Recipe
This is a wassail recipe with red hots, it adds a nice cinnamon twist to the recipe that leaves you wanting one more sip. This is a small batch wassail recipe that is great for sipping at home on a cold winter day and more.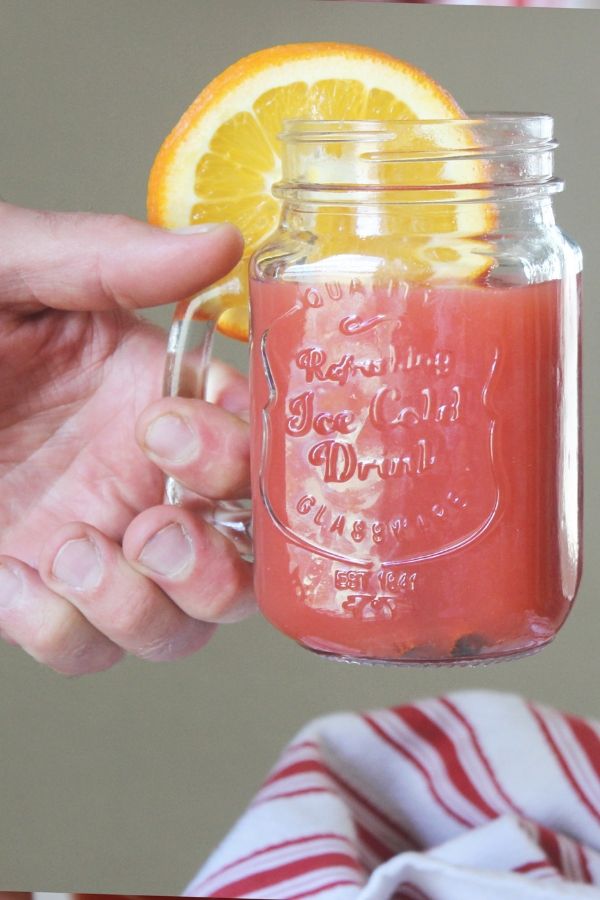 How Long Does Slow Cooker Wassail Take To Cook
You will want to cook this low and slow for 4-6 hours. This will allow all the flavors to blend and really marry. I do stir the spiced drink a handful of times as it cooks, but you don't have to.
Variations For Wassail Recipe
Fresh Cranberries
Apple Juice in Replace of Apple Cider
Top with Whipped Cream
Ginger and Nutmeg Added to Spices in Drink
Fresh Oranges and Apples
Leave out the Red Hot Candies
Dress up with a Cinnamon Stick
We did not have cranberries available at the store, so I opted for cranberry juice instead. But I love the color of fresh cranberries in this hot wassail recipe. Make this hot mulled drink exactly how you want.
Alcoholic Wassail Drink
If you want to transform this hot drink, you can add in a splash of Vodka or even rum. I added in a shot of honey Vodka and it was absolutely delicious. This is like a spiced up hot toddy recipe!
This would be a perfect drink to make for holiday gatherings where you want a kid-friendly drink and an easy alcoholic version to whip up for adults. So this recipe can easily convert to either one!
Is This A Small Batch Wassail Recipe
Yes! I wanted to make a recipe that didn't make a ton. I found my larger recipe worked great at breaking down. You can easily double or even triple this wassail recipe to fit whatever size of the crowd you plan to serve.
When Do You Serve This Holiday Hot Drink
Weeknight when you want a tasty drink
Holiday Parties
Anytime in Fall and Winter Months
Birthday Parties and any other event
There is no wrong tie to serve up this holiday drink. We have even made this drink for the Thanksgiving season. It is always a hit.
How To Store Leftover Wassail
Simply allow the wassail to cool a little bit, and then pour into a container. Then store in the fridge for 2-3 days. You can serve this drink cold or warm it up.
Best Way To Reheat Wassail
If you want a quick reheat reach for the microwave. Or toss back up in the slow cooker for a low and slow reheat. Or opt to warm it up on the stovetop in a large pot as well. Either way, this Christmas drink heats up nicely.
OXO Good Grips Nylon Ladle
Drinking Mason Jar
Crock Pot 8-Quart
Tools Needed For Wassail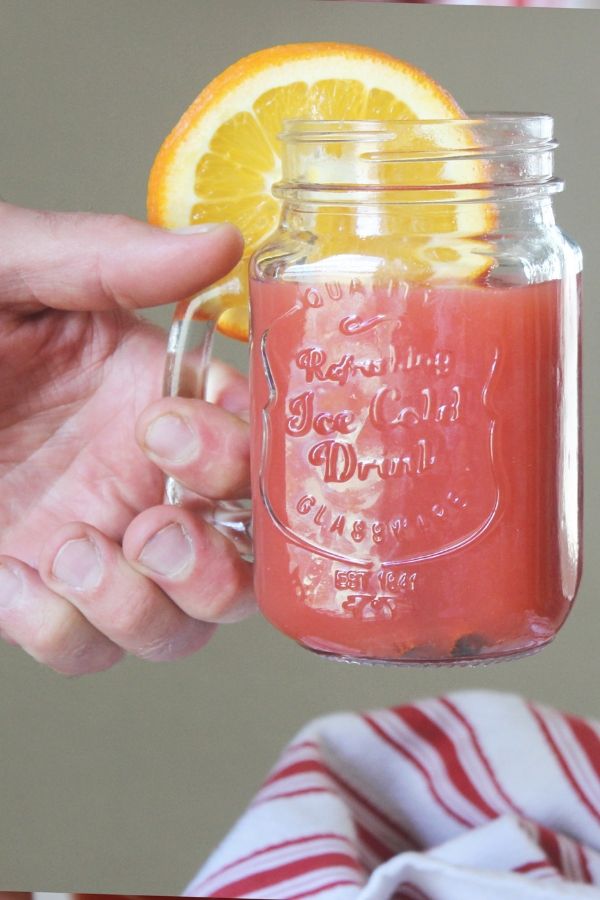 Delicious Wassail Recipe Made in Slow Cooker
Servings 10 cups
An easy slow cooker wassail recipe that you can make any time of the year. This wassail hot drink is easy to make and bursting with mulled spices and flavor.
Ingredients
2 cups apple cider
1 cup cranberry juice
2 cup orange juice
3 tablespoons sugar
1 tablespoon lemon juice
1/3 cup red hots
2 teaspoons whole cloves
1 orange sliced
2 cinnamon sticks
1/2 teaspoon all spice
Instructions
Add all the ingredients into your slow cooker, and stir well. Then cook on low for 4-6 hours.
Notes
ALCOHOLIC VERSION: To make this alcoholic, after it has finished cooking, add in a shot of vodka or even rum. Stir and serve!
Nutrition
Serving: 1cupCalories: 82kcalCarbohydrates: 20gProtein: 1gSodium: 60mgFiber: 1gSugar: 16g
Can I Make Wassail On The Stove Top
Of course! Combine all the ingredients into your large pan on the stove. Then heat on low for 4-6 hours and stir every now and again to prevent the red hots burning on the bottom until they are melted.
It could be done sooner, you can taste to see if the flavors are strong enough!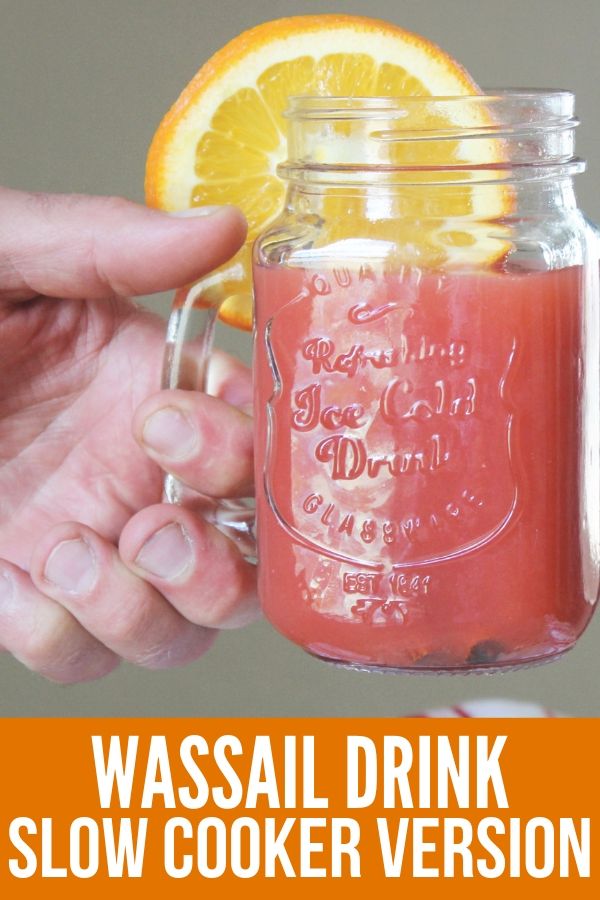 Craving More Holiday Recipes
Christmas Frosted Grahams | This is so easy to make, tasty, and kids and adults will love them. Give this recipe a try, and see how everyone likes them.
Penguin Brownies | Whip up these penguin-shaped brownies for a holiday treat. These are great for decorating a dessert table, holiday parties and more.
Bite-Size Pecan Balls | Here is a savory holiday appetizer. These pecan balls are so tasty and quick to make.
Have you ever tried wassail before?
Reader Interactions