Instant Pot Eggnog is the tastiest holiday homemade eggnog recipe to make for your friends and family. Eggnog is a traditional Christmas drink recipe to whip up for your holiday entertaining or late-night drink to sip on. Or make it an alcoholic drink and do bourbon or brandy eggnog!
Homemade eggnog is something I hadn't ever tried, but I felt like this was the year. I ventured out and did eggnog in the Instant Pot and it was fantastic. Thick and creamy eggnog that is perfectly spiced. Try Instant Pot Coquito for another fun holiday drink.
Instant Pot Eggnog
Pressure cooker eggnog is a quick and easy way to get that homemade eggnog you grew up drinking. This is way better than store-bought and so simple to make. Serve warm fresh from the Instant Pot or allow to chill overnight in the fridge. Either way, you have an incredible holiday drink to serve.
Try my apple pie vodka for another fall drink idea. Or use leftover eggnog to make this eggnog French toast bake in the Instant Pot.

How To Make Homemade Eggnog
For making eggnog in the Instant Pot I started by turning my Instant Pot to saute, with water inside the pot with the trivet. Then in a bowl, you want to whisk up your eggs well, followed by the rest of the ingredients.
Then you will pour your mixture into a pan that you place in the Instant Pot. Whisk continuously, until it reaches 150 degrees. Then turn the Instant Pot to the warm setting, and continue to whisk till you reach 160 degrees. Remove from Instant Pot, and serve warm or chill!
Food Safe Temperature For Pasteurizing Eggnog
You need your eggnog to reach 160 degrees Fahrenheit for it to make it food safe to drink. This is key to ensure your mixture reaches proper temperature. I used a thermometer to monitor my temperature.
With the Instant Pot, you can easily whisk your mixture as it is rising in temperature. If you don't continuously whisk it can scramble the eggs in the mixture. It is key to not go over the 160-degree mark.
Ingredients For Eggnog
Eggs
Vanilla
Milk
Heavy Cream
Salt and Cinnamon or Nutmeg
Sugar
Do You Strain Pressure Cooker Eggnog
If you want to you are more than welcome to run your eggnog through a fine-mesh strainer
or cheesecloth
. The reason you would do this is to push out a lot of the spice in the drink or get rid of any curdles that developed. I didn't strain mine since it was just for my family. But, if I planned to serve it to a crowd I would.
Thick Eggnog Recipe
My recipe gives you very thick and creamy eggnog. I use heavy cream and milk to create this thickness. Now, I used 1% milk, and I still had a really thick consistency. Of course, if you used whole milk you would find that it would add a thicker texture and richness. But feel free to make this eggnog recipe with any percentage of milk.
What Pan Did I Use For The Eggnog In Pressure Cooker
I purchased This Instant Pot Round 7 " Cake Pan and it worked great in my 6 quart Instant Pot
. Feel free to use any style pan whether it be a glass or aluminum. Just ensure it is safe in the Instant Pot. This recipe makes around 5 cups of eggnog.
How To Store Eggnog
Place your eggnog in a container that has a lid and store in the refrigerator. Then store in the refrigerator for up to three days. If you add in alcohol to your eggnog it will last up to five days.
The alcohol helps preserve the eggnog, but if you want it family-friendly leave the alcohol out.
More Holiday Drink Recipes
Slow Cooker Wassail | This recipe is so easy to make. Rich, sweet, and perfectly seasoned wassail made right in the slow cooker.
Instant Pot Cherry Pie Moonshine | Another drink recipe to serve up this holiday season. Or make these up and give as gifts to family and friends.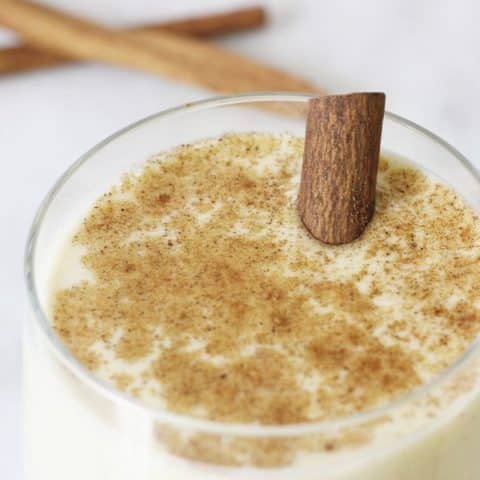 Instant Pot Eggnog - Thick and Creamy Homemade Eggnog
Instant Pot Eggnog is the tastiest holiday homemade eggnog recipe to make for your friends and family. Eggnog is a traditional Christmas drink recipe to whip up for your holiday entertaining or late-night drink to sip on.
Ingredients
5 eggs
1 cup heavy cream
2 cups milk
1/2 cup sugar
1 teaspoon vanilla
1 teaspoon cinnamon or nutmeg
1/4 teaspoon salt
Cinnamon stick (optional)
Instructions
Start by pouring 5-6 cups of water in your Instant Pot. Then set the trivet down in the water.
Now in a bowl, mix up your eggs until beaten. Then pour all other ingredients in the bowl and whisk really well until really mixed.
Turn the Instant Pot to Saute and wait for the water to begin boiling.
Place a pan in your Instant Pot and then pour egg mixture in. Whisk continuously until it reaches 150 degrees.
Once it hits 150 degrees, turn the Instant Pot to warm, and continue stirring until you hit 160 degrees.
Remove from the Instant Pot, serve fresh or store in the fridge.
Recommended Products
As an Amazon Associate and member of other affiliate programs, I earn from qualifying purchases.
Nutrition Information:
Yield:

10 servings
Serving Size:

1/2 cup
Amount Per Serving:
Calories:

184
Total Fat:

12g
Saturated Fat:

7g
Trans Fat:

0g
Unsaturated Fat:

4g
Cholesterol:

124mg
Sodium:

121mg
Carbohydrates:

14g
Fiber:

0g
Sugar:

11g
Protein:

6g
Have you ever made Instant Pot Eggnog?