Apple Pie Vodka is an infused apple vodka with warm spices for that fall flavor. Drink this apple vodka alone or use to mix in your favorite cocktail.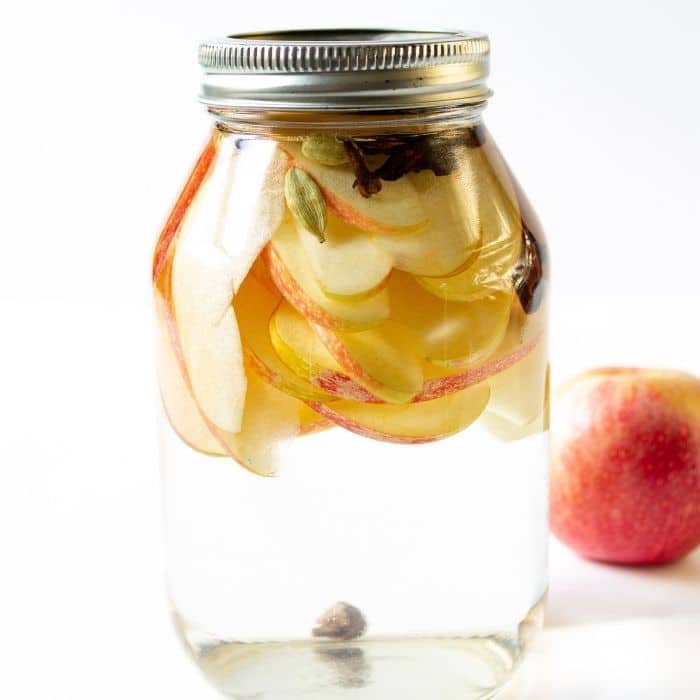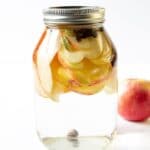 Apple Pie Vodka is a fall-flavored infused vodka recipe. Use this apple vodka to sip on or to make a cocktail using the apple infused vodka to mix in your drink.
Apple pie alcohol is something you think of when you think of fall and alcoholic drinks. Sip on something that tastes like warm apple pie. Try my homemade Baileys Irish liqueur recipe as well for another alcohol. Serve up this white wine sangria recipe for another cocktail.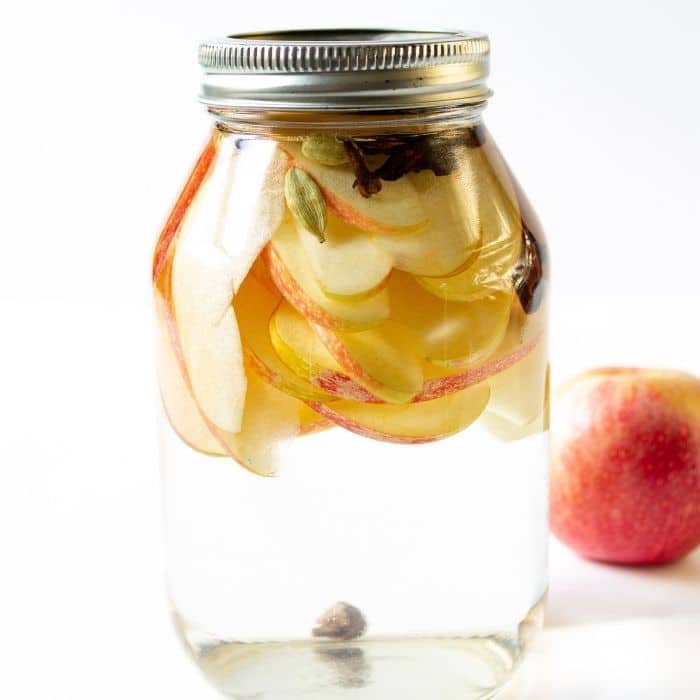 Easy fall spices are used to infuse this vodka into an apple pie liquor. Easy steps, simple ingredients, bold and delicious flavors.
You can infuse vodka in just a couple of days, and great for serving up for your fall entertaining, weeknight refreshing drinks after work, and more.
Why You Will Enjoy This Apple Pie Vodka…
Simple ingredients
Apple pie flavor in each sip
Delicious
Great for mixing in drinks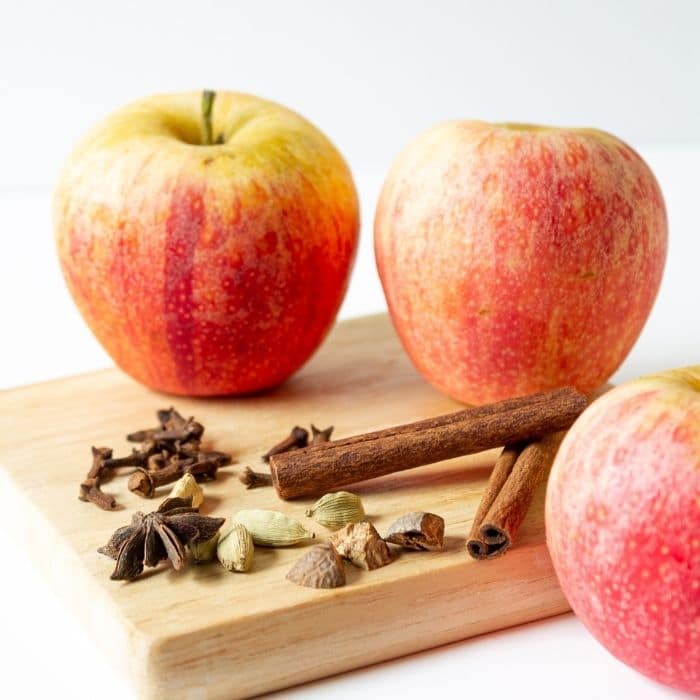 🍎 Main Ingredients
Vodka | Use any brand of vodka you want. Reach for an unflavored vodka so you can flavor it with the apples and spices properly to get an apple flavored vodka result.
Spices | Cloves, Cardamom pods, Anise, Nutmeg and Cinnamon sticks are what really help add tons of flavor to your vodka.
You also add some vanilla and sugar to help bring out more sweet in the mix of warm spices.
Apples | For the apples I reached for a sweet variety. Fuji, Honeycrisps, Gala, or even a Braeburn is a great choice.
For this vodka you wouldn't want to use like a tart apple as it will give it a tangy flavor you don't want.
Make Infused Vodka In Advance
Plan ahead when it comes to making infused vodka. The flavors need to blend, so it needs to sit for 2 days before drinking.
It needs time for the alcohol to infuse with the fresh sliced apples, warm spices, sugar, and vanilla extract.
Looking For More Drink Recipes | Pumpkin Spice Whipped Coffee, Whiskey Lemonade, Bloody Mary, Whiskey Ginger Ale, or Apple Pie Punch.
Tips and FAQs
You need to use a sweet apple instead of tart.
You can use artificial sweetener to replace sugar, just do proper conversion of measurement.
The vodka has to sit in the fridge in a sealed container for 2 days before drinking.
The vodka once infused can store in the fridge for up to two weeks.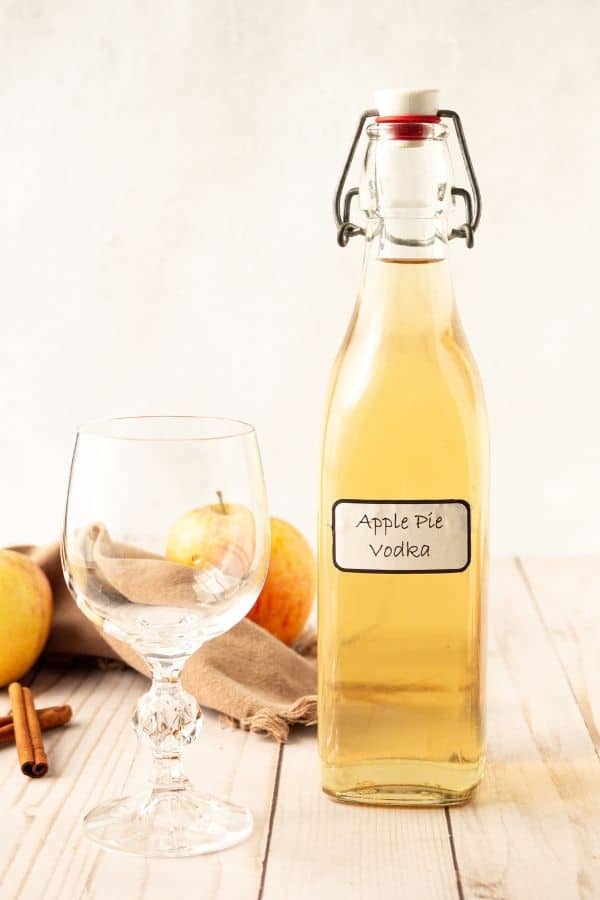 How Do You Make Apple Vodka?
Add your apples and spices, sugar, and vanilla into a jar. Top with vodka, and place in the fridge. Store for two days, shaking to infuse flavors. Then enjoy!
Does Apple Pie Vodka Need to Be Refrigerated?
You will need to keep your apple pie vodka in the refrigerator. Otherwise you will find it spoils if left on the counter at room temperature.
Do You Leave Apples and Spices In Vodka Once Infused
After your vodka is infused, you will use a cheesecloth or fine mesh strainer to get rid of the apple slices, and spices. That way you have a smooth flavored vodka.
Best Container To Store
There are numerous ways you can store your vodka. When I soaked mine I reached for a mason jar with a lid.
I find the mason jar works great for fitting the apples and spices in, and getting them removed easily.
Then for later I poured into a pourable container. Just make sure there is a lid to prevent odors from getting into the vodka.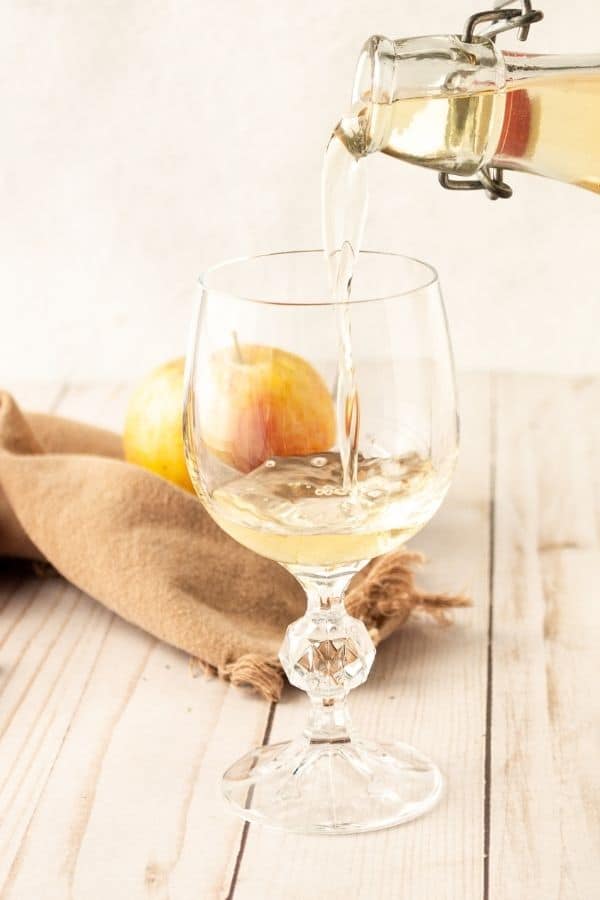 ⏲️ How Long To Store
Store this in the refrigerator for up to two weeks once it is infused and you discard the spices and apples.
You don't want to go over that as the fruit and sugar in the vodka mixture can spoil.
🍷How to Drink
Make A Spritzer, drink it plain, or use this vodka for any of your favorite vodka-based drinks! You can use it any way you would use a flavored vodka.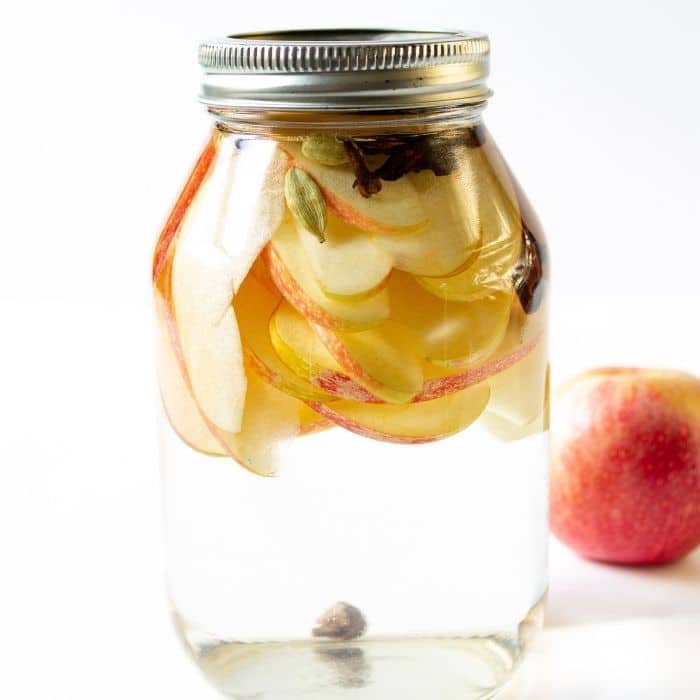 Apple Pie Vodka
Servings 3 .5 cups
Apple Pie Vodka is an infused apple vodka with warm spices for that fall flavor. Drink this apple vodka alone or use to mix in your favorite cocktail.
Ingredients
2 medium apples sweet apples
1 cinnamon stick
1 whole star anise
5 whole cardamom pods
½ piece nutmeg
10 whole cloves
1 – ¼" slice ginger optional
1 bottle/750ml vodka
1 teaspoon vanilla extract
½ cup granulated sugar
Instructions
Wash and slice your apples into thin slivers.

In a large jar you will add your sliced apples, cinnamon stick, star anise, cardamom pod, cloves, nutmeg and ginger. Pour your vodka over the mixture.

Cover and place the vodka mixture in the fridge for 48 hours. Try to shake it a few times in between.

Then after the 48 hours you will add your 1/2 cup water and granulated sugar in a saucepan and stir until dissolved on medium heat.

Strain your vodka with a fine mesh strainer or cheese cloth as your sugar water is cooking. Remove all spices and apples from the vodka.

Bring to a simmer and let cook for 30 seconds, then remove from heat and allow to cool.

Add the 1/2 cup of the simple syrup you made and pour into the infused vodka, along with vanilla extract.

Stir well, and then store in a glass container for up to 2 weeks.
Notes
Use sweet apples like Fuji, Honeycrisp, Gala, Etc
Try to shake the vodka with fruit to help get all the spices and apple flavor released into the vodka.
You can skip making your own simple syrup and buy some to use to mix in the vodka after it is infused.
Drink plain or use the apple vodka to mix in any vodka drink recipe you would like.
Feel free to make as much as you would like at a time, this makes a great holiday gift.
Nutrition
Serving: 1gCalories: 195kcalCarbohydrates: 15gSodium: 2mgFiber: 1gSugar: 13g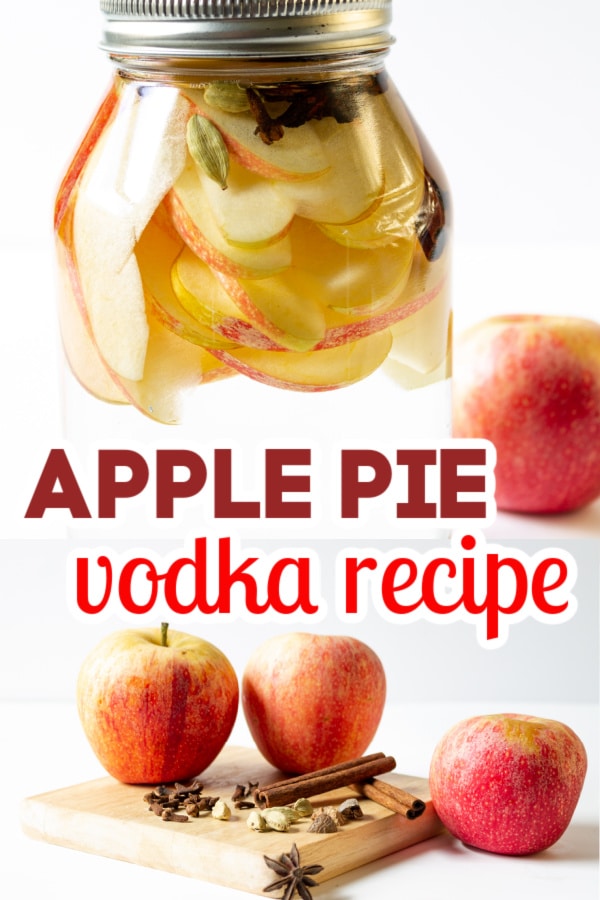 Reader Interactions