Pumpkin Spice Whipped Coffee is a fun fall drink you can make in little as 5 minutes at home. A whipped pumpkin spice coffee drink that is sweet, creamy and loaded with pumpkin spice coffee flavor.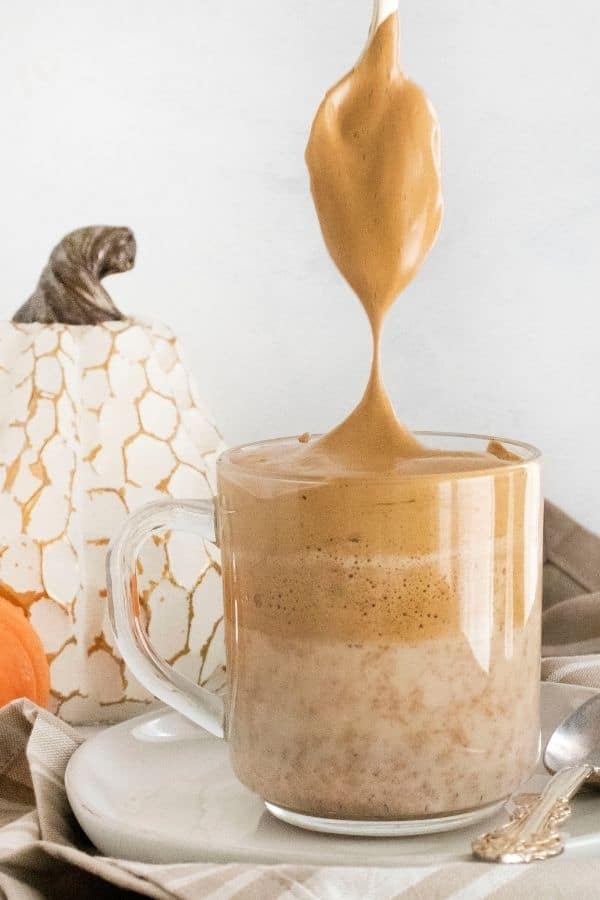 I love pumpkin! Try my homemade pumpkin creamer, no bake pumpkin cheesecake, pumpkin spice cake, or try my pumpkin carrot muffins.
Pumpkin Spice Whipped Coffee
I love coffee, but I don't drink it too often. When I do you can bet I am going to have pumpkin involved in it! This Dalgona coffee is a fun twist for the fall season.
Pair your coffee with these 30 minute pumpkin cinnamon rolls!
What is Whipped Coffee
Dalgona took the world by storm a few months back. Whipped coffee is mixing equal parts of Instant coffee, sugar and water together creating a rich creamy and fluffy whipped froth in a sense.
You serve it on top of milk, cold or warm, and sip away. You get the bold flavors from the whipped coffee that gets tamed down with the sweet milk.
Why Make This Pumpkin Spice Coffee
Less than 5 minutes to make
Basic pantry ingredients
Flavorful
Affordable and easy (no high priced coffee shop drink)
Satisfies your coffee cravings
☕ Main Ingredients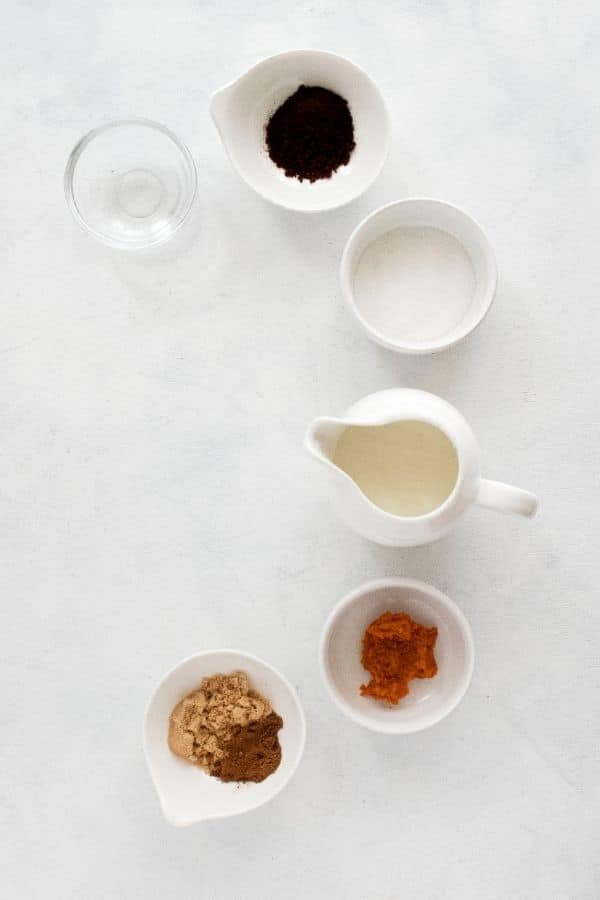 Instant Coffee | You need to use instant coffee. Buy any of your favorite brand. It also can be decaf if you need.
Sugar and Spice | This is going to be what helps to sweeten your coffee. I loved brown sugar but feel free to use granulated sugar.
Pumpkin Puree | Pumpkin puree is my secret ingredient. It adds so much richness to this drink!
🍴 How to Make
Full directions and ingredient list is in the printable recipe card below. This is to help you fully get how to make the coffee if you like visual help.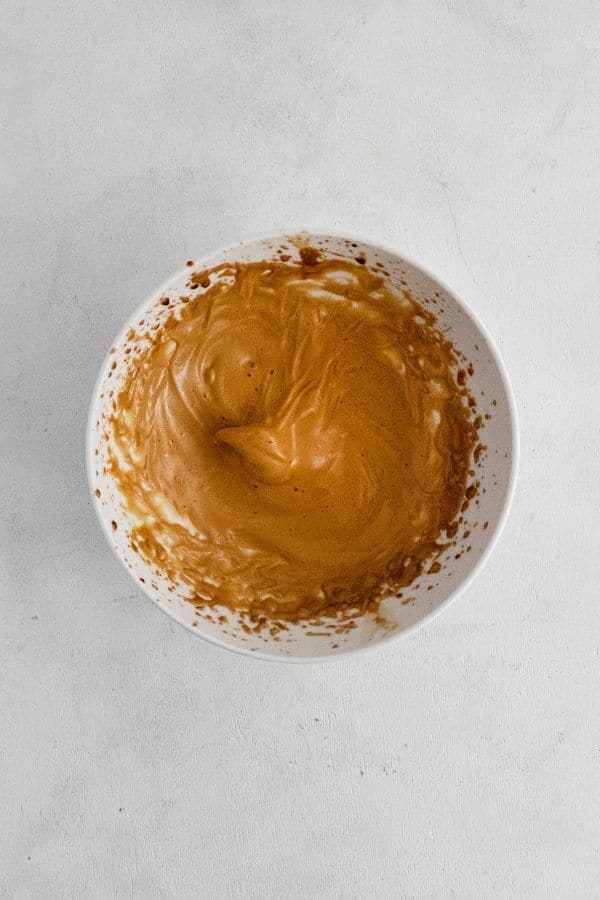 Step 1: Start by adding your hot water, instant coffee granules, and granulated sugar in a bowl. Use a hand mixer and whip until it begins to create firm peaks like a whipped cream. This takes a few minutes.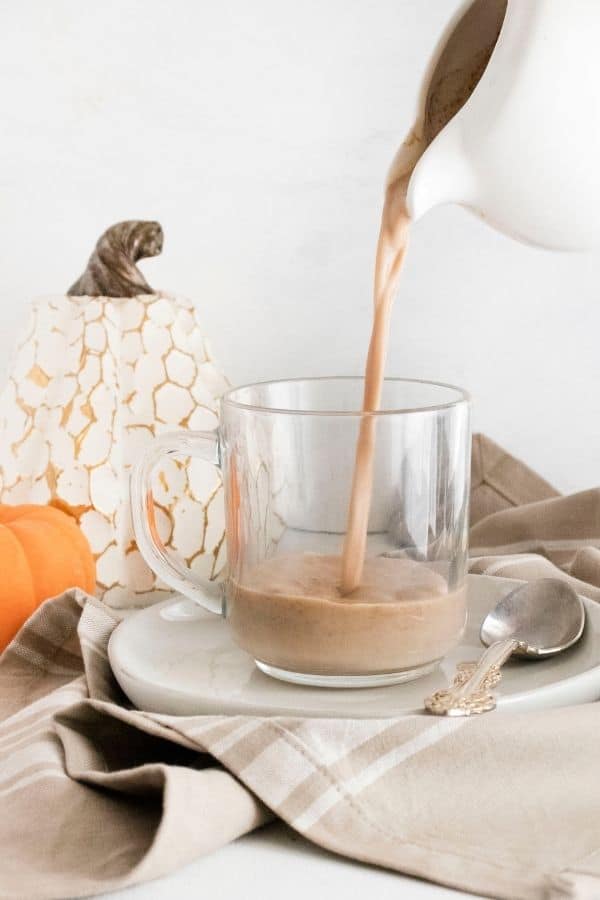 Step 2: Combine milk, pumpkin puree, pumpkin spice. Stir well till mixed. Now you can warm the milk mixture up to make a warm cup or leave cold for an iced drink.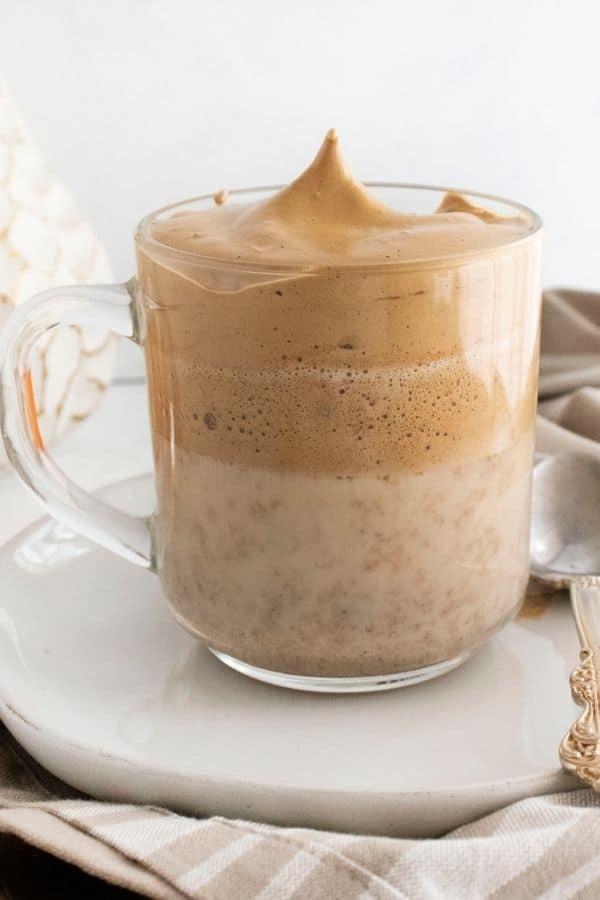 Step 3: Pour your pumpkin milk into the cup. Then top with the whipped coffee stopping! Dust with pumpkin spice or even top with whipped cream.
Iced Or Warm Drink
Warm Whipped | You will warm your milk on the stove or in the microwave until it is warmed. Then top with the whipped creamer topping.
Iced | Mix up the milk mixture, pour ice in a cup, then add milk. Top your mixture with pumpkin coffee mix and enjoy!
Why Is My Whipped Coffee Topping Bitter
You will find the coffee topping by itself for this whipped coffee is very bitter. That is why you need the milk to help mellow out and blend the flavors.
I stir my drink a bit to help blend the two together before I sip. Alone it is harsh, but with the milk it is perfection.
Variations to Recipe
Hazelnut spread in replace of pumpkin spice
Cinnamon
Caramel
Chocolate syrup
Matcha
Vanilla
Etc
Get creative! Leave out the pumpkin puree and pumpkin spice seasoning and swap in new flavors. You could essentially make any flavor of Dalgona your heart desires!
Also for another fall inspired drink, try my apple pie vodka.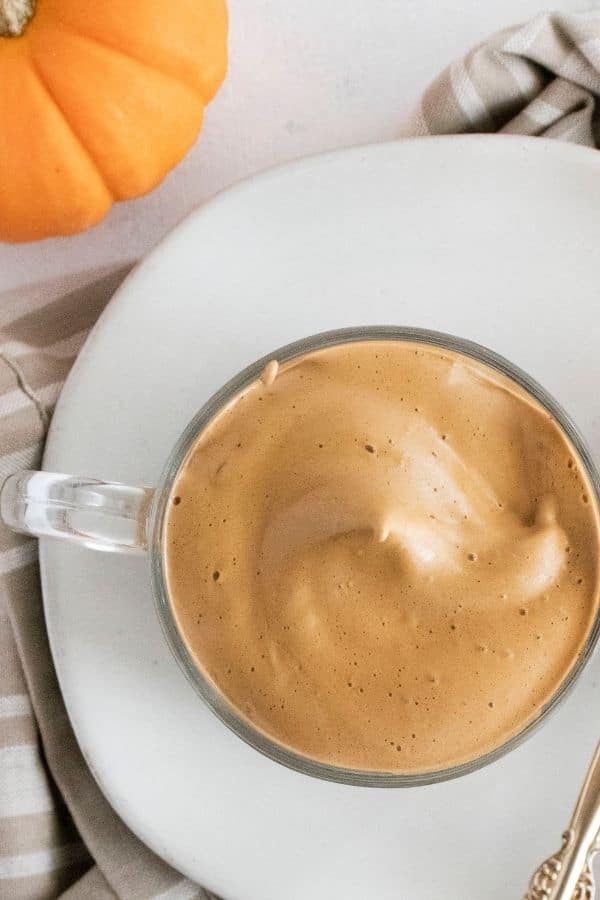 Want More Pumpkin Recipes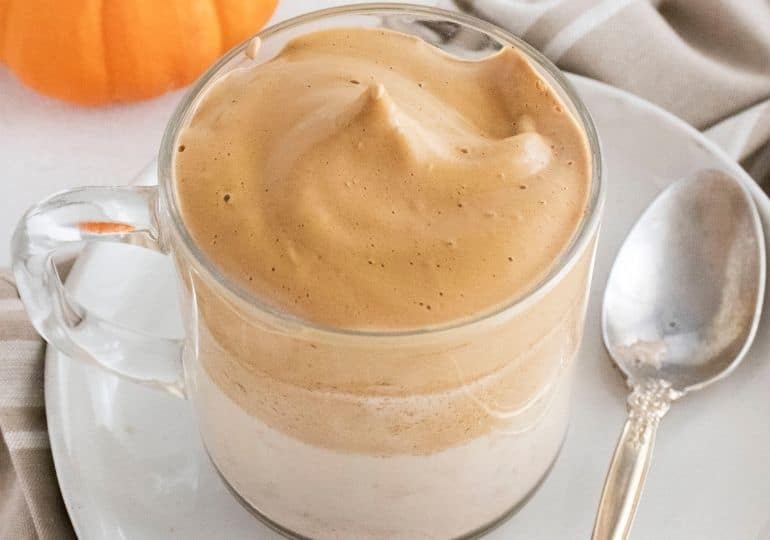 Pumpkin Spice Whipped Coffee
Servings 1 cup
Pumpkin Spice Whipped Coffee is a Dalgona Coffee recipe for fall. Whipped pumpkin spice whipped cream served over a pumpkin milk mixture.
Ingredients
Coffee Whipped Cream
1 tablespoon Instant Coffee or Espresso
1 tablespoon granulated sugar
1 tablespoon hot water
Pumpkin Spiced Milk
1/2 cup milk
1 tablespoon canned pumpkin puree
1 tablespoon brown sugar
1/2 teaspoon pumpkin spice
Instructions
To make the whipped coffee cream you will add your hot water, instant coffee and granulated sugar in a bowl. Whip on a higher speed until it begins to form thick peaks like a whipped cream.

Now you will work on your milk. Add your milk, pumpkin puree, brown sugar, and pumpkin spice in a bowl. Stir until combined.

Then you can warm the mixture up for a hot drink or add ice to your cup for an iced drink. Top with the whipped coffee cream.
Notes
You can use any type of milk – whole, almond, soy, etc
Canned pumpkin puree can be left out if you want
Store the milk mixture in the fridge for 1-2 days, stirring well before you make another cup.
You can swap brown sugar with a maple syrup for added richness. It also will not be gritty like brown sugar is if you don't mix it up well enough.
Nutrition
Serving: 1g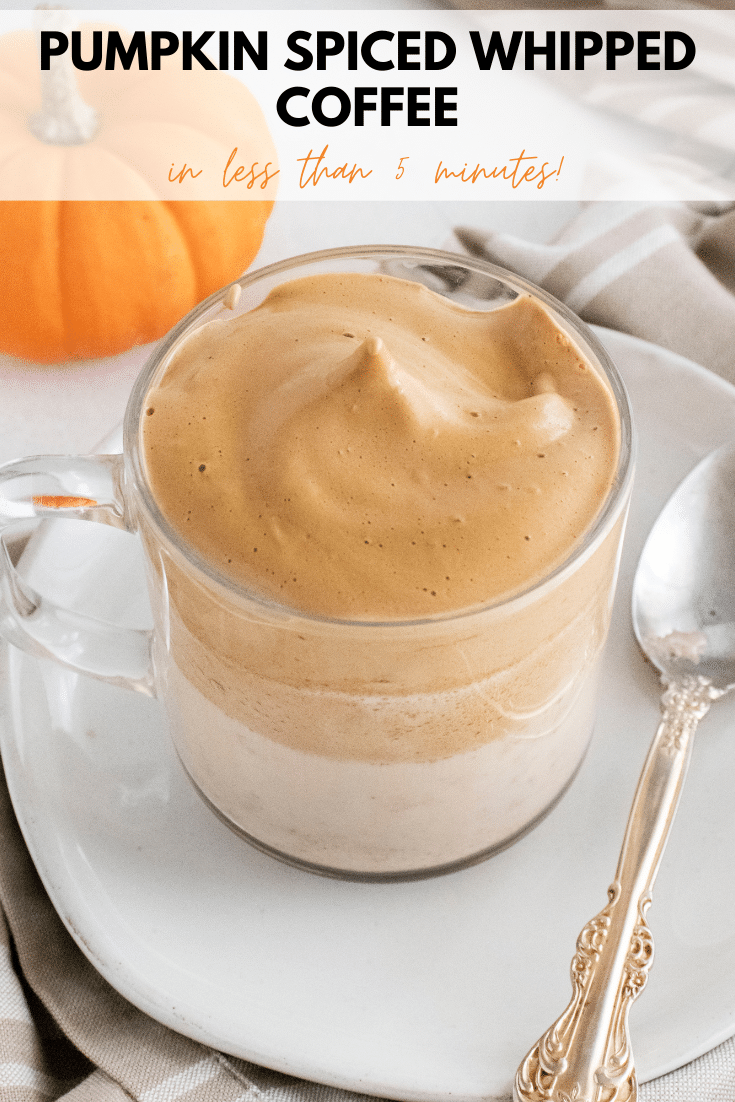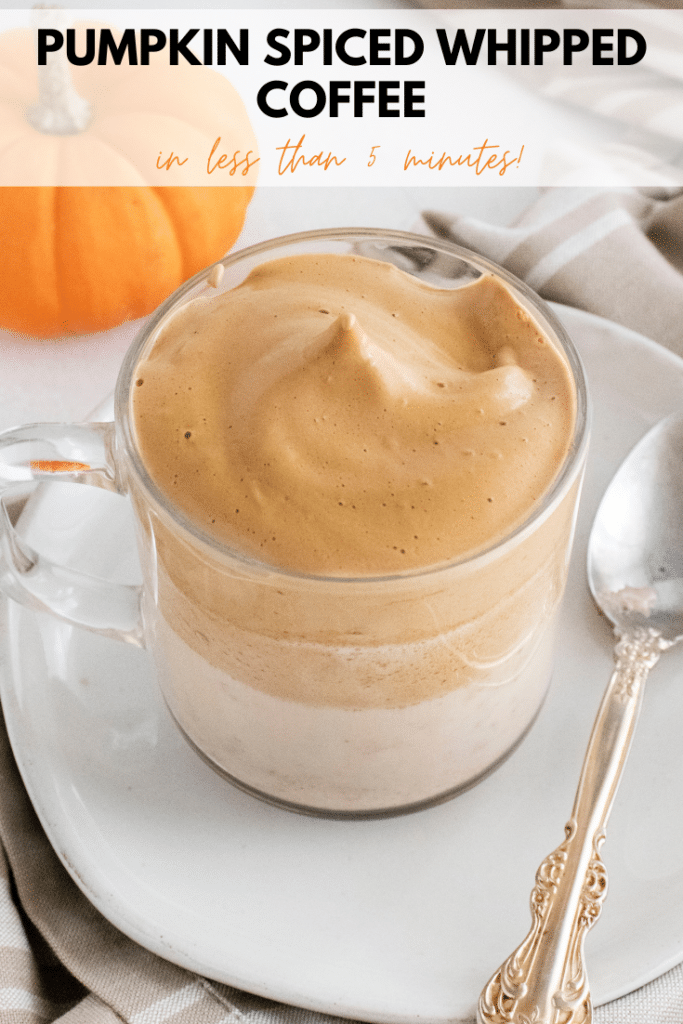 Have you tried a pumpkin whipped coffee yet?
Reader Interactions