Instant Pot Homemade Pumpkin Puree is the easiest way to make your own homemade pumpkin puree in your very own kitchen. Forget having to run out to the store ever again. Instead, make your own and fall in love with the flavor and taste difference!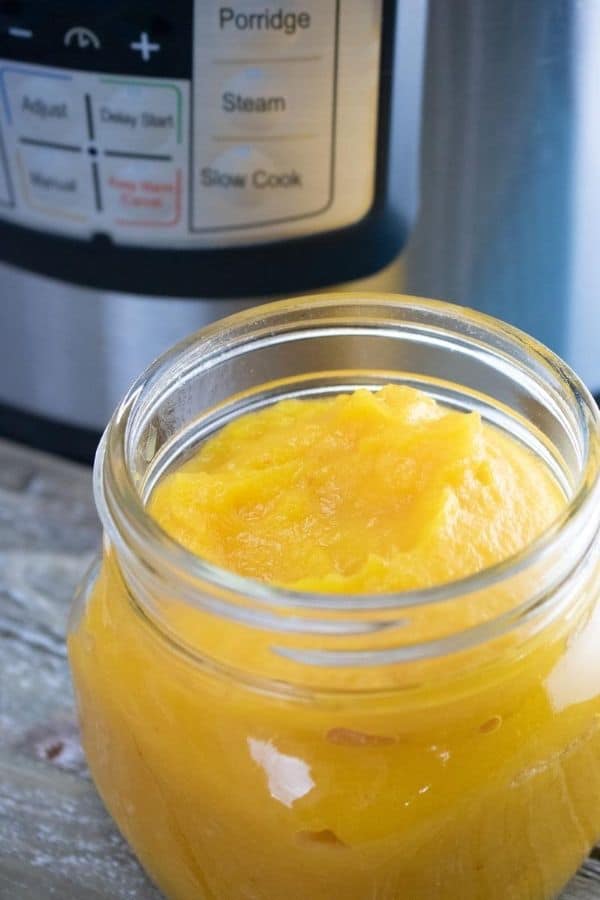 Craving even more of that delicious pumpkin flavor? Check out this Easy Instant Pot Pumpkin Spice Coffee Creamer Recipe or this Incredible Chocolate Pumpkin Cheesecake Cake Recipe.
Instant Pot Homemade Pumpkin Puree
Can you believe that all you need to make this roasted pumpkin puree is a small baking pumpkin and a cup of water? Get outta here! Pressure cooking this pumpkin makes it soft, delicious, and crazy easy!
How To Make Pumpkin Puree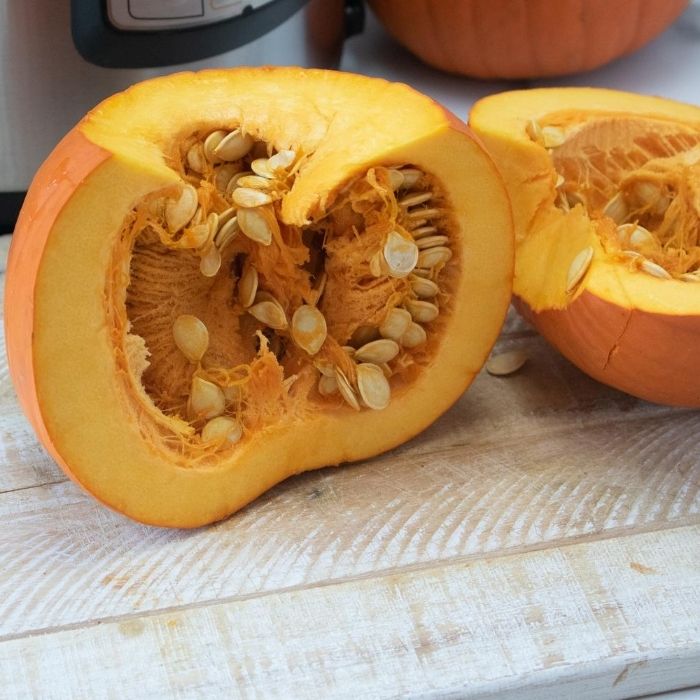 Step 1: Make certain that you start with a clean pumpkin and remove the stem. Then, using a spoon, scoop out the pumpkin seeds and flesh from the inside of the pumpkin.
Step 2: Once them middle is scooped out, add in a cup of water. Put the pumpkin wedges into the Instant Pot (rack or no rack – either is fine).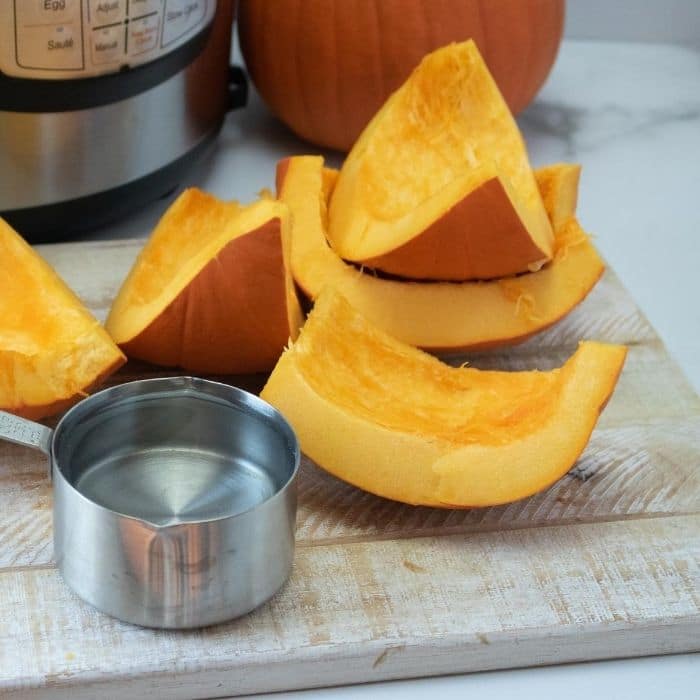 Close the lid and seal the pressure valve. Set on manual/high pressure for 13 minutes.
Step 3: Once the time is done, you're going to manually release the pressure in the Instant Pot (flip the valve) and be very careful when taking off the top.
Take out the pumpkin but be careful as it's going to be very hot.
Step 4: Once you have the pumpkin out of the Instant Pot, you need to scrape the pumpkin "flesh" aware from the pumpkin skin. Again, this is going to be very hot so be careful.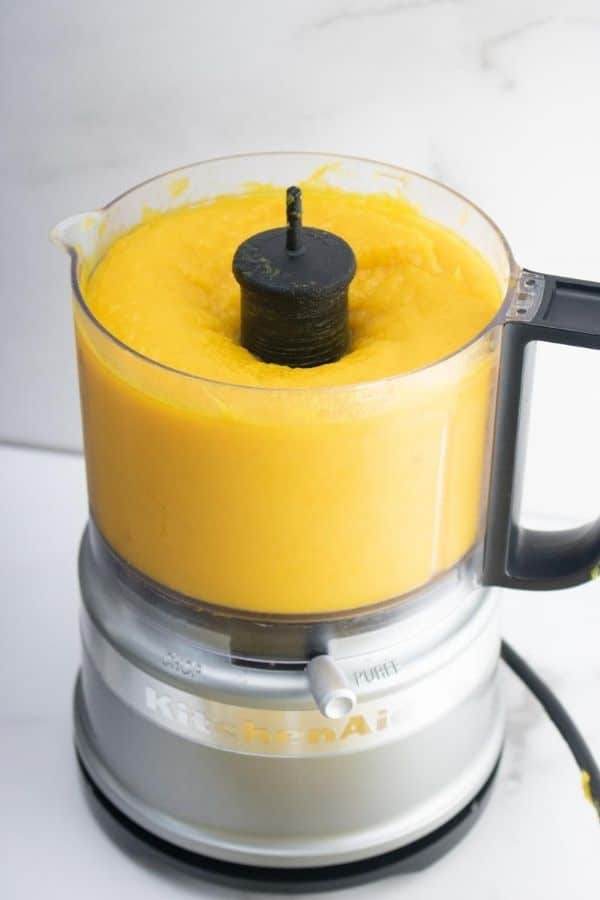 Take the pumpkin flesh and put it in the blender or food processor. Blend until pureed. (You can also put it back into the Instant Pot and use a hand blender, too)
Step 5: Use the puree in your favorite pumpkin recipe or store in an airtight container for up to 7 days.
Full directions and recipe is in the printable recipe card below.
What type of recipes would you use pumpkin puree in?
Anything that calls for pumpkin! Instead of buying pumpkin in the can at the store, you would use your homemade puree instead.
This would be amazing in pumpkin bread or even in a pumpkin spice latte. I'm being serious – using fresh pumpkin puree is an amazing taste and flavor! You'll never want to go back to store-bought ever again!
Is canned pumpkin and pumpkin puree the same thing?
Canned pumpkin isn't really pumpkin at all. Crazy, right? It's actually a combination of different squashes. Pumpkin puree is legit 100% pumpkin.
Is pumpkin puree Keto?
Pumpkin puree is low carb and keto-approved. This puree is delicious so it's great, in moderation, if you're on the keto diet.
Is pumpkin a healthy vegetable?
Pumpkins are naturally delicious but also packed full of awesome nutrients, too. Pumpkin is high in minerals and very rich in fiber so it's great for a healthy diet.
As long as you don't make up a sugar pumpkin dessert, you'll maintain a lot of the health benefits of pumpkin.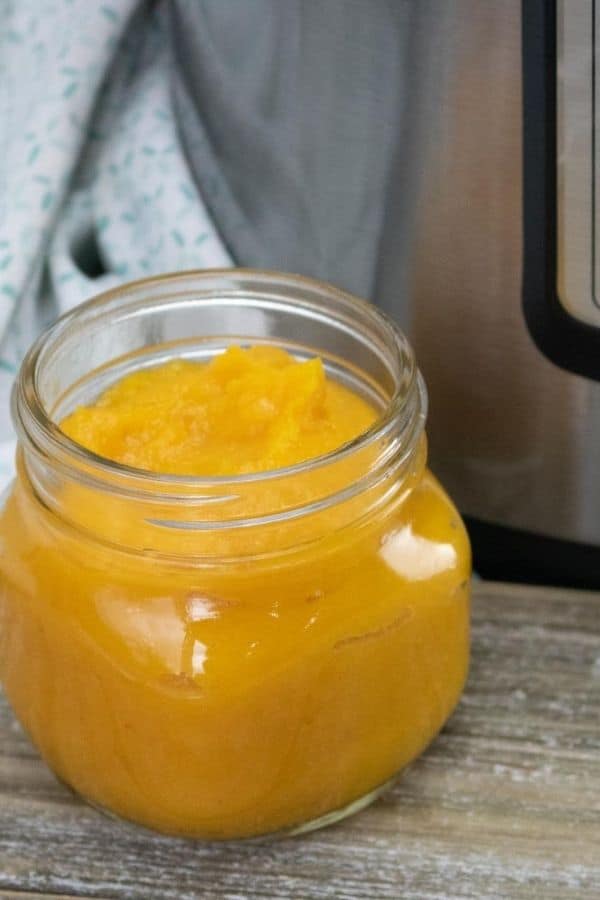 What's the easiest way to get a hot pumpkin to cool down?
Once you take the pumpkin out of the Instant Pot, you're going to need to let it cool. Sitting it on the counter on a baking sheet and allowing it time to cool down is a super simple plan.
Due to the hot and fast cooking time, it's going to take it several minutes to cool down all the way so that you can touch it.
I can assure you that this pumpkin puree recipe is just about the easiest recipe, ever!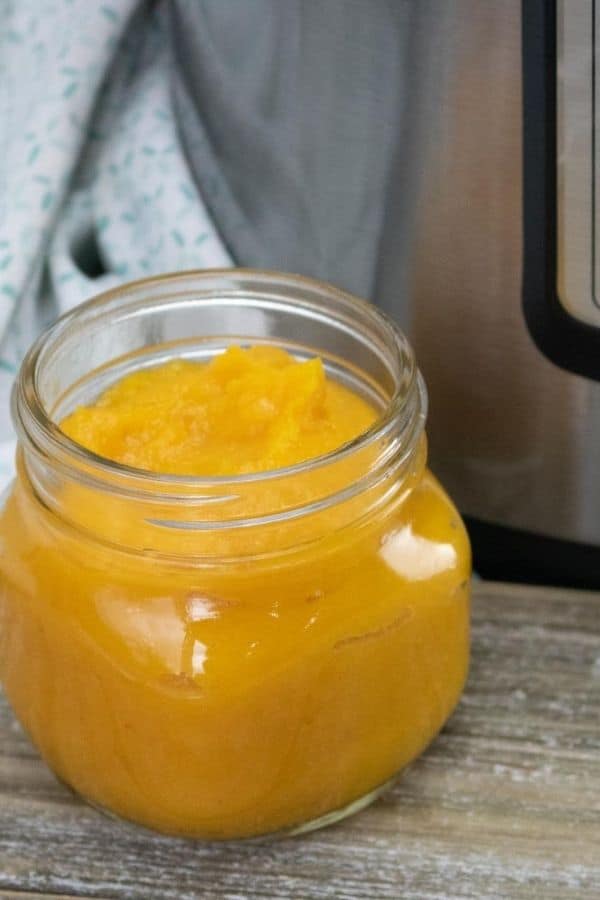 Instant Pot Pumpkin Puree
Servings 4 cups
Instant Pot Pumpkin Puree is an easy way to make homemade pumpkin puree yourself. Rich, flavorful, and perfect to bake with. Try this pressure cooker pumpkin puree today.
Ingredients
1 small baking pumpkin
1 cup water
Instructions
Start by slicing your pumpkin in half, and scraping out the seeds and removing the stem. Then use a spoon to get all the seeds and strings.

Slice your pumpkin into wedges, that way it easily fits into the pressure cooker.

Add 1 cup of water into the Instant Pot. Place your pumpkin in the pot. You can use a trivet or opt to not. Either will work.

Place the pressure cooker lid on and make sure the valve is set to sealing. Set on manual/high pressure for 13 minutes.

When the time is up you will quick release the pressure, and then carefully remove the pumpkin with tons or a spoon.

You will now use a spoon and scrape the pumpkin flesh away from the skin of the pumpkin. Put the pumpkin in a food processor or blender.

Blend until you have a creamy pumpkin puree.

You can use your homemade pumpkin puree how you would like. It will store in an airtight container for up to a week in the fridge.
Notes
You can freeze your pumpkin puree in a sealable bag or freezer container. Make sure to remove the air out and serve in 1-2 cup serving sizes. The pumpkin puree can freeze for up to six months when frozen properly.
Nutrition
Serving: 1gCalories: 12kcalCarbohydrates: 3gSodium: 3mgFiber: 1gSugar: 1g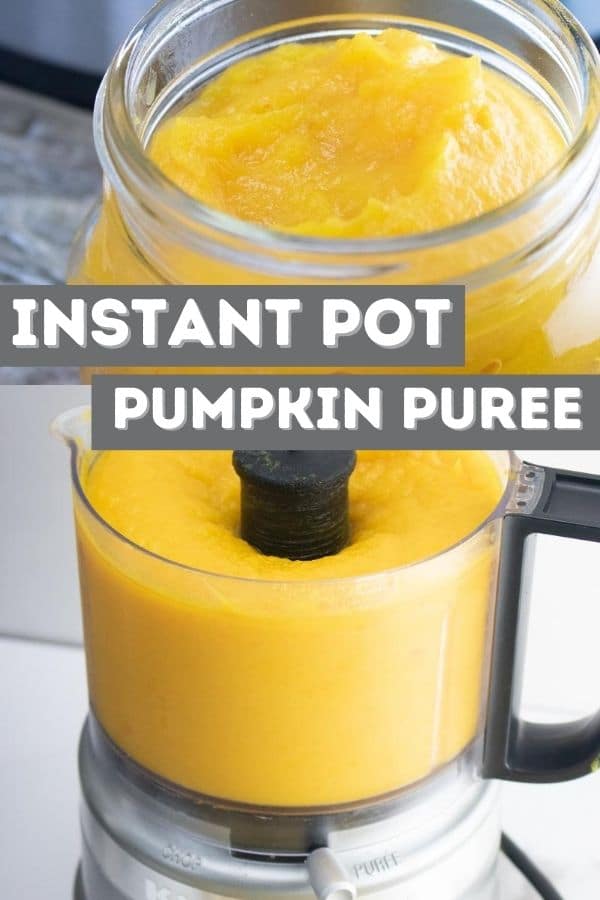 Reader Interactions