Pumpkin Carrot Muffins are an absolute treat. A pumpkin spice muffin base that is loaded with carrots, raisins, and pecans. Pumpkin spice carrot muffins are an absolute delightful muffin.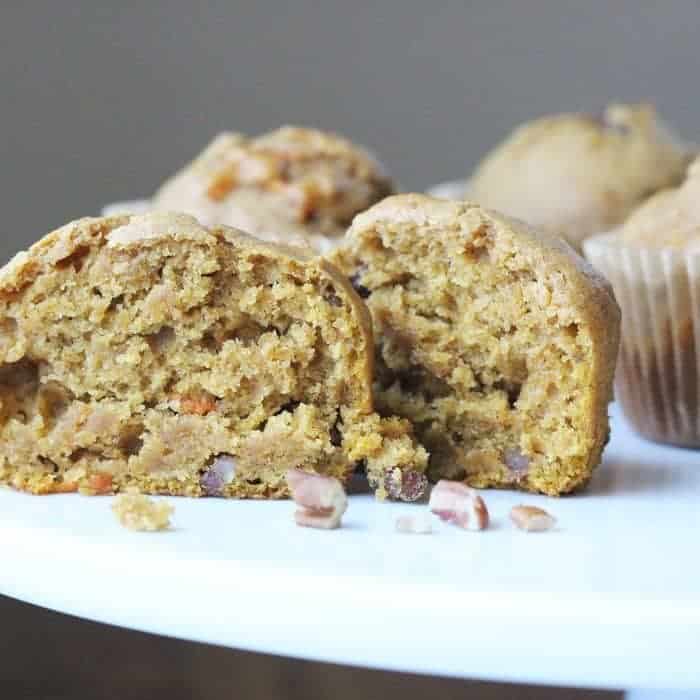 Ultra moist pumpkin carrot muffin recipe that will win over a crowd. If you enjoy carrot cake and pumpkin spice then you will leap for joy over these muffins! Give my oatmeal pie a try too for a fun fall dessert. Try my cranberry muffins!
Pumpkin Carrot Muffins
I love a classic pumpkin muffin. But I was wanting more. I remembered a carrot bread I had in a trip to Vegas. And that is how I thought to combine pumpkin and carrot, I loved that carrot bread, but I wanted pumpkin as well. Why not combine the two and see how it turns out.

What Is A Pumpkin Carrot Muffins
I wanted to kind of take aspects of carrot cake and pumpkin spice muffins and combine the two. I added raisins for added sweetness and pecans for crunch,
My son gobbled up the muffin right away and asked for another. It is safe to say this was a total win in our house. These carrot pumpkin spice muffins are a must make.
Craving More Pumpkin Recipes
Pumpkin Lasagna | A dessert lasagna that will melt in your mouth. Layers of incredible flavors of pumpkin whipped crema and more.
Chocolate Chip Pumpkin Bread | A moist pumpkin bread that is loaded with sweet chocolate morsels. Serve this up for your favorite fall dessert.
Pumpkin Cheesecake Cake | This is a pumpkin cake with a layer of cheesecake in the center. Slice and serve this amazing dessert for your holiday gatherings.
Pumpkin Waffles | Homemade pumpkin waffles are tasty, light, fluffy and downright incredible. Whip these up for a quick breakfast for the family.
Tips for Making Pumpkin Muffins
Pumpkin Puree is what you need not pumpkin pie mix. Make sure to reach for the right can or these muffins won't work.
Don't like raisins? That is okay, leave them out. The muffins will taste just as good.
Pecans add texture and flavor but also another ingredient you can opt to leave out.
Make sure your baking soda and baking powder are both still good. These two ingredients if expired can ruin your muffins.
I used sour cream in these muffins, if you are not a fan, opt for plain Greek or regular yogurt.
Alternatives to Raisins in Pumpkin Carrot Muffins
Leave them out and don't replace or consider adding in some dried cranberries to replace. Or even a little unsweetened coconut flakes. Either would be incredible!

Do You Peel Carrots for Carrot Pumpkin Muffins
I did peep my carrots, but if you wash them good you can totally skip the step of peeling. I just prefer a peeled carrot so it takes just a minute to peel them so you can choose to do it or not.
I have a Titan peeler
, and I actually have had it for almost 10 years now, and it still peels incredibly! If you are looking for a really good peeler give this one a try.
What Type of Carrots To Use In Pumpkin Carrot Muffins
You will want to shred the carrots with a grater. I used 1 and a half large carrots to have enough for this recipe. Depending on the size of your carrot will depend on how many you will need. You could also grate mini carrots as well, if you don't have full-size carrots.
How To Store Carrot Muffins
You will want to allow muffins to cool and then store them in the refrigerator. These muffins will store for up to 5-7 days in the refrigerator. You are welcome to serve these muffins at room temperature if you want a softer texture to the muffins.

Can You Freeze Carrot Pumpkin Muffins
Absolutely, these carrot pumpkin muffins freeze beautifully! Just allow them to fully cool and then place in a freezer bag or airtight container. Then toss in the freezer for up to three months.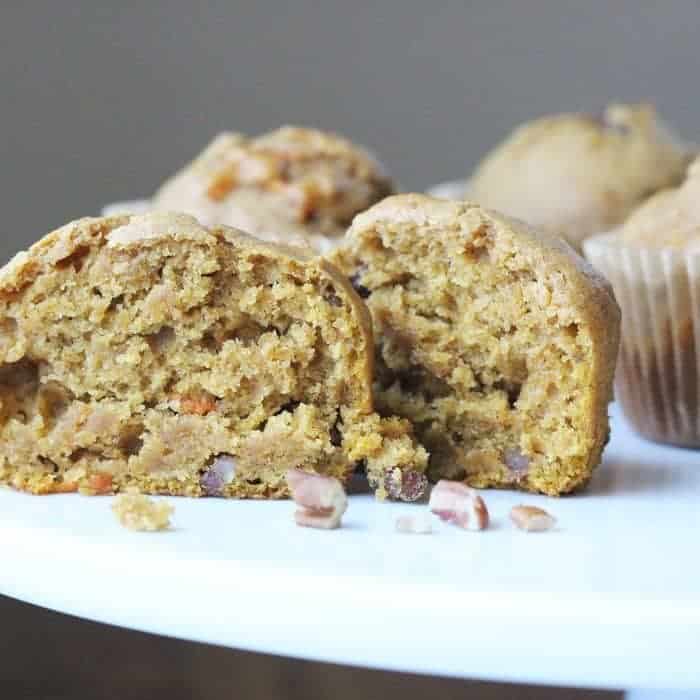 Pumpkin Carrot Muffins Recipe
Servings 12 Muffins
Moist Pumpkin Carrot Muffins are an absolute treat to make. A pumpkin spice carrot muffin perfect for fall.
Ingredients
1 large egg
3/4 cup Pumpkin Puree
1/3 cup granulated sugar
1/3 cup light brown sugar
1/3 cup vegetable or canola oil
1/4 cup sour cream
1 cup shredded carrots
1/4 cup raisins
1 tablespoon vanilla
2 tablespoons pumpkin spice
1 1/4 cup all purpose flour
1/2 teaspoon baking soda
1/2 teaspoon baking powder
1/2 cup pecan chopped
Instructions
Preheat oven to 350 degrees. Then, you want to add in your egg, sugars, pumpkin spice, oil, sour cream, and vanilla. Blend until creamed.

Then add in your pumpkin puree and blend again.

Now you will add in your dry ingredients the flour, soda, and baking powder. Once blended, then fold in the pecans, shredded carrots, and raisins.

Spoon muffins batter into lined muffin tin. Bake for 15-18 minutes or until muffins is cooked through.
Nutrition
Serving: 1gCalories: 169kcalCarbohydrates: 27gProtein: 3gFat: 6gSaturated Fat: 1gPolyunsaturated Fat: 4gCholesterol: 18mgSodium: 91mgFiber: 2gSugar: 14g
Can I Double This Carrot Muffin Recipe
Yes, you can double this recipe. Just grab an extra muffin pan and bake both at the same time if your oven has room. If not then you are more than welcome to batch cook.
Can I Use Mini Muffin Tin In Replace Of Regular Muffin Tin
Of course. Just cut down the baking time and just after 8 minutes and keep an eye on them. Then remove and place on a cooling rack once they are done baking to cool down.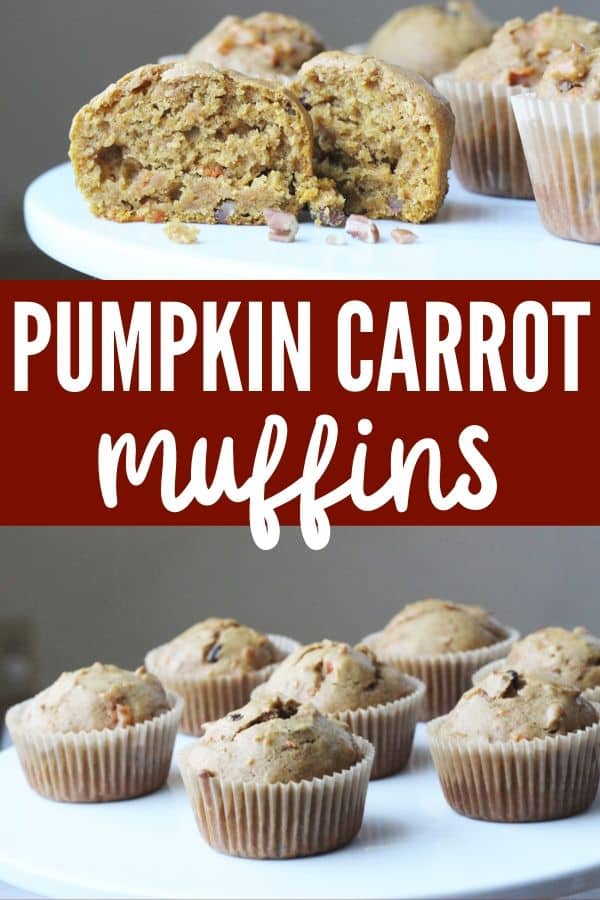 Reader Interactions