Extra moist and fluffy pumpkin muffins recipe. This pumpkin spice muffin is incredibly delicious.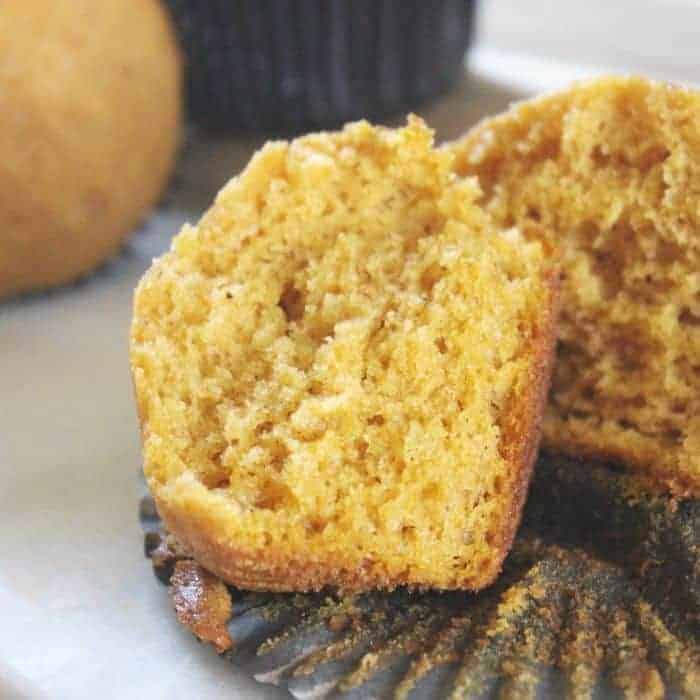 Pumpkin muffins are everywhere, how to choose? My pumpkin muffins recipe is extra moist and light. This pumpkin recipe has been one I have used for years. If you're on the hunt for the best pumpkin muffins you found it.
I make pumpkin recipes all year round. I don't box it into just fall. Call me crazy if you will. Pumpkin has incredible nutrients and can be made sweet or savory. Try cranberry muffins for a fun twist to your muffins!
Pumpkin Muffins
The one thing I found over the years is reading tips from people on how they made the recipe. You learn valuable tips and tricks that can better you as a baker.
How Do You Make Pumpkin Muffins
Pumpkin Purée | Make sure You Use pumpkin purée, not pumpkin pie mix. If you make your own homemade purée, you can totally use that in replace of canned.
Oil | Oil is going to add moisture to the muffins and offer a light texture. It gives you that bakery-style muffin. Vegetable or Canola oil is best.
Don't Overmix | Remember to not overmix the batter. This can weigh down and create a heavy muffin.
Watch Time | Every Oven heats differently. Don't just use the time as a guarantee. Check muffins to ensure they are baking correctly.
Can I Add Chocolate Chips to Pumpkin Muffins
You can add chocolate chips to these muffins if you want. I prefer to skip but if you do add anywhere from ½ cup to ¾ cup of chocolate chips of your choice.
Can I Frost These Muffins To Make the Pumpkin Cupcakes
Absolutely! Frost or even ice these muffins to add more flavor to your recipe. I make pumpkin bread with cream cheese frosting and it's incredible.
You can use any homemade frosting you want or even buy it if you prefer that route. I think a whipped vanilla frosting would be nice. Dust with a little pumpkin spice seasoning for color.


Can I Freeze These Pumpkin Spice Muffins
You can freeze pumpkin spice muffins. Bake as directed and allow your muffins to fully cool down. Then transfer to a freezer bag or airtight container and store in the freezer.
These muffins will store up to three months. Just remove however many you want and allow to thaw. Great for tossing into lunches, quick breakfast option, and even snacks.
The Spice in Pumpkin Spice Seasoning
You see all the time people asking what spices are in pumpkin spice. Cinnamon, ginger, allspice, nutmeg and even ground clove. Depending on the recipe you will find will vary in spices.
Variations to Pumpkin Muffins
Nuts | Pecans, and walnuts are great in muffins. Chop up and toss in up to ½ cup in the batter.
Raisins | looking for a bit more flavor, add in raisins. It can transform the flavor and texture.
Chips | Toss in chocolate, white chocolate, toffee chips, and more. It can add a totally different flavor.
Coconut | Shredded coconut is good to. Use unsweetened coconut if you do.
How Long Can You Store Pumpkin Muffins
You can store these muffins on the counter in an airtight container for 3 to 4 days. If you won't eat them all in time consider freezing the extras.
Looking for More Pumpkin Recipes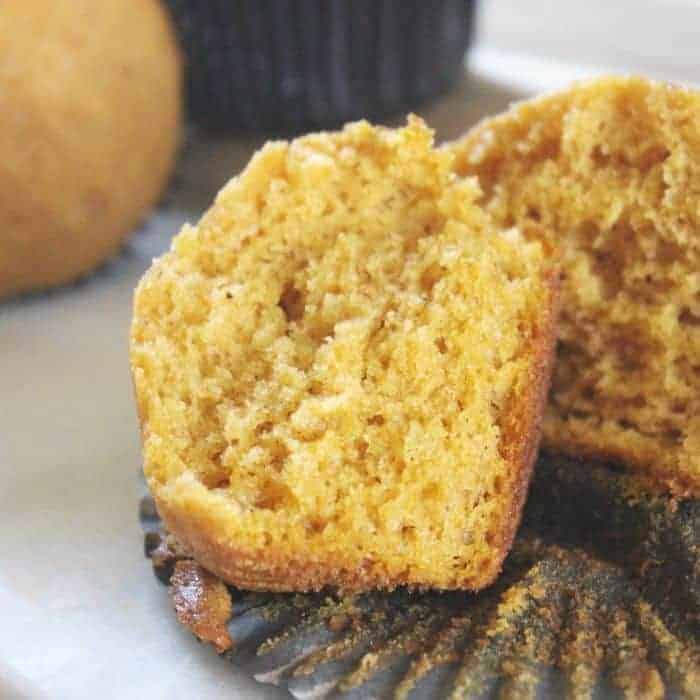 Pumpkin Muffins Recipe
Servings 12 muffins
Extra moist and fluffy pumpkin muffins recipe. This pumpkin spice muffin is incredibly delicious.
Ingredients
1 3/4 cups all-purpose flour
1 15 ounce can pure pumpkin puree
1 cup of granulated sugar
1/2 cup brown sugar
2 eggs room temperature
1 teaspoon baking soda
1/2 teaspoon salt
2 teaspoons pumpkin pie spice
1/2 cup vegetable oil
1 teaspoon vanilla
Instructions
Start by preheating your oven to 350 degrees. Then line your muffin pan with liners.

In a stand mixer whip up your pumpkin puree, both sugars eggs, oil, vanilla until creamy texture.

Grab a separate bowl and add in your flour, salt, baking soda, and mix.

Then slowly pour the dry into the wet until blended.

Pour your pumpkin batter into each muffin liner. Fill about 3/4 full.

Bake 18-22 minutes or until you can stick toothpick in and it comes out clean.
Nutrition
Serving: 1gCalories: 266kcalCarbohydrates: 41gProtein: 3gFat: 10gSaturated Fat: 1gPolyunsaturated Fat: 9gCholesterol: 31mgSodium: 209mgFiber: 2gSugar: 25g
What is your favorite pumpkin recipe?
Reader Interactions