Sugar pie is a classic or old fashioned brown sugar pie that was served around the holidays or special occasions. This sugar pie recipe will melt in your mouth! Topped with a homemade whipped topping for added flavor!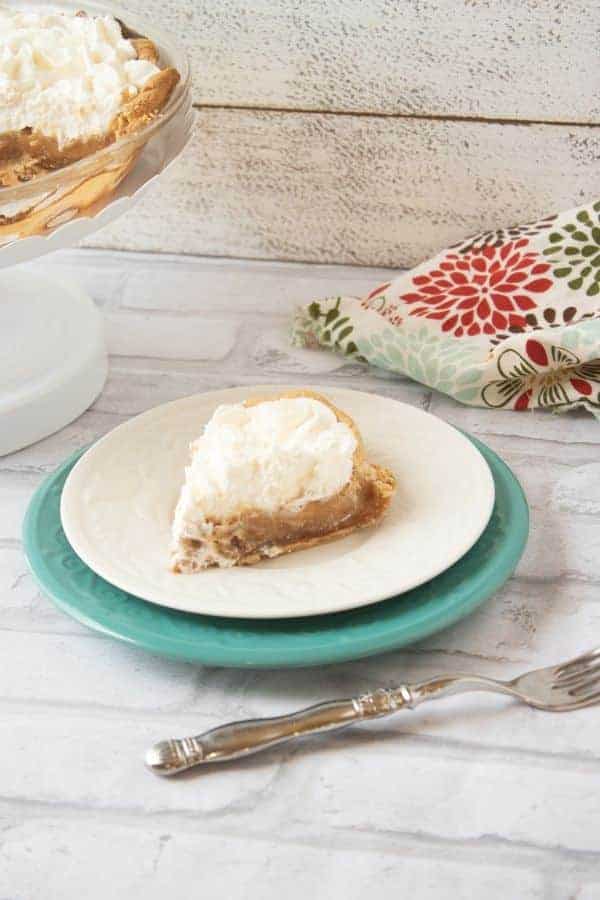 This sugar pie recipe is beyond simple to make! Minimal ingredients, quick prep and one outstanding pie to slice and serve in the end. Try my pumpkin chocolate chip nut bread for another great dessert.
Sugar Pie
Using brown sugar for this pie gives this pie incredible caramelized flavors. Creamy, dreamy and bursting with flavor. It may not be the prettiest pie at the table, but it is the most popular!
Who Invented Sugar Pie
The origin is unknown from what I am told. It could have been early pilgrims or even the Amish. I haven't heard for sure, but whoever did I want to thank them!
Does Sugar Cream Pie Need Refrigerated
Yes this sugar cream pie needs to be refrigerated. The whipped cream on top will go bad and spoil if left out on the counter at room temperature,
Once pie is made cover and store in the refrigerator until you are ready to serve.
How to Make Sugar Pie
Brown sugar

| brown sugar is going to offer a rich caramelized flavor to this pie. I used light brown sugar but you can use dark if you prefer.

Flour

| flour is needed to help offer a thickener for the pie to give it a creamy texture.

Evaporated Milk

| the liquid that will transform this pie into greatness as it bakes up.

Butter

| just a little butter will help to add the right amount of flavor and moisture to the pie.
How To Make Homemade Pie Crust
Making homemade pie crust can be a little tricky. You have to ensure you don't overmix or it becomes dry and crumbly. If you are wanting to make homemade pie crust, check out this recipe.
Variations to Brown Sugar Pie
Serve Plain

| skip the whipped topping and serve plain.

Meringue

| Make Meringue to top and bake instead of whipped topping.

Spice

| sprinkle with cinnamon, pumpkin spice or even cocoa powder.
Is Brown Sugar Pie The Same As Chess Pie
People tend to mix brown sugar pie and chess pie up. They are similar but different at the same time. They use similar ingredients but yet offer a bit of unique flavors that will separate them together.
How To Know When Brown Sugar Pie Is Done Cooking
You will see that the top of your brown sugar pie will begin to turn a golden brown color. It will also begin to set up a bit as it cooks. You want it to feel slightly firm. It will set up more after it cools down.

How To Make Homemade Whipped Cream
Making homemade whipped cream is really easy. Use heavy cream and powdered sugar. I find placing my bowl in the freezer for 30 minutes helps to speed up the process.
I take the cream and pour in a bowl and whisk until it is thick. Then slowly add in the powdered sugar and mix on a lower speed, or it will make a dusty mess. Then pour into piping bag or spread over a cooled pie.
Looking for more Holiday Desserts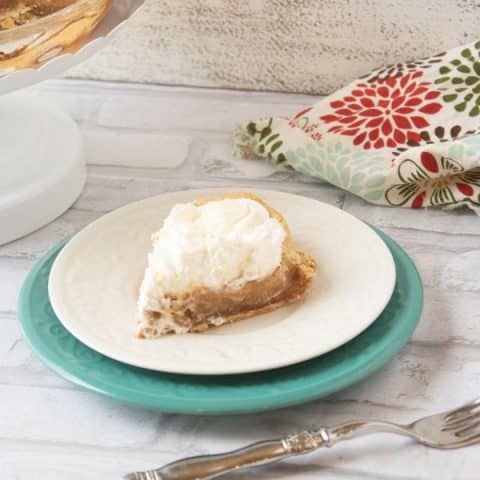 Incredible Sugar Pie
Total Time:
1 hour
5 minutes
Sugar pie is a traditional pie recipe perfect for the holidays. Brown sugar pie is rich in flavor and simple to whip up.
Ingredients
1 cup brown sugar
3 tablespoons unsalted butter
1 can evaporated milk (12 oz)
3 tablespoons all purpose flour
Cinnamon for topping
Dash of salt
Pie crust
Whipped Topping
1 cup heavy cream
1/3 cup powdered sugar
Instructions
Preheat your oven to 350 degrees. Line your pie pan with a 9 inch pie crust.
Add in your flour, brown sugar, and dash of salt. Gently stir it right in the pie pan, and spread it evenly.
Now you will pour the evaporated milk over the brown sugar mixture. Do not stir and then slice the butter and lay over the pie mixture.
Sprinkle with cinnamon and bake for 50-60 minutes. The pie will bubble in the center.
Allow the pie to fully cool.
Then once pie is cooled whip heavy cream in bowl until it is nice and thick. Add in powdered sugar and mix on low speed until well incorporated.
Spread the whipped cream over the pie with a piping bag or spatula.
Recommended Products
As an Amazon Associate and member of other affiliate programs, I earn from qualifying purchases.
Nutrition Information:
Yield:

8
Serving Size:

1
Amount Per Serving:
Calories:

418
Total Fat:

24g
Saturated Fat:

14g
Trans Fat:

0g
Unsaturated Fat:

9g
Cholesterol:

58mg
Sodium:

174mg
Carbohydrates:

46g
Fiber:

1g
Sugar:

33g
Protein:

6g

Have you ever tried a sugar pie before?