Halloween Rice Krispie Treats are my son's favorite! These bear mummy Rice Krispies treats are cute, playful and fit into the Halloween theme, without being spooky. If you are looking for an easy no-bake Halloween treat recipe, this is a great one to add to the list.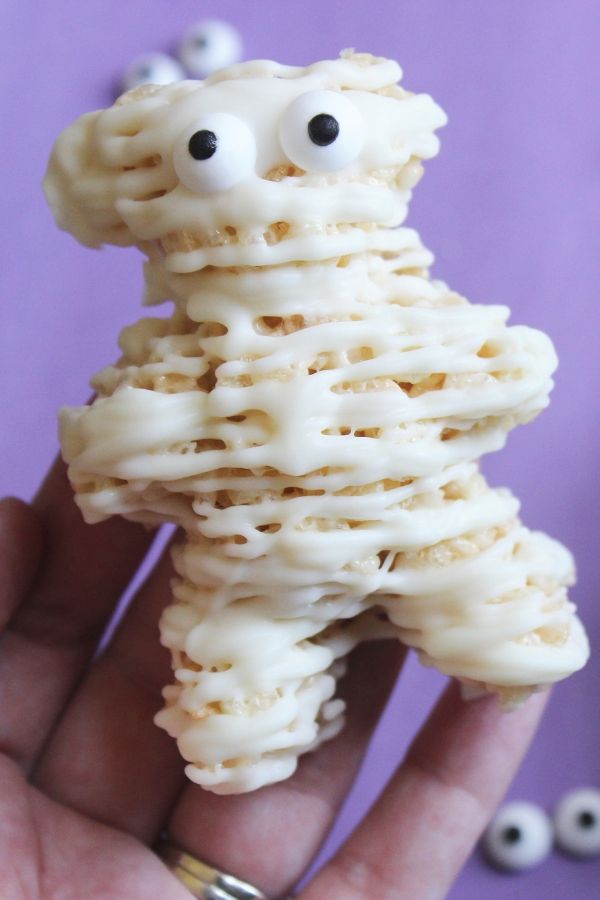 Halloween Rice Crispy Treats are so easy to make. No turning on the oven, simple directions, and you can make a dessert that is ready to serve guests in a hurry.
Halloween Rice Krispie Treats
I am not really into the spooky of Halloween. I like to make it light, fun, and easy-going. These bear inspired mummy treats were a perfect idea for us to make. My son loved the fun bear-shaped mold. My bear molds came as a duo, a mom bear and baby bear. They are great for making all type of recipes. I went with a classic Krispies treat but you can use for items like bath bombs and more.

Where Did You Get Bear Mold for Bear Mummy Rice Krispies Treat
I got my molds from Shapeify, these molds are BPA free, and microwave, and dishwasher safe. They are a harder texture, so they don't bend and smash like say silicone molds would do.
I added a little cooking oil to the mold before I pressed my Rice Krispies in, and it popped right out with no trouble at all.
Here are more Halloween Themed Treats
Which Size Of Mold Did I Use for Teddy Bear Treats
I reached for the "baby" size mold. You could very easily use the mama size, but I wanted smaller portions for my son to enjoy. I know he would eat the mama size one, but I didn't want him having that big of a treat.
What Type of Chocolate Do You Use For Teddy Bear Rice Krispie Treats
I used Ghirardelli white chocolate chips
, but you are welcome to use candy melts
, or even Almond bark
. I did add in a teaspoon of shortening. This will help the chocolate to harden up once it dries. I prefer this instead of going to reach for a treat and it is sticky from wet chocolate. These rice krispies mummy treats have a fun spin since they are teddy bears.
How To Make Teddy Bear Mummy Rice Krispies Treats
Can I Color The White Chocolate For The Mummy Treats
White chocolate will not color with food color. It begins to separate and won't hold the color properly. If you want colored chocolate I recommend buying candy melts. I think a bold purple, green or even orange would be fun on these teddy bear Krispie treats.
What Can I Use Instead of Candy Eyes For The Halloween Rice Krispie Treats
If you don't want to use candy eyes, feel free to use mini chocolate chips, a dot of milk chocolate, or even candy mini M&M's or anything else you feel would fit for eyes. I had candy eyes on hand so it worked out great for me. But feel free to improvise.
How To Store Leftover Rice Krispies Treats
You want to keep them in an airtight container that is covered. They will store on the counter for 4-5 days. After that, they will begin to dry out rather fast and can go bad. I always recommend using your best judgment in terms of quality.
Where To Serve These Mummy Treats
Halloween parties
School Parties
After school treat
Dinner dessert
or any other occasion
I mean when is there a wrong time to enjoy a rice krispies treat?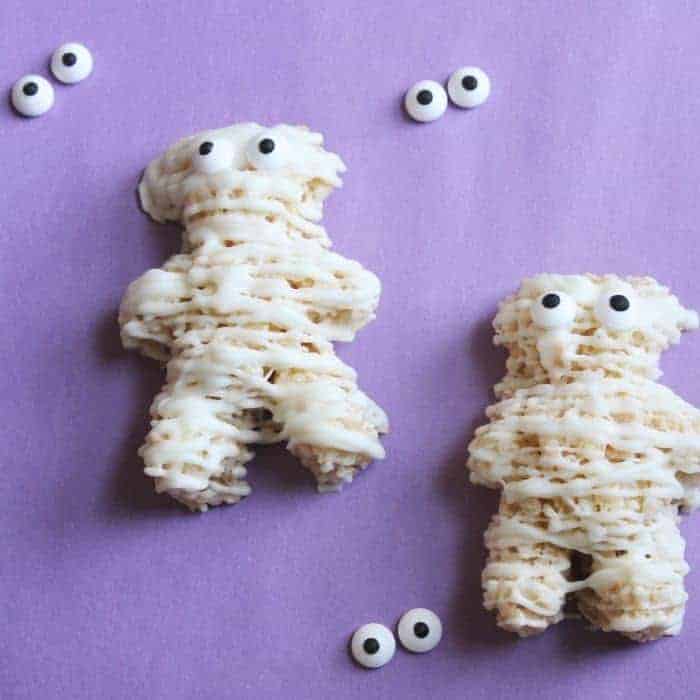 Halloween Rice Krispie Treats
Servings 16 krispies treats
An easy Halloween Rice Krispies treat that is perfect for your Halloween bash. These Teddy bear rice Krispies treats are fun and simple.
Ingredients
2 Cups white chocolate chips
1 teaspoon Crisco
Candy eyes
Bear Mold
4 tablespoons unsalted butter
6 cups of rice Krispies cereal
1 bag of mini marshmallows 10-ounce bag
1/2 teaspoon vanilla
pinch of salt
Instructions
In a pan heat over medium heat, the butter. Once melted you will pour in your marshmallows and stir often.

Once the marshmallows have melted, remove from heat, add in cereal, vanilla, and salt. Stir well.

Pour into a greased 9x13 pan, and allow them to cool down. Press them down so they become firm.

Once cooled, grease your bear mold lightly. Then grab a handful of Krispies treat, and press into the mold. Once well pressed, gently remove the treat, and repeat.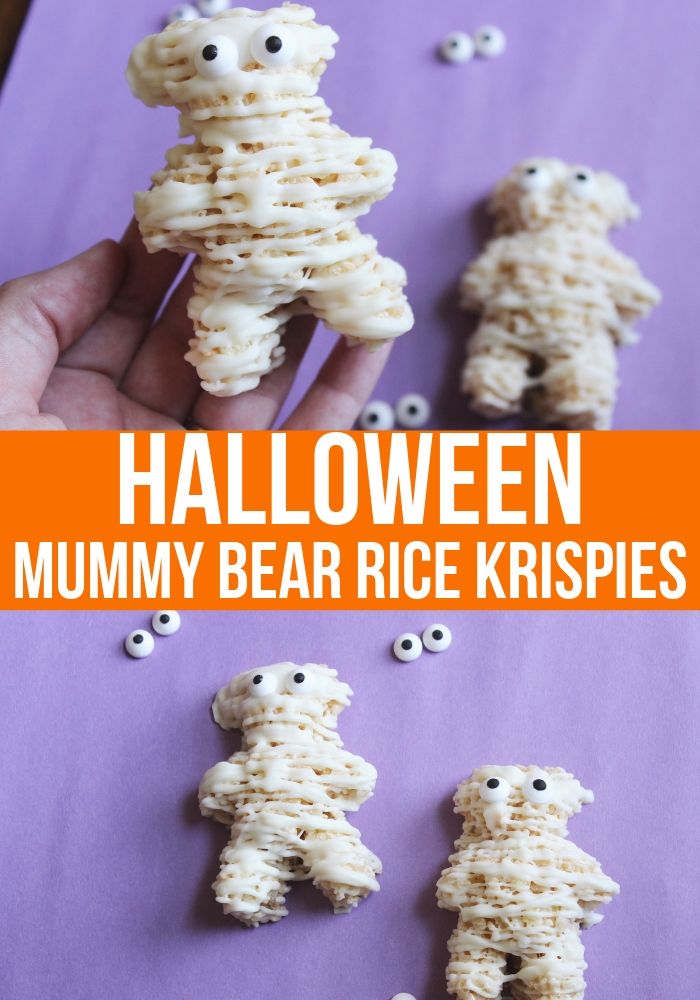 Reader Interactions