Halloween Puppy Chow or Halloween Muddy Buddies is an incredible and tasty dessert to make. It is a candy corn puppy chow that is sweet and uses colored candy melts for color.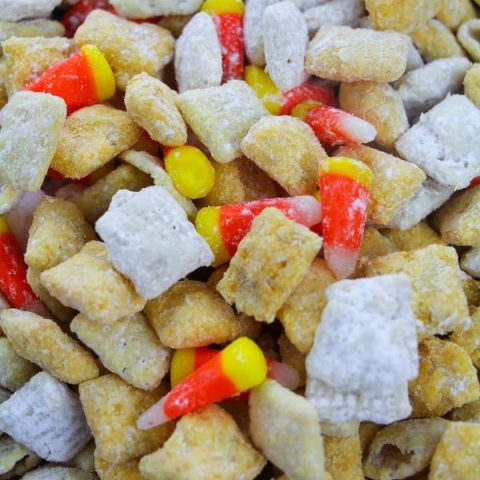 Halloween Puppy Chow or Halloween Muddy Buddies is a perfect sweet treat to whip up. This candy corn puppy chow is colorful, crunchy, and sweet as can be. Serve this up for your fall fun and enjoy this colorful Halloween Chex Mix recipe.
Puppy chow is what we grew up eating, I love it as a classic version, but also variations. This Chex Mix muddy buddies recipe gives a fun fall spin. Add in the candy corn and different colored Chex Mix for that orange, yellow and white dessert. Whip up this Cookie Butter Muddy Buddies recipe!
More Fall Desserts
Halloween Puppy Chow
If you are looking for a fun non-spooky Halloween recipe, give this recipe a try. Or if you want a fall dessert, whip this up. It can be for fall or Halloween, the colors work either way.

What Type Of Chex Cereal Do You Use For Puppy Chow
I reach for corn Chex cereal. If you prefer the wheat or any other variety of Chex cereal you can use that. Or mix and match. I love the light and crisp texture of the corn cereal best. But it is all your preference.
Can I Use Autumn Mix Candy Corn For Muddy Buddies Recipe
Of course. The Autumn Mix
is a really tasty variety. I love those pumpkins in the mix, they are the perfect texture and sweetness if you ask me. Reach for any variety of candy corn you want or mixture to toss into the puppy chow recipe.
Wilton Candy Melts Flavored 12oz, Bright White, Vanilla
Wilton Orange Candy Melts, 12-Ounce
Wilton Yellow Candy Melts, 12-Ounce
What Type of Chocolate Do You Use for Candy Corn Puppy Chow
I used white, yellow and orange candy melts. I wanted to give this puppy chow that candy corn look but also fit that Halloween look.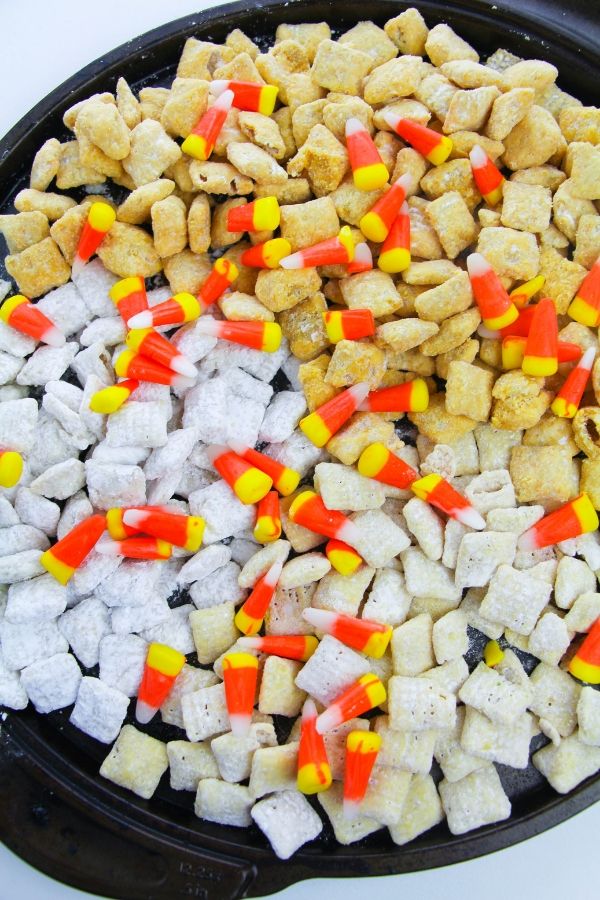 When you go to mix it up, you will be able to notice the difference in color on your Chex Cereal! It offers a really nice variety in color that is noticeable.
Variations To Halloween Puppy Chow
How Do You Make The Different Colored Chex in Puppy Chow
You batch the recipe. You will warm up one chocolate, coat some of the cereal and then spread out on a baking sheet. Then move on to the next color. Then mix all the colors together once they have dried.
Best Way To Store Puppy Chow
Store your leftover puppy chow in a sealable bag or airtight container. This can store for up to a week on the counter. Then just grab and munch when you want. Also, check out this sealable bag holder
for easy pouring of the snack mix into the bag.
Can I Double This Puppy Chow Recipe
Of course. Make as much or as little as you would like. This recipe is rather easy to adapt to the size of the recipe you need. Make a huge batch for your Halloween party, play date fun, or child's school party.
Does Puppy Chow Freeze Well
If you don't plan to eat all of this right away, you can freeze it. Store in a freezer bag, removing as much air as you can. Store for up to three months in the freezer. Thaw on the counter for an hour or two before serving.
Halloween Puppy Chow
Servings 1 batch
Halloween Puppy Chow or Halloween Muddy Buddies is an incredible and tasty dessert to make. It is a candy corn puppy chow that is sweet and uses colored candy melts for color.
Ingredients
1/3 cup yellow candy melts
1/3 cup white candy melts or white chocolate chips
1/3 cup orange candy melts
1 1/2 Tablespoons shortening if needed
4-5 cups Chex cereal
1 cup powdered sugar
1/2 cup candy corn
Instructions
Line a baking sheet with parchment paper or aluminum foil and set aside.

Start by placing the yellow candy melts in a small microwave-safe bowl and heat for 35 seconds. You will want to stir and reheat as needed. If they seem stiff, add some shortening to loosen it up.

Next, stir in 1 to 1 1/2 cups of the Chex cereal and coat completely.

Place 1/3 cup of the powdered icing sugar in a large zip-top bag and add in the candy-coated cereal.

Close the bag and shake well to fully coat the cereal with sugar.

Empty the cereal onto the prepared baking sheet.

Repeat with the white candy melts and orange candy melts.

Let dry for an hour before packaging or serving.

Add the candy corn in and toss to mix.
Nutrition
Serving: 1gCalories: 172kcalCarbohydrates: 38gProtein: 2gFat: 2gSaturated Fat: 1gPolyunsaturated Fat: 1gCholesterol: 1mgSodium: 190mgFiber: 1gSugar: 16g
Can I Use Different Colors Of White Chocolate
Of course. If you don't want to use the candy melts, reach for whatever chocolate you want. Even milk chocolate would be good. It just won't have that same color look at the variety in colors. Either way, this can be a tasty and fun Halloween treats for kids and adults.
More Puppy Chow Recipes To Try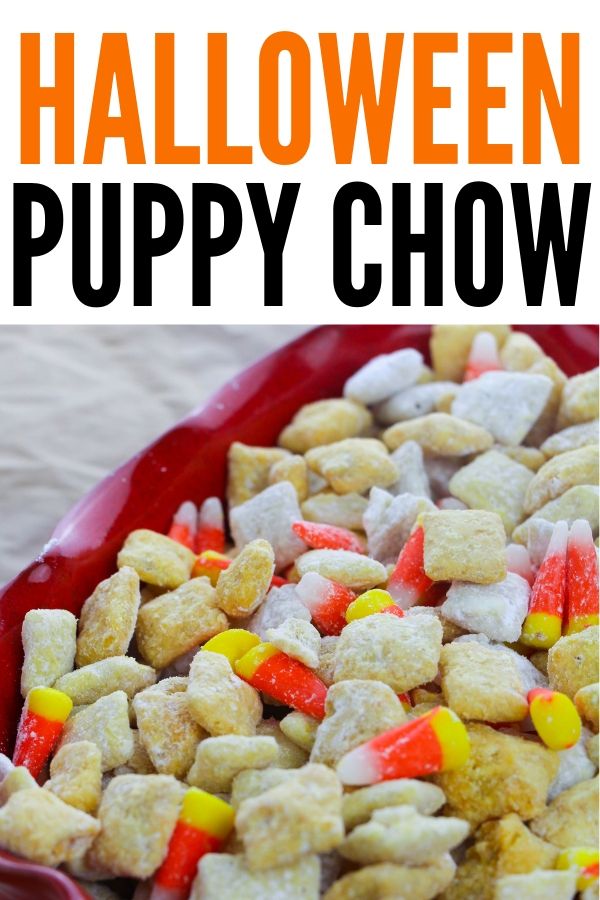 Reader Interactions