Cookie butter muddy buddies is a delicious muddy buddies recipe. Call it what you will this puppy chow is flavored with cookie butter.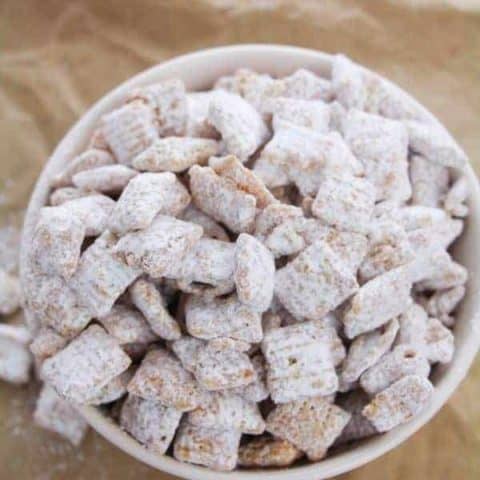 Cookie Butter Muddy Buddies is a recipe that will melt in your mouth. It is a fun variation to the classic muddy buddies recipe. This cookie butter puppy chow aka muddy buddies will win over a crowd.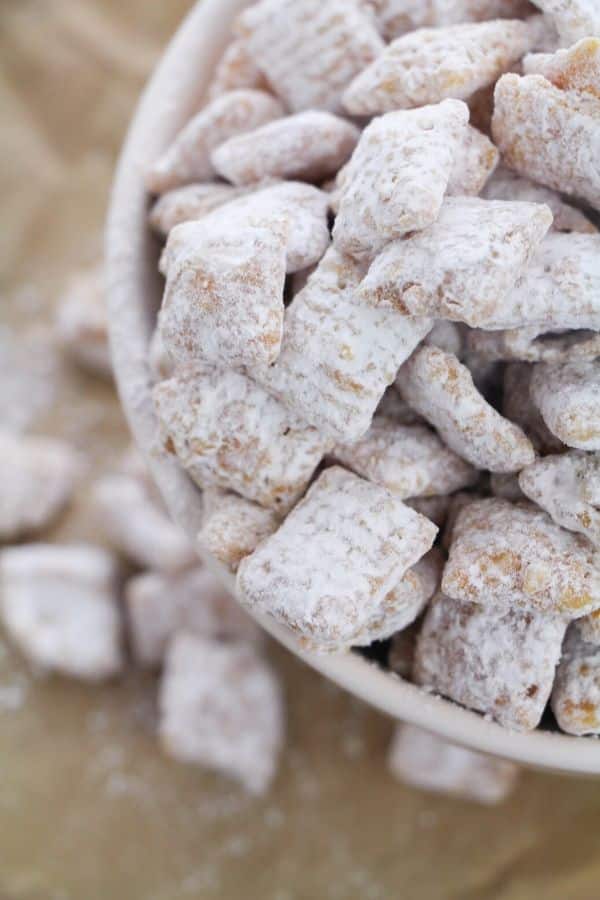 I love this cookie muddy buddies recipe and I am very sure that your house guests will love to munch on this scrumptious dessert too. Who doesn't love chocolate during the holidays? With its creamy peanut butter and soft, melted chocolate, it'll be gone on the table in a few minutes!
If you have some cookie butter on hand and wonder how to use it up, give this recipe a try. I mean this could even be transformed into a Biscoff muddy buddies recipe as well.
Cookie Butter Muddy Buddies
If you want to learn how to make muddy buddies with cookie butter or Biscoff, behold this easy and incredible recipe. I will transform your life in a way you could only dream of with this dessert!
I am an Amazon Affiliate so if you shop and order through one of my links, I will earn a commission on sales. 
is Cookie Butter
Cookie butter
is a wonderful cross between say Biscoff
and Nutella. Cookie Butter is made with crunchy spiced shortbread style biscuits, that have a faint gingerbread flavor. Now you can buy all kinds of cookie butter so make sure to read before you purchase!
If you are googling
Ways to use cookie butter
What is Cookie Butter used for
Substitutions for Cookie Butter
I will are all my knowledge with you to help you master this recipe, and use up that cookie butter in your pantry.

What Can I Substitute For Cookie Butter In This Muddy Buddies Recipe
How To Make Muddy Buddies
Start by greasing a cookie sheet and laying out parchment paper.
You then add your cookie butter, chips, and shortening or butter to a bowl. Microwave till melted, stir as needed.
Once melted pour and mix in with Chex cereal. Continue stirring until evenly coated. Then add your powdered sugar into a bag, and shake to coat your cereal.
Spread out onto the baking sheet and let dry for an hour.

How To Store Leftover Cookie Butter Muddy Buddies
You can take all your leftover muddy buddies and store them in a covered dish or even in a sealable Ziploc bag. Then store it on the counter and much whenever you get a craving.
It will store for around a week on the counter. Use your best judgment on if you feel you need to toss it out or not.
More Chex Dessert Recipes
Can I Use Something Else Besides White Chocolate Chips
You are more than welcome to use cinnamon chips if you have them on hand. They are a bit harder to find but they are such a tasty warm spice flavor to add to your muddy buddies recipe. Just melt the chips just like the vanilla.
How to Melt Chocolate Mixture Without Microwave for Muddy Buddies
You can use a double boiler or even use an Instant Pot as a double boiler. Just heat on low and slowly melt your chocolate mixture until melted and nice and creamy! You don't have to use the microwave if you would prefer another method. The key is to just stir often and stir smooth. It will still come out as good once you pour the chocolate over the cookies.

What Type Of Chex Cereal To Use For Muddy Buddies
I prefer to use Rice Chex for Muddy Buddies. I find it offers a nice light crunch factor that I can't get over. You could use corn or the wheat Chex if you prefer, or do a blend of them. 

Want more holiday dessert recipes
Christmas Frosted Graham Crackers | Here is a frosted graham cracker that is a fun holiday snack. A great after-school snack or treat for your family.
Penguin Brownies | These brownies are a festive Christmas dessert that is kid-friendly. Penguin-shaped brownies!
Christmas Brownie Trees | A Christmas tree dessert that is calling your name. Frosted brownies that are shaped like a Christmas tree.
I hope you'll enjoy making this cookie buddies recipe! This is definitely a perfect addition to the sweet holiday treat you're looking for.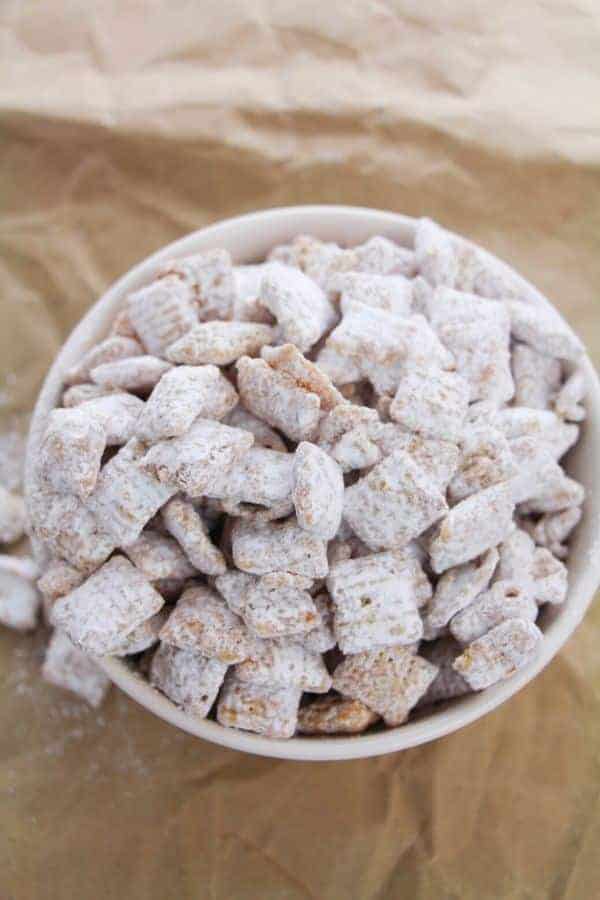 Cookie Butter Muddy Buddies
Servings 16 servings

Cookie butter muddy buddies is a delicious muddy buddies recipe. Call it what you will this puppy chow is flavored with cookie butter.
Ingredients
1/2 cup cookie butter
1/4 white chocolate chips or cinnamon chips
1-2 Tablespoons shortening or butter
4-5 cups Chex cereal
1 cup powdered sugar
Instructions
Grease a baking dish and lay down parchment paper.

Then in a bowl mix your cookie butter, chips, and shortening and melt in 20-second increments in the microwave until melted. Stir between each heat session.

Once melted stir in your cereal and mix until coated.

Then in a bag add your powdered sugar and Chex mix and shake until coated.

Pour into a baking dish and allow to dry for an hour. Then store in a container.
Nutrition
Serving: 1/2 cupCalories: 217kcalCarbohydrates: 40gProtein: 2gFat: 6gSaturated Fat: 2gPolyunsaturated Fat: 4gCholesterol: 3mgSodium: 270mgFiber: 2gSugar: 12g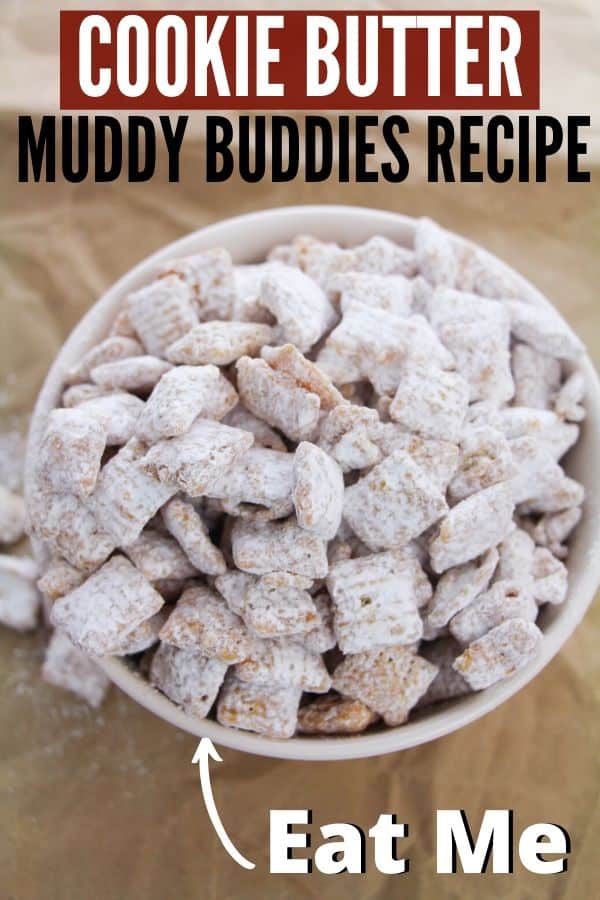 Have you ever had Cookie Butter Muddy Buddies?
Reader Interactions