Homemade puppy chow is one of my favorite no-bake dessert to make. Some make muddy buddies for the holidays, but you can make this all year round.
Puppy Chow
This recipe is a classic puppy chow recipe and so simple to make. You get the crunch from the corn Chex cereal and the sweet from the melted peanut butter and chocolate that is then powder coated in sweet powdered sugar.
In my opinion, this is a must-have treat, especially for the holiday season! I don't box it in though, I make this recipe year-round!
Holiday Dessert
Six Ingredients are all you need for that perfectly sweet and irresistible holiday dessert that pretty much no one can say no to. Great for feeding a crowd, bringing to a party or holiday gathering, or munching on as a midnight snack.
More Holiday Dessert Recipes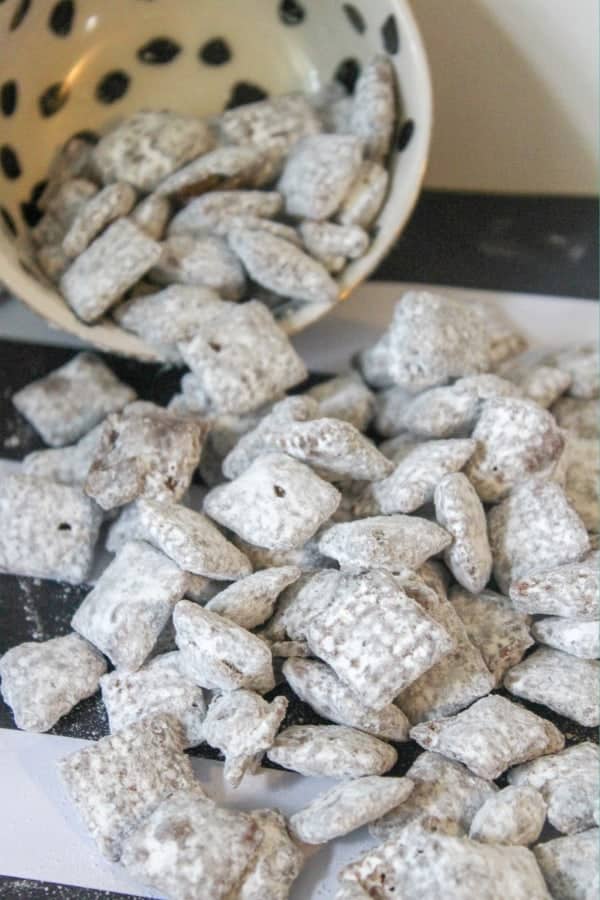 How To Make Homemade Puppy
Step 1: The first thing to do to make this Chex Mix Muddy Buddies is measure out 9 cups of corn chex cereal and place in a bowl. Set aside.
Step 2: Then in a microwave safe bowl you will add your chocolate chips and peanut butter. Heat for 30 second intervals, stirring in between each heating cycle.
Step 3: Once all the chocolate and peanut butter is melted, stir in your vanilla extract.
Step 4: Pour the chocolate mixture over the Chex cereal, and stir with a spoon. Be kind of gentle so you don't break the cereal too much.
Step 5: Now pour your powdered sugar in a sealeable bag and put batches of your chocolate covered cereal in and shake to coat cereal in the powdered sugar.
Step 6: Pour your coated cereal into a large container and serve up this easy and delicious holiday treat.
The full instructions and measurements are in the printable recipe card below.
Can I Use White Chocolate Instead of Semi-Sweet Chocolate
If you are thinking to use white chocolate in replace of the semi-sweet chocolate go ahead. You will find it alters the flavor a bit but will still be a delicious pairing.
Melt white chocolate chips with peanut butter, and the mix and add powdered sugar and mix like you would regular.
Variations To Puppy Chow
Use milk chocolate, white chocolate, etc in replace of semi-sweet.
Stir in M&M's at the end for a snack mix
Use Red and Green Candies or Sprinkles for a Christmas feel
Use colored candy melts in replace of chocolate chips to add color
Etc
Storing Muddy Buddies
Once your muddy buddies is dry, you can store in a sealable bag or even an airtight container.
Store at room temperature for around a week. You will find as it sets out it can lose a bit of the crunchy texture.
This is a great make ahead treat to serve as a holiday puppy chow. You can make it a day or two in advance so you can tackle the rest of your recipes!
Can You Freeze Puppy Chow
If you don't plan to eat puppy chow right away, you are more than welcome to freeze leftover puppy chow.
Just place in a freezer friendly container and store for 2 months. When you want to eat remove from freezer and allow it to thaw at room temperature on the counter.