Buffalo beer can cornish hen recipe that is great for weeknight dinner. This beer can chicken is a mini version.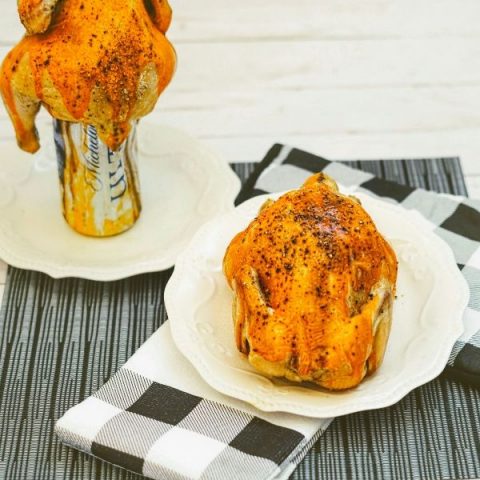 Beer Can Cornish Hens are absolutely juicy! I added in a new element to make these buffalo beer can chicken, that really adds that elevated flavor in every single bite. A great weekday meal to make for your family or a crowd.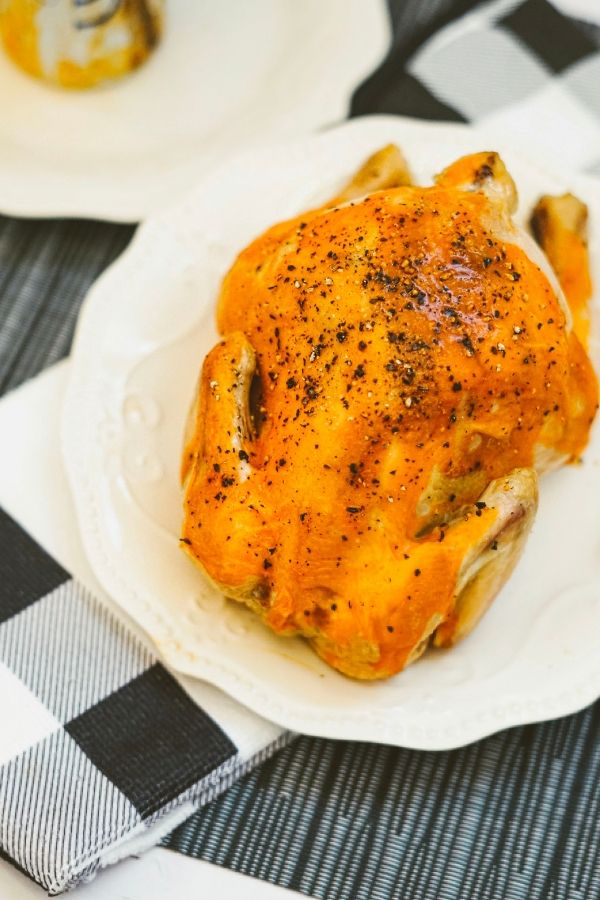 If you are a fan of can chicken, try the cornish hen version. Oven beer can chicken works just as good as cooking on a grill, and gives you rich flavor with juicy chicken.
Beer Can Cornish Hen
I think I could live off of the chicken, it is my favorite protein. This buffalo style beer can chicken wins me over every single time. You can control how hot this recipe is.
Searching for more chicken recipes
Can You Cook These Beer Can Cornish Hens On The Grill
Absolutely! I use a pellet grill and all you have to do is heat to 350 degrees and bake accordingly. Just make sure the internal temperature reaches at least 180 degrees when tested.
What Size of Beer Can Fits A Cornish Hen for Beer Can Chickens
You want to reach for the skinny versions of beer cans. I used Michelob Ultra for my cornish hen buffalo beer can recipe. Any skinnier can will work great. It has to be a smaller sized can or it will not fit the opening of the cornish hens.
How to Cook Beer Can Chicken
You can use a baking sheet
or roasting pan
to sit the beer chickens in. Make sure that you use only half-full cans. If you have full cans, they will overflow and make a mess in your oven.
Beer butt chicken is unique, as it bakes the beer will keep the chicken super moist, and then adding the buffalo sauce on the outside adds incredible spice to your chicken.


Does Chicken Need to Rest After Baking
Yes, you want to remove your beer butt cornish hens and sit them down on a plate or platter. Lightly cover with aluminum foil, and allow it to rest for five minutes. This will ensure that the moisture locks into the chicken before you go to slice it. This beer can chicken oven recipe also helps to lock in that moisture.
Side Dishes To Pair With Cornish Hens
Coleslaw | This helps tame down the heat a bit of the buffalo chicken.
Cowboy Beans | A nice slow cooker bean recipe you can make and serve next to your buffalo chicken recipe!
Vegetable Salad | Whip up this vegetable salad for a crisp side. This is a tasty salad that is fresh, loaded with veggies in a homemade sauce.

What Does The Beer Do In Beer Can Chicken
When you make beer can chicken or even cornish hens, the beer will steam the cavity of the chicken, adding flavor and moisture to the chicken as it bakes. You want to ensure the chicken stays in the upright position, so the fat drains out of the chicken.

Can I Make This Recipe Using Whole Size Chickens instead of Cornish Hens
Absolutely! Just reach for a regular size can of beer to do this, that way your chicken fits in the can better! But season and cook accordingly. You will want to add on cooking time to ensure your chicken gets fully cooked.
Is It Safe to Cook Beer Can Chicken
Some people are afraid of cooking in an aluminum can, they are fearful the can cause cancer. You will find Amazon sells alternatives that you can try. I am not sure any of them will fit cornish hens, but they will fit regular chicken and turkeys. You can try to use these with this beer can chicken recipe if you want, instead of the actual can of beer.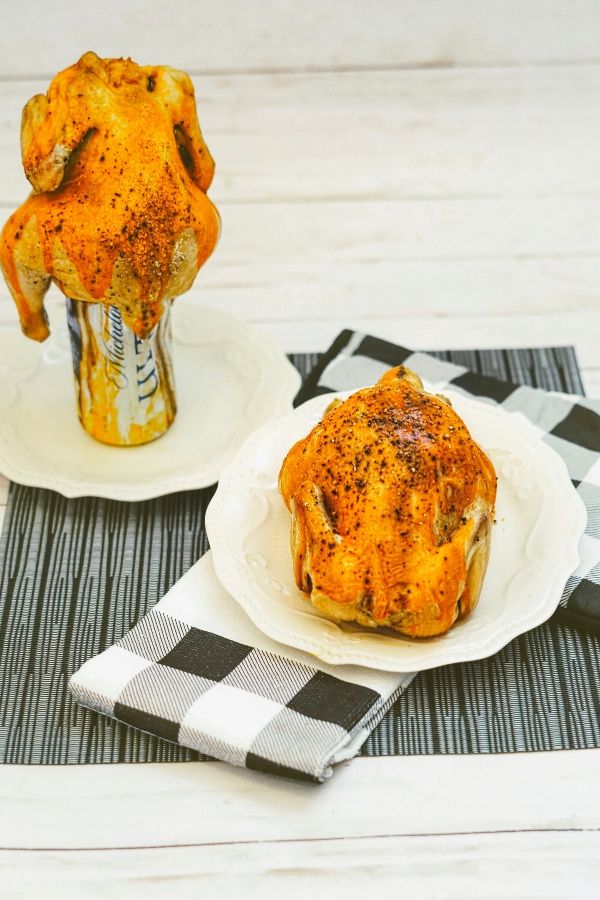 Buffalo Beer Can Cornish Hen Recipe
Servings 2 hens
Buffalo beer can cornish hen recipe that is great for weeknight dinner. This beer can chicken is a mini version.
Ingredients
Cornish Hen
Buffalo Sauce
Salt
Pepper
Skinny Can Beer Such as Michelob Ultra
Instructions
Rub each hen in salt & pepper.

Drink/pour half of each beer. You want each can to be half way full. A full can will boil over when baking.

Place your hen on the half full can of beer.

Place your hens in an oven set at 350 degrees. Bake until hens reach 180 degrees. 

Remove from oven and spread buffalo sauce on each hen. Then place back in oven for 5 minutes.

Remove hens from beer cans.

Serve & enjoy! 
Nutrition
Serving: 1gCalories: 413kcalCarbohydrates: 7gProtein: 30gFat: 23gSaturated Fat: 7gPolyunsaturated Fat: 15gCholesterol: 168mgSodium: 442mg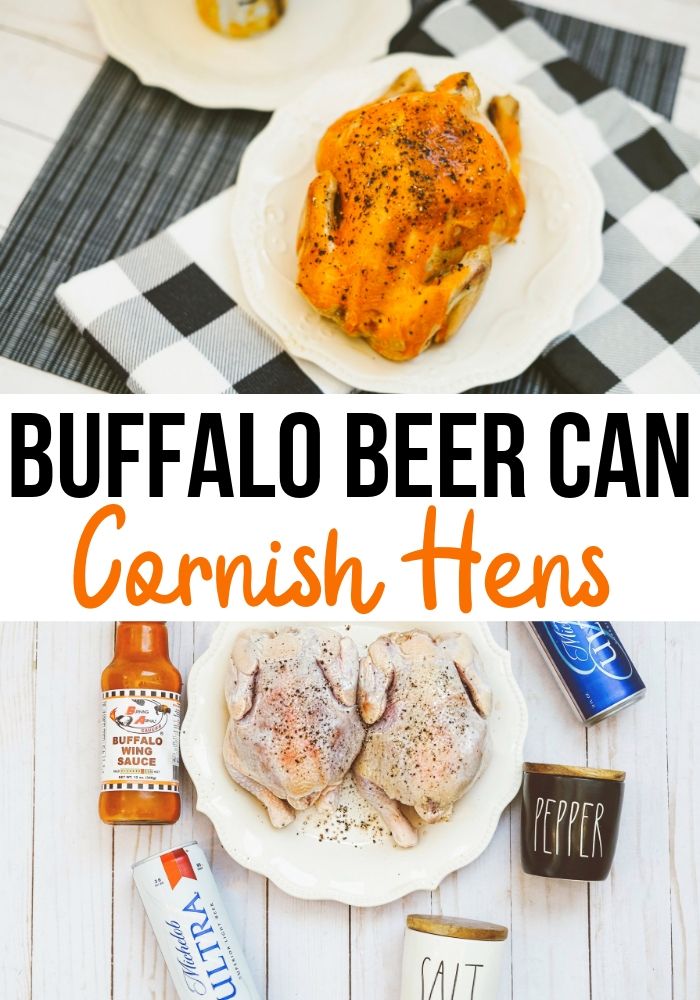 Reader Interactions