Jalapeño cheddar cornbread is one of our favorite ways to enjoy cornbread. Jalapeño cornbread offers a cheesy topping with a kick of spice from the jalapeño.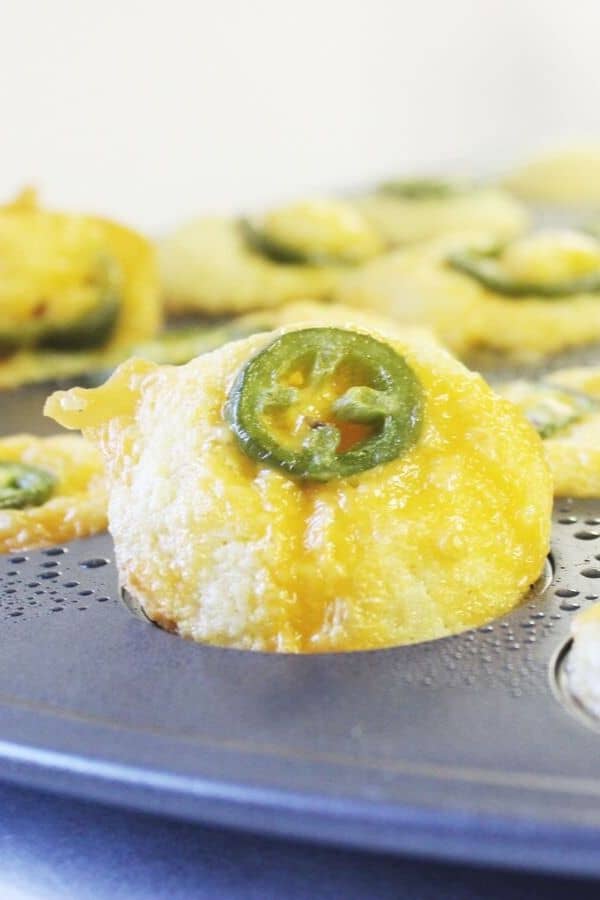 A kiss of heat from the jalapeño that is paired with savory cornbread and freshly grated cheddar cheese.
Jalapeño Cheddar Cornbread
Now with this recipe, you can use homemade cornbread or opt for the box. It is all about your personal preference. I prefer a savory cornbread over sweet, and that is something you can pick to fit your tastebuds.
What Is In Cornbread
Cornbread is a mix of cornmeal and flour. It has a grittier texture than flour due to the cornmeal. Cornmeal is just ground up corn.
Do You Dice Up Jalapeno For The Batter
You are more than welcome to take a jalapeño and chop it super fine and mix in with the cornbread batter. This will offer even more jalapeño flavor in every bite.
But if you want it more mellow just top it with a single sliced jalapeño on top. I tend to rotate what I do, depending on what I am serving the cornbread with.
How to Tame Heat In Jalapenos
If you can't handle the heat too well, you can deseed the Peppers. Just remove all the seeds and white part in the pepper. Then rinse well.
If you de-seed to minimize heat I would highly recommend adding 1-2 chopped peppers into your cornbread batter, or else you won't even taste the pepper.
What Size Muffin Pan To Use For Jalapeno Cornbread
I used a mini muffin pan
for this recipe, but you sure can use a regular muffin pan. Since I added just a slice on top I thought mini muffins would give you that bite-size flavor.
If you use a regular muffin pan just adjust the cooking time to ensure the cornbread gets cooked through.
Variations to Jalapeño Cornbread
Spice | Tame down by removing seeds or add jalapeño to the batter to add more flavor. You can choose how hot or mild your make this.
Cheese | If you want it cheesier mix in cheese with your batter, ½ cup. You can also swap cheddar for day pepper jack for more spice.
Bacon | Consider topping or stirring in freshly cooked and crumbled bacon!
Skillet | Pour batter into a cast-iron skillet or oven-safe pan and cook it that way instead of muffins!
How to Store Cheddar Jalapeno Cornbread
Store this cornbread in the fridge. Once it has cooled down a place in a covered dish or airtight container and store for up to three days in the fridge.
When ready to eat you can warm up in the microwave or oven. If you do the oven just wrap the muffins in aluminum foil and heat at 350 for 5-10 minutes until they are warmed through. The aluminum foil will help protect them so they don't dry out.
Can You Freeze Jalapeno Cheddar Cornbread Muffins
You sure can! Just have muffins fully cooled and place them in a sealable freezer bag. Store up to three months in the freezer.
Thaw in fridge the night before you plan to eat or on the counter.
What To Serve With Jalapeno Cornbread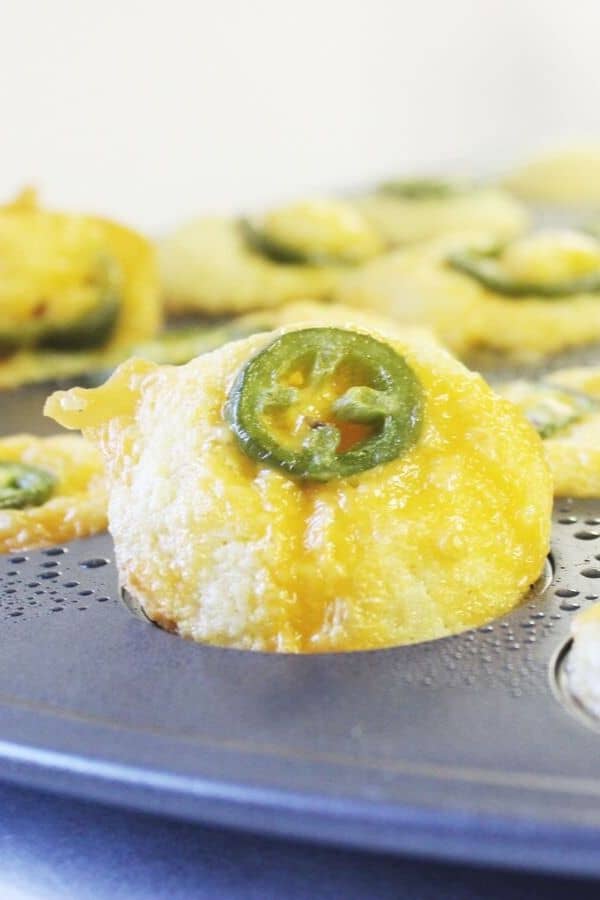 Jalapeño Cheddar Cornbread
Servings 24 mini muffins
 Jalapeño cheddar cornbread is one of our favorite ways to enjoy cornbread. Jalapeño cornbread offers a cheesy topping with a kick of spice from the jalapeño.
Ingredients
Cornbread box or homemade
4-6 jalapenos
1 cup cheddar cheese
Instructions
Start by preparing your batter for the cornbread. Follow directions on the box, or homemade. If you want added jalapeno dice up 1-2 jalapenos small and place in the batter and stir.

Spoon into muffin pan that is greased pan. Top with a handful of cheese, and add jalapeno.

Cook as directed on your package or recipe.
Notes
This will vary depending on what size of cornbread mix you use. So make sure to check and see how much the box or recipe says it will make.
Nutrition
Serving: 1muffinCalories: 26kcalCarbohydrates: 3gProtein: 1gFat: 1gSaturated Fat: 1gPolyunsaturated Fat: 1gCholesterol: 5mgSodium: 51mg
Reader Interactions