Pecan pie bars are an easy way to serve up pecan pie in bar form. Gooey center, flakey and buttery crust.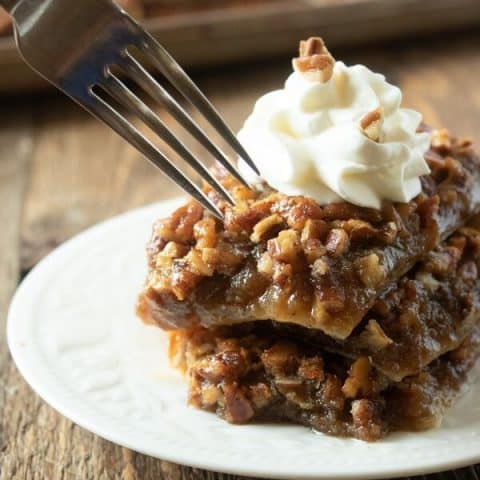 Pecan pie bars have me drooling! Are you looking for a holiday treat that will have everyone coming back for more? Just wait until you give these delicious pecan pie bars recipe a try. Not only do they taste like their own little slice of Pecan Pie, but they're also a super simple pecan dessert to create. 
Once the holiday season hits, all I can literally think about are all the delicious desserts that I'm going to make. And one of the main ones that top my list every single year are these delicious Pecan Pie Bars. Each one of full of flavor and taste and I've found that I tend to prefer these more than having a piece of pecan pie.
Whip up my sweet potato casserole as well! It is a fantastic holiday side dish. 
And honestly, can you blame me? When you can literally hold it in your hands and eat it while you're walking around, does life truly get any better?
Just wait until you whip up a batch of these delicious pecan bars…you're going to be just as obsessed with them as I am!
How long do pecan bars last?
In my house, not very long. But if you're asking about leftovers and their shelf life, you can rest easy knowing that your homemade pecan pie bars will be just fine for at least 48 hours after you make them. I store my sheet pan pecan pie bars in the refrigerator.
As long as you're storing them in an airtight container, they'll last for at least 2 days. (Some people even feel that there is a grace period of 3 days or so for these pecan bars, but I like to stick as close to 2 days as possible.)
Should you refrigerate pecan bars? 
Consider me overly cautious, but I always like to refrigerate everything to keep things as fresh as possible. Plus, keeping these pecan bars in the fridge is a great way to keep the filling a good texture and consistency. And if you want to warm them up once you're ready to eat them, you can pop them in the microwave for a couple of seconds to accomplish that.
How can you tell when pecan bars are done?
Since the inside of these homemade pecan bars is gooey, you're going to have to rely on the crusts on the top and the bottom to tell you when they're done. Once you notice that golden coloring, it's a good indicator that they're done cooking and ready to be pulled from the oven.
Also give the pan a shake and if it doesn't jiggle too much in the center it is done. You will find the center will jiggle a little, but mostly be set.

How far in advance can I make pecan pie bars?
If you want to prep a day or so in advance, do so! I'm a big fan of meal prepping and getting ahead as often as I can. This recipe allows for that to happen and you can easily mix up the ingredients and have it ready for when you're going to make them. I wouldn't do anything more than a day in advance personally though so you can have as fresh of taste as possible.
Searching for more pecan recipes
Pecan Pie Bars
Servings 20 bars
Pecan pie bars are an easy way to serve up pecan pie in bar form. Gooey center, flakey and buttery crust.
Ingredients
Crust
• 3 ¾ cups flour
• ½ teaspoon salt
• ¾ cup shortening
• 3 eggs lightly beaten
• 1/3 cup milk
Filling
• 2 cups brown sugar
• 1 ½ cups light brown sugar
• 6 large eggs
• 2/3 cup butter melted
• ½ teaspoon salt
• 3 cups pecans chopped
Instructions
Preheat your oven to 400 degrees.

Then in a large bowl mix your flour and shortening together, cutting shortening into the flour to make a crumbly dough.

Add in eggs and then milk and mix until it is a doughy texture. Use half the dough for this recipe, and save the rest for making a pie, more bars, etc.

Then shape dough into a greased pan that is a 15x10 baking sheet. Shape the sides so they are lifted up around the edge.

Then mix your pecan filling together and pour into the pie crust.

Bake at 400 degrees for 15 minutes, then reduce the heat to 350 degrees and bake an additional 25-30 minutes or until golden brown.
Nutrition
Serving: 1barCalories: 472kcalCarbohydrates: 52gProtein: 7gFat: 28gSaturated Fat: 9gPolyunsaturated Fat: 17gCholesterol: 105mgSodium: 198mgFiber: 2gSugar: 32g

Can You freeze pecan bars?
Absolutely! However, you're going to want to make certain that you have the best freezer-proof storage containers or bags to keep them from getting freezer burnt. Once you store them in the appropriate container, you can have them in the freezer for several months without issues.
And a little extra tip about freezing pecan bars from me to you? I like to freeze them individually so that if I'm craving just one, I can literally just unthaw that one to enjoy. I feel like this is the most effective way of feeding my sweet tooth without unfreezing all of those delicious pecan pie bars at once.
Now that you know a little bit of information about cooking and store them, let's talk about some tips that might come in handy as well.
Tip For Cutting Pecan Pie Bars
Many people get worried about cutting into pecan pie bars because of the gooey center. These simple tips can help.
Let the bars cool completely before cutting, I like to refrigerate overnight. (This makes the filling a bit more firm and easier to cut)
Use a sharp knife to cut the bars. (the sharper the knife, the cleaner the cut).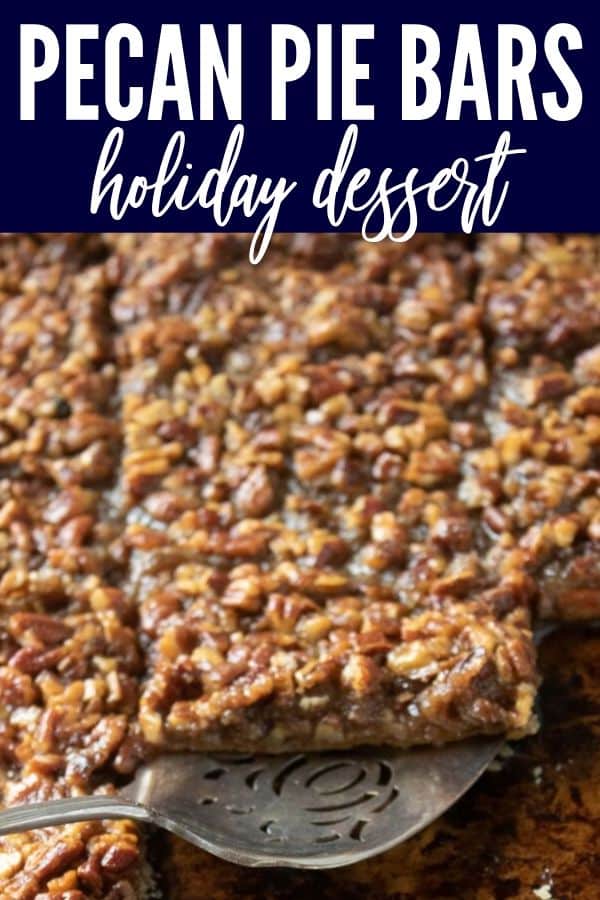 So, are you salivating and ready for this delicious pecan bar recipe? I can't wait to hear what you think! Get ready to have a new holiday favorite dessert to share with all your family and friends!
Reader Interactions