Instant Pot Butter Beans is a quick and recipe that allows you to have a no soak butter bean recipe with ham hocks. Serve this up for a hearty and comforting weeknight meal.
Butter beans with ham hocks couldn't be easier thanks to your Instant Pot.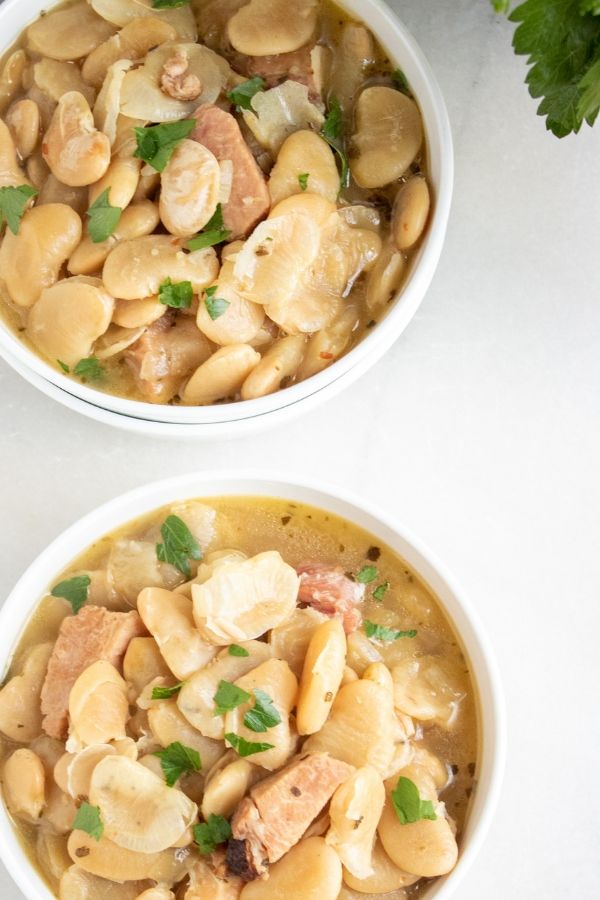 Butter beans cooked in the pressure cooker give you that slow-cooked butter bean flavor but in a fraction of the time.
No more soaking your beans, thanks to your handy dandy pressure cooker. That is always a winning plus for reaching for your Instant Pot.
Cold weather is on the horizon, so why not plan ahead and get this recipe saved and ready. I have a quick and easy butter bean recipe that will win over a crowd. Also, try this ultimate instant pot pinto beans recipe!
Is There Another Name For Butter Beans
Butter beans are also called lima beans. Depending on where you live will depend on what you call these tasty little beans. People in say the United Kingdom know these as butter beans. Same as the south.
Is This Recipe A Butter Bean Soup
Yes. We eat it like soup, pour it into bowls, and eat with a spoon. This soup recipe offers beans that are tender, flavorful, and can be made in no time. Add a splash of salt and pepper and serve up this dish.
Can I Use A Ham Bone For This Butter Bean Recipe
Yes. You are welcome to use a ham bone, ham hocks or even diced smoked ham. The ham really adds a lot of richness to the recipe. Some even swap the ham with bacon and find it offers a tasty richness as well.
Is Butter Beans With Ham Hocks the Same of Southern Butter Beans
No. Southern Butter Beans a lot creamier in texture and break down a lot more as it cooks. Both are tasty recipes though!
What Can I Substitute For Butter Beans
You could swap out to Cannellini beans which are a white bean. I have not tried it in this recipe, so you would have to adjust the cooking time a bit. I think if you used canned beans they would break down too much in the pressure cooker. So using dried you might need to soak them before cooking in the Instant Pot.
Tools Needed For Instant Pot Butter Beans With Ham Hocks
Best Sides With Butter Beans
Cornbread | Whether it is a sweet cornbread or savory, this is always welcome in my books. I even sprinkle the cornbread over the top, and eat it with the beans.
Bread | Whether dinner rolls, a slice of homemade bread, it is always a good side to pair with your beans.
Vinegar | This isn't a side, but if you have never try adding a splash of white distilled vinegar into your butter beans, give it a try. The acidity will bring out so much flavor and help your tummy not get upset from all the fiber.
Salad | Lighten up the meal with a salad. Reach for whatever greens you like, add in some fresh tomatoes, cucumber slices and more and enjoy.
Searching for Instant Pot Recipes
What Do Butter Beans Taste Like
Butter beans have a really velvety and smooth texture. They are savory and are super tasty. You will find butter beans are great for being a stand out ingredient in the dish.
Are Butter Beans Good For You
Butter beans are a great food to keep in rotation to your diet. They are a great source of fiber, vitamin B, protein, and so many other vitamins and minerals that your body needs. Plus beans have been known to help with cholesterol, reduce blood sugar, and help with gut care.
What Size Instant Pot Was Used to Make Butter Beans
I used the 6 quarts Instant Pot
for this recipe. I have been asked if you could half the recipe. We don't see why you couldn't if you want to use a smaller Instant Pot or just want less servings. I am still somewhat new to the Instant Pot so I can't 100% say with success.
Dried beans in Instant Pot are easy, and a great way to save money. See my post on Instant Pot dried beans!
Tried this recipe? Make sure to rate ⭐️⭐️⭐️⭐️⭐️ and leave a comment to let me know how you like it! Plus get more Instant Pot Recipes or Home Cooked Recipes Facebook Page on my Facebook. Stay up to date and Follow Me On Pinterest!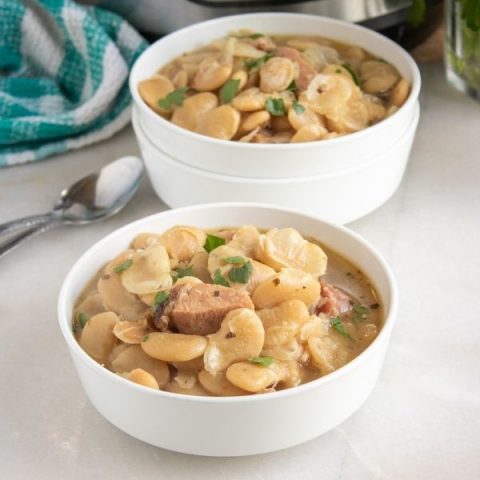 Instant Pot Butter Beans Recipe
Instant Pot Butter Beans Recipe is easy, tasty and quick to make. A no soak butter bean recipe you will want to make over and over again.
Ingredients
• 1 tablespoon vegetable oil
• 1 – 2 cups smoked ham, chopped into large chunks
• 1 large red onion, chopped
• 2-3 cloves garlic, crushed or minced
• 6 tablespoons unsalted butter
• 1 teaspoon dried thyme
• 1 teaspoon Cajun seasoning
• 1 teaspoon salt
• 3 bay leaves
• ½ teaspoon white pepper
• ¼ teaspoon red pepper
• 16 ounces dried lima beans (large beans), rinsed and sorted
• 2 ham hocks
• 6 cups chicken broth
• 2 cups water
Instructions
Turn Instant Pot on saute mode and add the vegetable oil. Add in smoked ham, red onion, and garlic, and saute for 3-5 minutes, stirring every 30 seconds to minute.
Turn off the saute mode and add in butter, seasonings, beans, ham hocks, and liquid.
Close the lid on Instant Pot and set the pressure valve to sealing.
Set a high-pressure cooking time of 25 minutes, and allow for a natural pressure release of 15 minutes at the end of the cooking time, before releasing the rest of the pressure.
Recommended Products
As an Amazon Associate and member of other affiliate programs, I earn from qualifying purchases.
Nutrition Information:
Yield:

10
Serving Size:

1
Amount Per Serving:
Calories:

311
Total Fat:

13g
Saturated Fat:

6g
Trans Fat:

0g
Unsaturated Fat:

6g
Cholesterol:

46mg
Sodium:

1200mg
Carbohydrates:

32g
Fiber:

9g
Sugar:

5g
Protein:

18g
Have you ever tried Instant Pot Butter Beans?
Before you go – more tasty recipes to try!