Coconut Milk Chia Pudding is a delicious and nutritious way to jumpstart your morning or devour for a mid-day treat. This coconut chia pudding is creamy, and the perfect amount of sweetness.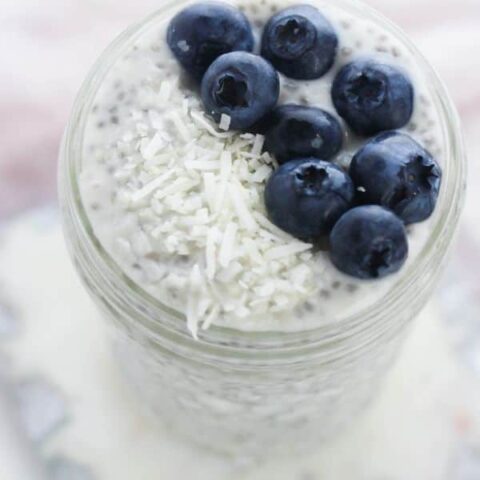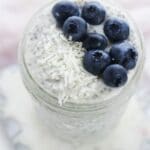 Enjoy this rich and indulgent Coconut Milk Chia Pudding to start your morning right. Each bite has creamy coconut milk, chia seeds, vanilla, coconut, and is sweetened by maple syrup. Packed with fiber and flavor, you can't go wrong with it. A coconut pudding that brings no guilt.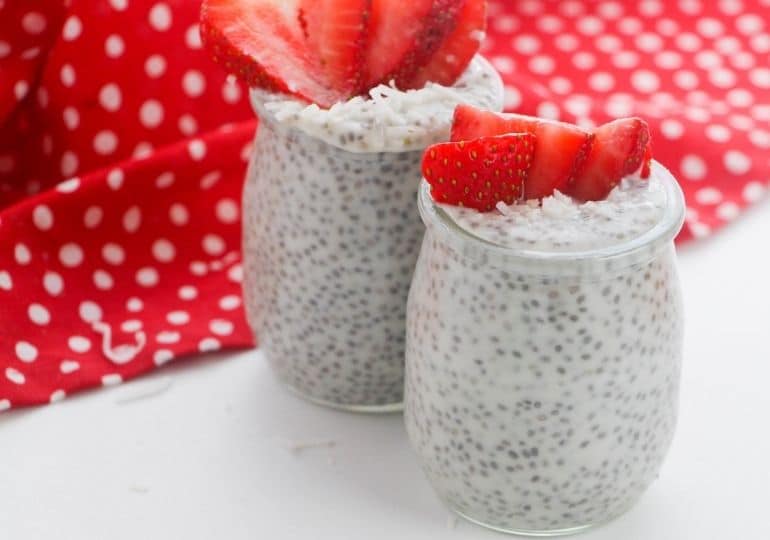 Raise your hand if there are days when you just don't feel like making breakfast, so you hit a drive-thru instead! I'm right there with you, but with this incredible chia pudding, it's a game-changer. When I meal prep with chia coconut pudding it helps me!
If you love chia, here is a breakfast chia recipe that requires minimal effort. Pile on toppings for kids to want to take one more bite. While you are at it, be sure to try out my Instant Pot rice pudding too. It's heavenly!
🥥 Why You'll Love This
It's nutritious
Dairy-free
Breakfast Pudding
Tastes incredible
Makes a great breakfast on the go
Super simple
Easily customizable
Everyone loves it even kids
Top with fresh fruit for sweetness
Has lots of yummy coconut flavor
No refined sugar
Sweetened with fruit and maple syrup
🍓 Ingredients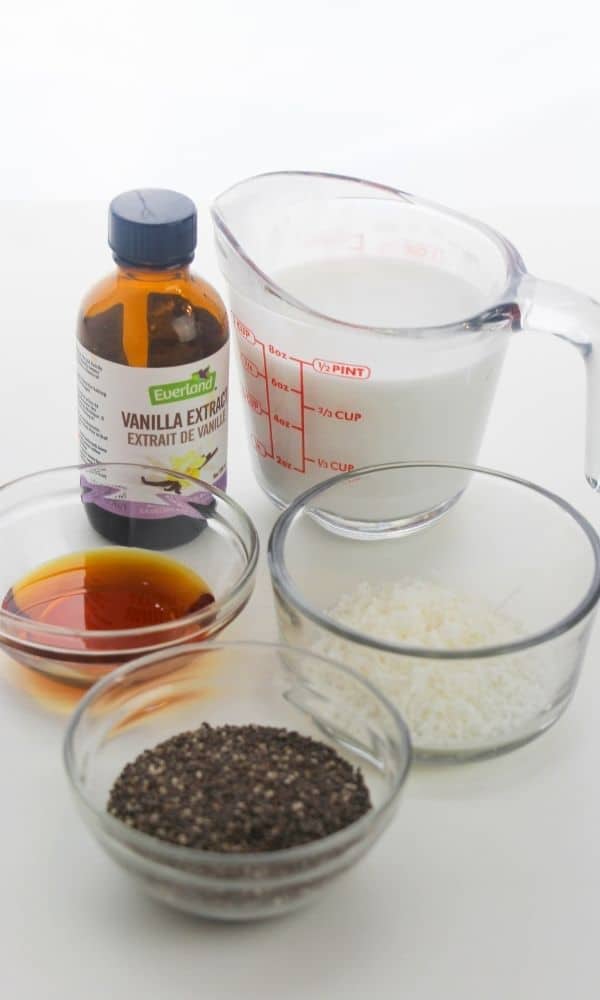 Coconut milk or you could try almond milk to replace
Maple syrup
Salt
Shredded coconut (optional)
Strawberries or Blueberries (optional)
This chia seed pudding with coconut milk takes just 4 ingredients. I added on fruit and shredded coconut. It is not required to add them in.
👩‍🍳 Other Topping Ideas
Here are some other tasty toppings for this chia pudding recipe with coconut milk!
Any Fresh Fruit
Chocolate chips
Crushed nuts
Dollop of nut butter
Dollop of whipped cream if serving as a dessert
Drizzle of honey or maple syrup
Etc
🥣 How to Make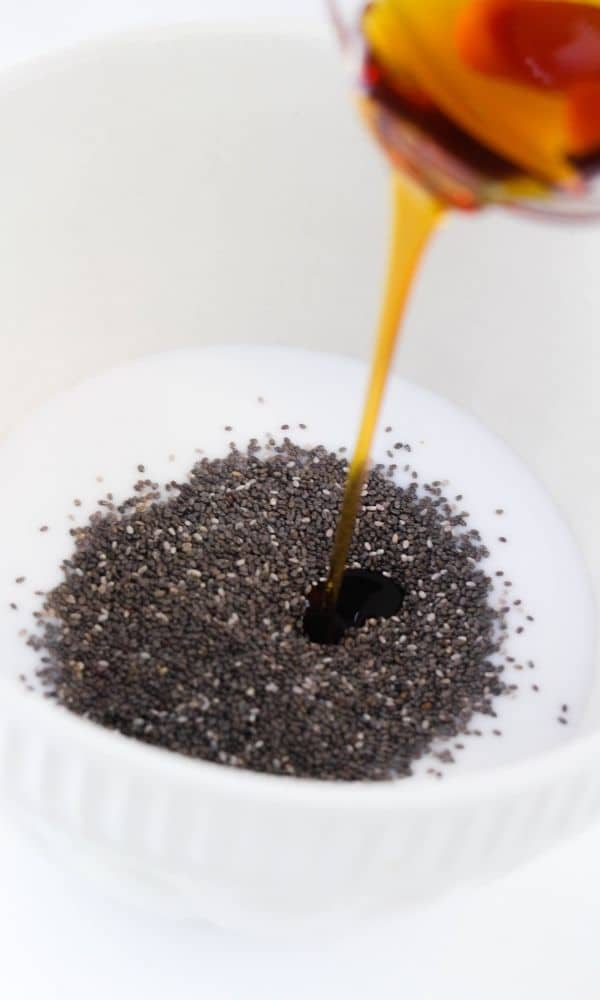 Combine Ingredients | Mix the coconut milk, chia seeds, pure vanilla extract, maple syrup, and salt together in a bowl.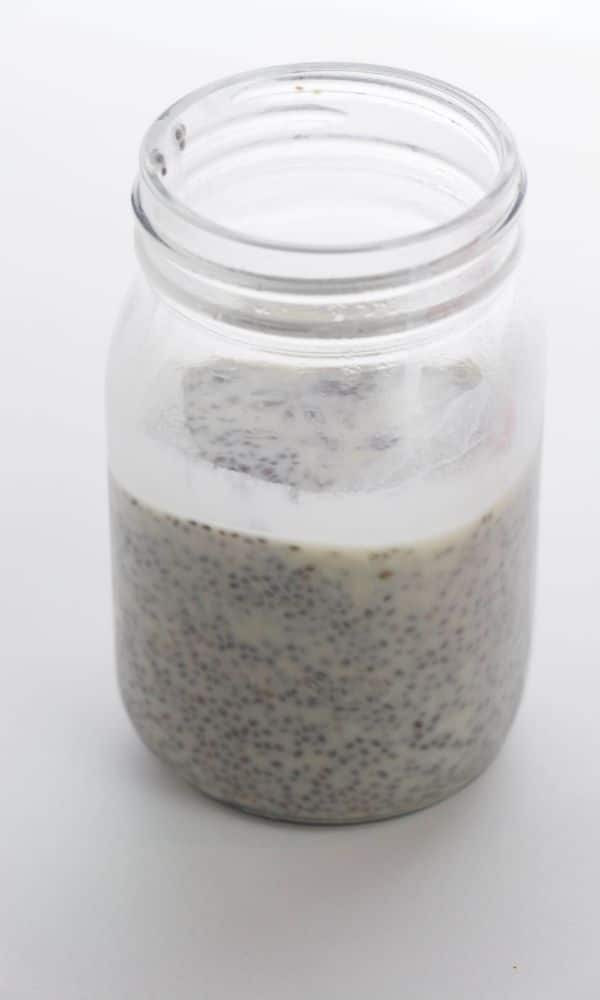 Let it rest | Allow the mixture to rest at room temperature for 10 – 15 minutes. Then you'll need to refrigerate it for 1-2 hours.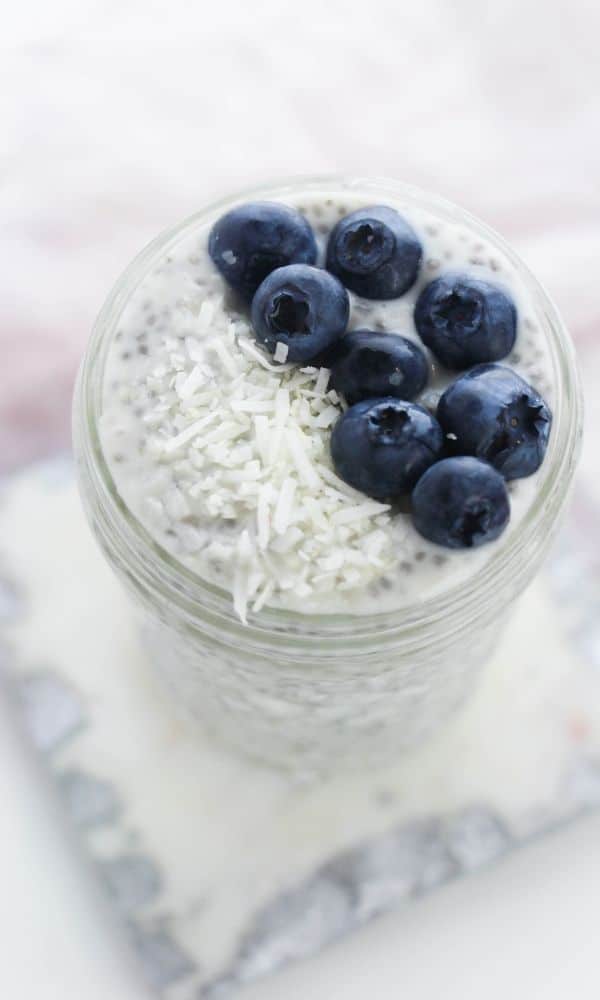 Add toppings and serve | After you take it out of the fridge, you can add your favorite non-dairy milk, toppings, and garnish. Then serve and enjoy!
🥄 Expert Tips
It's important not to swap the chia seeds for any other kind of seed. Chia seeds are going to give you a fantastic texture that nothing else will come close to.
You can refrigerate the coconut chia pudding for a couple of hours or let it sit overnight.
Coconut milk gives this recipe lots of thickness and creaminess. You can exchange it for any of your favorite non-dairy or dairy milk. It won't be as thick, so you may need to add another tablespoon of chia seeds.
If you prefer the pudding to be smoother, you can blend it before serving.
Feel free to add in any of your favorite fruit or berries to make various flavors.
🥤 Recipe FAQs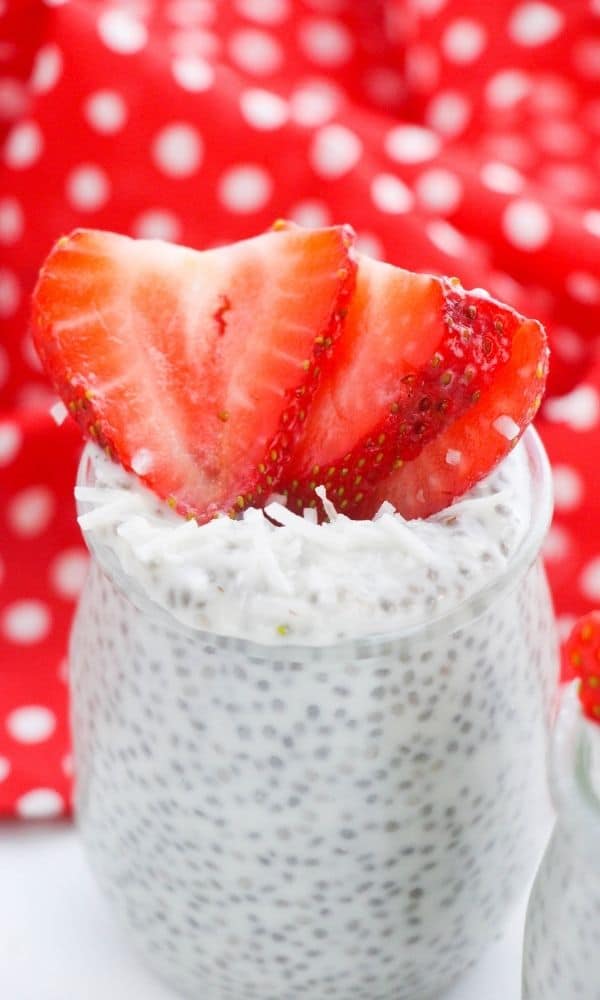 More Breakfast Inspired Recipes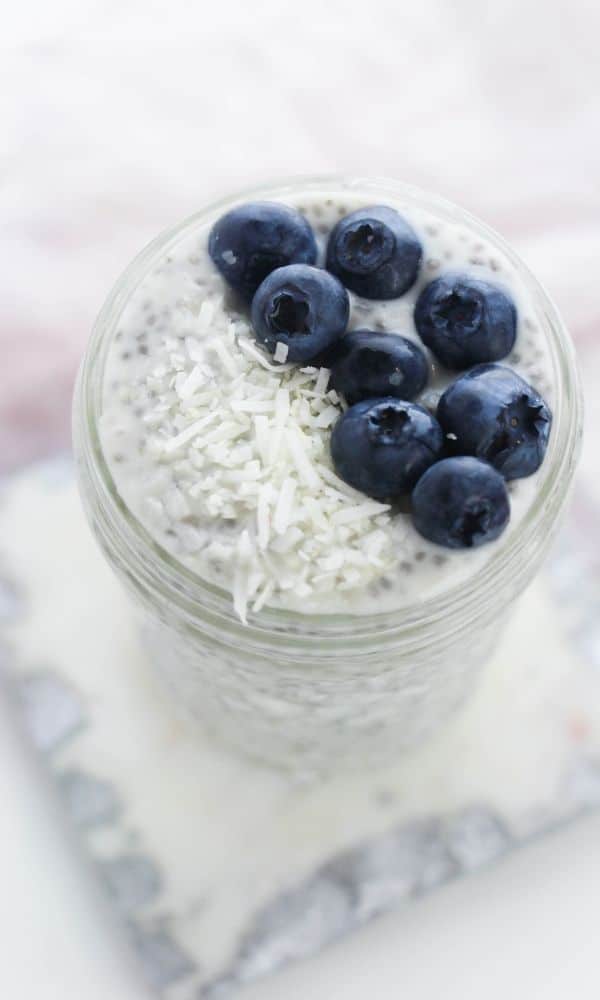 Coconut Milk Chia Pudding
Servings 4
Coconut Milk Chia Pudding is a delicious and nutritious way to jumpstart your morning or devour for a mid-day treat. This coconut chia pudding is creamy, and the perfect amount of sweetness.
Ingredients
1 cup coconut milk or more as desired
1/4 cup chia seeds
2 Tablespoon maple syrup to taste
1 teaspoon vanilla extract
Pinch salt optional
Shredded coconut optional garnish
Sliced strawberries or Blueberries optional garnish
Instructions
In a bowl, you will add in your coconut milk, chia seeds, vanilla, maply syrup, and vanilla, and the optional salt.

Stir the coconut chia mixture well, and then let it sit for 10-15 minutes. Stir every few minutes to help incorporate the chia pudding.

Transfer your chia pudding into the fridge and leave it covered. Store in the fridge for at least 1-2 hours.

Then remove the coconut milk pudding and then add more milk to taste. Serve with shredded coconut, fresh berries, chocolate shavings, etc.
Notes
You can make your chia pudding in advance if you want to meal prep for breakfast. Place in single-serve containers and then store in the fridge until you are ready. Then top with fresh berries and other toppings. The shredded coconut and berries are optional in this recipe, but they do add a nice amount of flavor. You can freeze leftover chia pudding. Store in an airtight container for 1-2 months. Thaw in the fridge before you plan to eat it the night before. Feel free to get creative with toppings and such, to change up the flavor. You can use an almond milk or even classic milk. You might add more chia seeds to help thicken up the mixture a bit. Where the coconut milk is thicker it will help give this chia pudding the ultra-creamy texture.
Nutrition
Serving: 1gCalories: 303kcalCarbohydrates: 26gProtein: 4gFat: 22gSaturated Fat: 17gPolyunsaturated Fat: 4gSodium: 104mgFiber: 7gSugar: 15g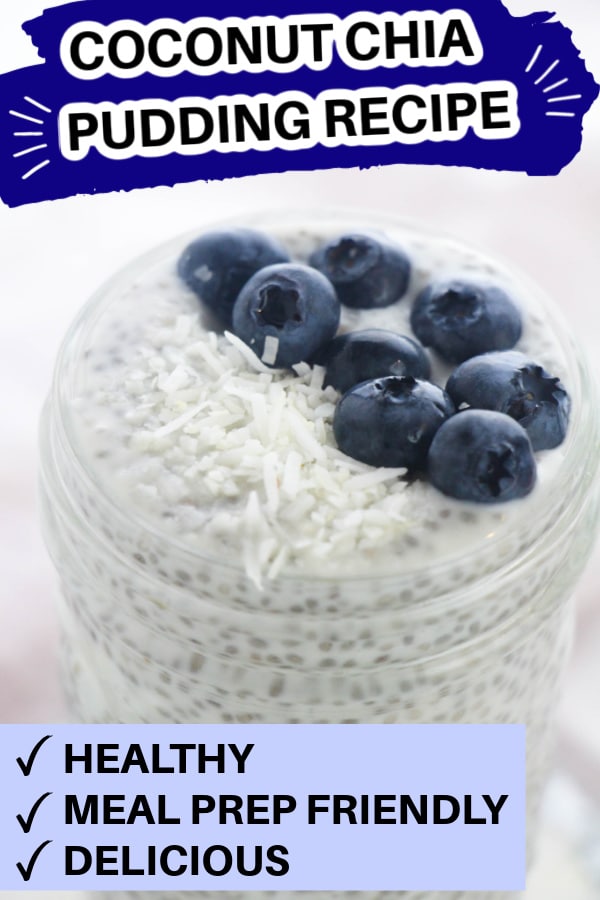 Reader Interactions