The best chia pudding recipes are listed below. From an ombre chia pudding to rainbow and all things in between. I have given you chia pudding recipes for every season of the year.
Pumpkin pie chia pudding, mint chocolate chip, to tropical flavors. Trust me, if you like chia pudding, you will love this list below.
🥝 Here are more ways to kickstart your mornings
🥥 Best Chia Pudding Recipes
Here are a great list and variety for you to search through to find a few new family favorites!
Best Chia Pudding Recipes
Check out this list of the best chia pudding recipes! From brightly colored, to loaded with sweet fruit and toppings. These chia pudding recipes are a great breakfast or mid-day snack.
Here you have a coconut chia pudding that is made with coconut milk for a non-dairy option. Top with fruit and a sprinkle of coconut!
Photo Credit: girlphat.com
Colorful, layered rainbow chia pudding. This is a great way to lure kids into this fruity and delicious chia healthy pudding.
Photo Credit: frommybowl.com
5 ingredients is all you need for this gorgeous pudding. Blueberries are a great add-in for more antioxidants into your daily diet.
Photo Credit: nutritionistmeetschef.com
Love coffee? Give this coffee flavored chia pudding a try. It is going to give you an energy boost and be a great way to kickstart your morning.
Photo Credit: www.veganricha.com
Use up those fresh lemons from your tree by making a lemon curd chia pudding. Citrus flavored pudding that will really win anyone over.
Photo Credit: lowcarbingasian.com
Matcha has taken the world by storm, so why not create a chia pudding using matcha as an ingredient. Easy to make and one recipe you will crave more of.
Photo Credit: choosingchia.com
I love the combination of mint and chocolate. This is a layered mint matcha chocolate chia pudding. Give it a try today and see what you think.
Photo Credit: eatthegains.com
This pumpkin pie version is perfect for fall and winter months. It feels like a slice of pie in pudding form.
Photo Credit: www.mysipsandsweets.com
Take a walk on the tropical side with this version. Kiwi in the bottom offers color and then add in your layers and grab those spoons and dive in.
Photo Credit: www.vibrantplate.com
This is one of my favorites, it is light, refreshing and the mix of strawberries and coconut is always welcome in my home.
Photo Credit: www.katheats.com
Obre is going to win over anyone young and old. This would be a fun one for a boy baby shower, as a healthy treat option.
Photo Credit: www.foodtofeelgood.com
Get the flavors of the classic strawberry shortcake but in a pudding form with crumbles in layers and to top it off.
Photo Credit: www.leefromamerica.com
This is a great one to serve up in the summer. Refreshing, light and a great way to utilize ripe produce.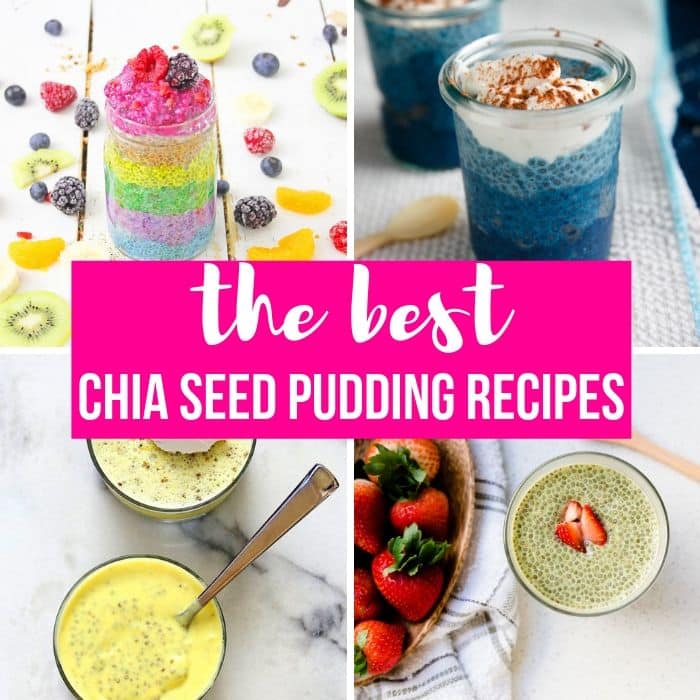 🍉 Chia Seed FAQS and Tips
What is your favorite Chia Seed Pudding combination?