The best chia pudding recipes are listed below. From an ombre chia pudding to rainbow and all things in between. I have given you chia pudding recipes for every season of the year.
Pumpkin pie chia pudding, mint chocolate chip, to tropical flavors. Trust me, if you like chia pudding, you will love this list below.
Here are more ways to kickstart your mornings
The Best Chia Pudding Recipes
Here are a great list and variety for you to search through to find a few new family favorites!
Best Chia Pudding Recipes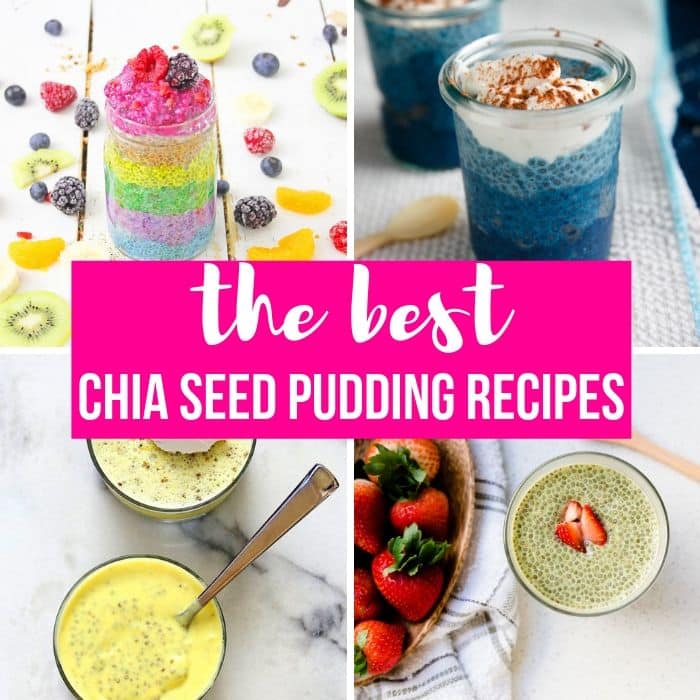 How Long Can You Keep Chia Seed Pudding In The Fridge?
Generally, you can keep chia seed pudding in the fridge for around five days. Anything after you will want to toss it out. Depending on the ingredients you might find it goes bad faster, so use your best judgment call.
Is Chia Pudding Good For You?
Chia seed pudding is a great way to kickstart your day. Chia seeds are a soluble fiber which is great for your gut health, offers blood sugar control, and can help with cholesterol levels. They also are high in omega 3 fatty acids which is great for warding off inflammation in the body.
Why Is My Chia Pudding Not Thick?
If you find your chia pudding is too thin, simply whisk in more chia seeds and allow it to sit to see if it will thicken. What I do is add in my initial chia seeds and then let it sit for around 10 minutes. Check consistency, then add more if needed.
If your chia pudding is too thick, add a touch more milk to help thin it out.
What is your favorite Chia Seed Pudding combination?