Western Omelette! Breakfast, brunch, or supper, this baked omelette saves the day. Love omelette but hate the time it takes to make an individual omelette? Here is my go-to easy baked Western Omelette, that is going to blow your mind. Whip up an easy baked omelette for your dinner, breakfast or brunch.
Fluffy eggs, ham, and peppers in every single bite, and oh no I didn't forget about that sharp cheddar cheese! Serve this easy Western omelette up for dinner, breakfast or brunch. Check out these mason jar omelettes for on the go.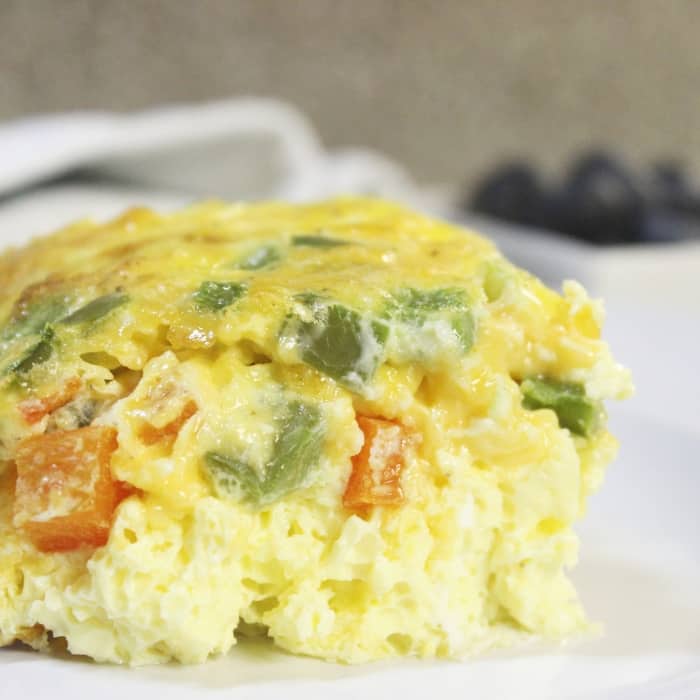 Western Omelette
I am always looking for new recipes to whip up to serve my family. I am the type of person that needs variety. Oven-baked omelettes are a great way for me to really switch up dinner time.
We love breakfast for supper, and I always reach for a savory aspect, since my husband is diabetic. We eat a lot of eggs, like my sausage and egg muffin tin omelettes.
More Breakfast Recipes To Try
Easy Baked Omelette

I went the traditional route for this Western Omelette recipe, but you are welcome to add in more veggies, double up on second meat etc. No mess in a pan when your omelette didn't flip properly, no rushing to get all your fillings in before your omelette needed to be flipped on the stove. Easy, peasy, and downright delicious. This western omelette recipe is a keeper.
Here are tons of ways to make eggs taste better by adding layers of ingredients to transform the flavors.
What is In A Western Omelette
For this recipe, I went classic western omelette ingredients: ham, eggs, cheese, and red and green peppers. Dice, slice, mix and pour, and bake to a perfect light and fluffy omelette. Serve as a breakfast omelette, or do like I did and make it for dinner.

Why Is It Called A Western Omelette
They call it a western omelette because it came from Denver, but the true origins of how the name came about are hazy. Either way, the combination of flavors is outstanding.
What is the Difference Between a Western Omelette and a Denver Omelette?
The Denver Omelette is known by many names, southwest and even Western. It is the same thing, that offers diced ham, peppers, cheese, and sometimes you will find onions added into the mix. You could even make a Denver omelette casserole just like my baked western omelette recipe below, but with a few different ingredients.
Are Omelettes Good For You
Omelettes are a wonderful source of protein! Great for breakfast, lunch, dinner, and that occasional brunch. You will find they are filled with veggies for added nutrients on top of all the protein.
Can I Substitute Egg Whites For Whole Eggs In Western Omelette Bake
Yes! You can reach for egg whites for a lower fat option. What I would do is leave 4 whole eggs, and do 5 egg whites. You want some of the yolks as it whips up it will still remain light and fluffy.

What's the Difference Between Omelet and Omelette?
Either spelling works just fine, and neither is spelled wrong. You will find that different area spell it in a different way. Below you will learn how to make a proper omelette in the oven!
Tips For Making Breakfast Omelette Bake
Peppers | If you don't like your peppers to have a slight crunch to them, saute them with a little oil in a pan before you add it into your omelette. We personally like a little crunch, so we don't saute ours.
Proper Size Pan | Make sure you bake this in an 8×8 pan. If you go with a larger pan it will thin our the omelette and you will end up with a less fluffy omelette. You are welcome to double the recipe and pour it into a 9×13 pan.
Milk | I have gotten asked does it matter what milk you use. We use 1% and as you can see our breakfast omelette baked up nice and fluffy. So feel free to use whatever percentage of milk you have.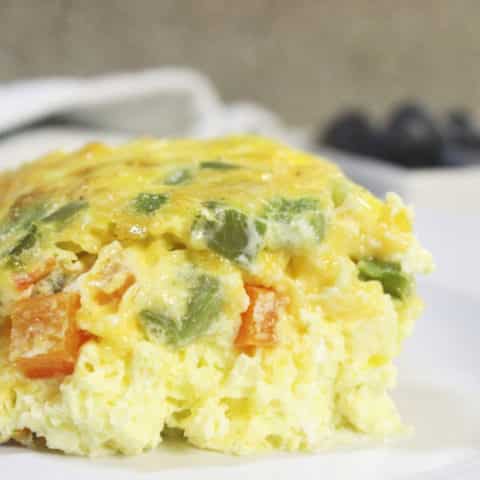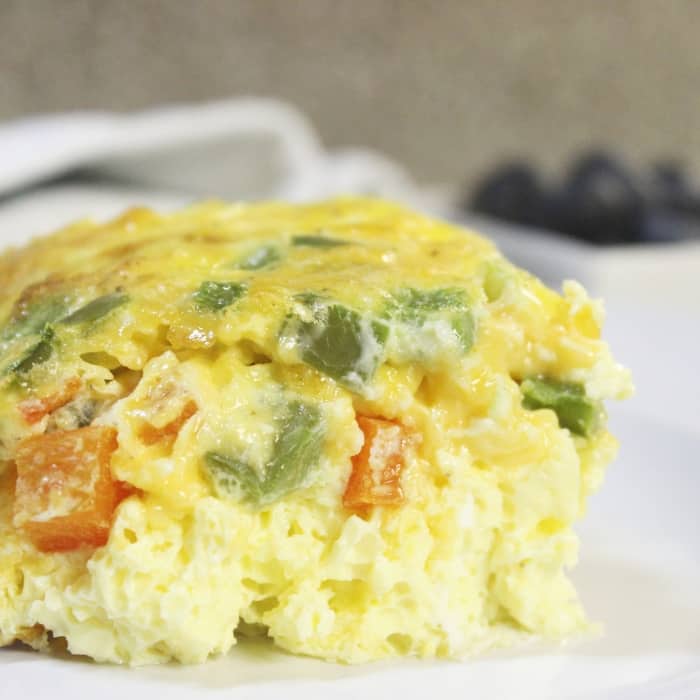 Easy Baked Western Omelette
Total Time:
1 hour
5 minutes
A hearty Western Omelette that is baked in the oven. A Western omelette casserole that is full of ham, peppers, and sharp cheddar chese and baked to perfection.
Ingredients
9 extra large eggs
1 cup milk
1 package of diced ham (8-10 oz)
1/2 green bell pepper
1/2 red bell pepper
1 tsp garlic powder
1/8 tsp pepper
1/8 tsp salt
1 cup sharp cheddar cheese
Instructions
Start by preheating your oven to 350 degrees.
In a bowl mix your eggs and milk together until nice and whisked.
Add in your seasonings, ham, peppers, and cheese. Stir well.
Pour into an 8x8 baking pan that is greased, and bake for 45 minutes to 1 hour or until the eggs are cooked through.
Slice and serve.
Nutrition Information:
Yield:

12
Serving Size:

1 slice
Amount Per Serving:
Calories:

161
Total Fat:

11g
Saturated Fat:

5g
Trans Fat:

0g
Unsaturated Fat:

4g
Cholesterol:

167mg
Sodium:

318mg
Carbohydrates:

3g
Fiber:

0g
Sugar:

1g
Protein:

13g
Tools Used for the Baked Western Omelette Recipe
8×8 pan
OXO Good Grips 11-Inch Whisk
Pyrex Glass Mixing Bowl Set (3-Piece)
Here are a few of the tools I used when making my baked omelettes. I love Pyrex
products, they are my tried and true. I have had them for years and they hold up in the dishwasher and oven! These are the ones I used in this recipe!
I also prefer to whip my eggs by hand, for that light and fluffy aspect, but you could always use a stand mixer. I also don't like extra dishes, so 1 whisk vs a stand mixer wins every single time.
Variations For Your Egg Omelet
Here are some other ingredients you might want to add to your omelet. You don't have to stick to the Denver (Western) Omelette ingredients if you don't want. Here are some of our favorite egg omelet ingredients.
Sausage or Chorizo
Bacon or Canadian Bacon
Onions (sweat them out in a pan)
Jalapenos
Rotel (drained)
Green Chilis
As you can see the sky is the limit with what you can use to create a custom egg omelet!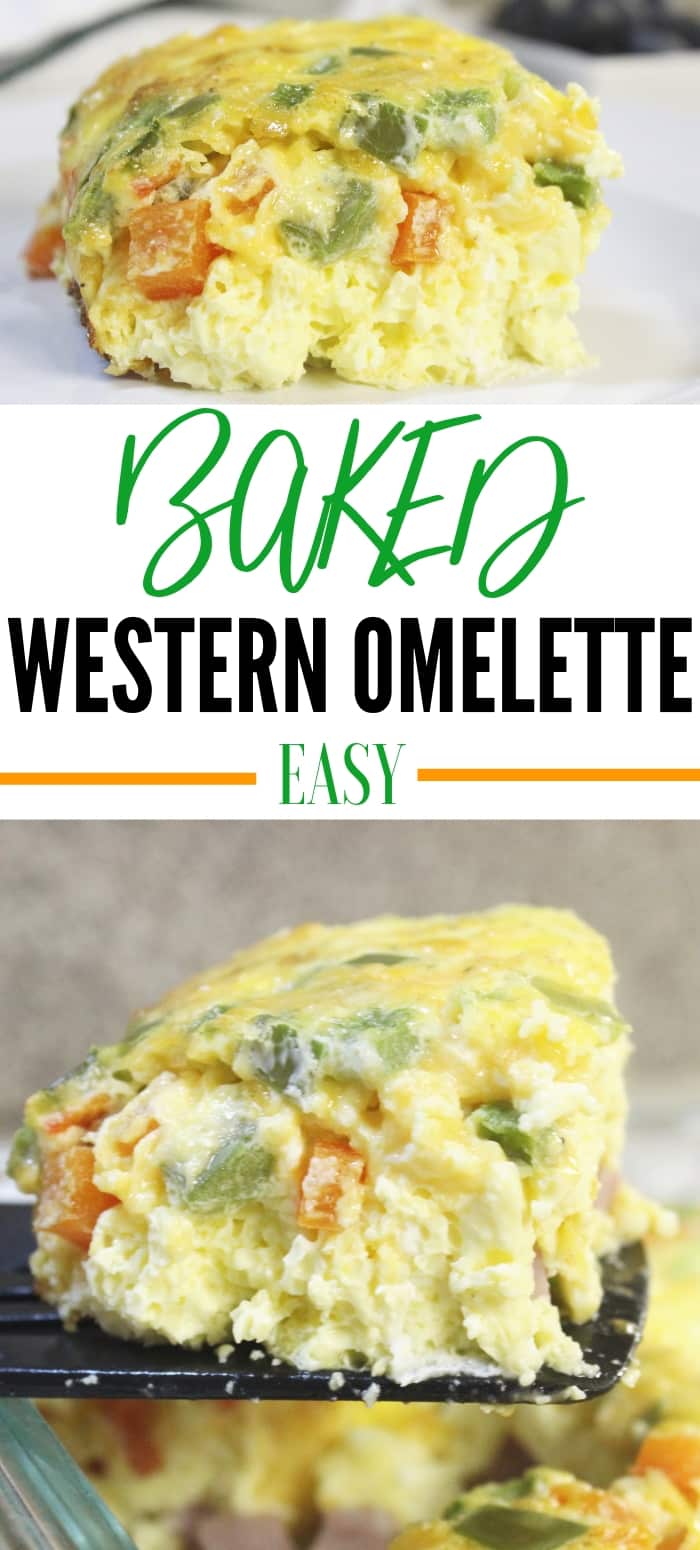 So there you have it, a super easy way to get those flavors of your favorite egg omelet at home.
What Happens If We Eat Omelet Daily?
Studies show that heart disease has been linked to being overweight. So having eggs in your daily diet is a great way to add protein and nutrients into your diet. The one downfall to eggs is they do contain saturated fat, which too much-saturated fat can be known to raise your cholesterol and LDL which is not great as it puts you at risk for cardiovascular disease.
Can I Double This Baked Omelet Recipe
Yes. Feel free to double if you plan to feed a larger crowd. Just use a 9×13 pan to whip up and bake. Adjust the cooking time and ensure your baked omelet is cooked fully before you serve it.
What Are The Best Eggs To Use In A Western Omelet
You can use any type of age you generally use. Some people love the classic white egg, others swear by cage-free eggs. Use whatever eggs you tend to buy, and I am sure they will be great.
I always crack eggs in a separate bowl and then do it one by one. Sometimes you can run into a bad egg, and it saves you from ruining your whole omelet if you have your eggs in a separate bowl.
Can I Use This Omelete Batter To Cook On Stove
You can but it would turn into more of a scrambled mix, instead of an omelet. Since you have all your veggies in there still taste great. I love the omelet mixture in oven, since it turns out so light and fluffy.
Have you ever tried a Western Omelette Casserole Bake before?