Whip up a batch of these dinner rolls for your weeknight dinner, holiday entertaining, and more. A yeast roll that is fluffy, soft, and golden brown. The ultimate dinner roll recipe.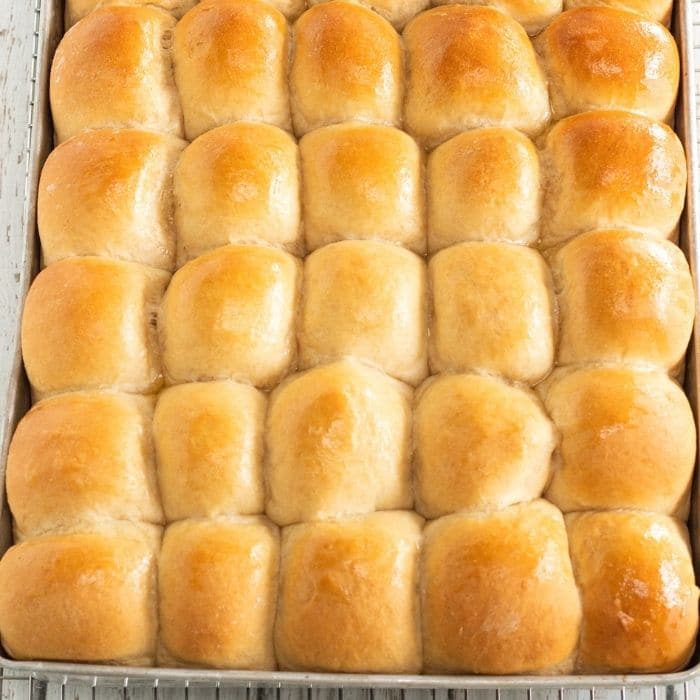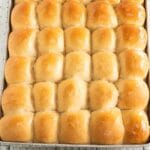 Whip up a batch of these fluffy dinner rolls today. A homemade roll that uses just 7 essential pantry items. This roll recipe will pair with any dinner!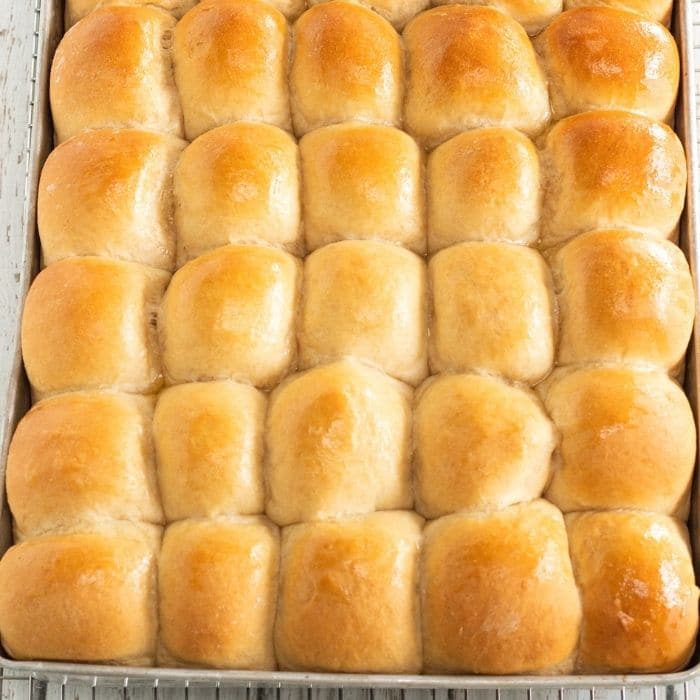 Whether you are looking for a Thanksgiving roll recipe or even a Christmas roll, this fits! Buttery flavor, tender, and fluffy as can be.
Why Make This Roll Recipe
Basic ingredients – nothing hard to find.
Easy steps to make rolls. 
The recipe does double well. 
A fantastic holiday roll. 
Affordable 
Make-ahead roll 
Reheats well 
Easy rolls recipe
Freezer friendly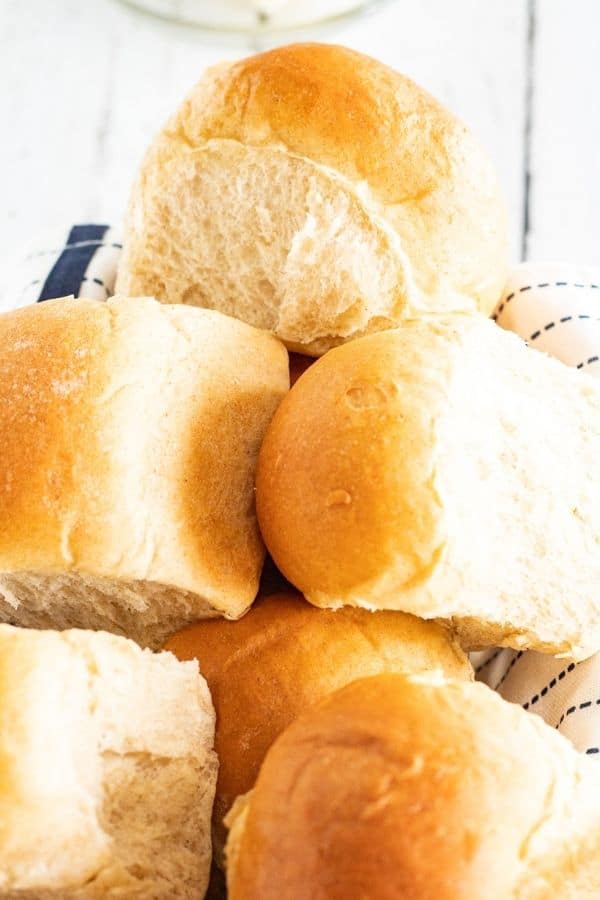 Ingredients Needed
Flour | I used all purpose flour but you could also reach for a bread flour. The rolls will be a bit denser if you use a bread flour for these bread rolls.
Butter | Make sure you use an unsalted bigger. Don't reach for margarine.
Yeast | Yeast is an essential item in this roll recipe. Without it you will not end up with a light and fluffy roll. This yeast roll recipe is very simple, and I used instant active yeast.
Sugar | Granulated sugar adds a sweet flavor to the rolls. You can always use a bit less to lower the sweet factor.
Milk and Eggs | Eggs and milk along with salt finish off ingredients needed. Make sure milk is warm not chilled. 
How To Make
In a bowl or stand mixer, you are going to add your warm milk, sugar, salt, butter, and eggs. Along with the yeast.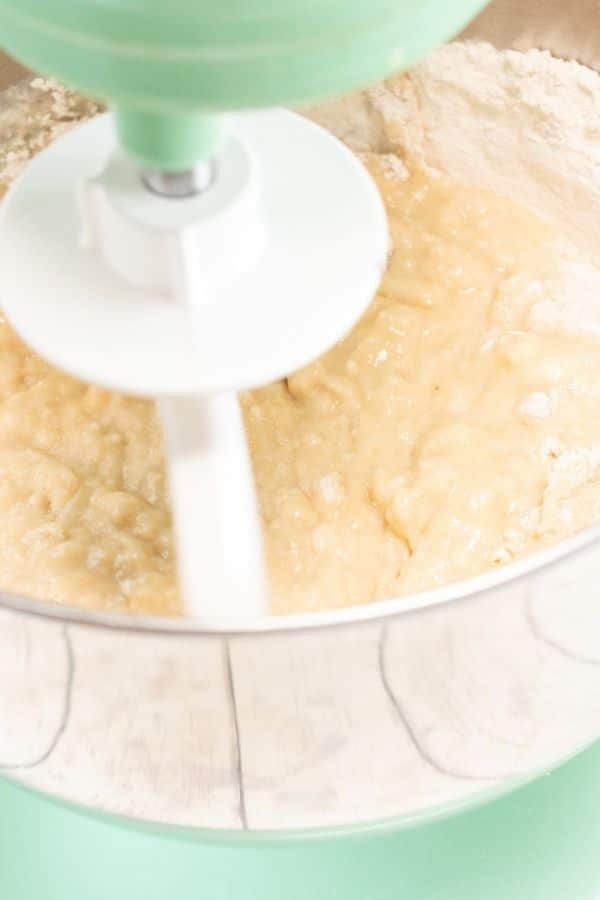 Now add in 5 cups of the flour. Use the dough hook to turn the mixer at the lowest speed. If you don't have a stand mixer, use a wooden spoon and a bowl to stir.
As the flour begins to incorporate, you will slowly add in about 1/4 cup of flour at a time. You are looking for the dough to pull away from the sides of the bowl.
The dough will be sticky and soft. You can add less or more flour to reach the desired texture. Don't overmix or it will make rolls dense.
When making dinner rolls it is all an estimation of flour cause each batch of rolls will vary in how much flour they need. So you can use anywhere from 5-6 cups of flour most of the time.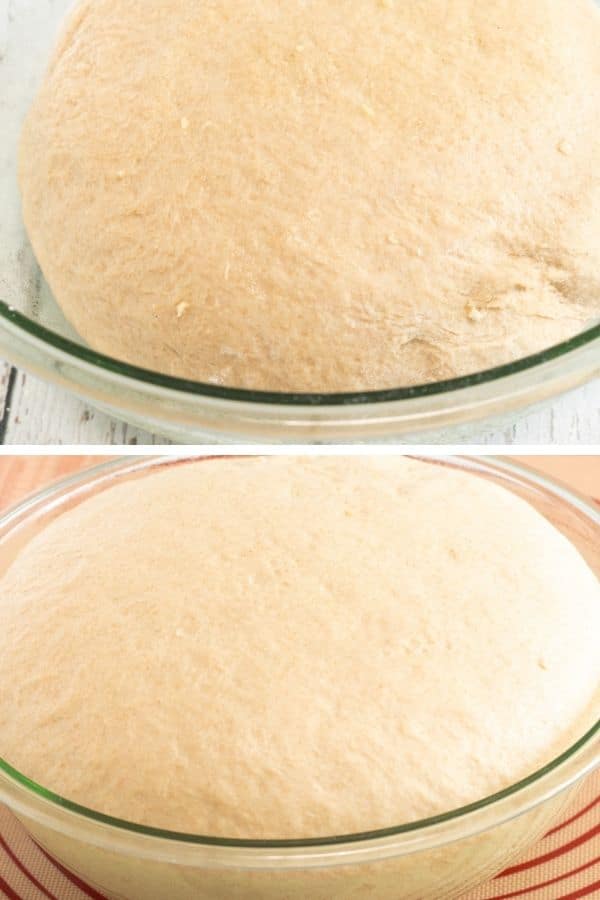 Take your yeast roll dough and place in a lightly greased bowl. Cover with a towel and allow it to rise for 90 minutes.
After the dough has risen, you will punch down the dough and form your dough balls. This can make 24-32 rolls depending on the size of the rolls you choose to make.
Once you have your dough balls on a greased baking sheet, cover and then let it rise another hour.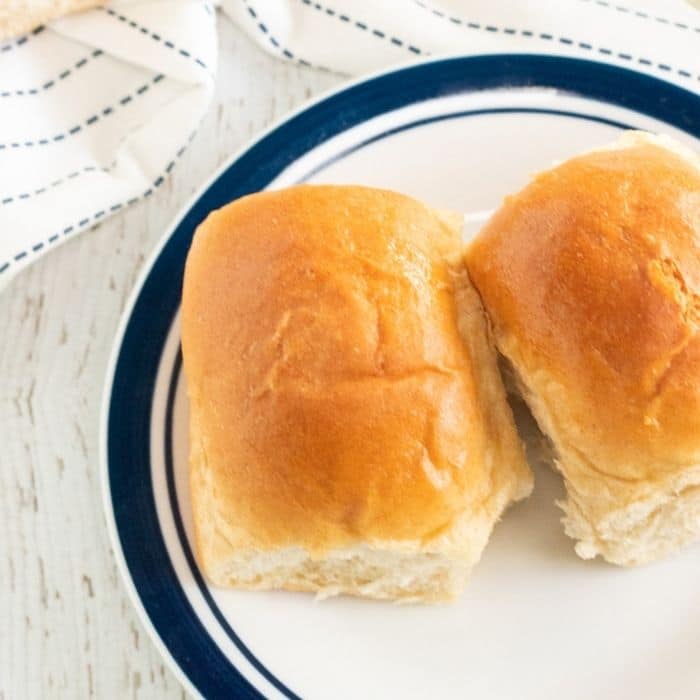 Preheat the oven to 375 degrees. Then bake the rolls for 10-15 minutes or until the rolls are lightly browned.
More Bread Recipes
Expert Tips When Making Rolls
Your milk needs to be around 100-105 degrees. any hotter it can kill the yeast, causing rolls to not rise.
Make sure to not skip the sugar, that is what feeds the yeaast.
You can use active dry yeast, but the rising time will take a bit longer.
Go ahead and use an all purpose flour if you want a very fluffy and light roll. Bread flour will make the rolls chewier in texture.
Recipe FAQs
How to Make Yeast Rolls Ahead of Time?
You are more than welcome to make these dinner rolls a day or two in advance. You can store them in an airtight container on the counter or in the freezer. When you are ready to eat, just wrap in foil and heat in the oven to warm them up. It will give them the fresh homemade texture and flavor.
Why Are My Rolls Heavy?
Adding too much flour or overmixing is generally the cause of heavy rolls. Make sure to use the flour as a guide, and add a little at a time. The dough will form a ball when mixed. Be slightly sticky but you can shape and roll into a ball for rising easily. You don't want the dough to be gummy, if so add more flour.
Why Do you Brush Rolls With Butter?
Butter not only adds flavor to the rolls but it offers a stunning golden sheen. This is going to help give your rolls a golden color, and make them finger licking good!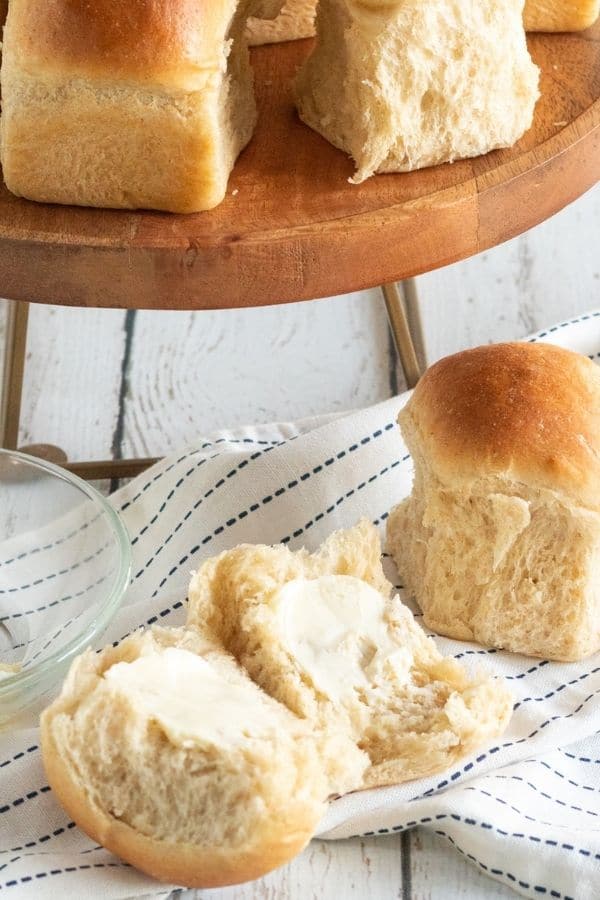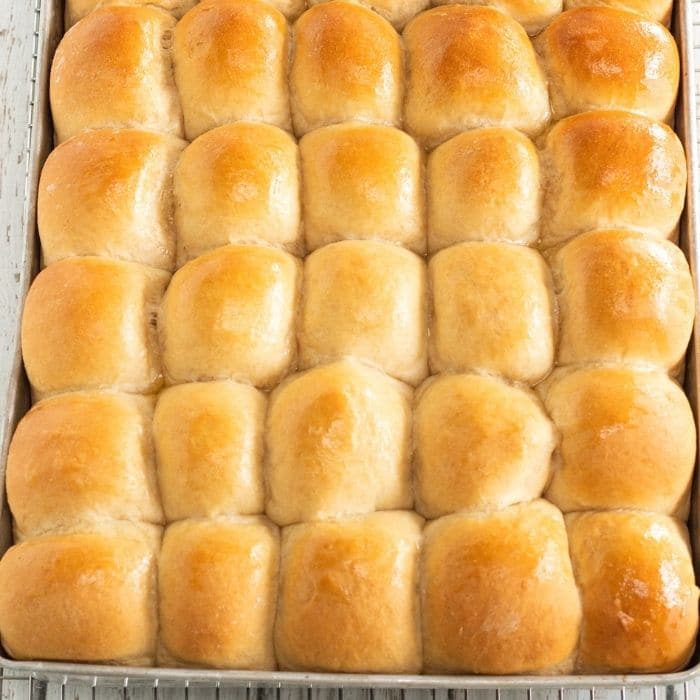 Fluffy Dinner Rolls
Servings 24 -32 rolls
Whip up a batch of these dinner rolls for your weeknight dinner, holiday entertaining, and more. A yeast roll that is fluffy, soft, and golden brown. The ultimate dinner roll recipe.
Ingredients
2 cups warm milk heat to 100-105 degrees Use a thermometer to check)
2 tablespoons instant dry yeast
5 – 6 cups all-purpose flour or bread flour
1/4 cup white granulated sugar
1 1/2 teaspoons salt
6 tablespoons salted butter softened
2 large eggs room temperature
2 tablespoons melted butter brushing rolls
Instructions
Start by adding your 5 cups of flour into a bowl or stand mixer. Then add in your warm milk, instant dry yeast, sugar, salt, 6 tablespoons salted butter, and eggs.

Begin mixing on low, and as the dough mixes with the flour add a bit more flour at a time. Add in flour a little by little, looking for the dough to pull away from the edges of the bowl.

The mixture of dough will be soft and slightly sticky. Add less or more flour until it reaches the right texture. When making rolls it is by sight so the flour is always a range of amounts. That way you get the right texture.

Once your dough is formed into a ball easily, soft texture, and just slightly sticky, you will roll into a ball and transfer into a greased bowl. Cover and let rise for 90 minutes.

Punch down the risen dough and begin rolling into balls and place on a greased lined baking sheet. I get around 24-32 dinner rolls depending on the size. You can measure the dough for accuracy if you would like.

Cover and allow the dough to rise again for 1 hour.

Before the dough is done rising preheat the oven to 375 degrees. Cook the rolls for 12-15 minutes or until the rolls are fully baked.

Brush the cooked dinner rolls with the 2 tablespoons of melted butter. This will add flavor and help to make the top golden brown.

Allow rolls to cool and serve up homemade dinner rolls, for a crowd, weeknight dinner, etc.
Notes
If you use bread flour it will make the rolls chewier in texture. The milk needs to be checked with a candy thermometer for 100-105 degrees F. Otherwise it can kill your yeast. Sugar feeds the yeast so this is important. Make sure you cover rolls and dough as it rises or it will dry out and crust on the top. A light towel works great. You can store rolls at room temperature in a container or place and store in the freezer until ready to eat later on. I just wrap in aluminum foil and toss in the oven from frozen to heat slowly for a fresh out of the oven roll, when I heat them from being frozen.
Nutrition
Serving: 1gCalories: 641kcalCarbohydrates: 126gProtein: 18gFat: 6gSaturated Fat: 3gPolyunsaturated Fat: 2gCholesterol: 26mgSodium: 172mgFiber: 5gSugar: 3g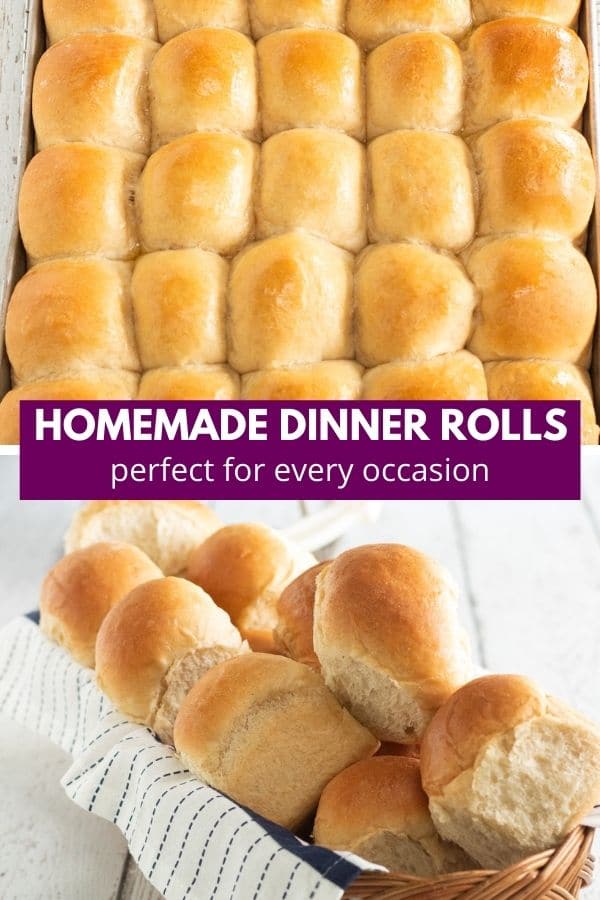 Reader Interactions