Cranberry Banana Coffee Cake is the perfect coffee cake. Cranberry sauce, bananas, all baked in one delicious breakfast or dessert dish. A great leftover cranberry recipe to use after the holidays as well.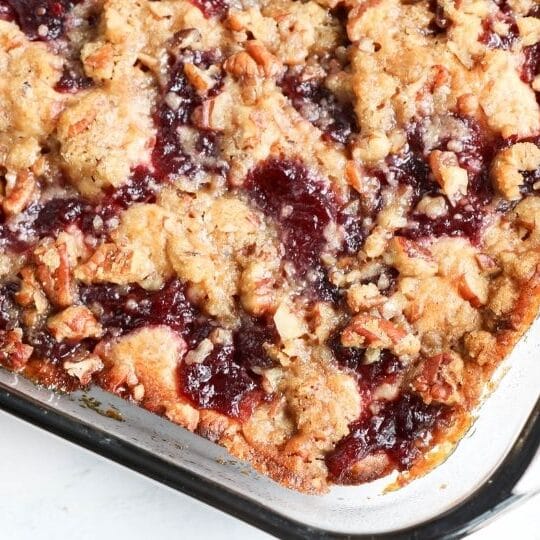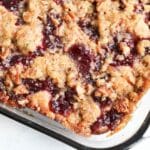 Fall is here and warm flavors like this cranberry banana coffee cake are greeting us in the morning at our household. A banana bread coffee cake that has a sweet and tart cranberry flavor in every single bite. Perfect for leftover cranberry sauce.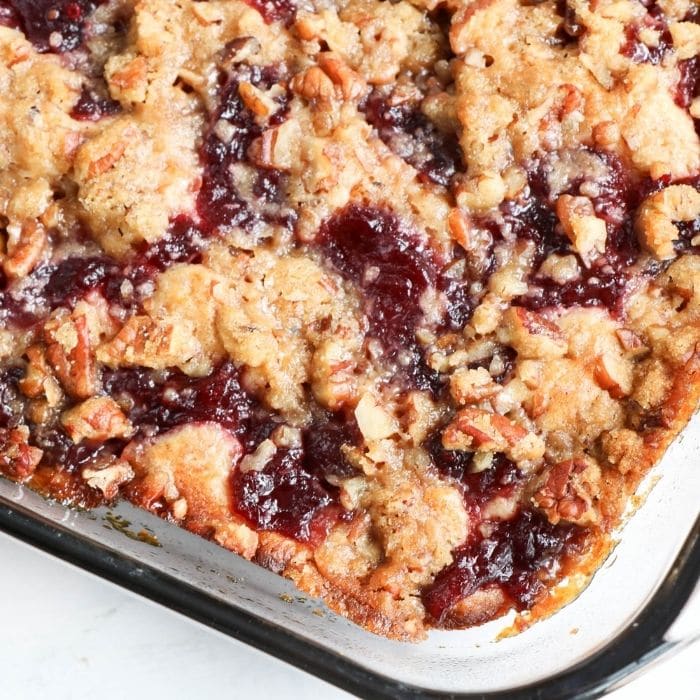 If you have some canned cranberry on hand, whip up this banana recipe that is bursting with flavor. A streusel topping that is made with nuts, brown sugar, butter, flour. The perfect crumble.
Coffee cake is great to serve next to a cup of coffee, orange juice, or a big scoop of ice cream for a midnight dessert. No matter how or when you serve up this cranberry coffee cake, it will please.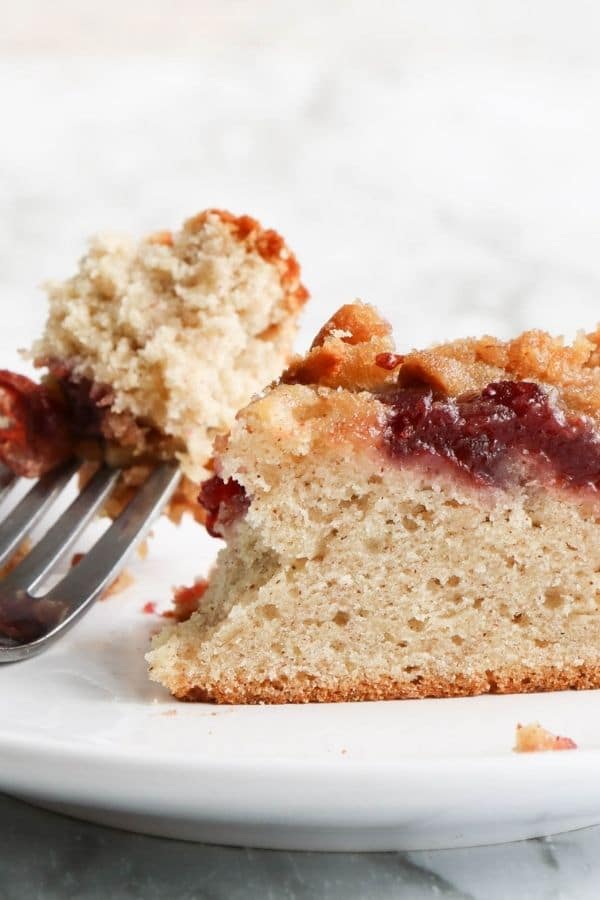 🍌 Reasons to Make This Dessert
Great for using leftover cranberry sauce
Easy To Make
The perfect excuse to use spotted bananas
Makes home smell amazing
Great for serving family or a crowd
Stores well
Freezer Friendly
Tasty cranberry recipe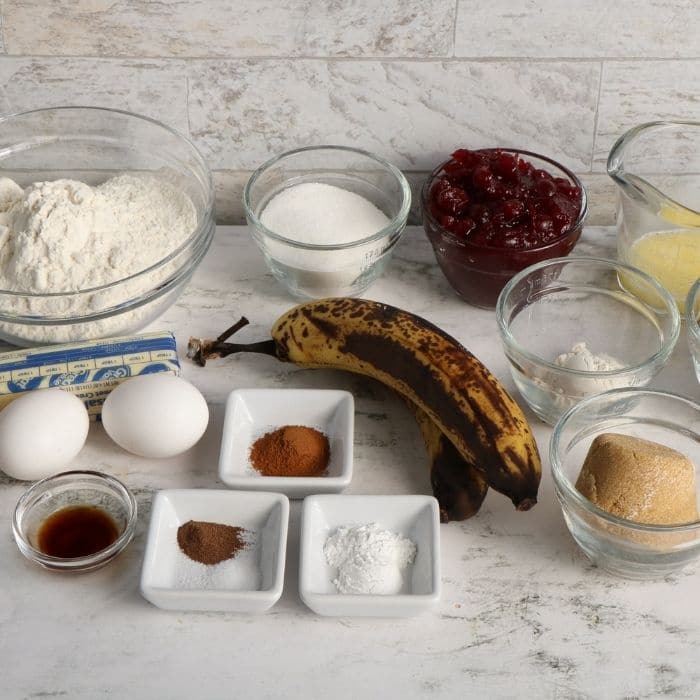 🍒 Ingredients
Butter
Eggs
Granulated Sugar
Flour
Baking Powder
Ground Cinnamon
Salt
Ground Allspice
Bananas
Whole berry cranberry sauce
Pecans
Brown Sugar
How to Make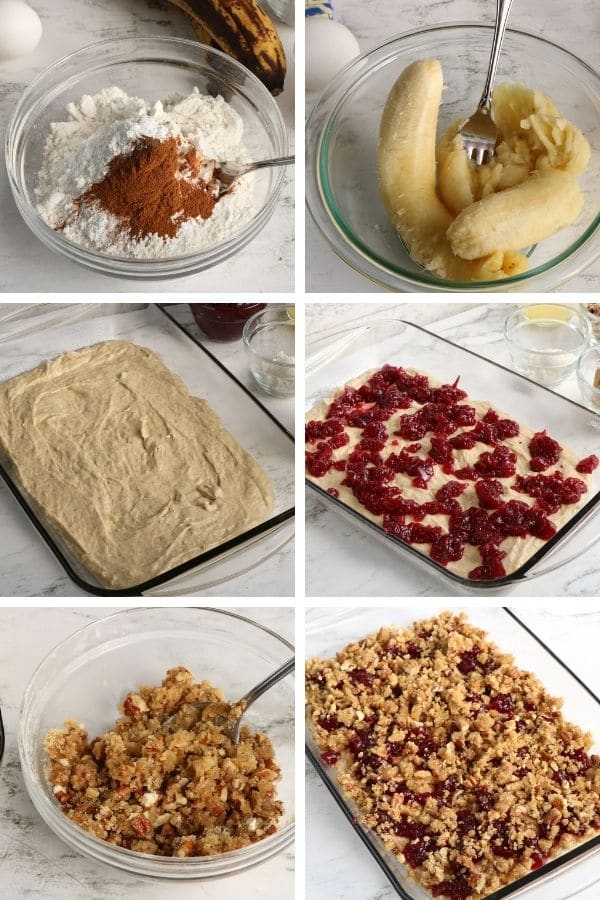 Mix | Add dry ingredients into a bowl and then mix it up to combine.
Mash Bananas | Mash up your brown bananas to a mushy consistency. Then you will begin to mix wet ingredients together. Make sure to use ripe bananas.
Pour | Pour the batter into the baking dish. The drop on the cranberry sauce on top of the banana cranberry coffee cake.
Crumble and Bake | Mix up the crumble and bake in the oven as directed! Such a delicious coffee cake!
👩‍🍳 Expert Tips
You can use frozen cranberries if you would like in replace of the cranberry sauce.
Fresh cranberries I suggest you cook down a bit or it could be pretty tart. Cranberry and orange are a great pairing as well if you have fresh on hand.
Make sure to mash the bananas really well so it mixes up in the banana cake base.
This recipe does freeze really well.
Don't overmix batter or it will make it heavy.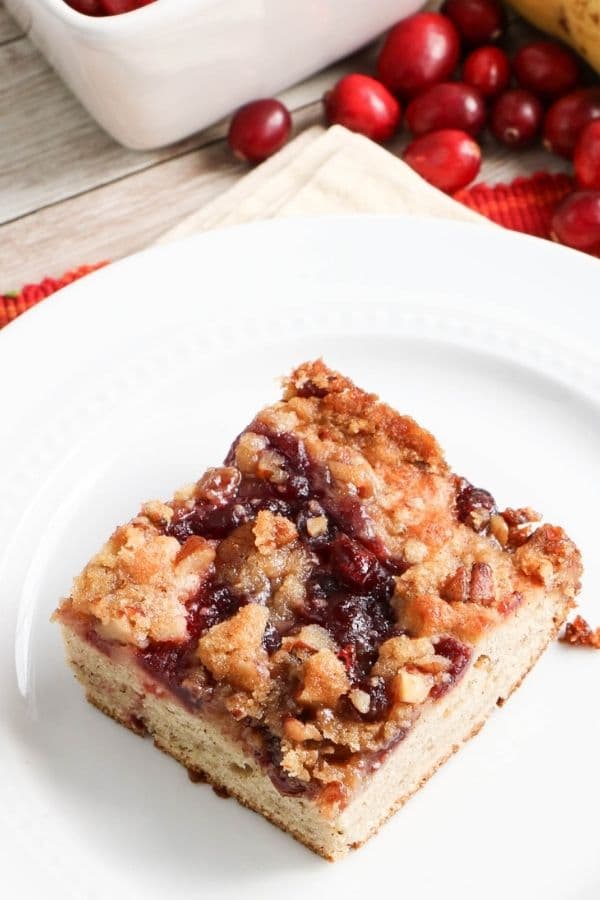 🥄 Storing And Freezing
You will want to store your baked coffee cake in the refrigerator. It will spoil if left out on the counter at room temperature.
Store for 4-5 days in the fridge. You can eat it chilled, or you can warm up in the microwave for a fresh out of the oven flavor.
For freezing slice and then freeze your cake for up to three months. Then remove a slice or two and thaw on the counter for a quick thaw. Or toss in the microwave quick reheat.
🥣 Recipe FAQs
Why is it called coffee cake?
Coffee cake is called this as it compliments a cup of coffee nicely. You don't have to eat it with coffee, but you will find it taste delicious.
Does coffee cake have coffee in it?
Most coffee cakes do not have coffee in it. While some might, the name is just because it pairs nicely. This cake is a bit denser and the crumble is nice paired with a warm drink.
What Size Pan Do I Need?
This coffee cake is baked in a 9×13 pan. You can half the recipe if you would like to make a smaller batch if you would like.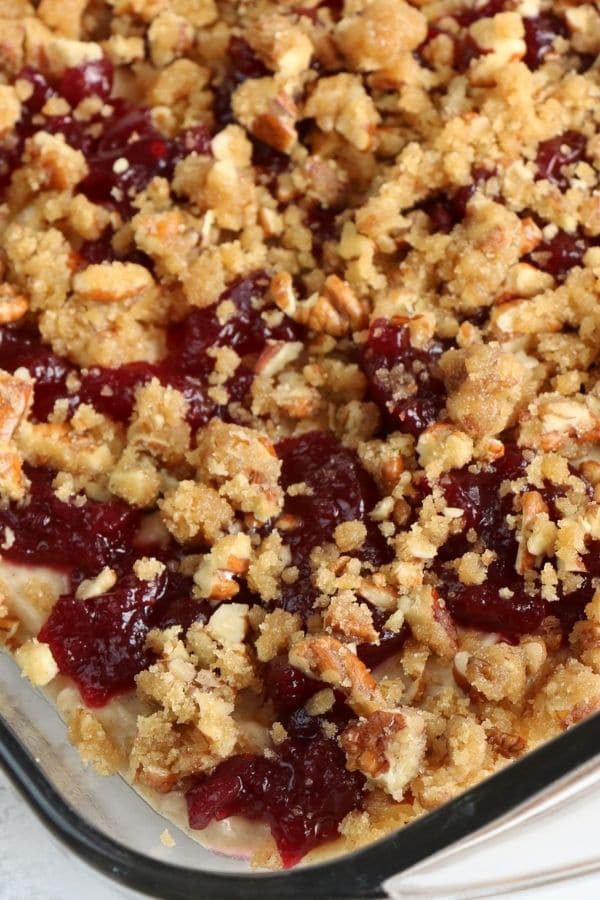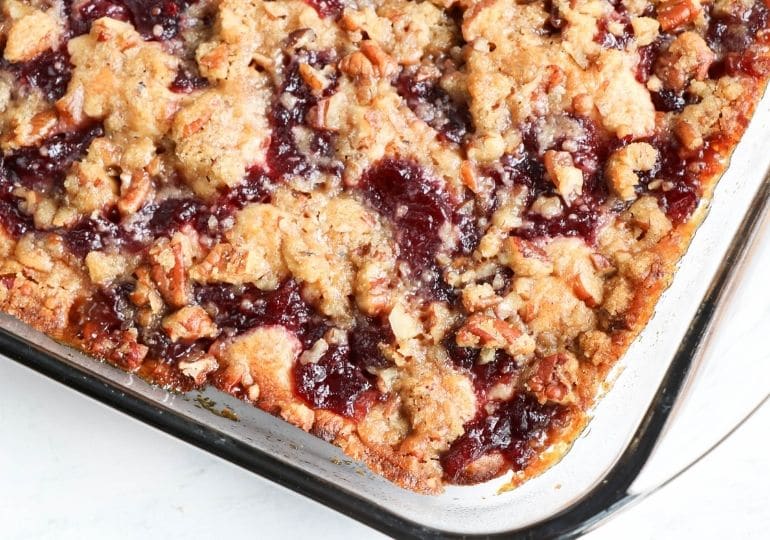 Cranberry Banana Coffee Cake
Servings 18 -24
Cranberry Banana Coffee Cake is the perfect coffee cake. Cranberry sauce, bananas, all baked in one delicious breakfast or dessert dish. A great leftover cranberry recipe to use after the holidays as well.
Ingredients
Cranberry Banana Coffee Cake
½ cup butter softened
½ cup of granulated sugar
2 large eggs room temperature
1 teaspoon vanilla extract
2 cups all-purpose flour
2 teaspoons baking powder
1 teaspoon ground cinnamon
¼ teaspoon salt
¼ teaspoon ground allspice
2-3 medium ripe bananas mashed (about ¾ cup)
1 cup whole-berry cranberry sauce
For the pecan topping
½ cup packed brown sugar
½ cup chopped pecans
2 tablespoons all-purpose flour
2 tablespoons butter melted
Instructions
Start by preheating your oven to 350 degrees. Then you will grease your 9×13 pan with a cooking spray.

In a bowl you will add in your dry ingredients. Flour, baking powder, ground cinnamon and allspice. Mix until combined.

Then in a stand mixer or mixing bowl cream your butter, sugar until it is nice and fluffy.

Mix in your eggs, vanilla and mashed bananas and mix until combined.

Slowly add in your flour mixture, and mix until combined.

Pour into your greased pan, and then take your cranberry sauce and make spoonfuls all over the cake.

Mix up the pecan streusel – brown sugar, pecans, all purpose flour and butter. Mix until crumbly and then sprinkle all over the coffee cake.

Bake 35-55 minutes or until the cranberry banana coffee cake is fully cooked.

Remove and place cranberry coffee cake on cooling rack to cool, then slice and serve.
Notes
You can use fresh or canned cranberry sauce in the recipe. Make sure you use ripe bananas, so they mash and offer a rich banana flavor. If you don't want to use pecans for streusel, use oatmeal to replace it. You can half the recipe to make a smaller batch, in an 8×8 pan. Freeze any leftovers for up to 3 months. This cranberry coffee cake needs to be stored in the fridge or it will spoil.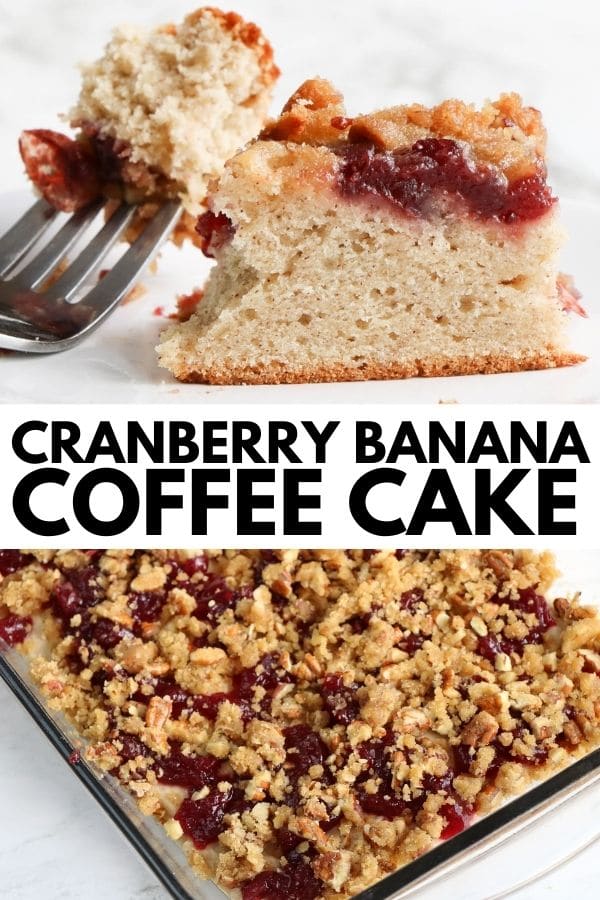 Reader Interactions