Grab your pork loin or pork roast and make this BBQ Cranberry Instant Pot pulled pork recipe. Tangy bbq sauce, sweet and tart cranberry, elevate this pulled pork recipe. Give this bbq cranberry pork recipe a try for dinner tonight.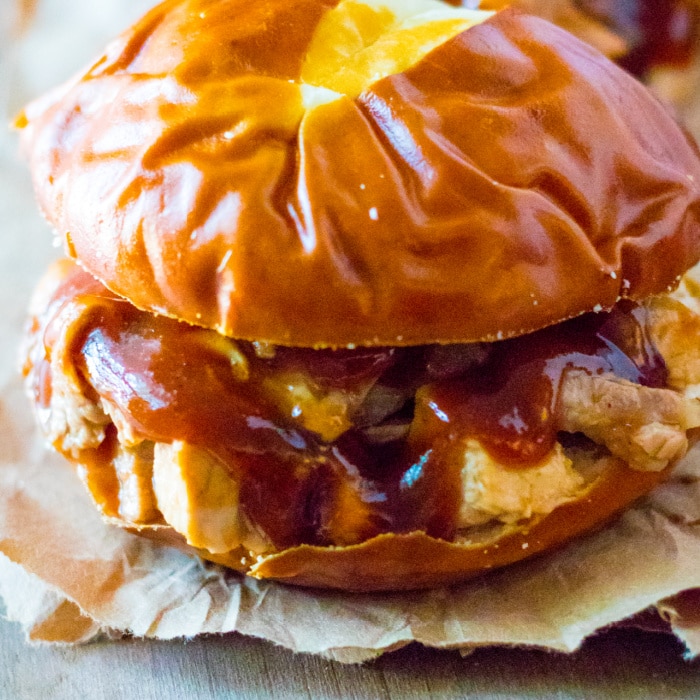 This is a fantastic canned cranberry recipe, or even a way to use up leftover cranberry from the holidays in a fun way.
One of my favorite Instant Pot sandwich recipes, that brings cranberry bbq together for a smoky and sweet dinner.
⏲️ Why This Recipe Works
Great way to use up holiday cranberry
4 Ingredients is all you need
Tender juicy pork every time thanks to your Instant Pot
A great way to use up a pork roast or pork tenderloin
Reheats nicely for leftovers
You can freeze leftovers for meals later down the line
🐖 Ingredients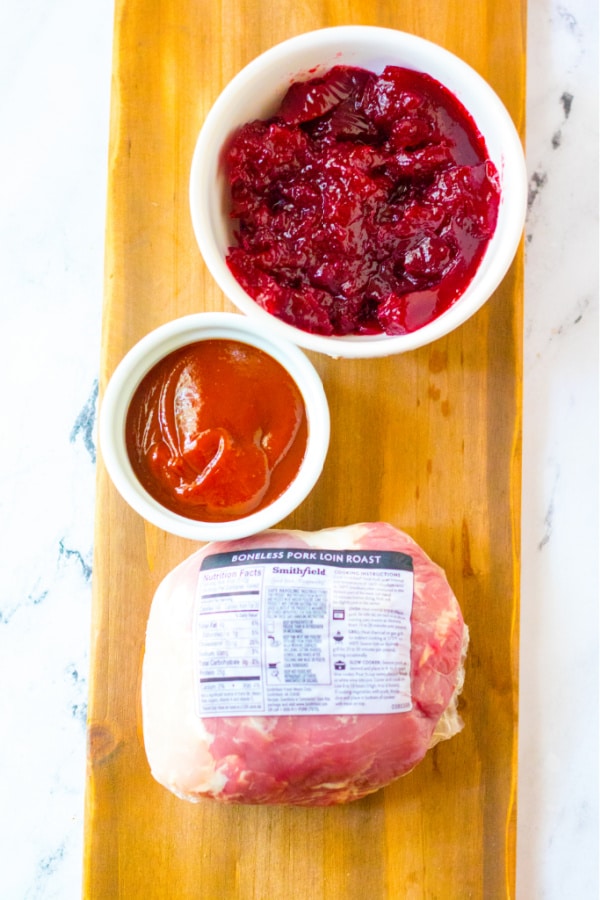 Pork Roast | I used a pork loin roast but you are welcome to use any type of roast you would like.
Cranberry | Whole cranberry sauce is best. Reach for canned or homemade. It is all about the flavor preference you prefer.
BBQ Sauce | Reach for any of your favorite sauces. I reach for a Kansas City style sauce. Then also don't forget water!
👩‍🍳 How to Make
Start by adding your water into your Instant Pot. Then you will remove your roast from the wrapping. Pat it dry and rub it down with salt and pepper.
Now place pork roast in the Instant Pot. Then in a bowl mix your cranberry sauce and your barbeque sauce together.
Pour it over the pork roast. Place the lid to sealing on the Instant Pot, and do high pressure for 30 minutes, followed by a full natural release of pressure.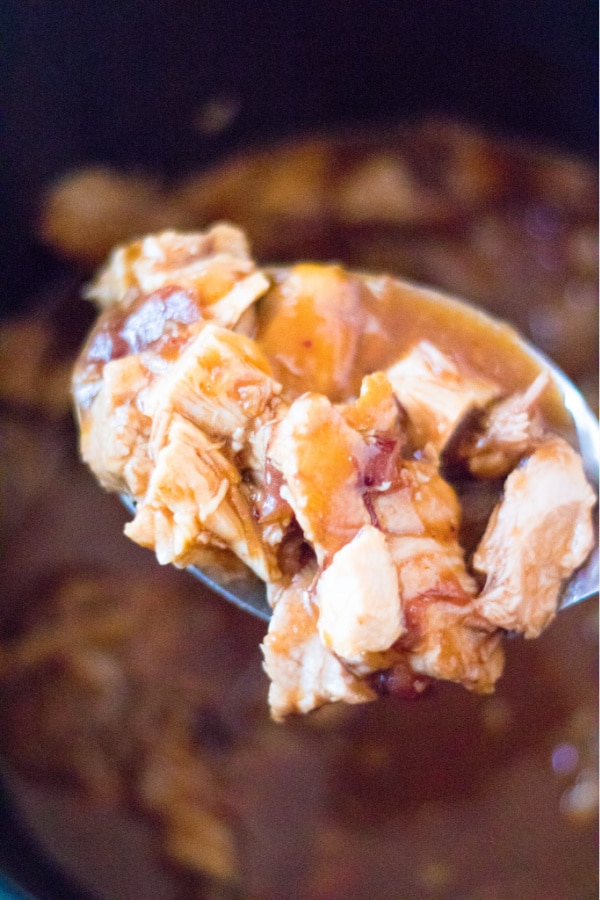 Once done remove lid, chop up your pork roast and mix it into the sauce to add more flavor.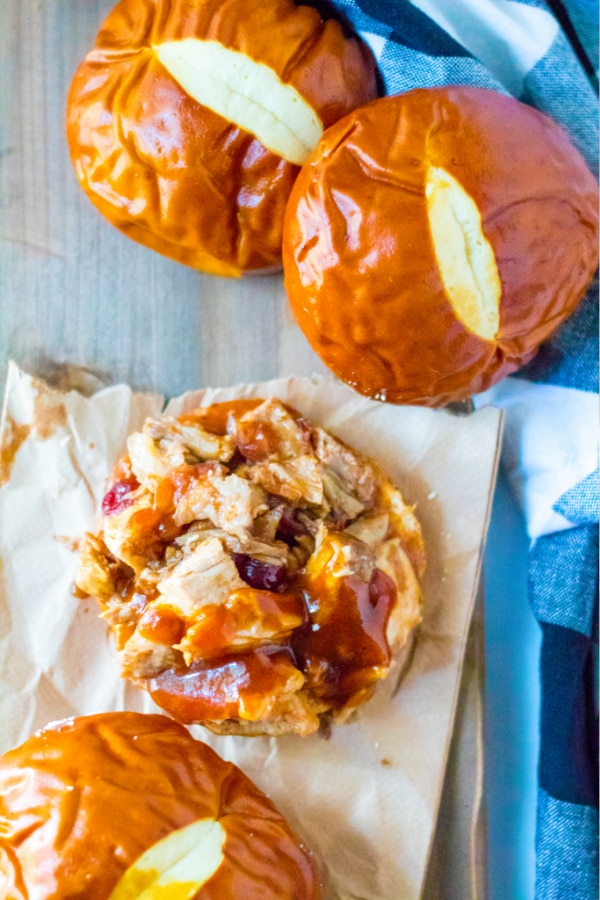 Spoon meat onto a pretzel bun and serve up one incredible dinner, with all your favorite sides. Drizzle with extra sauce for added flavor.
We love to pile it high with homemade coleslaw for added flavor.
Sides to Pair With Your Pork Sandwiches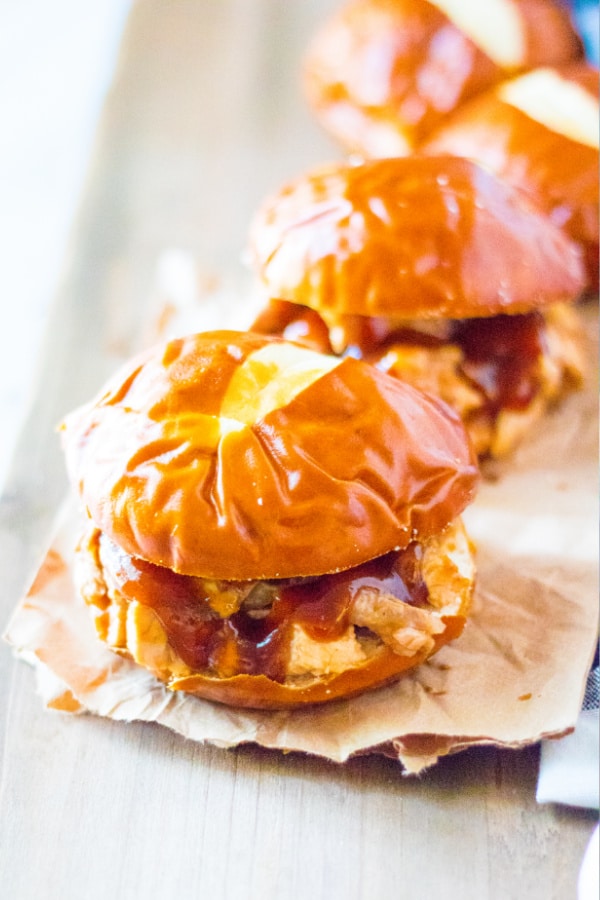 Can I Make This Pork In A Slow Cooker
Add all ingredients into slow cooker. You can skip the water.
Cook on low for 6-8 hours or until the pork roast is fully cooked.
Shred and top your buns.
📌 Expert Tips
I always make sure to season my pork roast raw to help add flavor to the recipe.
Instead of water you could add in some orange juice for added sweetness
Homemade cranberry sauce can be replaced with canned cranberry
I used a 2 lb pork roast, if you do a larger cut like 4-5 lbs adjust the cooking time to 60 minutes
Ensure you naturally release pressure on your pressure cooker or your meat will be tough
Recipe FAQs
How to serve up bbq cranberry pulled pork?
Top buns, pretzel buns, potatoes, etc. Also, consider adding some coleslaw on top of your sandwich. Or eat the meat alone if you want a lower carb dinner.
What does it mean to naturally release pressure on Instant Pot?
Once the cooking timer goes off it will say L000, you want it to go to around L015-L020 meaning 15 to 20 minutes after it cooked. Look on top of the pressure cooker and when the silver pin drops it means you can twist open the lid.
Can I use a bone-in roast for this Barbeque Cranberry Pork recipe?
Go right ahead and reach for any style of pork roast for this recipe. Just as you shred pork remove any bones you come across.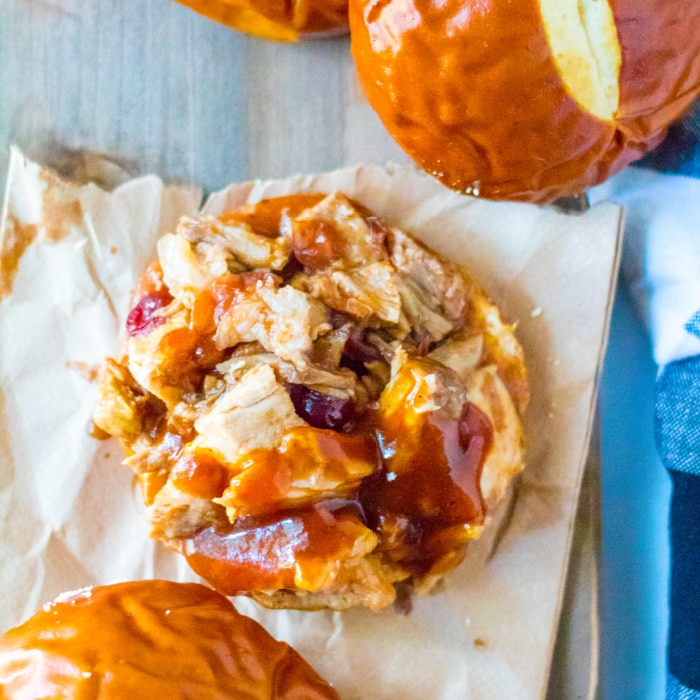 Here Are More Recipes To Try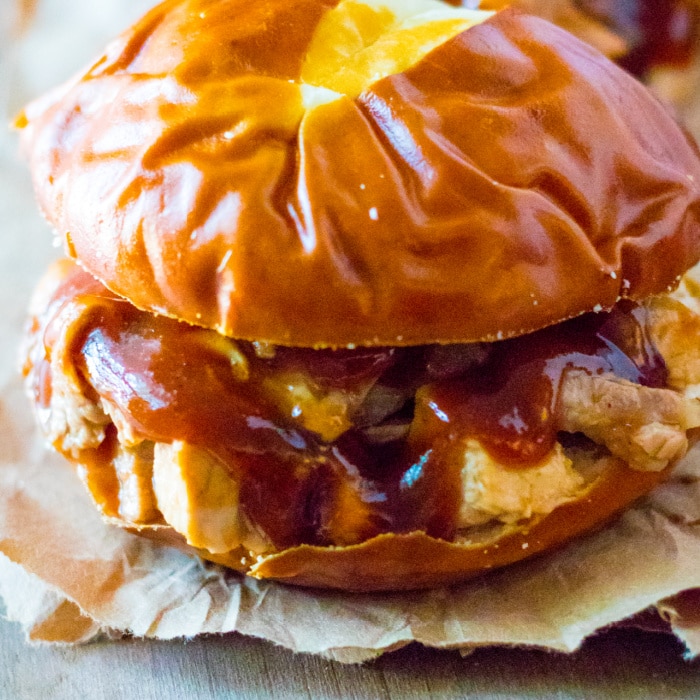 BBQ Cranberry Instant Pot Pulled Pork
Servings 4 -6 servings
BBQ Cranberry Instant Pot Pulled Pork is a sweet and savory 3 ingredient pork recipe. Cranberry sauce, bbq sauce, and a pork roast join forces for an easy weeknight dinner.
Ingredients
2- pound boneless pork loin roast or pork shoulder butt roast
1 can cranberry sauce
1 cup bbq sauce
½ cup of water
Salt & Pepper
Instructions
Start by adding your water into your pressure cooker.

Now you will remove your pork roast from the package and pat dry. Season with salt and pepper all over.

Place the roast into the Instant Pot on top of the water.

In a small bowl whisk the cranberry sauce and the bbq sauce together and once mixed pour over the pork.

Place pressure cooker lid on, and make sure the valve is set to sealing.

Do high pressure for 30 minutes followed by a full natural release of pressure.

Once done, remove the lid, and shred your cooked pork roast.

Add the meat to a bun, top a baked potato, eat alone, etc.

This bbq cranberry Instant Pot pulled pork is so delicious, easy to make, and versatile to serve up.
Notes
To make in the slow cooker, skip the water, add ingredients into the slow cooker and cook on low for 6-8 hours or until roast is cooked through.
You can swap fresh cranberry sauce in and get rid of canned cranberry. A great way to use leftover cranberry sauce up.
Any brand of bbq sauce will work, we do a Kansas City-style sauce out of preference.
You will need to adjust the cooking time if you use a larger pork roast. I used a 2 lb pork roast.
You must allow your pork to naturally release, otherwise you will end up with really tough pork.
Save the leftover bbq pork in the fridge for around 3-4 days.
Feel free to freeze any pork you don't plan to eat right away. Just store in a proper container for around 3 months. Thaw in the fridge the night before you plan to eat.
Nutrition
Serving: 1gCalories: 526kcalCarbohydrates: 38gProtein: 48gFat: 19gSaturated Fat: 6gPolyunsaturated Fat: 10gCholesterol: 150mgSodium: 623mgFiber: 1gSugar: 30g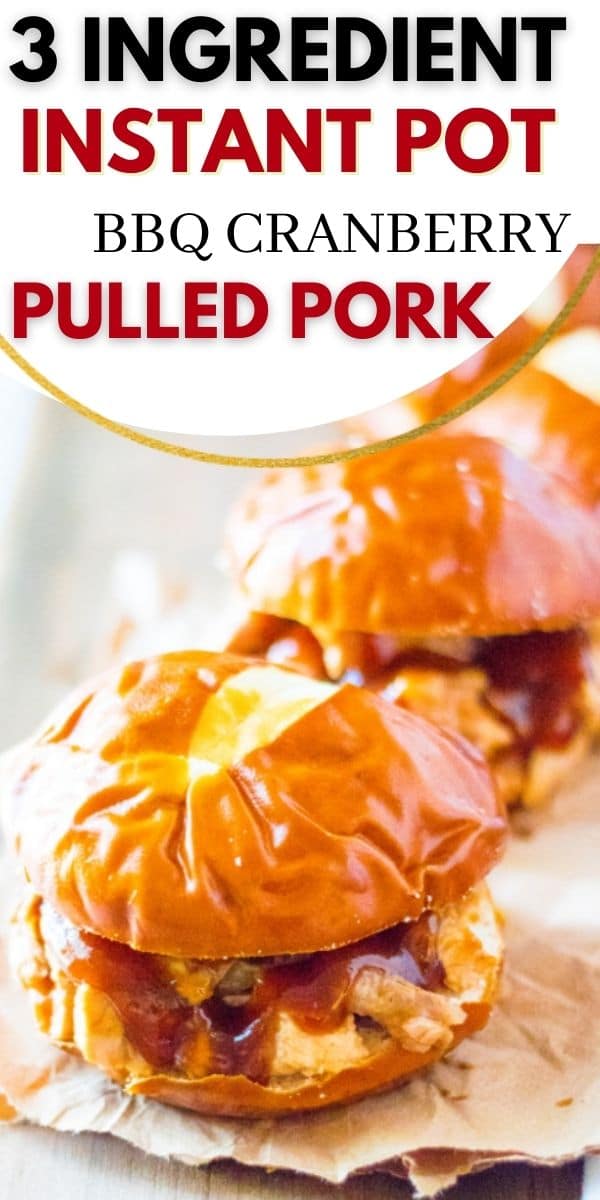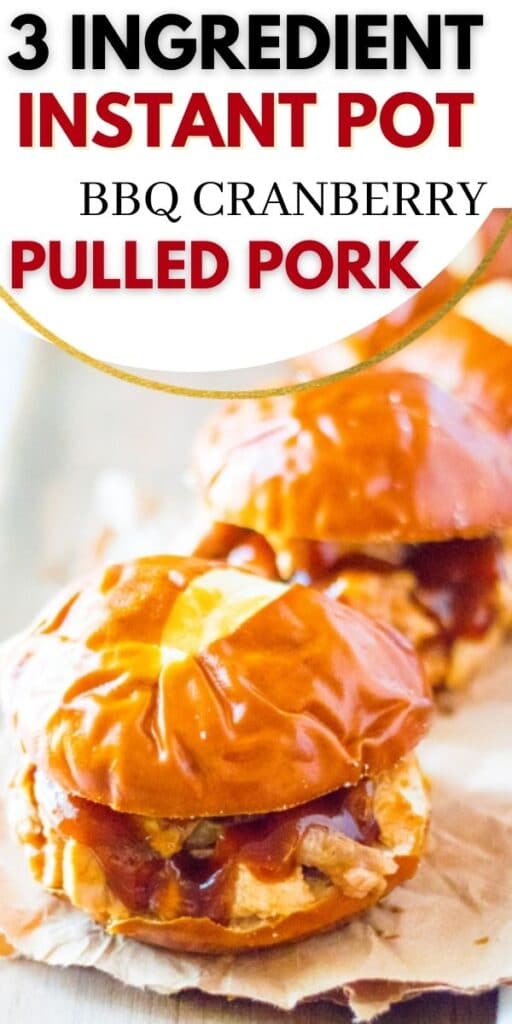 Do you think you would like this BBQ Cranberry Instant Pot pulled pork?
Reader Interactions