Cranberry Cheese Ball is an easy cheese ball that you can make this holiday season. Dried cranberries, roasted pecans, green onions, and sharp white cheddar cheese. 

Cranberry Cheese Ball is an easy cheese ball that you can make this holiday season. Consists of dried cranberries, roasted pecans, green onions, and sharp white cheddar cheese. So perfect for a holiday party at home!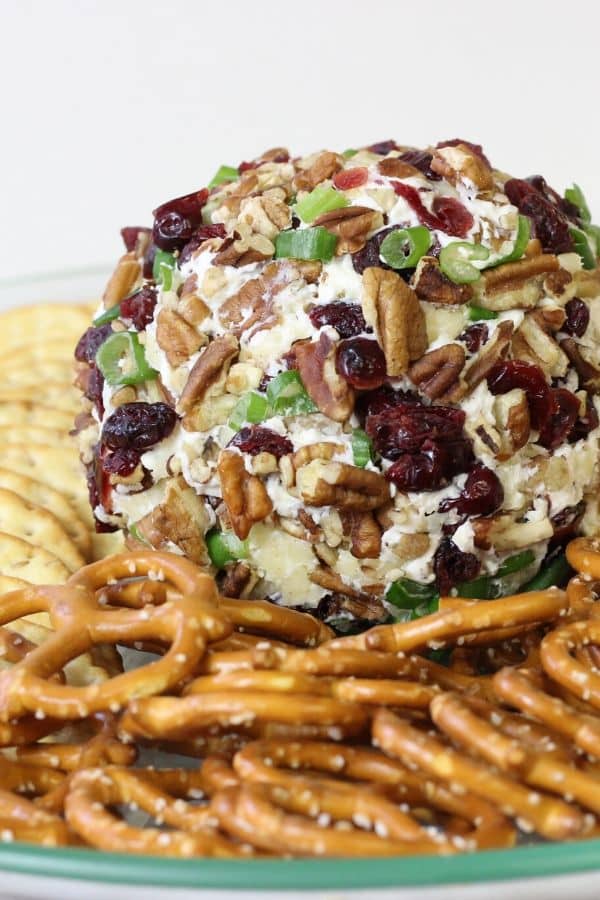 This holiday cranberry cheese ball is nothing short of delicious and appetizing. You can also add some bacon bits to add a perfect texture and taste to this that the guests or family at your place will enjoy coming back for more.
Learn how to make cheese balls at home and skip the store-bought cheese balls. You could make this as a Thanksgiving Cheese Ball or even Christmas Cheese Ball for your family and friends. Another delicious appetizer is my Brie and Blueberry bites.
Cranberry Cheese Ball
The sharp white cheddar cheese in this cheese ball recipe pairs gorgeously with dried cranberries and green onions. I find that it helps give you a nice savory, tart, and mildly sweet flavor in every bite. Plus you have the roasted pecans for a nice crunch and nutty flavor.
It's great to serve with crackers to add to the holiday presentation if you're feeling a little fancy, top off with some chopped green onion for the color, and this cranberry cheese ball is irresistible!

What Is A Cheese Ball Made Of
Cream Cheese
Dried Cranberries
Seasonings
Pecans
Green Onions
Sharp White Cheddar
I am an Amazon Affiliate so I will earn commission on sales if you order through my link within the post. 
 How To Make A Cheese Ball
Making a cheese ball is so easy. You start by roasting the pecans. This is going to help give you the nutty flavor and crunch. If you don't roast the pecans the nuts will become soft.
Then you will mix up the cream cheese mix in a mixing bowl, and then use wax paper to shape the mixture into a ball. Layout your toppings and roll your cranberry pecan cheese ball in the toppings. You could also use a piece of plastic wrap to wrap your ball to shape if you need to.
Forming it into a ball is so easy! You can even let your little kids join in on the fun.

Party Appetizer
This is a fantastic party appetizer that you can serve up to guests. Whether it be for the holidays or even a New Year's Eve party. This is ready to serve cheese ball once you whip it up. A fun twist to this classic cheese ball appetizer.
Do You Need To Roughly Chop Pecans
I left my pecans a bit bigger. You can roughly chop your nuts if you want them smaller in size. I found the larger pieces adds a lot more dimension to the cheese ball in the way it looks. So feel free to do either route of what you want.

What Is The Topping For Pecan Cranberry Cheese Ball Recipe
Colorful, bright, savory, and a mildly sweet and tart. This cheese ball topping is unique and boy oh boy is it a dynamite duo. I have to say it is my favorite cheese ball recipe ever.
How Long Do Cheese Balls Last
You will find that this cheese ball recipe will last around 24-72 hours. The green onions are going to be the first thing that goes bad on the cheese ball. Just make sure that you watch to ensure that the green onions stay fresh. If they begin to wilt and get soggy, it is time to toss out the cheese ball.
Can I Make Cheese Ball Ahead of Time
You can make the actual cheese ball ahead of time by 2-3 days. Then right before you get ready to serve, create the topping and roll your cheese ball in the nuts, cranberry, and green onions. The green onions will be the ingredient that spoils the fastest.

Do You Use Fresh Cranberries in A Cranberry Cheese Ball
Fresh cranberries are tart and need to be broken down and made sweet. I don't recommend using fresh cranberries in this recipe. I find that dried cranberries add a nice tart and are slightly sweet to the recipe.
Can I Replace Green Onions In Cranberry Pecan Ball Recipe
You can swap out the green onions with parsley if you would like. Or you can leave it off and just do the pecans and cranberries. I find the green onions add an incredible flavor.
Want More Appetizer Recipes
Cranberry Cheese Ball
Servings 1 cheese ball

Cranberry Cheese Ball is an easy cheese ball that you can make this holiday season. Dried cranberries, roasted pecans, green onions, and sharp white cheddar cheese. 
Ingredients
8 ounces softened cream cheese
1 cup roasted chopped pecans
1 1/2 cups dried cranberries
1/4 cup green onions
1 teaspoon garlic powder
salt and pepper
1 cup sharp white cheddar
Instructions
Start by roasting your chopped pecans in the oven at 375 degrees for 5 minutes. Once fragrant, remove from oven and allow to cool.

Then in a bowl add your cream cheese, 1/4 cup pecans, 1 cup cranberries, garlic powder, salt, and pepper. Add in your sharp cheddar and stir until combined.

Then with wax paper dump the cheeseball out and work on shaping it into a ball or log.

Then take your leftover nuts and cranberries and add green onions on a wax paper or even bowl. Then begin rolling and pressing the toppings onto the cheese ball.

Then pair with crackers, pretzels, and more.
Nutrition
Serving: 3tablespoonsCalories: 175kcalCarbohydrates: 15gProtein: 3gFat: 12gSaturated Fat: 5gPolyunsaturated Fat: 7gCholesterol: 22mgSodium: 114mgFiber: 2gSugar: 12g
What To Serve With Cranberry Pecan Cheese Ball
Crackers
Pita Chips
Pretzels
Crisp vegetables
You can honestly pair these with so many dippers. This is a tasty homemade cheese ball that will for sure dress up your appetizer table and leaves people reaching for one more bite.

Try making this easy cheese ball recipe for the coming holiday season! It'll be a great addition to the holiday feast you're serving. Family and friends are sure to ask for this recipe as soon as they taste this!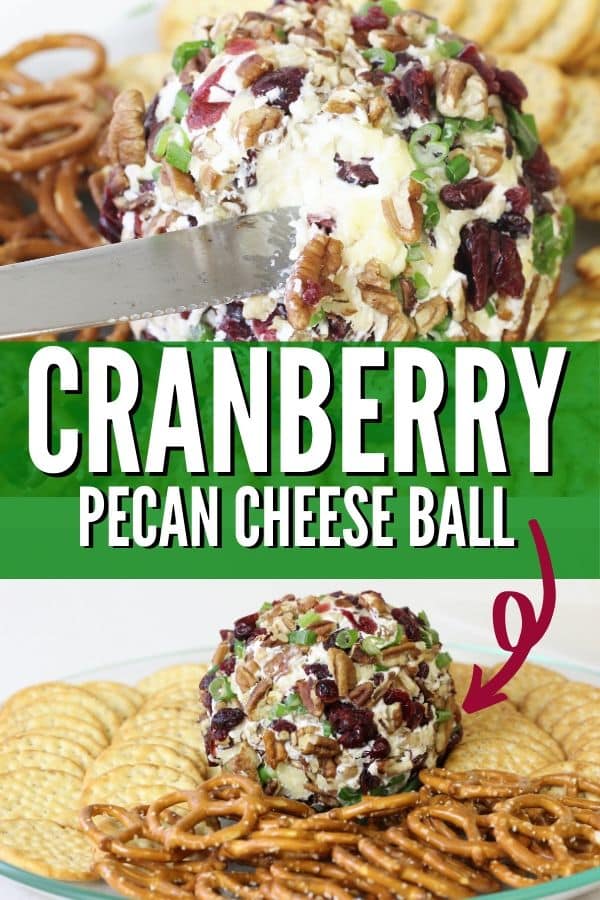 Reader Interactions