Blueberry Brie Bites are a 3 ingredient bite size appetizer. This finger food is a golden crescent roll that is filled with Brie cheese and fresh blueberries. Bake these blueberry bites in the oven, and serve warm!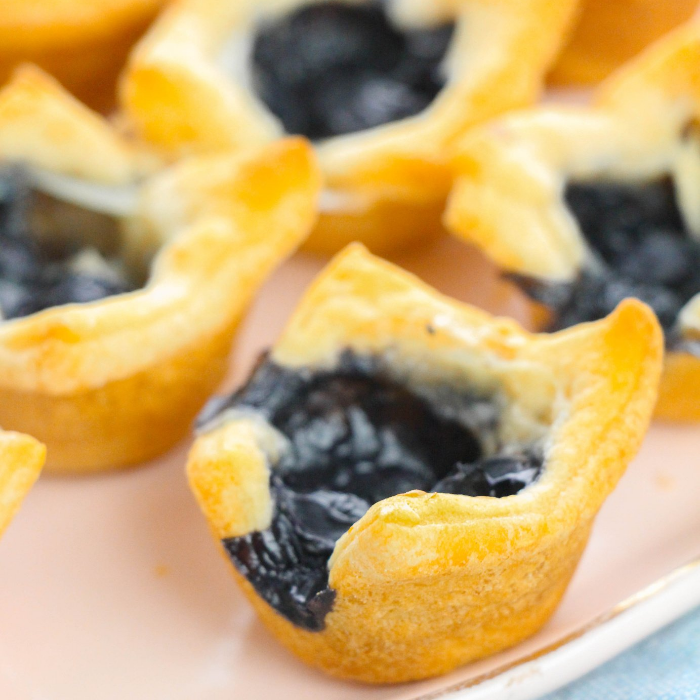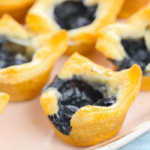 Looking for a quick throw together appetizer for your next party? Try my blueberry Brie bites! A bite size appetizer or snack that will satisfy your taste buds. This is one of the easiest Brie appetizer to serve up.
This Brie appetizer takes minutes to prepare and takes just 10 minutes to bake. A wonderful last minute appetizer or snack to make.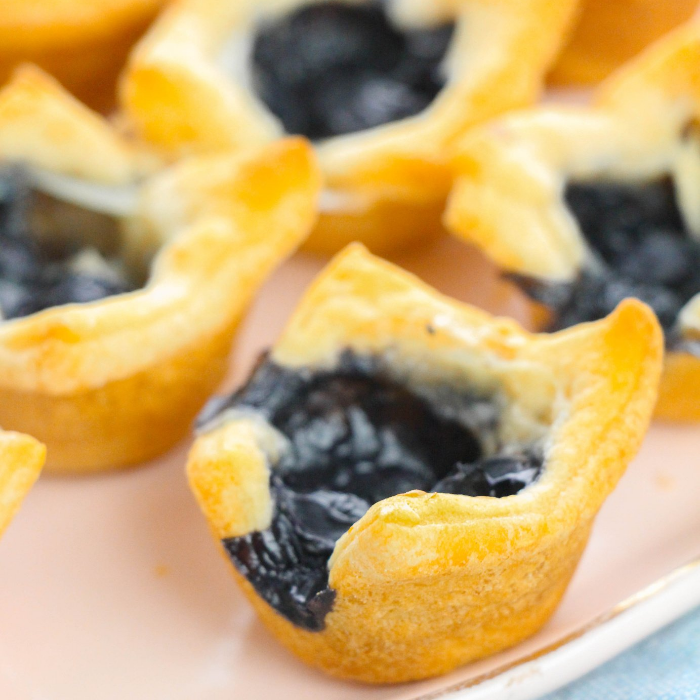 If you enjoy Brie make sure to check out my tomato Brie pasta or my baked cranberry Brie wreath.
Why We Love This Recipe
Quick and Easy – Two words I love when it comes to cooking. Quick prep, easy steps! This blueberry recipe is so simple.
3 Ingredients – All you need is 3 ingredients. No fussing making a huge grocery list.
Cheap Appetizer – Literally an affordable appetizer to serve up. You can spend more on a higher quality Brie or shop for the more affordable option. Forget expensive party food!
Delicious – Last but not least, so tasty! The flavors blend so well together.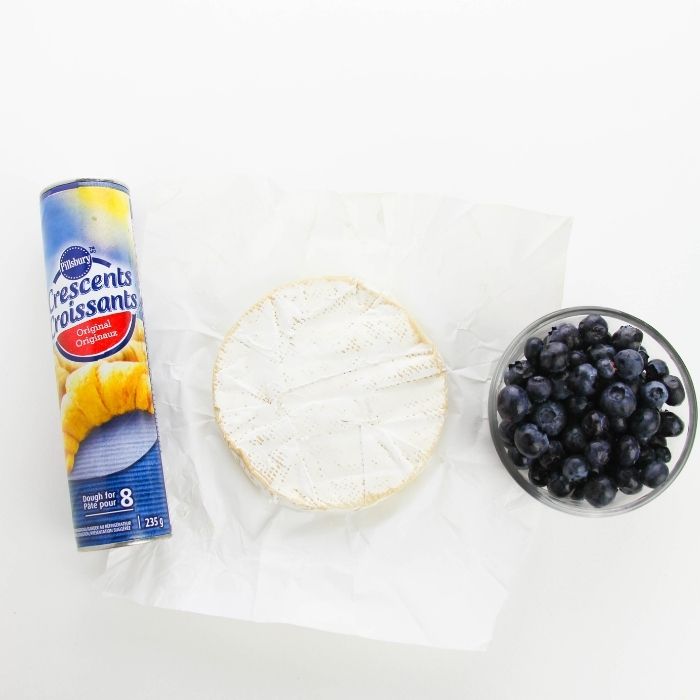 Ingredients
Blueberries – You can use fresh or frozen berries for this recipe. Or if you want to add more sweetness reach for a blueberry pie filling.
Brie – Grab any brand you enjoy. I reached for a Presidents Brie at our grocery store. It was a few dollars.
Crescent Rolls – Canned refrigerated crescent roll dough is what you want.
How to Make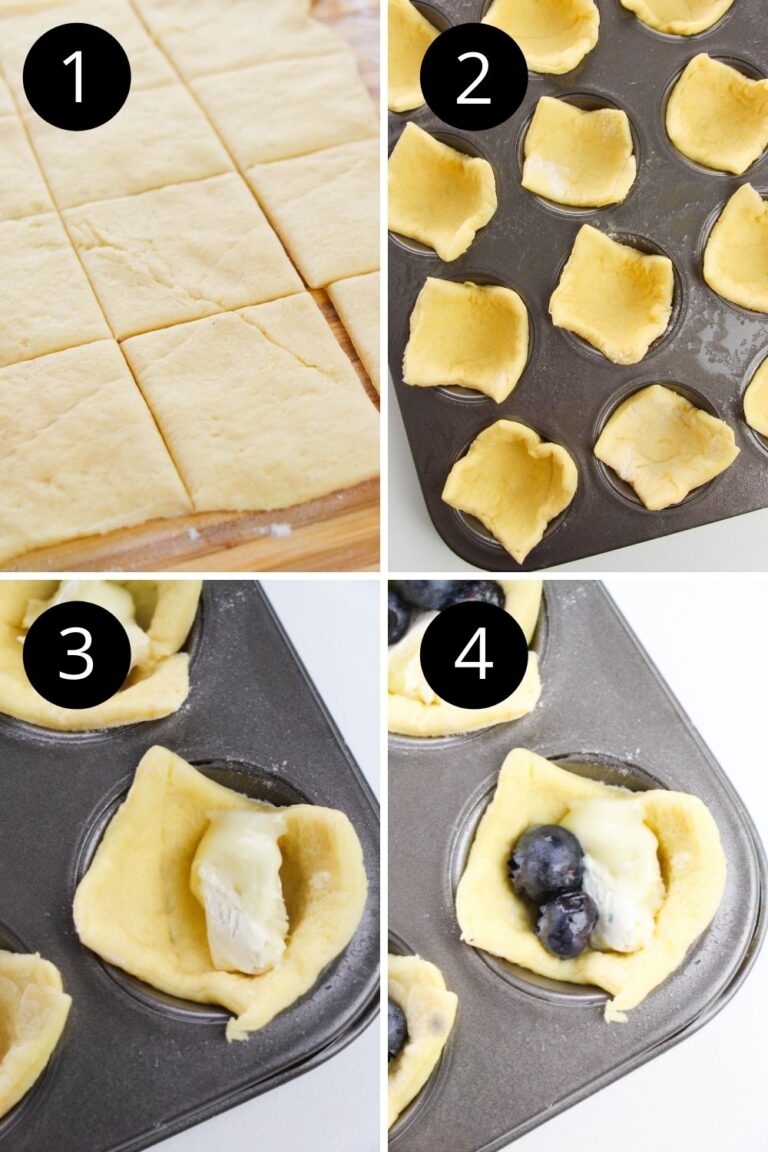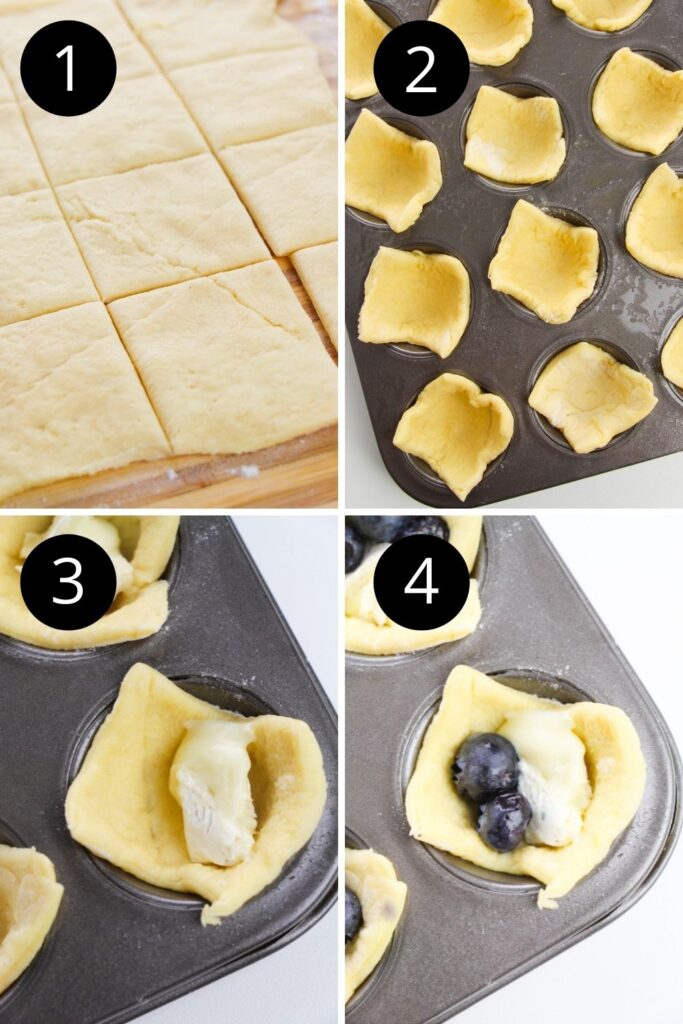 Step 1: Preheat the oven and grease your mini muffin tin. Open the crescent rolls up and roll out on counter then cut into 24 equal pieces.
Step 2: Place one crescent square in each muffin hole, pressing it down in the center.
Step 3: Cut your Brie cheese into cubes and place one cube in each muffin cup. You can cut the rind off, or use the rind. We left pieces with rind.
Step 4:: Top with 1-2 blueberries and bake in the oven as directed. The full directions are in the printable recipe card at bottom of post.
Step 5: Once done, remove and serve!
Storage
This baked Brie is best served fresh and warm. If you don't eat all the Brie bites you can refrigerate leftovers.
Place in a sealed container and store for 2-4 days in the fridge. Then you can eat cold or warm them up.
If you want to reheat bites in oven I suggest covering dish with foil to prevent the crescent roll from drying out.
This fresh blueberry appetizer is one you will find everyone seems to enjoy.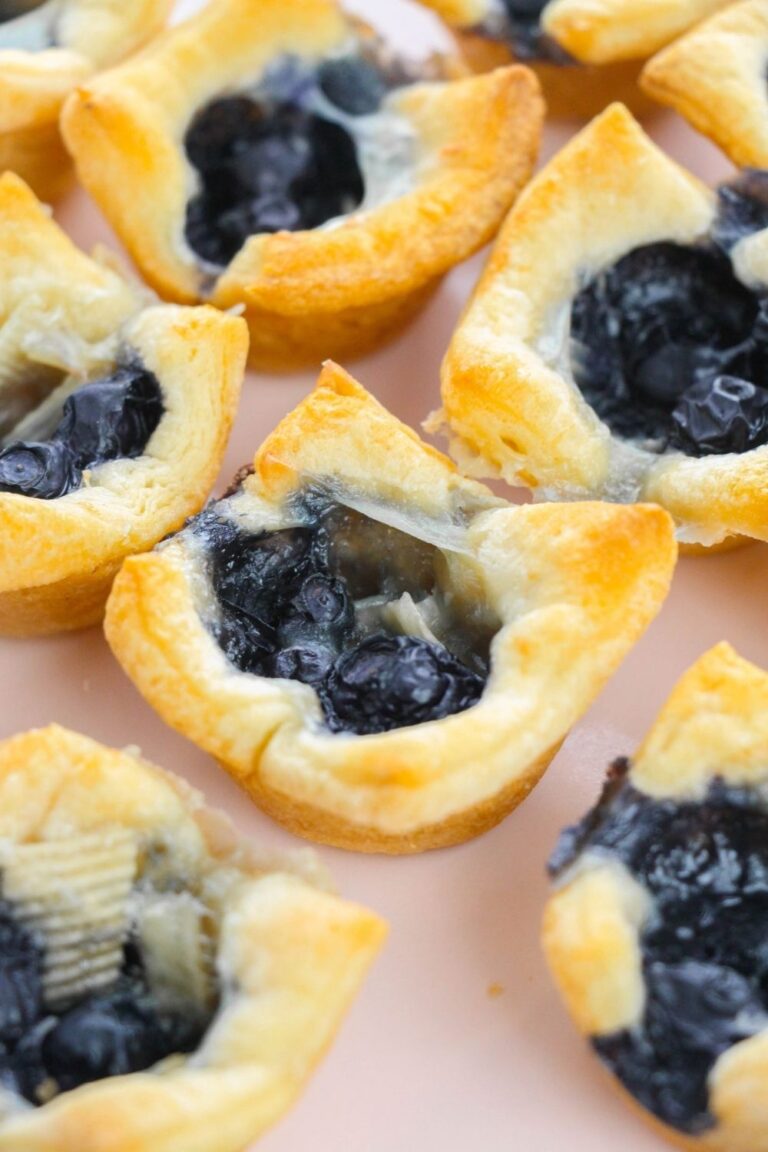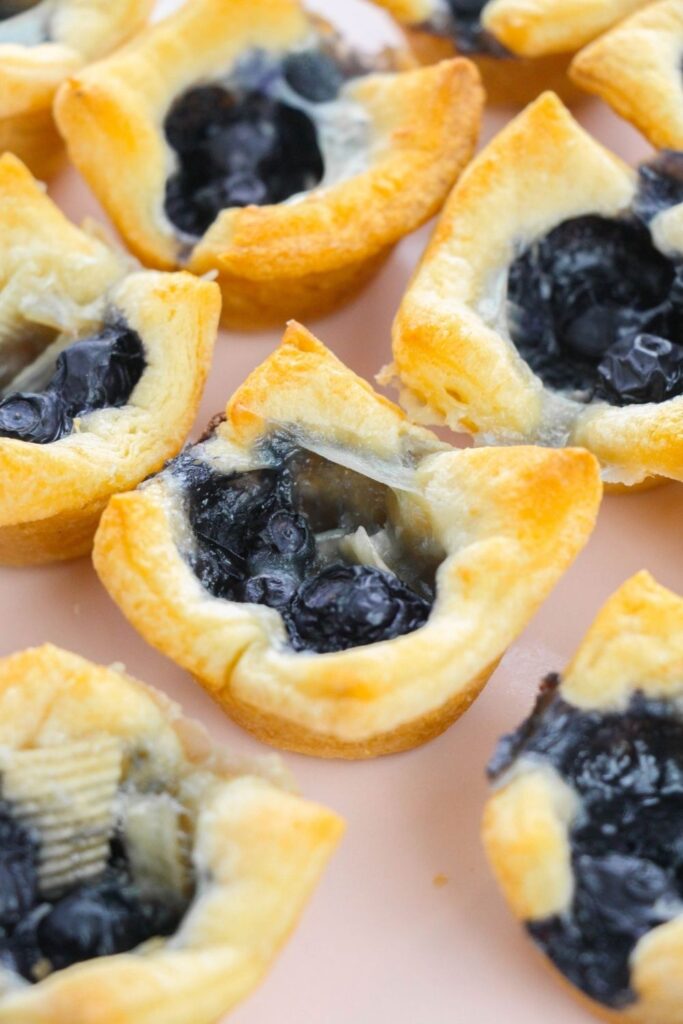 Expert Tips and Variations
A few tips and variations to making this blueberry baked brie.
Crescent Dough- Try to cut all the dough into similar sizes. That way you get an even cook on the Brie appetizer.
Fruit Topping – Change up the fruit. A slice of apple, raspberries, blackberries, etc. Feel free to use flavors you like with Brie. Or do a mix of fruit.
Mini Muffin Tin – Grease your muffin gin well to create a nonstick surface for crescent roll dough. Otherwise, the crescent can stick to the sides.
Rind on Brie – It is up to you to leave the rind on Brie or cut it off. The white rind is an edible mold. It is safe to eat and is what gives this cheese it's unique flavor.
Puff Pastry – Instead of crescent roll dough you can use puff pastry. Just thaw then cut and press into the pan.
Grab my Free Kitchen Conversions Printable! This shows you how many cups are in a quart, pint, etc. A great printable to keep handy for when you need to convert a recipe.
FAQs
Here are some common questions for this Brie with berries recipe.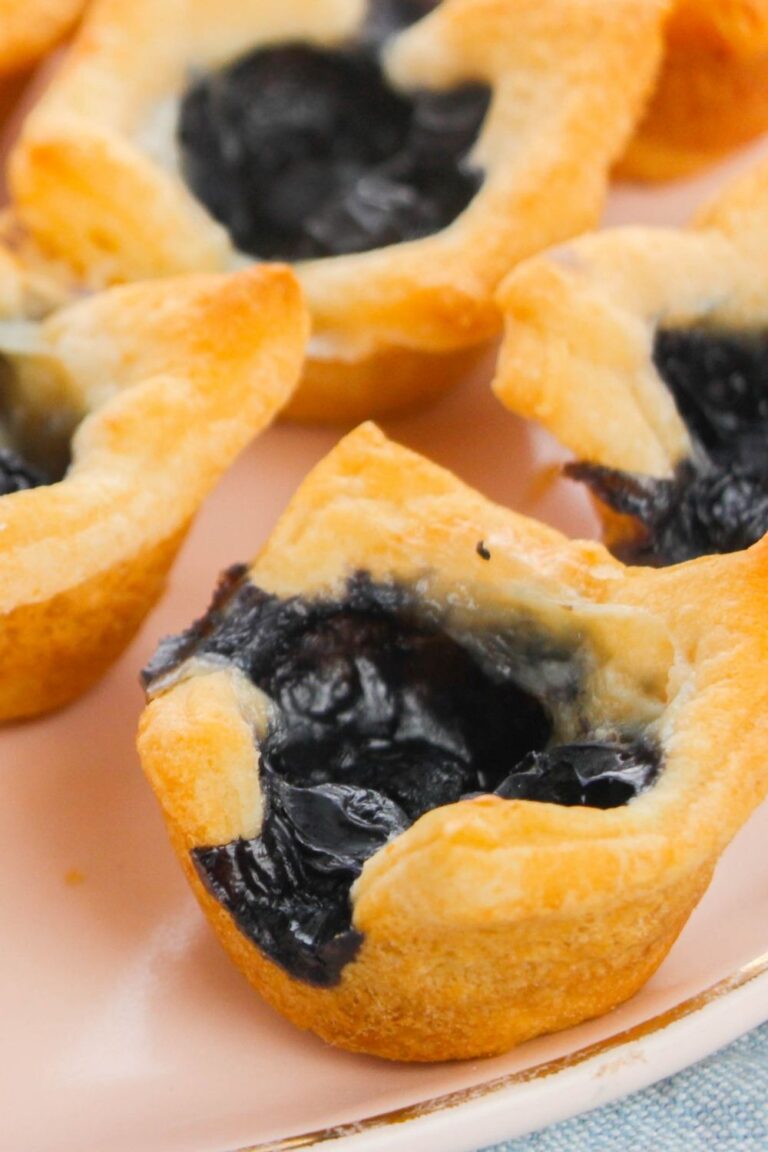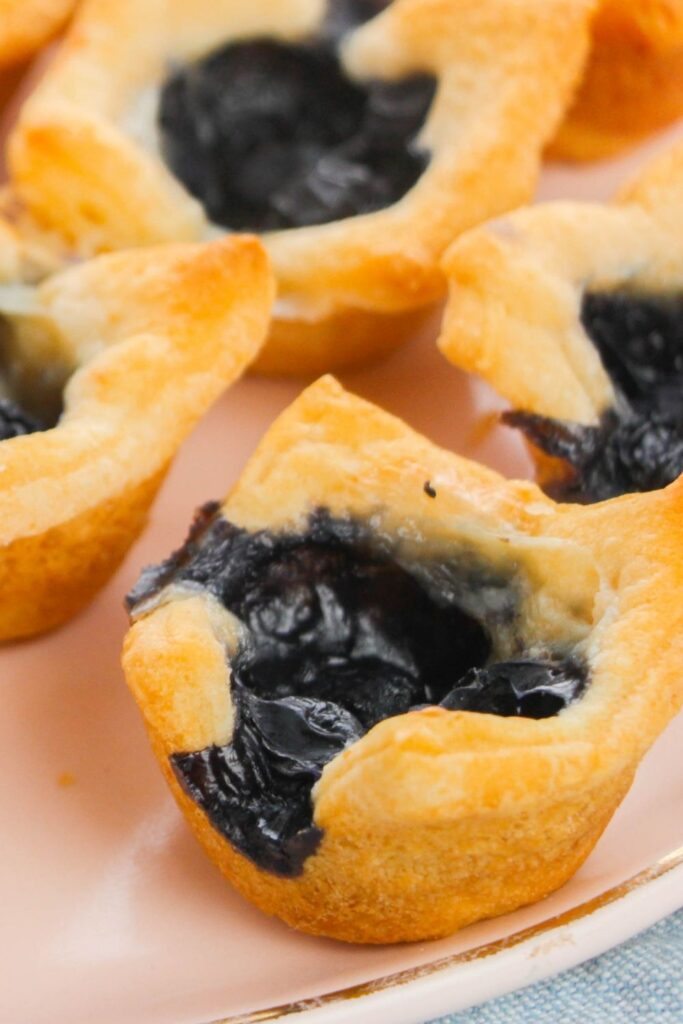 Related Recipes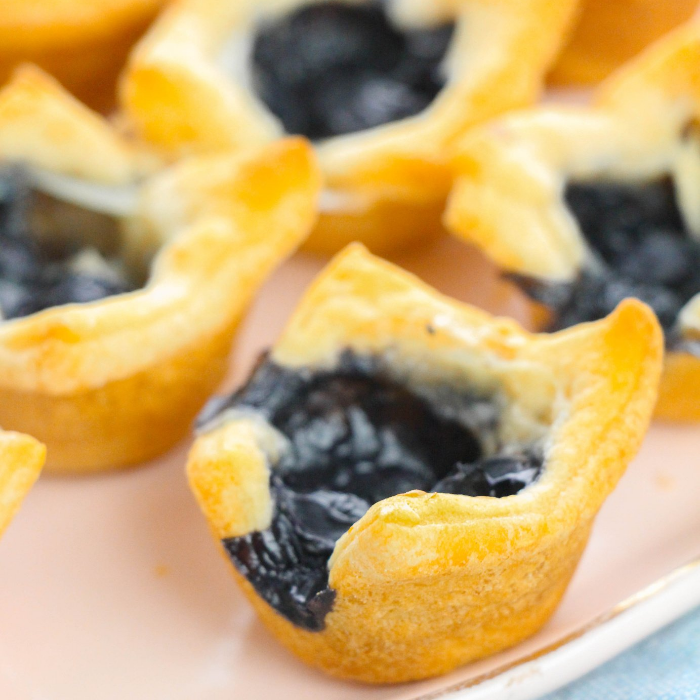 Blueberry Brie Bites
Servings 24
Blueberry Brie Bites are a 3 ingredient bite size appetizer. This finger food is a golden crescent roll that is filled with Brie cheese and fresh blueberries. Bake these blueberry bites in the oven, and serve warm!
Ingredients
1 package Crescent Roll Dough
1/2 cup Blueberries fresh or frozen
1 Brie Cheese or other cheese of choice, 250g
Instructions
Start by preheating your oven to 350 degrees and grease your mini muffin tin.

Then open your canned crescent roll dough. Place on a clean cutting board, and roll it out. Press all the seams together to create a single sheet of dough.

With a pizza cutter or knife you will cut the dough into 24 equal pieces.

Place the crescent rolls in the mini muffin tin, and press down the center gently.

Now dice up your Brie cheese and place a wedge in each muffin hole, and top with 1-3 blueberries.

Bake your blueberry Brie bites in the oven for 11-13 minutes or until the crescent rolls are golden.

Remove the Brie appetizer from the oven and serve warm.
Notes
Brie – You can leave the rind on or cut it off. It is a personal preference in terms of what you like. Blueberries – Fresh or frozen berries work for this recipe. I used fresh as that is what I had on hand at the time. Fruit – Feel free to swap the blueberries out with other fruit. Blackberries, raspberries, or any other fruit of choice. Honey – For a hint of sweet you could drizzle the bites with a little honey once you pull them out of the oven. Serve Warm – These Brie blueberry bites are best when served warm and fresh. You will find they offer the best flavor.
Nutrition
Serving: 1gCalories: 57kcalCarbohydrates: 6gProtein: 1gFat: 3gSaturated Fat: 1gPolyunsaturated Fat: 2gCholesterol: 3mgSodium: 59mg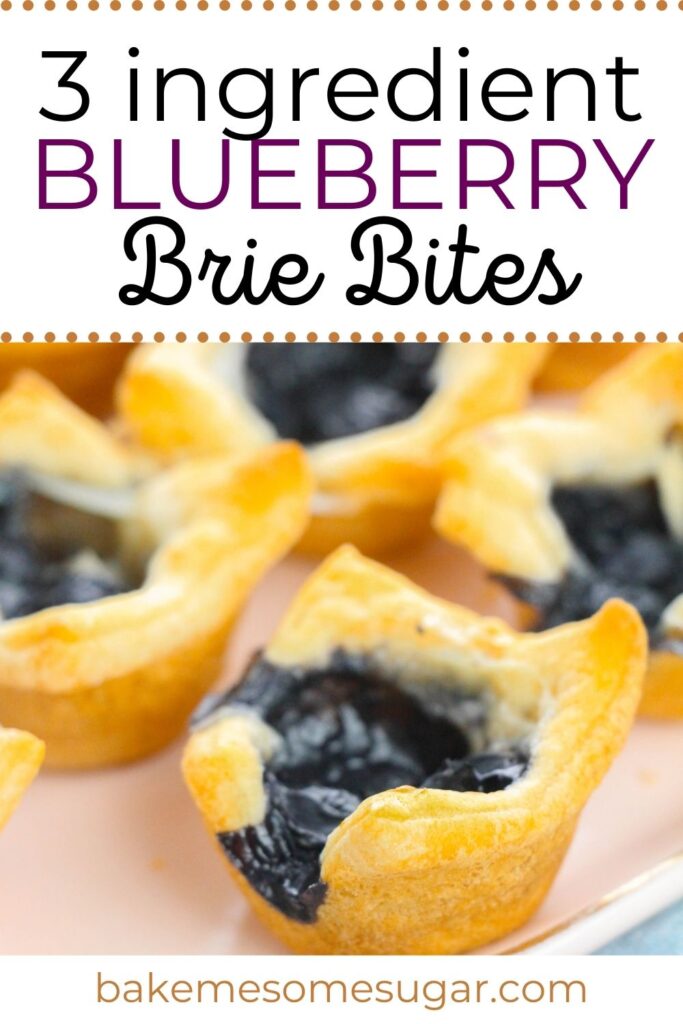 Reader Interactions