Whip up this microwave cheesecake today. This is a 2 personal cheesecake recipe. Golden graham cracker crust, creamy and velvety cheesecake center, topped with strawberry!

Microwave cheesecake is the ultimate dessert that serves two. An eggless cheesecake that comes together in minutes. The hardest part is allowing your mug cheesecake to set up in the freezer.
If you have not tried making a microwave cheesecake, you have not lived! This recipe is literally so easy to pull together. Graham cracker crust, thick cheesecake filling and topped with a fresh strawberry!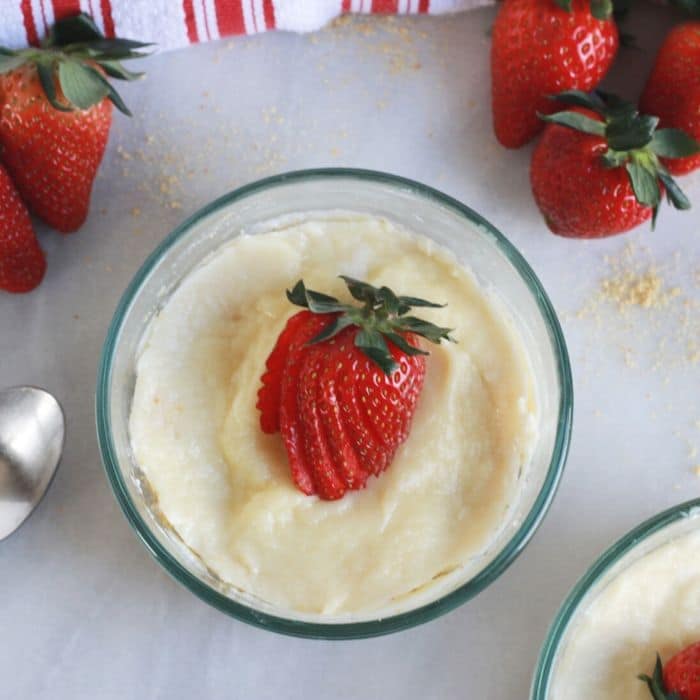 I created a dessert recipe that serves 2 or could be 4 if you split the cheesecakes in half. This is a simple and fast cheesecake recipe. This eggless cheesecake is always a hit in our home.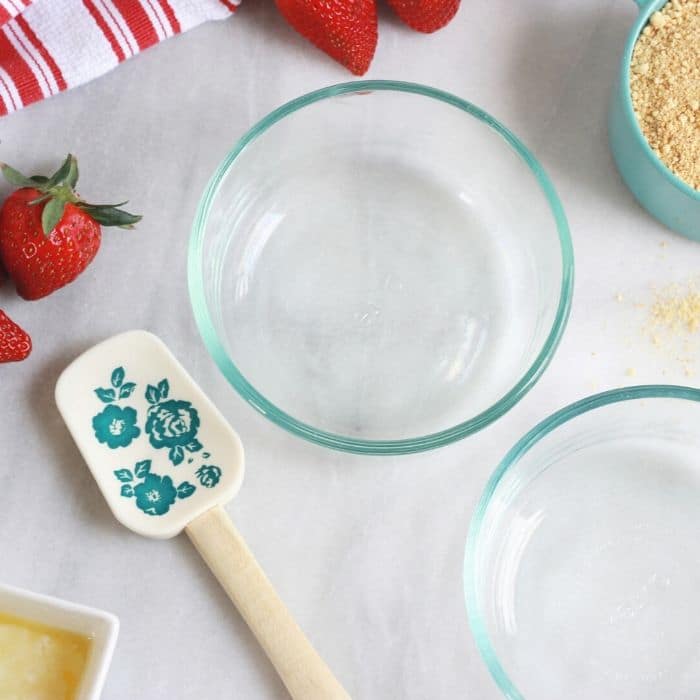 Ingredients Needed
Butter
Graham Cracker Crumbs
Sugar
Cream Cheese
Vanilla
How Do You Make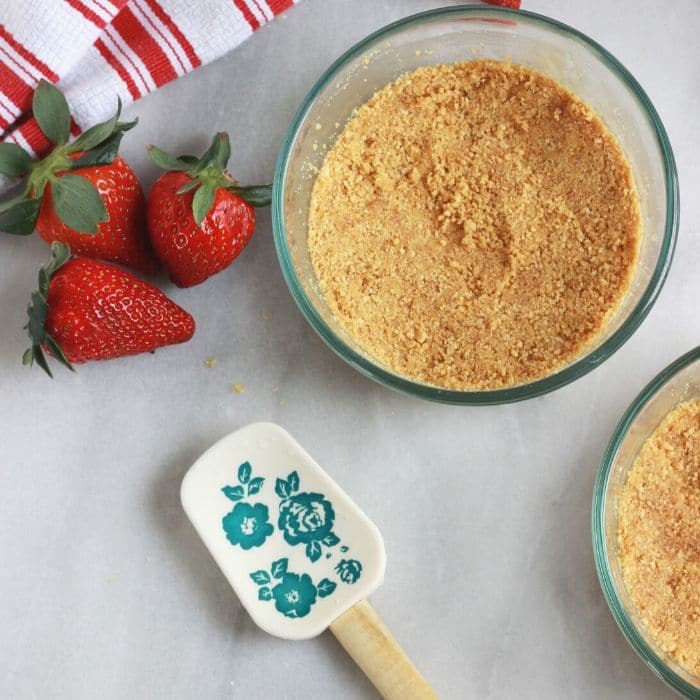 Step 1: Start by melting your butter and mixing it with graham cracker crumbs. Place half the mixture in each of the two containers.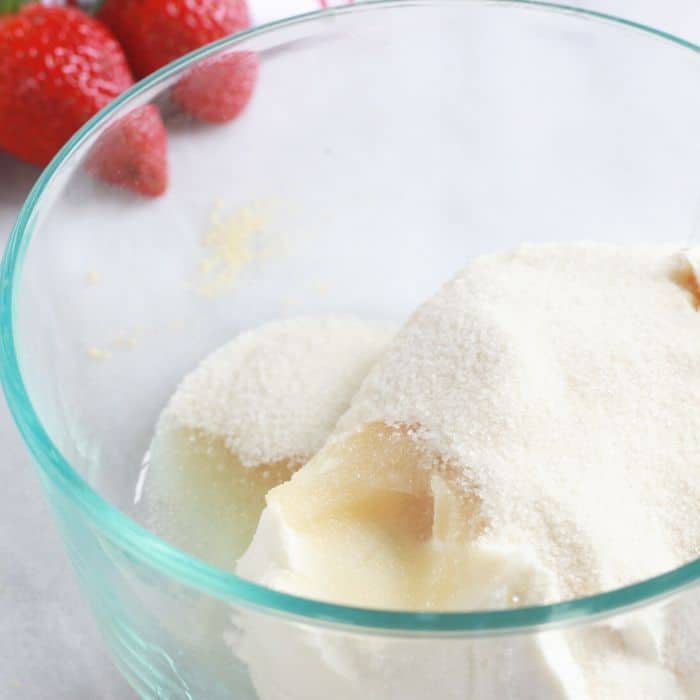 Step 2: Next, add your cream cheese, sugar, and vanilla in a bowl and take to the microwave.
Turn microwave to 50% power and microwave for 3:30 to 4 minutes. You will stir every 25-30 seconds to ensure nothing burns.
Step 3: Remove the cheesecake batter, and pour half in one container followed by the other half. Spread out to make smooth.
Step 4: Wrap and store in the freezer for an hour. Remove and top with fresh fruit and dive in.
This is a great small cheesecake recipe for anyone who gets a craving but can't eat a whole cheesecake.
Could I Swap Out The Cheesecake Crust
For sure! If you are not a fan of the classic graham cracker crust, feel free to improvise. Just break up cookies like Oreos, Vanilla Wafers, etc. Then use that to replace the Grahams in the crust.
It will still work the same and you might find you need a few extra or fewer cookies to make up for the graham cracker crust.
You just want enough to cover the bottom of the container and then be able to pack it down nice and tight.
If you are not a fan of cheesecake, you can even skip the crust if you would like. The crust adds a lot of texture but I understand if you don't like it.
What To Use For Single Serve Cheesecakes
You can honestly make these single-serve cheesecakes in any container. I used glass Pyrex bowls to make mine. But, feel free to raid your container drawer and find a small bowl or container to make your cheesecakes in.
FAQs
Variations For Mug Cheesecake Recipe
Here are some variations for the cheesecake without eggs!
Top with pie filling of your choice!
Add some lemon juice into the cheesecake batter for a nice tang of flavor.
Use cookies in replace of graham cracker crust.
Swap almond extract for vanilla extract for a nice twist in flavor.
Stir in some chocolate chips to the cheesecake batter.
Swirl some jam or compote into the set cheesecake batter for a fruit-filled cheesecake.
Dress up your personal mini cheesecake to fit whatever flavors you would like! I wanted to do simply this go-around. But depending on our mood will depend on how we fix it up.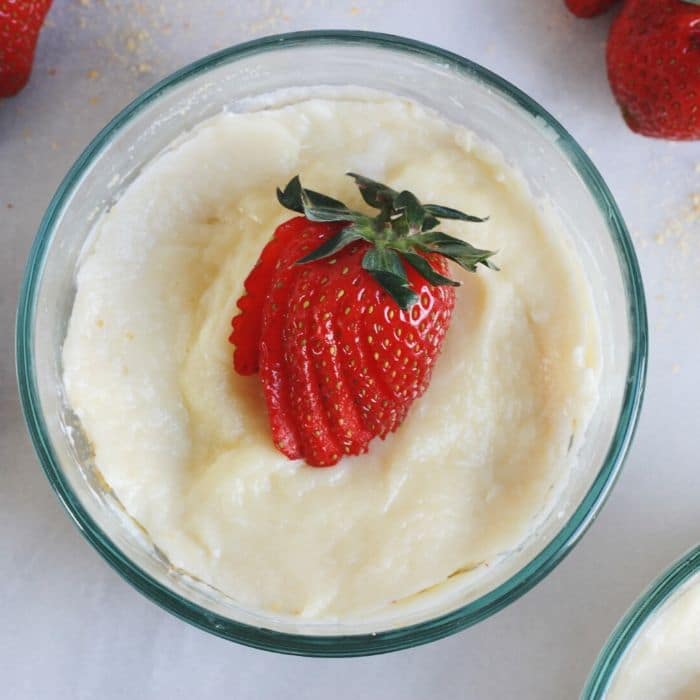 Looking For More Easy Recipes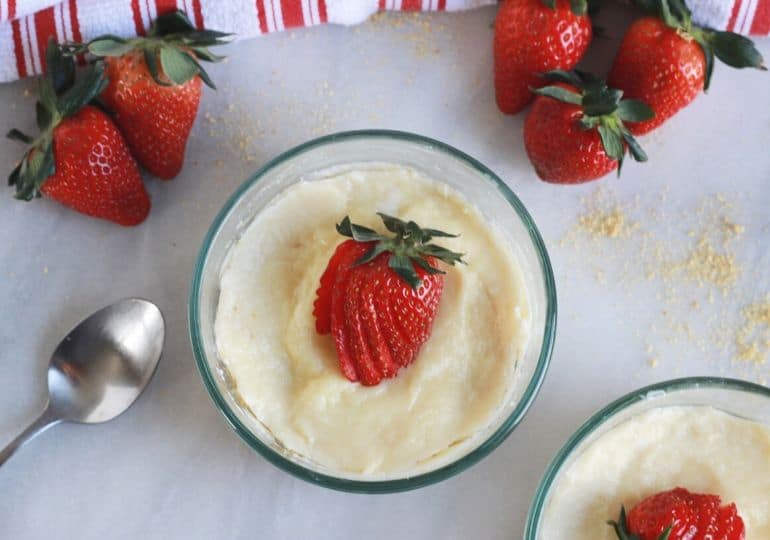 Microwave Cheesecake
Servings 2 Personal Cheesecakes
Whip up this microwave cheesecake today. This is a 2 personal cheesecake recipe. Golden graham cracker crust, creamy and velvety cheesecake center, topped with strawberry!
Ingredients
2 tablespoons unsalted butter melted
1/3 cup graham cracker crumbs
8 ounces cream cheese
4 tablespoons granulated sugar
1 teaspoon vanilla extract
Instructions
Start by melting 2 tablespoons butter in the microwave. Split the butter in between the two cheesecake bowls or mugs. Roll the butter around to help coat the sides of the container.

Now add in your graham cracker crumbs. I just eye-balled it and split the crumbs between the two. Once it is all mixed you will pack down the graham cracker crust.

In a new bowl add your cream cheese, sugar and vanilla.

Microwave on 50% POWER for 30-45 second intervals, stirring between each time. It will start to make the cream cheese mixture nice and thick.

Once you are done cooking, split the cream cheese mixture in between the two bowls. Cover with a lid or aluminum foil and place in the freezer for 1 hour.

Top your microwave cheesecakes with fresh fruit like I did, chocolate chips, etc. Then grab a spoon and dive in!

Refrigerate your cheesecakes until you are ready to serve, and don't allow them to sit out for more than 2 hours at a time.
Notes
Butter – You can use salted butter if you want, it will just change the flavor a bit in this microwave cheesecake. Cook Time – Just know all microwaves cook slightly different so you might need to adjust the cook time as needed. Refrigerating – Use a container that you can refrigerate the eggless cheesecakes. This will help protect the cheesecake from picking up other flavors in the fridge. If not in a sealed container it can taste different. Mix in Ingredients – Mix in mini chocolate chips, swirl in some peanut butter, top with fresh fruit, etc. Have fun and create a personalized cheesecake to fit your flavor preference. Even swirling in some fruit jam is great. Containers – You can make smaller portions of the cheesecake if you want to feed more people.
Nutrition
Serving: 1containerCalories: 662kcalCarbohydrates: 42gProtein: 8gFat: 52gSaturated Fat: 30gPolyunsaturated Fat: 17gCholesterol: 145mgSodium: 422mgSugar: 33g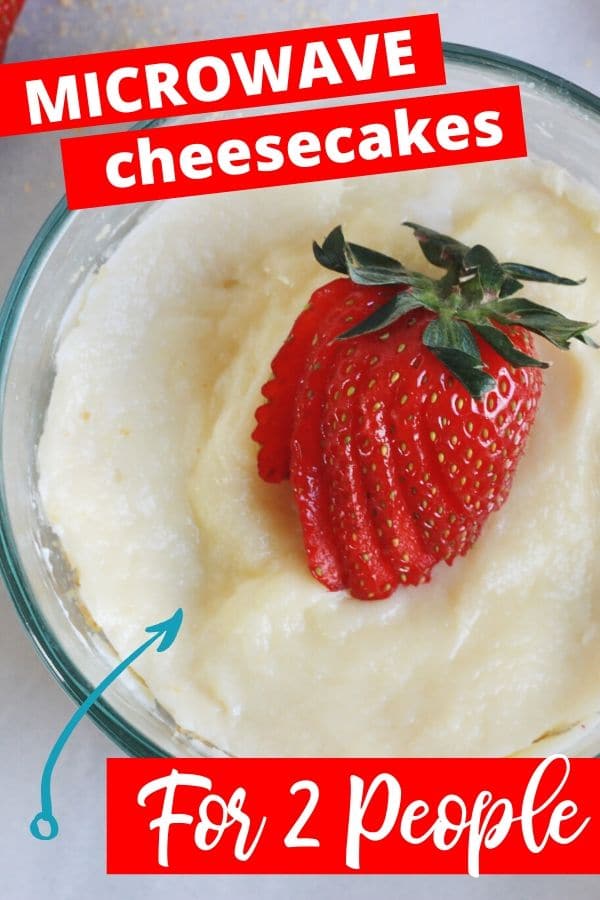 Have you ever tried Microwave Cheesecake before?
Reader Interactions