Air Fryer Churros is an easy churro recipe made with puff pastry dough. This is a must make air fryer dessert.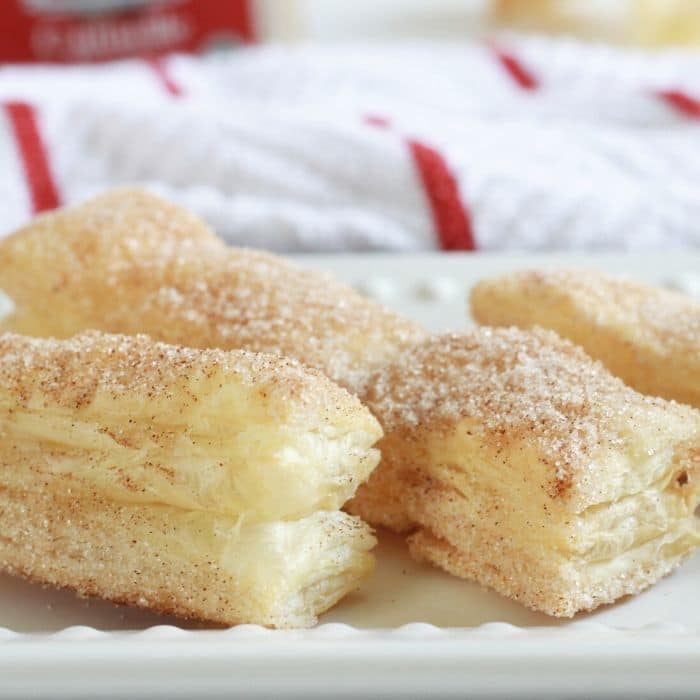 Air Fryer Churros are going to be your go-to air fryer dessert recipe. Puff pastry that is air fried, brushed with butter and rolled with a cinnamon and sugar mixture. An easy churros recipe that will satisfy your cravings.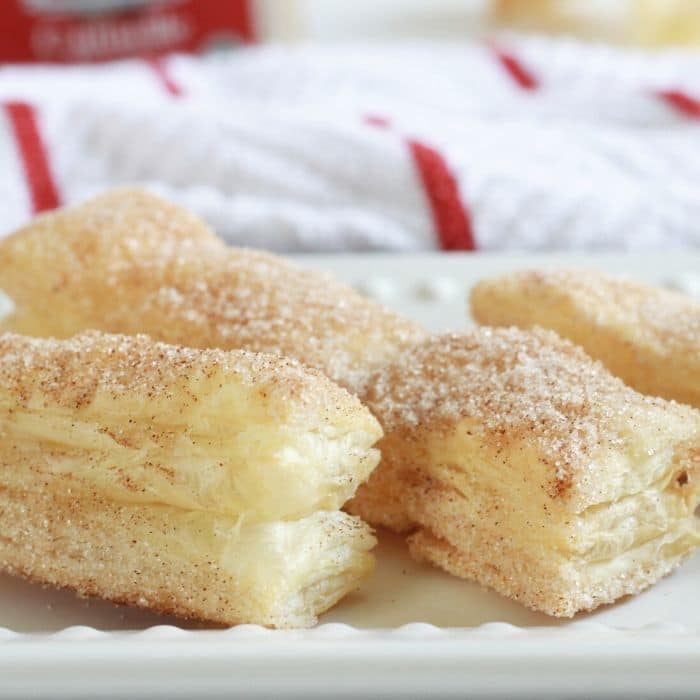 Air Fryer Churros
A flakey and crunchy churro that is rolled in sweet cinnamon and sugar. This puff pastry churro recipe literally requires 4 ingredients!
No need for a pastry bag, piping skills, skip all that and create a simple Mexican Churro dessert that you are craving. Try my Instant Pot Churro Bites!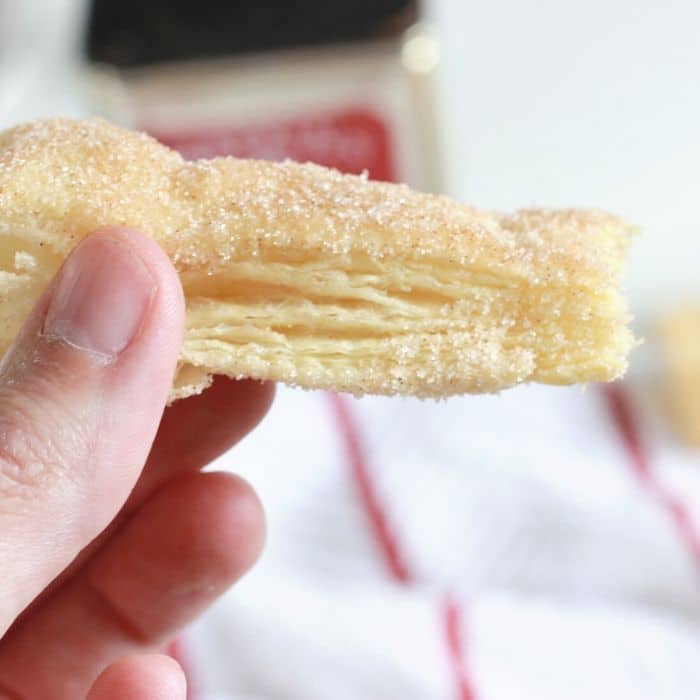 What Is A Churro
A churro is a fried pastry dough that is then rolled in a cinnamon-sugar mixture. But, since this is in a sense a "cheater" churro you will love the ease of the recipe, but still get a tasty treat.
What Do You Need For Easy Churros
Thawed Puff Pastry
Cinnamon
Sugar
Butter
How Do You Make Air Fryer Churros
Thaw out your puff pastry from frozen.
Slice into pieces, and then lay them out on your air fryer tray or in the basket. You need to ensure there is space between each one.
Air fryer the puff pastry until it is cooked. Remove and then brush each with butter.
Roll in cinnamon and sugar, and set out on a try.
Dippers For Air Fryer Churros
Cream cheese dip
A cinnamon roll glaze
Chocolate Syrup
Caramel Sauce or Dulce De Leche
Dust with powdered sugar
Etc
The sky is the limit on these tasty puff pastry churro sticks. Feel free to dip or eat them plain.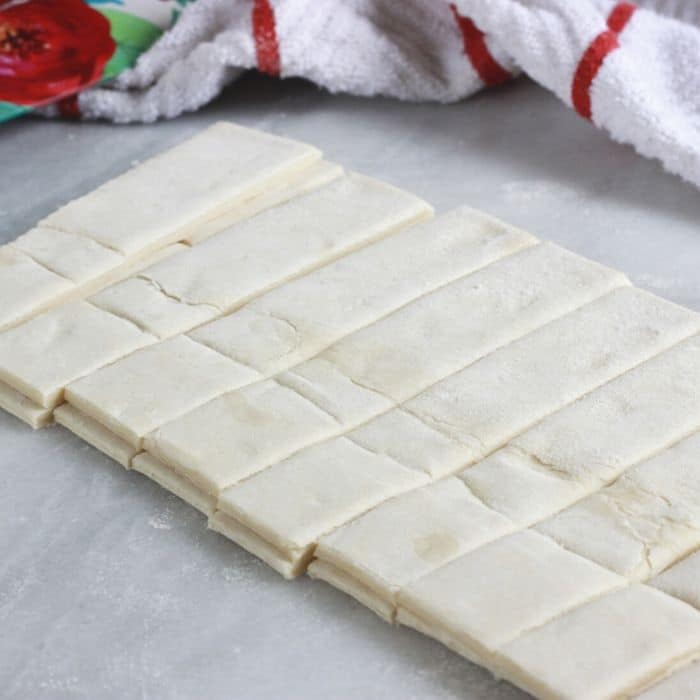 What If I Don't Have Puff Pastry
If you don't have puff pastry, you can honestly swap it out. Granted you will find with a different base to the easy churros, it will change the flavor and the texture.
Pie crust you roll out and cut.
Biscuit dough
Homemade Churro Dough
Bread dough
Now if you swap out a dough, then you will need to change the cooking time to ensure the dough of what you pick is cooked through.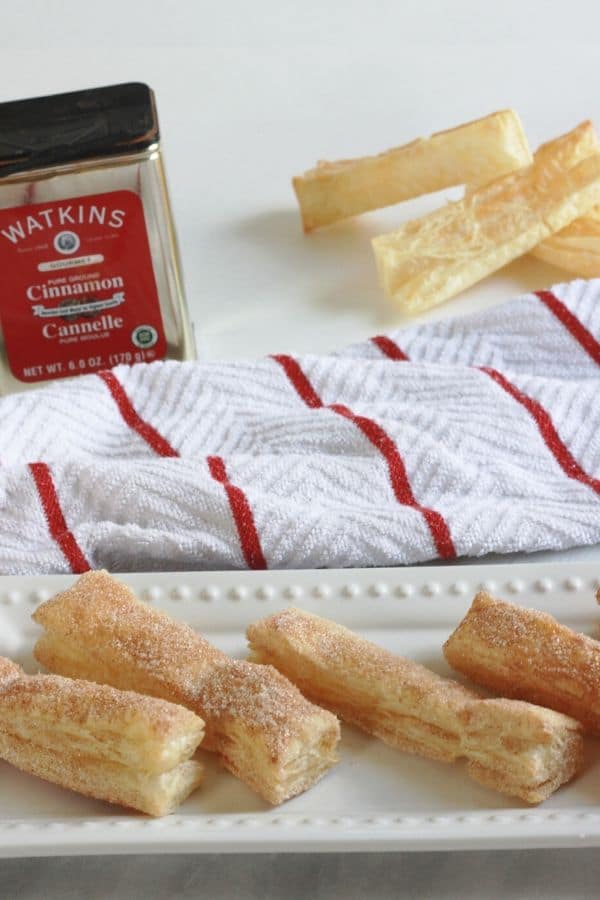 Can I Bake These In The Oven
Absolutely! You can do baked churros right in your oven. Just preheat the oven to 350 degrees. Then follow the recipe as directed below.
Leave space between each churro stick, as it will expand a little. I would lay out a Silpat or parchment-lined tray to prevent sticking.
Bake around 5-9 minutes or until the pastry is puffed up and cooked. Then you will brush with butter, and roll in cinnamon and sugar.
Craving More Easy Dessert Recipes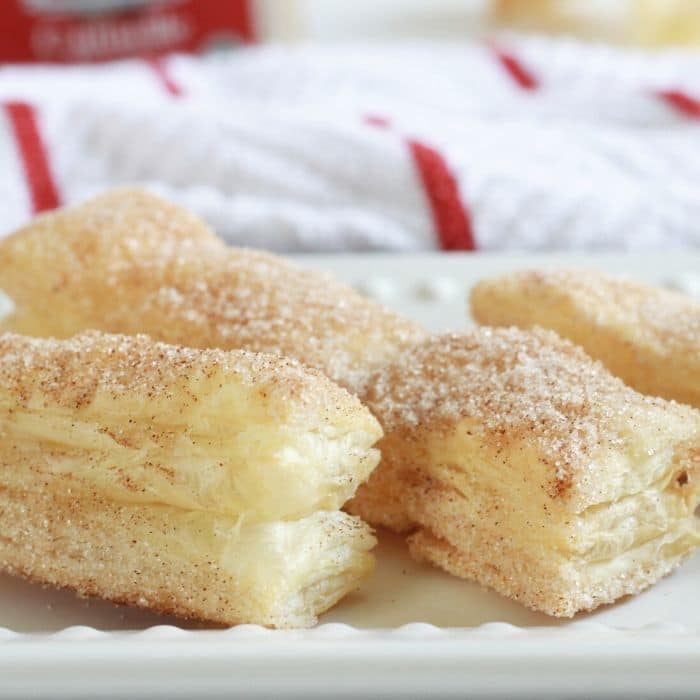 Air Fryer Churros
Servings 20 Churros
Air Fryer Churros is an easy churro recipe made with puff pastry dough. This is a must make air fryer dessert.
Ingredients
1 sheet of puff pastry thawed
1/4 cup butter melted
1/2 cup granulated sugar
1 tablespoon cinnamon
Instructions
Start by allowing your puff pastry dough to thaw. Then unroll it out, and slice it in half.

Lay the halves on top of each other, and then slice into sticks, I was able to get 20 churros out of one full sheet.

Layout your pastry dough on the air fryer tray or in your air fryer basket. Make sure to leave space between each puff pastry.

Turn air fryer to 350 degrees and cook 5-8 minutes or until your puff pastry is cooked through.

Once the puff pastry is cooked, remove and brush with butter.

Roll your puff pastry in cinnamon and sugar and serve!

You are welcome to serve your air fryer churros with your favorite dipping sauce or eat plain.
Nutrition
Serving: 1gCalories: 49kcalCarbohydrates: 6gFat: 3gSaturated Fat: 2gPolyunsaturated Fat: 1gCholesterol: 6mgSodium: 22mgSugar: 5g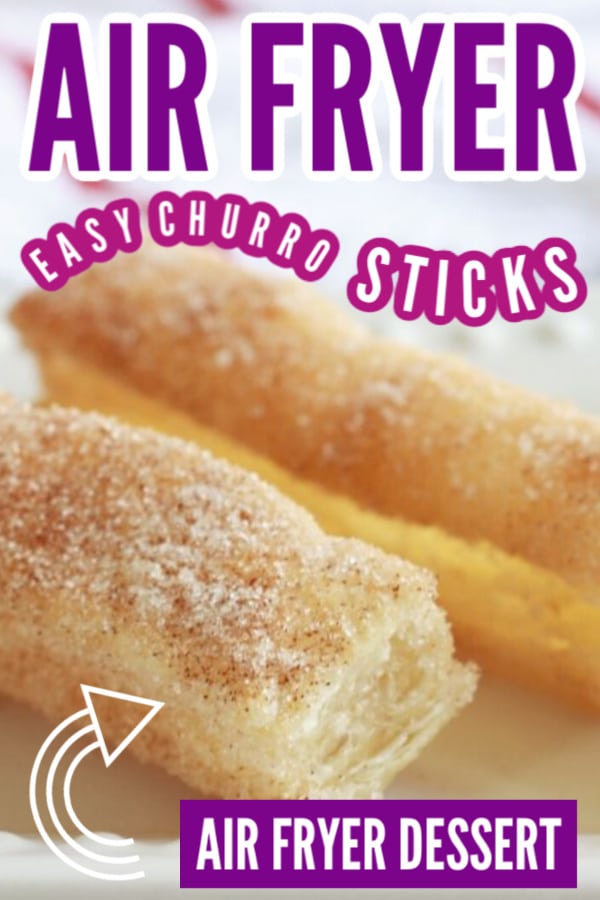 What Do You Think About This Air Fryer Churro Recipe?
Reader Interactions