Churro Toffee is a delicious homemade toffee spread with cinnamon and sugar and topped with a drizzle of white chocolate. This is a Copycat Disneyland Recipe for your favorite toffee recipe.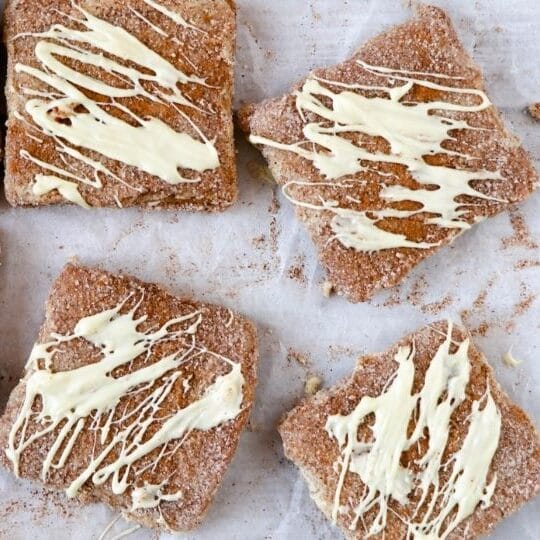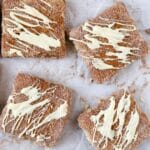 Love churros? Love toffee? Combine the two to make this famous churro toffee! 6 ingredients are all it takes to make this copycat Disneyland churro toffee. 
Crispy homemade toffee that is covered in cinnamon and sugar dusting then drizzled with white chocolate.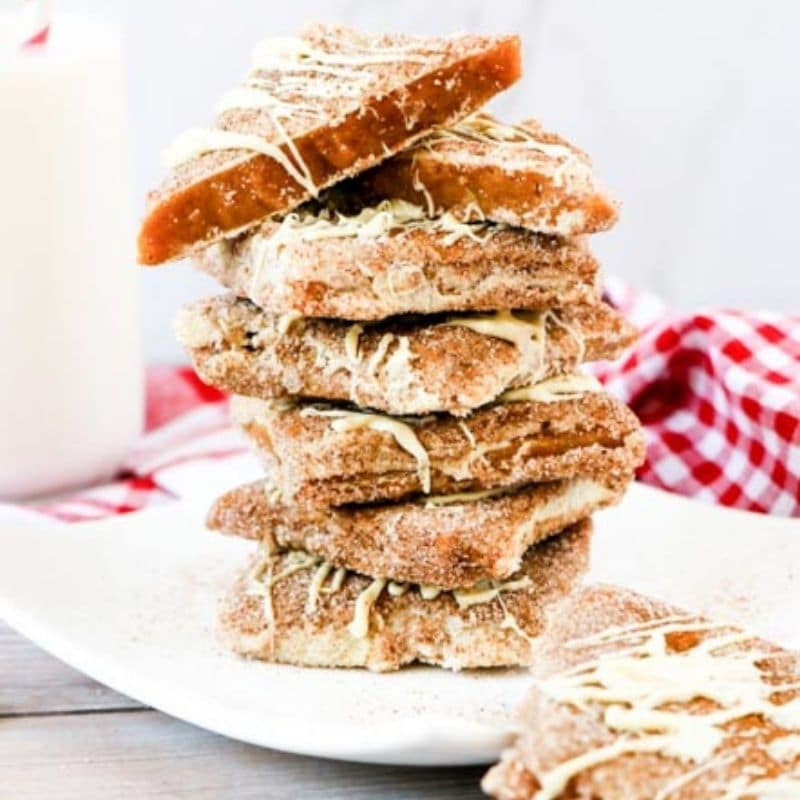 If you have a sweet tooth my churro toffee recipe is gonna hit the spot. Skip the trip to Disney and make this incredible toffee at home.
Why You Will Love Mt Churro Toffee…
6 Simple ingredients
Homemade toffee
Churro flavor from coating
Great for gifting to loved ones, serving at parties, or snacking on
Stores well
Addictive
Copycat Disneyland recipe
Grab my Free Kitchen Conversions Printable! This shows you how many cups are in a quart, pint, etc. A great printable to keep handy for when you need to convert a recipe.
Ingredients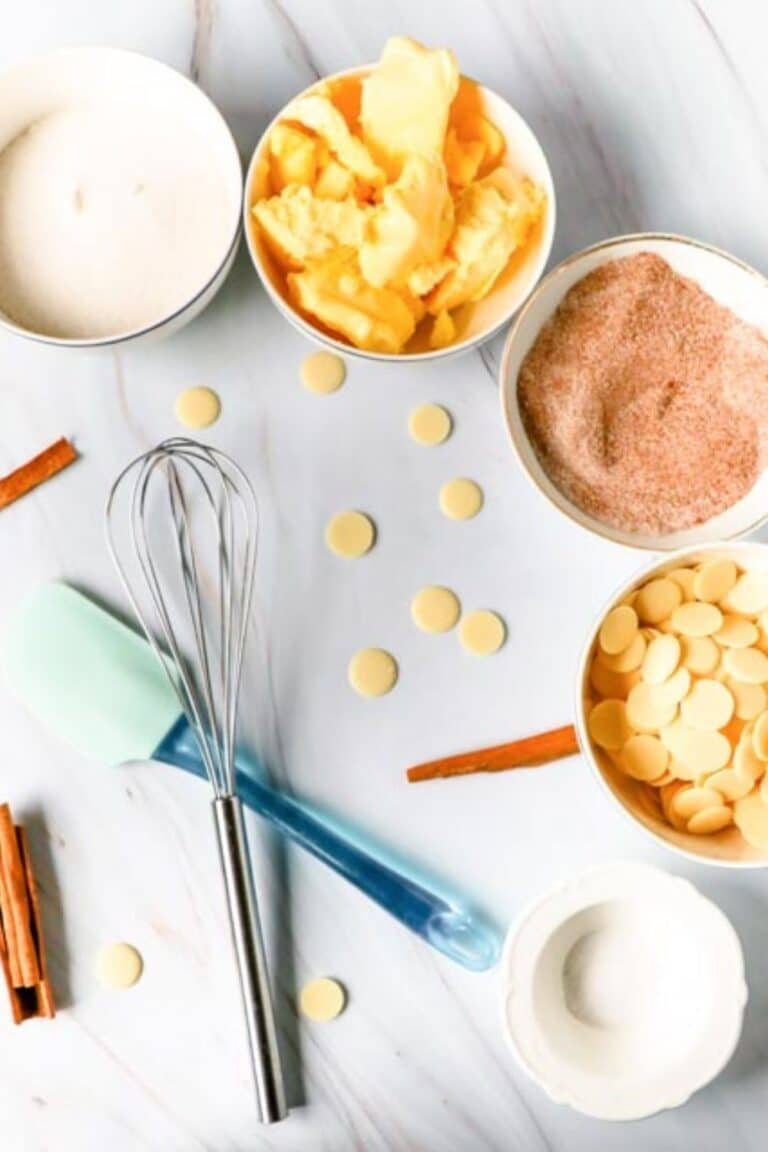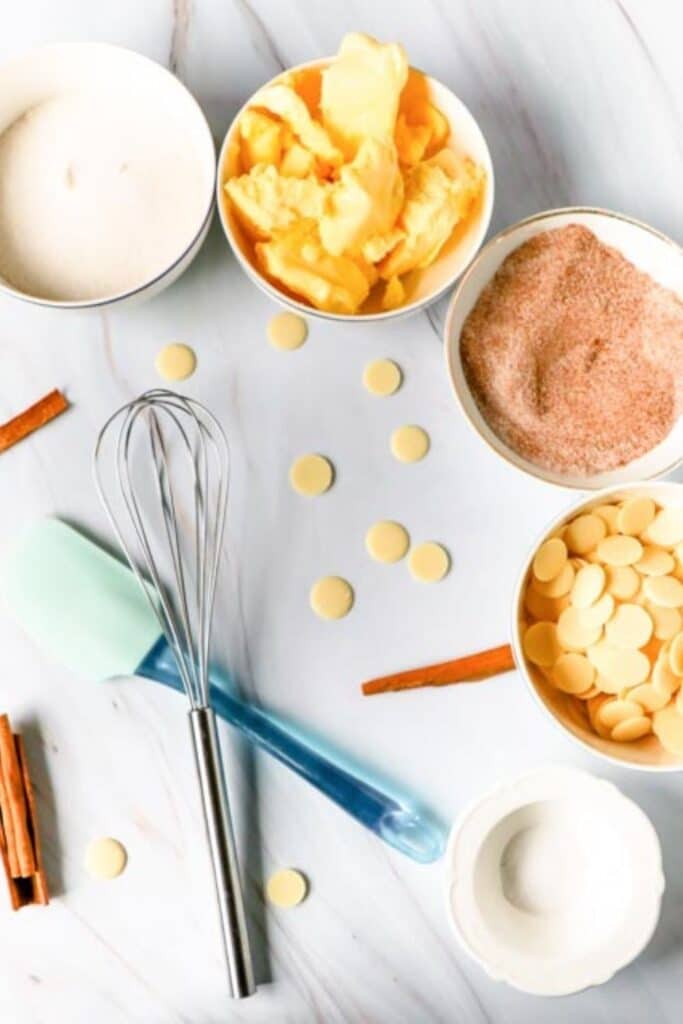 Unsalted butter
Sugar
Salt
Ground cinnamon
Granulated sugar
Ghirardelli white melting wafers
How To Make
Step 1: Line your baking sheet with parchment paper, and set it aside. Mix up your cinnamon and sugar mixture for topping and set aside.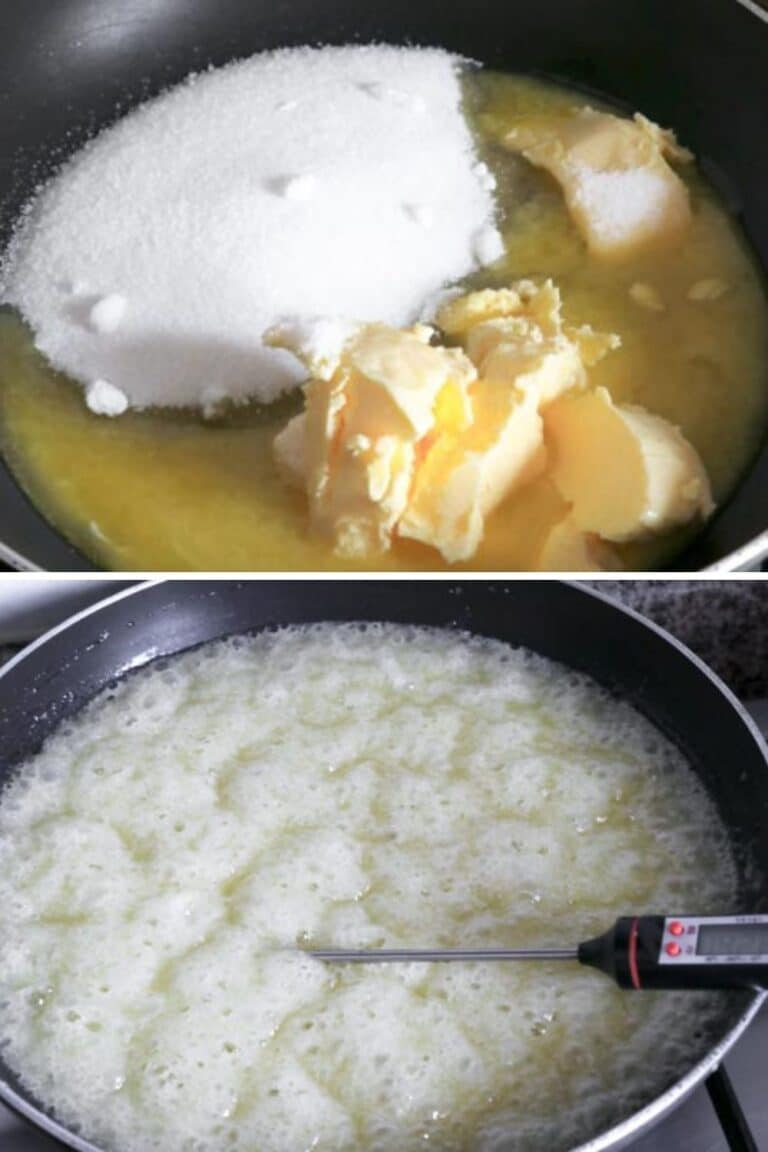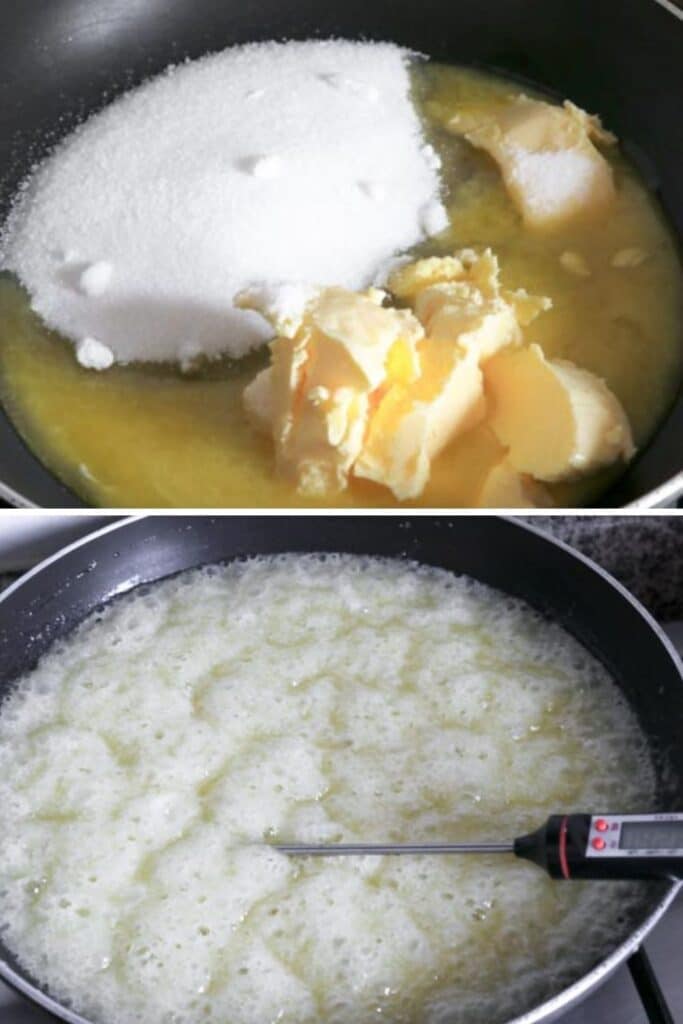 Step 2: Next, in a saucepan over medium heat add in the butter, sugar, and salt. Stirring often to melt down the butter. I placed a candy thermometer on the side of the pan. 
Step 3: Once the mixture melts down, you will allow it to come to a boil, stir constantly. The color will begin to become a golden color.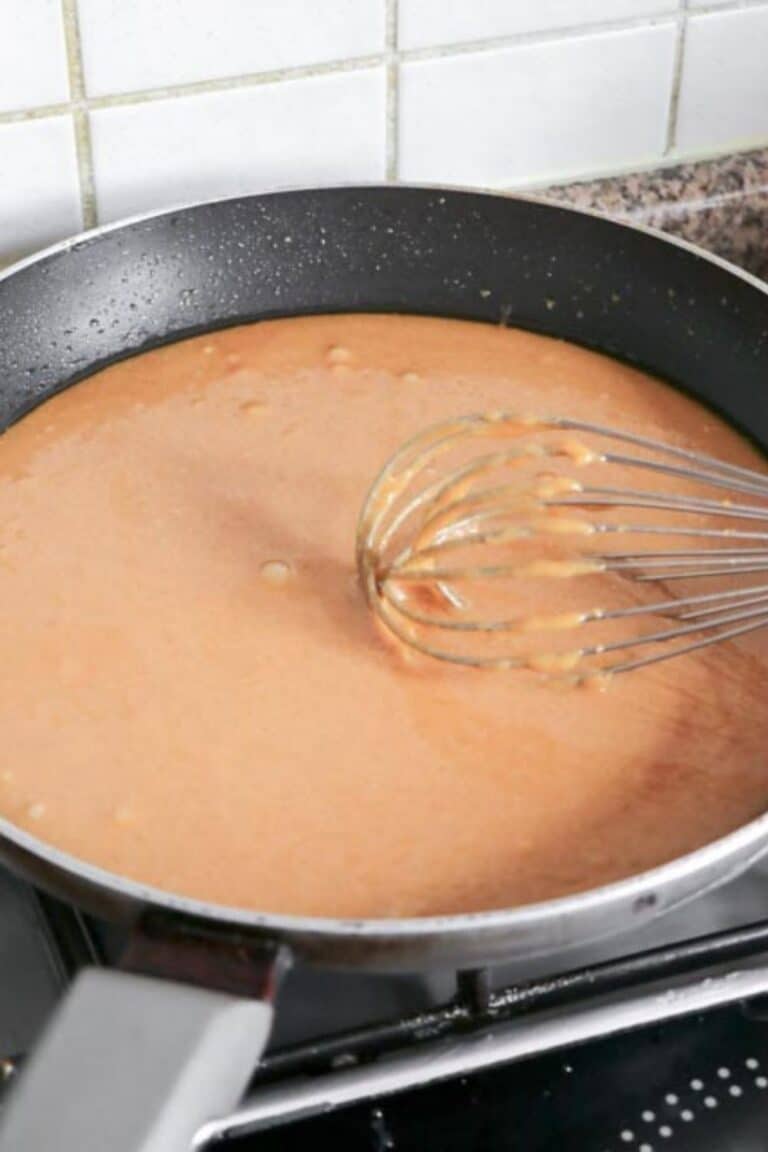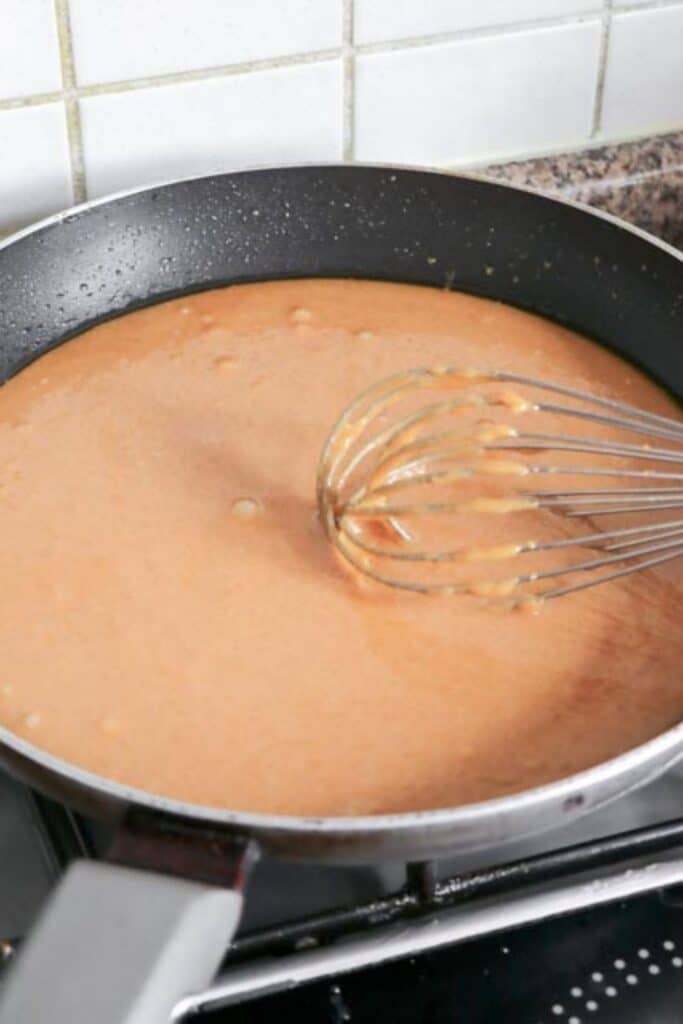 Step 4: You want your toffee mixture to reach 285 degrees F (137 degrees C). When it reaches the temperature, pour into the lined pan. 
Step 5: As the toffee cools you can create cut lines or allow it to fully set up. I did my cut lines around 5 times as it was setting up, to create squares. 
Step 6: Sprinkle the toffee with cinnamon sugar mixture. Then melt down the white chocolate melts and drizzle over the top of the toffee.
Step 7: Allow toffee to set up for another 40-50 minutes.
Storage
You can store your homemade English toffee at room temperature in a covered container. Just make sure the toffee is fully set before storing.
This toffee stores for 1-2 weeks! Just store properly and you should have no troubles.
If your home is a little hot and you worry about the chocolate melting, you can store in the refrigerator.
Variations To Recipe
 Use milk or dark chocolate to replace the white melting chocolate to change the flavor of the churro dessert. 
If you want more of a classic toffee the leave off the cinnamon and sugar topping and chocolate.
Sprinkle on candies, sprinkles, etc on wet chocolate to dress the toffee up differently. 
Add the chocolate on before you do the cinnamon mixture, to create a layer of toffee, white chocolate, then spice blend.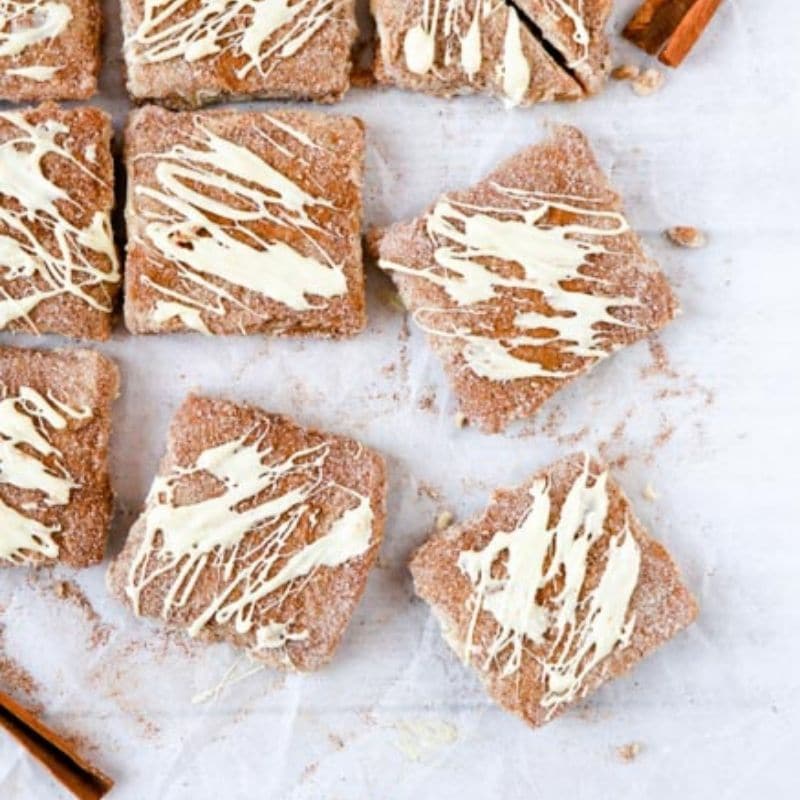 Expert Tips
Here are some tips to consider for this Churro Disneyland Toffee recipe. They will help make this Disney churro toffee a success every time you whip some up.
A candy thermometer is a must. You need to ensure your toffee mixture reaches the right temperature. Otherwise it could make it not set up.
Use a plastic knife to cut slices into the toffee is a great tip to know. Around a minute after you pour into the baking sheet, create the square cuts.
Repeat the cuts 4-5 times as it is setting up in the first 20 minutes. This creates a defined line that gives you clean cuts just as you get at Disney.
Move quickly. Toffee isn't hard to make but you need to be prepared. Make sure your pan is ready before you start to cook. Otherwise, it can make a mess allowing your toffee to sit in pan while you get the baking sheet ready.
You can melt chocolate on the stove or microwave. Just don't let the chocolate burn. If you use chocolate chips instead of melting chocolate – add a teaspoon of coconut oil. This will help it set up.
Recipe FAQs
More Churro Dessert Ideas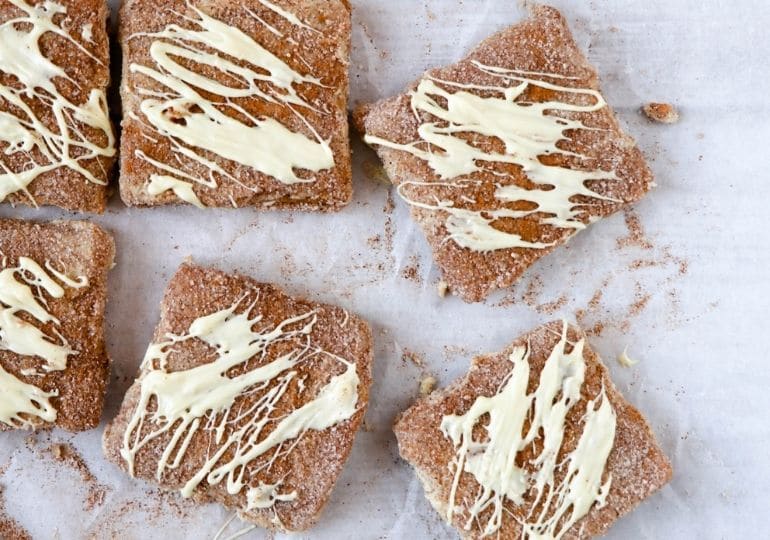 Churro Toffee – Copycat Disneyland Recipe
Servings 9 x13 pan
Churro Toffee is a delicious homemade toffee spread with cinnamon and sugar and topped with a drizzle of white chocolate. This is a Copycat Disneyland Recipe for your favorite toffee recipe.
Ingredients
Supplies
Toffee Ingredients
2 cups granulated sugar
1 cup unsalted butter
1 teaspoon salt
1 1/2 cups Ghirardelli white melting wafers
Churro Toffee Topping
1/2 cup granulated sugar
1 teaspoon cinnamon
Instructions
The first thing you want to do is line your 9×13 pan with parchment paper. This will prevent the toffee from sticking.

Put the unsalted butter, granulated sugar and salt into a suace pan. Heat them mixture until it is melted.

Once the sugar is melted you will bring the mixture to a boil, stirring continously. You want the sugar mixture to read 285 degrees Farenheit.

When the toffee reaches the proper temperature, pour into the prepared pan. Allow the toffee to cool a bit. Then take a knife and slice your toffee while still wet. This will help create clean lines. I cut my toffee 4-5 times as it was setting up. Let it set up for 20 minutes.

In a small bowl add your sugar and cinnamon for the topping together. Mix until combined.

Sprinkle the toffee with cinnamon and sugar mixture, and then drizzle melted white chocolate on top. Allow the toffee to finish setting up.

Then cut your lines you made, or break the toffee into pieces if you didn't create lines as it was setting up.

Serve up this churro toffee once done!
Notes
Cutting lines in while the toffee is cooling helps to create grooves. That way when you cut the set up toffee you get clean lines. 
Toffee sets up fast so have your pan ready before you start heating up the toffee mixture. 
You can skip cutting and just break toffee apart. 
You can use the chocolate chip, just temper chocolate or add a teaspoon of coconut oil to the chip. This helps the chocolate to set. 
Homemade toffee can store for 1-2 weeks at room temperature in an airtight container. 
Freeze the churro toffee for 3-4 months in a proper freezer container if you want.
Nutrition
Serving: 1gCalories: 466kcalCarbohydrates: 62gProtein: 2gFat: 25gSaturated Fat: 15gPolyunsaturated Fat: 8gCholesterol: 43mgSodium: 196mgFiber: 2gSugar: 56g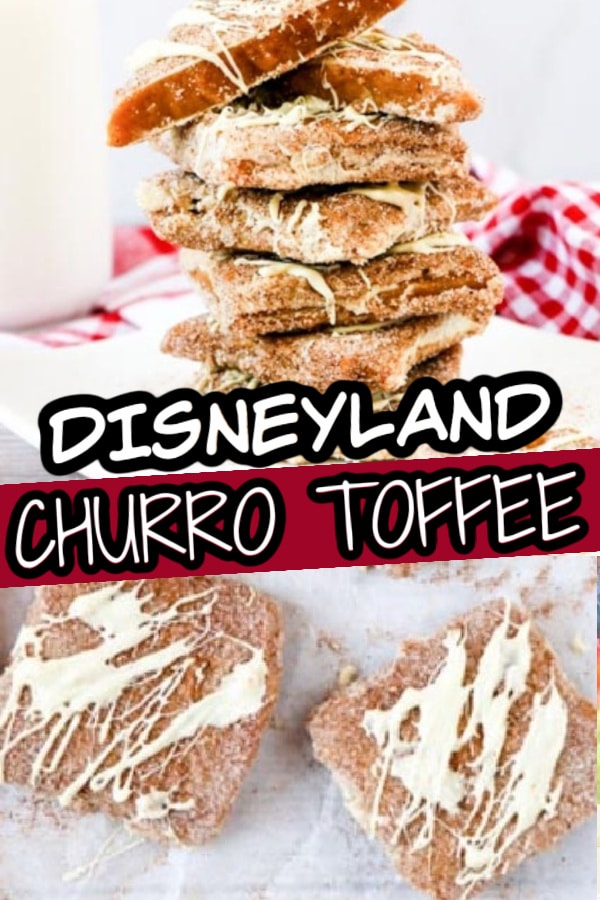 Reader Interactions