Serve up this Chocolate tart that has a tasty hazelnut twist. A hazelnut chocolate tart dessert is one of my favorite things to whip up for a quick and easy dessert.
Hazelnut Chocolate Tart
Have some hazelnuts just lying around the house? This Hazelnut Chocolate Tart needs to happen. Try my peach tart with a sugar cookie crust.
Now that I've made this tart recipe several times, it's actually requested by some of my family and friends. (and I don't mind at all!)
If you're looking for a super simple tart recipe that's going to have everyone come running, you really don't want to miss out on this one.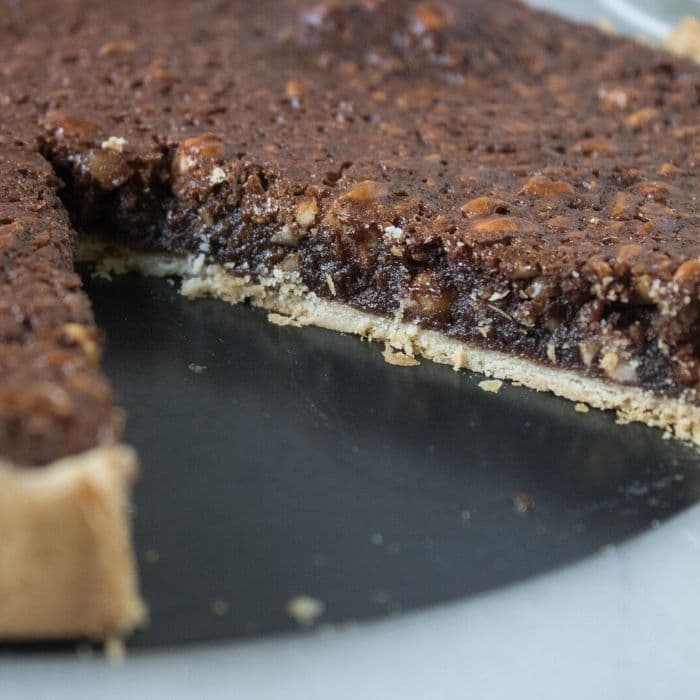 Can I Make Chocolate Tart In Advance?
You can. If you're feeling a bit pressed on time, why not make up the tart filling a day ahead of time.
Just combine and keep it cooled and stored in your fridge. Then, when it's time to assemble the tart, you've got everything that you need and it just literally takes a few moments. Pour, bake and serve.
I've done this a few times when I know that the next day is going to be super busy. It just saves me a couple of steps and takes a bit of stress off my plate.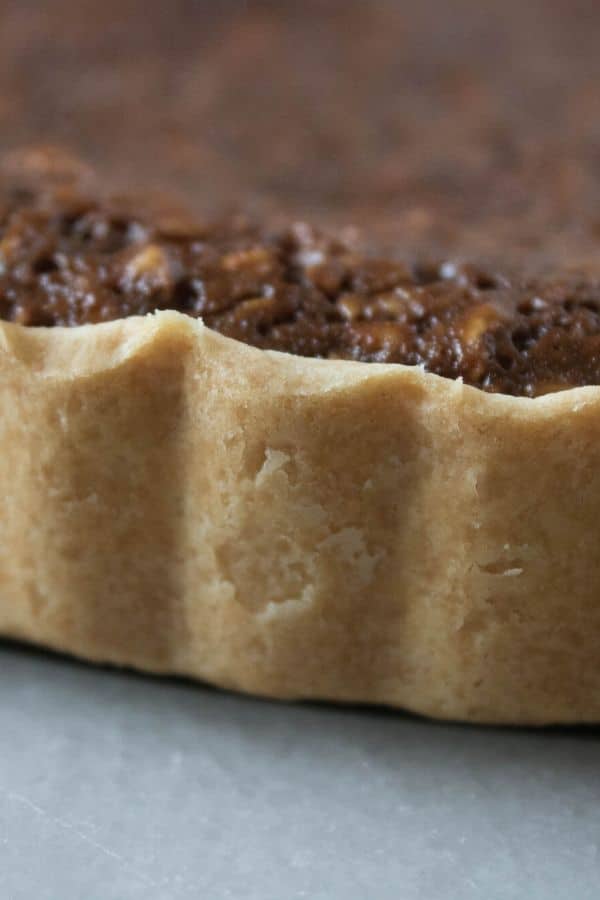 What Crust To Use For A Tart
I've had great success using an unbaked pie crust from the store. It's not that I don't like to make my own crusts homemade, it really just does boil down to saving a bit of time.
Between working at home, taking care of the house, feeding my son and cleaning up.
I think it's safe to say that some days I'm lucky if I even get on matching socks. So when I can buy a premade crust from the store, I'll do it.
However, even saying that doesn't mean that you can't use your own killer pie crust recipe. It's your pie, use your homemade crust if you want!
Best Chocolate For Chocolate Tart
Using semi-sweet chocolate chips or even milk chocolate is going to be your best bet for chocolate in your tart.
This is because it has a little bit of a creamier texture and melts well which will help for it not to crack.
If you find out that you don't have that type of chocolate, but any chocolate is fine. The only difference that you'll notice visually is that lower cream ratio chocolate might end up cracking on the surface.
It might not make your pie look super pretty, but it's still going to taste amazing.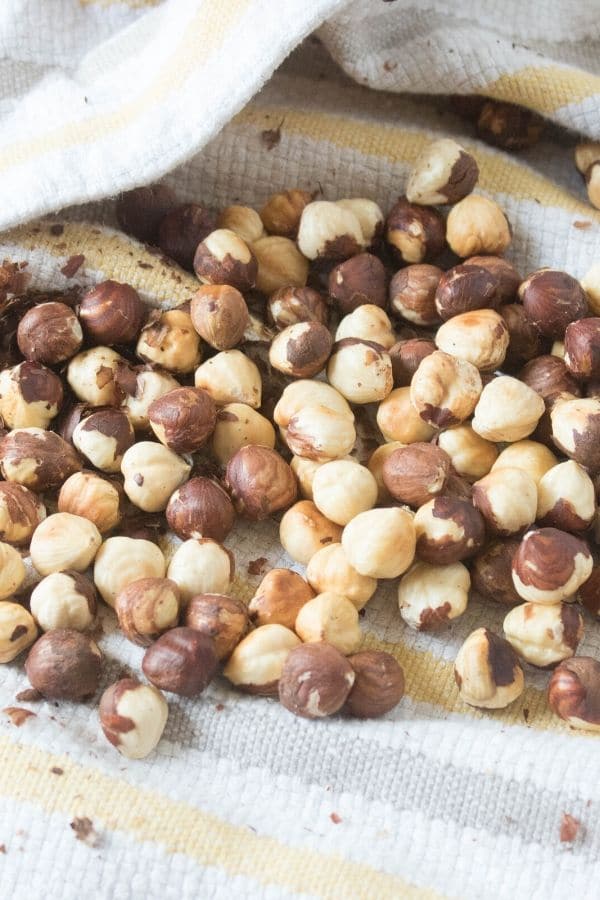 Do I Have To Use Hazelnuts In Tart Recipe?
You don't! If you love everything about this recipe except for the addition of the hazelnuts, go ahead and leave them out!
While they do add a fun taste and extra flavor to the pie, they aren't a requirement for making it. There are plenty of other delicious ingredients that you don't have to worry about this pie lacking anything at all.
Just leave them off your ingredient list and skip over that step in the recipe if you do decide to leave them out.
Check out these Hazelnut Desserts
How To Store Chocolate Tart
Since a chocolate tart is a type of firmer pudding almost, you're going to need to make certain that you're storing this in the fridge until you're ready to eat another slice.
If you have a fridge storage container for pie, this would be the best bet. You can literally add your whole tart, pie plate included, inside and place it in your fridge.
Then, when you're ready for a slice, just pull it out and serve.
Can You Freeze Chocolate Tarts
Thank goodness for freezers! They can literally freeze and save just about anything for later!
And yes, if you have leftover chocolate tart that you know you aren't going to be able to finish, you can put it in your freezer to have for later.
Just remember to find a container with a great seal so that you don't risk the chance of it getting freezer-burnt.
There's nothing worse than being excited all day for a slice of your leftover chocolate tart only to unthaw it. Take a bite, and realize that you must have stored it in a container that was letting in some air.
Don't let this happen! It's such a sad day when tart gets wasted!
How to make Hazelnut Chocolate Tart
Have fun making this delicious tart! It's one flavor that you're going to crave over and over again!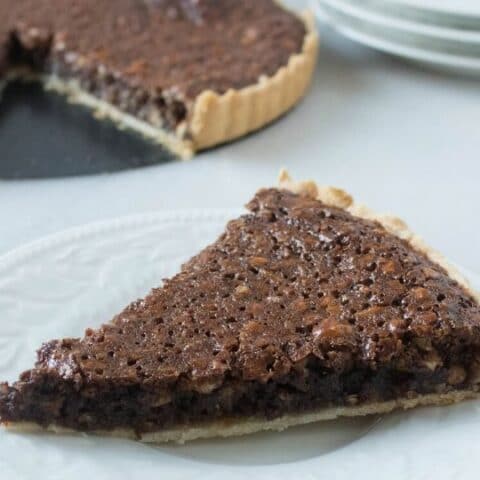 Hazelnut Chocolate Tart
Total Time:
1 hour
5 minutes
Hazelnut Chocolate Tart is the ultimate dessert recipe. A chocolate tart that is loaded with crunch and sweetness.
Ingredients
1 pie crust 9 inch size
2 cups whole hazelnuts
4 tablespoons unsalted butter
3 tablespoons cocoa powder
4 ounces semi-sweet chocolate chips
1 cup dark corn syrup
1/4 cup granulated sugar
3 large eggs, room temperature
1/2 teaspoon rum extract
Instructions
Start by preheating your oven to 350 degreesa.
Now you will spread your hazelnuts on a baking sheet and roast them for 10 minutes. Let them sit to cool once done.
Now grab your 10 inch tart pan and place with your unbaked pie crust, and press the pie crust into the tart pan.
In a new bowl add your chocolate, cocoa powder, and butter. Microwave until melted, I do 30 second increments stirring between each check.
Once mixed, let cool and set aside.
Now with your hazelnuts place in a towel and rub them around with part of the towel, to help remove the skins.
Place your hazelnuts in a food processor and pulse until the nuts are topped.
In your chocolate bowl add in your nuts, eggs, rum extract, and corn syrup. Mix until combined.
Pour into prepared pie crust and bake 40 minutes at 350 degrees. Stick a toothpick in the center to see if it comes out clean.
Nutrition Information:
Yield:

8
Serving Size:

1
Amount Per Serving:
Calories:

595
Total Fat:

37g
Saturated Fat:

10g
Trans Fat:

0g
Unsaturated Fat:

25g
Cholesterol:

85mg
Sodium:

182mg
Carbohydrates:

65g
Fiber:

5g
Sugar:

48g
Protein:

9g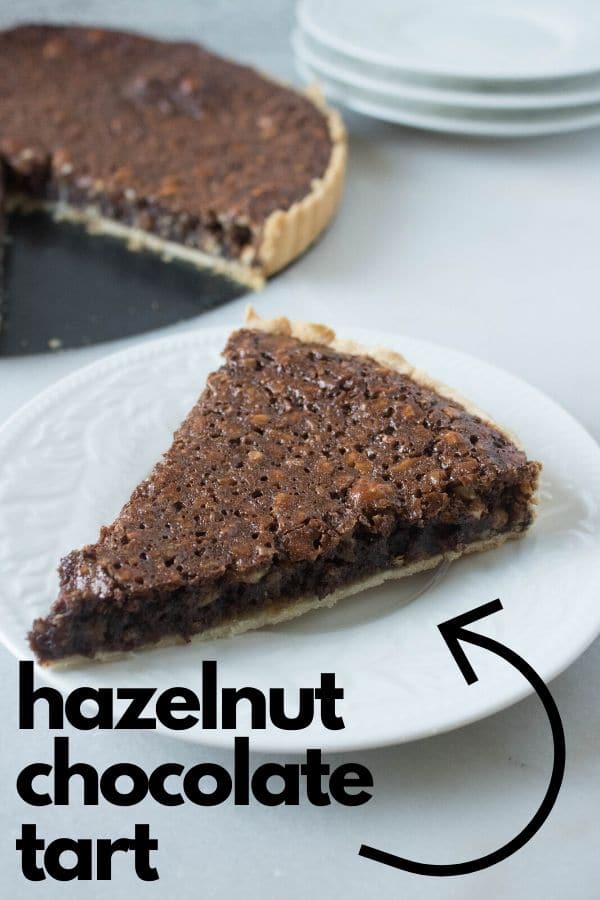 Will you be adding in the hazelnuts to this chocolate tart or leaving them out?