This crockpot whole chicken is easy to make, and vesatile in how you season your chicken. A crockpot roasted chicken that is sliceable and juicy. Great dinner idea or meal prep with leftover chicken. Give this slow cooker whole chicken recipe a try for dinner.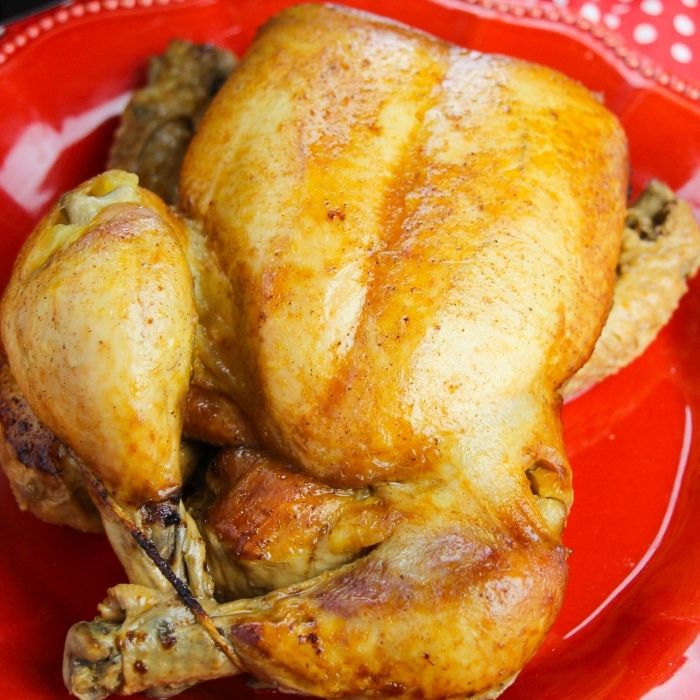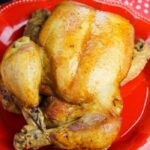 Whip up this crockpot whole chicken for a no-fuss dinner. This BBQ whole chicken recipe is loaded with flavor, and you can slice and serve, or shred up and pile on a bun. Either way, your family will love the chicken paired with all your favorite side dishes.
If you have never tried slow cooker whole chicken, you need to. It is a great way to roast chicken but with a hands-off approach. A crockpot rotisserie chicken that is affordable, easy, and essentially can season any way you want!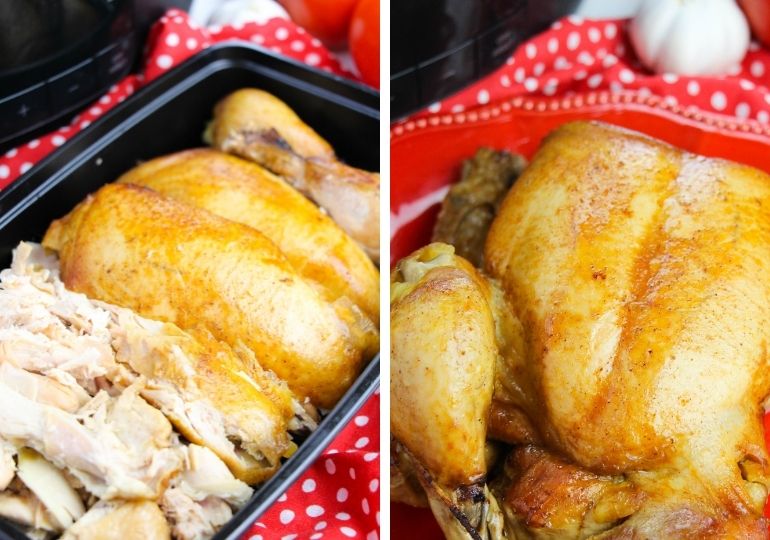 Learn how to make this crockpot roasted chicken for any night of the week. Pair with some baked beans, vegetable salad, or even a broccoli casserole.
Why Everyone Loves This Crockpot Recipe
Easy Dinner Option – This chicken dinner recipe is crazy simple. Just do the prep, and walk away. No crazy ingredients, and you can season it however you want.
Set It And Forget It – Prep first thing and then let the whole chicken cook through the day, without having to mess with it. Then when dinner rolls around, pair with any sides and plate and serve.
Season As You Want – Whether you do a dry rub or baste like I did, you can flavor your chicken as you would like. I will share how to adjust the recipe in the printable recipe card.
Meal Prep Recipe – Cook up the slow cooker roast chicken and then use the meat to prep quick lunches, freeze for later, etc.
Ingredients Needed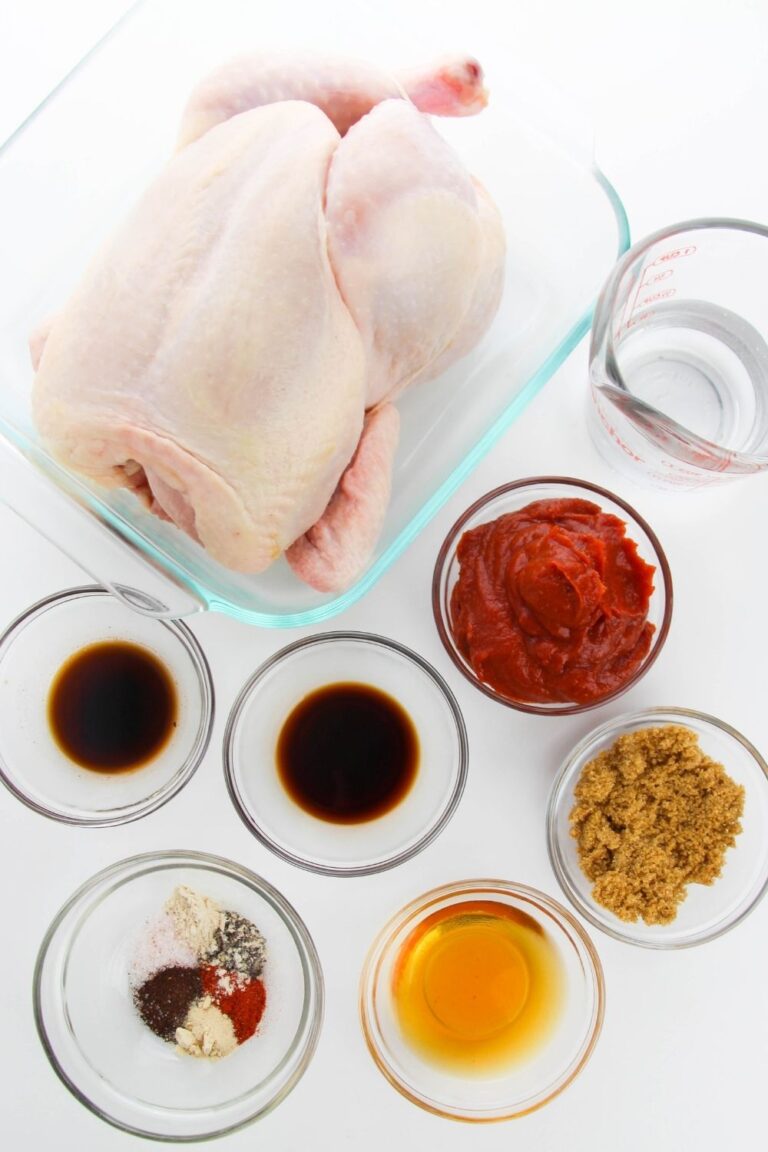 Chicken – I used a 3 pound whole chicken. You can do larger if it fits in your crockpot.
Spices – Garlic, Onion, Chipotle Powder, Paprika, Salt and Pepper
Brown Sugar – You can use regular brown sugar or Monkfruit brown sugar to make low-carb.
Apple Cider Vinegar
Tomato Paste
Water
Soy Sauce – Or use Coconut Aminos
Worcestershire Sauce
Substitutes To Recipe
How to Make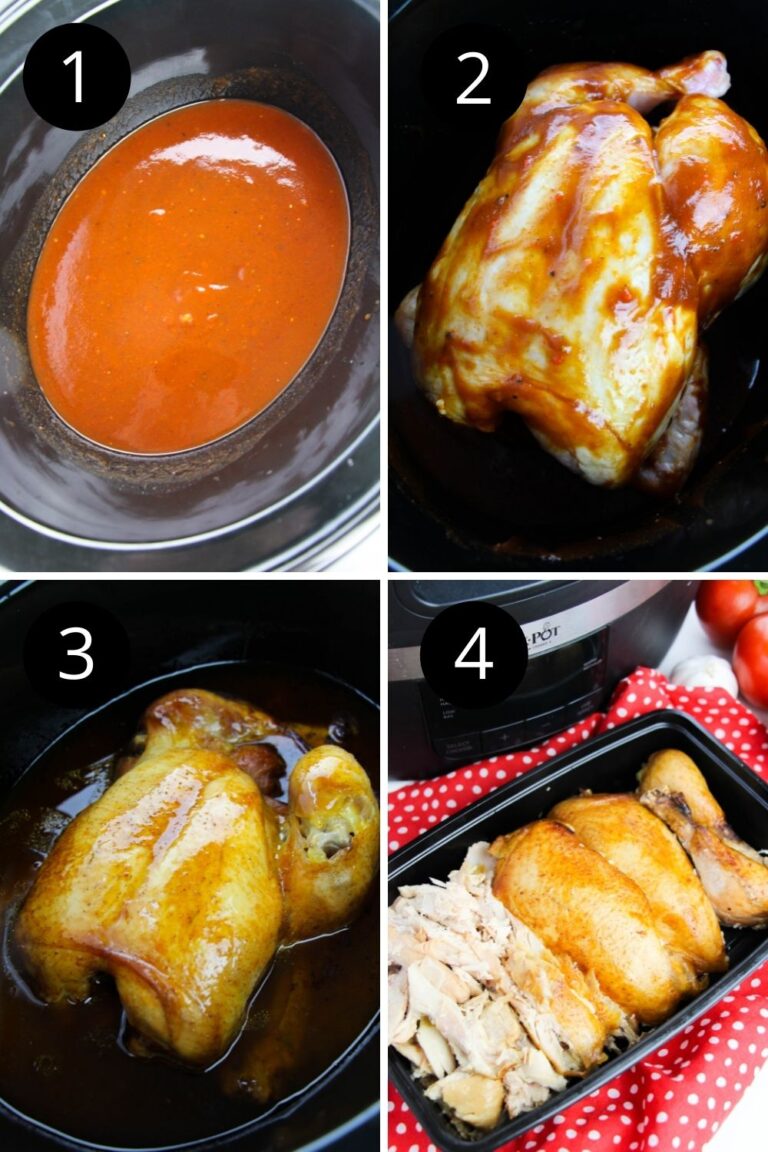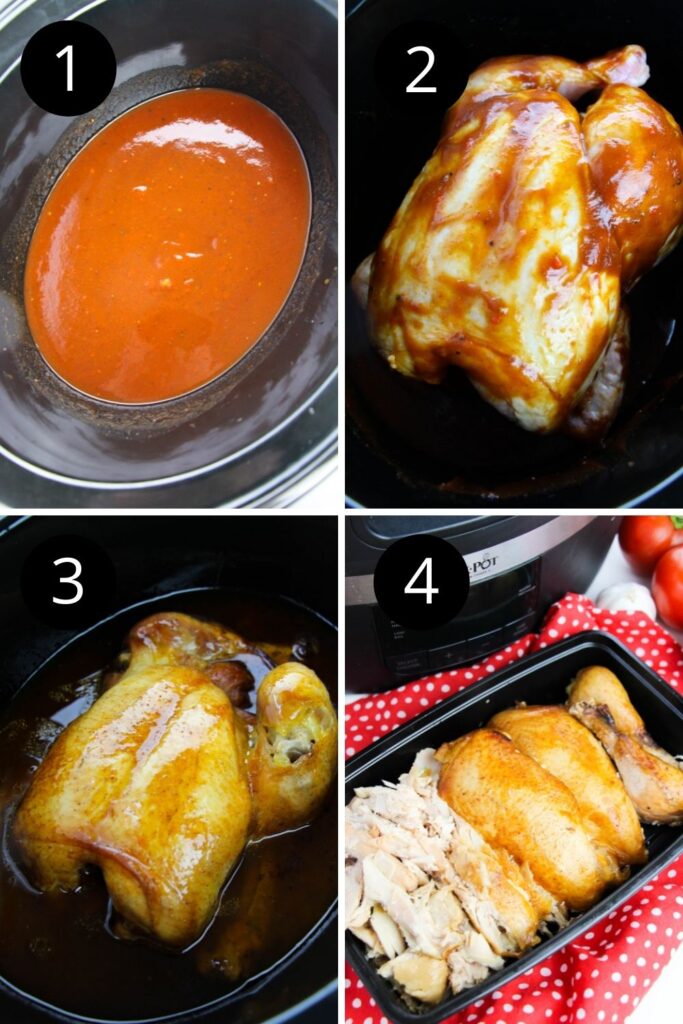 Step 1: Add your Worcestershire, brown sugar, spices, tomato paste, water, soy sauce, and apple cider vinegar in your crockpot. Whisk well till fully combined.
Step 2: Create a few foil balls to sit in the bottom of the crockpot. This acts as a rack to sit chicken on. Place your whole chicken in the crockpot. Then with a pastry brush or baster coat the whole outside of the chicken with the mixture.
Step 3: Place the lid on and cook your chicken as directed in the recipe card below.
Step 4: Once done remove and allow the chicken to rest. Then slice and serve as you would like, or use the chicken to meal prep with.
Storage
Refrigerate – Your chicken can be refrigerated for around 3-4 days in an airtight container. Reheat and eat as a meal, or use for adding into other recipes.
Freezing – You can freeze any chicken you don't eat. Place your chicken in an airtight container or vacuum seal and store for 3 months or more. If you vacuum seal it will store for a lot longer.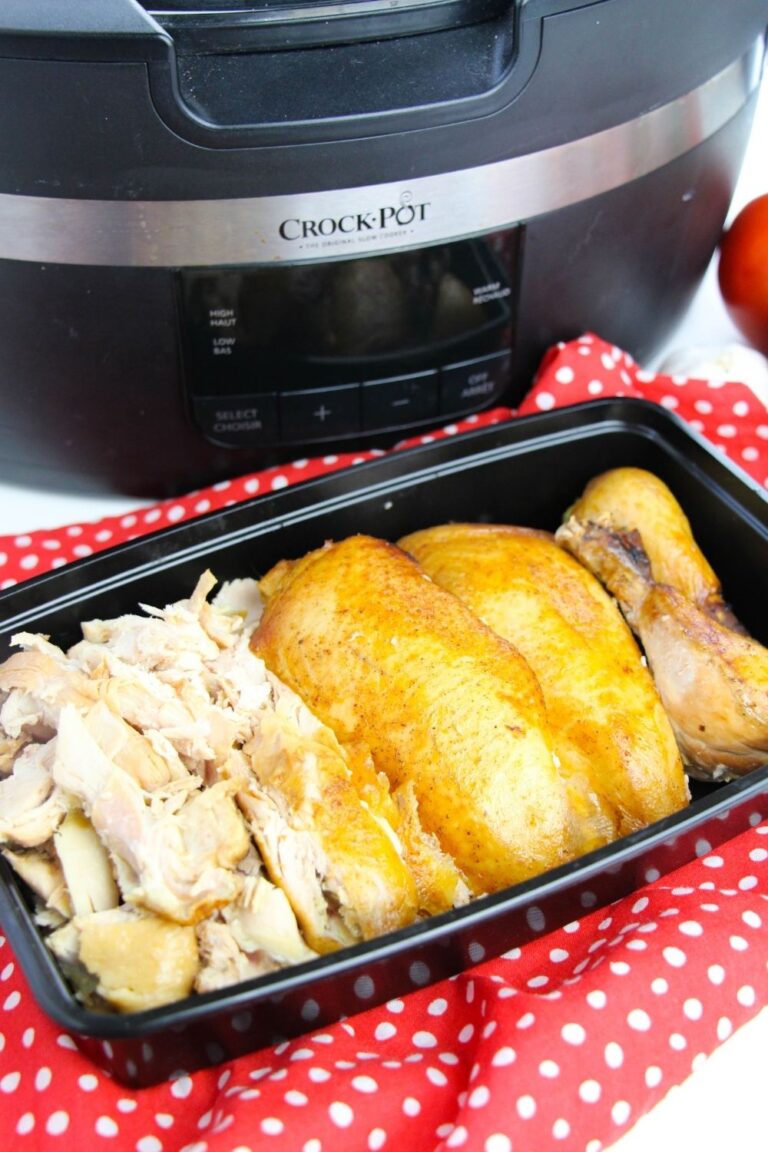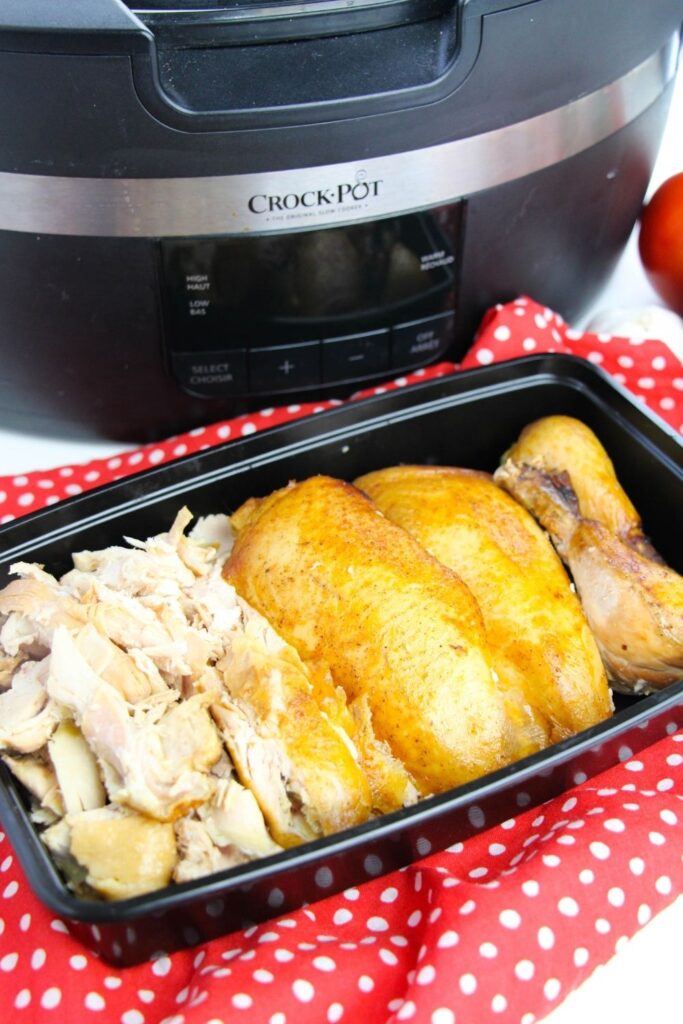 Meal Prep Ideas
Here are different ways you can use up the chicken to make it taste like a whole new meal!
Pro Tips
Here are some pro tips for making this simple whole chicken slow cooker recipe!
Frequently Asked Questions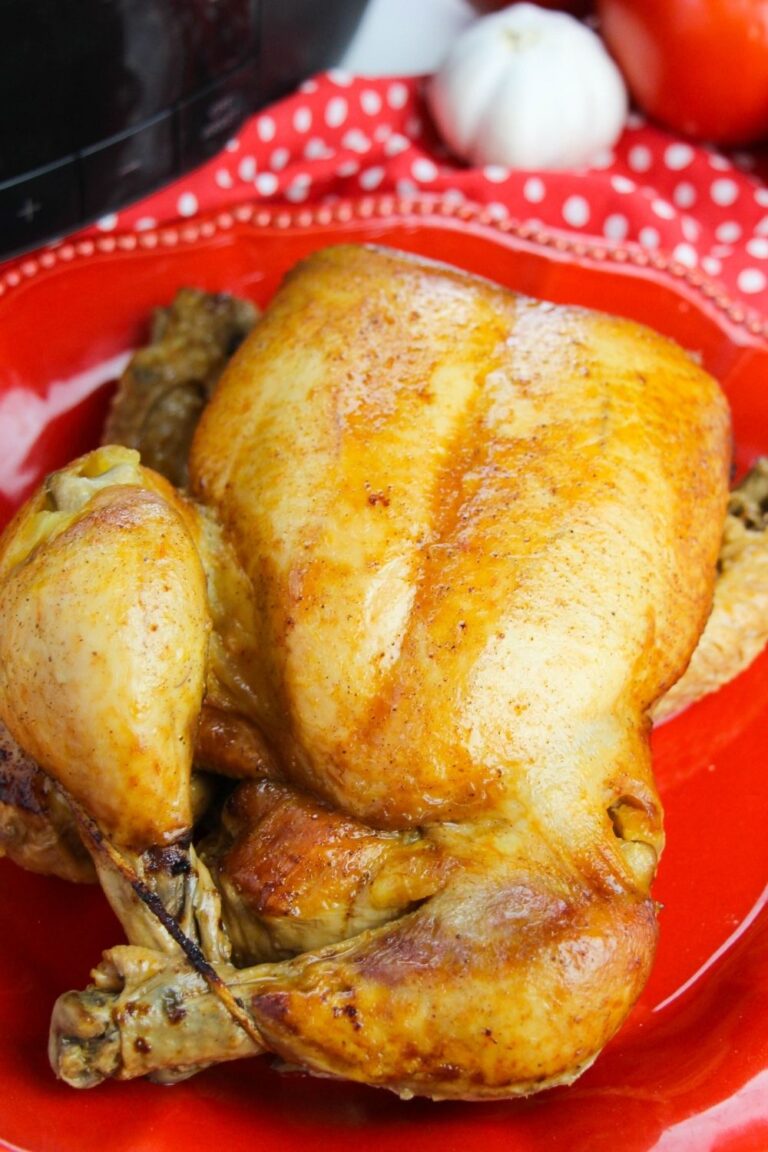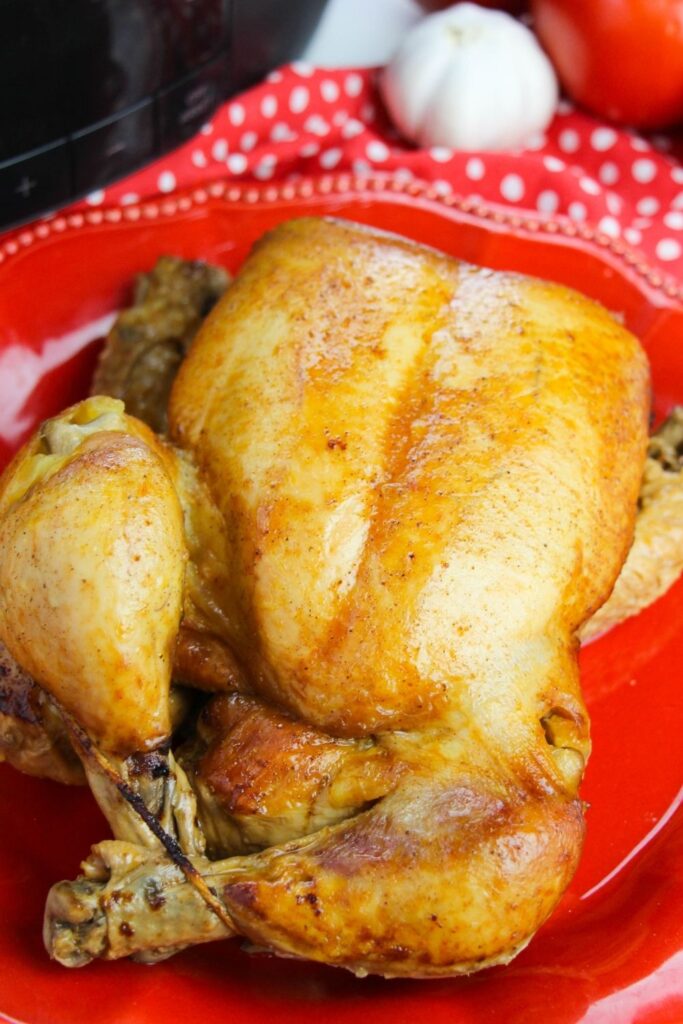 More Easy Crockpot Dinner Ideas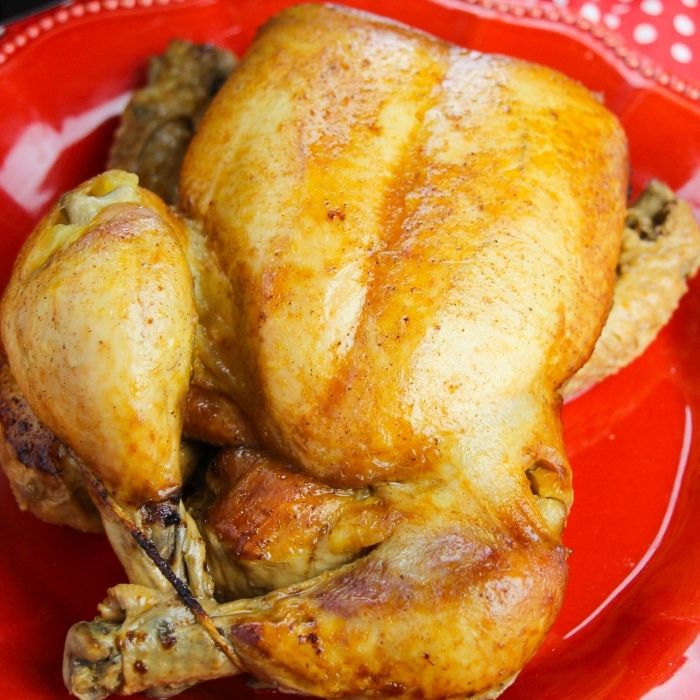 Crockpot Whole Chicken
Servings 1 chicken
This crockpot whole chicken is easy to make, and vesatile in how you season your chicken. A crockpot roasted chicken that is sliceable and juicy. Great dinner idea or meal prep with leftover chicken. Give this slow cooker whole chicken recipe a try for dinner.
Ingredients
3-5 pound Whole Chicken depending on size of your crockpot
6 ounces Tomato Paste
1/2 Tablespoon Coconut Aminos <-- can use soy sauce
1/4 cup water
3 Tablespoons Apple Cider Vinegar
2 Tablespoons brown sugar Monkfruit <-- can use brown sugar if not making low-carb
1 Tablespoon Worcestershire sauce
1 teaspoon chipotle powder
1 teaspoon paprika
1 teaspoon garlic powder
1 teaspoon onion powder
Salt and pepper to taste
Instructions
Start by adding all your water, tomato paste, coconut aminos (or soy sauce), vinegar, brown sugar, Worcestershire, and spices in your crockpot.

Mix well. Then roll up some aluminum foil balls and sit your chicken on the balls. This acts as a rack.

Place chicken in the crockpot and then use a baster or pastry brush and dip in and spread the sauce all over the chicken.

Place the lid on the crockpot and cook on high 1 hour, then lower to low heat. If you are leaving you can just leave it on low the whole time if you need. Or do high for 3-4 hours instead of dropping to low.

Once the chicken reaches 165 degrees internally when checked with a meat thermometer, you can remove chicken and broil for about 5 minutes to crisp up the skin in the oven. Or skip broiling.

Let chicken rest for 10 minutes on the counter then slice and serve up your chicken or store in the fridge for meal prepping, etc.

This crockpot whole chicken recipe is so easy and delicious. Give it a try today.
Notes
Chicken Size – I used a 3 pound chicken. But if you have a larger crockpot you can go up to 5 pounds. Depending on size of chicken the cooking time can vary. High Heat or Low – You can cook your slow cooker whole chicken on high or low heat. I give methods for both. Now for low it is recommend to cook chicken for at least 1 hour on high, to ensure the chicken stays at a safe cooking temperature. Some people choose to cook it on low the whole time. That is your choice as to what you feel is best. Seasoning – You can do a dry rub or a wet mixture like I did. Anything works on this chicken season as you would like. Aluminum Foil – If you don't want to use foil for keeping the chicken out of the liquid, use a rack or place vegetables on bottom. Carrots, onions sliced in half, lemon wedges, etc.
Nutrition
Serving: 1gCalories: 477kcalCarbohydrates: 6gProtein: 52gFat: 26gSaturated Fat: 7gPolyunsaturated Fat: 16gCholesterol: 166mgSodium: 294mgFiber: 1gSugar: 4g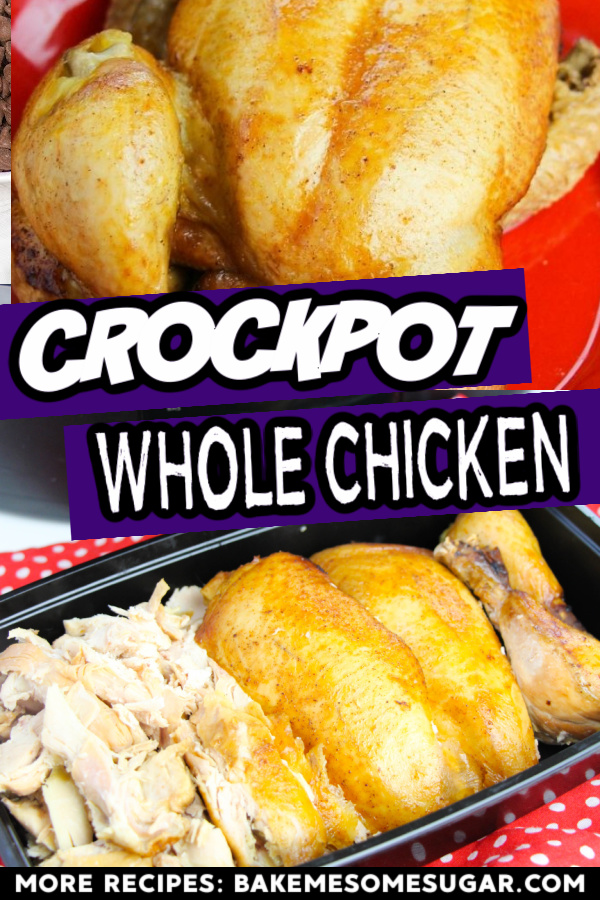 Reader Interactions