Looking for an easy dinner? This Crock Pot Hamburger Helper is a homemade Hamburger Helper recipe that is ground beef, cheese, and pasta. A cheeseburger pasta dinner the whole family will enjoy. Kid approved recipe!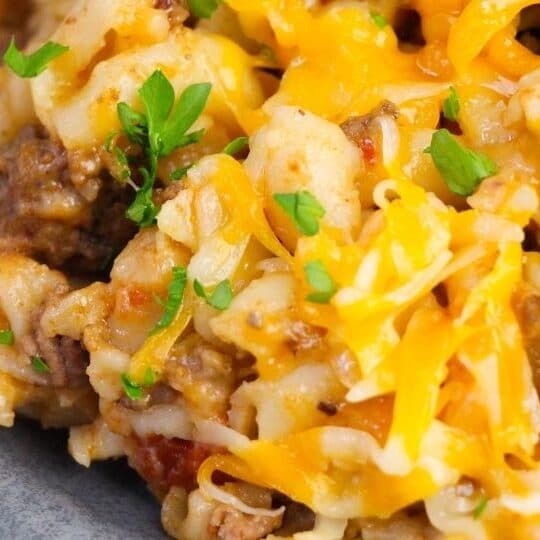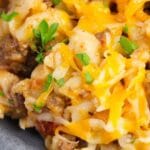 Serve up this crock pot hamburger helper for dinner. This is a ground beef cheeseburger macaroni, that is similar to the famous Hamburger Helper you might have grown up eating. Learn how to make hamburger helper at home.
A hamburger and macaroni dish that is kid friendly. Pair with some veggies, salad, and ring that dinner bell. A hands-off weeknight dinner that is super simple. Another easy dinner idea is a crockpot whole chicken.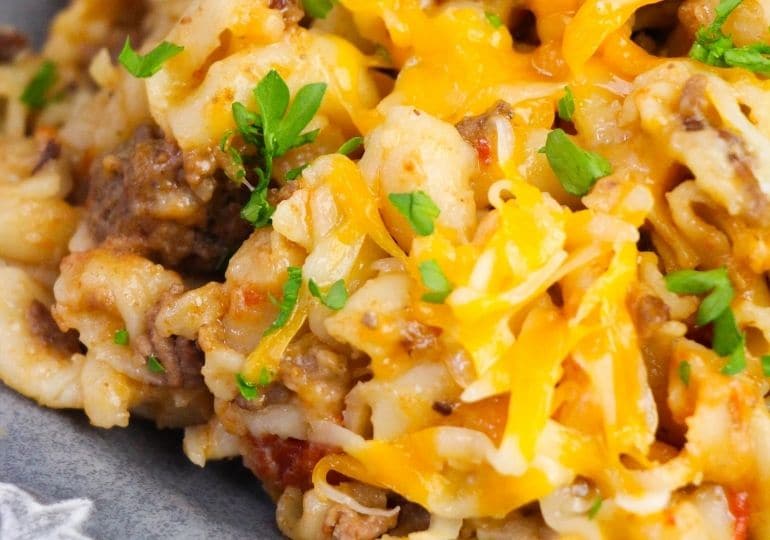 We ate a lot of Hamburger Helper's as a kid. Now, as a parent I don't really make them, but on occasion I do make this homemade Hamburger Helper and my family enjoys it.
Seasoned ground beef, tender pasta, cheesy goodness in each bite.
This Hamburger Helper Recipe Is…
Affordable – Need a dinner to feed your crew, but don't have a ton of money to spend? A budget friendly ground beef recipe, that everyone can enjoy.
Easy Prep – Crockpot ground beef recipe that is a set and forget type of recipe. Hands-off approach for cooking so great for beginner cooking.
Slow Cooks – Make it in the morning and then walk away till dinner time.
Cook Pasta in Crock Pot – You can cook your pasta in the crock pot. Just place it in at the end of cooking like the recipe is directed! No need to dirty another pot.
Healthier Than Boxed Version – This crockpot hamburger recipe is a bit healthier than the boxed Hamburger Helper, as it contains less sodium. My family loves it. My son always asks for seconds.
Ingredients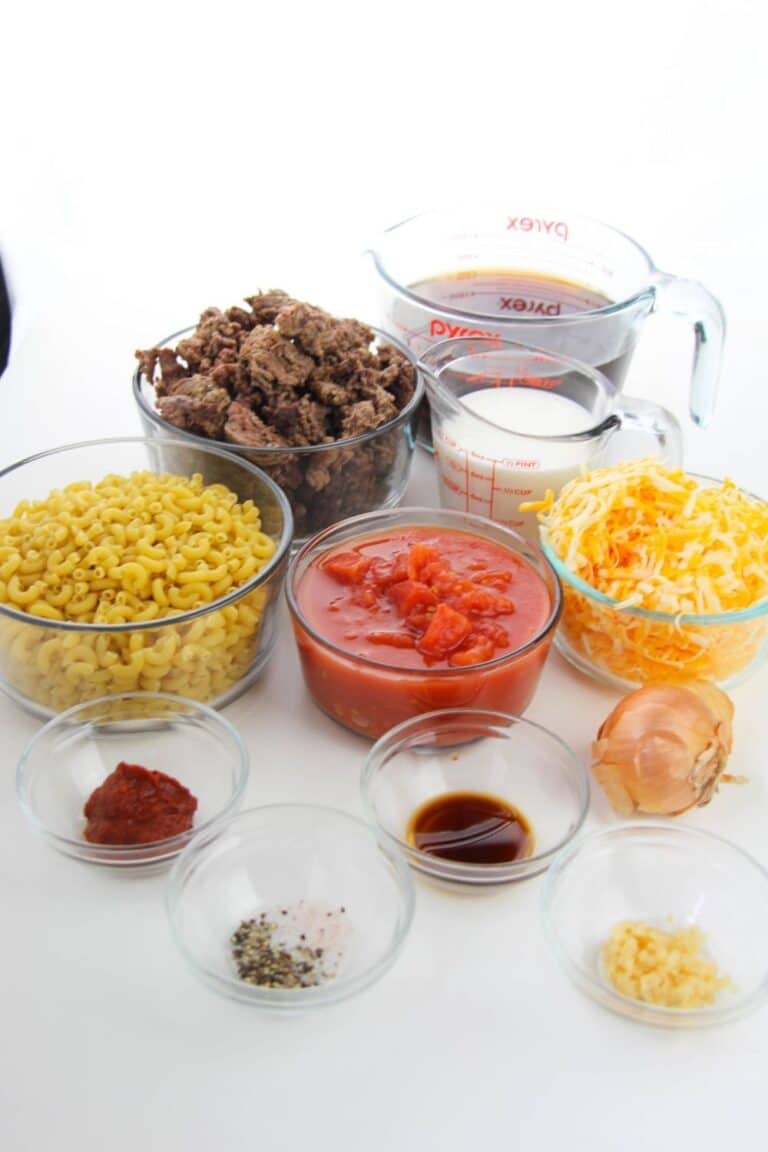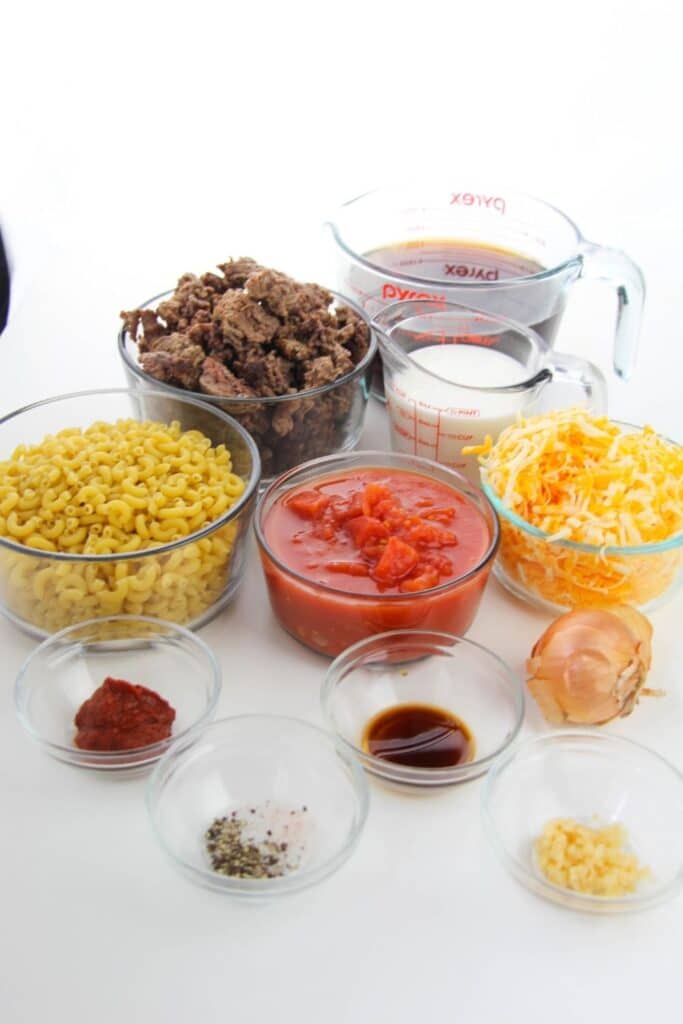 Ground Beef
Beef Broth
Elbow Macaroni
Onion
Garlic
Tomato Paste
Salt & Pepper
Worcestershire Sauce
Crushed Tomatoes
Milk
Shredded Cheese
How to Make
Step 1: Start by cooking your ground beef until it is crumbled and no longer pink. Drain off any excess grease.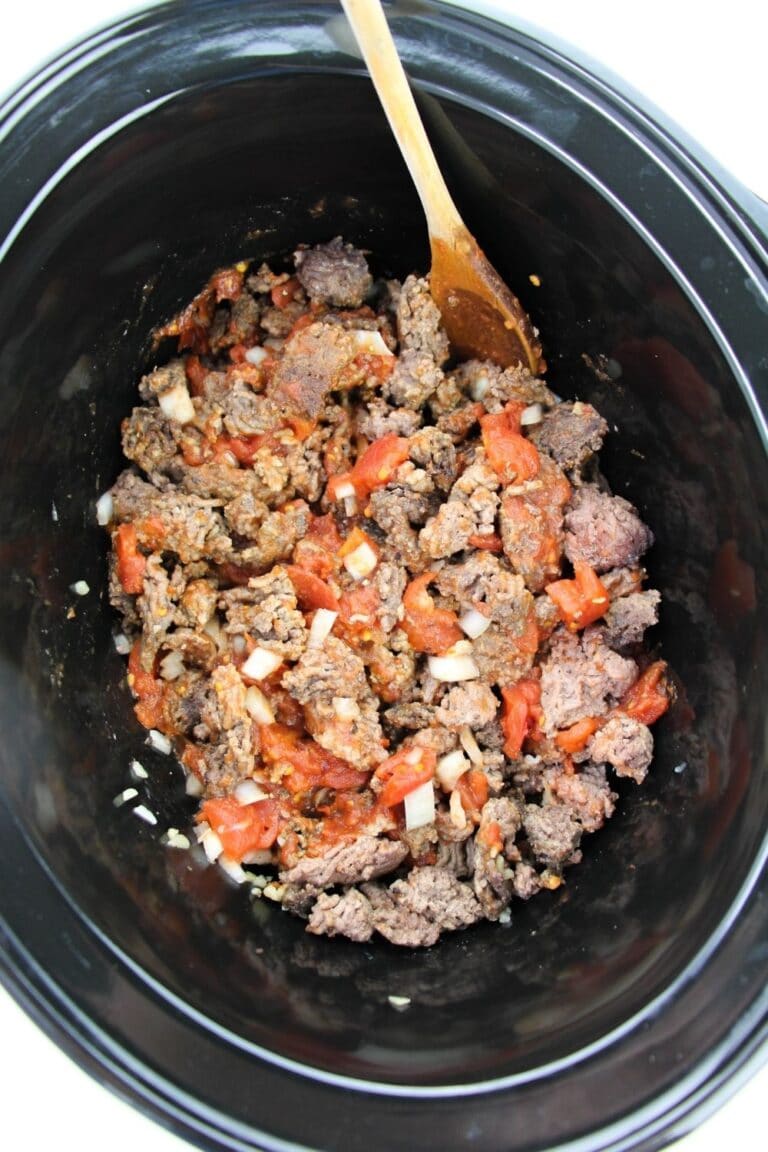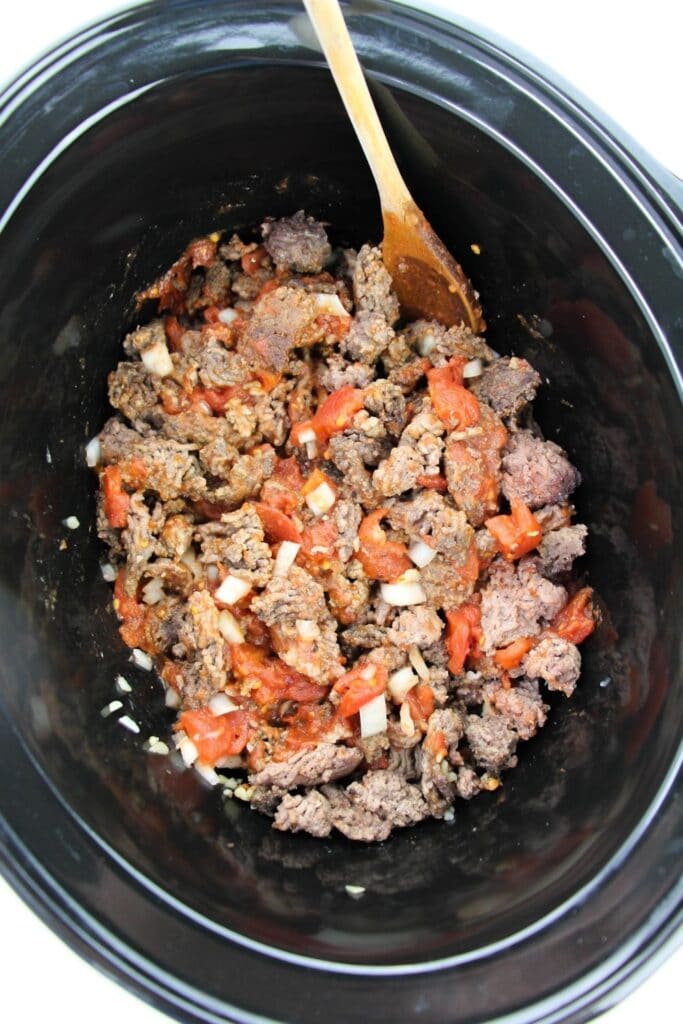 Step 2: Place ground beef, onion, garlic, salt, pepper, tomato paste, Worcestershire sauce and tomatoes in the crock pot. Stir to combine.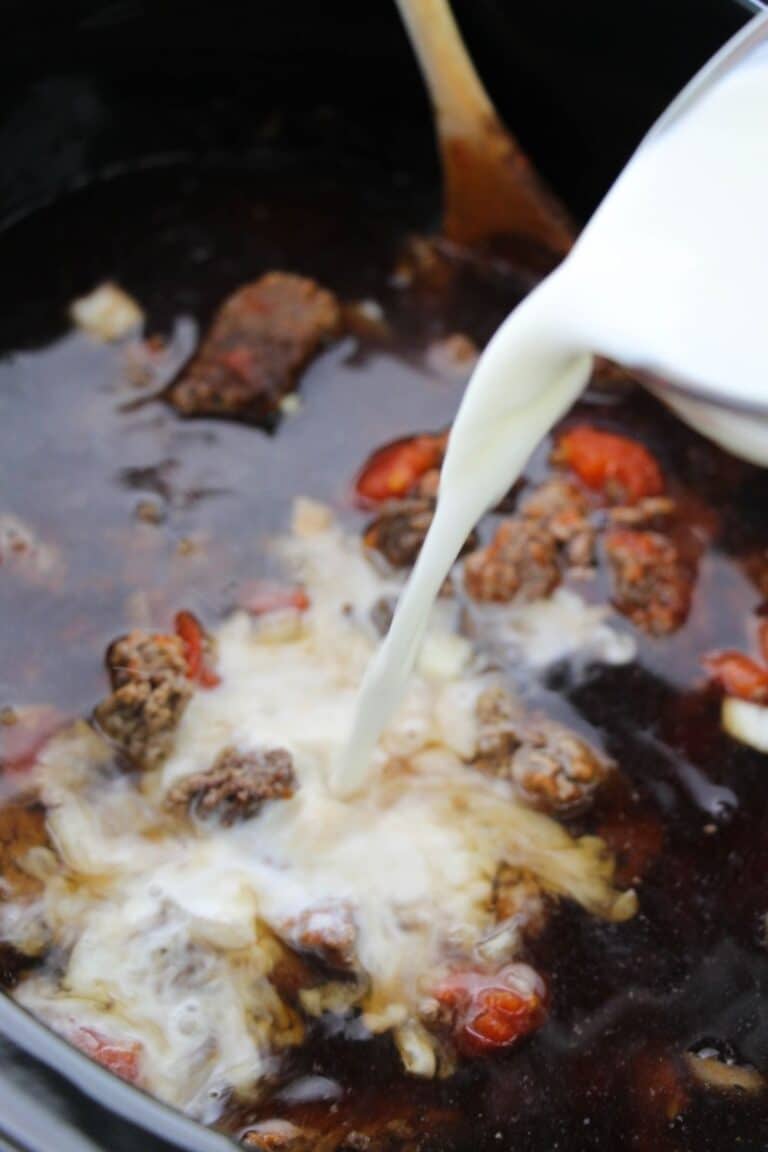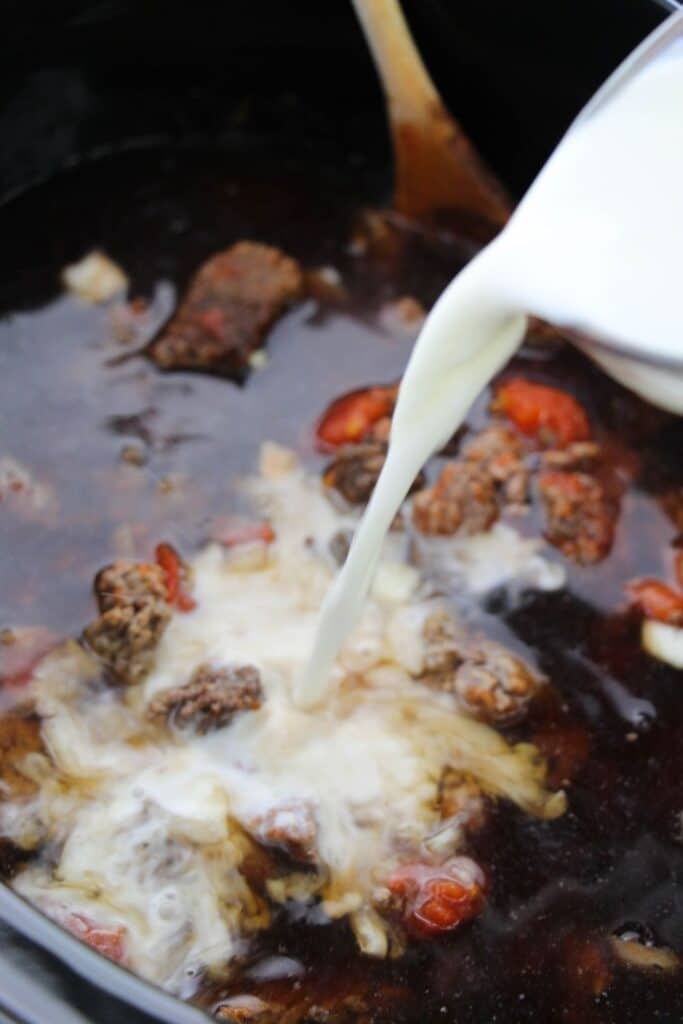 Step 3: Now, stir in the beef broth and milk and stir one more time. Place lid on the crock pot, and cook on high for 3 hours.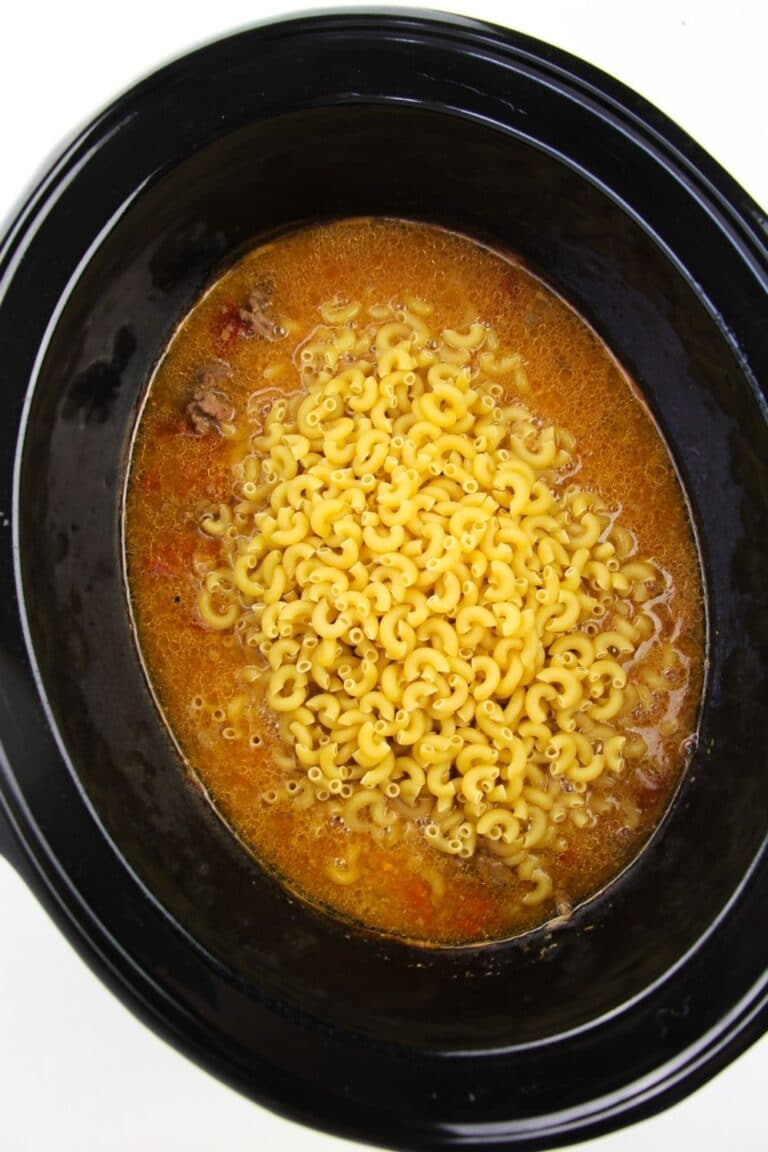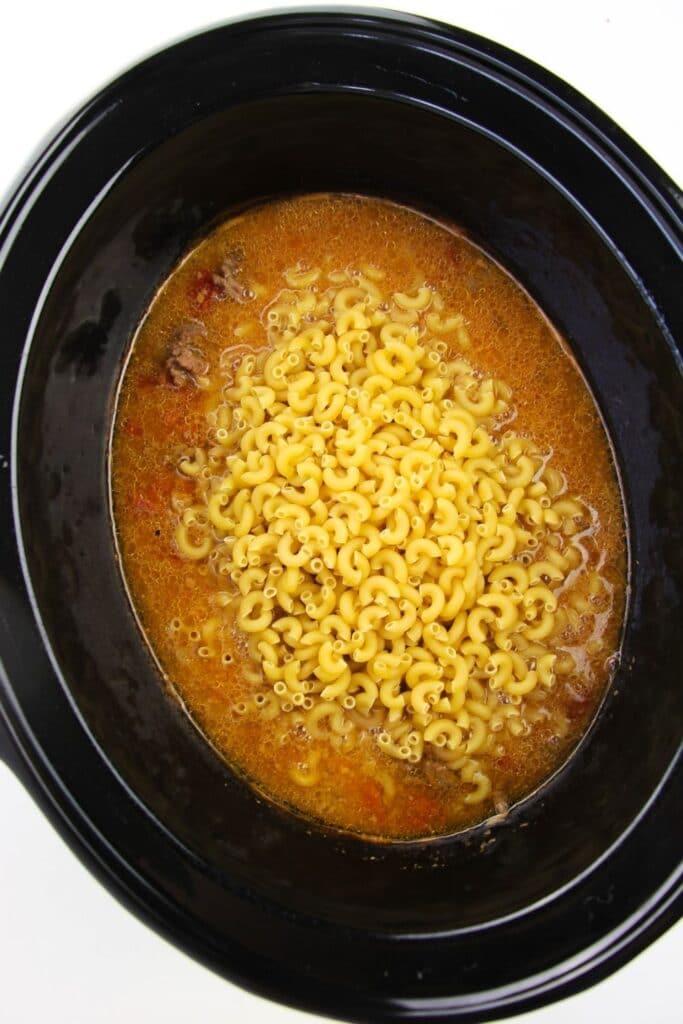 Step 4: 20 minutes before you are done, toss in the elbow pasta, and stir well, making sure it is fully emerged. Then place lid on and continue to cooking.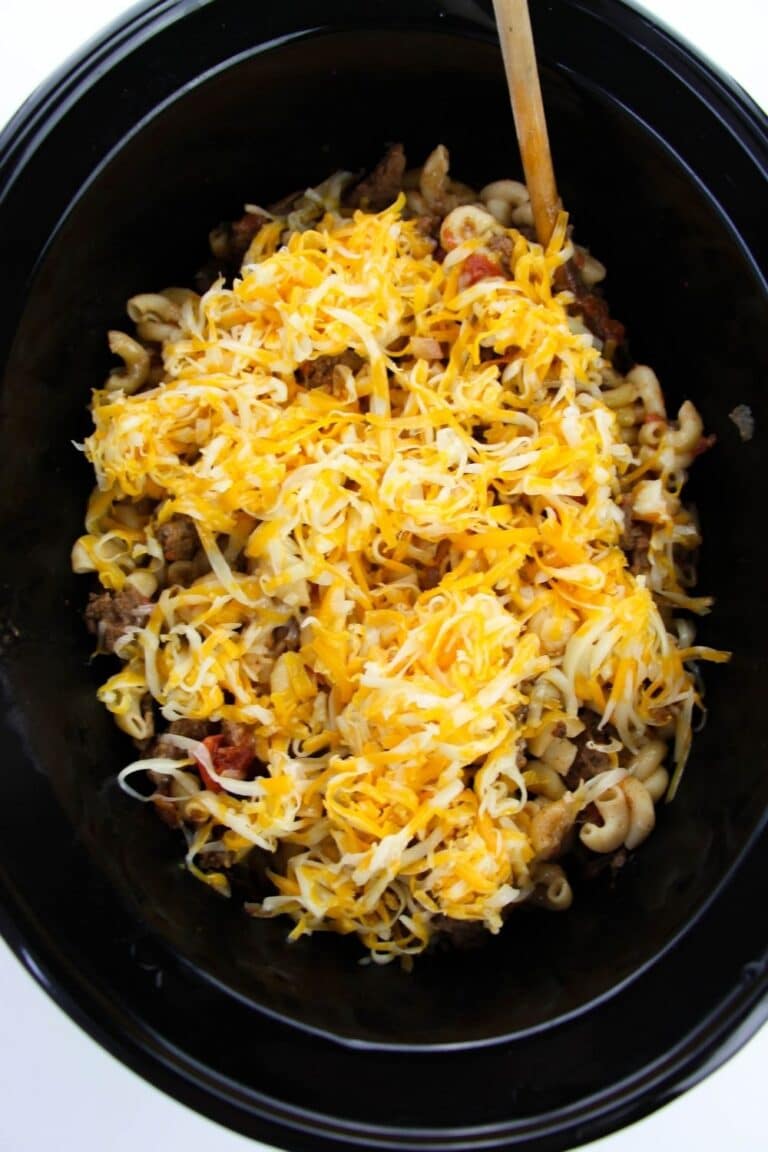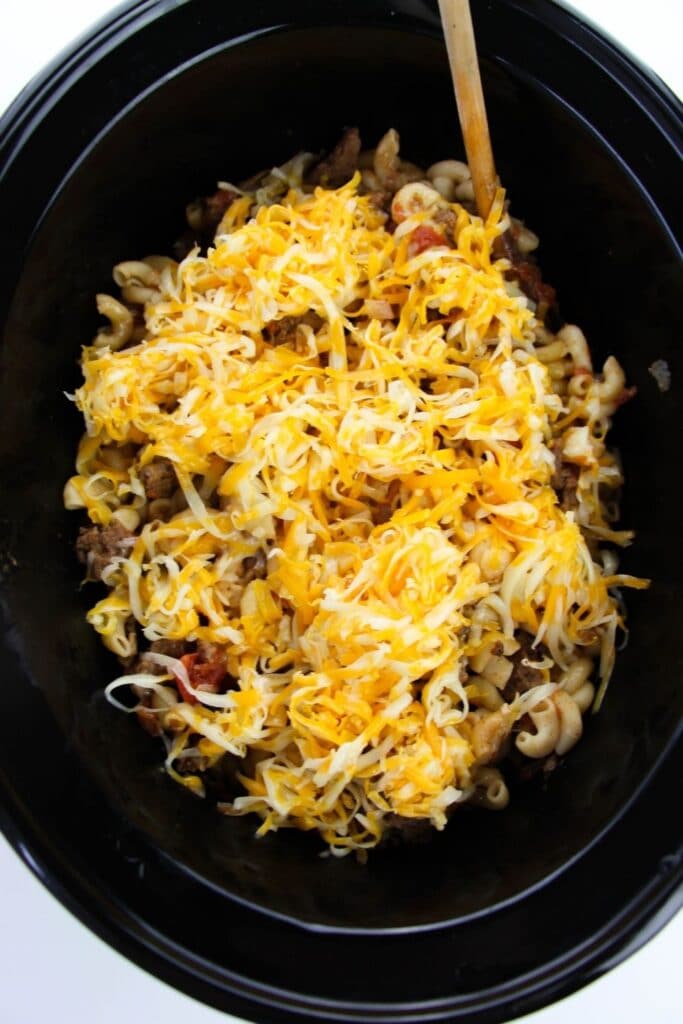 Step 5: Check pasta after 20 minutes, and when done, sprinkle the Hamburger Helper mixture with shredded cheese and serve.
Recipe Note: Feel free to use any style of shredded cheese. Shredding off the block works best, as pre-shredded cheese has extra starch added and can become gooey or stringy.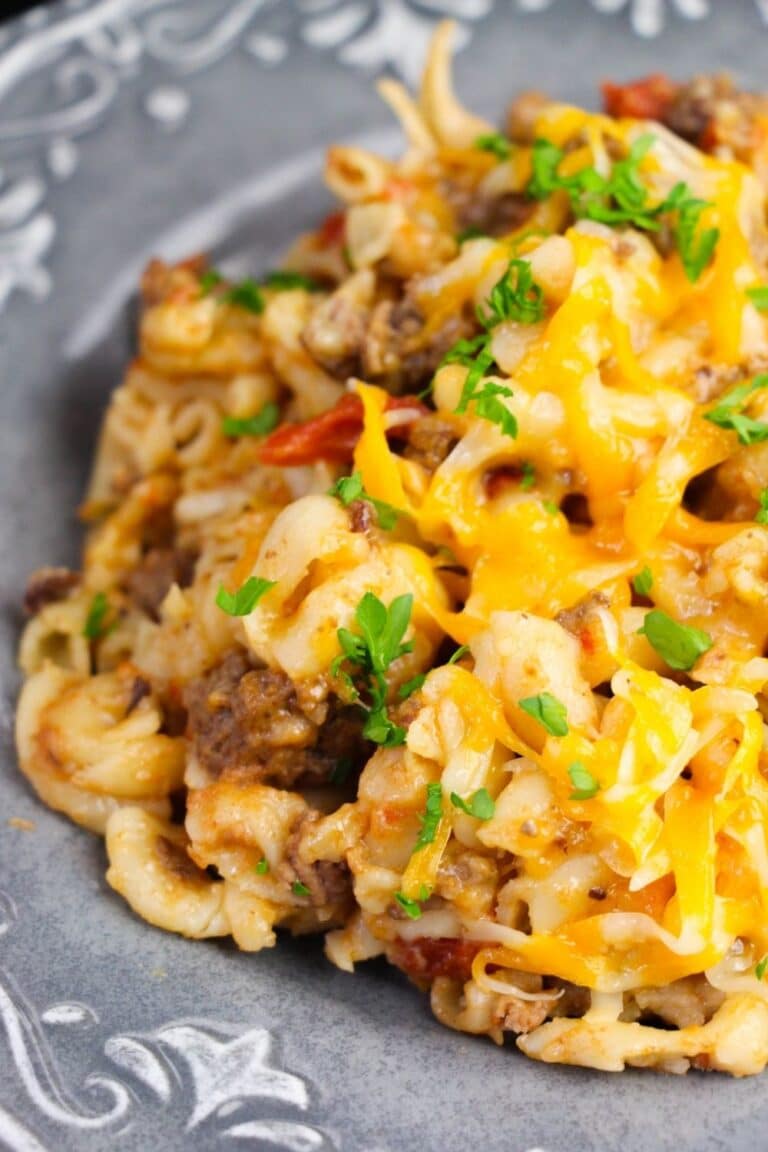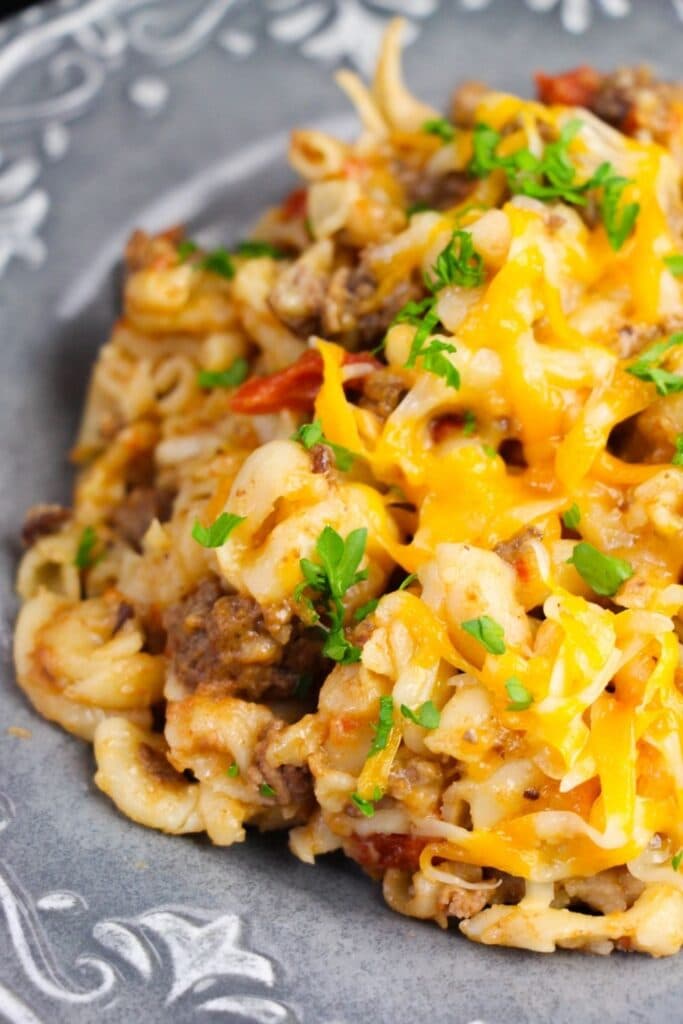 Storage
Refrigerate: This recipe does make quite a bit of cheeseburger macaroni. If you do not eat it all, simply store in a container in the fridge for 3-4 days. Then you can warm up in the microwave, or oven.
If you heat up the pasta in the oven, cover the dish with foil, to prevent the pasta from drying out.
Freezing: You are welcome to freeze any leftovers you have. Just know once you thaw the pasta it will become softer in texture. So, the overall texture will be different but the flavor will be there.
Expert Tips and Variations
You can use other smaller pasta if you don't have elbow. Bow-tie, shells, etc. work well.
If you want swap ground beef with ground turkey or chicken.
Swap the shredded cheddar cheese with a bit of Velveeta cheese for extra creaminess to this pasta.
Add in some taco seasoning to this slow cooker hamburger helper for a taco twist.
Heat up things with a few splashes of hot sauce.
You can cook on low heat if you want instead of high.
Add a dollop of sour cream on top!
FAQs
Is hamburger helper healthy?
Store bought Hamburger Helper has a lot of sodium, as it is a processed food. You will find making it homemade, helps to make it a "healthier" version. But with the pasta, and other ingredients just remember all things in moderation.
Can you cook ground beef in a crock pot?
If you own a crock pot that has a saute feature, you can brown your ground beef right in the crock pot. Otherwise, you need to pre-cook the meat before cooking in the crockpot.
What goes good with hamburger helper?
Reaching for a salad, vegetable side, or even dinner rolls is a great option. I tend to do veggies and salad to help balance out the heaviness of the ground beef crock pot recipe.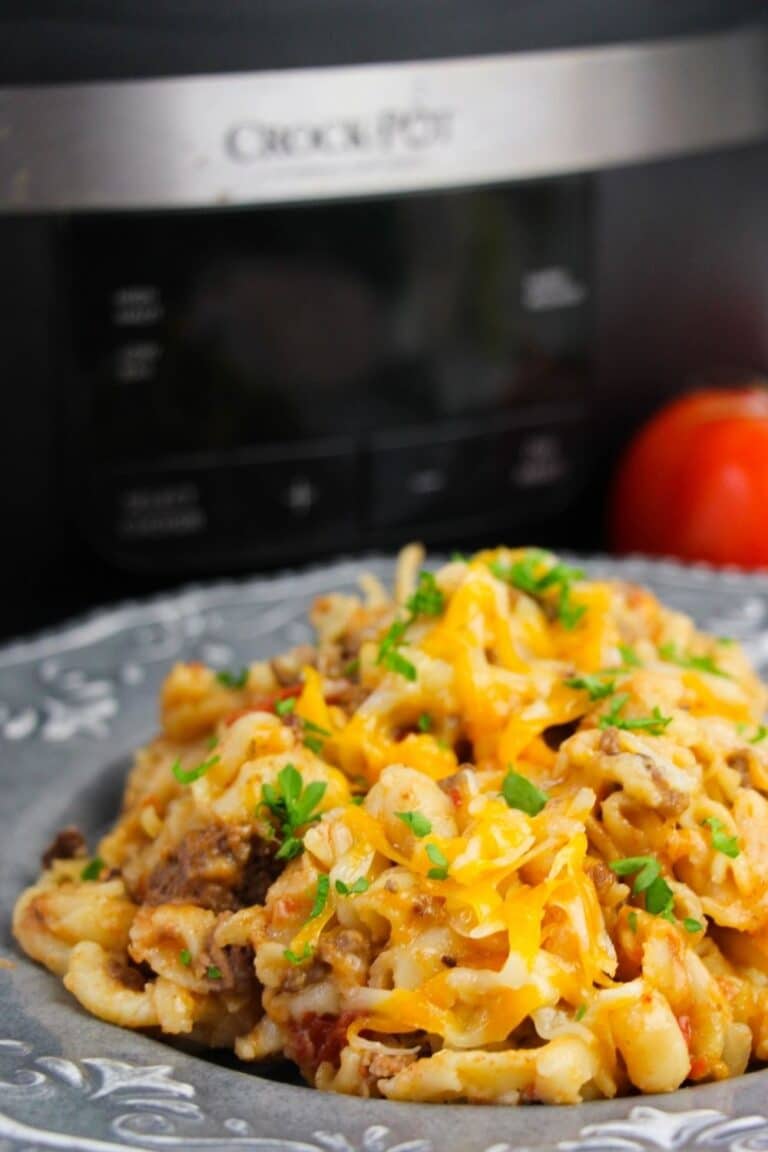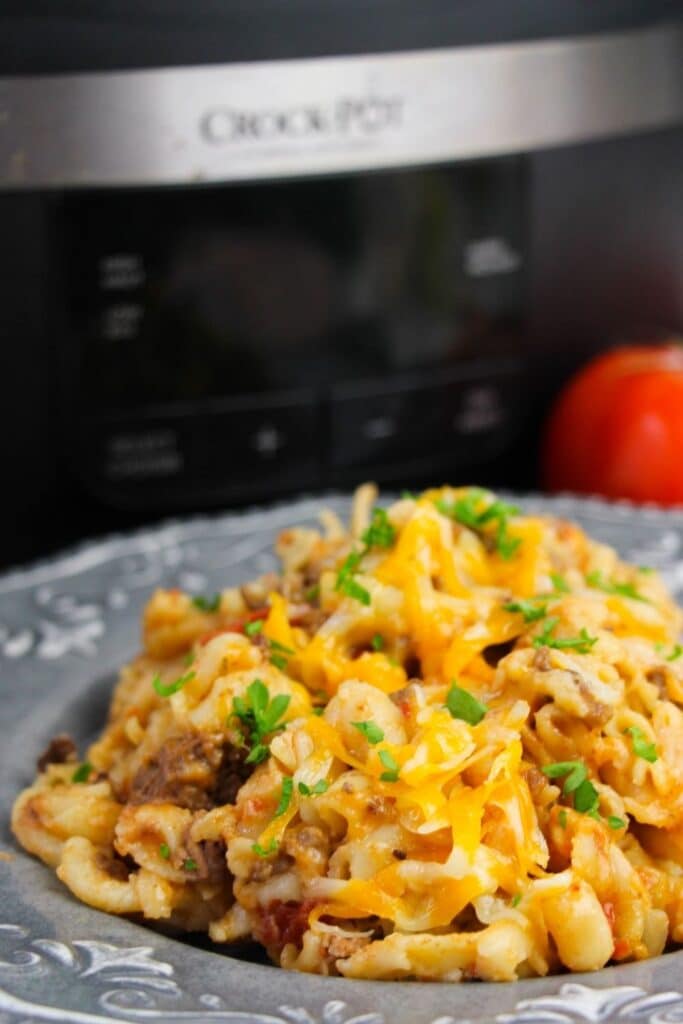 More Easy Comfort Food Recipes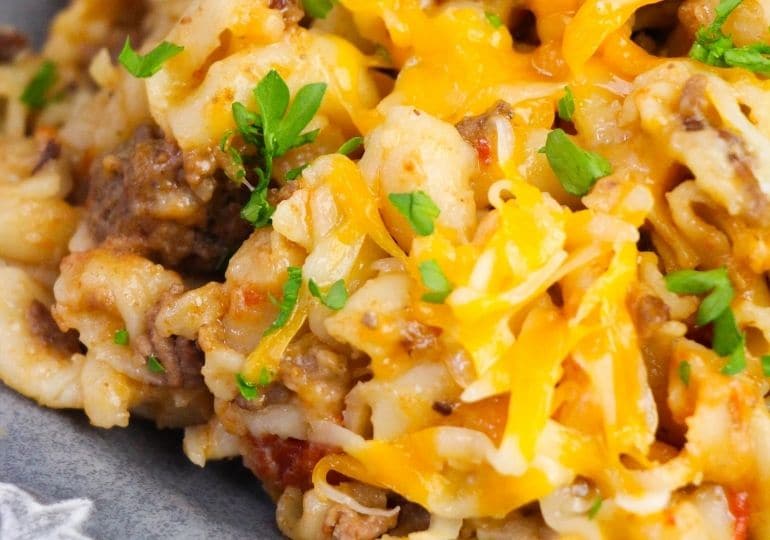 Crock Pot Hamburger Helper Recipe
Servings 8 servings
Looking for an easy dinner? This Crock Pot Hamburger Helper is a homemade Hamburger Helper recipe that is ground beef, cheese, and pasta. A cheeseburger pasta dinner the whole family will enjoy. Kid approved recipe!
Ingredients
1 pound Ground Beef cooked
1 Small Onion diced (approximately 1/2 cup)
1 teaspoon Minced Garlic
Salt and Pepper to taste
1 Tablespoon Tomato Paste
2 teaspoons Worcestershire Sauce
One 14.5oz can Crushed Tomatoes with juice
4 cups Beef Broth
1 cup Milk
3 cups Elbow Noodles uncooked
1 1/2 cups Shredded Cheese
Instructions
Once the meat is fully cooked and ground pour into the crock pot. Add in the salt, pepper, onion, garlic,  tomato paste, Worcestershire sauce and tomatoes. Stir well to combine.

Now pour in the milk and beef broth and stir once more.

Place the lid on your crock pot and cook on high for 2 1/2 hours.

At 2 1/2 hours you will want to stir in your elbow macaroni shells. Stir to make sure all the pasta is submerged in liquid.

Place lid on and cook until the 3 hour mark. Check to make sure the pasta is fully cooked. If not, return the lid and cook another 5-10 minutes.

Add cheese and serve up this homemade Hamburger Helper cheeseburger macaroni!
Notes
Ground Beef – You can use ground turkey or even chicken as an alternative to the beef. I love using my meat chopper to break up the hamburger as I cook it.
Cheese – I recommend shredding your cheese off a block, or use Velveeta cheese. Packaged shredded cheese has extra starches, that can give your dish a gooey and stringy if you use pre-packaged.
Storage: Store your leftovers in the refrigerator for 3-4 days. Heat up in the microwave or even the oven. If you heat in the oven, cover with aluminum foil, to prevent it from drying out.
Pasta – If your pasta isn't done just place the lid back on and cook until it is ready.
Also you can use any small pasta for this recipe, bow-tie, shells, etc. Feel free to use any pasta you have on hand.
Nutrition
Serving: 1gCalories: 300kcalCarbohydrates: 20gProtein: 21gFat: 15gSaturated Fat: 7gPolyunsaturated Fat: 6gTrans Fat: 1gCholesterol: 59mgSodium: 655mgFiber: 2gSugar: 6g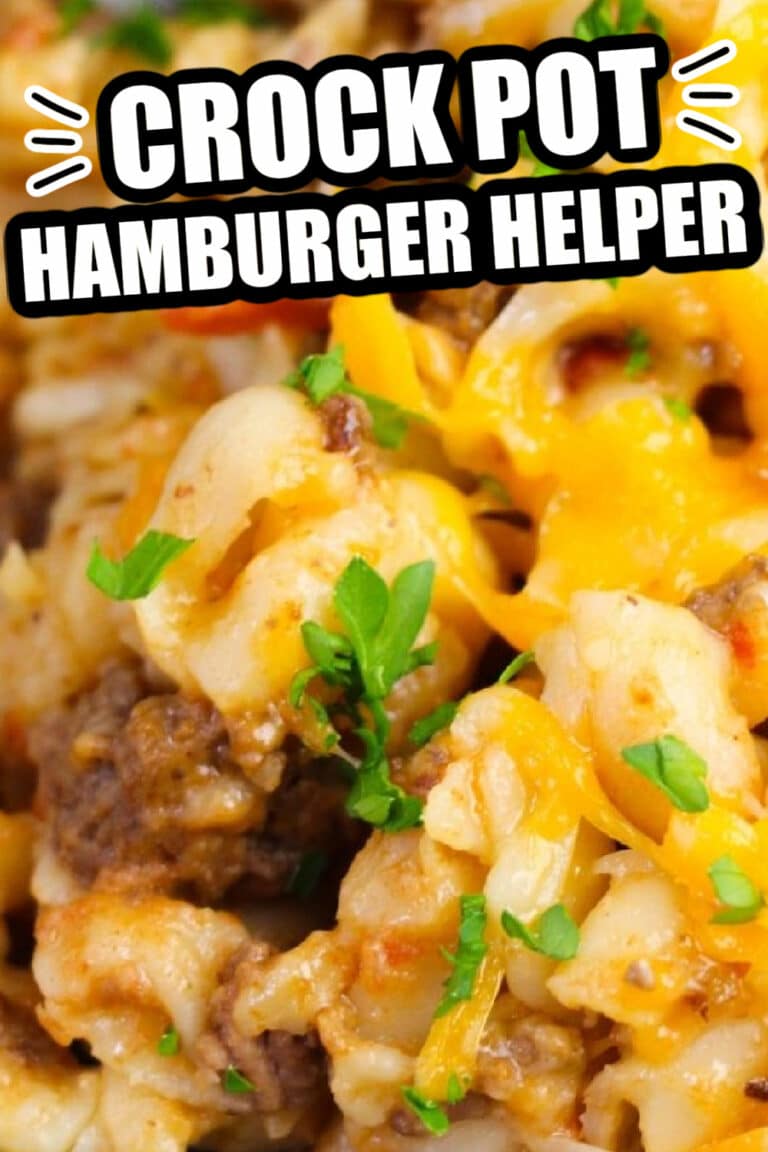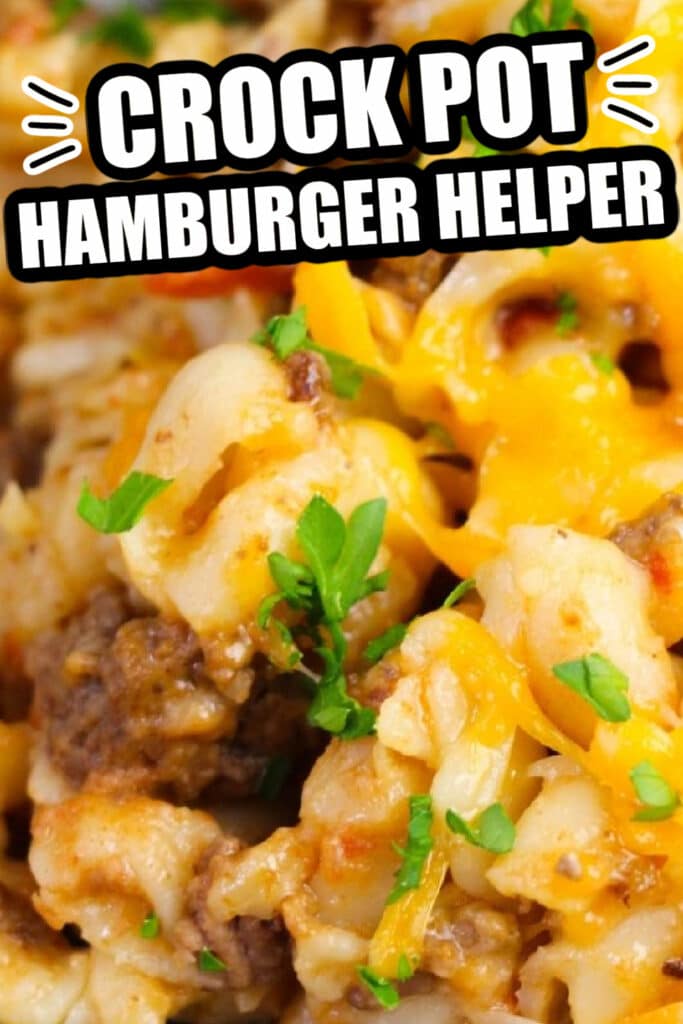 Reader Interactions