Instant Pot Duo Crisp air fryer pork chops are an almond crusted pork chop that is crispy coated, and air fried to golden perfection. The perfect pork chop recipe for any night of the week.
Almond Parmesan Air Fryer Pork Chops are a quick and easy recipe your family will love. The pork chops cook quickly and come out juicy and flavorful.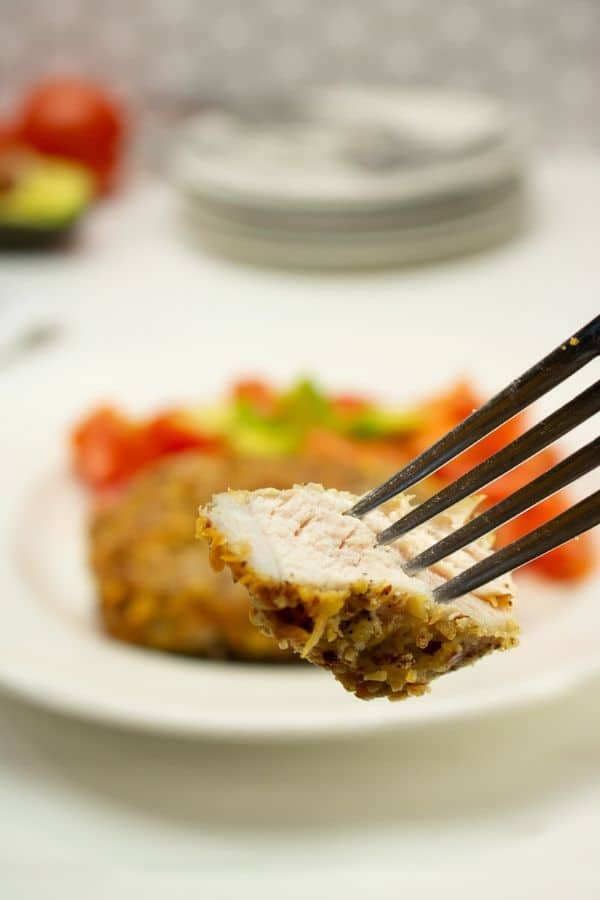 Read on for all the tips and steps for these air fryer pork chops. Dinner will be ready in no time.
Skip the mess of fryer these in a pan on your stove. There's no need to heat up the house with the oven or go through the wait. These pork chops can leave your fridge and be on the table in less than 30 minutes.
These Air Fryer Pork Chops Are…
Gluten Free
4 Ingredients Needed
Can be made in Instant Pot Duo Crisp, Ninja Foodi Or Any Air Fryer
Easy to Make
Family Friendly Pork Recipe
Ingredients Needed
Pork Chops
Almonds
Parmesan Cheese
Egg
Salt and Pepper (optional)
How to Make Air Fryer Pork Chops
Step 1: First, preheat your air fryer or Duo Crisp Air Fryer Lid to 360 degrees.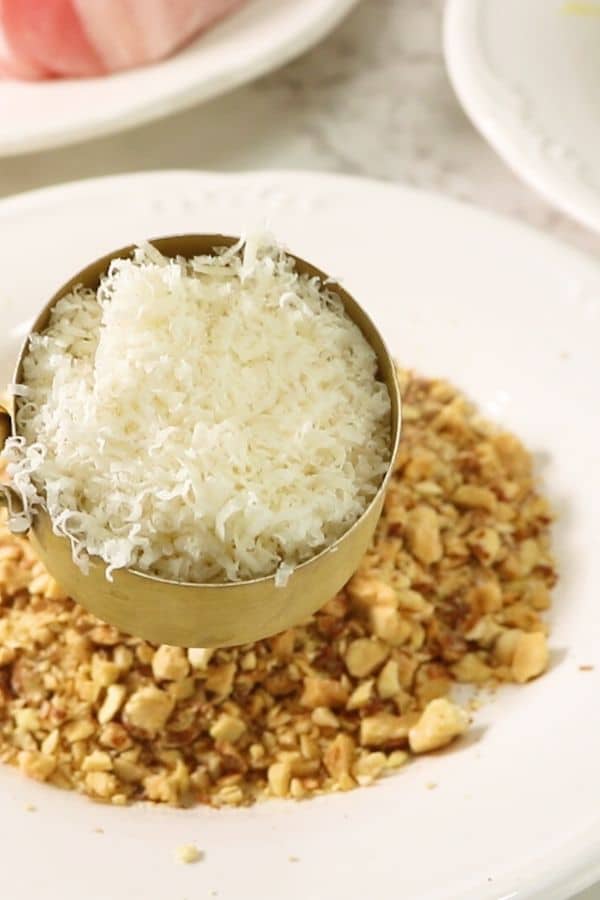 Step 2: Next, you want to prepare the coating dip for the pork chops. You want to combine the ground almonds and parmesan cheese on a plate.
Step 3: In a separate shallow dish or bowl, break the egg and whip it with a fork. Season chops with salt and pepper if you would like.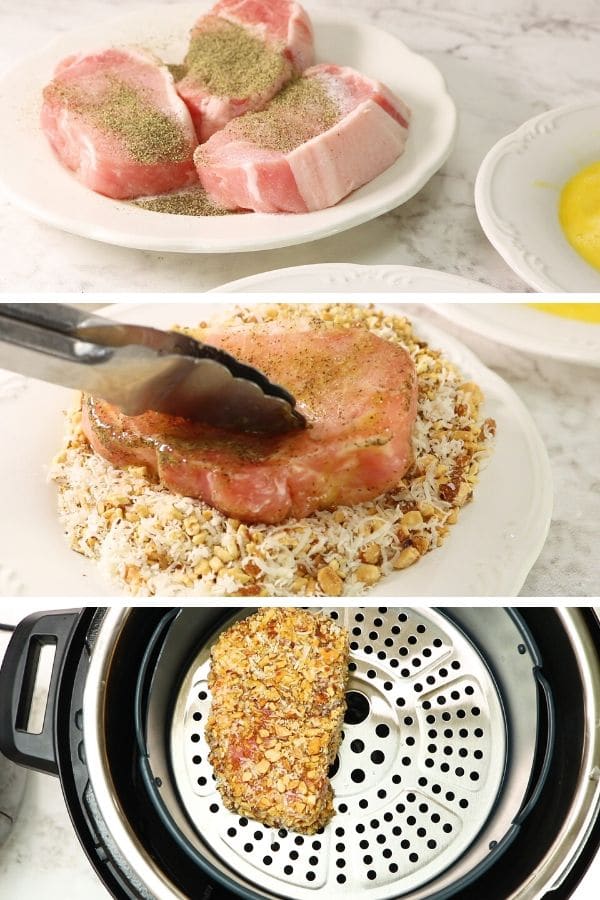 Then take your pork chops. It might be helpful to pat them with a paper towel so they pick up the egg. Then dip them in the egg mixture one at a time. You want to move them around to be sure you cover all the surfaces with the egg.
Step 4: Then take the chop and put it directly in the almond parmesan mixture. Repeat until all four chops are prepped.
Step 5: Place the chops in the air fryer where they should cook to an internal temperature of 145 degrees. This should take about 14 minutes. Flip the chops halfway through their cooking.
Once you remove the chops, be sure to let them rest for about 10 minutes, so you don't lose all the juices.
This is a great Instant Pot Duo Crisp Recipe for beginners. A low carb pork chops.
Storage
You can store your leftover pork chops in the fridge in an airtight container for 3-4 days.
To warm up you can warm up in the microwave or even the oven. This is a great pork recipe to meal prep for easy grab and go lunches.
Expert Tips
Here are tips for this pork chops in air fryer recipe.
Take your whole almonds and drop them in your food processor to get the finely ground almonds that will adhere to the pork chop. If you do not own a food processor, you can use the pulse feature on a blender, or even crush up with a mallet in a sealable bag.
Feel free to alter your seasoning used, to change the flavor of the pork chops.
You can use bone-in pork chops. Just adjust the cook time accordingly.
These are great Ninja Foodi Pork Chops as well! Simple steps for a tasty dinner. Use the same directions, just use crisping lid.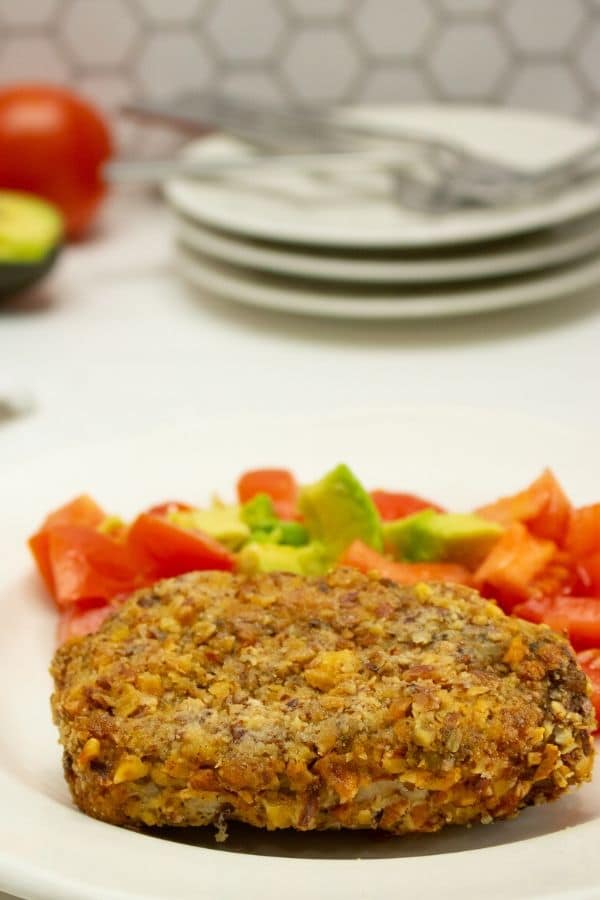 What to Serve With
Wondering what to make with the pork chops. How about jalapeño cheddar cornbread and a quick and easy vegetable salad.
Visit my blog page often for more recipe ideas, tips, and food inspiration.
FAQs
How long to cook pork chops in air fryer?
The boneless pork chops in air fryer I used took around 14 minutes to cook. But depending on the thickness of your chops the cook time will vary. The key is to make sure the internal temperature reaches 145 degrees Fahrenheit.
Why do pork chops have to rest once cooked?
It is a great idea to let your pork chops to rest on the counter for 5-10 minutes once cooked, to help prevent your chops from drying out. If you go and slice into them fresh from air fryer, it will release all the moisture and dry out your pork.
Is this recipe keto friendly?
This pork recipe is keto friendly and a low carb option. It is made with crushed almonds and parmesan cheese, so the crust is crunchy, crispy, but no excess carbs needed.
Can I use cooking spray on an air fryer basket?
Cooking spray and air fryers don't go together well. It is said that cooking spray can eat the enamel off some brands of air fryer baskets. Use an oil mister where you pour your oil in and then spritz your trays.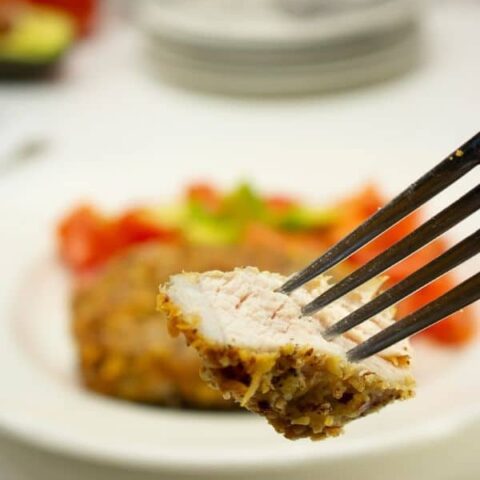 Air Fryer Pork Chops
Air Fryer Pork Chops that are breaded in crushed almonds and parmesan. Make in your Instant Pot Duo Crisp or air fryer. This pork chop air fryer recipe is low carb, gluten free, and a dinner everyone can enjoy.
Ingredients
4 pork chops (mine were 3/4" thick)
1 egg beaten
1/2 cup coarsely ground almonds
1/2 cup parmesan, grated
Salt and Pepper
Instructions
Beat your egg in a bowl and set aside.
In a bowl mix your crushed almonds and parmesan.
You will season our pork chops with salt and pepper then dip your raw pork chop into the beaten egg mixture.
Dip your egg soaked pork chop in the almond mixture and coat all sides of the pork chop.
Place your pork chops in Instant Pot Duo with crisper lid or air fryer. You will turn your air fryer to 360 degrees and cook for 7 minutes.
Flip the pork chops over and cook another 7 miutes. Use a meat thermometer to ensure your pork reaches 145 degrees internal temperature. Depending on thickness of your pork chop the cook time will vary.
Once your pork chops are done, remove and place on a plate. Cover with aluminum foil and let them rest for 5-10 minutes.
Notes
This recipe was testing in the Instant Pot Duo Crisp Air Fryer mode and a standard air fryer.
Pork Chops: Depending on the thickness of the chops the cook time will vary. If you use bone-in pork chops that will affect the cooking time as well. Pork needs to reach 145 degrees internally to be fully cooked.
Let Pork Rest: Once you remove the pork chops from air fryer, allow it to rest for 10 minutes. This will lock in juice and ensure your pork is moist.
Storing: Store any leftover pork chops in the fridge for 3-4 days. Reheat how you would like, or eat them cold.
Batch Cook: If you need batch cook the pork chops, make sure not to overlap the chops, or you will not get an even cook on the pork.
Recommended Products
As an Amazon Associate and member of other affiliate programs, I earn from qualifying purchases.
Nutrition Information:
Yield:

4
Serving Size:

1
Amount Per Serving:
Calories:

502
Total Fat:

31g
Saturated Fat:

9g
Trans Fat:

0g
Unsaturated Fat:

18g
Cholesterol:

189mg
Sodium:

489mg
Carbohydrates:

6g
Fiber:

2g
Sugar:

1g
Protein:

49g