Pan seared breaded pork chops that finish off baking in the oven. An easy crispy pork chop that is juicy on the inside and crunchy coated on the outside.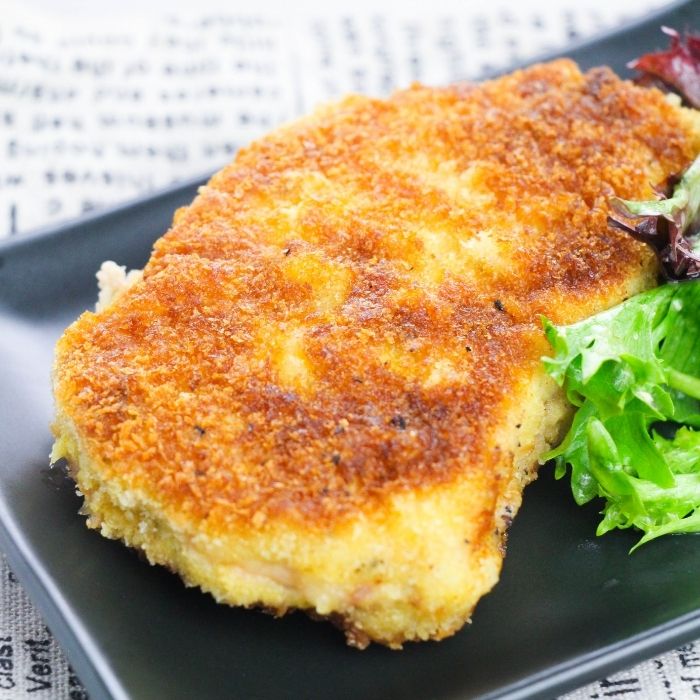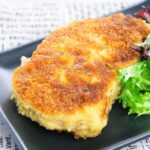 Breaded pork chops are a crispy bread crumb coated pork chop that is juicy and flavorful when you bite into it. A perfectly cooked breaded baked pork chop! 
If you are a fan of pork, this easy pork chop recipe is a great item to add into your dinner rotation. Dredge, pan fry to crisp up the breading and finish off your pork in the oven.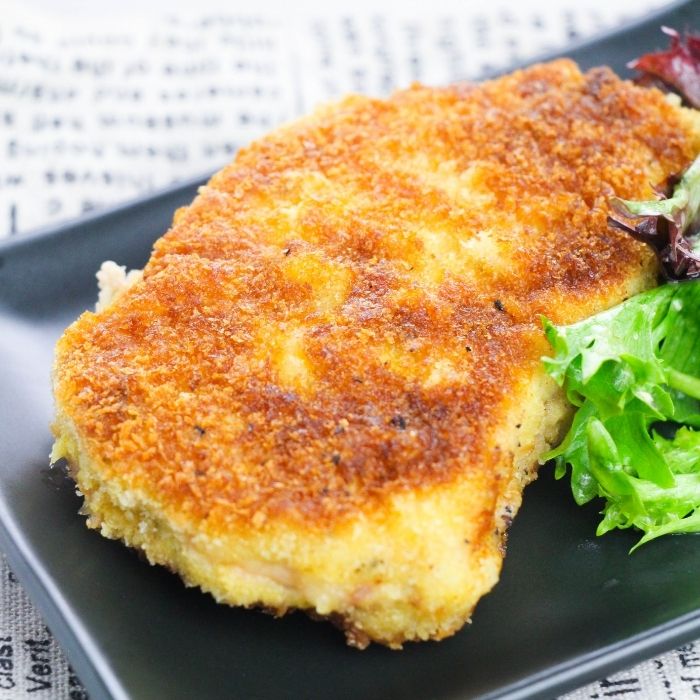 Also try my almond crusted pork chops for another way to cook them.
This crispy pork chop is great paired with some tangy cucumber and onions, broccoli salad, or even a side of coleslaw.
This Pork Chops Recipe Is…
30 minute dinner 
Made with boneless pork chops
Simple ingredients
Kid friendly recipe
Crispy coated pork chops
Ingredients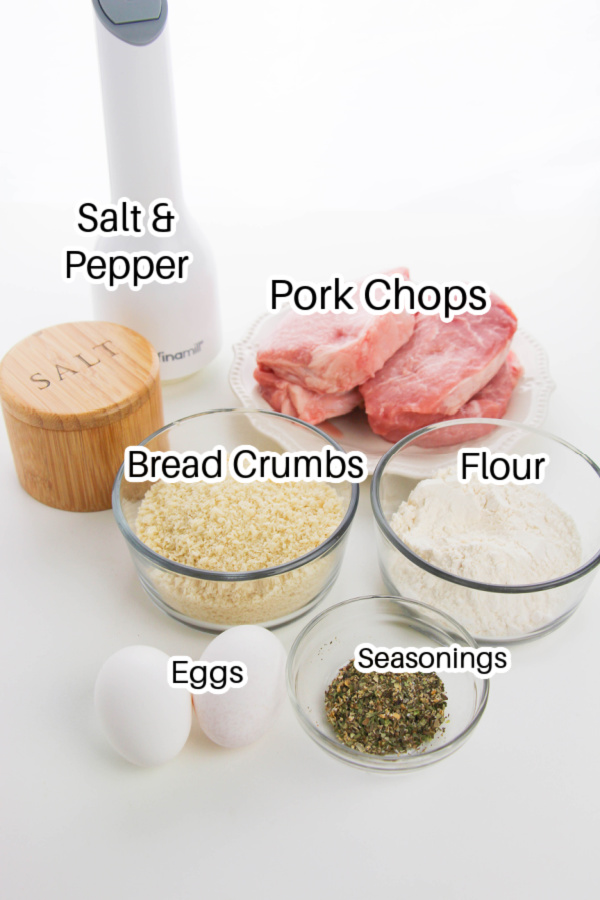 Pork Chops – I recommend using boneless as I did. But you are very welcome to use bone-in the cook time will be longer.
Bread crumbs – I used Panko but a classic bread crumb works.
Flour
Salt & Pepper
Eggs
Seasoning
How to Make Breaded Pork Chops
Here is all you need for this breaded baked pork chops recipe!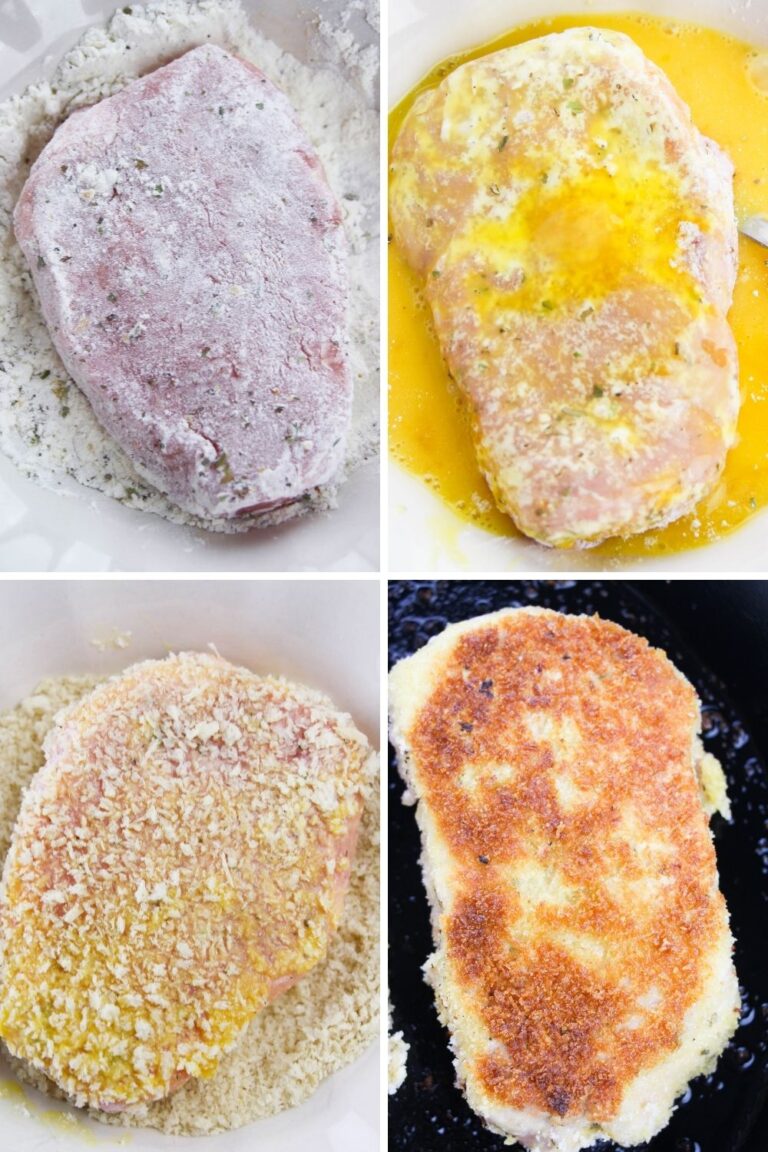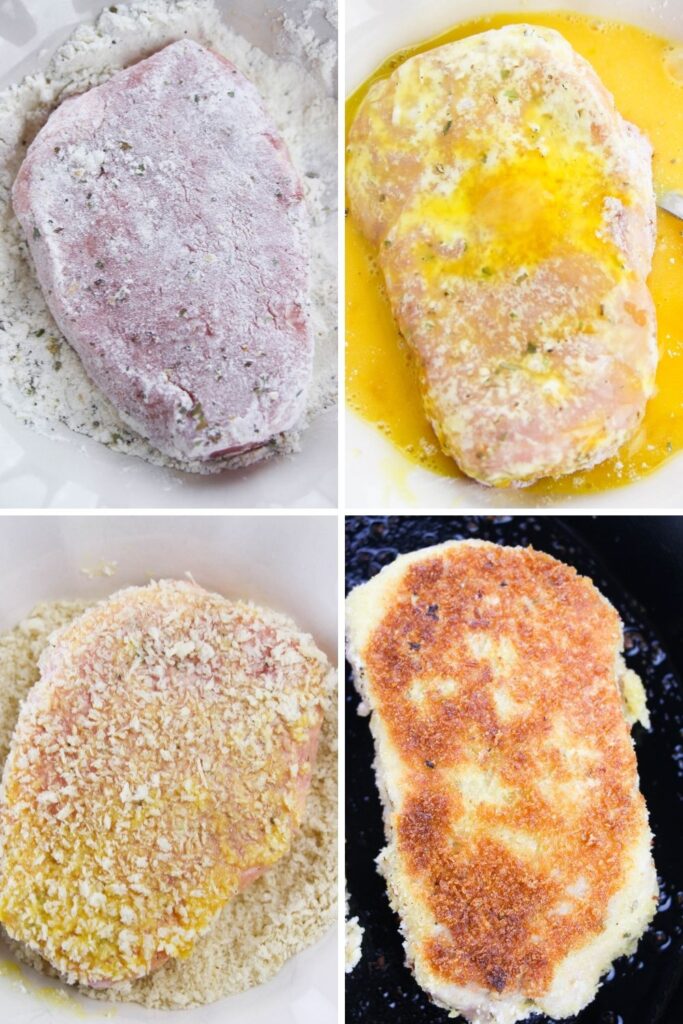 Step One: Preheat And Prep Pan
Start by preheating your oven, and prepping a rimmed baking sheet. 
Step Two: Season Dry Ingredients
Add your dry ingredients and spices to the flour mixture in a bowl. Mix well. 
Step Three: Egg Wash
Whisk your egg and place in a shallow bowl. Then pat dry your pork chops with a paper towel. 
Note: I used about 1 inch boneless pork chops. Adjust cook time depending on thickness.
Step Four: Dredge and Heat Oil
Heat the oil in the skillet. Once hot dip raw pork chops in the egg mixture then the flour mixture. Coat both sides of the pork chop.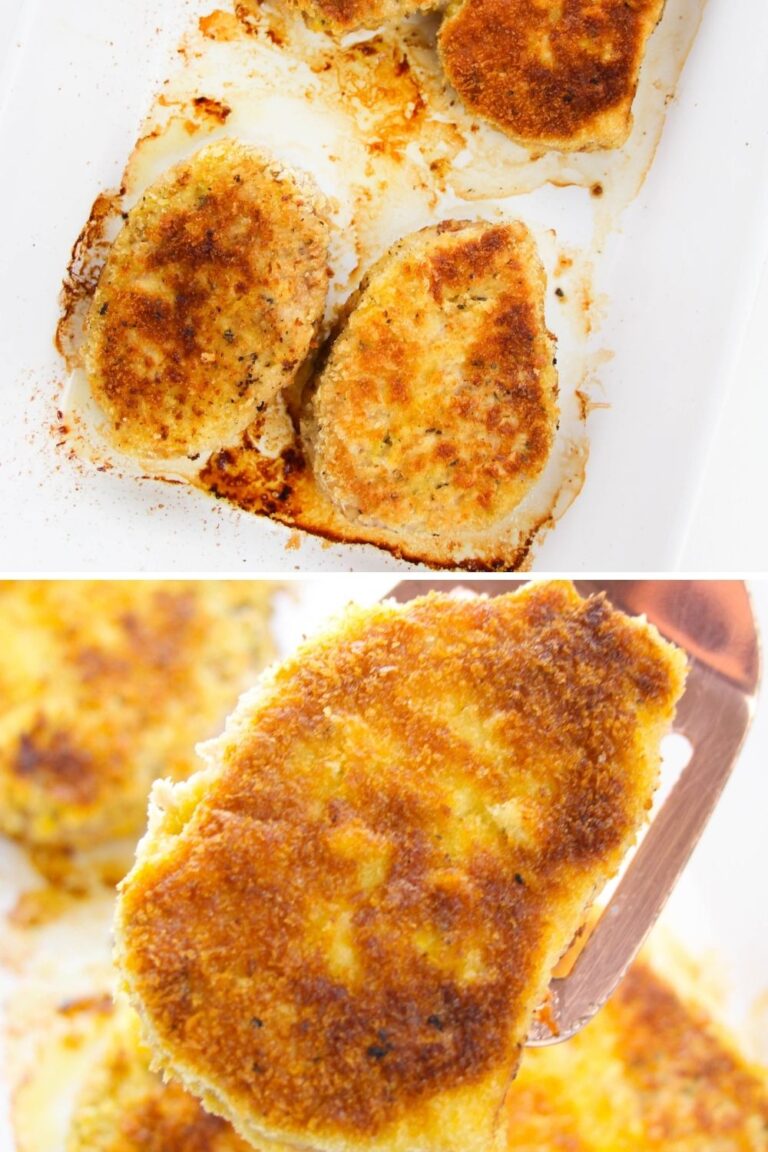 Step Five: Sear Pork and Bake
Pan sear to create a crust and then flip and repeat for the other side. Then remove from pan and bake in the oven as directed below. 
Pair these oven baked pork chops with your favorite sides and ring that dinner bell.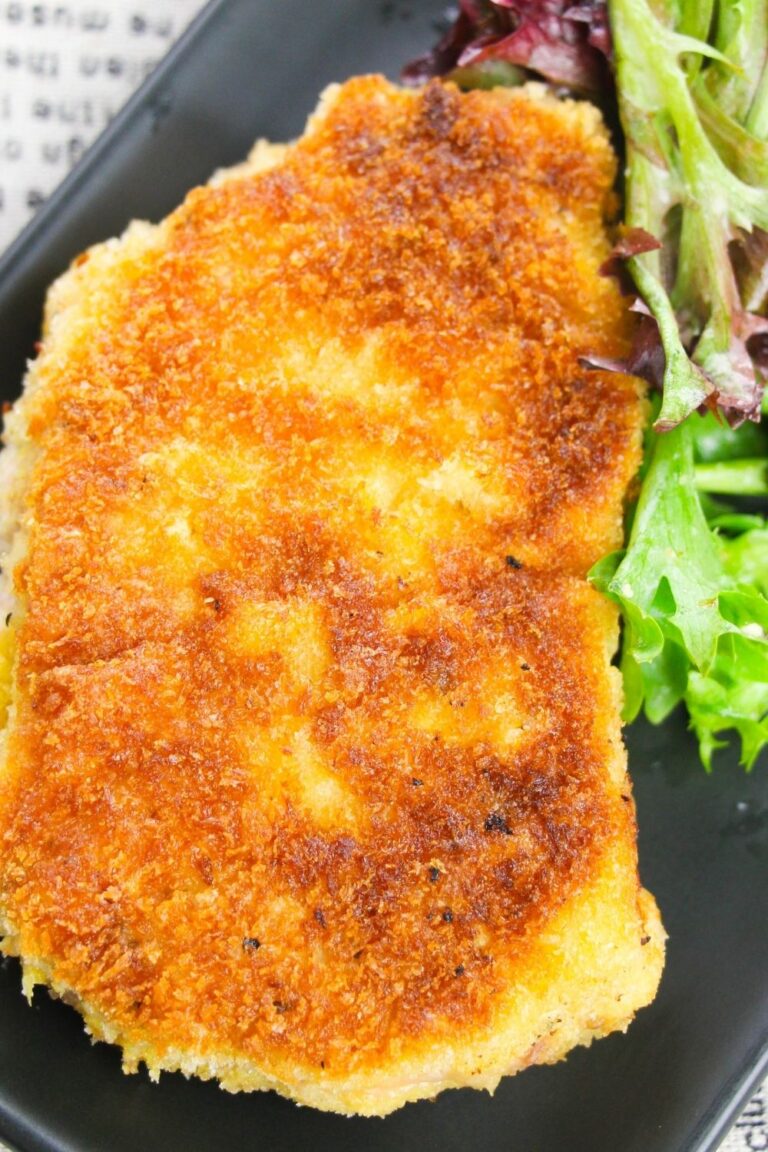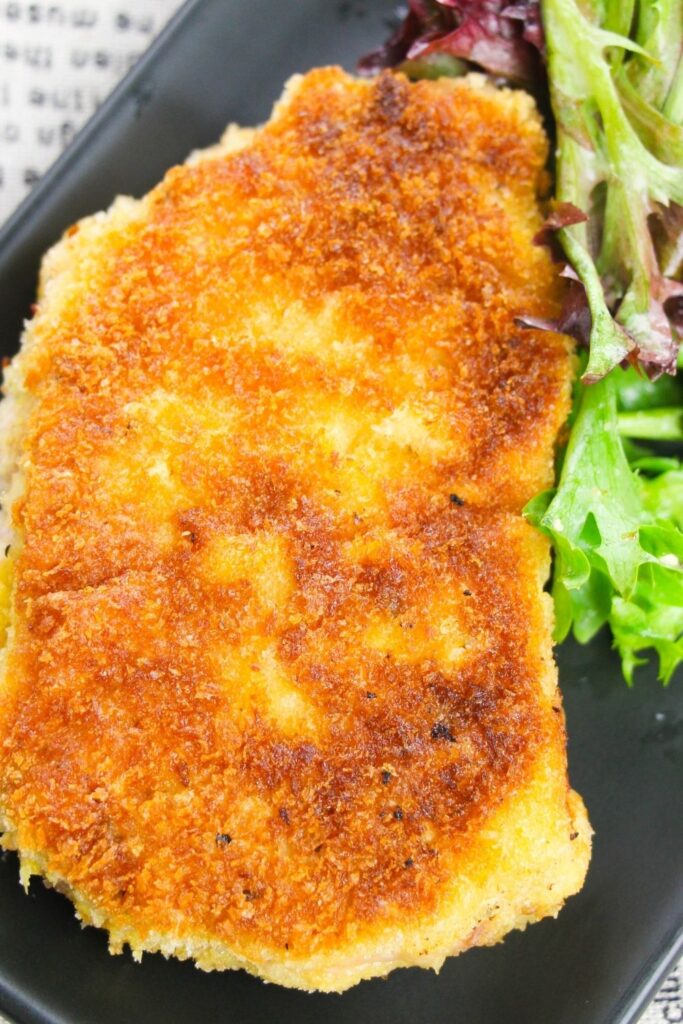 How to Know Pork Chops Are Fully Cooked?
Grab a meat thermometer and make sure the internal temperature reads 145 degrees Fahrenheit.
Depending on the thickness of your chops the cook time in the oven will vary. So if the pork is not fully cooked when the time is up, return to oven and cook longer.
Storing Leftovers
Refrigerate – Take any of your breaded pork chops and place in an airtight container. Refrigerate for 2-3 days.
Freezing – Feel free to freeze any leftovers as well. Freeze in a freezer friendly bag or container for 1-3 months. Thaw in fridge overnight, then reheat.
How To Reheat Leftovers
Microwave – Place pork on a plate and heat for 45 seconds or so. Then carefully flip over and heat for additional time until your chops are warmed.
Oven – Preheat the oven to 350 degrees Fahrenheit. Place pork chops in a single layer and then bake for 10-15 minutes or until warmed up.
The oven method will give you a crunchier texture on the breading. Where as the microwave can be a bit soggy,
Pro Tips For Success
If you want to use regular breadcrumbs go ahead. Panko breadcrumbs just have a bit more crunch.
Some recommend a little pink left in pork chops to ensure they are juicy.
Let the pork rest 5-10 minutes once you remove from the oven. This locks in the juices and prevents a dry chop!
Pan searing the chops at first helps to ensure you have a crunchy coating.
FAQs
A few common questions for making these baked breaded pork chops.
How do you cook pork chops with breadcrumbs?
Start by dipping pork chops in egg then dredge I. The breadcrumbs mixture. Pan sear in oil then finish the chops off in the oven. 
How do you get the breading to stick to pork chops?
Start with a whisked egg and then place in the breading. Then flip the pork over to dredge the other side. If you want extra breading then re-dip in egg followed by breading.
How to know if oil is hot in the  skillet to pan fry?
If it bubbles and crackles, the oil is ready. Or if you are deep frying, use a thermometer to ensure the oil is the right temperature. 
How long does it take to cook pork chops in the oven? 
Depending on temperature and thickness of pork chops will greatly alter the cooking time. I cooked at 425 degrees for 12-15 minutes.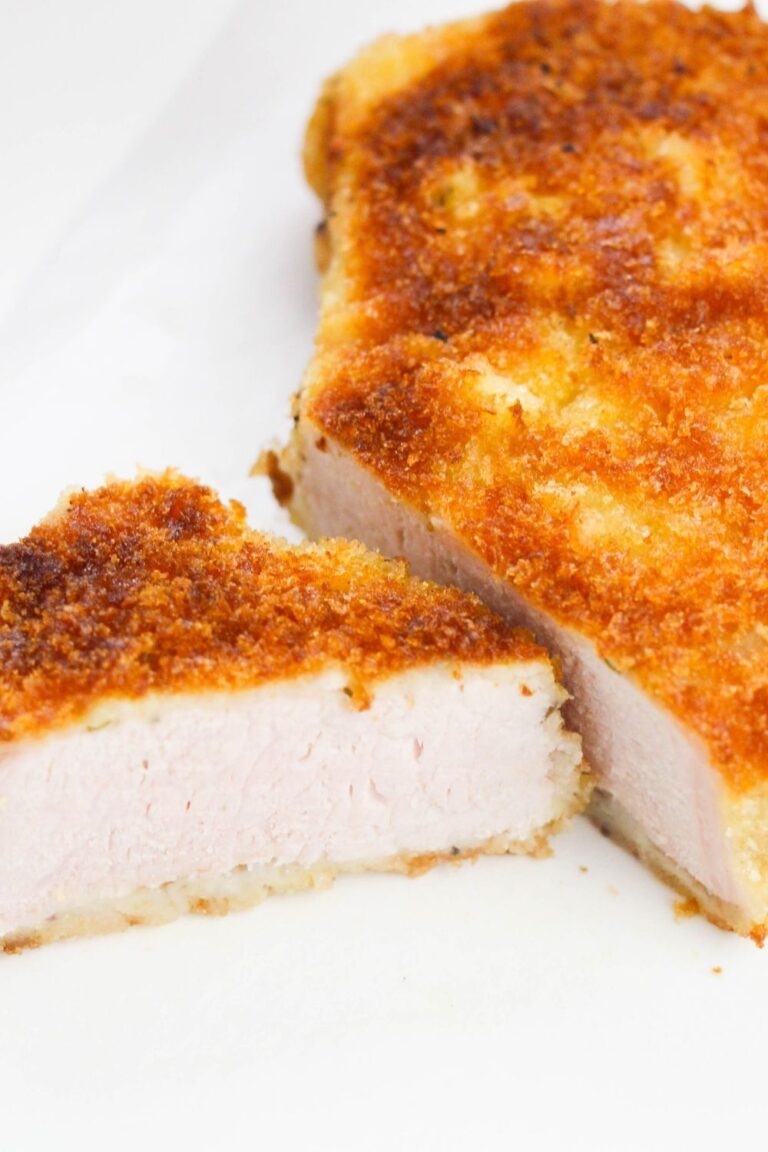 More Easy Dinners
Have you tried the recipe? If so, please leave a star ⭐️⭐️⭐️⭐️⭐️ rating in the recipe card below or drop a comment. Also stay in touch with me through social media by following me on Facebook, Pinterest, or My Facebook Group
Printable Recipe Card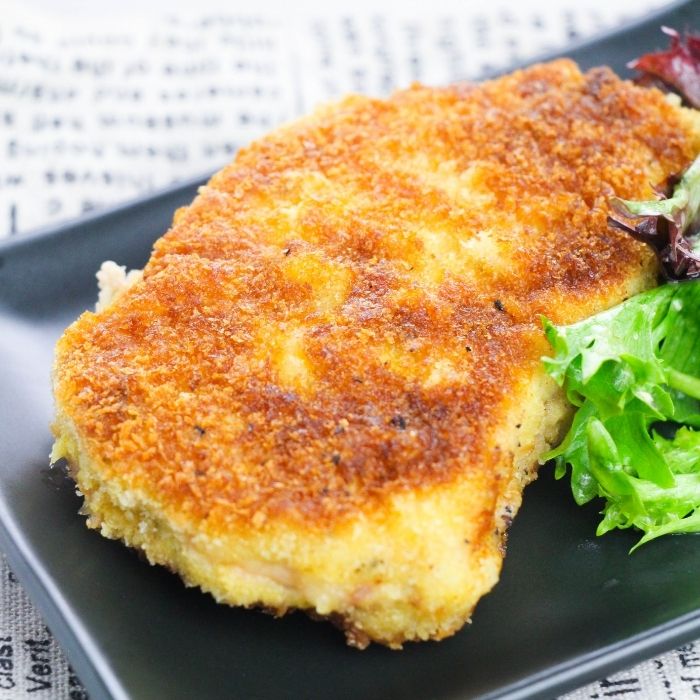 Crispy Breaded Pork Chops
Servings 4
Pan seared breaded pork chops that finish off baking in the oven. An easy crispy pork chop that is juicy on the inside and crunchy coated on the outside.
Ingredients
4 boneless pork chops mine were 1 inch thick
1/2 cup all purpose flour
1 tablespoon oil
Salt and Pepper to Taste
2 eggs whisked
¾ cup Panko bread crumbs
1 tablespoon Italian seasoning
½ teaspoon garlic powder
2 tablespoons Parmesan grated (optional)
Instructions
Preheat the oven to 425 degrees Fahrenheit. Line a rimmed baking sheet with parchment paper or foil. Set aside.

Next you will add your flour, bread crumbs, garlic powder, Italian seasoning, and salt and pepper in a shallow dish. Mix well.

In another bowl add eggs and mix with a whisk.

Heat your oil in a skillet on the stove over medium-high heat.

Pat pork chops dry then dip in the egg mixture. Next dip in the flour mixture, coating both sides.

When the oil in the skillet is hot place pork chops in skillet and cook for 1-3 minutes per side.

You only want to crisp up the coating, not fully cook the breaded pork chops.

Once chops are golden seared so a single layer on baking sheet.

Bake for 15-18 minutes or until the pork chops are at 145 degrees Fahrenheit, when checked with a meat thermometer.

Let your baked pork chops rest 5-10 minutes then serve!
Notes
Let Chops Rest – Letting your pork chops rest for 5-10 minutes once done helps to lock in juices.  This will give you a nice juicy chop.  Bread Crumbs – You can use regular breadcrumbs as well. Just if you use Italian flavor crumbs, do not add the Italian seasoning into the flour mixture.  Double Recipe – Feel free to make as many or as few pork chops as you would like. Just do a single layer of chops for frying and baking.
Nutrition
Serving: 1gCalories: 533kcalCarbohydrates: 28gProtein: 45gFat: 27gSaturated Fat: 8gPolyunsaturated Fat: 17gCholesterol: 198mgSodium: 427mgFiber: 2gSugar: 1g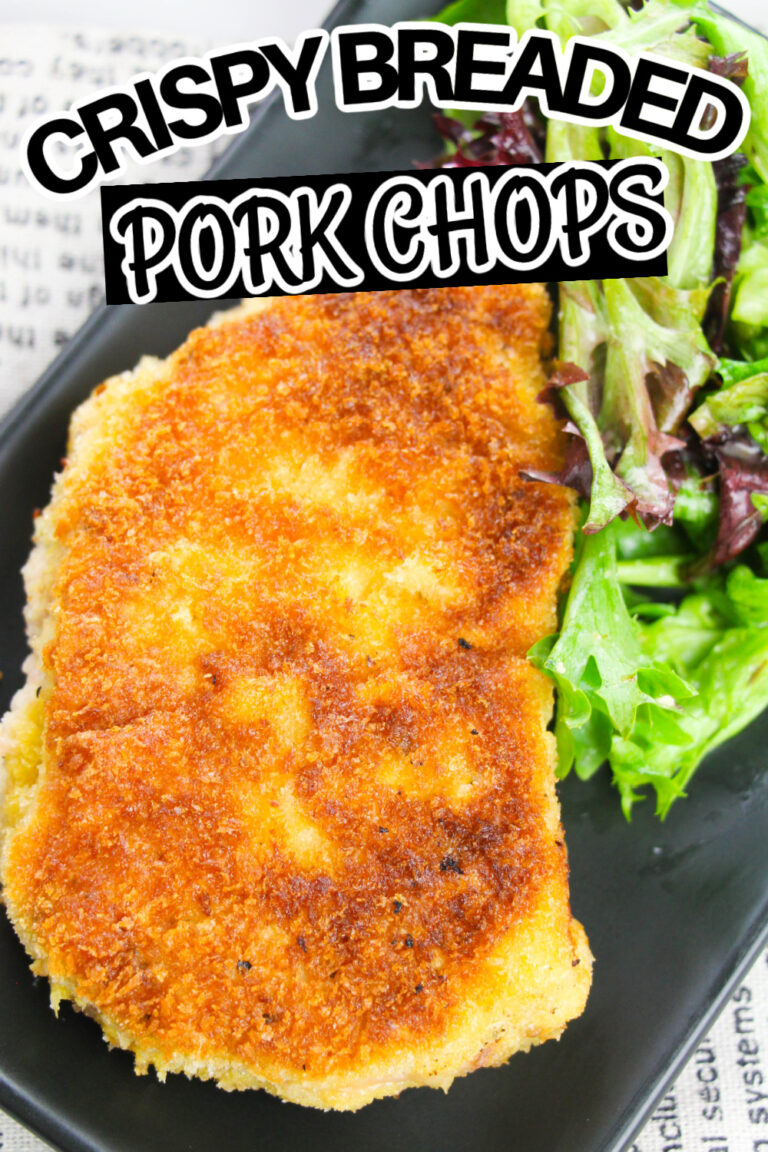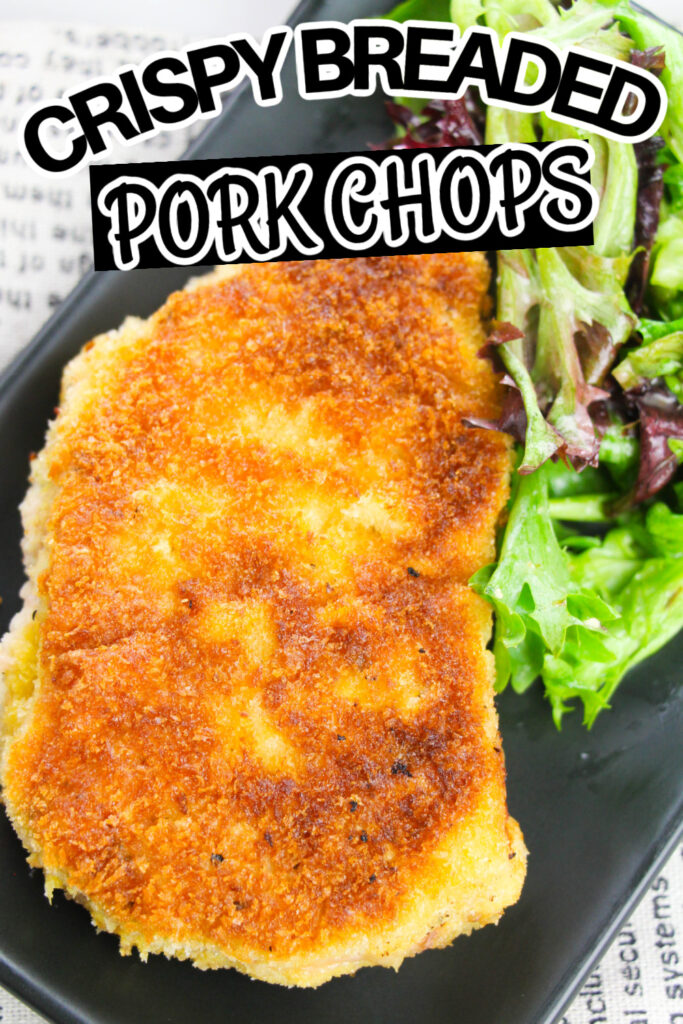 Reader Interactions