Chicken Stuffing Casserole is an easy and quick dinner to throw together. This chicken and Stovetop stuffing chicken casserole is an affordable and tasty meal for the whole family.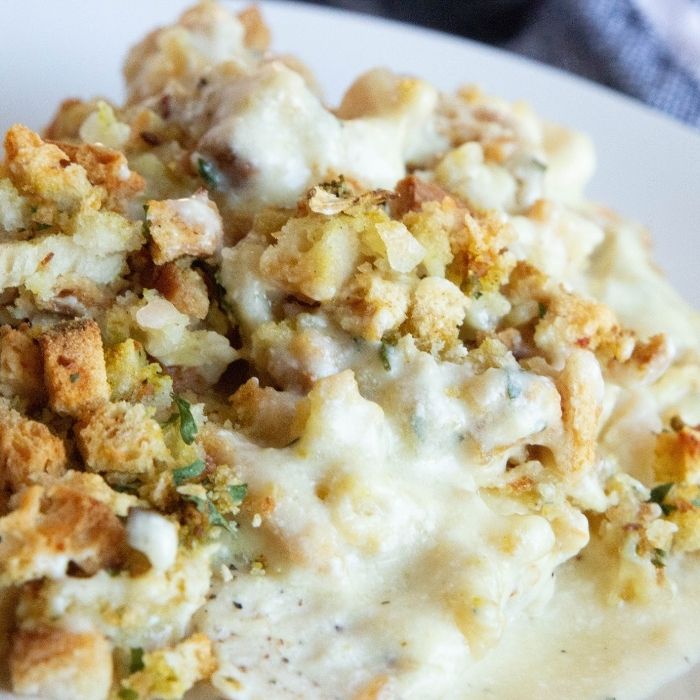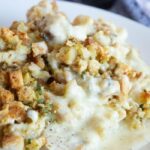 Chicken stuffing casserole is a quick and simple chicken casserole. This chicken and stuffing casserole is made with diced chicken, cream of chicken soup, Stove Top stuffing, sour cream, and chicken broth. 5 ingredients is all it takes for this chicken stuffing bake.
This is an easy recipe for chicken breasts or another boneless chicken cut. The ultimate comfort food to whip up and serve your whole family on busy weeknights.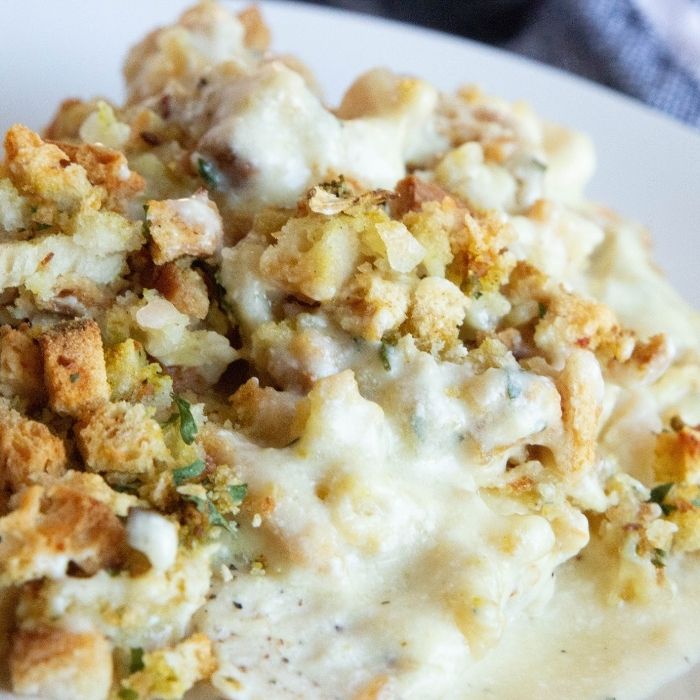 This is also a great leftover turkey casserole for after the holidays. If you are needing a simple throw-together dinner with hands-off cooking, this casserole is a great fit.
Another comfort food idea is this pressure cooker turkey breast. Pair with any side dish recipes like mixed vegetables, dinner rolls, etc. An easy casserole perfect for a busy day. Just toss it in the oven and let it cook away.
This chicken recipe can also be a crockpot dinner, but I actually prefer the texture of it baked. As the stuffing has a firmer texture. If cooked in the crockpot it can make the stuffing a bit soggy. You could use a homemade cream of chicken soup and your own homemade stuffing. I just prefer to buy box to make it an easy dinner recipe.
Check out my 25 condensed soup recipes for dinner ideas.
The best part of all, this is a great way to use chicken stuffing mix in a whole new way. You can always use leftover Thanksgiving turkey to replace the chicken in this easy chicken stuffing casserole. An easy way to use up your holiday turkey, or serve up a new chicken dish all year round. Simple ingredients with a big flavor. 
If you are like me and love casseroles, here are a few more to try out. Crockpot kielbasa and potatoes, my ground beef John Wayne casserole is another great one.
Make sure to check out my chicken pot pie recipe as well for another easy chicken casserole idea. 
This Chicken Stuffing Casserole Recipe Is…
Can use turkey or chicken
Perfect meal for any day of the week
One of our family's favorite recipes in our house
A quick meal to prep
Easy chicken bake
Great boneless chicken recipe
Serves a crowd
Can easily double the recipe if needed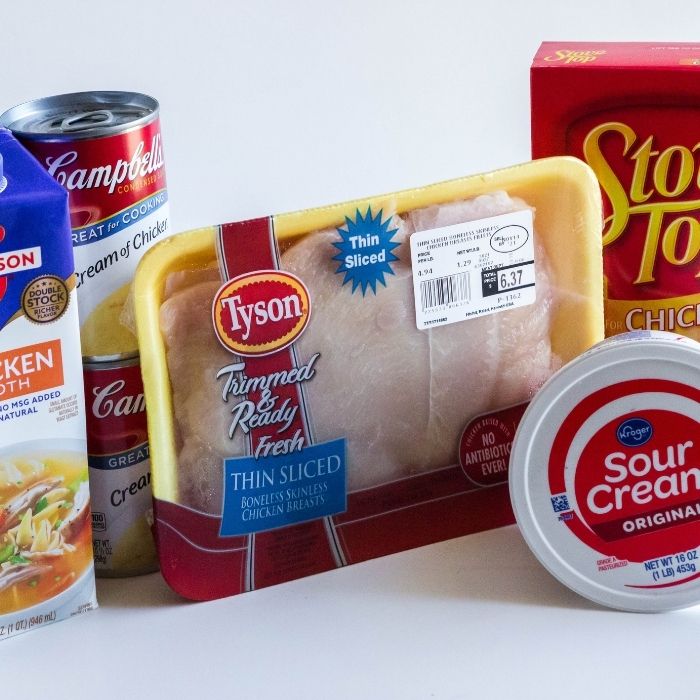 Ingredients For Casserole
Chicken – You will want to use boneless chicken that you dice up. You can use white or dark meat or do a mix of it if you prefer. Cube the chicken into 1-inch pieces.
Condensed Soup – You can substitute cream of mushroom soup, cream of celery, etc. Feel free to use whatever condensed soup you prefer. We like the chicken as it enhances the naturally rich chicken flavor of the dish.
Sour Cream – I love the creamy and tangy feature this sour cream adds to the casserole.
Stuffing – I used Stovetop chicken stuffing but you can use any flavor of stuffing you prefer.
Chicken Broth – chicken or even bone broth works great. This is going to help add flavor to the stuffing and keep your dish moist.
Variations to Recipe
Here are some easy swaps and changes to this chicken and dressing recipe.
Use turkey instead of chicken.
You can use pre-cooked leftover chicken or turkey in replace of raw chicken.
Add in some frozen veggies or even corn to mix in with the chicken. Stir in a can of medley of vegetables to make it a complete meal. Or do a can of corn, green beans, etc. Just drain the canned vegetables first. Or use frozen.
Use homemade condensed soup instead of canned if you prefer.
You can use a vegetable broth, chicken bouillon, or better than bouillon paste in replace of chicken broth. It helps to create a creamy chicken filling while adding extra flavor to the dish, instead of just plain water.
How to Make
Full steps on how to make this chicken stuffing bake recipe are in the printable recipe card at the bottom of the post. This is a quick walk-through on this easy chicken dinner.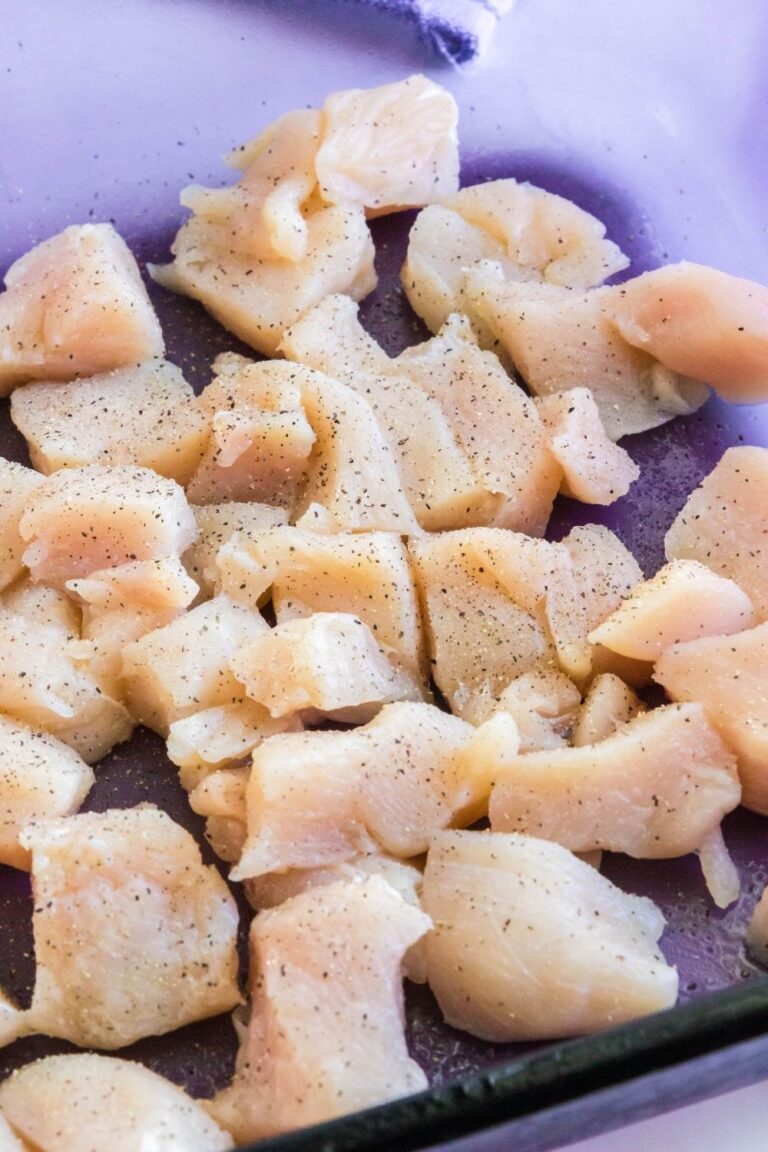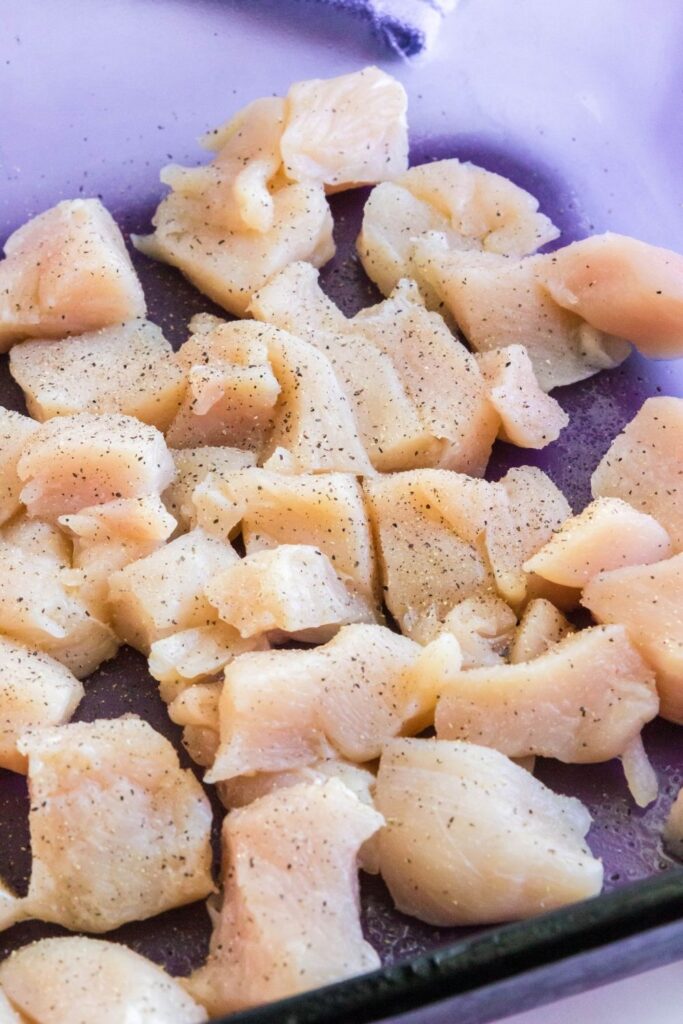 Start by dicing up your chicken into 1-inch cubes. Then season it with salt and pepper. Place the chicken in a single layer.
Now you will grab a bowl and add the condensed soup, and sour cream, and mix well. Spread the mixture over the top of the chicken.
Pour the stuffing on top of the chicken mixture, and spread it out to make it even.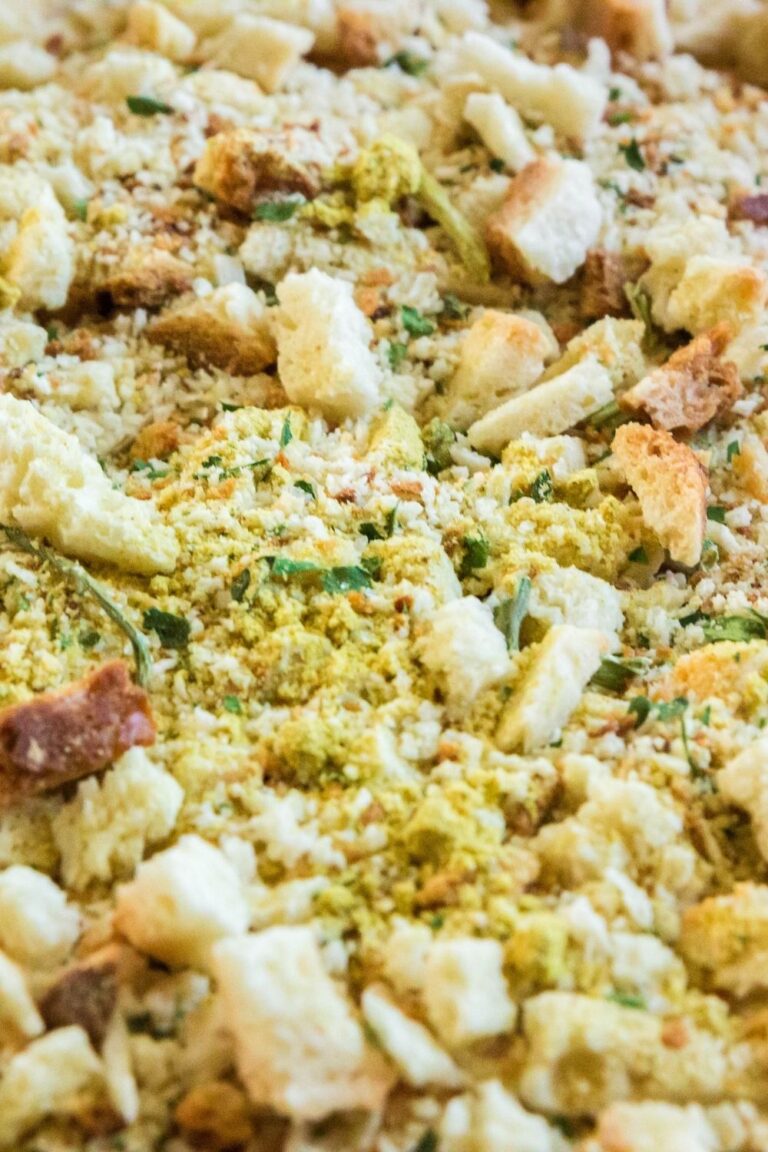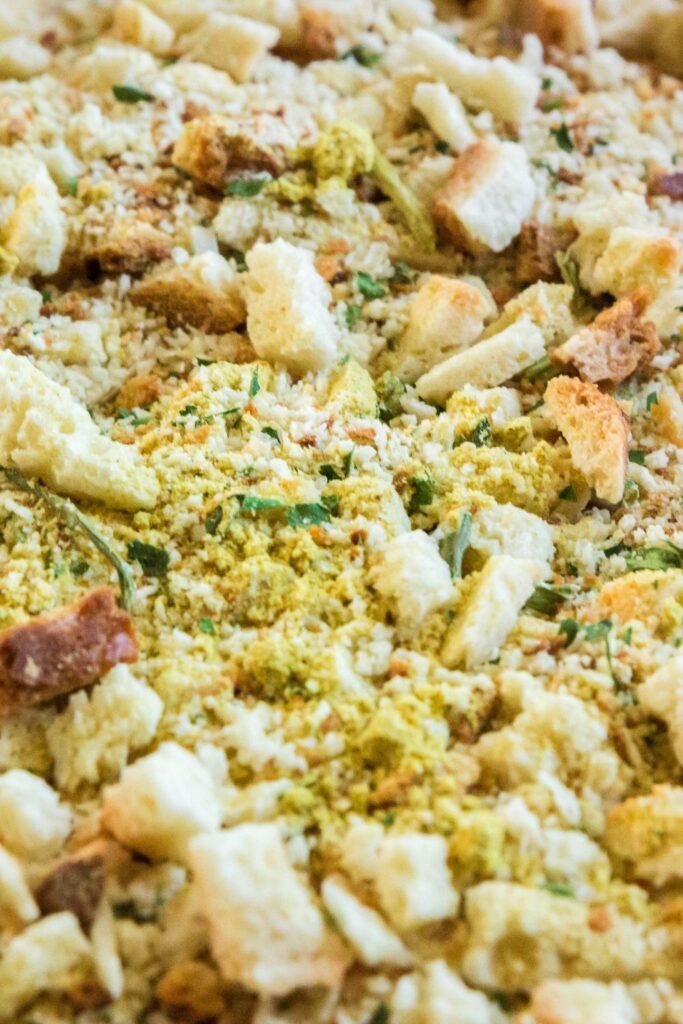 Next, pour the broth over the stuffing evenly. Then bake in the oven as directed.
Once done, remove it from the oven and serve up a delicious and simple dinner! Pair with your favorite sides and enjoy.
Helpful Tips
Helpful tips for making this chicken stove top stuffing casserole! If you are new to cooking you will find these tips helpful.
Make sure to trim the chicken and remove any fat, skin, etc.
Aim to cut your chicken into even pieces, that way it bakes up evenly.
When pouring the chicken broth on, make sure to try to evenly pour to help the stuffing soak in a little moisture.
The sour cream is optional but it does add great flavor to the dish.
FAQs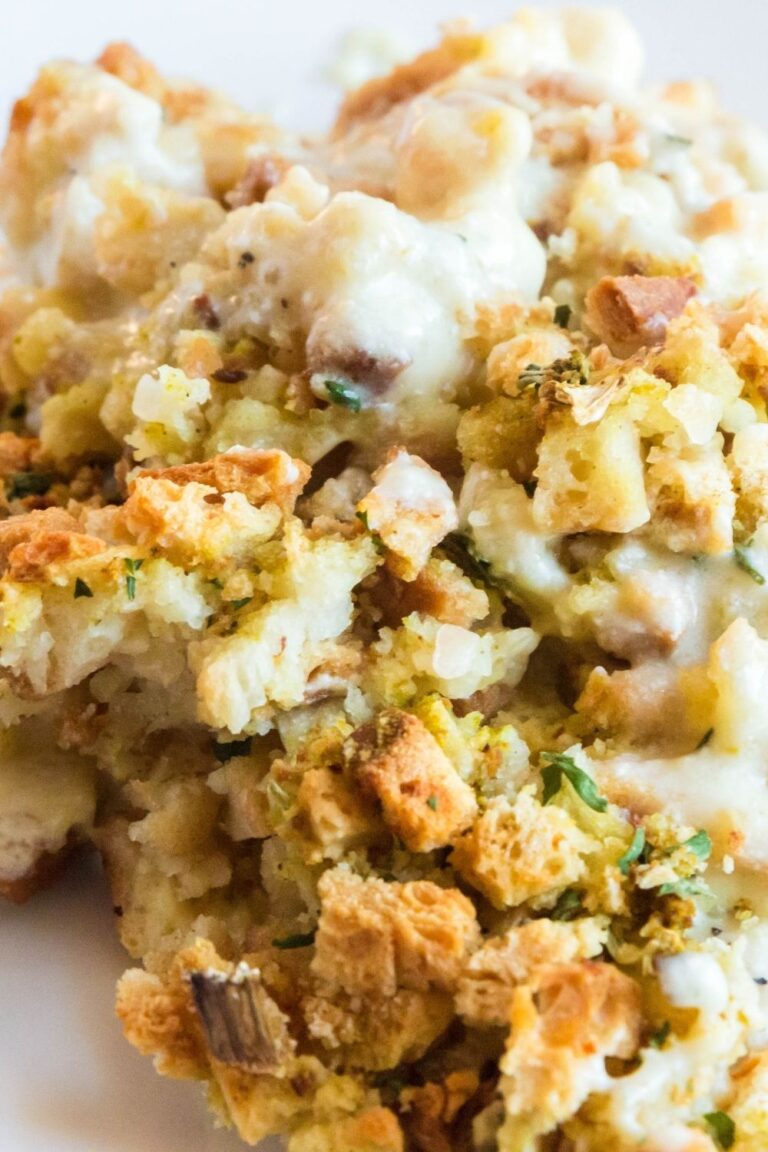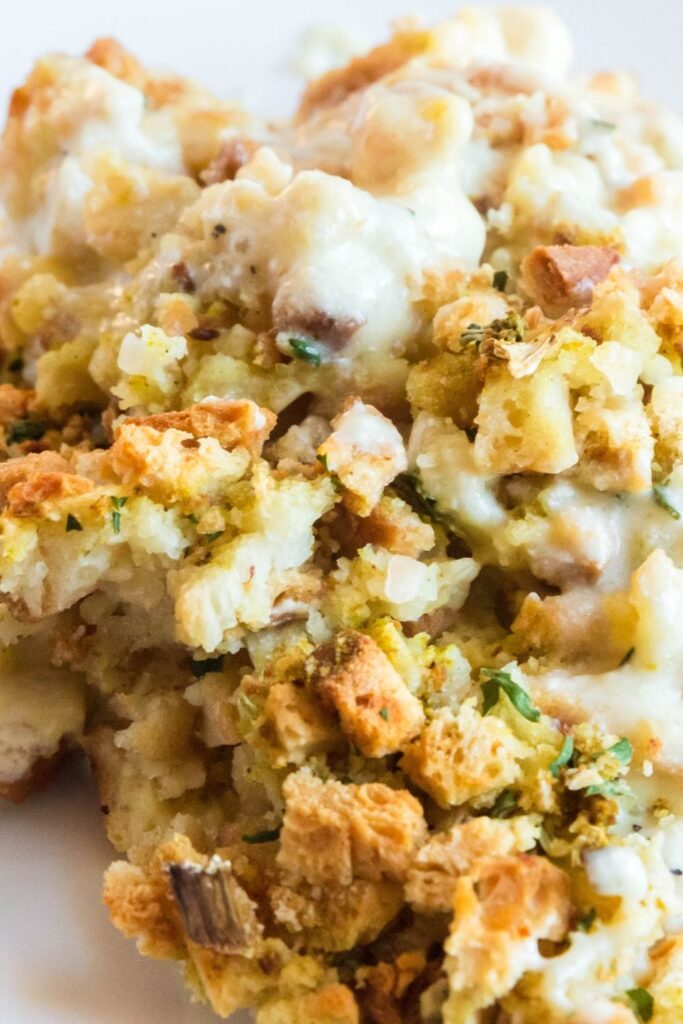 Related Recipes
Here are a few more great recipe ideas to try out along with this chicken and stuffing casserole.
Have you tried the recipe? If so, please leave a star ⭐️⭐️⭐️⭐️⭐️ rating in the recipe card below or drop a comment. Also stay in touch with me through social media by following me on Facebook, Pinterest, or My Facebook Group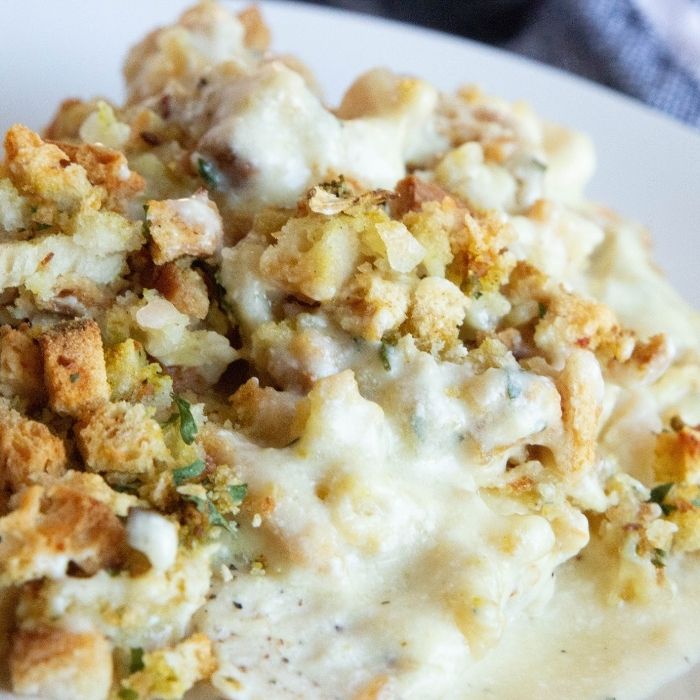 Chicken Stuffing Casserole Recipe
Servings 9 x13
Chicken Stuffing Casserole is an easy and quick dinner to throw together. This chicken and Stovetop stuffing chicken casserole is an affordable and tasty meal for the whole family.
Ingredients
2 pounds boneless chicken
2 cans condensed cream of chicken soup recipe 10.5 ounce can
1/2 cup sour cream
1 box Stovetop stuffing 6 ounce box
1 1/2 cup chicken broth
Salt and Pepper
Instructions
Preheat the oven to 350 degrees and grease a 9×13 pan.

Now, dice up your boneless raw chicken into 1 inch cubes and place in the casserole pan. Season chicken with salt and pepper.

Now in a small bowl mix up your canned soups and the sour cream and spread over the chicken. Do an even layer.

Pour your stuffing on top of the chicken and spread out evenly as well.

Pour the chicken broth over the stuffing and try to evenly pour.

Bake uncovered for 40-50 minutes or until the top is golden brown and the chicken is fully cooked.
Notes
Crockpot Directions: Assemble the same way, and the cook on low for 5-6 hours or high 3-4 hours. The stuffing will be soft on top, as condensation drops down. You just want to ensure the chicken is fully cooked. Chicken – Any boneless chicken works for this. I recommend no skin, as it can become rubbery. Condensed soups – You can use cream of celery, mushroom, or chicken like I did. Or make homemade if you prefer. Stuffing – I used a chicken stuffing but you can swap with a cornbread stuffing, or any other variety. Vegetables – You can add in some frozen vegetables if you want to add more flavor. Mix in with the chicken. If you use canned vegetables drain off the liquid.
Nutrition
Serving: 1gCalories: 429kcalCarbohydrates: 10gProtein: 47gFat: 21gSaturated Fat: 7gPolyunsaturated Fat: 12gTrans Fat: 1gCholesterol: 151mgSodium: 900mgSugar: 2g
Reader Interactions