Tomato soup that is made with roasted tomatoes and garlic. This homemade tomato soup is bursting with rich flavors, and I swirl in some cream for a creamy tomato soup. Pair with a crispy grilled cheese or your favorite sides.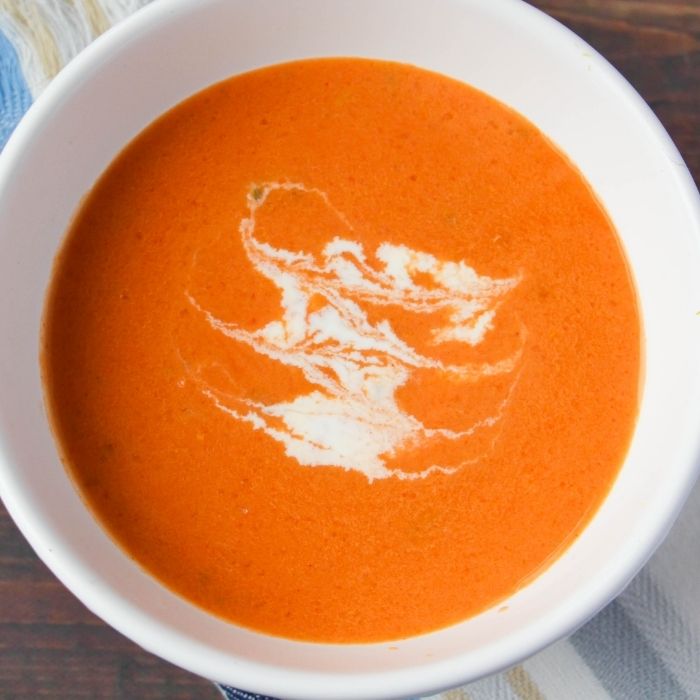 Learn how to make tomato soup at home. This homemade tomato soup is rich, creamy and bursting with vibrant flavors. If you enjoy tomato soup, this homemade version is a must make. 
With chilly season weather here, now is the time to cozy up with a bowl soup to end the night. This vegetable recipe is loaded with antioxidants and nutrients to fuel your body.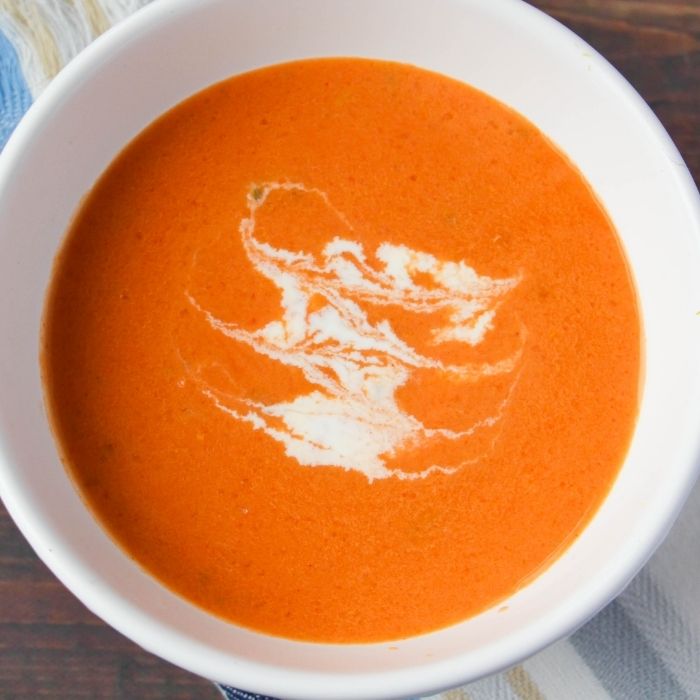 This is a creamy tomato soup that uses roasted garlic and tomatoes that truly enhances the flavor.
This Tomato Soup Recipe Is…
A great fall soup or winter soup recipe.
Wonderful way to use up fresh vegetables.
Delicious richness.
Made with roasted tomatoes.
Creamy.
Ingredients
Tomatoes – Reach for ripe, plump tomatoes. You will find using flavorful tomatoes enhances the flavor greatly.
Garlic – Since you roast the garlic I recommend using a bulb instead of pre-minced garlic.
Onion – Yellow or white work great for this soup recipe.
Oil – Olive, canola, or even vegetable work great for this recipe.
Spices – Basil or oregano, salt and pepper, Basil is more traditional in terms of flavor, but oregano adds a nice change of flavor.
Tomato Paste – Make sure it is paste and not tomato sauce.
Vegetable Stock – Using vegetable stock adds tons of richness to your soup. You can use water if you prefer. The flavor will of course be slightly different. 
Heavy Cream – This is optional but needed a creamy tomato soup recipe.
Variations to Recipe
Change up spices used to flavor the tomato soup recipe differently.
Swirl in some heavy cream at the end or even a dollop of sour cream for added creamy texture.
Use fresh basil for a tomato basil soup recipe instead.
How to Make
Full directions on tomato soup is in the printable recipe card below. This is a quick walk through on how to make.
Step One: Preheat the oven and then prep your tomatoes. I washed, cut tomatoes into quarters, and then placed on the baking sheet.
Step Two: Next, place the garlic on the tray as well and roast in the oven as directed. Roasting your tomatoes is going to enhance the flavor.
Step Three: Remove tomatoes and allow them to cool. Then once the tomatoes are cool enough peel and discard the skins.
Step Four: In a pot you are going to add in your oil, onion, roasted garlic, and tomato paste. Cook with spices as well to help all the fragrant.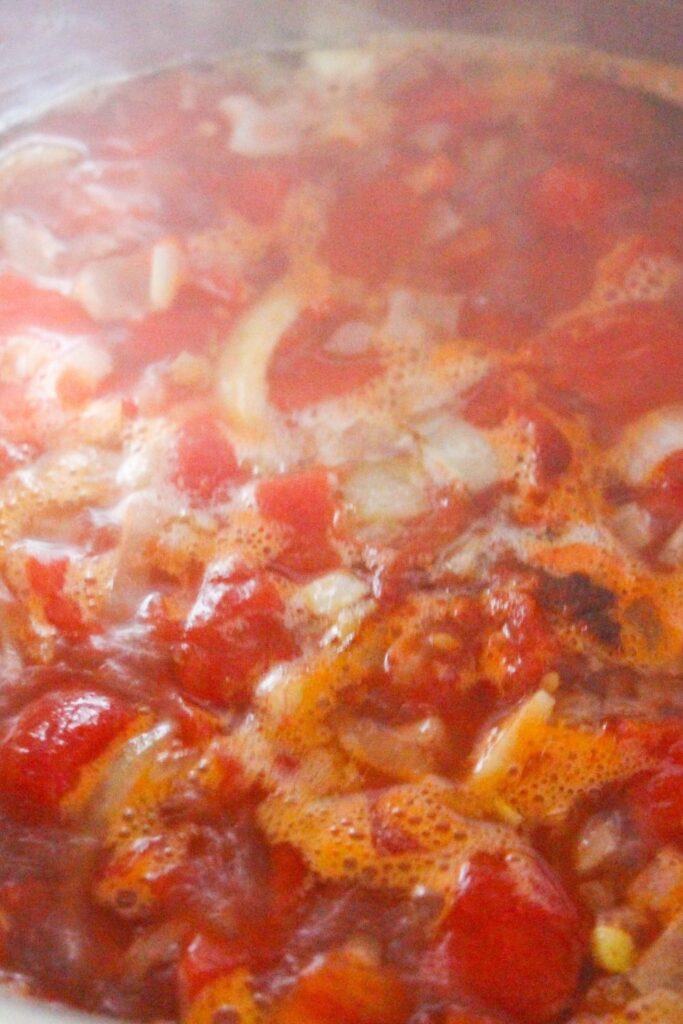 Step Five: Then once fragrant add tomatoes and broth, stir well. Bring to a boil.
Step Six: Next, when the soup boils, reduce heat and simmer for 20 minutes. Stir occasionally.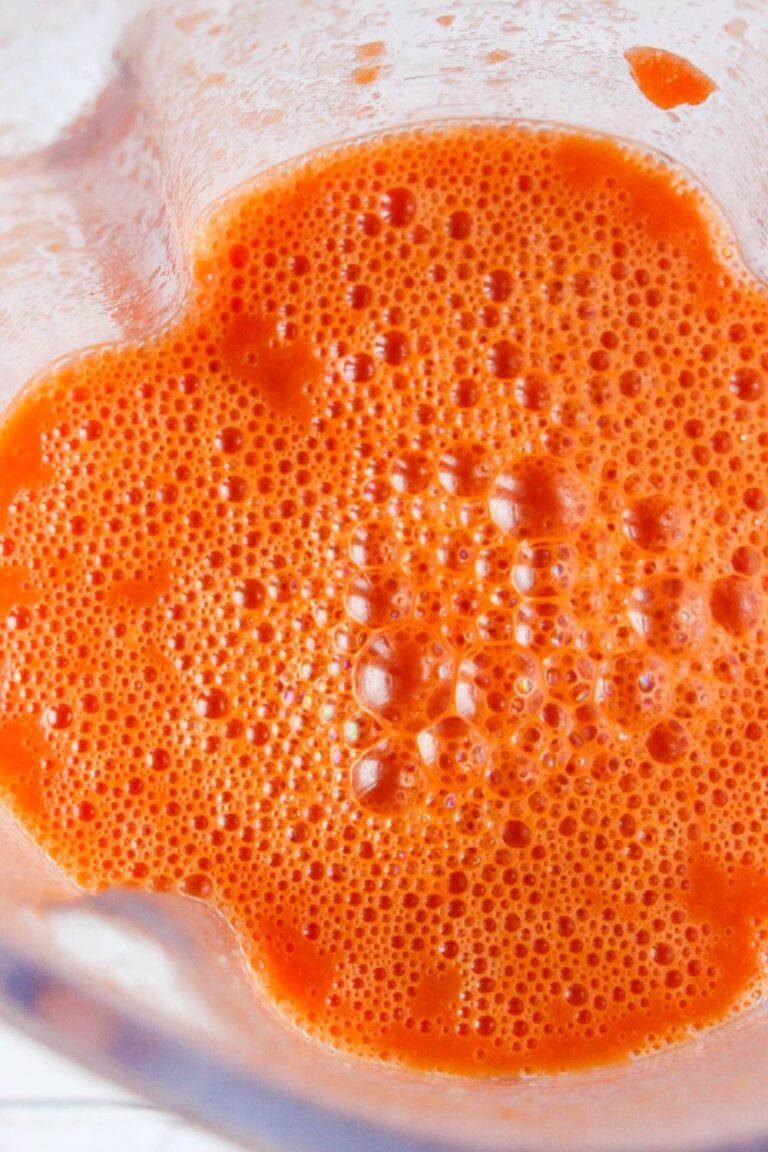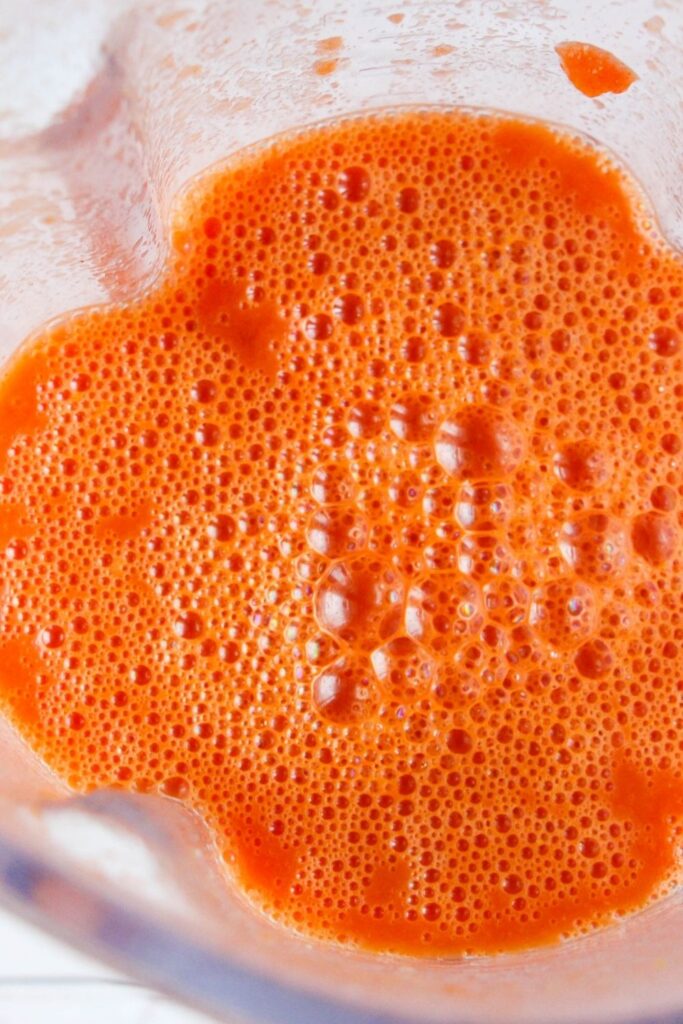 Step Seven: Lastly, puree your soup to give it a nice and creamy texture. Do batches of the soup, you can use an immersion blender or classic blender.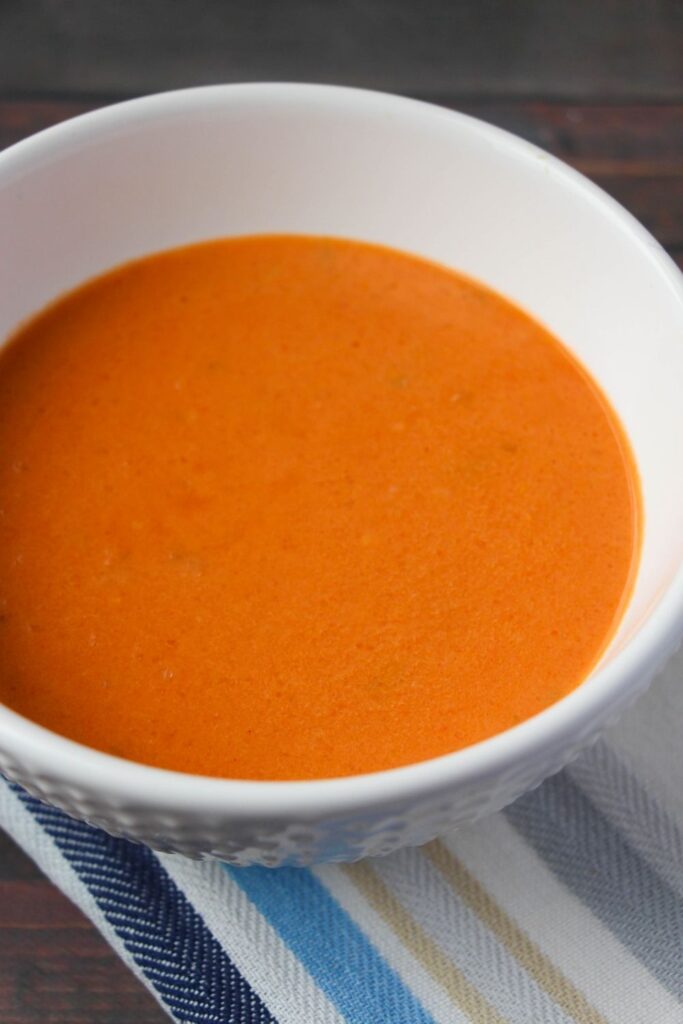 Non-Reactive Pot
When cooking tomato soup it is important to use a non-reactive pot. The acid in the tomatoes the tomatoes to taste like metallic. As a result you will find that certain pans can affect the flavor greatly.
Avoid copper, cast iron or aluminum pans. Therefore, I find that using Dutch oven that is enameled on the inside is great. Or use any other style of pot.
If you want to make this more of a tomato bisque you will find creating a lot thicker vegetable soup with less liquid will help you achieve that as well.
Helpful Tips
Work in batches when you puree your soup in a blender. It will splash and be very hot so be cautious.
If you use an immersion blender just make sure your blender doesn't lift out of the soup while it is one, or it will splash.
Roasting the tomatoes and garlic adds a lot of depth to the soup.
This is the best soup that you can alter a bit with spices and herbs to fit your flavor preferences.
The skins on the tomatoes will be blackened, that is normal when roasting. Use a knife to easily pull off the skins.
Storing Soup
Tomato soup will store for 3-4 days in the fridge in a glass container. I find that glass helps to ensure the tomato soup doesn't change the flavor too much in the fridge.
Then warm up the soup on the stovetop or in the microwave if you would like.
If you don't stir in heavy cream you can freeze your soup if you want. I find that it does alter the flavor of the tomato soup a bit. So I tend to make it fresh when we want some. But you are welcome to try freezing and see how you like it.
Frequently Asked Questions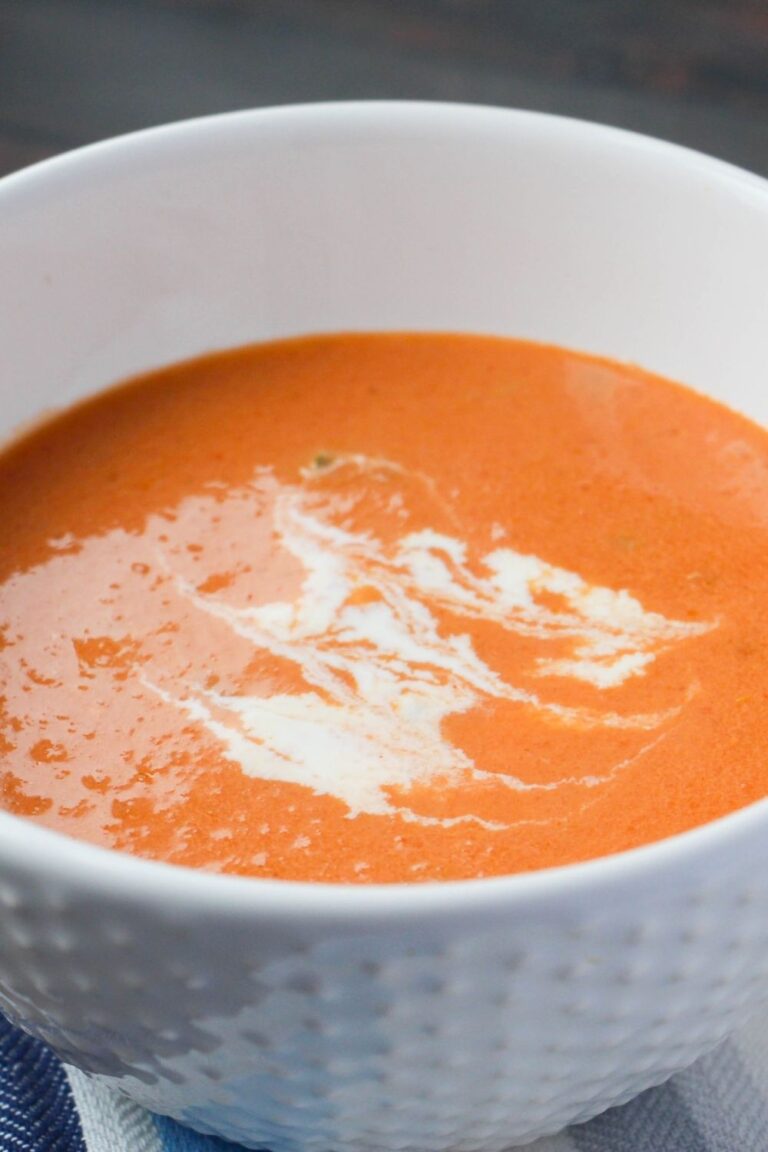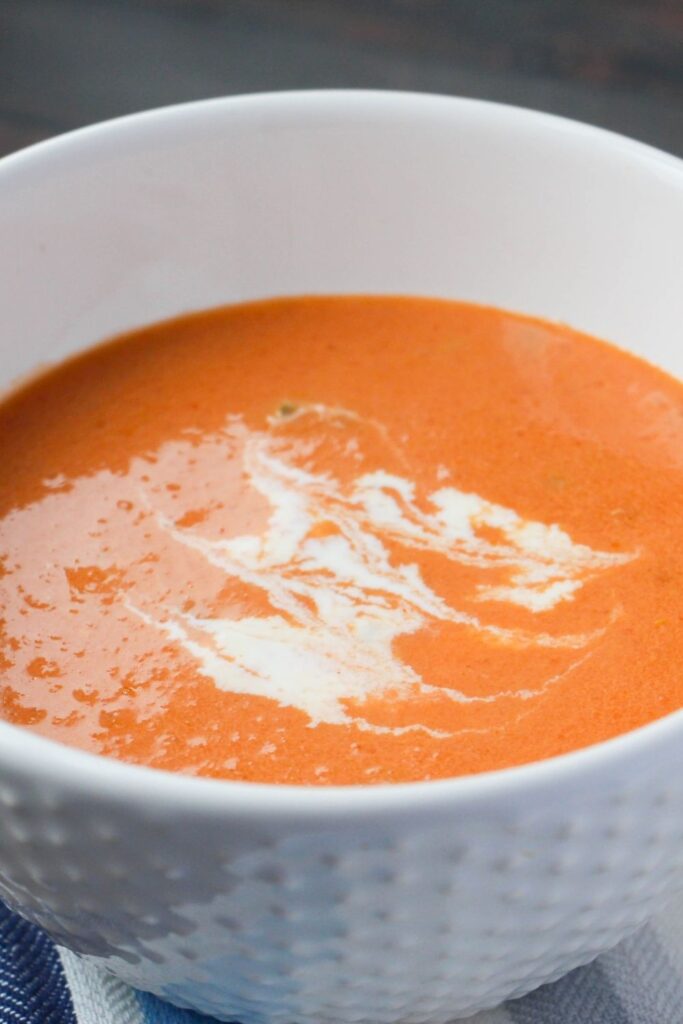 Related Recipes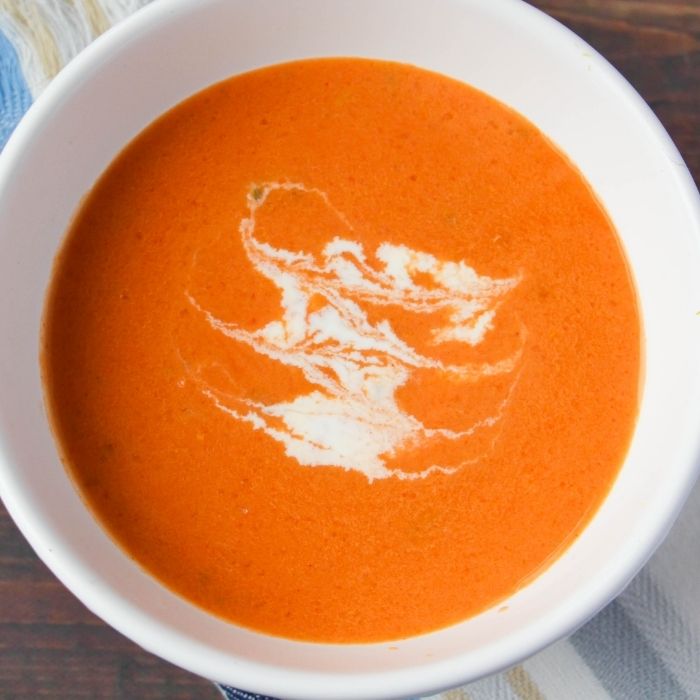 Tomato Soup Recipe
Servings 4 -6 servings
Tomato soup that is made with roasted tomatoes and garlic. This homemade tomato soup is bursting with rich flavors, and I swirl in some cream for a creamy tomato soup. Pair with a crispy grilled cheese or your favorite sides.
Ingredients
3 pounds plum tomatoes approximately 12 tomatoes
1 head garlic
4-5 cups vegetable broth or chicken broth
2 sprigs fresh oregano or basil
2 Tablespoons olive oil
2 onions chopped, white or yellow
2 Tablespoons tomato paste
1 teaspoon paprika
Salt and pepper to taste
1/4 cup heavy cream
Instructions
Preheat your oven to 425 degrees. Then line a baking dish with parchment paper.

Clean your tomatoes and then cut them into quarters and place skin side up on the baking sheet. Then cut the top off the bulb of garlic and place in the center of the pan.

Roast your tomatoes and garlic in the oven for 20-25 minutes or until the skins are browned with some black on them. Once done let cool until easy to handle.

In a pot you will add your oil and onions in the pot. Saute for 2 minutes to soften the onions.

Then you will stir in the spices, and tomato paste. Heat until fragrant, this will take a couple of minutes.

Peel the tomatoes and discard the skins, then pour tomatoes, garlic, and broth into the pot.

Bring mixture to a full boil, and then reduce heat and let simmer for 20 minutes.

Then you will use an immersion blender or regular blender working in batches if a regular blender. Puree up the soup, until creamy. Adjust spices as needed to taste.

If you want stir in some heavy cream for a creamy component or leave it out if you prefer.
Notes
Tomatoes – You can use whole tomatoes with skins off in replace of fresh tomatoes if you want. Non-Reactive Pot – Cooking in a non-reactive pot is important as it can cause your tomatoes to taste acid or sour. Use a Dutch oven if you have one. Avoid cast iron,or aluminum. Herbs – So I used oregano this time for a change in flavor but the traditional flavor is basil when it comes to tomato soup. Storing Leftovers – The tomato soup will store for 3-4 days in a glass container in the fridge. Warm in a pot or microwave.
Nutrition
Serving: 1gCalories: 232kcalCarbohydrates: 32gProtein: 7gFat: 10gSaturated Fat: 3gPolyunsaturated Fat: 6gCholesterol: 12mgSodium: 2457mgFiber: 7gSugar: 19g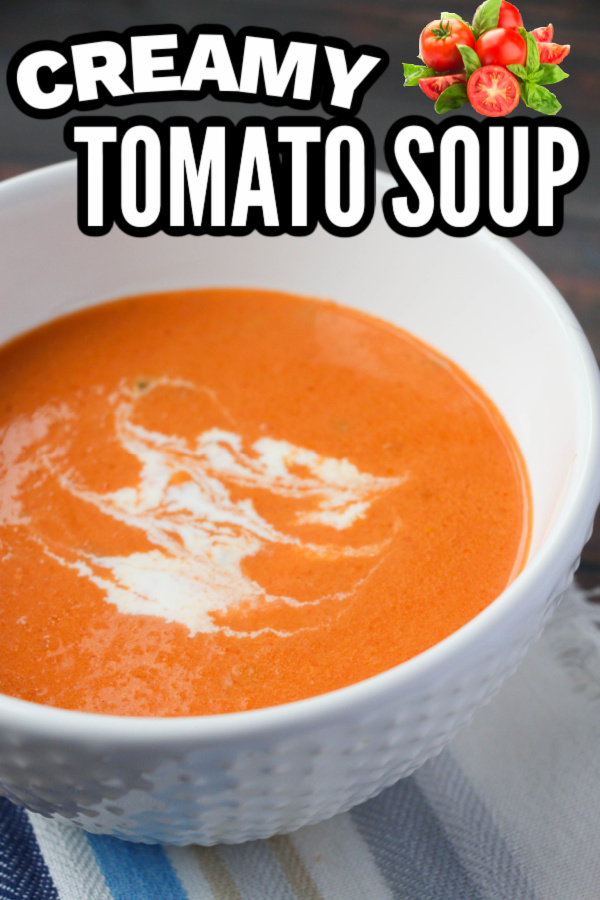 Reader Interactions