If you are a fan of butternut squash soup you will want to try this Instant Pot Butternut Squash Soup. This soup is creamy, rich, and naturally gluten-free and vegetarian.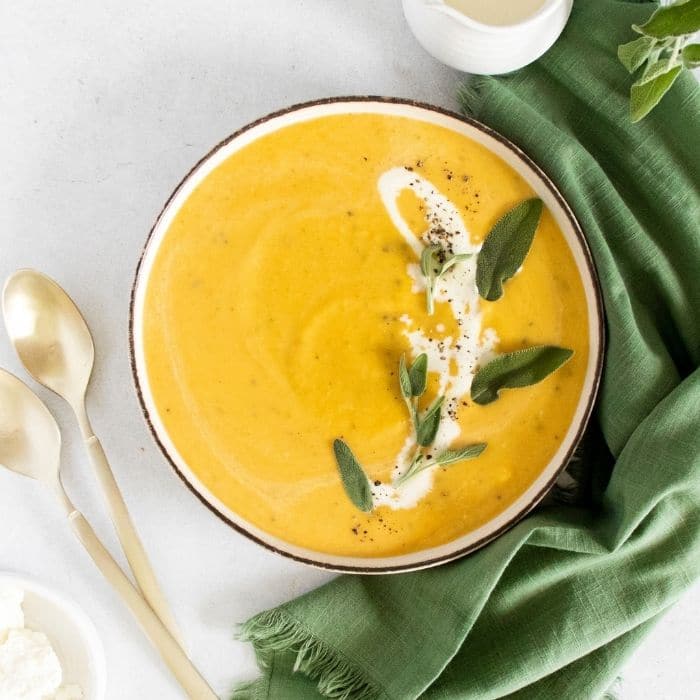 This Instant Pot squash soup is one of our favorites. You will serve up this butternut squash in under 30 minutes cook time. Pressure cooker butternut squash soup will transform how you make your squash soup.
You control the thickness of this soup as well. Squash Soup in the Instant Pot is ultra velvety, as you use an immersion blender. Then drizzle with goat cheese.
🥣 Why This Recipe Works
Simple ingredients
Fresh herbs give incredible flavor to this soup
A great way to cook butternut squash
Slow simmered flavor in a fraction of the time
Great to meal prep for quick lunches on the go
An easy butternut squash recipe
Quick and easy
🥄 Main Ingredients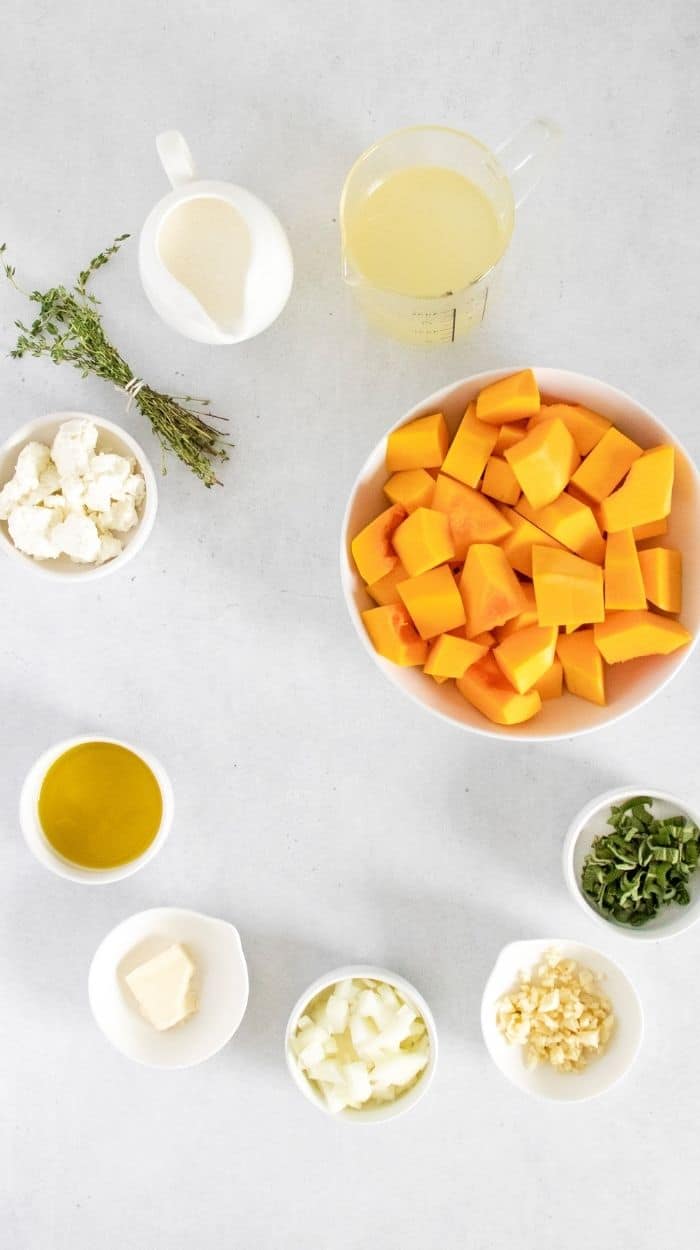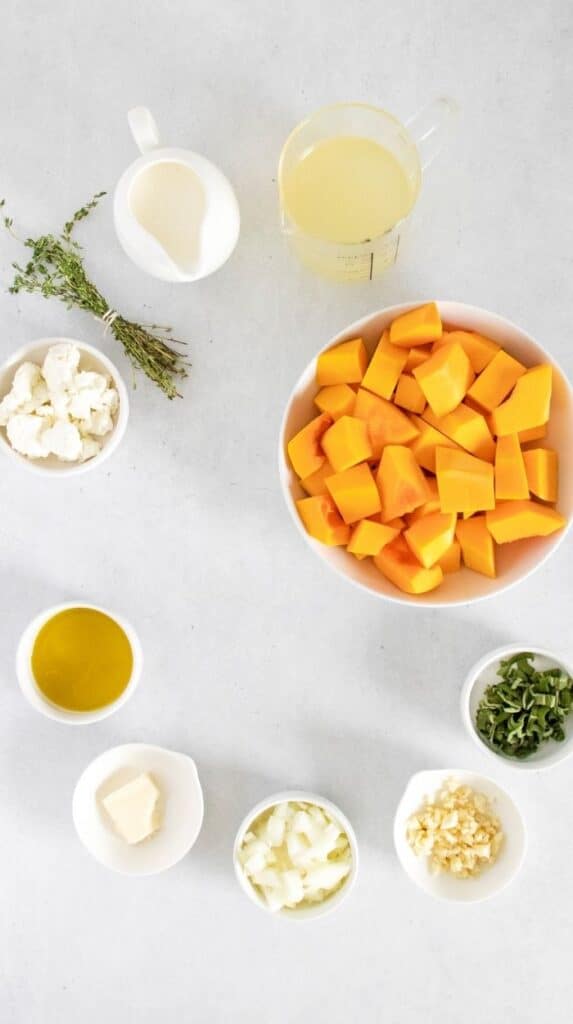 Butternut Squash | Prep your butternut squash and dice into even cubes. This is the main ingredient for your soup.
Stock and Herbs | To be the base you will use a vegetable stock, fresh herbs, onions, and garlic. It will help bring this dish a savory flavor.
Cream and Goat Cheese | Top your soup with a heavy cream and goat cheese crumbles and a few herbs.
🌿How To Make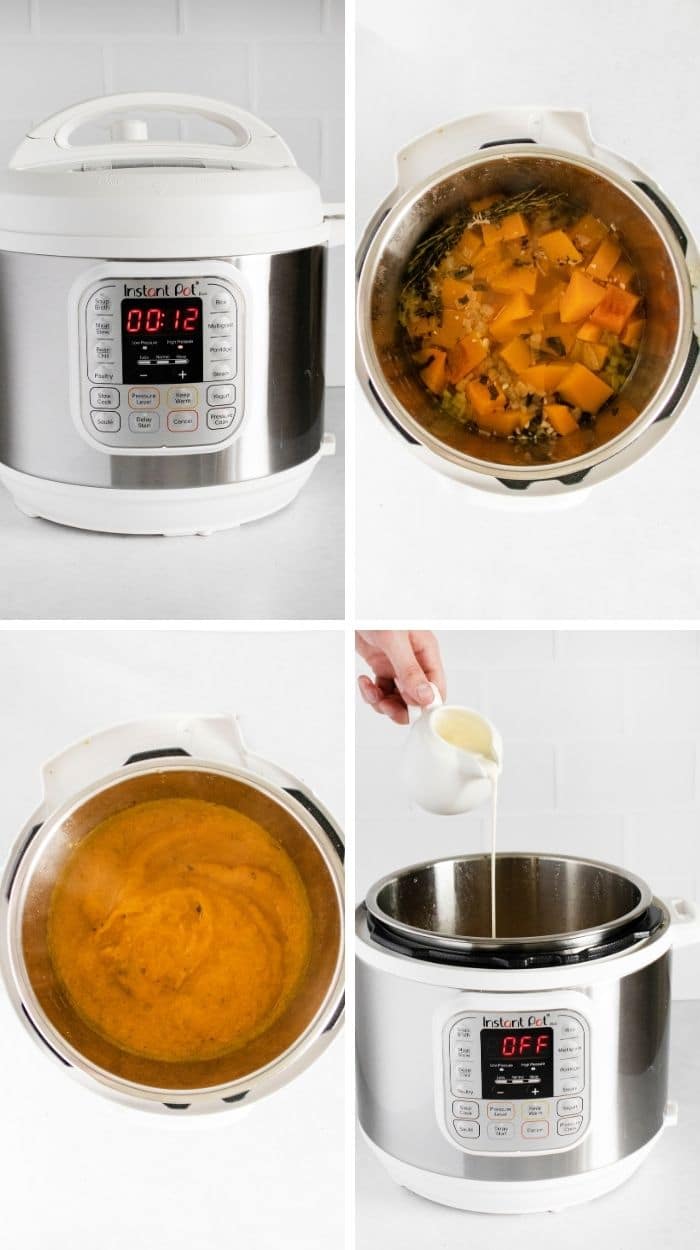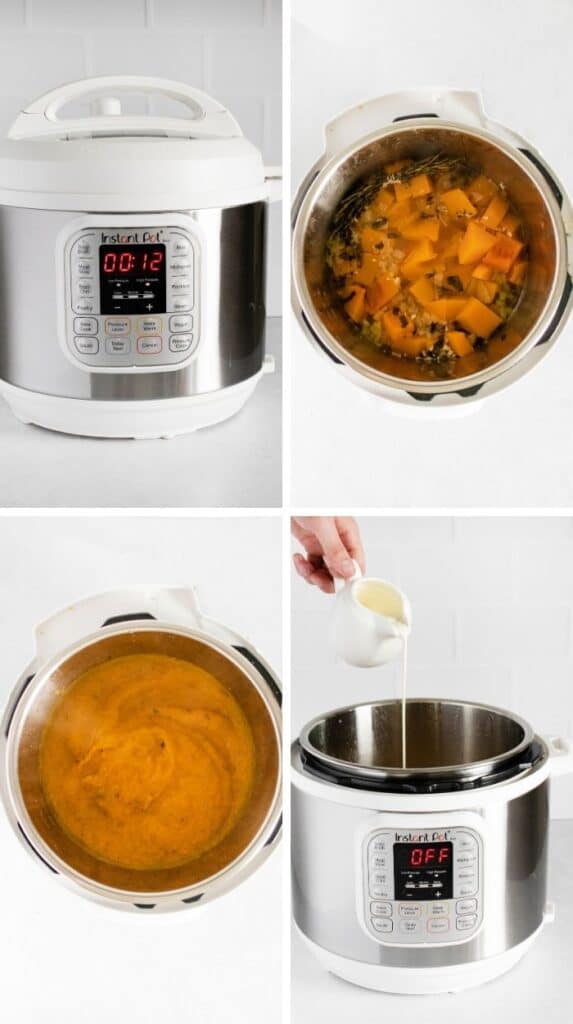 Start by turning your Instant Pot to saute, and then add in the oil and butter and let it get warm.
Once the butter has melted, add in the diced onions and allow them to cook down and turn a bit of a golden brown color. Cook for around 5 minutes.
Next, add the garlic and sage. Cook for an additional minute. Add the thyme, butternut squash, vegetable stock, and salt. Attach the lid and ensure the valve is in the "sealing" position.
I used a butcher twine to secure all my thyme stems together.
You will cook your butternut squash soup on high pressure for 12 minutes.
Note: The Instant Pot will display "on" while it is pressurizing. Once at pressure, it will begin counting down from 12.
You will quickly release the pressure cooker. Remove the thyme stems and then use your immersion blender to blend up the soup. Stir in some heavy cream.
Ladle into the bowls and top with heavy cream and top with goat cheese, pepper, sage, or even thyme if desired.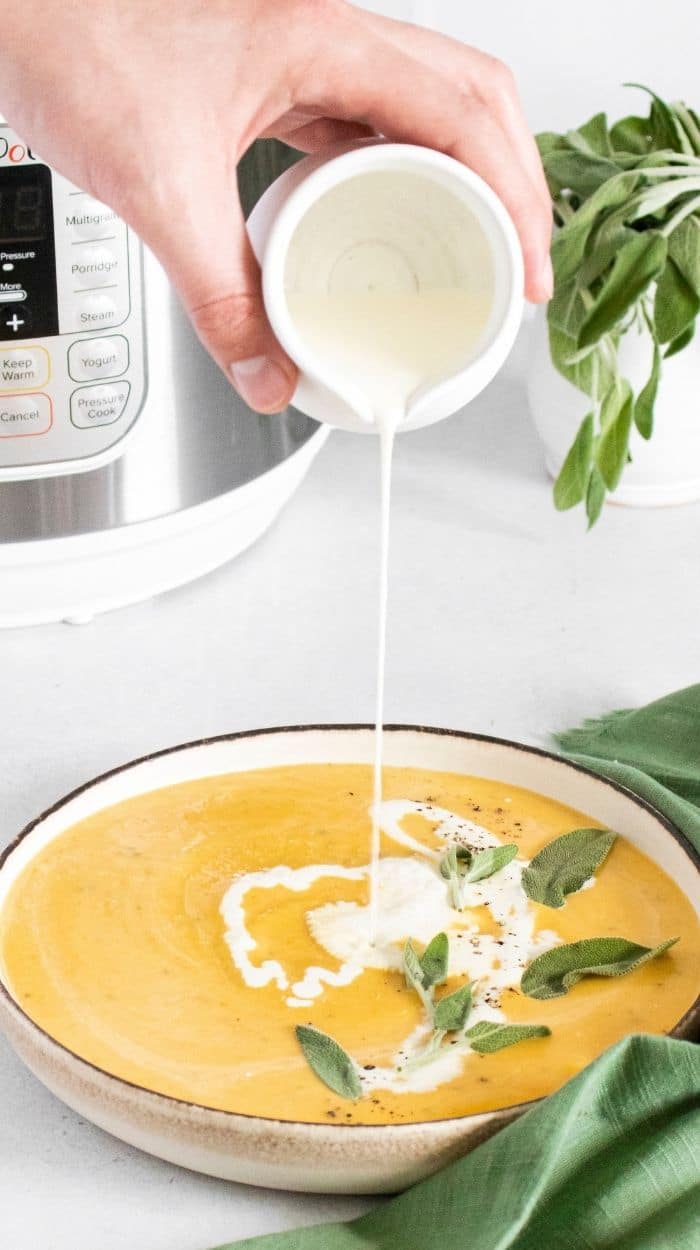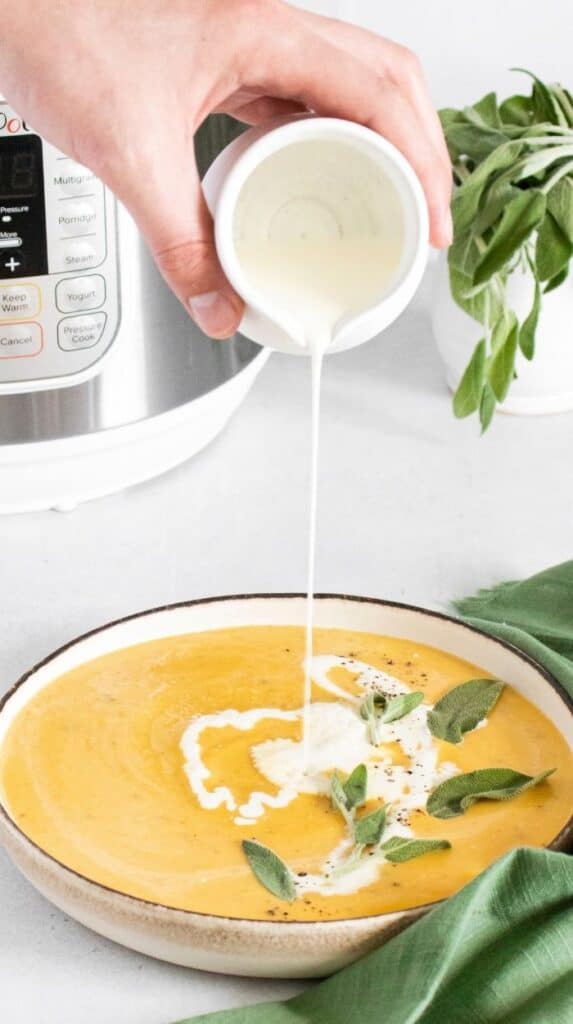 Meal Prep
For this butternut squash soup recipe you will need to store in an airtight container in the fridge for up to 4 days.
Then when you want to reheat in the microwave or even on the stove. If you heat on the stove do low and slow or it will burn.
If the soup is too thick add in more vegetable stock or even milk.
🧅 Expert Tips
I used Vidalia onions for this recipe but you can reach for shallot or even a yellow onion to replace.
You can use dried herbs to replace fresh. Use 1/2 teaspoon dried thyme if you replace it.
Also, you can use milk to swap out for heavy cream, it will make it a thinner soup.
You can use chicken stock to replace vegetable stock.
Coconut milk can be used to drizzle on top if you would like and used to switch for the recipe for a dairy-free soup.
🥣 Recipe FAQs
Is Butternut Squash Soup healthy for you?
Butternut squash are higher in fiber, potassium, vitamin A, magnesium and more. With the fresh herbs and vegetable stock, this soup can be healthy. Just go light on the heavy cream, or opt for coconut or another dairy replacement.
What goes well with butternut squash soup?
Dinner rolls, salad, crusty bread are all great pairings for your soup. Or even drizzle some honey butter
How do you thicken up butternut squash soup?
If your soup is not thickening to your preference, add 2 tablespoons vegetable stock with 2 tablespoons cornstarch. Mix well and then stir into the hot soup and cook until it thickens.
What can I add to squash for flavor?
Rosemary, sage, and thyme are all herbs that pair really well. Plus salt and pepper to taste. Fresh cracked pepper always adds a nice flavor to the squash.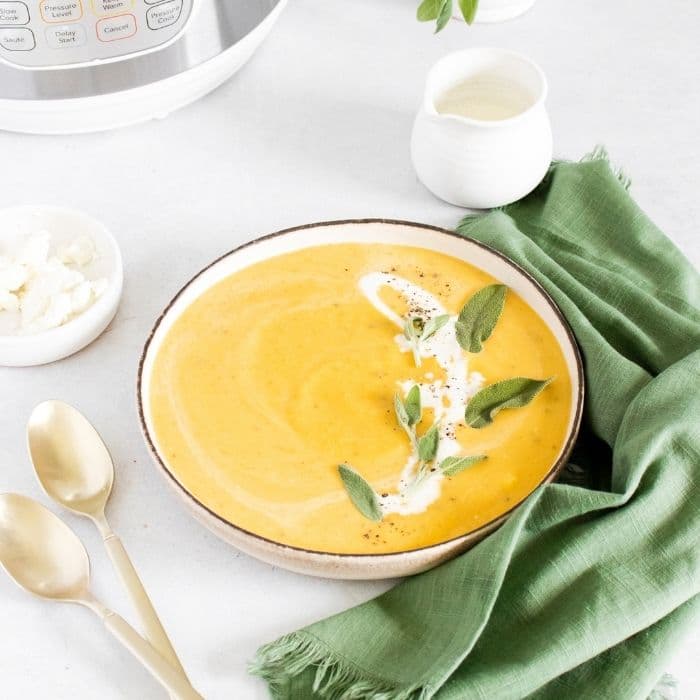 Here Are More Instant Pot Soups To Try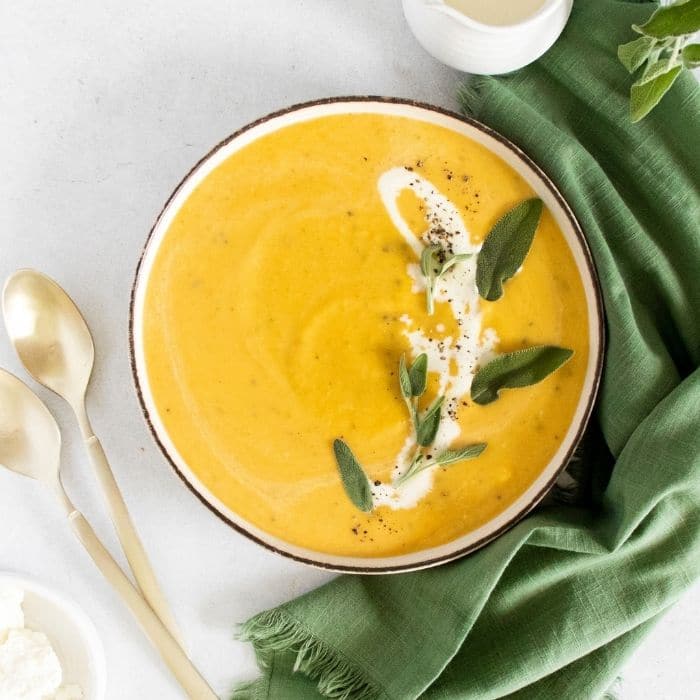 Instant Pot Butternut Squash Soup
Servings 6 servings
If you are a fan of butternut squash soup you will want to try this Instant Pot Butternut Squash Soup. This soup is creamy, rich, and naturally gluten-free and vegetarian.
Ingredients
1 tablespoon olive oil
1 tablespoon butter unsalted
1 small Vidalia onion chopped
2 large garlic cloves minced
5 large sage leaves minced
8 sprigs fresh thyme
1 medium butternut squash peeled and seeds removed & chopped into 1" cubes
1 1/4 cups vegetable
1 teaspoon kosher salt
1 cup heavy cream
4 ounces goat cheese to garnish
Instructions
Turn your Instant Pot to saute mode and add in butter and your oil and let the butter melt. Then toss in your diced onions and cook until softened and begins to turn golden brown. This takes around 5 minutes.

Now toss in your garlic and sage and cook another minute.

Turn off the saute feature and pour in your vegetable stock. Use a wooden spoon to scrape away any bits stuck on bottom of the pot.

Toss in your cubed butternut squash, salt, and thyme. I wrap the thyme in butcher string to keep it together.

Place lid on the pressure cooker and turn the valve to seasling. Cook high pressure for 12 minutes with a quick release.

Once you remove lid, remove the thyme stems. Use an immersion blender to blend up the soup until creamy.

Add in your heavy cream and stir.

Then ladle up and serve with goat cheesy, more heavy cream, cracked pepper, salt, etc.

This Instant Pot butternut squash soup is so easy and delicious to make.
Notes
You can store your soup in the fridge for up to 4 days.
To reheat use microwave or stove. If it is too thick feel free to stir in more stock or cream.
If you want the soup thicker mix, then add 2 tablespoons cornstarch and 2 tablespoons vegetable stock and turn the saute feature on and stir until the soup thickens.
You can use dried thyme, just do 1/2 teaspoon.
Pair your soup with dinner rolls, crusty bread, or even a salad.
You can double this recipe if you have a larger instant pot. Just don't go over the max fill line.
Feel free to use chicken stock to replace of vegetable stock if you would like.
Nutrition
Serving: 1gCalories: 265kcalCarbohydrates: 11gProtein: 6gFat: 23gSaturated Fat: 13gPolyunsaturated Fat: 8gCholesterol: 59mgSodium: 465mgFiber: 3gSugar: 5g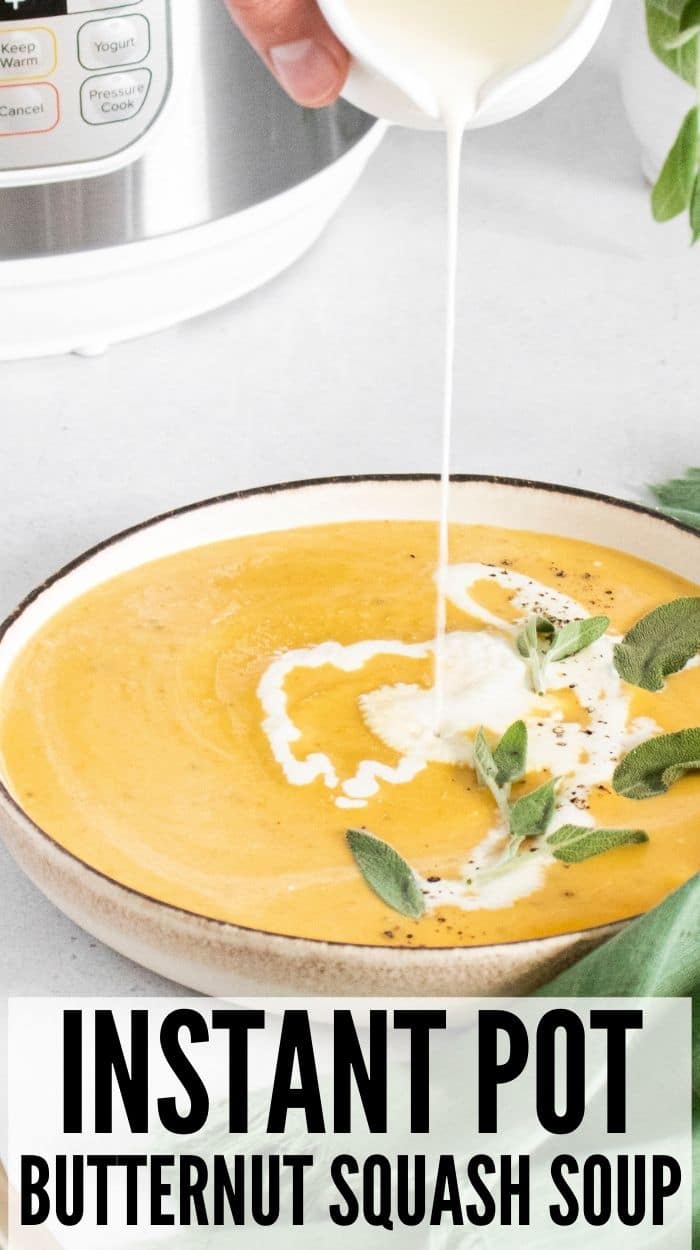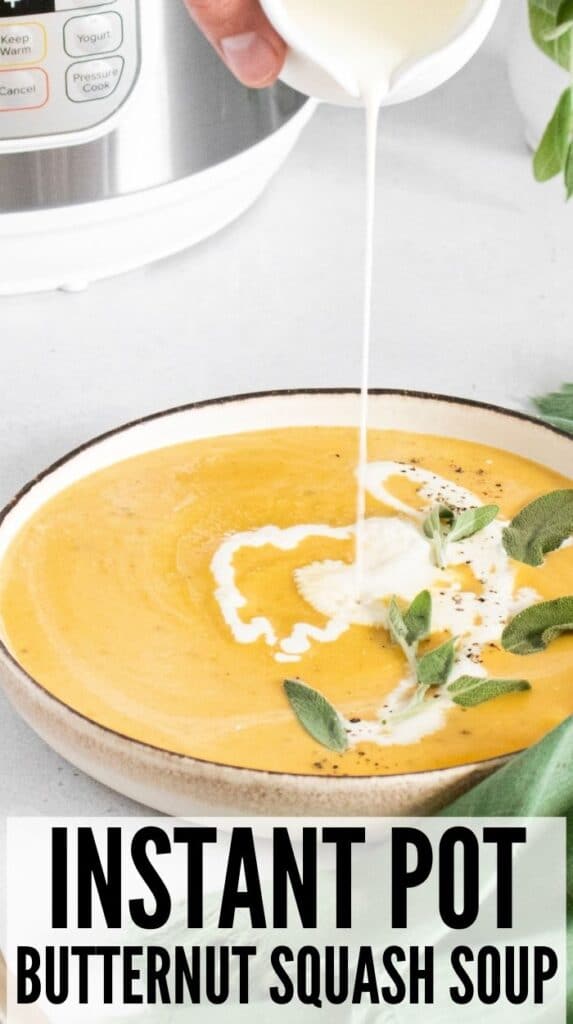 Reader Interactions