Crispy Air Fryer Fried Green Tomatoes. This is the perfect side dish or appetizer to whip up for any day of the week. easy fried green tomatoes that are full of flavor.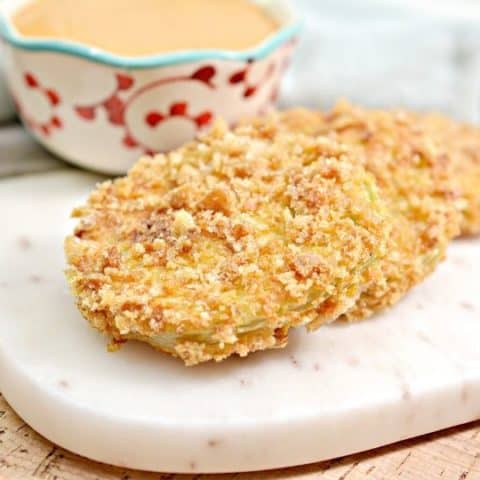 Air Fryer Fried Green Tomatoes are the easiest way to cook up your green tomatoes this season. Get a crispy coating, and tender and juicy green tomato inside. The best green tomato recipe you will ever try.
This fried green tomato recipe was made right in the air fryer. Simple step-by-step instructions that lead you to the perfect side dish, snack or appetizer to serve up.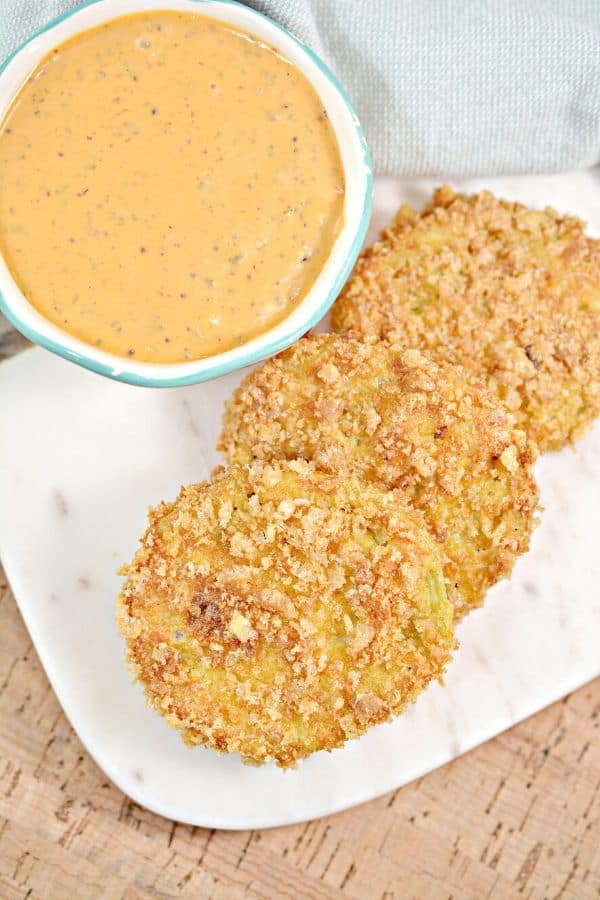 This air fryer green tomatoes can be baked or deep fried as well. I share directions for both in the recipe card below.
A similar southern fried green tomato recipe with a twist, to make them a little bit different.
Why You Might Like This Recipe…
Easy ingredients
Pork rinds for a lower carb option, but can use bread crumbs as well
Dippable in your favorite sauce
Great to use up your summer green tomatoes
Ingredients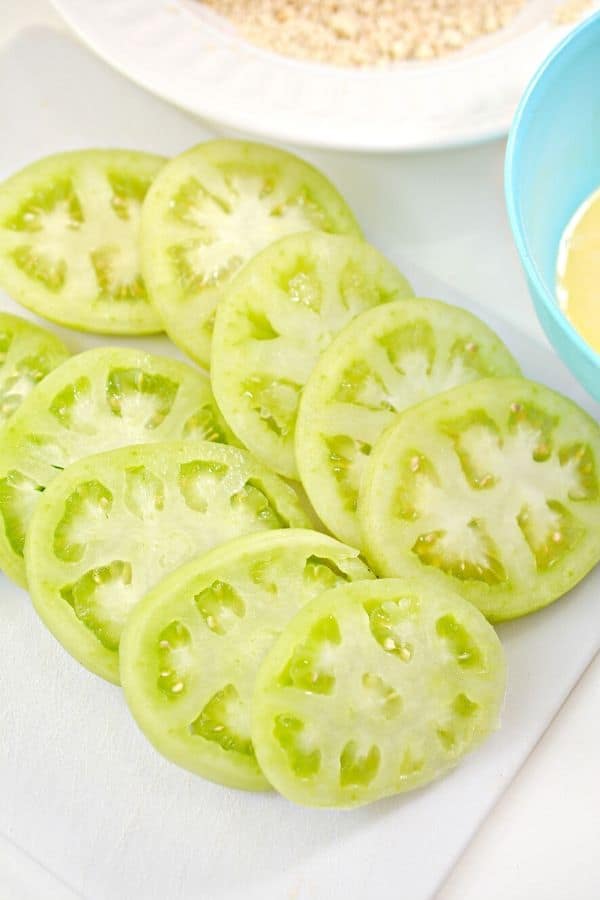 Crushed Pork Rinds (for keto) or Cornmeal
Green Tomatoes
All-Purpose Flour (or almond flour for keto)
Heavy Whipping Cream
Egg
Salt and Pepper
Paprika
How To Make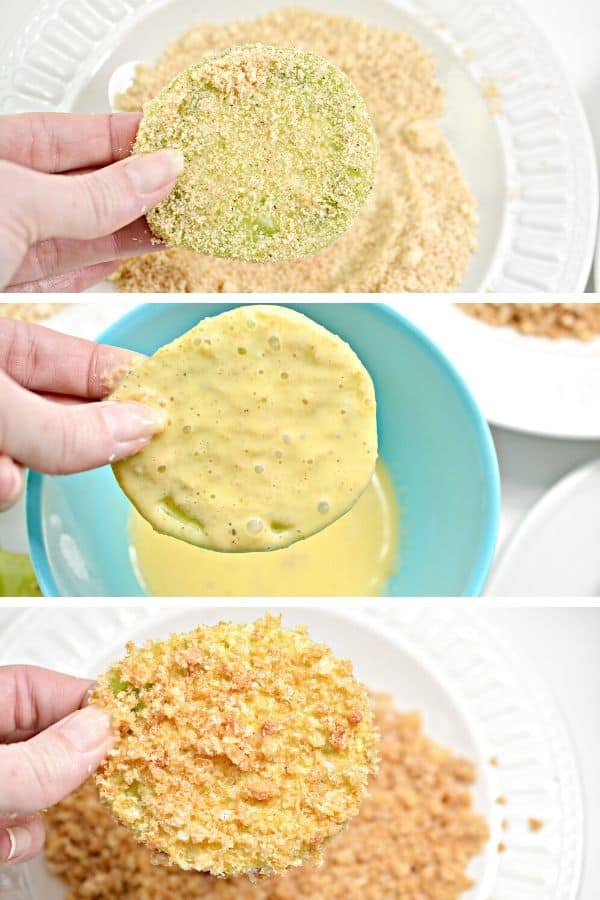 Step 1: Start by washing and slicing up your green tomatoes. I aim to cut them 1/4-1/2 inch thick.
Step 2: Now you want to do your different batters. Start with the flour mix, followed by egg and cream, and then last coat in pork rinds.
Step 3: Place in the air fryer and cook for 4-5 minutes on each side until your tomatoes are cooked and crispy.
Storage
If you have leftover tomatoes, store them in the refrigerator for 1-2 days. Bake in the oven or air fryer when reheating to get that crispy outside again.
The tomatoes will become a bit softer in texture once cooled down.
Expert Tips
Don't Overlap | The biggest thing is not overlapping your tomatoes. If you do you will find the crust does not fully crisp up where the tomatoes touch.
Batter | Make sure that you don't do a super heavy batter on your fried green tomatoes. Shake off excess and then move to the next stage of coating your tomatoes. You want an even cook.
Parchment Paper | Let your parchment paper become a good friend for this recipe! It will make cleanup a lot easier. I buy this air fryer parchment paper as it has holes for the air to still flow through. Plus it allows the cleanup to be so much more simple.
What To Serve With Fried Green Tomatoes
Here are a few things I like to dip my air fryer tomatoes in. Or baked green tomatoes if you go the oven route.
Zesty Sauce
Honey Mustard
Creamy Horseradish
Or if you have a homemade sauce you like to make go for it. We tend to reach for ranch or a creamy horsey sauce.
Recipe FAQs
Here are tips on how to make fried green tomatoes.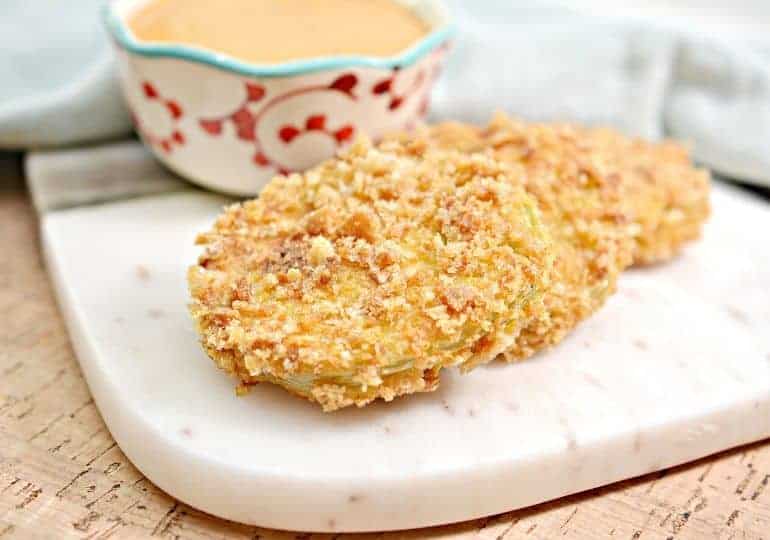 Want More Air Fryer Recipes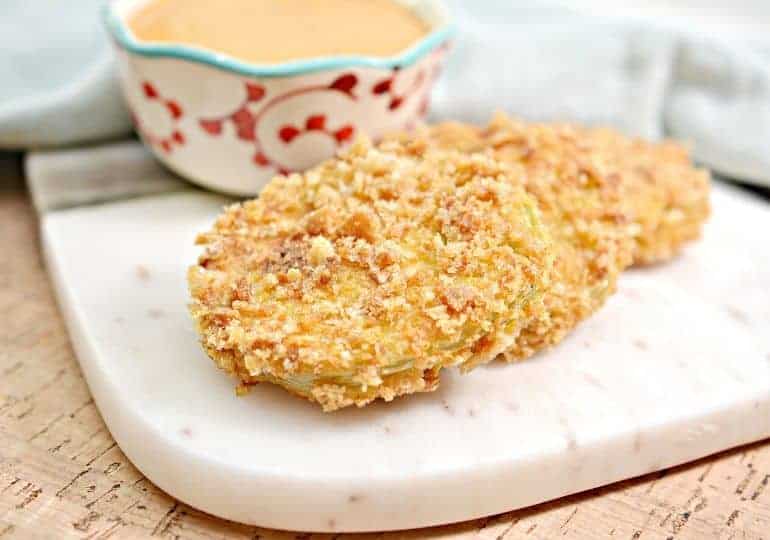 Air Fryer Fried Green Tomatoes
Servings 8 -10 slices
Crispy Air Fryer Fried Green Tomatoes. This is the perfect side dish or appetizer to whip up for any day of the week. easy fried green tomatoes that are full of flavor.
Ingredients
2 Medium Green Tomatoes
1 cup crushed pork rind crumbs which is around 3 oz
1/2 cup all purpose flour or almond flour if keto
1 egg beaten
1 tablespoon heavy whipping cream
1/4 teaspoon smoked paprika
1/4 teaspoon season salt
salt and pepper to taste
Instructions
Start by preheating your air fryer to 350 degrees. Now you want to wash and dry your tomatoes and slice them around 1/4-1/2 inch thick.

Then in a container add your flour, salt, pepper, paprika, and season all to make the flour base for your fried green tomatoes.

Now in another bowl add your beaten egg and whipping cream and mix up.

Grab one last plate or bowl and do your ground pork rind crumbs for coating your green tomatoes.

Now you will dip both sides of your tomato in the flour dredge, followed by dipping green tomato in egg wash, followed by the pork rinds.

Place the coated tomatoes on the air fryer rack and cook 4-5 minutes and flip, and cook another 4-5 minutes.

Once done place on plate and serve these easy fried green tomatoes with your favorite dipping sauce. This is an easy appetizer or side dish made right in your air fryer.
Notes
Bake Green Tomatoes – Batter the tomtatoes the same way, and then place in a single layer on baking sheet. Bake at 425 degrees for 5 minutes, flip, and cook until crispy. Deep fry green tomatoes – Same thing, do the same directions and then pan fry in hot oil. Once the outside is crispy brown, remove and place on a paper towel lined plate. Feel free to make as many tomatoes as you would like. Just batch cook the tomatoes. Make sure the tomatoes don't overlap in the air fryer, or they will not crisp up. Spritz tomatoes with oil to help get the coating nice and golden.
Nutrition
Serving: 1gCalories: 146kcalCarbohydrates: 15gProtein: 9gFat: 5gSaturated Fat: 2gPolyunsaturated Fat: 3gCholesterol: 58mgSodium: 379mgFiber: 1gSugar: 3g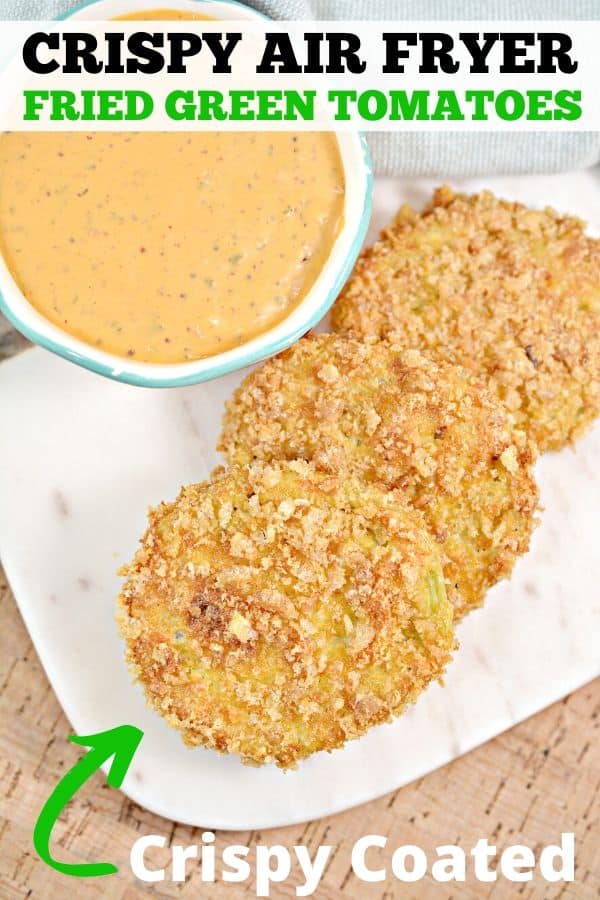 Have you made air fried green tomatoes before?
Reader Interactions