Strawberry Jam takes just 3 ingredients to make. You can make this into freezer jam, or can it to preserve the fruit jam. A simple and tasty strawberry jam recipe.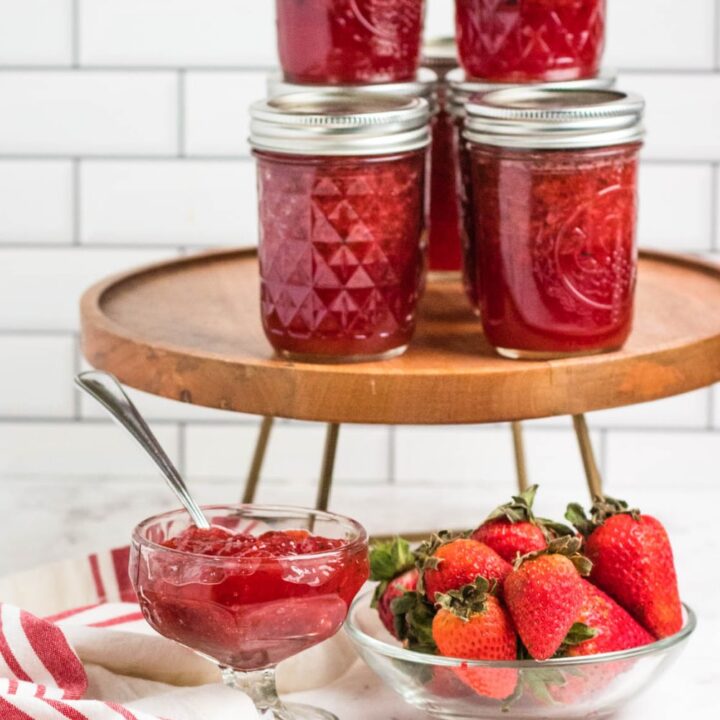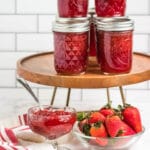 Are you a fan of homemade jams? Then here I have one of the best jam recipes for you. This strawberry jam is full of fresh strawberry flavor! Learn how to make strawberry jam in no time.
With strawberries in season, I am excited to start canning jam. Today I wanted to share this easy strawberry jam. Lots of strawberry pieces in each scoop. A fruit jam that satisfies!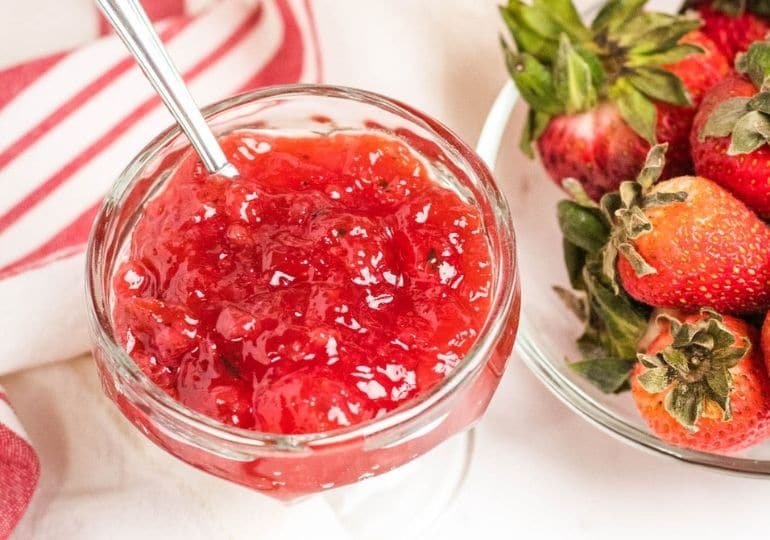 You can even gift this homemade strawberry jam to your foodie friends on charismas or any other special occasion.
I am sure they will love it as nothing can compare to the freshness of homemade jams.
Why You Will Love This Strawberry Jam…
Use fresh or frozen strawberries for this recipe
Tastes even better than store bought jam
Use as a strawberry freezer jam, or can the jam
Simple ingredients
Add in mint for a strawberry mint jam recipe
More Jam Recipes To Try – strawberry rhubarb, dandelion jelly, and jalapeno jelly.
Ingredients Needed
Strawberry jam includes only a few ingredients, which are: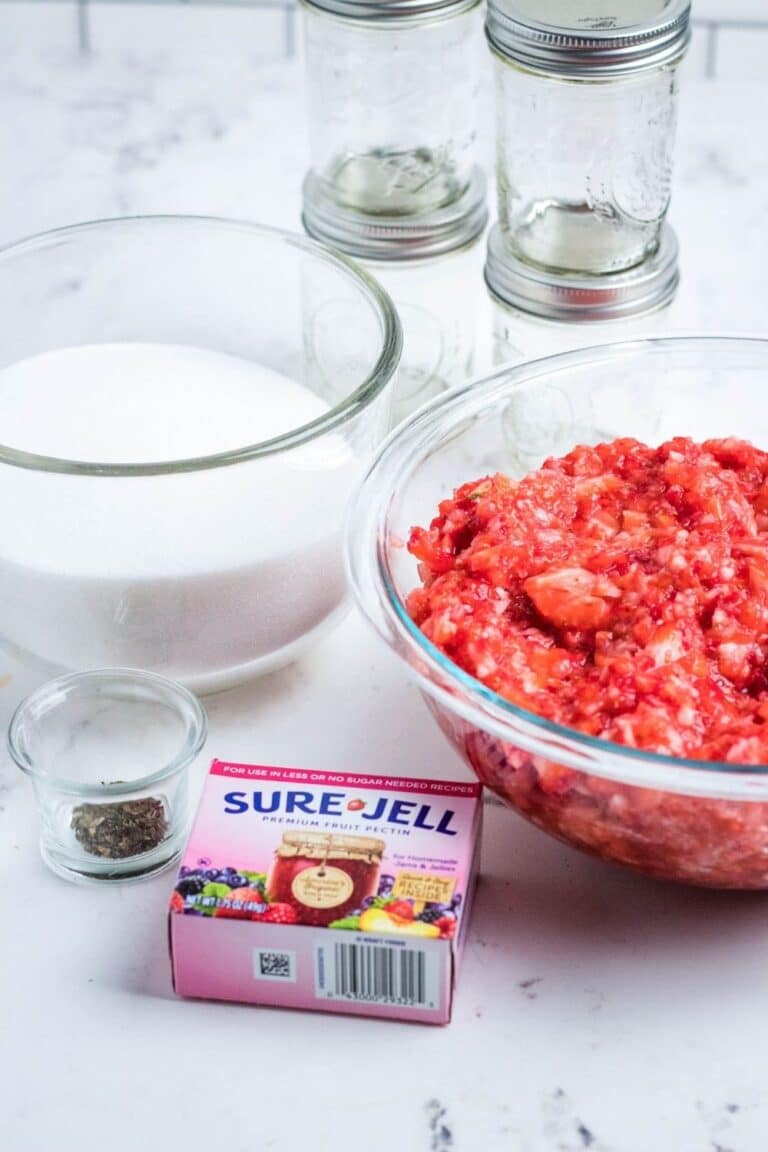 Crushed strawberries
Sugar
Mint (optional)
But, you can have your little variations as you can use dried or either fresh mint. You can even skip the mint if you want to keep it simple.
You can also adjust the quantity of sugar as per your choice or taste.
How to Make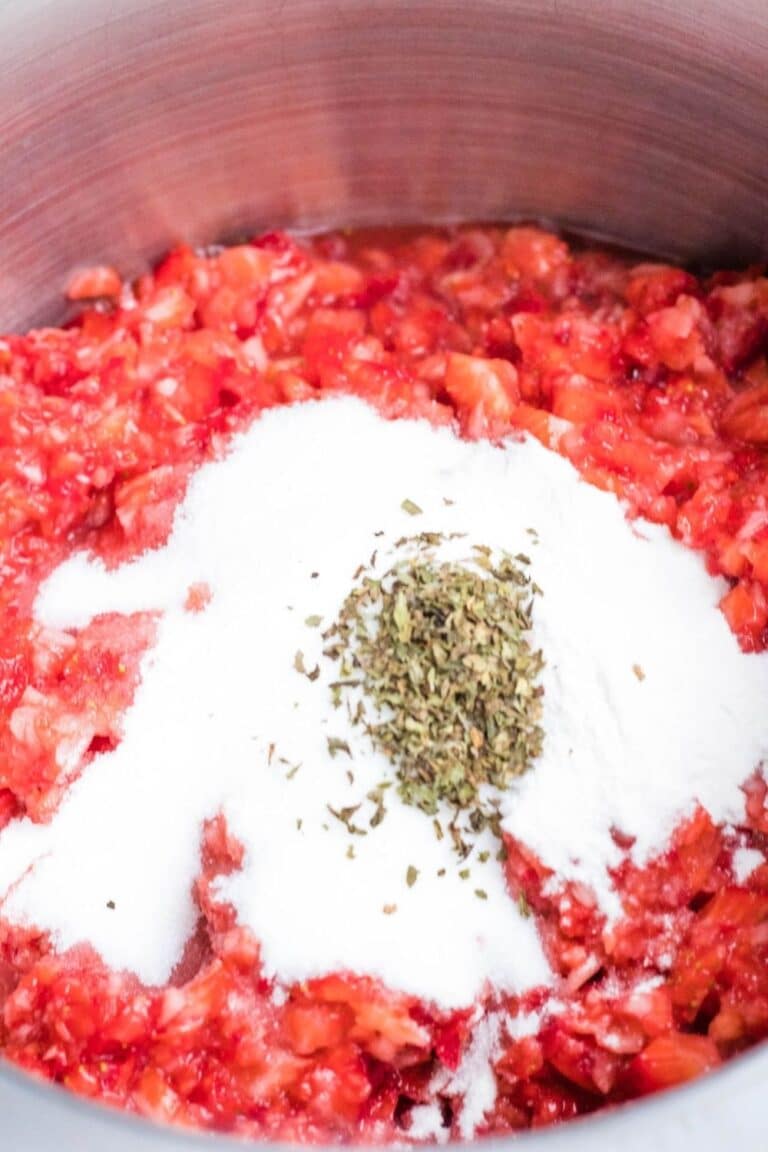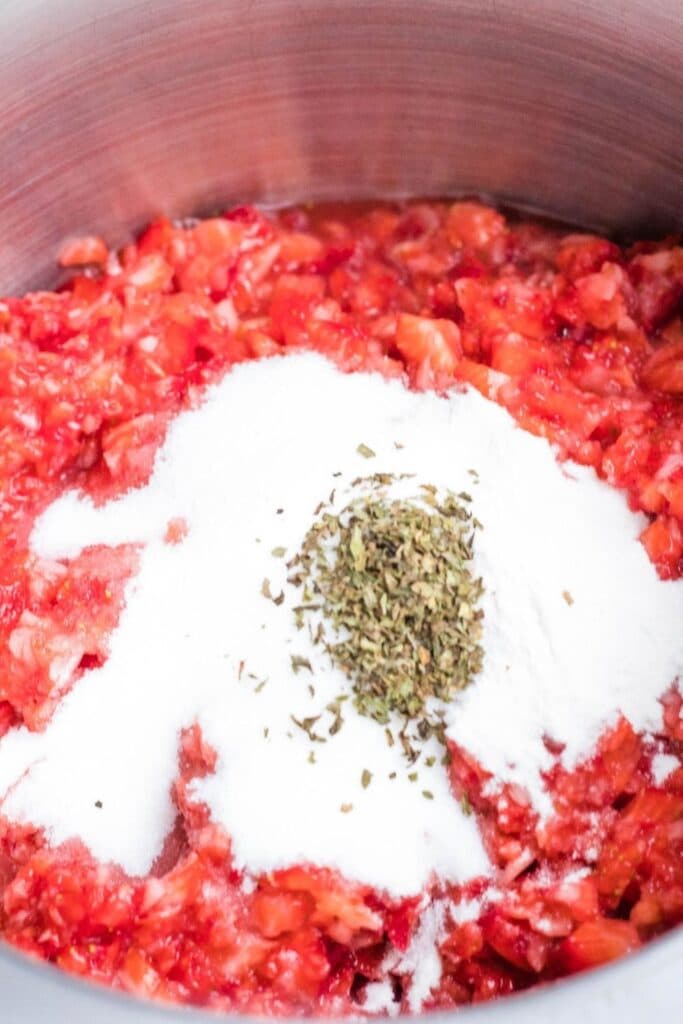 Step 1: In a large pot add in your crushed strawberries, and mint if you choose to use mint. Stir to combine.
Step 2: Now add in 1/4 cup sugar, and the pectin. Bring the mixture to a boil, and make sure to stir almost continuously. Allow the mixture to boil for 1 minute.
Step 3: Pour in the rest of the sugar, and let it come to a boil again. Then remove from heat.
Step 4: Pour into sterilized hot jars, and clean off to lid edge. Place the lid discs on the jars and screw rings on.
Step 5: Now to can you will lower the jam jars into a pot of hot water, and make sure the tops of the jars are covered in at least 1-2 inches of water. Let the jars boil for 10 minutes.
Step 6: Lift up the jars, and remove from the water and place on a towel lined cooling rack.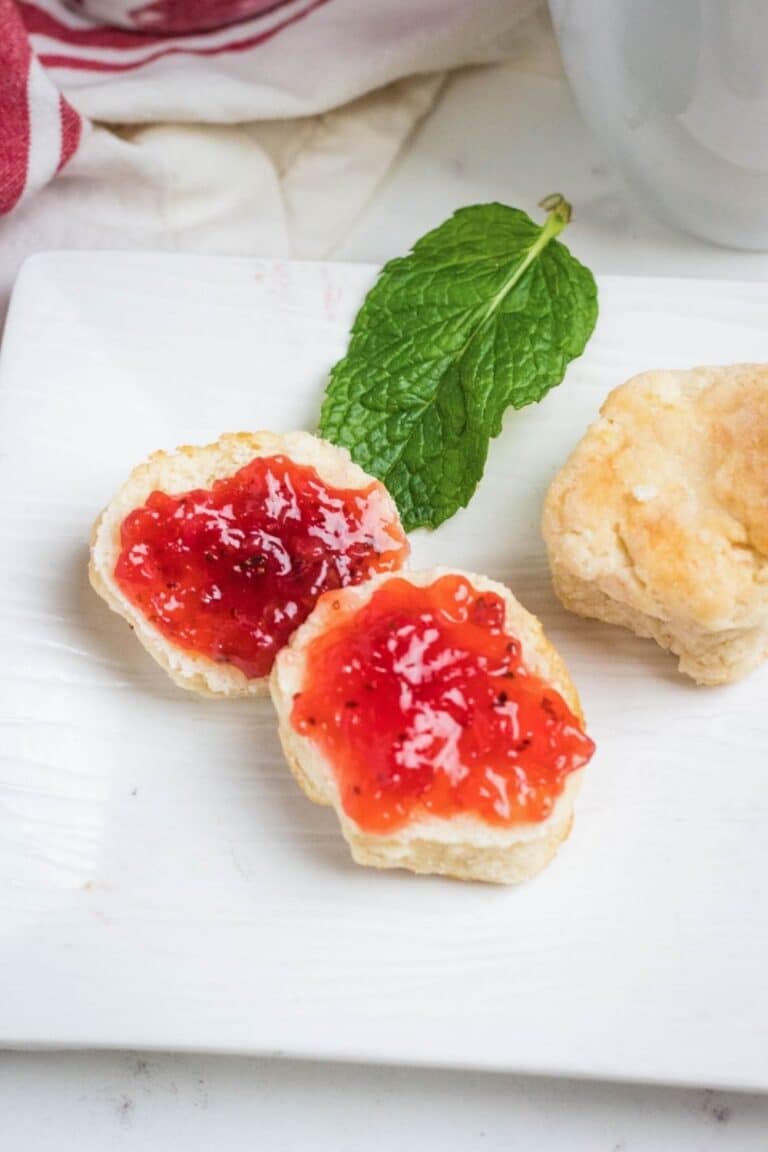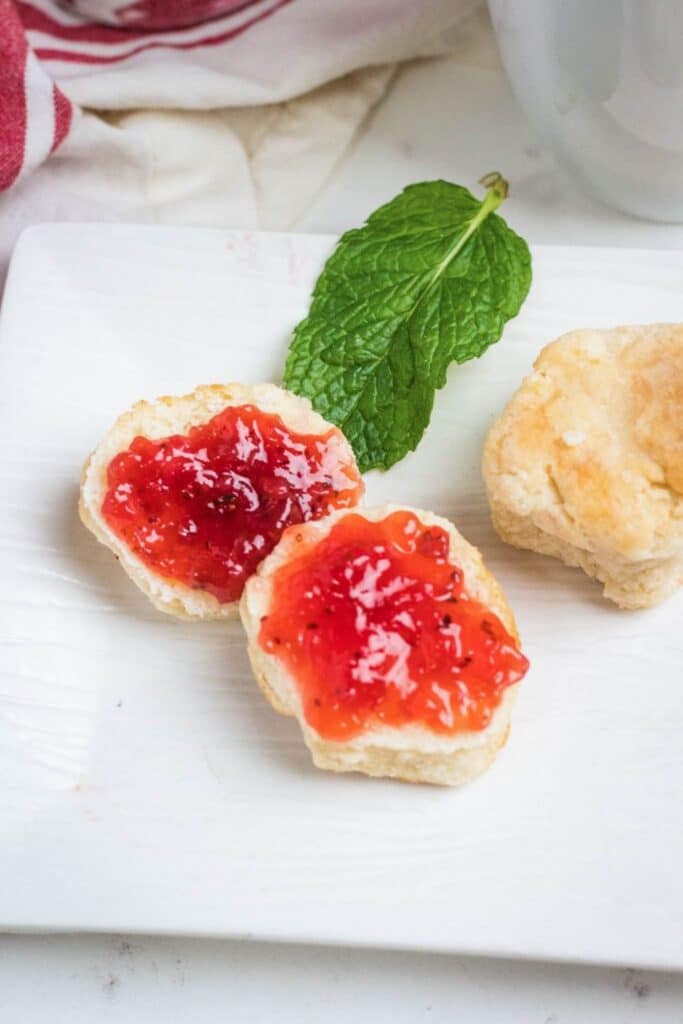 Step 7: The seals will pop normally within an hour of being made. Let the jam sit to cool on counter overnight. Then store in your pantry or a cool dry place.
Storage
Freezer Jam – If you do not want to can your strawberry jam, then you can place it in the proper freezer containers and freeze the jam. This is another way to extend the shelf life of this recipe. The jam can freeze for up to 6 months.
Canning – If you can the jam it can store in a cool dry place for up to a year. You just have to make sure the jam is canned properly or it can spoil.
Refrigerate – If you want to make the jam, place in a jar and store in the fridge, go right ahead. The jam can last up to a month in the fridge.
Grab my Free Kitchen Conversions Printable! This shows you how many cups are in a quart, pint, etc. A great printable to keep handy for when you need to convert a recipe.
How can I use this strawberry jam?
Enjoy it with crusty bready
Top of waffles
Pancakes
Yogurt
Fill in it your homemade cupcakes or muffins
Pair with a bowl of vanilla ice cream
Top strawberry shortcake with a dollop along with fresh berries
Expert Tips
Make sure to chop the strawberries into small pieces. That way you don't get a huge piece when you bite into it once it is cooked.
The fruit jam will thicken even more once it begins to cool, after being pulled from the stove.
Fresh or frozen berries work for this recipe.
Add in mint for a nice twist, or skip it.
Strain off the fruit pieces to make this into a strawberry jelly that is smooth.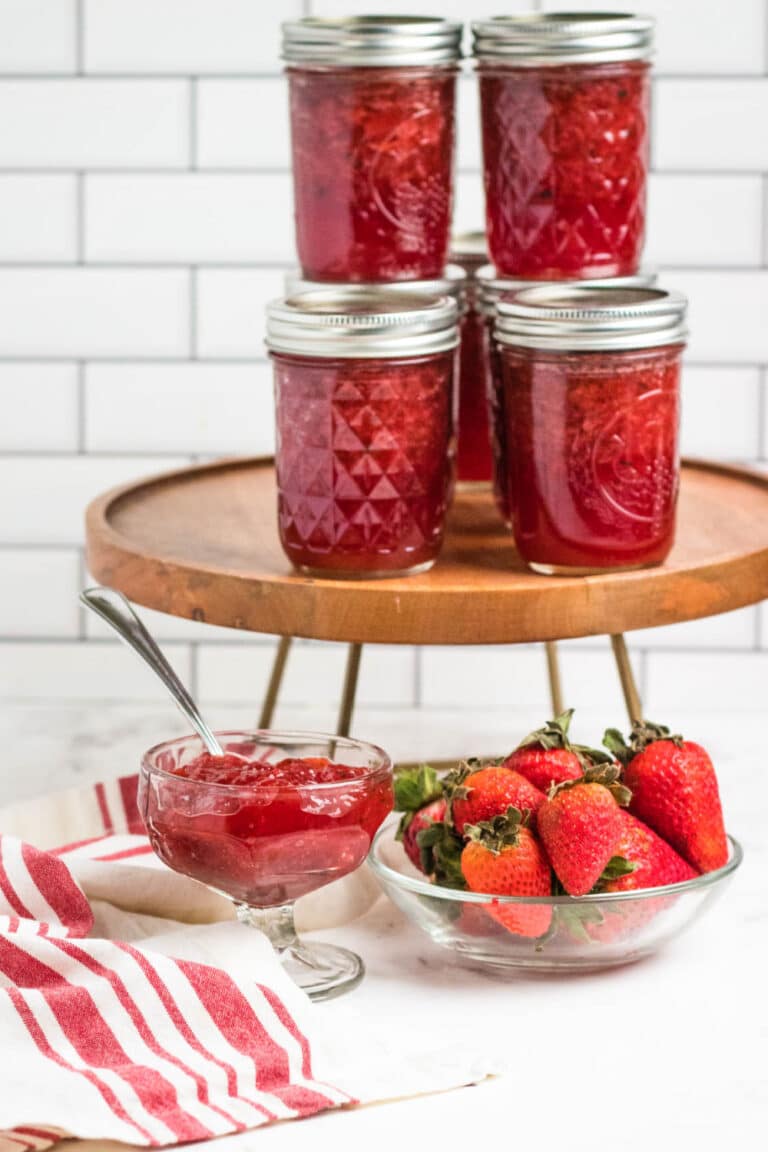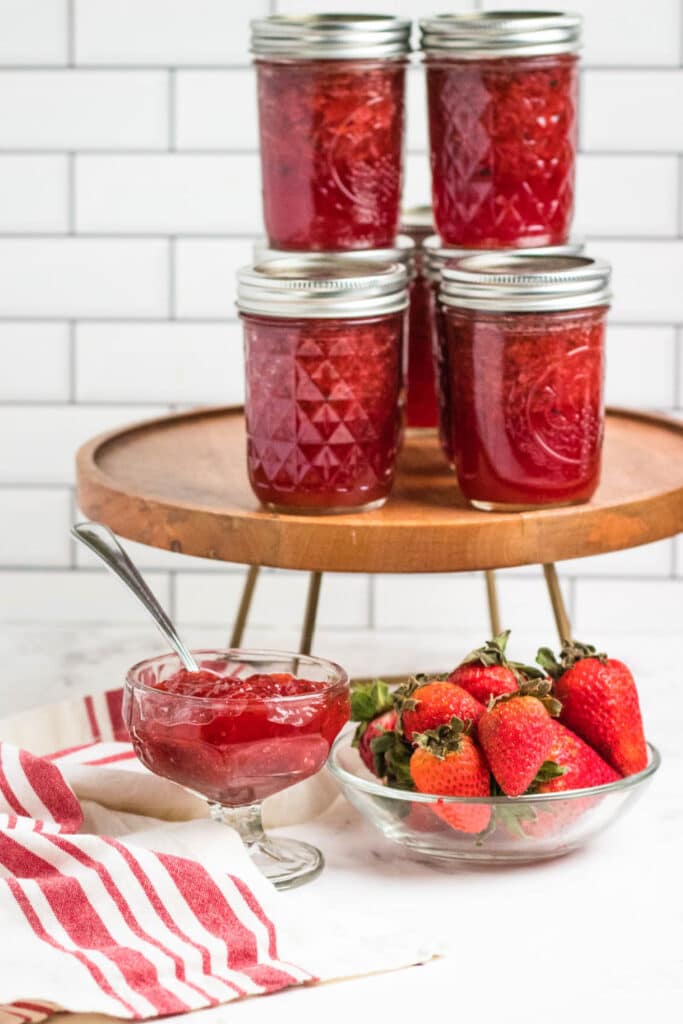 Recipe FAQs
Craving More Fruit Recipes
Canning Tools I Recommend
If you are new to canning here are some essential I use when I can.
Here is a canning kit, it has all the tools for holding jars when lowering them in and out of the water, a magnet to place seals on jars. A funnel for pouring in the jar to prevent spills, and more.
Here are some great jelly mason jars that are nice quality. These are similar to what I use.
I use a older water bath pot, but here is a great one that comes with the liner to lift and lower your jars easily.
Here is a really nice scoop for pouring into the jars. This is a very handy canning tool.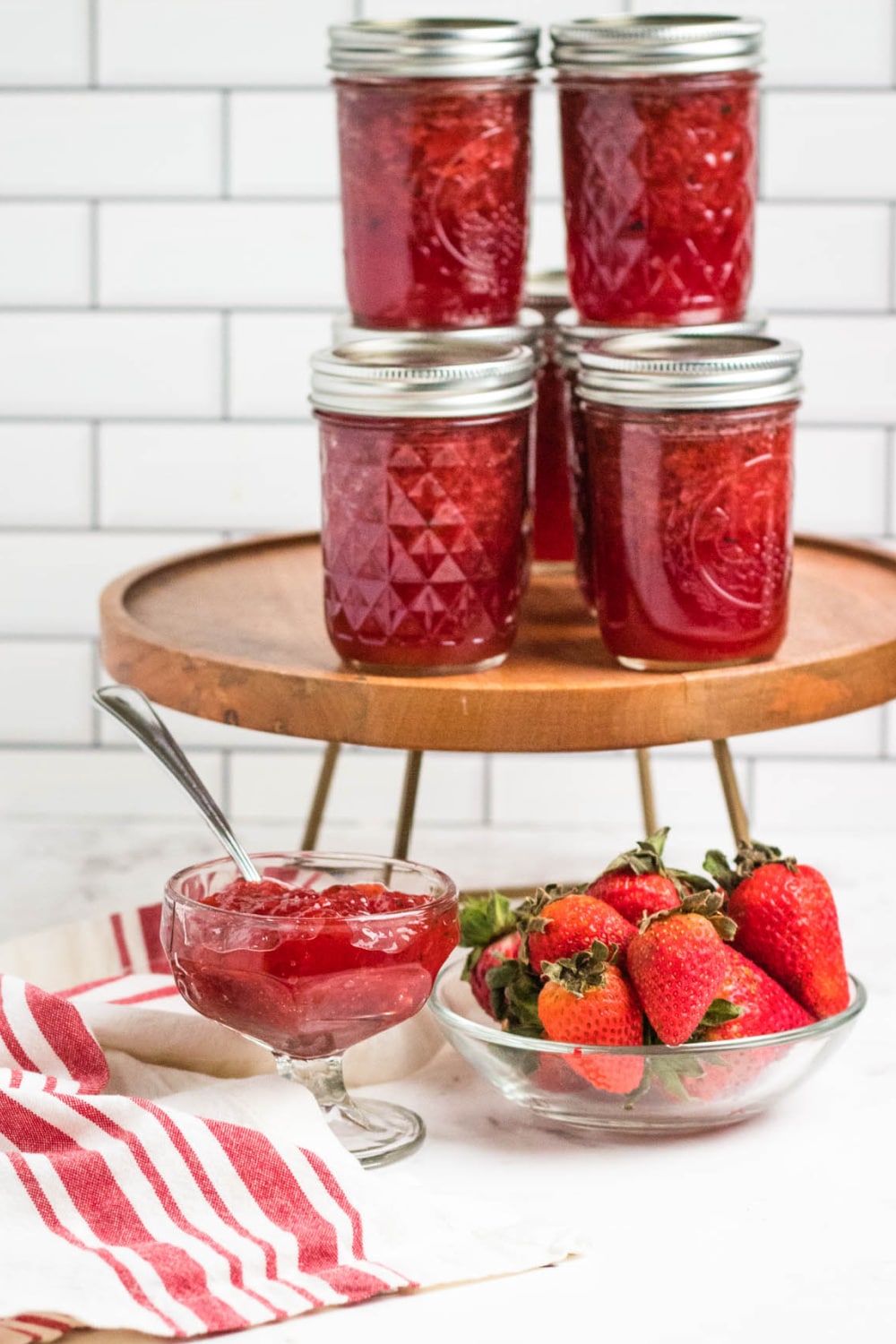 Strawberry Jam Recipe
Servings 8 jars
Strawberry Jam takes just 3 ingredients to make. You can make this into freezer jam, or can it to preserve the fruit jam. A simple and tasty strawberry jam recipe.
Ingredients
6 cups strawberries crushed
4 cups granulated sugar
1 box Powder Pectin – low sugar
1 teaspoon mint optional
Instructions
In a sturdy pot you will add in your crushed strawberries, and mint if you choose to add it. Start warming up the canning pot with water, if you plan to can the jam.

Then stir in 1/4 cup of sugar, and your box of pectin. Bring the mixture to a boil, stirring continuously.

Once it boils add in the remaining sugar, and stir once again allowing it to boil for 1 full minute.

Remove from heat and pour into your sterilized hot jars. Leave room of the top of the jar for the jelly to expand (1/4 inch) Wipe away any spiage around the edge.

Place the disc on the top of mason jar, and screw the ring on. Don't make it super tight just enough to have it screwed on.

Place your mason jars in your canning pot that is filled with hot water. Make sure there is 1-2 inches of water covering the jars. Bring to a boil for 10 minutes.

Carefully remove the jars, and place on a towel lined cooling rack and allow the jars to sit overnight. The seals will pop once they are sealed tight. You can push down on the center of the jam jars, and not hear a pop.
Notes
How to Sterilize Jars
You will want to use sterilized jars, when you can. Place the jars and lids in a canning pot, with the rack on the bottom. If you don't own a rack place a cake pan under, if the jars touch bottom of pot they will break.
Then cover the jars with water, and bring to a simmer and heat for 10-15 minutes.
Once done, remove jars and then fill with the hot jelly. I tend to sterilize jars while I am making the jam or jelly, that way the jars are warm when I pour in the jam.
You need warm jars to pour jam in, or if the jars are too cool they will break from the hot jam.
Store jam in the fridge if you do not can, or freeze the jam.
I used pint size jars, but any size jar you have or want will work.
Nutrition
Serving: 1gCalories: 101kcalCarbohydrates: 26gSodium: 3mgFiber: 1gSugar: 24g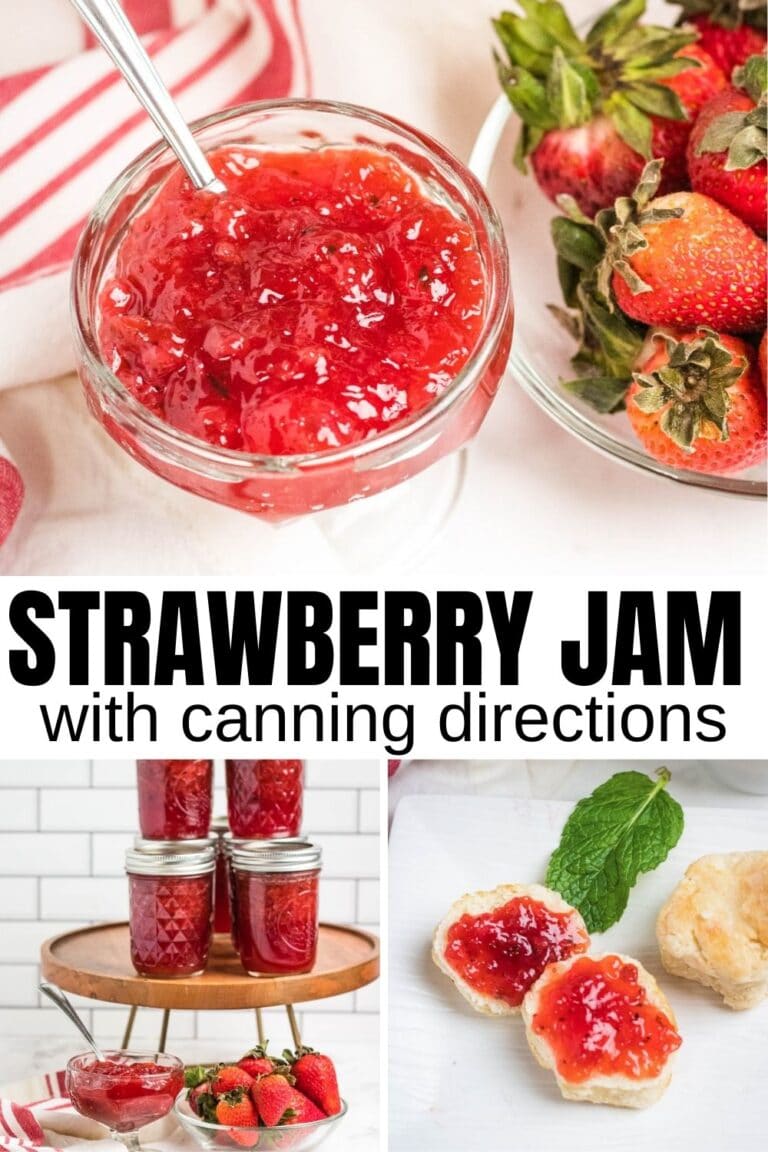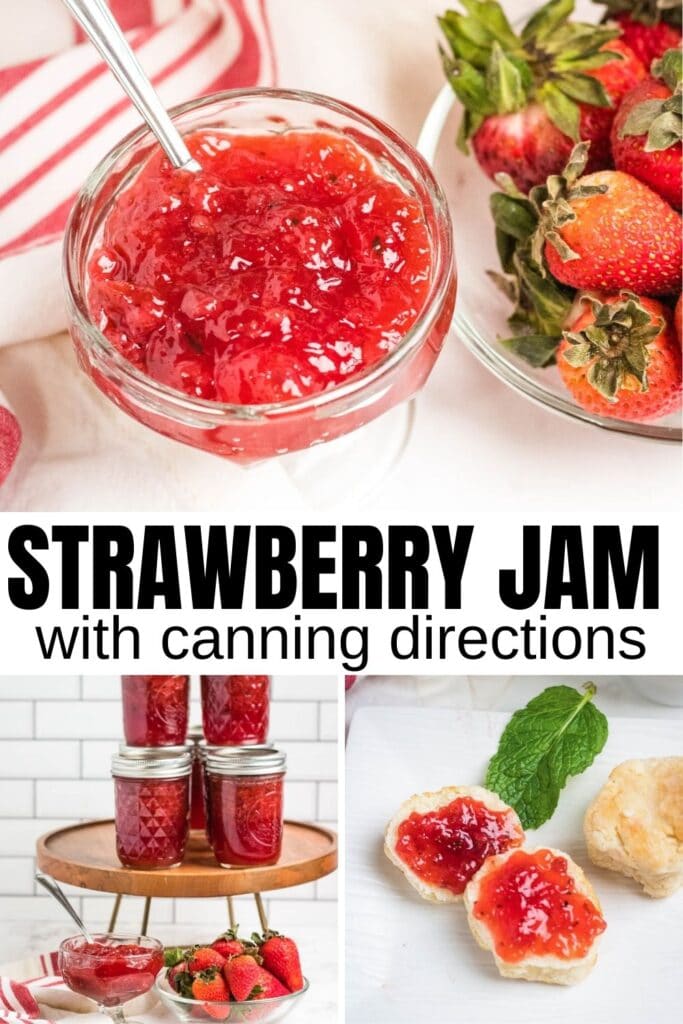 I hope you enjoy this strawberry jam with pectin. It is a great strawberry jam for canning. Thick, flavorful, fruity jam.
Reader Interactions