Try out my Instant Pot Strawberry Rhubarb Jam! This strawberry rhubarb jam recipe is loaded with sweet and tart all in one. Whip up a batch of this homemade jam and learn how to can it to preserve for later.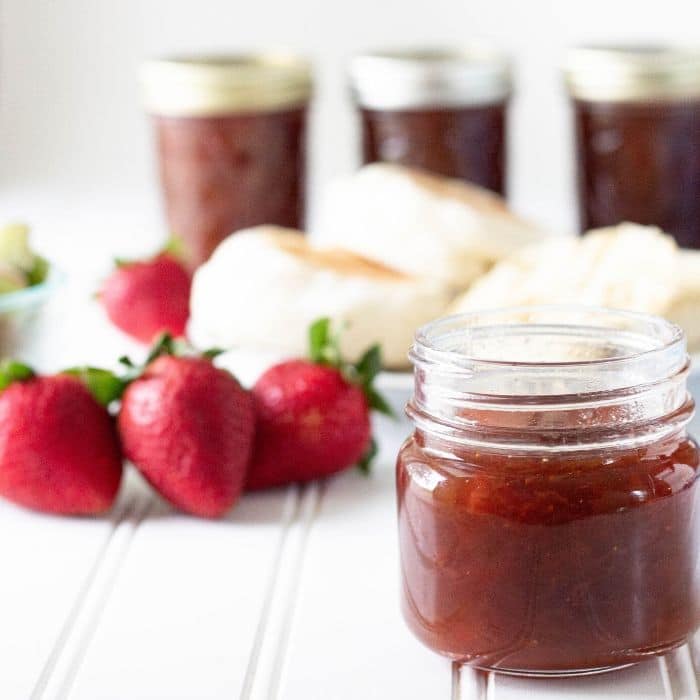 Tart, tangy rhubarb and strawberry collide. Smear on English Muffins, bread, or even crackers. I have even added a dollop to yogurt and ice cream. This rhubarb-strawberry jam is a must make.
This recipe wouldn't have been able to happen without my mother-in-law! She gave me the rhubarb and the canning essentials to use!
Also, here is a strawberry jam recipe as well.
Instant Pot Strawberry Rhubarb Jam
So I sped up the proccess of making homemade jam using my electric pressure cooker. It takes less time, and a more hands-off approach.
Once I got the jam ready. I poured into sterile jars. Then I went through the process of canning each jar. I wanted to stock my pantry with some jam, as well as Jalapeno Jelly. Try out my dandelion jelly recipe.
Why Make Instant Pot Rhubarb Jam
Easy
Quick Cook Time
No hovering over the stove to stir
5 Ingredients Is All You Need
You can store in fridge, or can for further shelf life
So simple to make
Why not make Instant Pot Rhubarb Jam? This recipe and the process couldn't get any easier. Also, check out my strawberry banana cake recipe.
Does This Recipe Use Pectin
Yes, you will use a powder pectin. You can't change it to liquid, I was always taught to use the same style of pectin the recipe calls for.
So if you choose to change it out, do it at your own risk.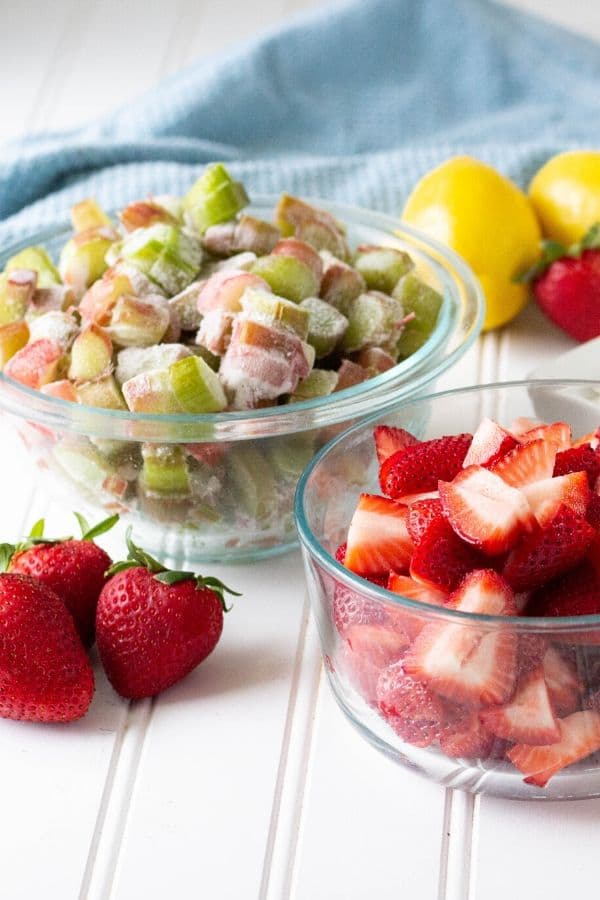 Can I Use Frozen Fruit
Absolutely, you can use frozen fruit when making this jam. My mother in law gave me the rhubarb, and she had diced it all up and froze it.
So I used fresh strawberries and frozen rhubarb. It worked great and was full of sweet and tart just as if it was all fresh.
You could even use frozen strawberries if that is what you have. Most fruit is frozen at their prime, so they will bring you tons of sweetness.
Why Do You Let Fruit Marinate In Sugar
You will see in the recipe once you add your fruit, lemon juice, and sugar into the Instant Pot, you let it sit and marinate for 10 minutes. This is going to allow the sugar to help soften up the fruit.
So when you go to mash it up you will find it makes it more tender on the fruit.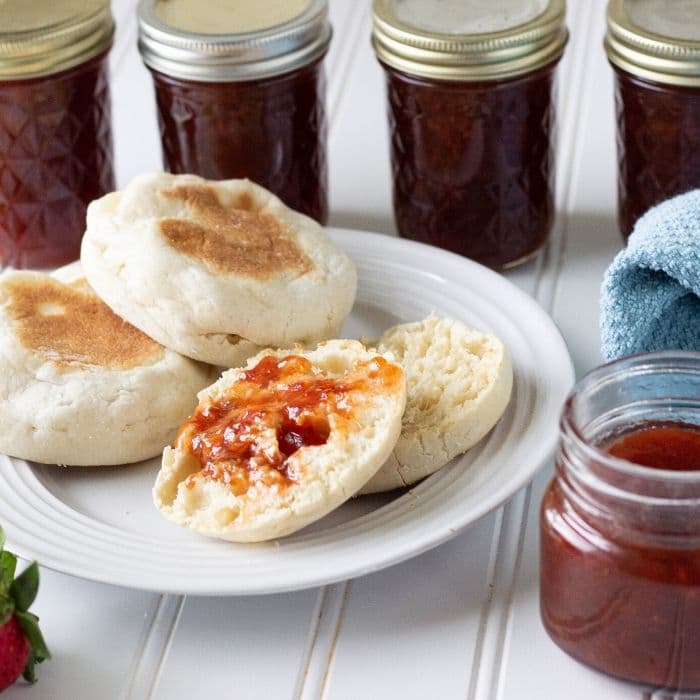 How To Serve Up Strawberry Rhubarb Jelly
English Muffins
Top Yogurt
Oatmeal or Cream of Wheat
Ice Cream
And More
As you can see this sugary jelly can be spread or topped on so many different items in your home. Don't just leave it to toast. Experiment and see what you enjoy the most.
How To Can Strawberry Rhubarb Jelly
My mother in law loaned me all her canning supplies. So, this is my second recipe I tried.
You want to cook your mixture as directed on stovetop or Instant Pot. Then add in pectin to thicken.
Spoon mixture into sanitized jars, and place the seal and ring on the jar till it is hand time. Drop jars in your canner that is full of water, and drop it down in and cook for 10 minutes.
Or depending on your altitude adjust the time. This is a fantastic rhubarb canning recipe, and I hope you find it easy like I did.
How To Store Canned Jams And Jelly
You will want to place in a cool dry place for up to 1 year. The biggest thing is making sure the seal is tight. When you go to open the jar make sure the seal is tight, no mold, and smells right, and texture is the same as jelly.
You will always want to use your best judgement in terms of quality of your canned items you are preserving.
What If My Seal Doesn't Pop Down
You will want your seal to not bend and make a popping noise when you push down on it, once you have allowed your jars to cool down after coming out of the canning water.
If your seal still flexes, you have up to 24 hours to try again on canning and see if you get your jar to seal. If it does you can then store as normal.
Otherwise just place jam in the fridge, and then eat it within 1-2 weeks.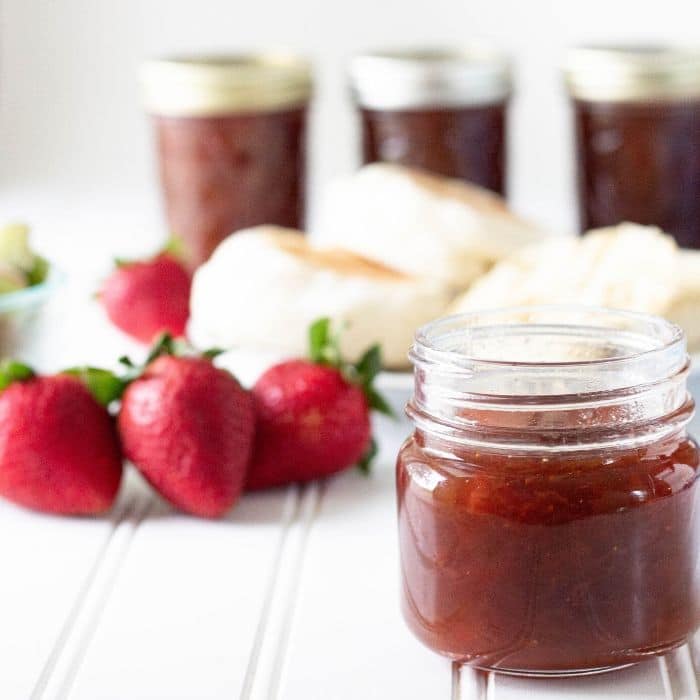 Instant Pot Strawberry Rhubarb Jam with Canning Recipe
Servings 6 jars 8 oz each
Try out my Instant Pot Strawberry Rhubarb Jam! This strawberry rhubarb jam recipe is loaded with sweet and tart all in one. Whip up a batch of this homemade jam and learn how to can it to preserve for later. 0 minutes
Ingredients
2 cups strawberies cleaned and sliced
2 cups rhubarb cleaned and cut into 1/2 in pieces
5 1/2 cups granulated sugar
1 packet powder pectin
1/4 cup fresh squeezed lemon juice
Instructions
Start by prepping your fruit and placing in your Instant Pot. Add in your lemon juice and sugar. Give a good stir, and let set for 10 minutes.

Now you will place the lid on your Instant Pot and cook on high pressure for 1 minute. Followed by 20 minutes of natural releasing of pressure.

Now you will take the lid off once pressure is all pushed off. Turn to saute and pour in your powder fruit pectin.

Saute for 5-8 minutes or until the mixture begins to thicken like jam and starts to set up.

If you plan to can you will want to boil your lids, jars, and seals in one pot of water. Then have the water nice and hot in your canning system.

Drain water off sanitized jars, and then ladle in your jam. Leave 1/4 inch at top. Wipe away any fruit around the rim. Place the sealing ring with the magnet, and twist on the ring. Do it until it is hand tight.

Place all the jars in the canner system, lower them down to ensure the water covers all the jars by 1-2 inches. Cook while water is boiling for 10 minutes or adjust to your altitude.

Remove from water carefully and set on a towel. Cover and allow jars to cool. The sealing lid should pop down so it doesn't flex when you push down in the center.

Then store your strawberry rhubarb jam in your pantry or a cool dry place for up to a year.
Notes
If you don't want to can your jam, you can follow all the step but don't boil using your canner. Then just take jars once they cool from pouring in jam mixture, and place in the fridge. It will store for up to 1-2 weeks. You can also freeze the jam as well if you don't want to can it.
Nutrition
Serving: 1gCalories: 47kcalCarbohydrates: 12gSodium: 1mgSugar: 11g
Canning jam has been a great experience. I hope you give it a try if you want.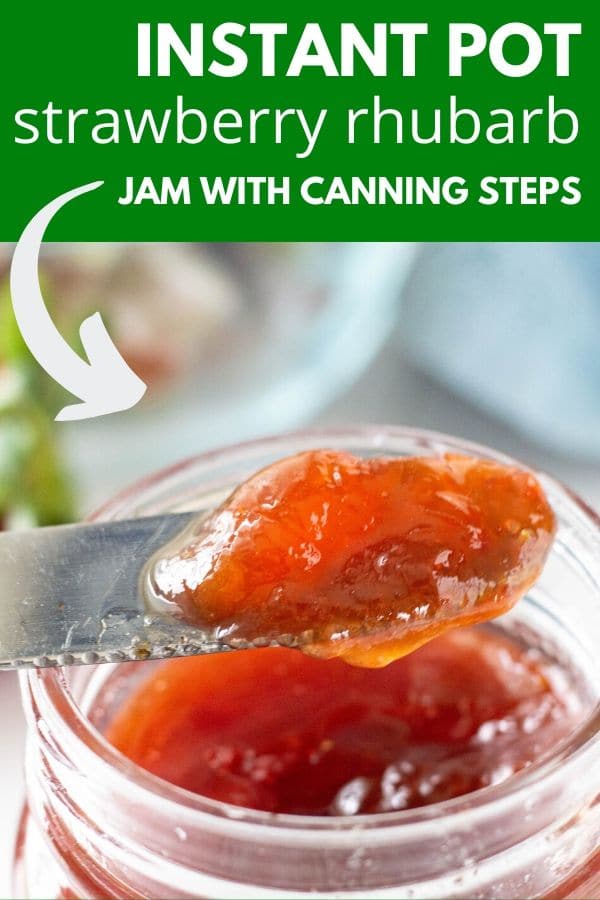 Are you a fan of strawberry rhubarb jam?
Reader Interactions