1-hour breadsticks recipe is one of my go-to recipes for when we get to craving homemade breadsticks. A quick breadstick recipe that is going to be a treat.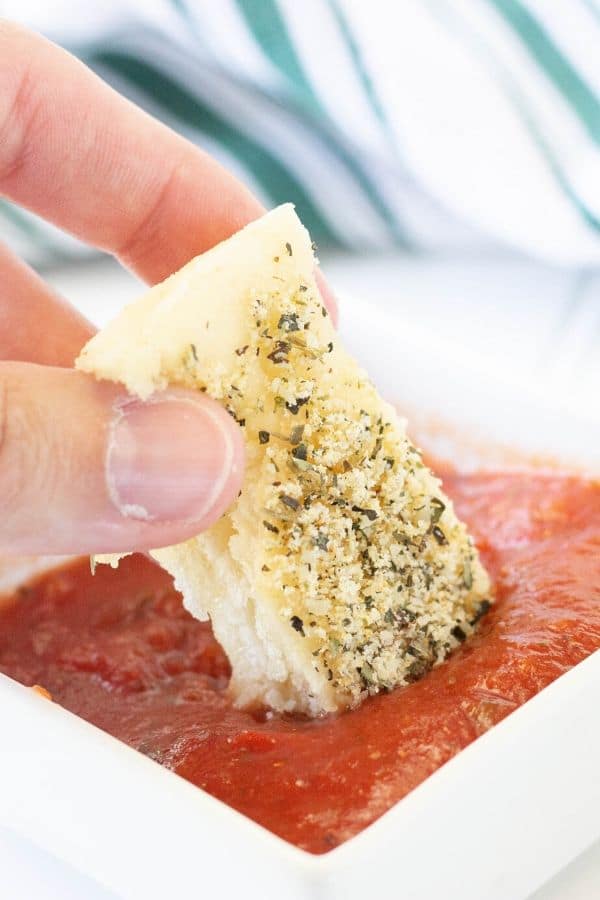 Light and fluffy breadsticks that are topped with a Parmesan and dry herb topping. I paired with a homemade tomato sauce for dipping.
1 Hour Breadsticks
So I reached for my Instant Pot to help me speed up the rising of my breadsticks dough. I use the yogurt setting so it helps create the perfect warm atmosphere to help your dough rise.
I love making bread in Instant Pot. These Instant Pot breadsticks are a must-make if you are a bread lover.
I am an Amazon Affiliate, so if you purchase through my link I can earn a commission on sales.
Looking for more Instant Pot Bread Recipes
What Type Of Flour To Use For Breadsticks
I used bread flour for this recipe. If you don't have bread flour you can opt for all-purpose flour.
It will change the texture of the bread sticks but they will still be delicious.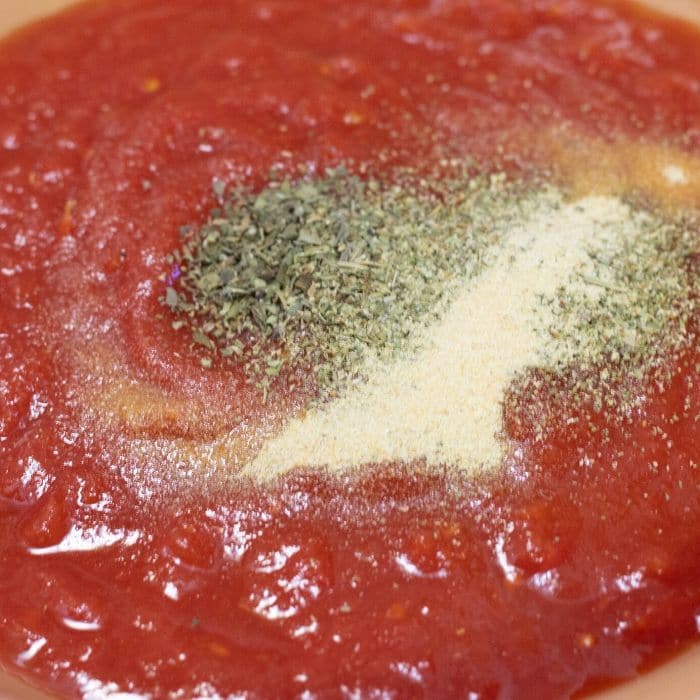 Homemade Sauce For Bread Sticks
I used crushed tomatoes, dry herbs, sugar, salt, and a little water to create my sauce. This tomato sauce is super easy to make.
You can also buy marinara sauce if you prefer to go that route over making homemade.
Why Put Butter On Bottom Of Pan
The butter on the bottom of the pan is going to give your breadsticks incredible flavor but also a golden brown look.
I love adding butter to the bottom of the pan as well as brushing the freshly baked soft breadsticks with butter. It adds color and flavor to every incredible bite.
Can I Make These Into Cheesy Breadsticks
Absolutely! Simply grab some mozzarella and sprinkle that on top and then bake according to the recipe below.
You can still sprinkle on some of the herbs and parmesan mixture under the cheese if you would like.
I wanted these to taste like Pizza Hut breadsticks but I didn't quite get the recipe accurate enough to call it that. But, they are still really tasty as is.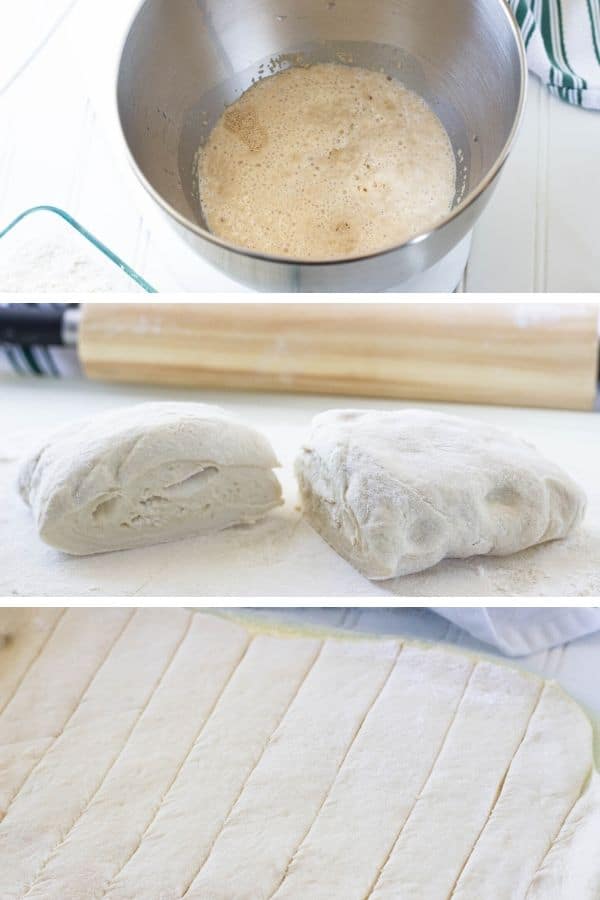 How To Make Homemade Breadsticks
Start by adding warm water, dry milk, sugar, salt, and yeast in a bowl. Let it sit for about 5 minutes to ensure the yeast activates.
Add in olive oil, and then slowly work at adding in your bread flour. I used my KitchenAid Stand Mixer, with the dough hook.
Once the dough forms a ball and isn't overly sticky when touched, you roll in ball and place in greased Instant Pot and place plate or glass lid on top.
Select the yogurt setting for 30 minutes. Or if you don't own Instant Pot place dough in a bowl in a warm spot in the home covered with a towel. You want the dough to double in size.
Once done, split the dough in half and roll out to fit a 9×13 pan. Add butter in the bottom of the pan, and place dough in.
Slice and bake, then butter and top with your breadstick topping. Then serve.
How Much Flour To Use For Breadstick Dough
The one thing about making bread or even breadstick dough, is you will have a rough idea on flour to use. Depending on how you measure it can vary a bit.
You want your dough to slowly begin to form a ball as it is being mixed around. Then you will want to touch the dough with your hand and if it is not sticky and pulls gooey dough to your hand you can begin shaping into a ball to let rise.
You will always have to use your eye to gauge if there is enough or not enough flour. The key is to be able to work the dough with your hands without getting them covered in dough.
You can always dust your hands with flour before touching to help prevent sticking.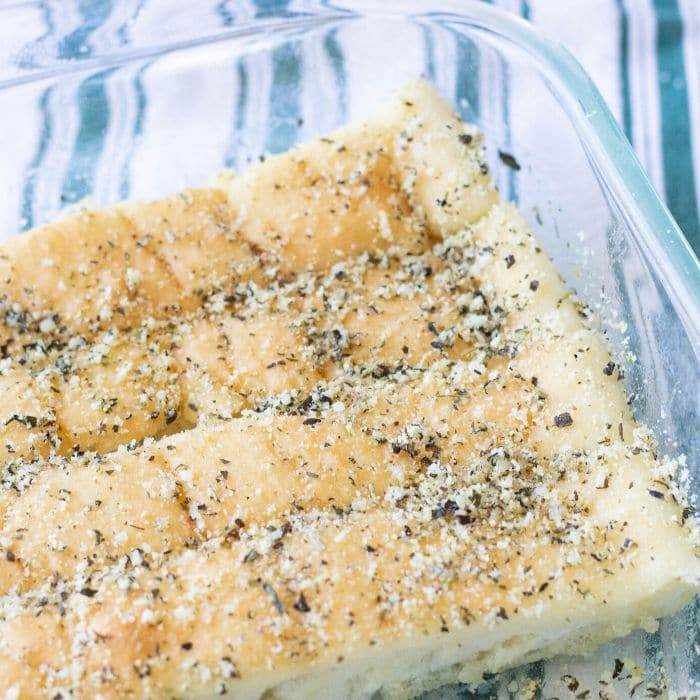 Tips For Making Easy Breadsticks At Home
Water: You want your water to be around 100-105 degrees Fahrenheit. This will help to activate your yeast without being too hot to kill it.
Flour: As I mentioned above you might not use all the flour called for in the recipe. You need to use your eye to gauge when the dough is mixed enough.
Yeast: Active dry yeast is what I used but you can swap for Instant Yeast. If that is what you use, you do not have to let the yeast activate, you can move on to mixing flour in.
Instant Pot: The Instant Pot is my favorite way to work with dough. ou have to have a yogurt button or all other settings on the Instant Pot will be too hot and kill the yeast.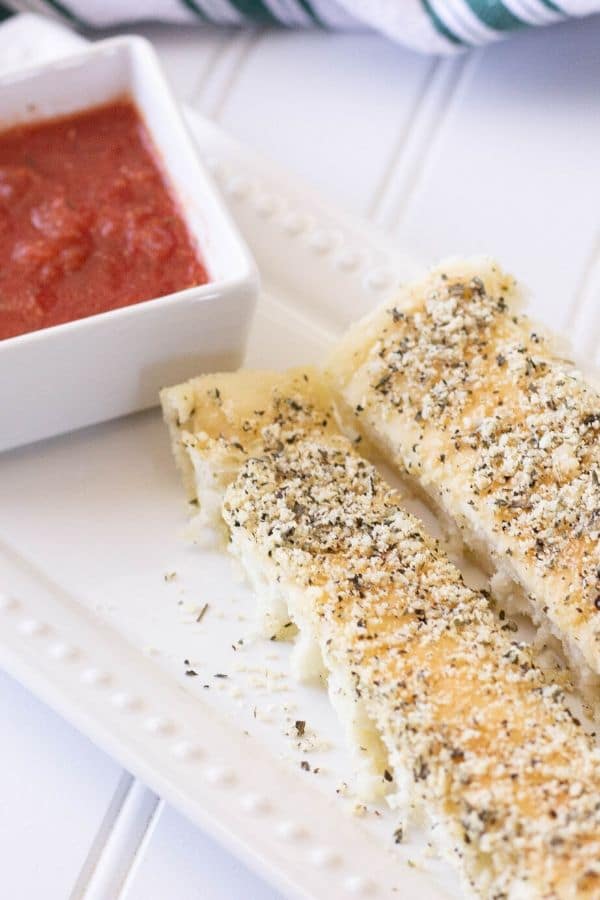 How To Store Pizza Breadsticks
If you have leftovers of these breadsticks, you will allow them to cool. Then transfer into an airtight container and store in the fridge. These breadsticks will last for up to 3-4 days.
They will dry out a bit with each day. So they are best to be eaten fresh or within the first two days.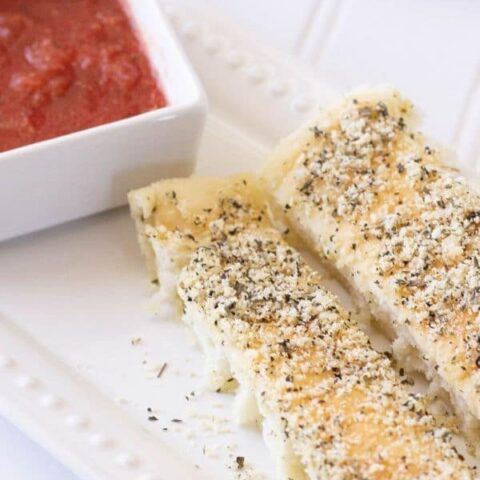 Homemade Breadsticks
Additional Time:
30 minutes
1-hour breadsticks recipe is one of my go-to recipes for when we get to craving homemade breadsticks. A quick breadstick recipe that is going to be a treat.
Ingredients
Breadsticks
1/4 cup dry milk
1 tablespoon granulated sugar
1 1/3 cup warm water
1/2 teaspoon salt
2 1/4 teaspoons yeast
2 tablespoons oil, vegetable, canola, olive oil (any you want)
3-4 cups bread flour (you might not use it all)
10 tablespoons butter, divided
Breadsticks Toppings
2 tablespoons parmesan cheese
1 teaspoon oregano
1 teaspoon basil
1/2 teaspoon onion powder
1/2 teaspoon garlic salt
1/2 teaspoon salt
Breadstick Dipping Sauce
1 can crushed tomatoes (15 ounces)
1 teaspoon sugar
1/4 cup water
1 teaspoon oregano
1/2 teaspoon basil
1/2 teaspoon garlic powder
Salt to season
Instructions
Start by working on your dough. In a stand mixer or bowl, you will add your water, dry milk, sugar, salt, and yeast. Gently stir, and let it sit for 5 minutes to let the yeast activate.
Once the yeast bubbles up you know it is active. You will add in your oil, and then slowly add in your flour 1/4 cup of bread flour at a time.
I used my dough hook and mixed until the bread dough forms a ball and is no longer sticky. I only used about 3 1/4 cup of flour for mine. But depending on measuring you might need more or less.
Once the ball is formed, shape dough into a ball and let rise 30 minutes. I placed mine in my Instant Pot and selected the yogurt setting. Placed a plate on top but you can use a glass lid as well.
Once the dough has doubled in size punch down. Then layout on a floured surface. Knead if you need and add more flour if too sticky.
Slice the dough in half and set one slice aside.
Roll out thin to fit a 9x13 pan. Repeat for the other set of dough. You will need 2 of the 9x13 pans.
Take 8 tablespoons of your butter and melt it. Then pour half in one 9x13 pan and the other half in the other pan. Make sure it covers the whole bottom of pan.
Place your dough on top of butter, and use a knife to store the top making cuts where the breadsticks would be.
Bake in a preheated oven at 475 degrees. Bake for 8-12 minutes or until dough is fully cooked.
Then you will melt the rest of the butter and use a brush to top the fully cooked breadsticks.
In a small bowl mix up your breadstick topping and have that to sprinkle on top of your breadsticks once you brushed with butter.
I whip up the tomato sauce when my dough is rising. In a pan on stove place your tomato sauce and all the ingredients. Stir on low while your breadsticks rise and cook.
Once breadsticks are done, slice and then pair with dipping sauce.
Nutrition Information:
Yield:

24
Serving Size:

1
Amount Per Serving:
Calories:

318
Total Fat:

8g
Saturated Fat:

3g
Trans Fat:

0g
Unsaturated Fat:

4g
Cholesterol:

13mg
Sodium:

209mg
Carbohydrates:

52g
Fiber:

2g
Sugar:

2g
Protein:

9g
This information is automatically calculated by third-party software, including but not limited to the Create or Bake Me Some Sugar. For accurate nutrition, I suggest running the ingredients in your own system to get a more accurate reading.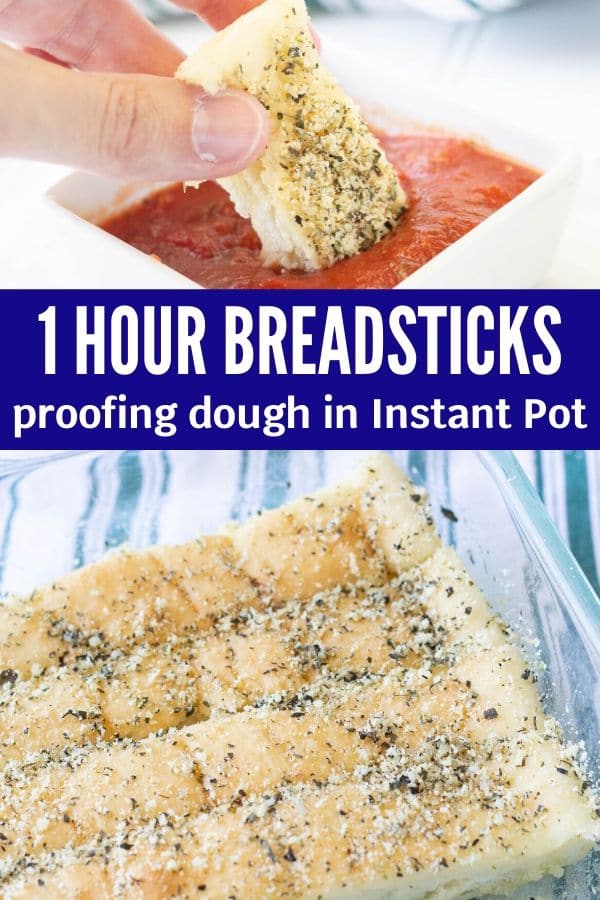 Have you made homemade breadsticks before?