Whip up this Instant Pot Apple Cinnamon Oatmeal for breakfast! Rolled oats that are full of warm cinnamon flavor, apples, nuts, and a creamy base. Apple cinnamon oatmeal just got so much easier to make.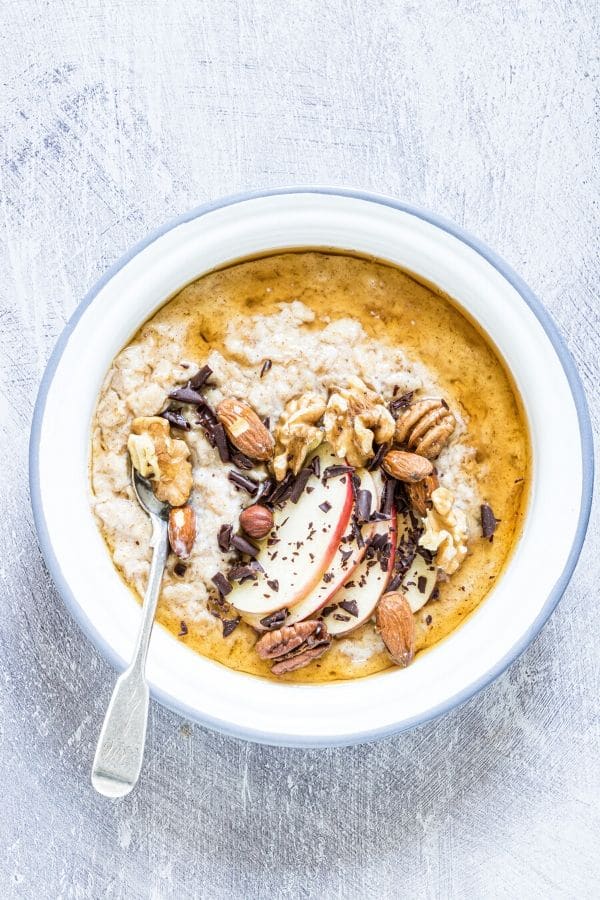 This Instant Pot rolled oatmeal recipe uses the pot-in-pot method. It is so easy to make and you can meal prep for part of your week. 
Instant Pot Apple Cinnamon Oatmeal
Apple cinnamon oatmeal in the Instant Pot is one of my favorite ways to make oatmeal. Cinnamon, Apple, and oats just go together in my books.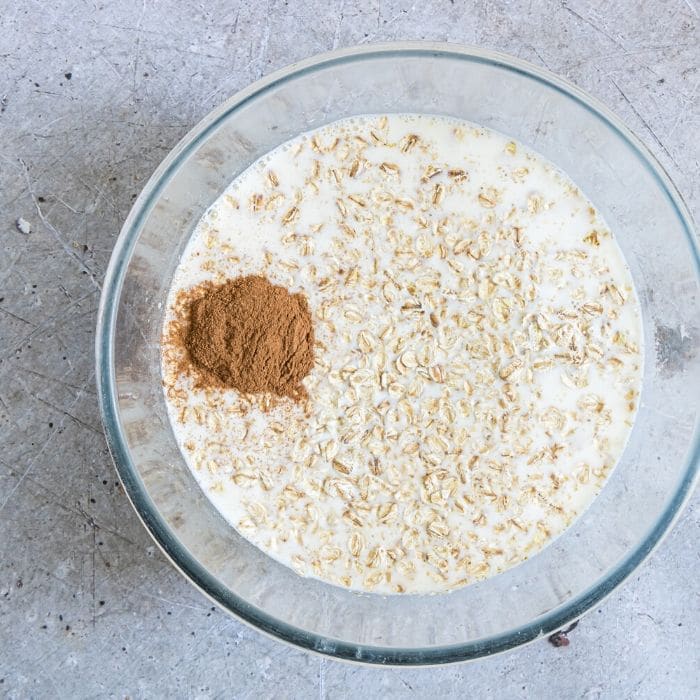 What Type Of Oats To Use for Instant Pot Oatmeal
I used regular rolled oats or old fashioned oats. Instant Pot Oatmeal is easy, you just have to use proper oats to have it turn out. 
 If you were to use say quick oats or steel-cut oats the recipe would need to be adapted and changed in cooking time. As quick oats would cook for a shorter time, and longer if you use steel-cut oats.
This recipe was made for rolled oats but you can adapt if you would like. You might need to adjust liquid ratio and cooking time.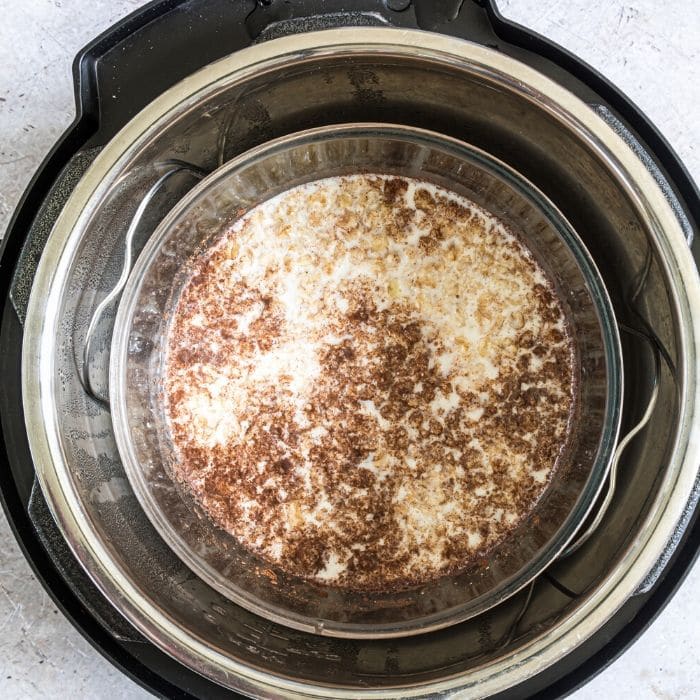 What Is Pot In Pot Method
To avoid the dreaded burn notice we all Instant Pot users know about, you opt for the pot in pot. That means you pour water in pot. 
Then in another Instant Pot Friendly pan mix up your oatmeal and then place in the instant pot. Cook and remove pot and serve. 
A regular cooking method would be dumping all your ingredients right into the pot. That tends to lead to a burn notice. So I have found doing this cooking method when using a pressure cooker is best.

You get thick and creamy oatmeal each and Every Time. Try my instant pot oatmeal recipe today and see if you prefer this method over the stovetop!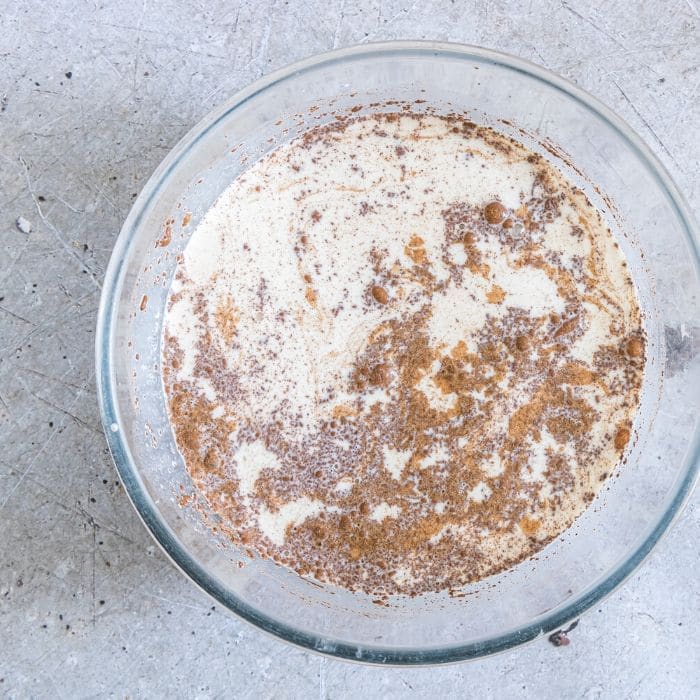 How To Make Instant Pot Oatmeal
Start by taking out a glass bowl that will fit in your Instant Pot. I used a Pyrex Bowl.
Add all ingredients in your bowl and gently stir to ensure it is incorporated. Oatmeal, cinnamon, milk, and vanilla extract. You can dice up some apples into small cubes and stir in as well if you want tender apples.
Pour water into Instant Pot and place your trivet in.
Close the lid and make sure it is set to sealing on the valve. Cook for 5 minutes on high pressure and then natural release for 10 minutes.
Open the pressure cooker up and carefully remove the glass bowl.
Stir and then spoon up your cooked oatmeal top with maple syrup, fresh apple slices, and all your favorite toppings.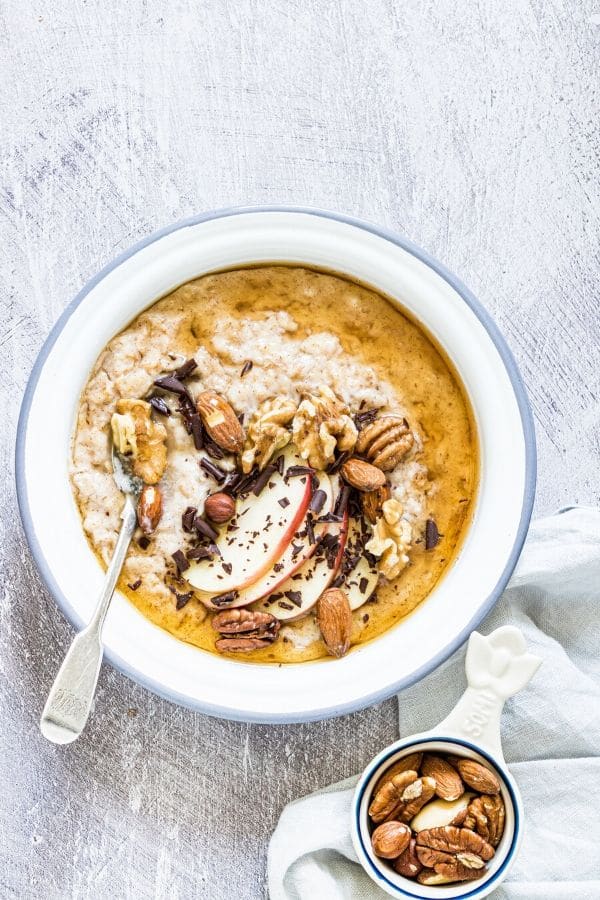 Topping Ideas
Considering what the best apple cinnamon oatmeal instant pot toppings? Here are some of my favorites!
Apple slices
Sprinkle of apple pie seasoning or cinnamon 
Coconut shavings 
Chocolate chips or chocolate shavings
Fruit 
Chocolate or caramel sauce 
Drizzle of peanut butter or nut butter 
Etc 
Oatmeal is so flexible on toppings you can choose. I mix and match my toppings with what I have stashed in my pantry.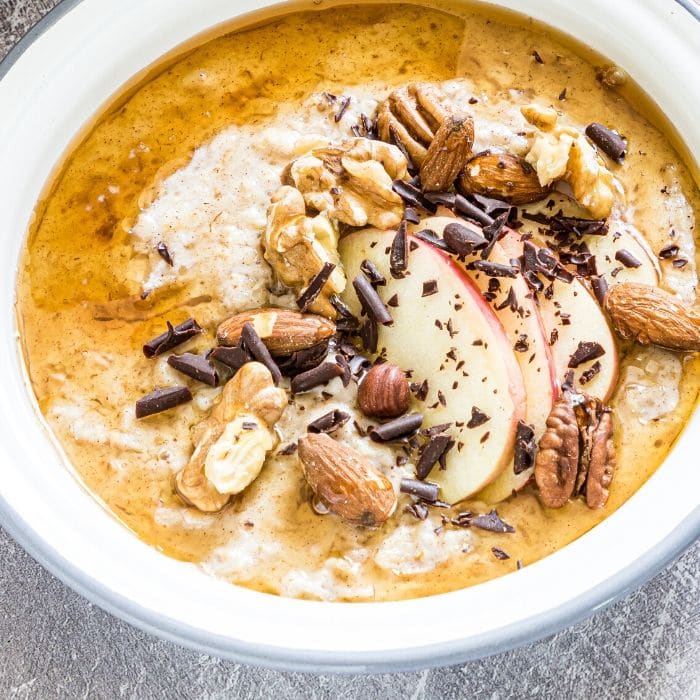 What Kind of Apples Should I Use
Any baking apple will work in this recipe. I personally reached for Honeycrisp. But even Granny Smith, Jonagold, Pink Lady, etc would work. 
I wanted a bit more sweetness and Honeycrisp are our favorites.
Craving More Instant Pot Breakfast Recipes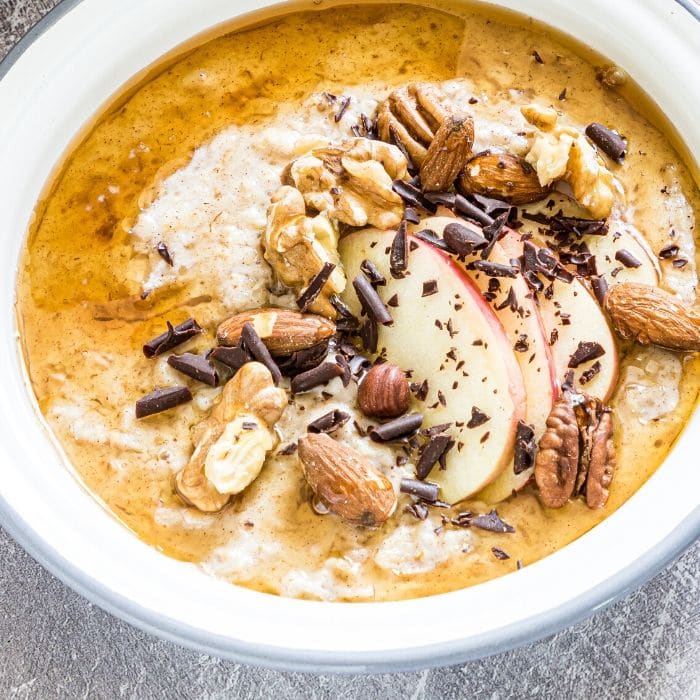 Instant Pot Apple Cinnamon Oatmeal
Servings 4 servings
Instant Pot Apple Cinnamon Oatmeal uses a pot-in-pot method for cooking oatmeal in Instant Pot.
Ingredients
1 1/2 cups rolled oats
2 3/4 cups milk
3/4 cup water
1 teaspoon ground cinnamon or apple pie seasoning
2 tbsp maple syrup
1 tsp vanilla extract
1/4 cup peeled and diced apples
For the Instant Pot insert: 1 cup water
Optional toppings: Maple syrup fruits, chocolate, nuts, nut butter
Instructions
Start by adding your rolled oats, milk, water, cinnamon, vanilla, maple syrup, and apples diced in a bowl safe for Instant Pot.

Place water in the Instant Pot pot, along with the trivet. Now place your bowl of oatmeal in the pressure cooker.

Place lid on your pressure cooker and make sure the valve is sealed. You will cook on high pressure for 5 minutes.

Once the timer is up, allow the Instant Pot oatmeal to natural release for 10 minutes. Then release off the rest of the pressure.

Carefully remove the bowl of oatmeal and top with nuts, chocolate, maple syrup, apples, etc.
Nutrition
Serving: 1gCalories: 479kcalCarbohydrates: 65gProtein: 14gFat: 20gSaturated Fat: 7gPolyunsaturated Fat: 12gCholesterol: 22mgSodium: 317mgFiber: 7gSugar: 23g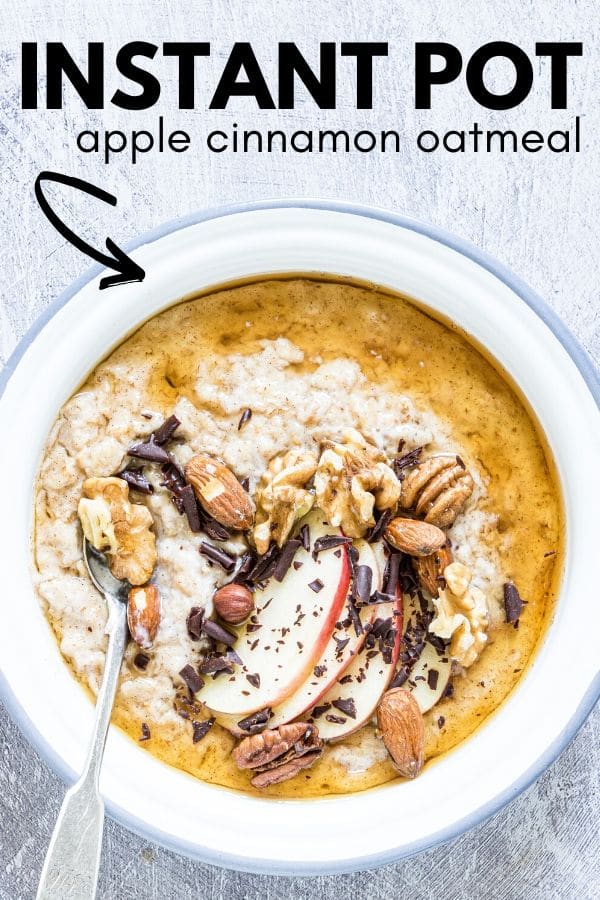 Have you tried Instant Pot Apple Cinnamon Oatmeal?
Reader Interactions