Mango salsa is a delicious fresh mango recipe. 5 ingredients is all it takes to make this mango salsa recipe. Serve with salty tortilla chips, top fish, chicken, tacos, and more. A sweet and savory mango salsa that is a game changer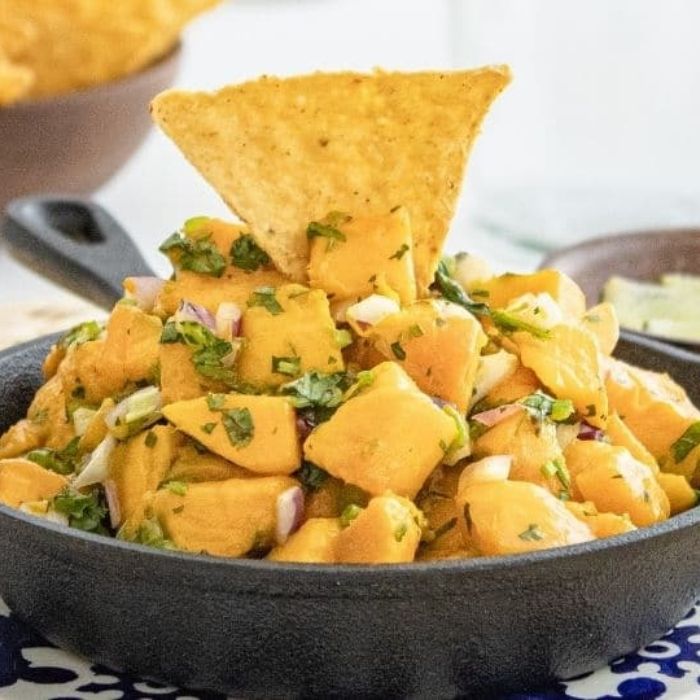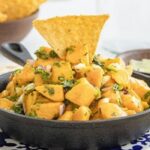 Mango Salsa is a must-make fresh fruit salsa that is studded with jalapenos, diced ripe mangos, lime juice, onion, and cilantro. Learn how to make mango salsa at home using fresh mango.
Spicy mango salsa to dress up fish, chicken, or eat with chips for a tasty pairing. No matter how you serve up this easy mango salsa, it is sure to please. This homemade salsa is a spicy salsa, but you can tame the spice with a little adjustments. Don't wait, tickle your taste buds with this easy recipe. Don't forget to grab the salty tortilla chips.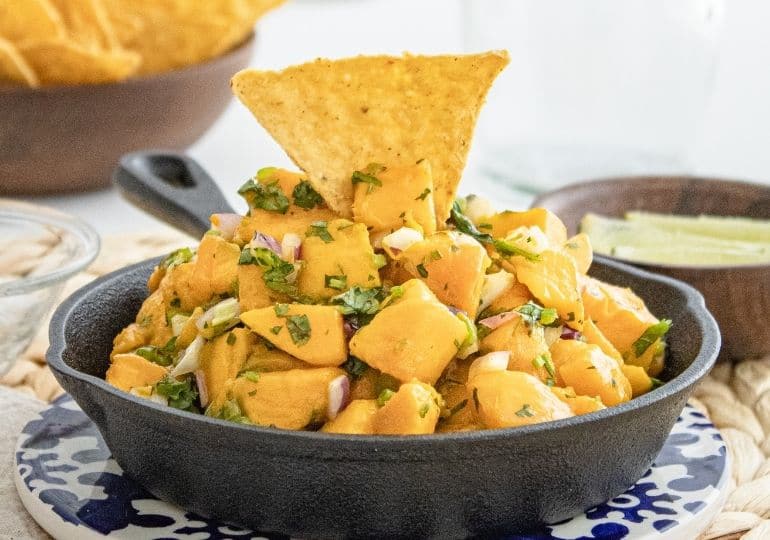 Give this easy mango salsa recipe a try. It uses fresh mangoes for that sweet salsa with a pack of flavors. The perfect combination of sweet and savory, and perfect to pair with your favorite tortilla chips or use as a chicken breasts topper or even taco topper for blackened fish tacos.
When mango season is here, this side dish is always in our fridge. 
Colorful and delicious is what to expect with this mango salad mix. Kids and adults will enjoy this as an appetizer or a perfect snack. Dress up your salsa game, and even pair it with a mango margarita for a tropical theme.
You can control the heat factor, by leaving or taking seeds out of the jalapeno.
Why You Will Love This Mango Salsa Recipe…
Easy to Make
Ready in Minutes
Colorful salsa
Use in a variety of dishes or as an appetizer
Simple Ingredients
Colorful
The Best mango salsa recipe I have made
How to Pick Ripe Mangos
Need some pointers before you head to the grocery store? Here are some tips for picking ripe juicy mangos that will give this salsa the best flavor. Head to the produce section and find the perfect mango every single time. There are a variety of mango variations, but these are general steps to look for the best produce.
Color – Make sure your mangos are vibrant in color. Now depending on the variety the color can vary a bit. But you want a nice deep color for your mangos.
Smell – Grab your fresh mangos and sniff them near the stem end. Ripe mangos will offer a sweet aroma where you can smell the fruit. If it smells sour or foul, that means it is possibly spoiled.
Firmness – Make sure to lightly squeeze the mango in your hands. You want it to have a slight give when you squeeze but still a bit firm. If it is really mushy or soft, that means it is overripe or spoiled.
Blemishes – One thing to look for is wrinkling of the skin or bruises or blemishes. This is a sign that the fruit within could be spoiling. Smooth skin on your fruit is a must.
Ingredients Needed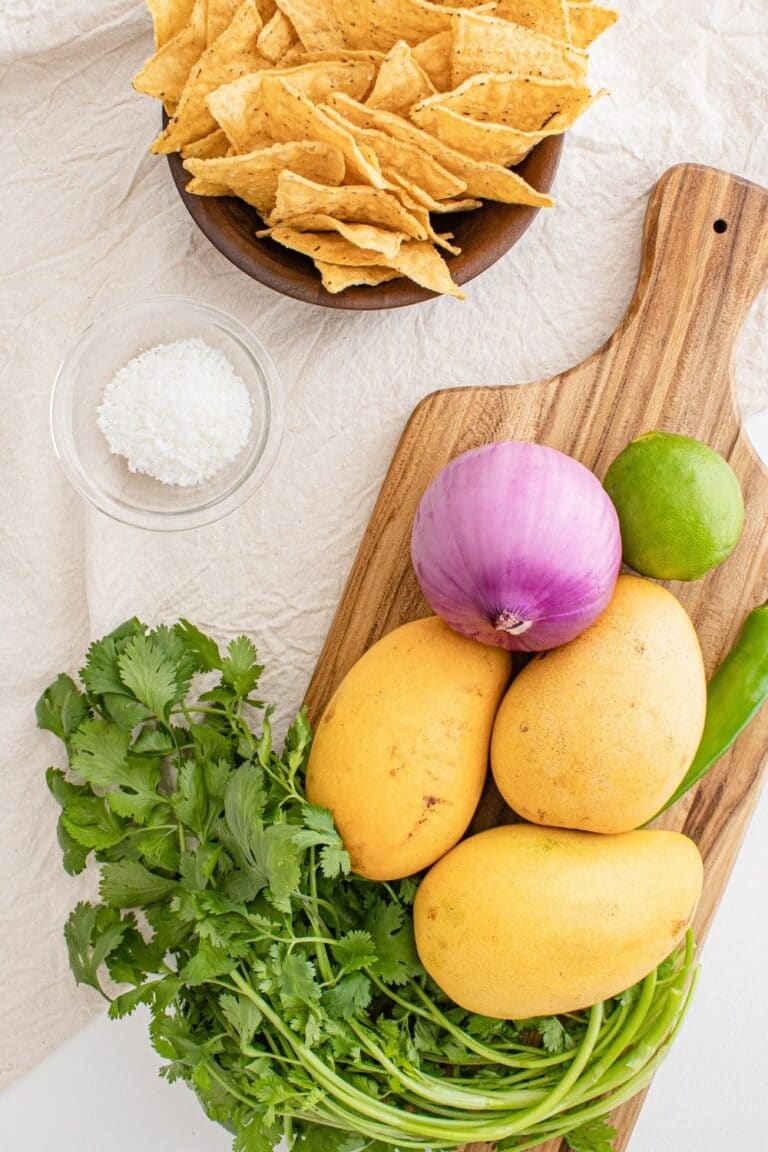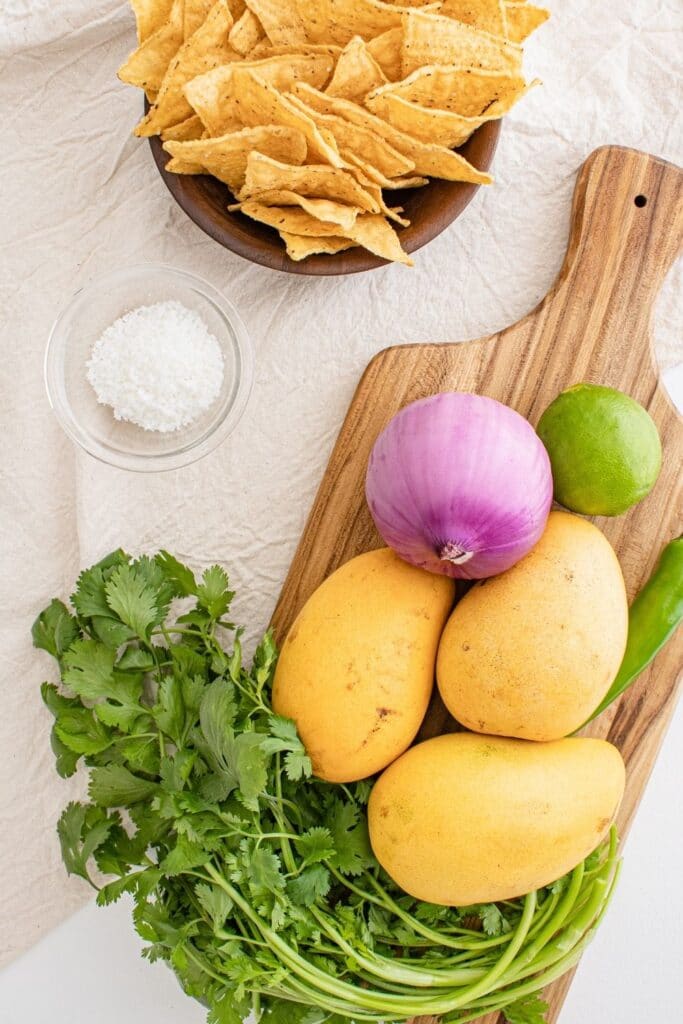 How to Make
Full directions on how to make mango salsa are in the printable recipe card at the bottom of the post. This is a quick walk-through with images.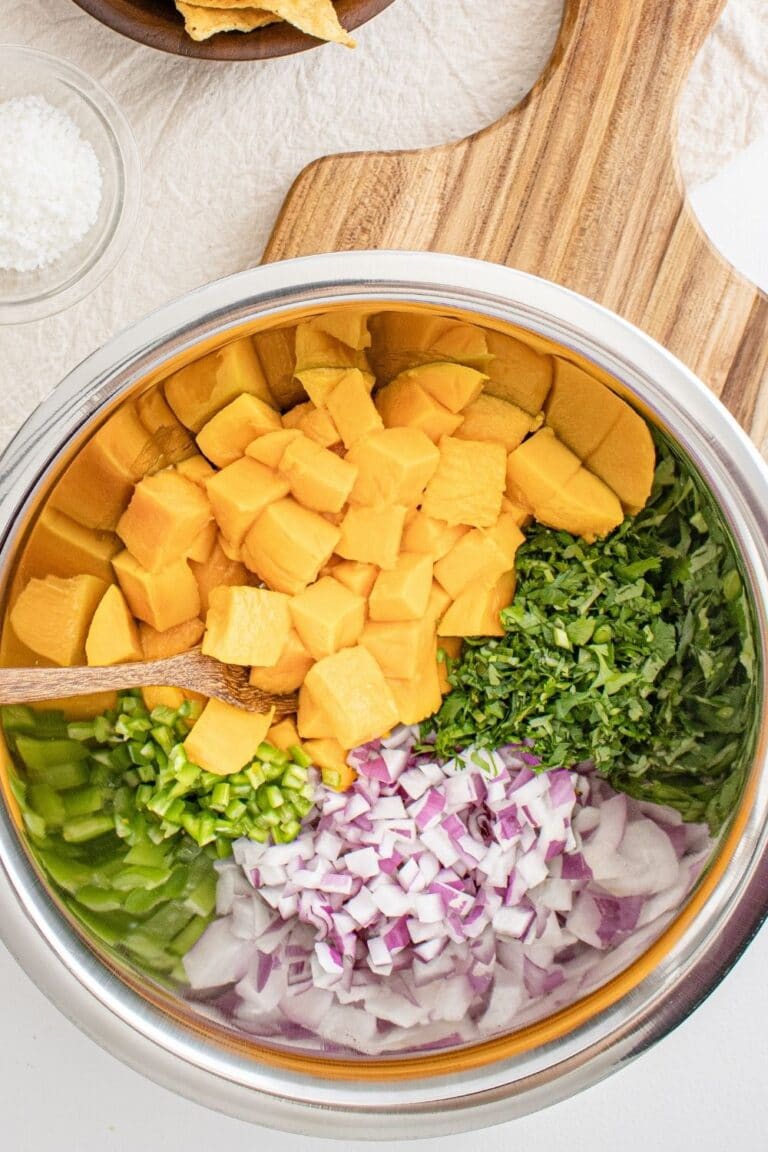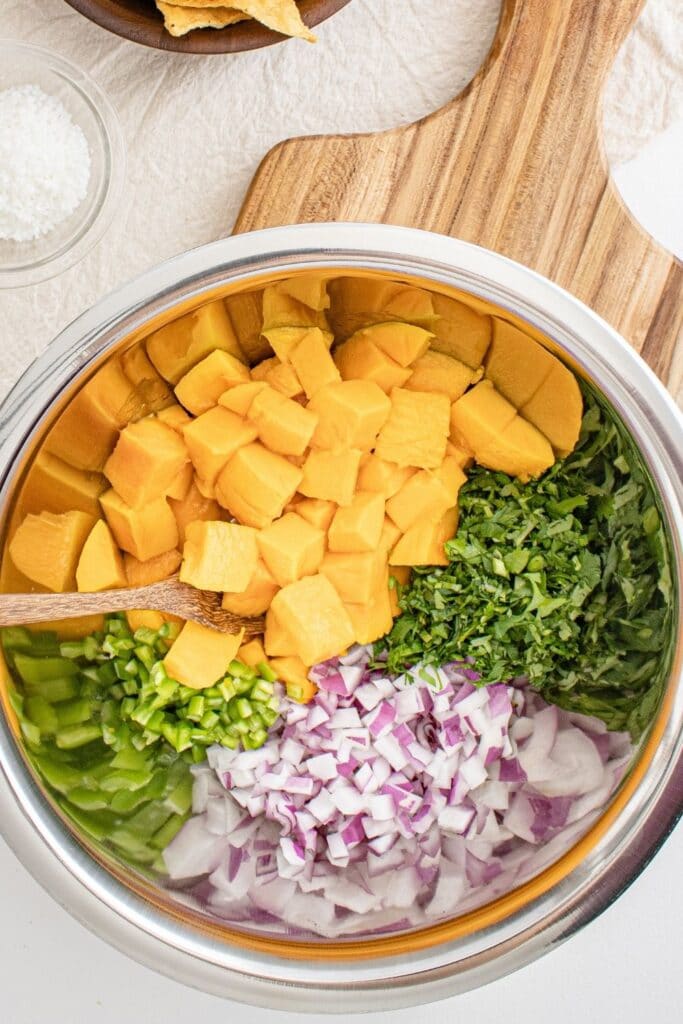 The first thing you are going to do is slice your mango, dice up your red onion, and chop cilantro, and jalapeno peppers.
Expert Tip: If you want a milder salsa de-seed the pepper and then rinse before dicing up. To keep the seeds will give you a spicier flavored salsa.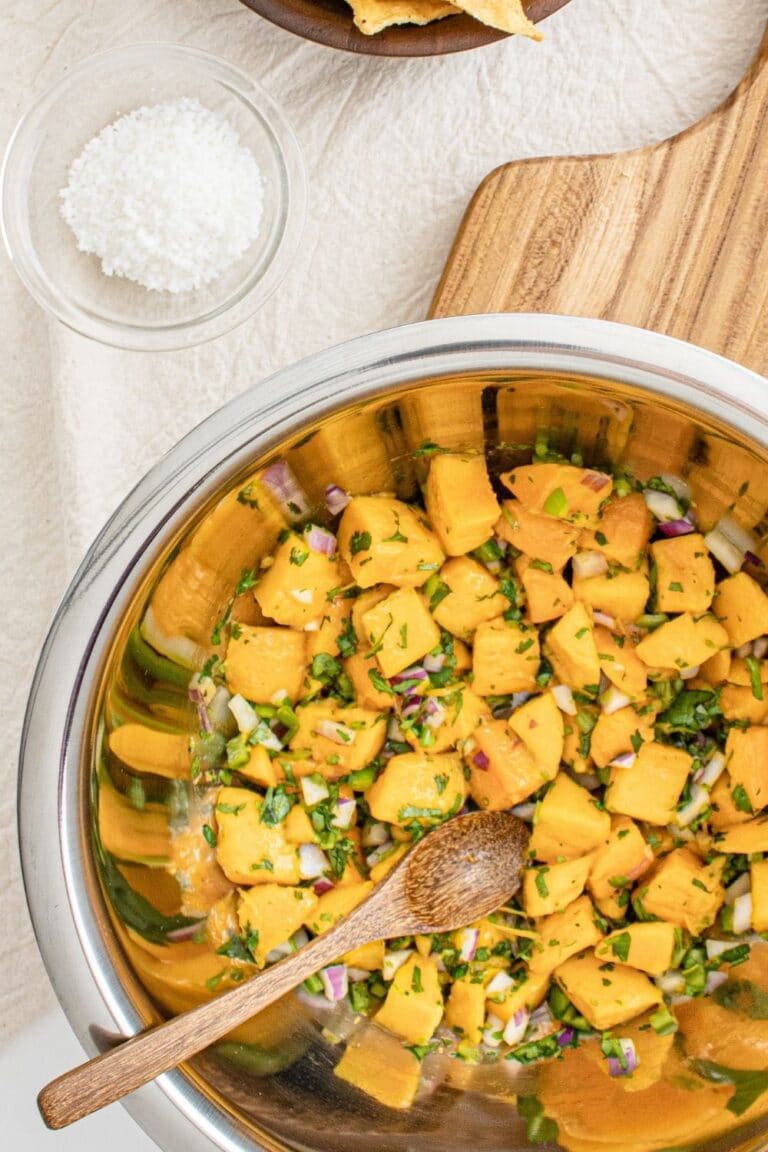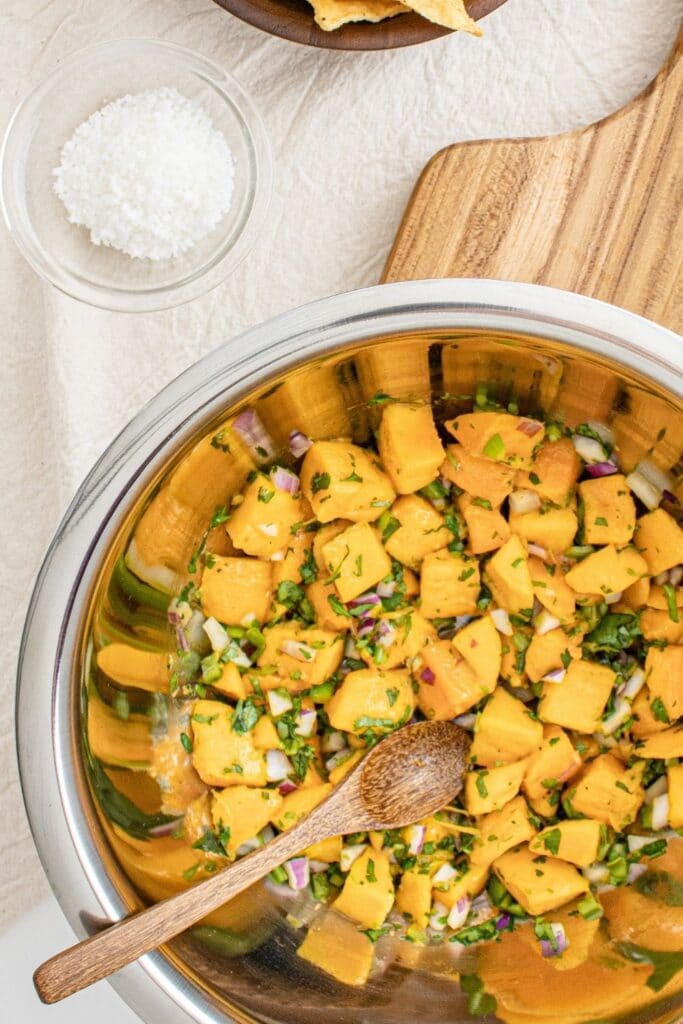 Place all prepped ingredients in a bowl and pour in the lime juice. Toss and then taste, and season with salt if you feel it needs a little extra flavor.
Expert Tips and Variations
Red onion is best for this recipe, it pairs well with the other ingredients. You can use yellow onion or white onion in replacing
Add in some red bell pepper that is finally diced or even jalapeno pepper. Just leave out the seeds of jalapeno if you don't want it too spicy.
Drizzle with a little fresh lemon juice to enhance the fresh salsa flavor.
Green onions are a nice topper as well as fresh cilantro that is finely chopped. If you don't like cilantro swap with fresh parsley.
A sprinkle of a little salt will really enhance the flavors.
Cut up some cherry tomatoes for a pop of acidic flavor to the salsa.
Make sure to reach for ripe mangoes, otherwise, the fresh mango salsa recipe will lack.
Dice up the mango into bite-size pieces.
Eat with chips, and use the mango salsa for fish tacos, chicken, burrito bowls, etc.
This is a sweet mango recipe to try out if you are looking for something new.
Squeeze on some fresh lime juice for a kick of citrus.
Mix in some diced fresh pineapple for even more fruity salsa.
If you don't want to use jalapeño pepper you can swap with a green or red pepper. This will give you a mild salsa not spicy.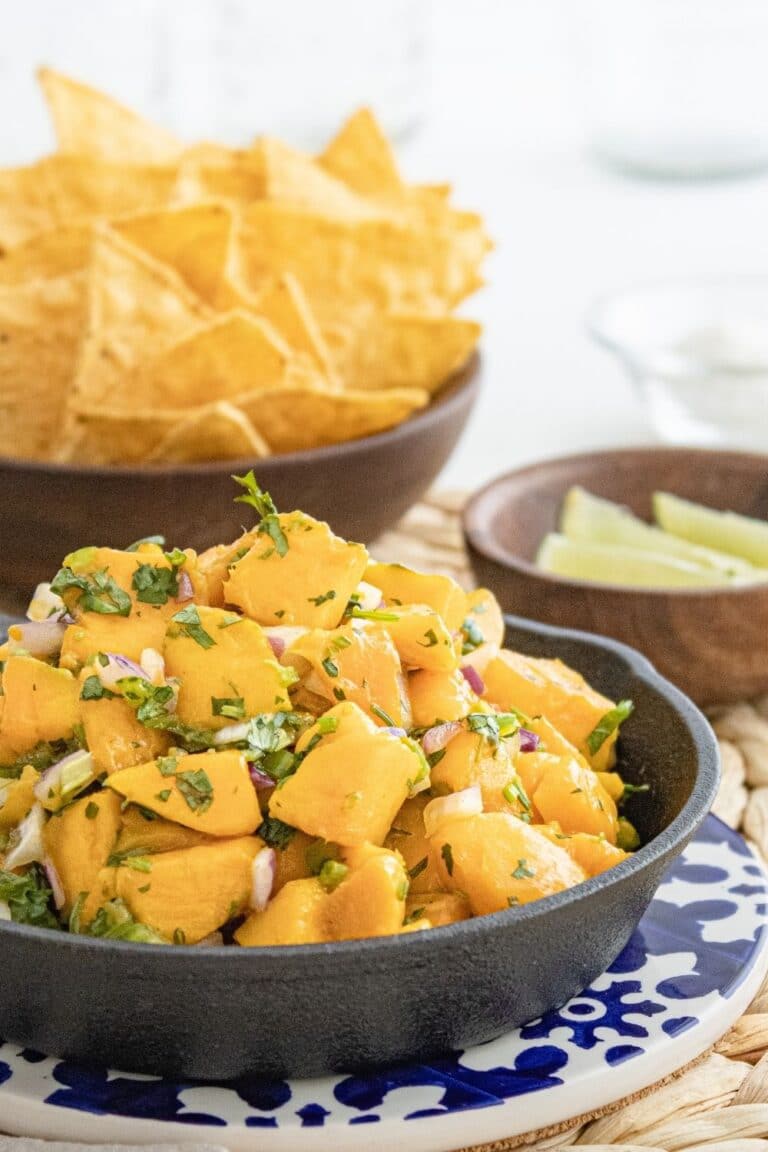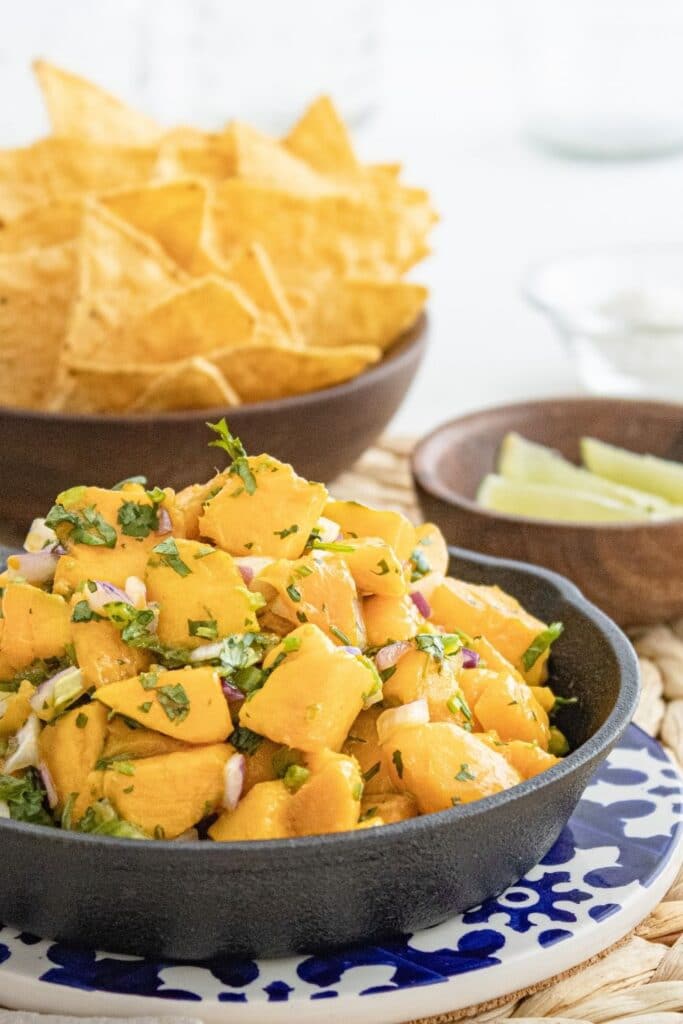 Storage
This homemade mango salsa stores well in the refrigerator for a few days. Make sure to store in an airtight container. Don't leave the salsa at room temperature for more than two hours, or it can spoil.
You will find that the ingredients in this salsa will break down as it sits in the fridge. So plan to use up the salsa de mango within a few days of being made.
Recipe FAQs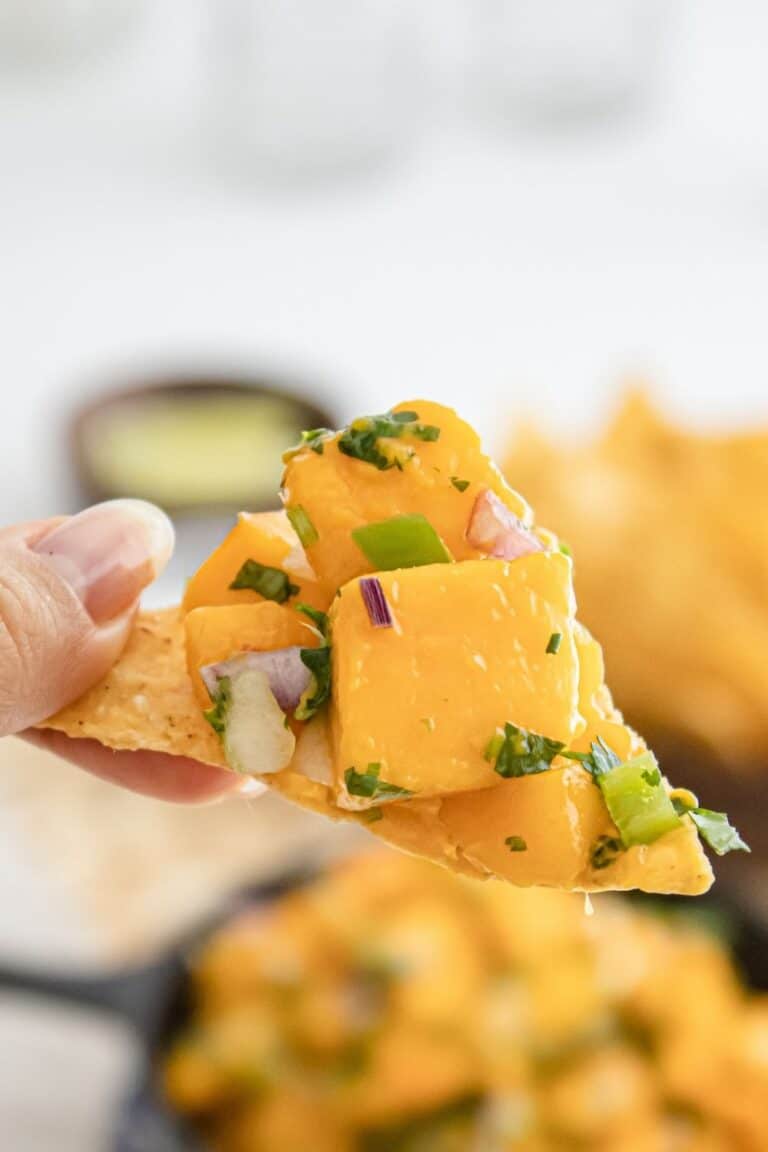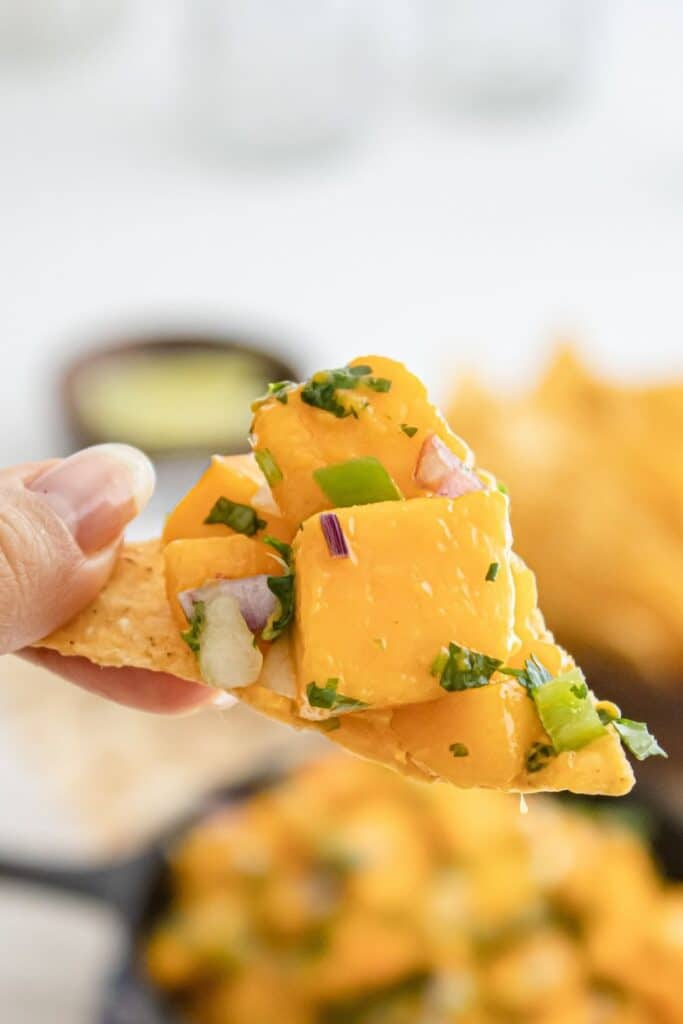 Want More Fruit Recipes
Have you tried the recipe? If so, please leave a star ⭐️⭐️⭐️⭐️⭐️ rating in the recipe card below or drop a comment. Also stay in touch with me through social media by following me on Facebook, Pinterest, or My Facebook Group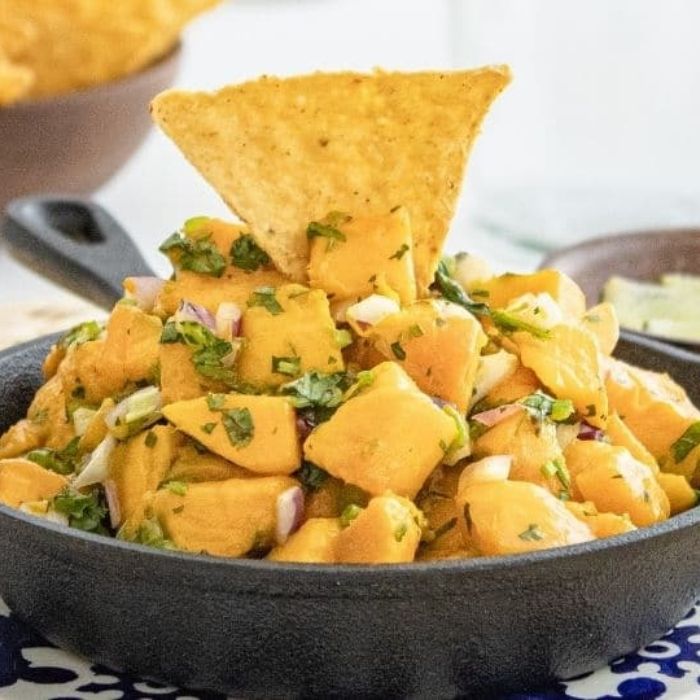 Mango Salsa Recipe
Servings 8 servings
Mango salsa is a delicious fresh mango recipe. 5 ingredients is all it takes to make this mango salsa recipe. Serve with salty tortilla chips, top fish, chicken, tacos, and more. A sweet and savory mango salsa that is a game changer
Ingredients
3-4 medium Mangoes cubed
1/2 small red onion diced
1 medium Jalapeno sliced, and minced
2 small lime squeezed for juice
4-5 cilantro sticks minced
Salt to taste optional
Instructions
Start by prepping all your vegetables and the fruit. If you want a spicy salsa, leave the seeds in the jalapenos. Otherwise, cut pepper lengthwise and scrape out all the seeds and white vein. Rinse in water, then mince.

Add all the ingredients into a bowl, toss and then season with salt to taste if you would like.

Serve this mango salsa with tortilla chips, chicken, fish, or other Mexican dishes.
Notes
You can use a Serrano pepper in replace of the Jalapeno if you want. Or for a very mild option use a green bell pepper. You can use frozen mango in replace, but it will alter the texture of the salsa. This salsa will store in the fridge for a few days. Just toss and then serve like fresh.
Nutrition
Serving: 1gCalories: 55kcalCarbohydrates: 14gProtein: 1gFat: 1gSaturated Fat: 1gPolyunsaturated Fat: 1gMonounsaturated Fat: 1gSodium: 1mgPotassium: 162mgFiber: 2gSugar: 11gVitamin A: 867IUVitamin C: 36mgCalcium: 16mgIron: 1mg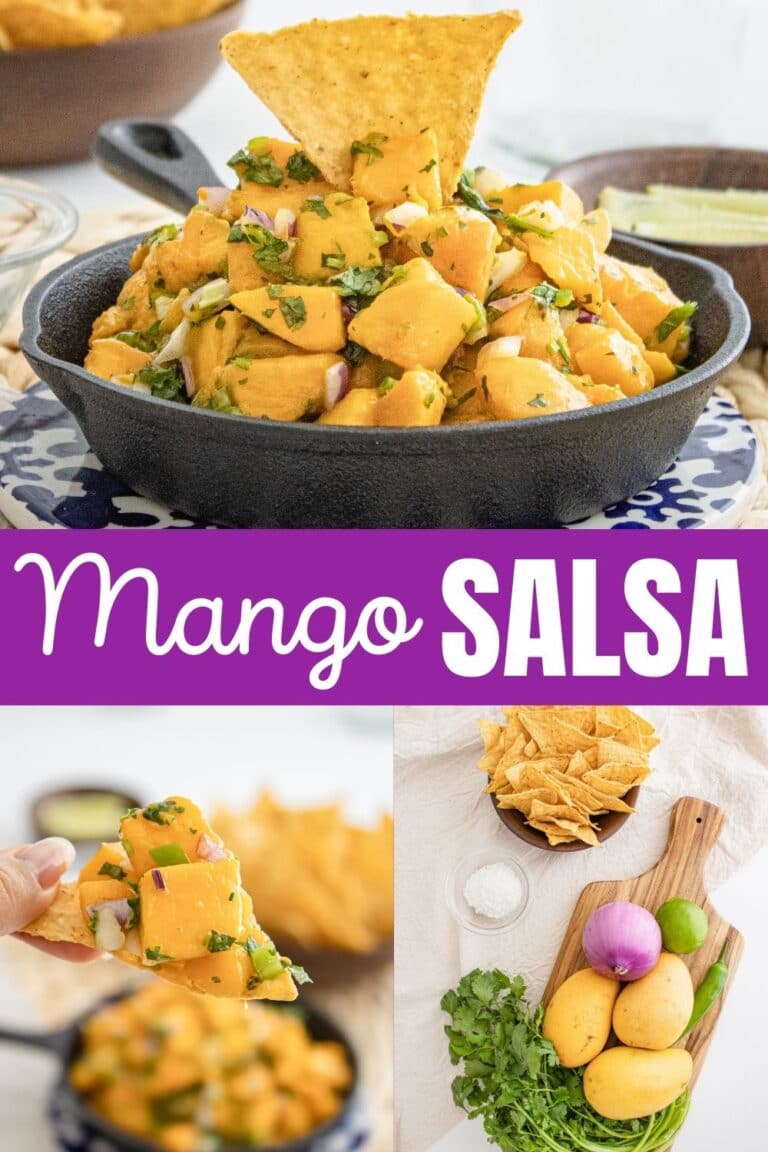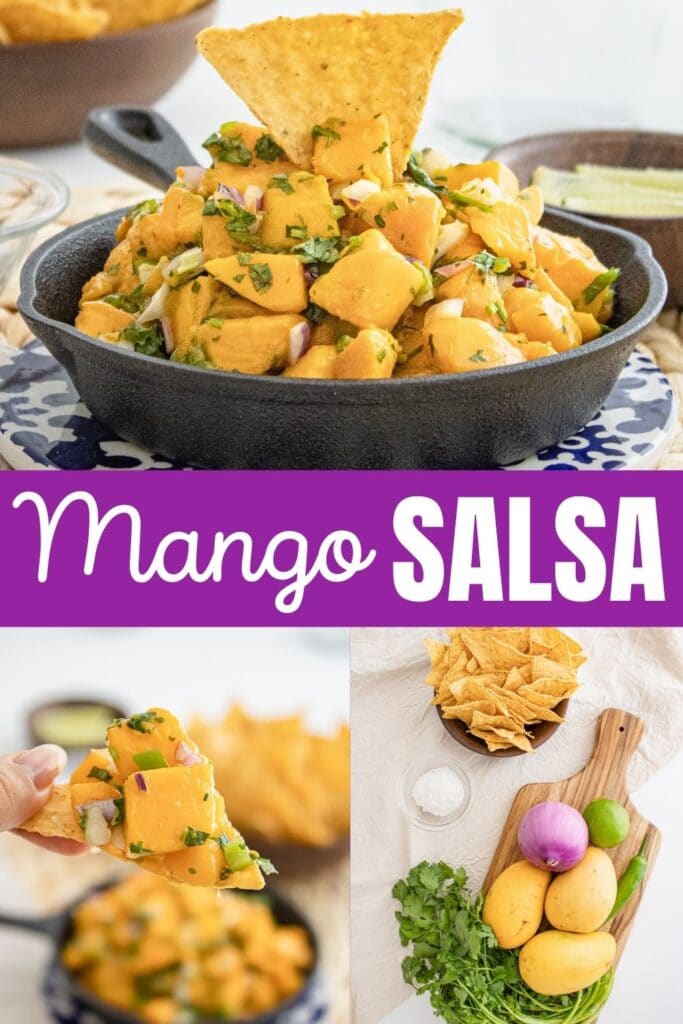 Reader Interactions