Mango Salsa is a must-make fresh fruit salsa that is studded with jalapenos, diced mango, lime juice, onion, and cilantro. Learn how to make mango salsa at home using fresh mango.
Spicy mango salsa to dress up fish, chicken, or eat with chips for tasty pairing. No matter how you serve up this easy mango salsa, it is sure to please.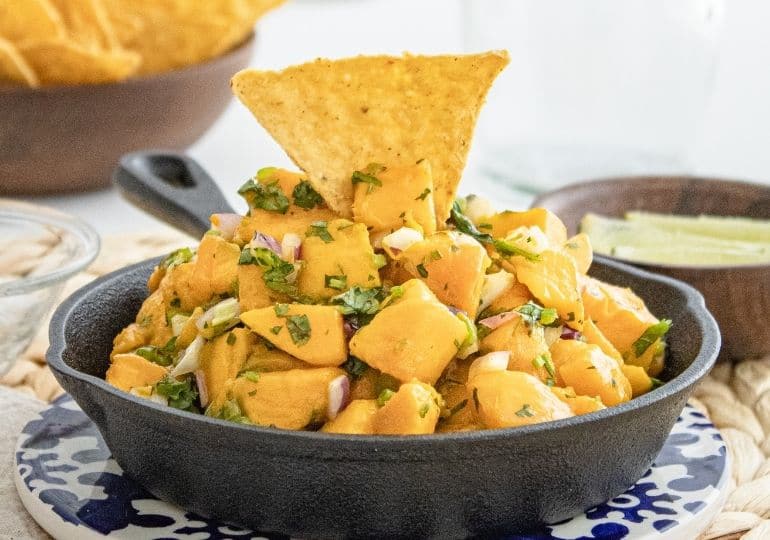 Colorful and delicious is what to expect with this mango salad mix. Kids and adults will enjoy.
You can control the heat factor, by leaving or taking seeds out of the jalapeno.
Why You Will Love This Mango Salsa Recipe…
Easy to Make
Ready in Minutes
Simple Ingredients
Colorful
The Best mango salsa recipe I have made
Ingredients Needed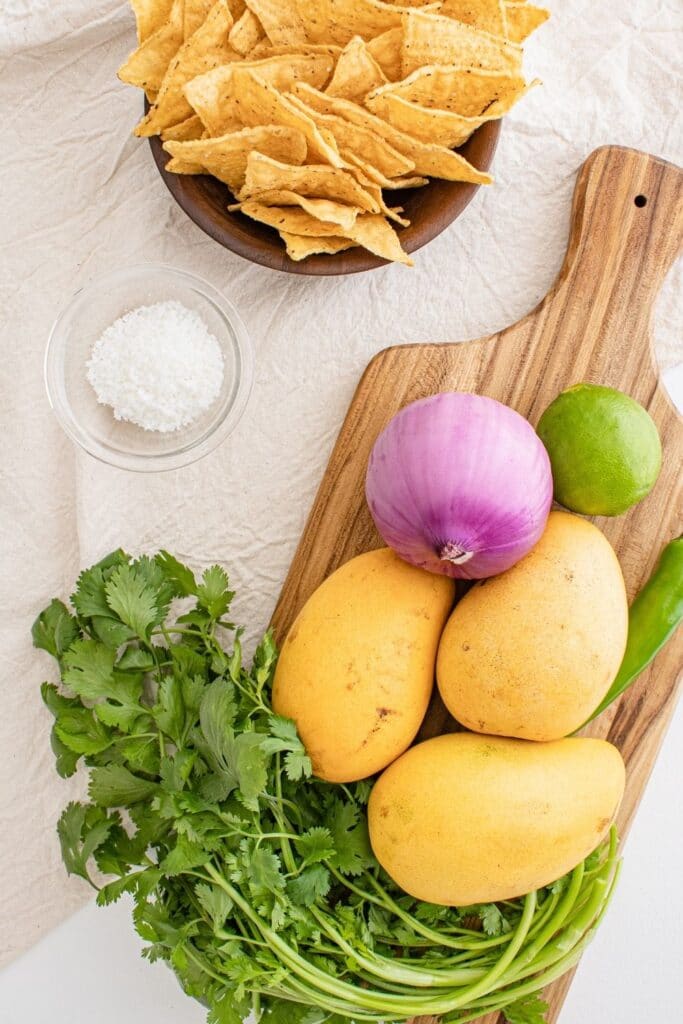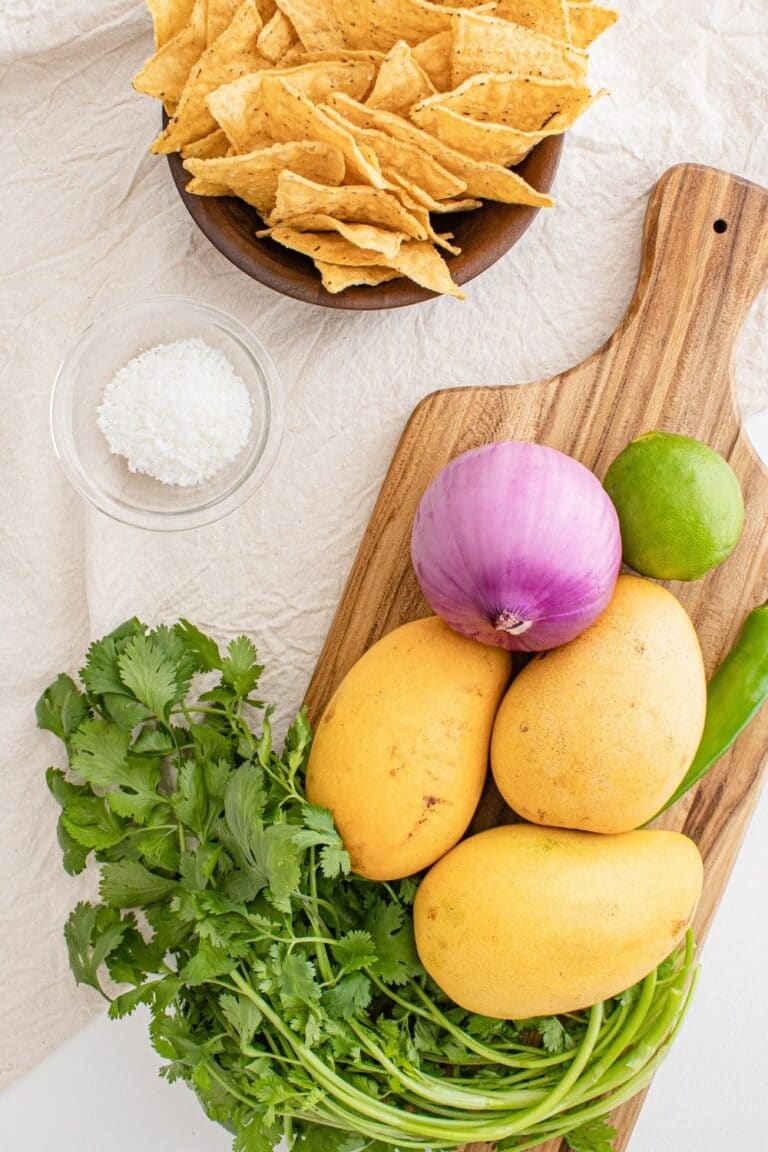 Mangos
Cilantro
Lime Juice
Red Onions
Jalapeno
Salt (optional)
How to Make
Full directions and measurements for this recipe are in the printable recipe card below.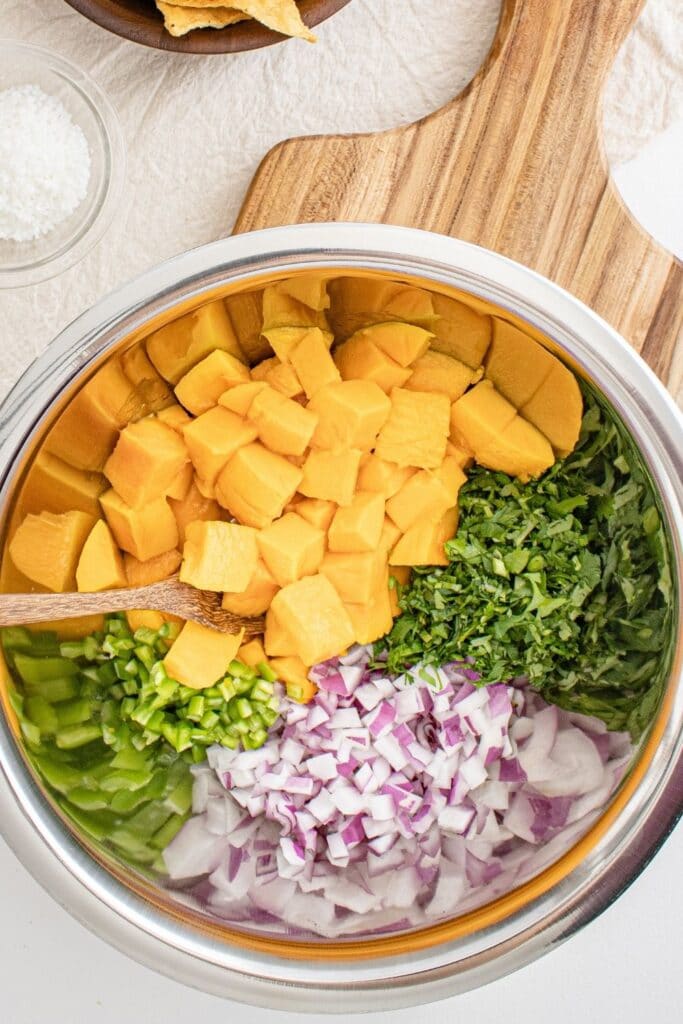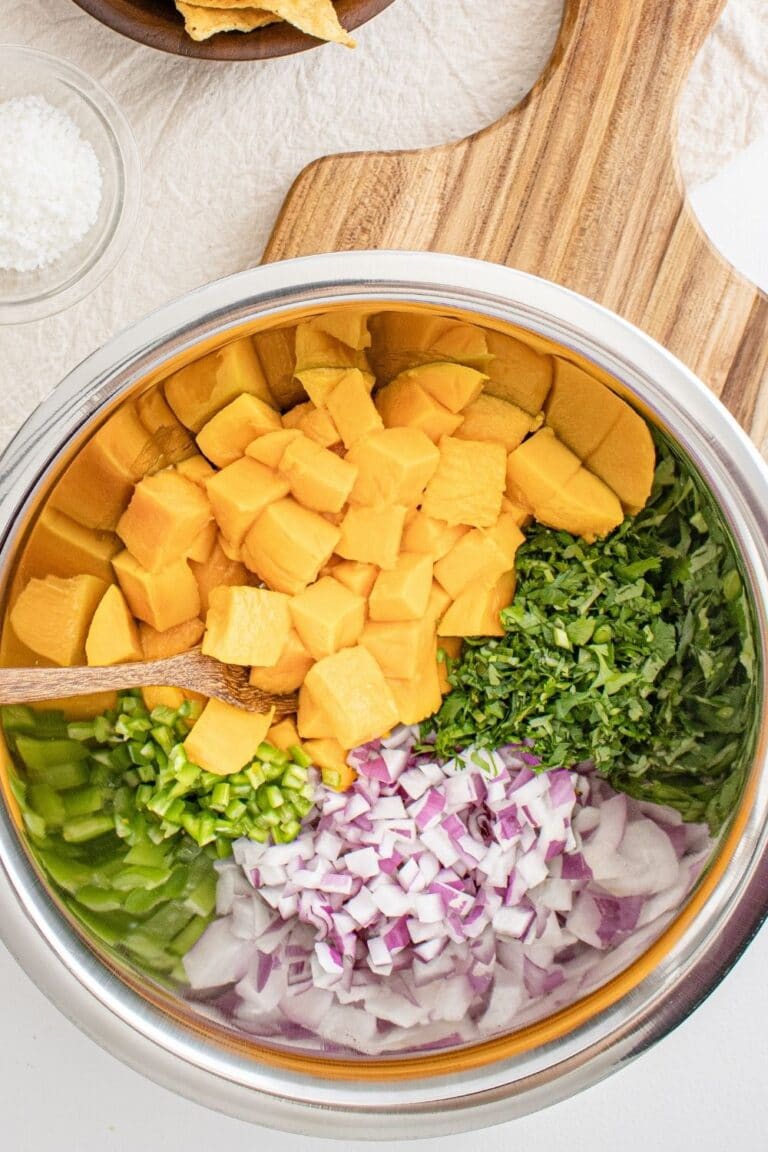 Step 1: The first thing you are going to do is slice your mango, dice up onion, chop cilantro, and jalapeno.
If you want a milder salsa de-seed the pepper and then rinse before dicing up. To keep the seeds will give you a spicier flavored salsa.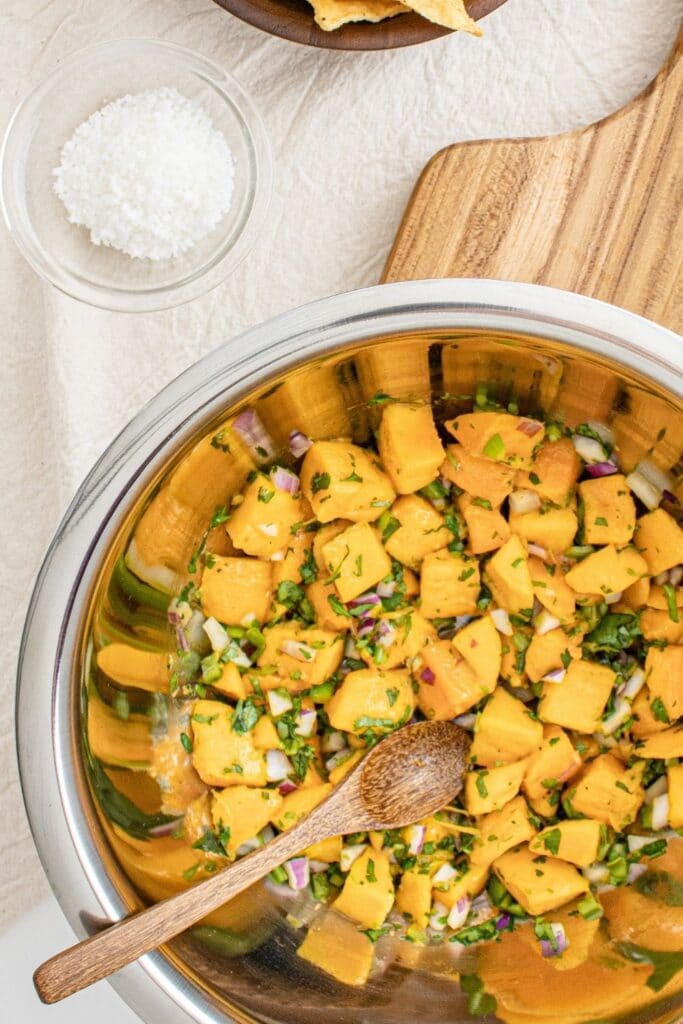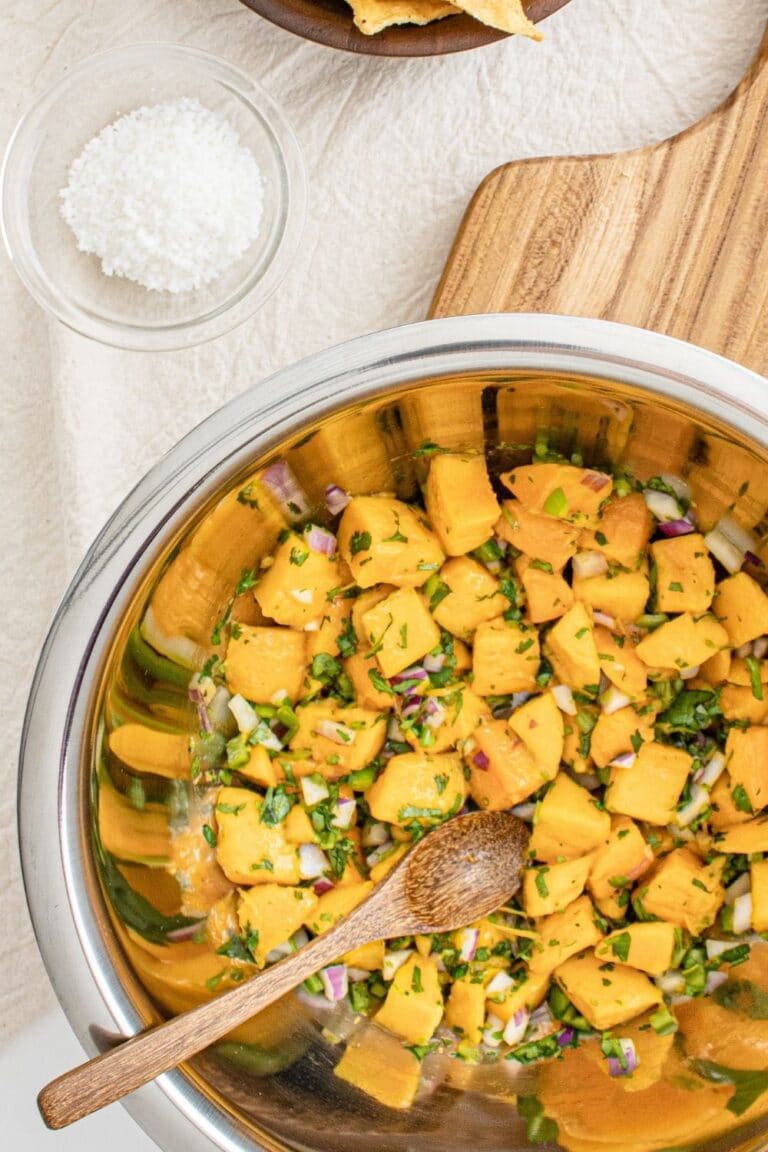 Step 2: Place all prepped ingredients in a bowl and pour in the lime juice. Toss and then taste, and season with salt if you feel it needs a little extra flavor.
Expert Tips and Variations
Red onion is best for this recipe, it pairs well with the other ingredients.
Make sure to reach for ripe mango.
Dice up the mango into bite-size pieces. Or if you want a bit larger pieces then go right ahead.
Eat with chips, use the mango salsa for fish, chicken, top tacos, etc.
This is a great fresh mango recipe to try out if you are looking for something new.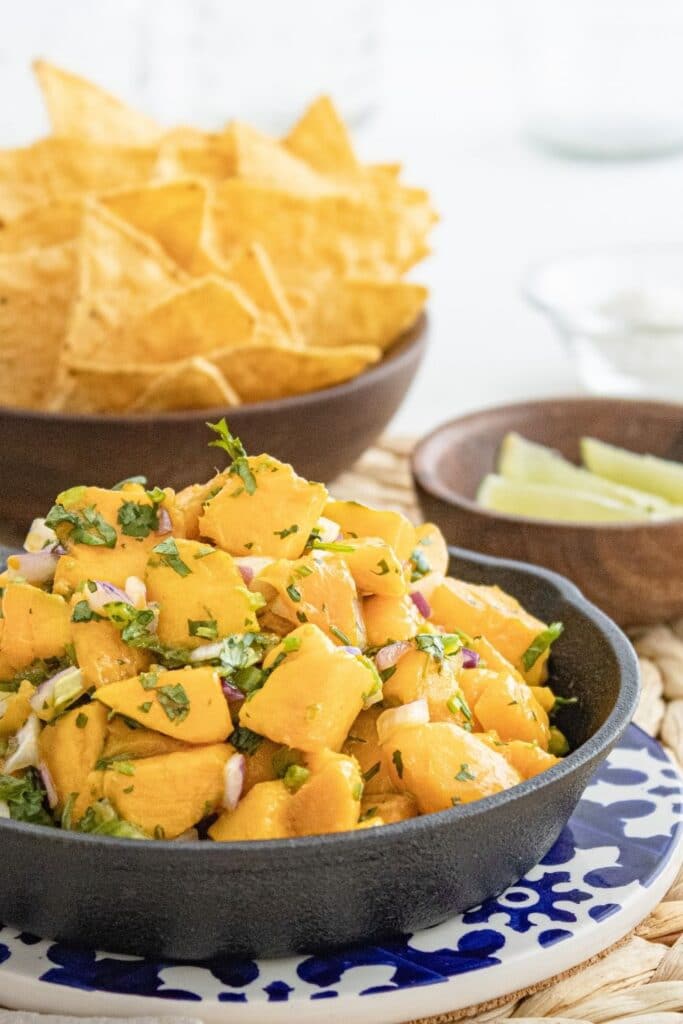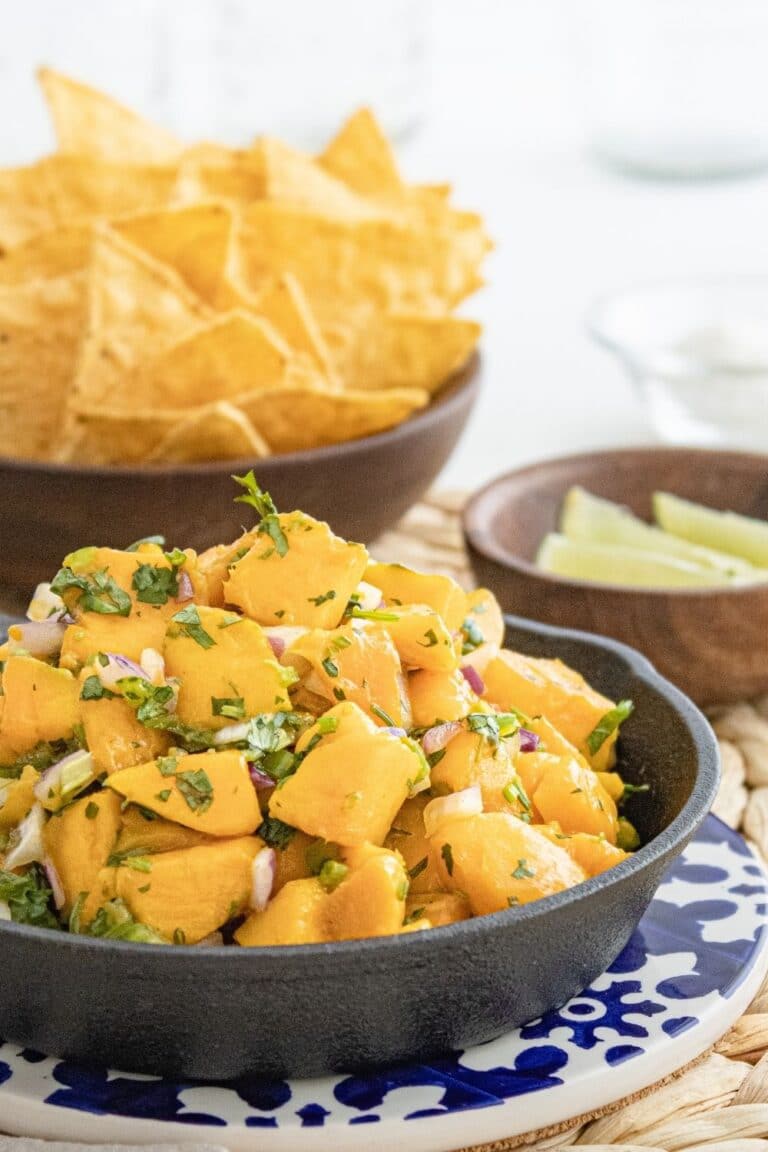 Storage
This homemade mango salsa stores well in the refrigerator for a few days. You will find that the ingredients in this salsa will break down as it sits in the fridge.
So plan to use up the salsa de mango within a few days of being made.
Recipe FAQs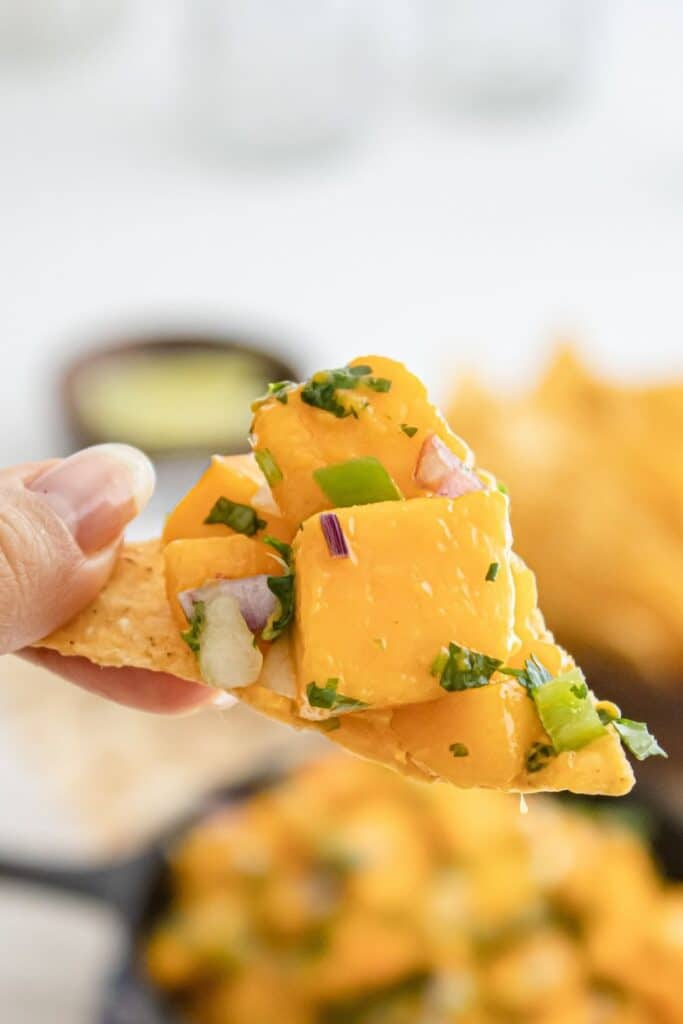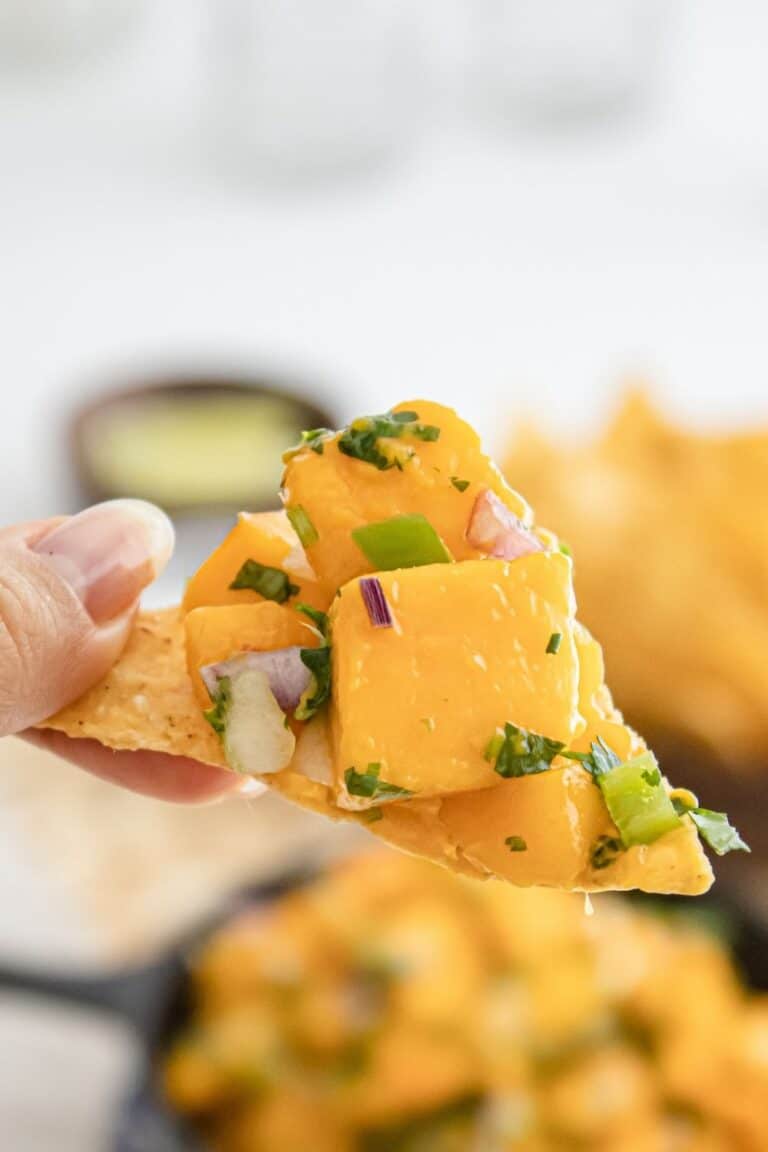 Want More Fruit Recipes
Tried this recipe? Make sure to rate ⭐️⭐️⭐️⭐️⭐️ and leave a comment to let me know how you like it! Plus get more Instant Pot Recipes or Home Cooked Recipes Facebook Page on my Facebook. Stay up to date and Follow Me On Pinterest!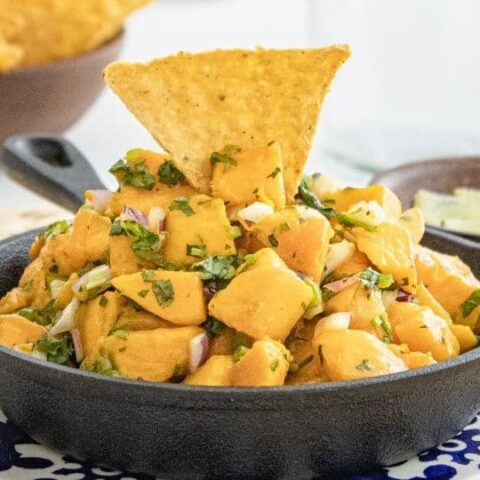 Mango Salsa Recipe
Mango salsa is a delicious fresh mango recipe. 5 ingredients is all it takes to make this mango salsa recipe. Serve with salty tortilla chips, top fish, chicken, tacos, and more.
Ingredients
3-4 Mangoes, cubed
1/2 red onion, diced
1 Jalapeno, sliced, and minced
2 lime, squeezed for juice
4-5 cilantro sticks, minced
Salt to taste, optional
Instructions
Start by prepping all your vegetables and the fruit. If you want a spicy salsa, leave the seeds in the jalapenos. Otherwise, cut pepper lengthwise and scrape out all the seeds and white vein. Rinse in water, then mince.
Add all the ingredients into a bowl, toss and then season with salt to taste if you would like.
Serve this mango salsa with tortilla chips, chicken, fish, or other Mexican dishes.
Notes
You can use a Serrano pepper in replace of the Jalapeno if you want.
Or for a very mild option use a green bell pepper.
You can use frozen mango in replace, but it will alter the texture of the salsa.
This salsa will store in the fridge for a few days. Just toss and then serve like fresh.