Craving fresh watermelon salsa? This fire and ice watermelon salsa is loaded with sweet and spice in every bite. Serve up this refreshing salsa as a snack, appetizer or topping for tacos.
Watermelon Pico De Gallo is loaded with mango, watermelon, jalapeno, red onion, and more.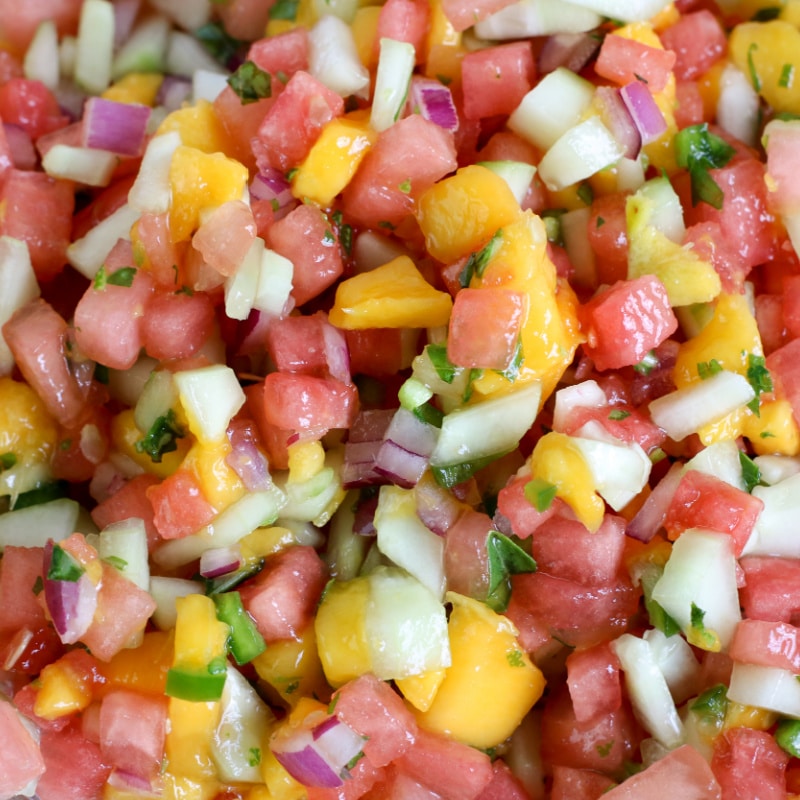 Watermelon, mango, cucumber salsa is so delicious. Now, the watermelon salsa with feta is a bit different in flavor. Out of the two, this one is my favorites.
For a sweet option, try my watermelon pizza.
Why Will You Love This Watermelon Salsa…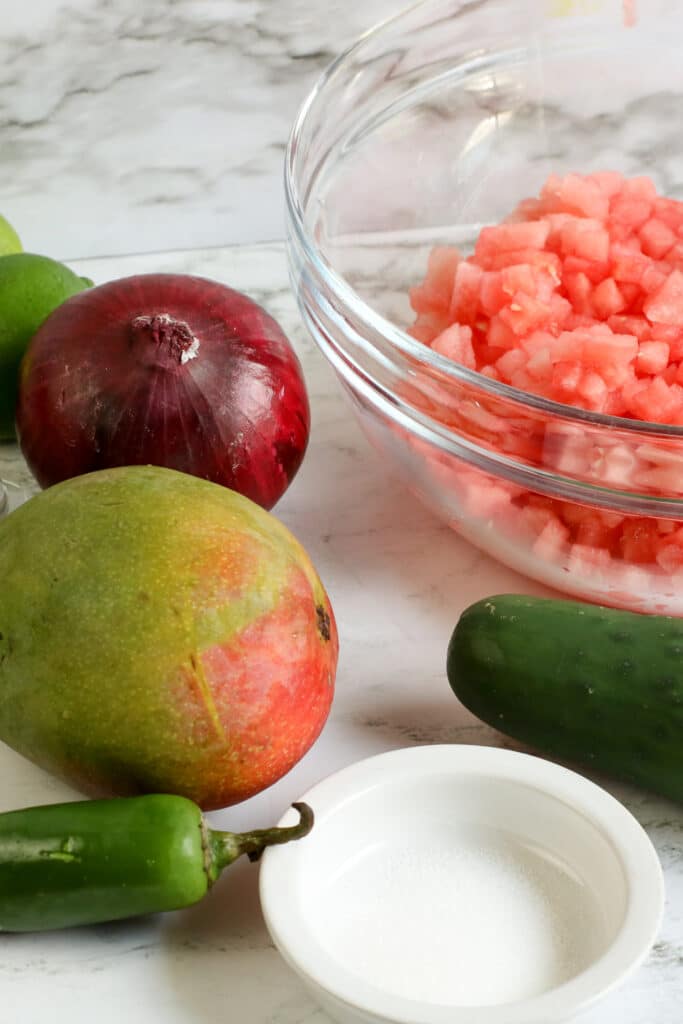 Watermelon
Cucumber
Mango
Jalapeno
Red Onion
Basil
Garlic Salt
Lime Juice & Zest
Sugar
How to Make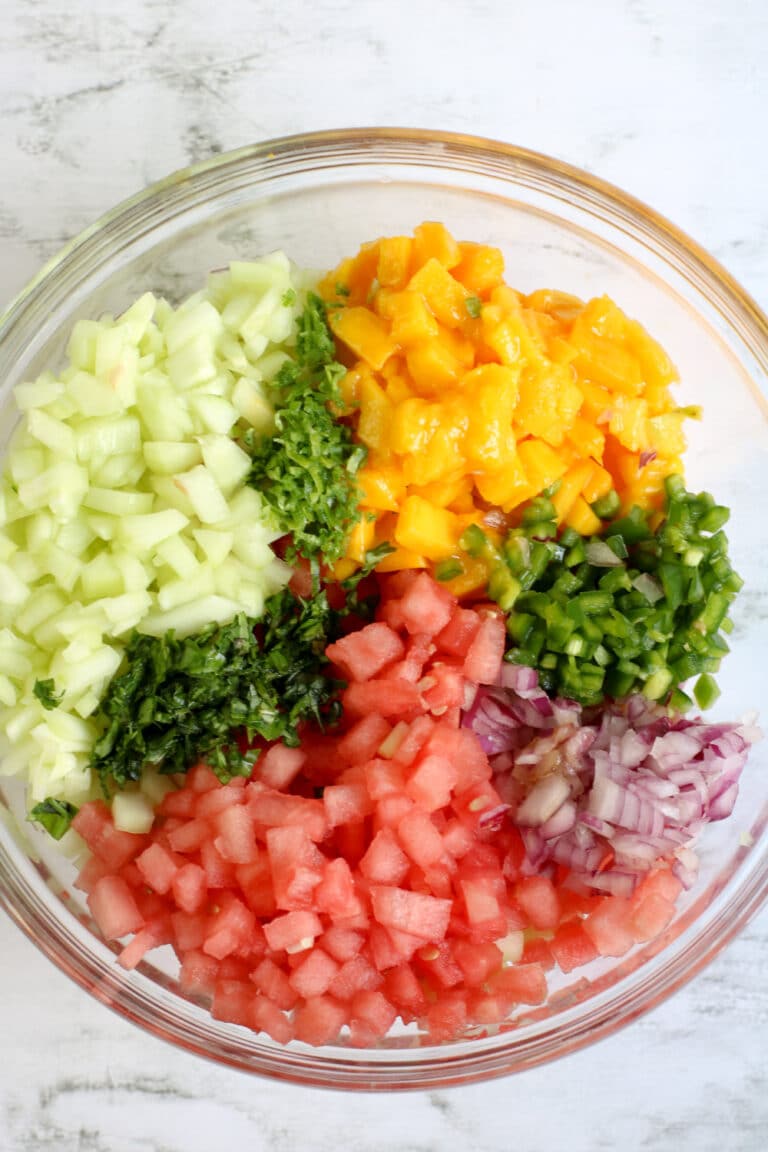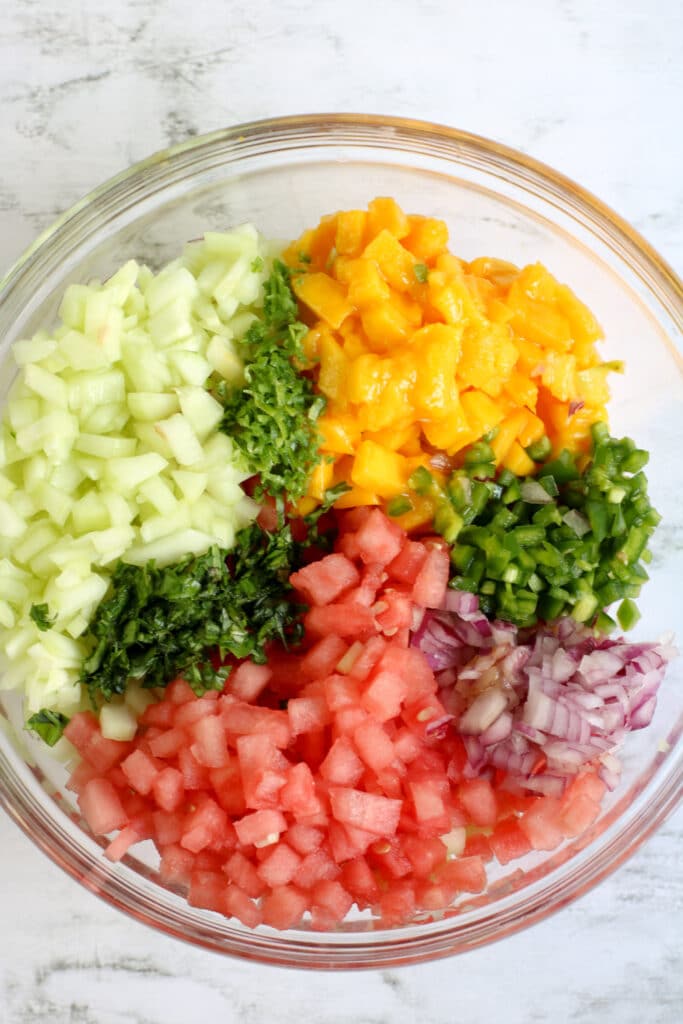 Step 1: The first thing you want to do is prep all the ingredients. Finely dice the watermelon, cucumbers, mango, jalapeno, and onions.
Step 2: Toss all the fruit and veggies in a bowl and then add in the lime zest and basil.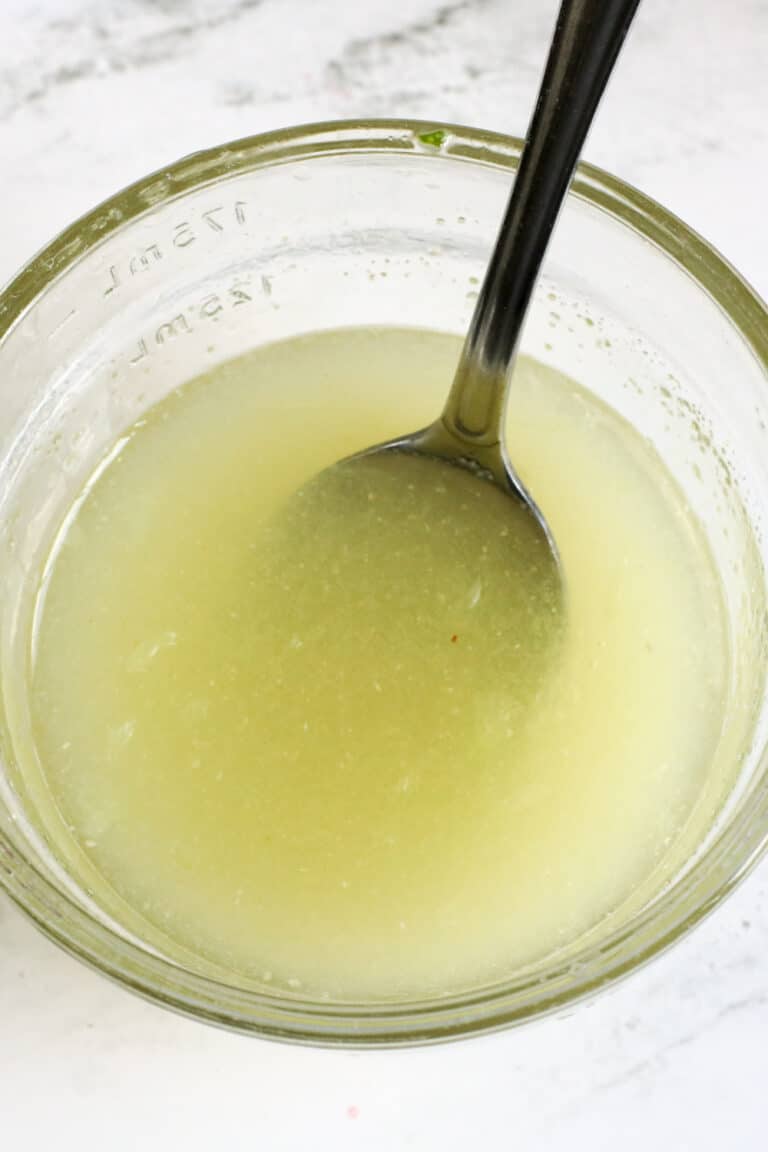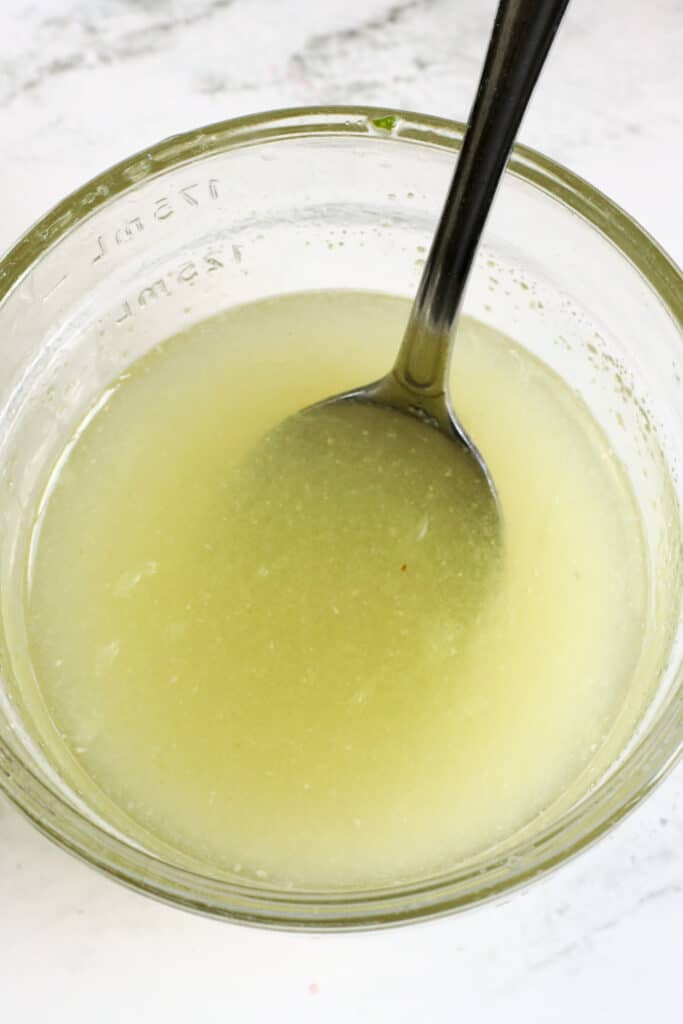 Step 3: In a bowl add your lime juice, garlic salt, and sugar. Whisk well until it is all mixed.
Step 4: Pour the dressing over the watermelon salsa and toss well. Cover the fresh salsa and refrigerate in the fridge.
I like to refrigerate the salsa for around 30 minutes to an hour, and then serve up the mango salsa with tortilla chips.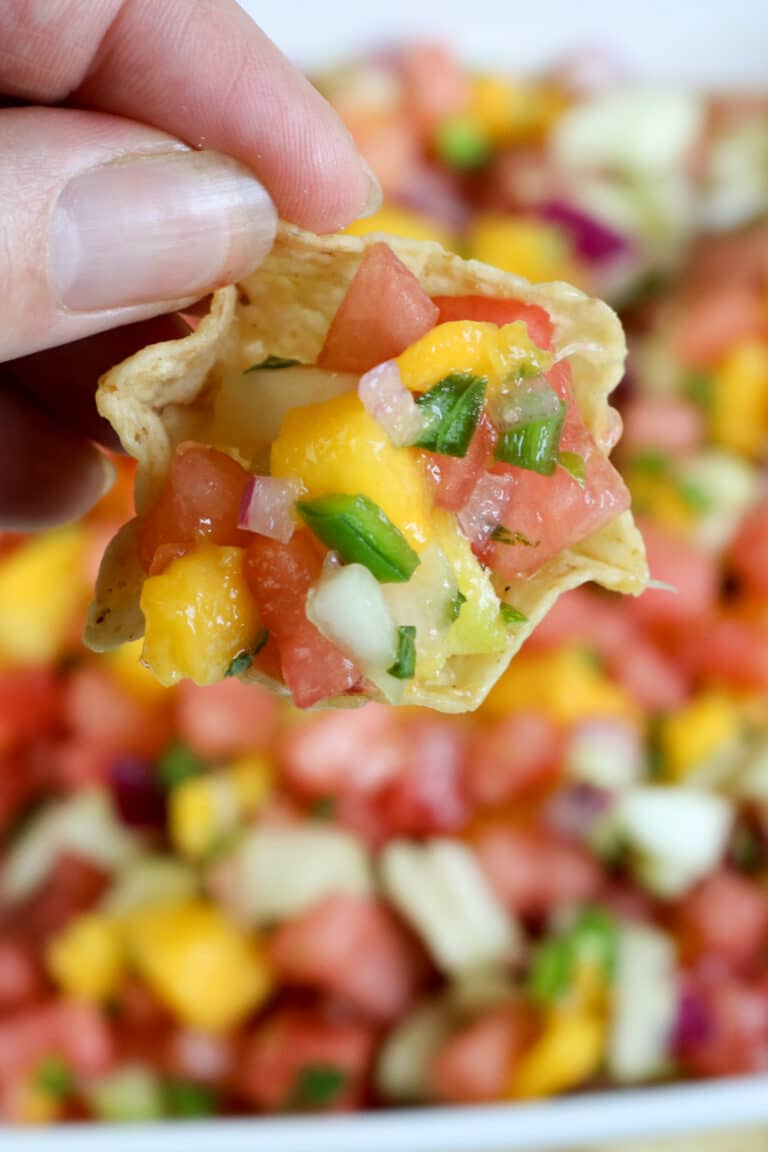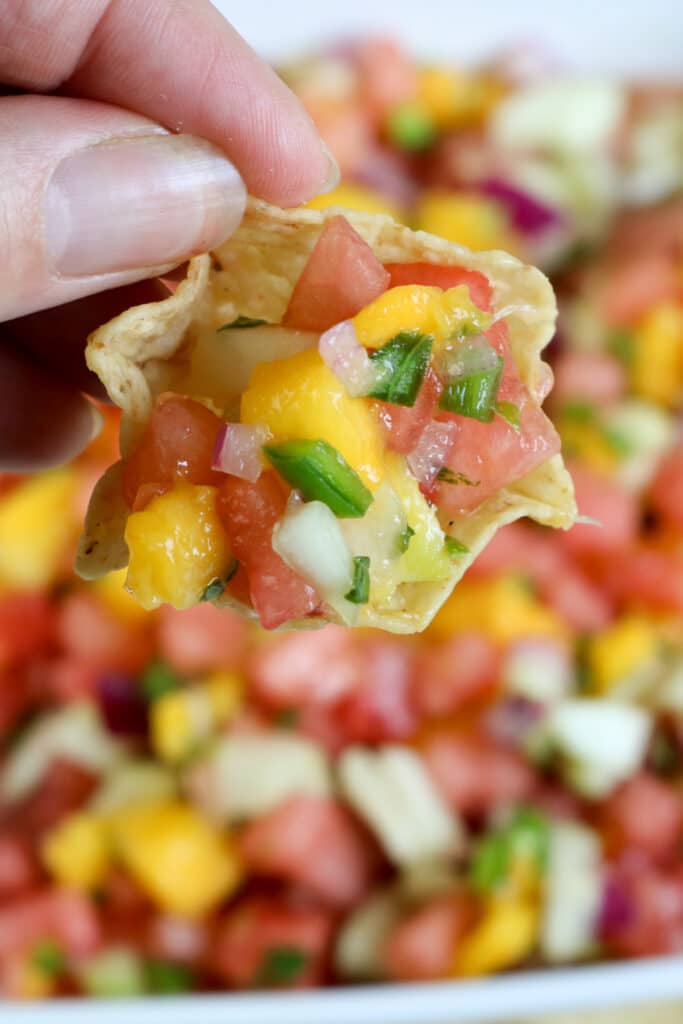 Storage
You will want to cover and store this watermelon cucumber salsa in the fridge in an airtight container. The watermelon mango salsa will store for 2-3 days.
You will find that the salsa will break down as it sits. I find the salsa is best to serve within the first two days.
Variations To Recipe
Here are some changes you can make to this watermelon cucumber salsa recipe.
Make into watermelon cilantro instead of a watermelon basil mixture.
This is sweet and spicy but you can de-seed the jalapeno to reduce the spice.
Reach for peaches instead of mangos.
Do bell pepper in replace of jalapeno peppers to reduce the spice.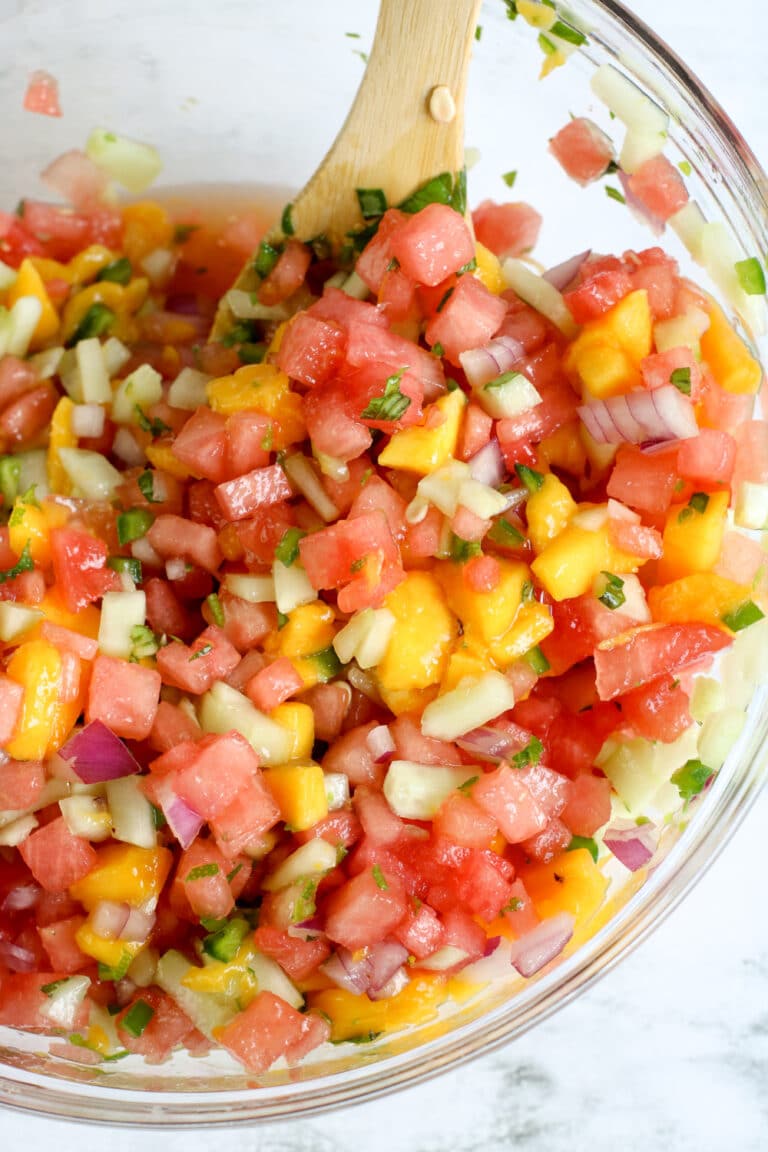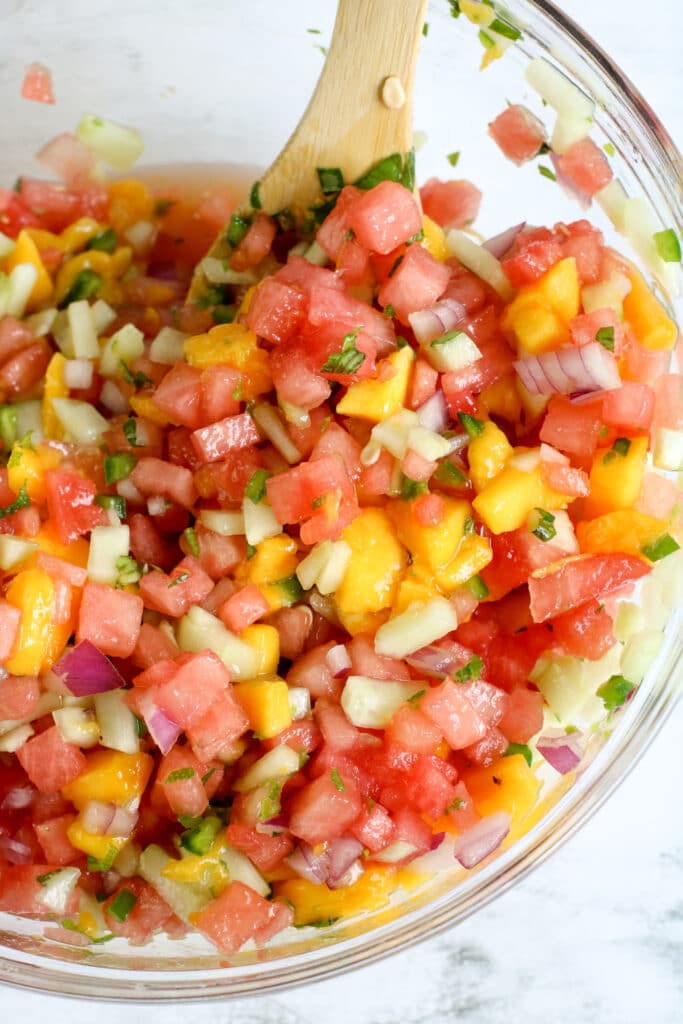 Expert Tips
I recommend dicing the vegetables and fruit very small.
Remove the seeds from the cucumbers before dicing.
Reach for seedless watermelon.
Recipe FAQs
Looking for More Delicious Recipes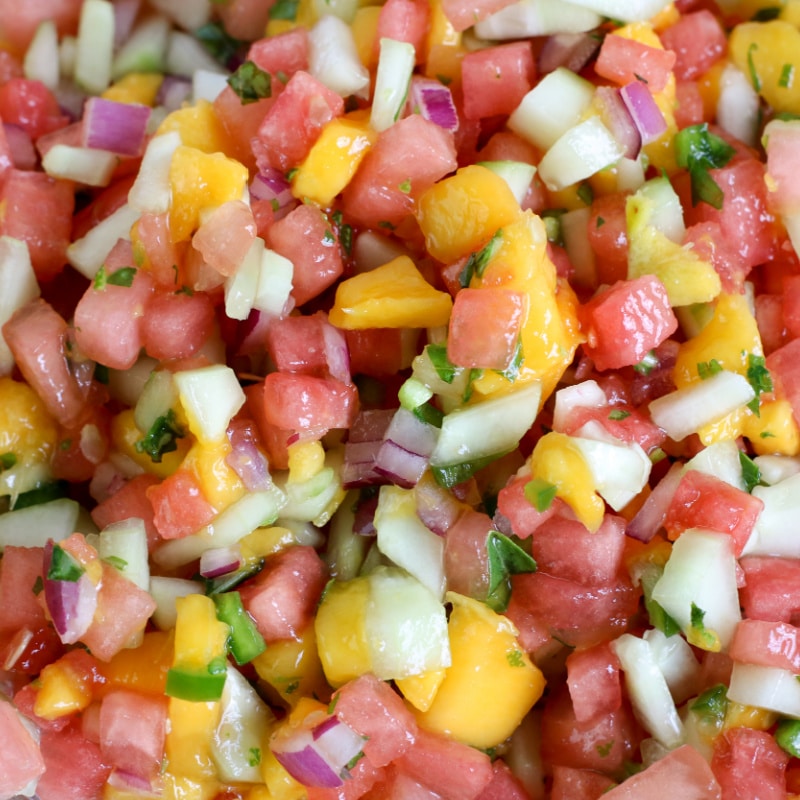 Fresh Watermelon Salsa Recipe
Servings 10 -12 servings
Watermelon salsa is made with watermelon, mango, cucumbers, jalapenos, and more. This is a fire and ice salsa that is sweet and spicy. Serve this cucumber watermelon salsa on chips, with tacos, etc.
Ingredients
3 to 4 cups seedless watermelon finely diced
8 fresh basil leaves finely chopped
1 cucumber peeled, seeded, and finely diced
1 mango peeled, pitted, and finely diced
1 jalapeno pepper seeded and minced
¼ cup small red onion finely chopped
½ teaspoon garlic salt
1 tablespoon lime zest
3 limes juiced
1/2- 1 tablespoon sugar to taste
Instructions
Start by prepping all your vegetables and fruit. You want to de-seed the cucumber and jalapeno (if you want milder in flavor).

Dice the watermelon, cucumber, red onion, mango, and jalapeno finely, and place in a bowl. Add in the finely diced basil, and then your lime zest.

Now in a bowl add your lime juice, garlic salt, and start with a little sugar. Whip up and pour over the watermelon mixture.

Toss until it is fully coated. Taste, and if you feel it needs more sugar, add to taste.

Place your cucumber and watermelon salsa in an airtight container and store for 30 minutes before serving.

Give a toss then serve up the salsa with chips, on top of tacos, with veggies, etc.
Notes
Swap the mango with peaches if you like.
Use cilantro or mint leaves to replace of the basil.
You can leave out the jalapeno pepper if you don't want it to be spicy.
Swap the jalapeno with bell pepper if you would like.
You can use artificial sweeteners to replace the sugar in the recipe if you don't want to use granulated sugar. Just add the sweetener to taste.
This salsa will store for 2-3 days. It is best to be eaten within the first day or two of being made.
Nutrition
Serving: 1gCalories: 77kcalCarbohydrates: 20gProtein: 1gSodium: 69mgFiber: 2gSugar: 15g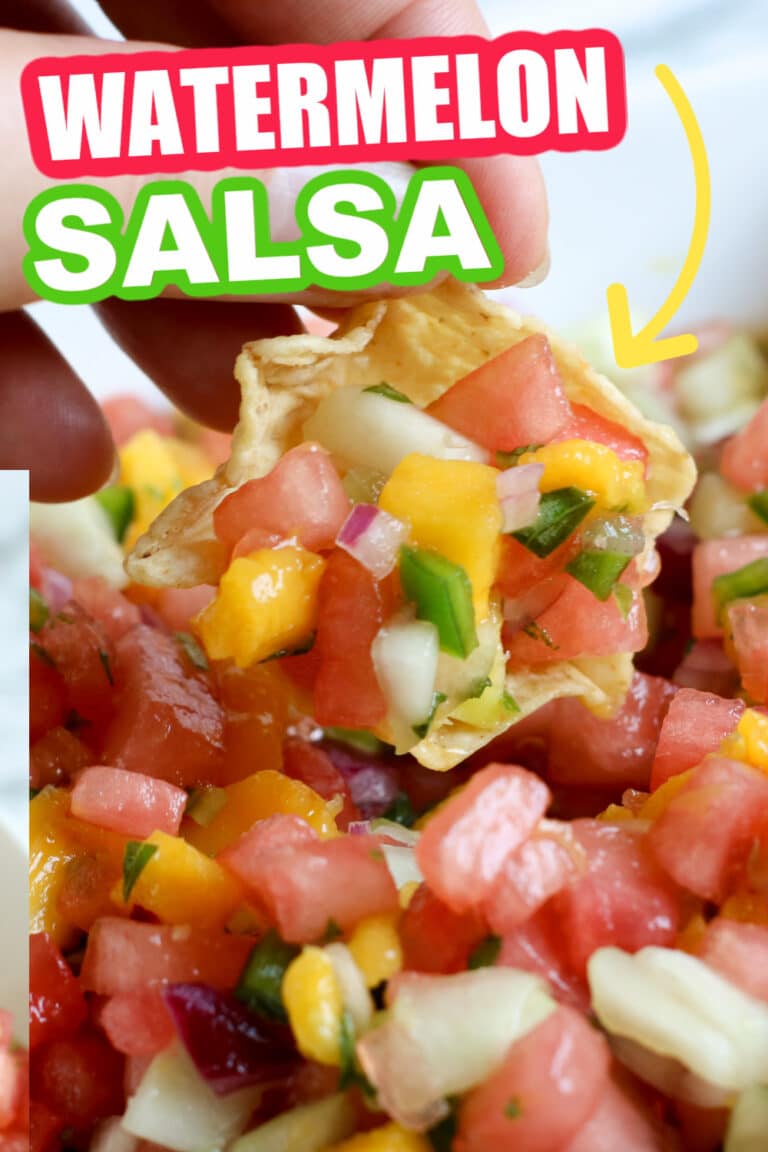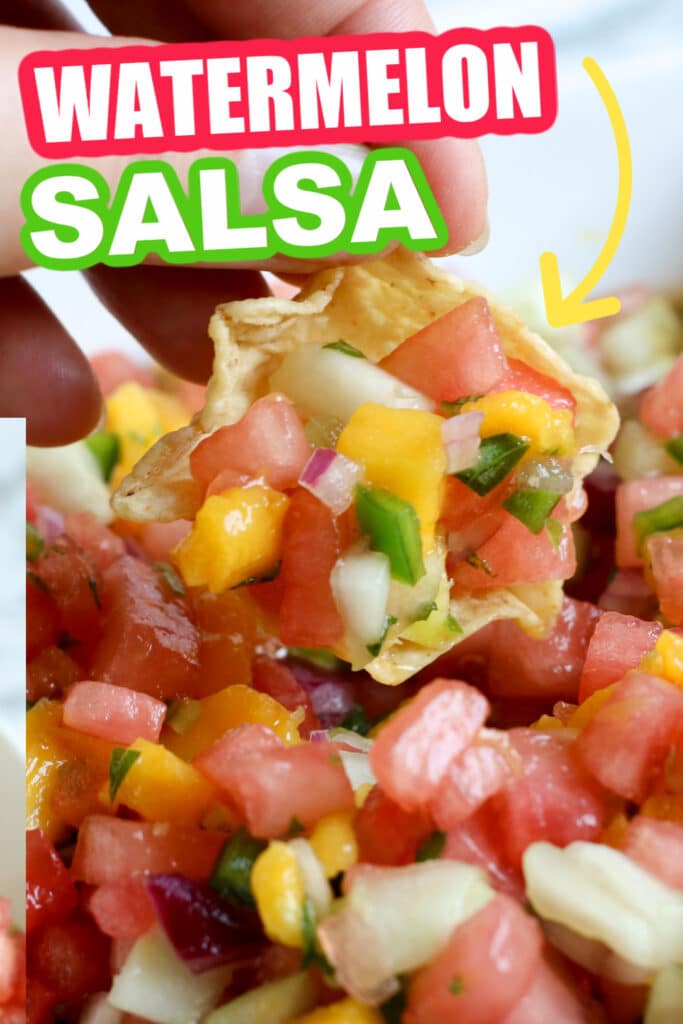 Reader Interactions