Bacon-Wrapped Jalapenos are the perfect party food or appetizer. I made these wrapped jalapenos on my Ninja Foodi Grill, but you can make them on your Pellet Grill as well.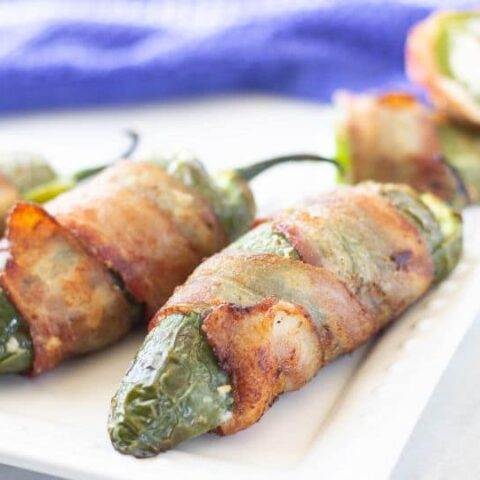 Ninja Foodi Grill Bacon Wrapped Jalapenos are the ultimate appetizer or side dish! Pair with a juicy steak, grilled chicken or any other of your favorites. Stuffed jalapenos are a must-make party food.
Grab your Ninja Foodi Grill and make these stuffed jalapenos today. Jalapeno, cream cheese, and bacon come together for one satisfying recipe. Also try out my easy fried cabbage recipe. Also check out my Texas Twinkies. that could be made in the Ninja Foodi Grill!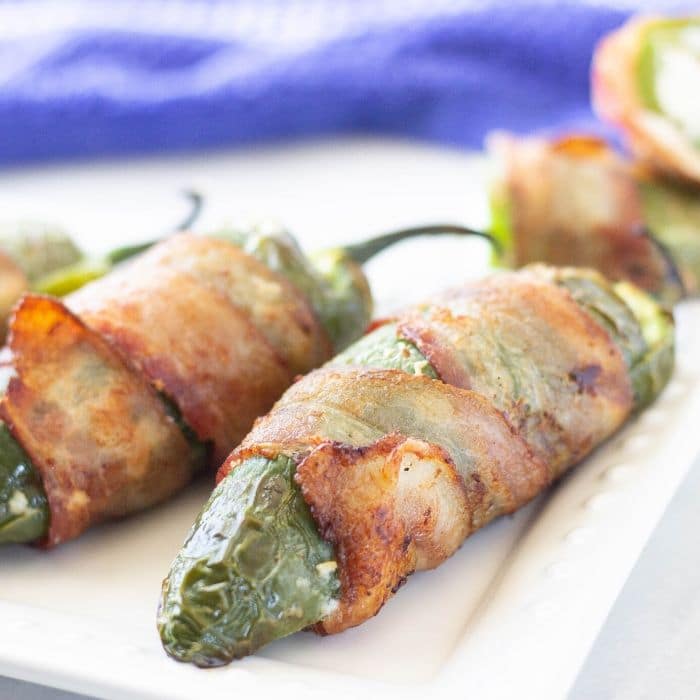 Jalapeno poppers are one of my favorite things to snack-on. I love the breaded jalapeno poppers, but I also love wrapped bacon poppers.
My husband introduced these to me years ago, and we normally cook these beauties up on our pellet grill or wood grill.
These Ninja Foodi Jalapeno Poppers Are…
Gluten Free
Keto Friendly
3 Ingredient Recipe
Can Be Cooked With Indoor Grill or Outdoor Grill
Delicious
Tame Down Heat Or Leave Them Spicy
Ingredients
Jalapeno Peppers – Grab fresh peppers in the produce section. I like to buy medium to large peppers.
Cream Cheese – Any brand or even neufchatel cheese can be used for the cream cheese.
Bacon – I recommend a thin cut bacon, as thick bacon will not cook all the way through.
How To Make
This is a visual walk through on how to make bacon wrapped stuffed jalapenos. The full directions are in the printable recipe card at the bottom of the post.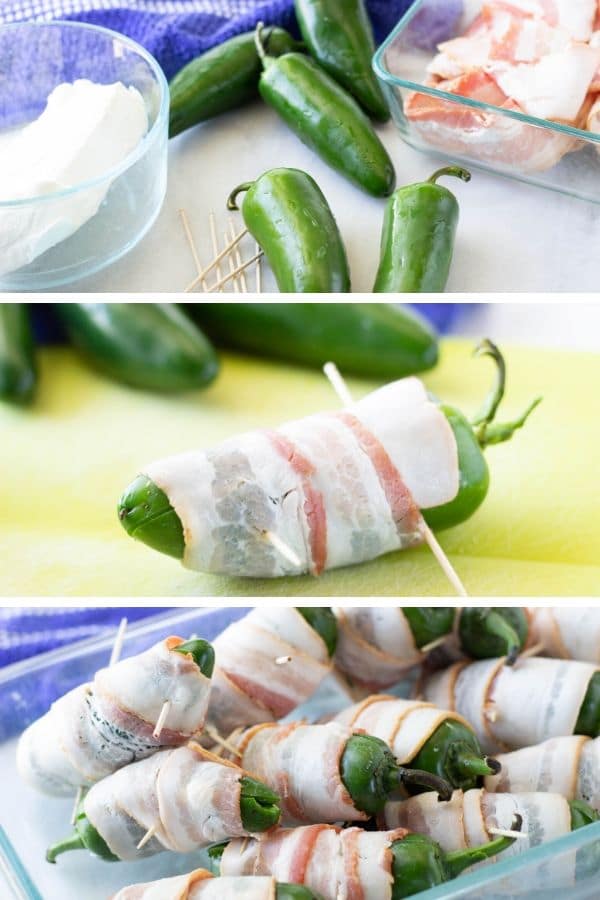 Step One: Start by prepping your jalapenos. Remove seeds to lower the heat factor. Removing seeds and membranes will tame the spice.
Step Two: Rinse well. Make sure that you get all seeds out if you are wanting mild peppers. Then place peppers on towel to dry.
Step Three: With a spoon scoop up the cream cheese and stuff one side of the pepper with cream cheese. Then place the other side of the pepper to place the pepper back together.
Step Four: Wrap the bacon around the pepper and then secure with a toothpick. If a larger pepper you might want two toothpicks.
Step Five: Preheat your Ninja Foodi Grill or outdoor grill on the highest grill heat. Once it is fully preheated then place jalapenos on the grill.
Step Six: You will rotate the peppers every few minutes cooking the bacon fully. Depending on thickness and style of bacon the cook time will vary a bit.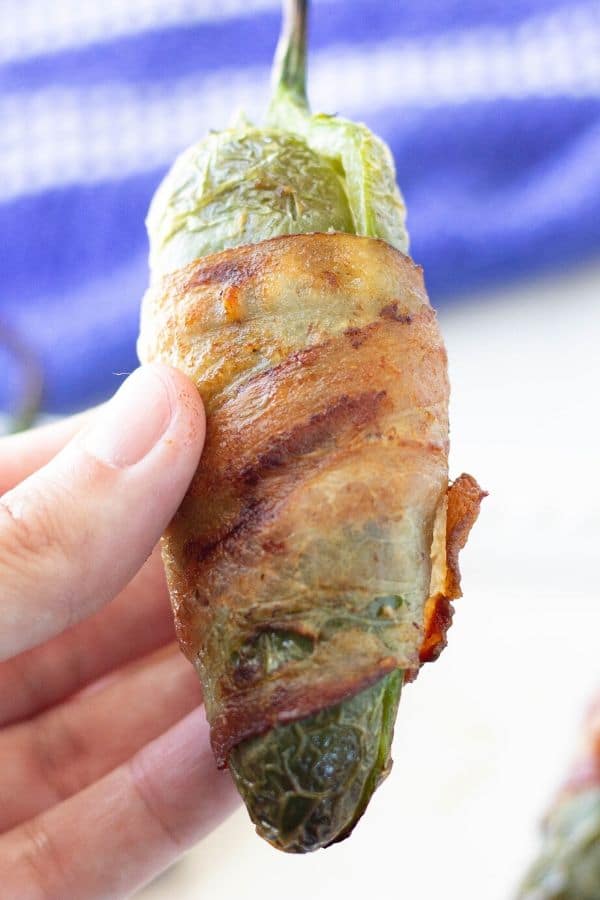 Remove the bacon wrapped peppers and allow cool, and serve these wrapped jalapenos.
Variations to Wrapped Jalapenos
Add in sharp cheddar cheese into the cream cheese mixture.
Cook up ground sausage to mix in cream cheese filling.
Use peppered bacon instead of regular bacon.
Leave seeds in for extra heat in every bite.
Etc
Feel free to change up this recipe to fix exactly what you want. These jalapenos are so versatile, so have fun and play around with the flavor components.
Can I Make These On A Pellet Grill Or Other Indoor Grill
Absolutely! These will work on any indoor grill or even on your pellet or wood grill. We have done on multiple styles of grills and they work great.
The biggest thing is making sure your bacon gets fully cooked up. If you over-stuff with cream cheese they will leak out. So I only fill one side of the stuffed jalapeños.
Bacon-wrapped jalapenos with cream cheese are so easy and you are welcome to cook on different methods.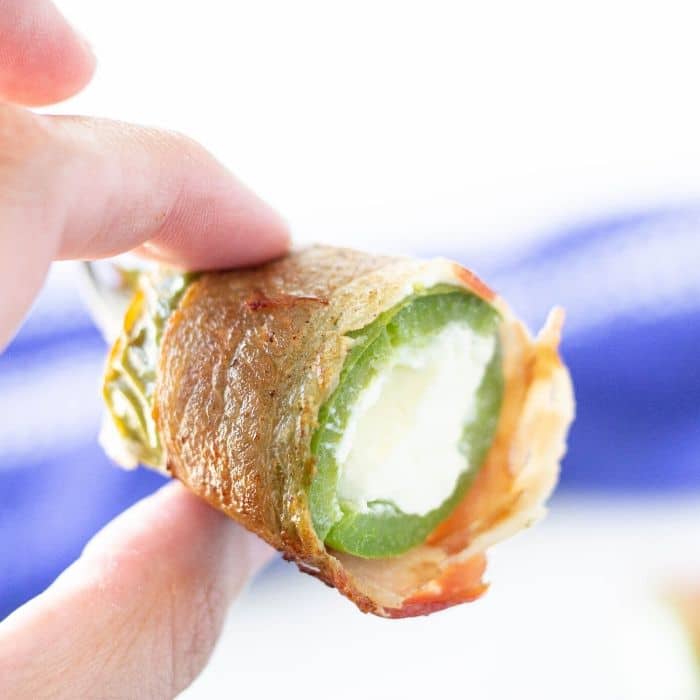 How To Store
If you have leftover jalapenos, you are lucky! You can toss them in an airtight bag or sealable bag, and store them in the fridge. Feel free to store for up to three days.
These wrapped jalapenos actually taste amazing cold straight from the fridge. Or you can opt to warm them in the oven or microwave.
Common Questions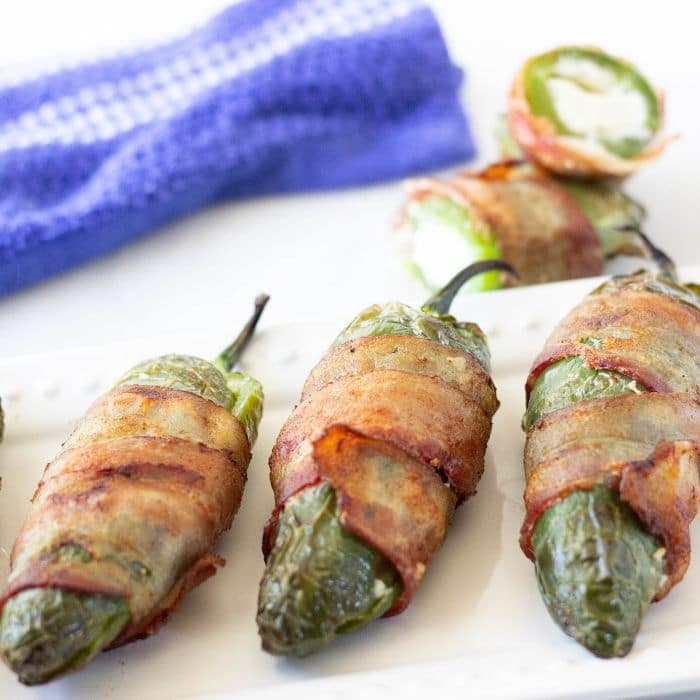 Craving More Appetizers
Ninja Foodi Grill jalapeno poppers were one of the first things I made with my indoor grill. Try my steak kabobs or Texas Roadhouse Steaks if you are looking for more Ninja Foodi Grill recipes.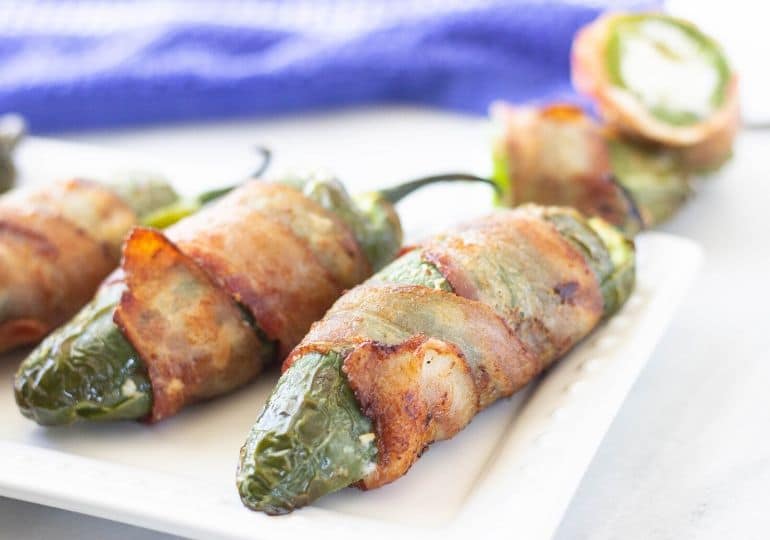 Bacon Wrapped Jalapenos
Servings 16
Bacon-Wrapped Jalapenos are the perfect party food or appetizer. I made these wrapped jalapenos on my Ninja Foodi Grill, but you can make them on your Pellet Grill as well.
Ingredients
1 package of thin cut bacon count how many slices are in the package
12-16 fresh jalapenos
1 8 ounce packet, softened cream cheese
Toothpicks
Instructions
Slice peppers in half lengthwise. If you want to make mild you will remove seeds. Otherwise leave seeds in for spicy peppers.

To tame the heat, take a spoon and scrape out the jalapeno seeds and white membrane.

Rinse peppers in running water to rinse away any of the oil on the pepper.

Take some softened cream cheese and scoop into one side of the jalapeno. Then place the other side of the jalapeno back together.

Wrap your pepper with one slice of bacon. If it is a small pepper, then slice bacon in half. Use a toothpick to secure the bacon onto the pepper.

Repeat until all your peppers are wrapped.

Preheat your Ninja Foodi Grill to the highest heat setting. Or on the grill or 500 degrees on your pellet grill.

Once preheated you will place your peppers on your hot grill. Cook for 3-4 minutes on one side, then rotate. You will rotate the peppers so all sides of the bacon are fully cooked.

Once the bacon is cooked, remove the peppers from the grill and place on a plate to cool.

Remove toothpicks from bacon-wrapped jalapenos, and then serve.
Notes
How Many Peppers To Make: You can make as many of these bacon wrapped jalapenos as you would like. Now, I always count how many slices of bacon are in the pack and then buy peppers to match. If your jalapenos are small you can slice the bacon in half and use 1 slice for two peppers. I had large jalapenos. Type of Bacon: You will want to use thin cut bacon, otherwise it will not fully cook.
Nutrition
Serving: 2peppersCalories: 20kcalCarbohydrates: 1gProtein: 1gFat: 1gSaturated Fat: 1gPolyunsaturated Fat: 1gCholesterol: 4mgSodium: 42mgSugar: 1g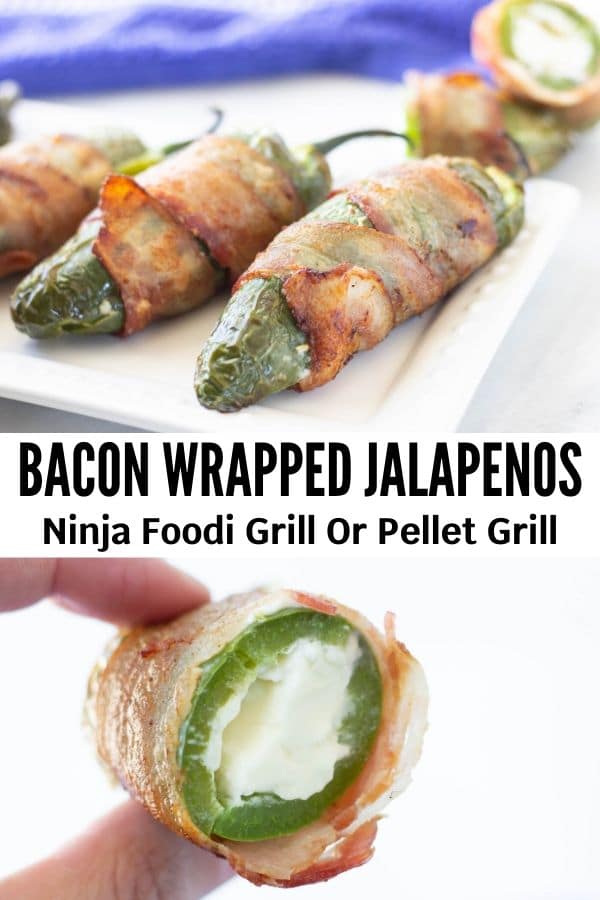 Reader Interactions