Air Fryer Stuffed Jalapenos are going to be the ultimate air fryer recipe. Sliced jalapeños stuffed with a seasoned cream cheese mixture and topped with breadcrumbs. Jalapeno Poppers made in your air fryer. Give this air fryer appetizer or side dish a try!
The stuffed jalapeno peppers are air-fried till they become slightly tender and the bread crumb topping crisps up. If you want to lighten them up, use pork rinds for a low carb stuffed jalapeno recipe.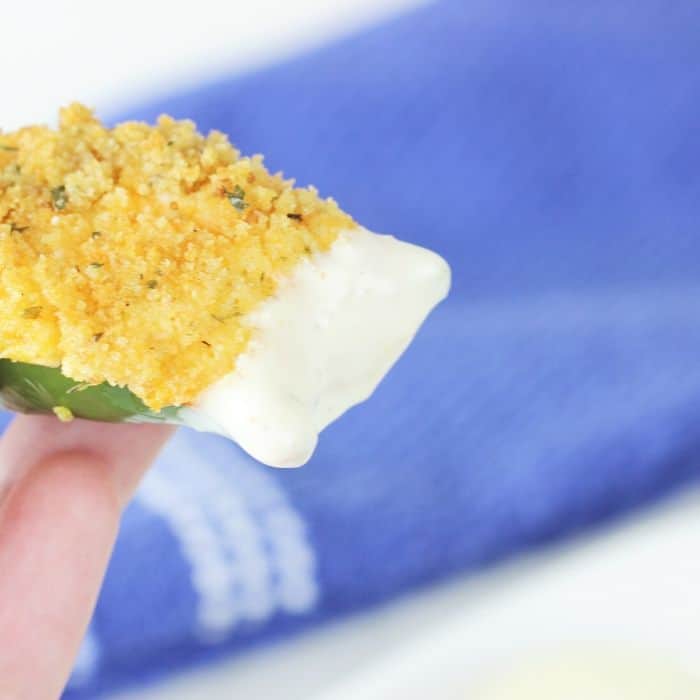 Pair with some ranch dressing and dip away. This can be a tasty appetizer or side dish to pair with your dinner.
Why I Love This Recipe
Simple Prep – It is really easy to prepare this jalapeno appetizer. The longest part is de-seeding the jalapenos if you want to tame down the heat.
You Control How Mild Or Spicy – You are in control of how spicy or mild the peppers are. Removing seeds and white membrane lessen the heat. We prefer a mild jalapeño popper, and my husband loves heat. So we do half and half.
Air Fried – Instead of deep frying, you air fry. You will still get crunchy breadcrumbs on top so it is the texture of fried food without the excess oil.
Ingredients Needed
Jalapenos – Any size works, just look for brightly colored, and no soft spots or blemishes.
Cream Cheese – This is the base of the cream cheese stuffed jalapenos.
Cheddar Cheese – I used shredded cheddar but you could swap with pepper jack, Monterey Jack, etc.
Seasonings – Salt, Garlic Salt with Parsley, and Smoked Paprika are what I used.
Italian Breadcrumbs – I loved the hint of Italian flavor in the breadcrumbs. You could use plain if you want.
Butter – The butter is mixed with breadcrumbs to help give the breadcrumbs that golden color as they air fryer.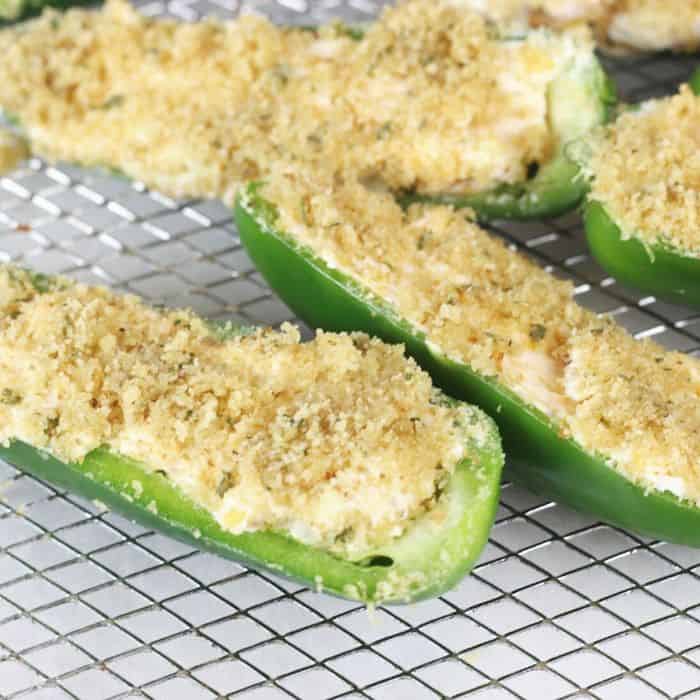 How To Make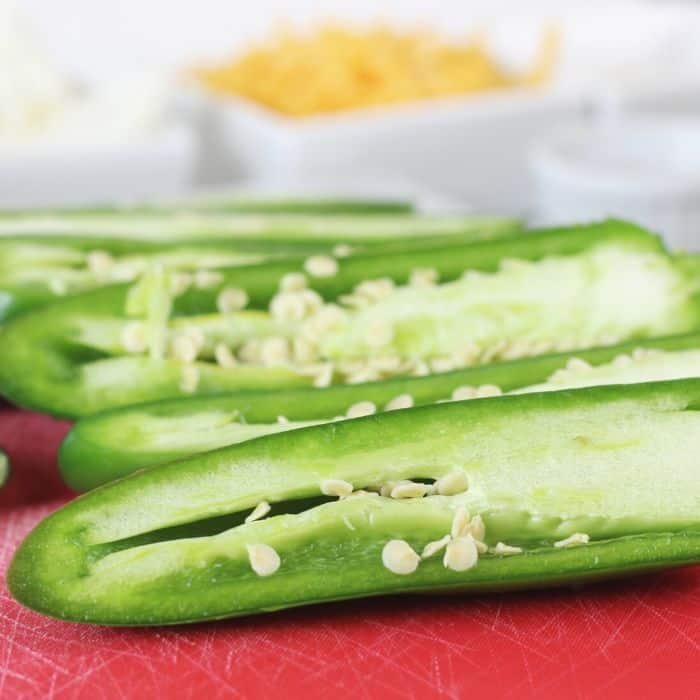 Step 1: Prep your jalapeños. I sliced in half, removed the seeds and membrane then washed. If you like heat you can leave the seeds in or some of the seeds in.
Make sure if you are sensitive use gloves as the oil can burn your hands.
Step 2: Mix up cream cheese mixture with cheese, and spices. You need to ensure your cream cheese is room temperature. Then fill your halved peppers with the cream cheese mixture. I used a spoon to scoop it in.
Step 3: Mix up your butter and breadcrumbs and dip jalapeño tops in mixture. Or press on the tops, either method works.
Step 4: Cook as directed below in recipe card below.
How To Take The Heat Out Of Jalapenos
Soak in ice water for 15 minutes.
Next, you will want to remove the seeds and membrane from the peppers.
Blanch in boiling water for 2 minutes.
Remove and place in an ice bath.
This method will really take out a lot of heat, but it is quite a bit of a process. I normally just scrape the insides, rinse, and prep.
You sometimes hit hot spots, but most of the time the peppers are mild.
Looking for another tasty recipe, try my jalapeno cornbread recipe to serve up your family.
How to Store
If you have leftover Jalapeno Poppers, store in the fridge. I place the cream cheese stuffed peppers in the fridge for 2-3 days. The texture of the peppers will soften a bit once they are chilled.
But, they still taste great. I generally eat them cold once they have been refrigerated.
But you can warm up in the microwave or oven if you prefer.
Variations to Stuffed Jalapenos
Mix in precooked bacon to your cream cheese mixture.
Add in ½ teaspoon of Creole or Cajun Seasoning to the mixture for a kick of flavor.
Mix in some ground sausage that's been cooked and drained to the mixture.
Try different cheese like Pepper Jack for a kick of heat.
The options to mix up this recipe is endless! Depending on what you have on hand or flavors you like, you can really have fun with these stuffed peppers.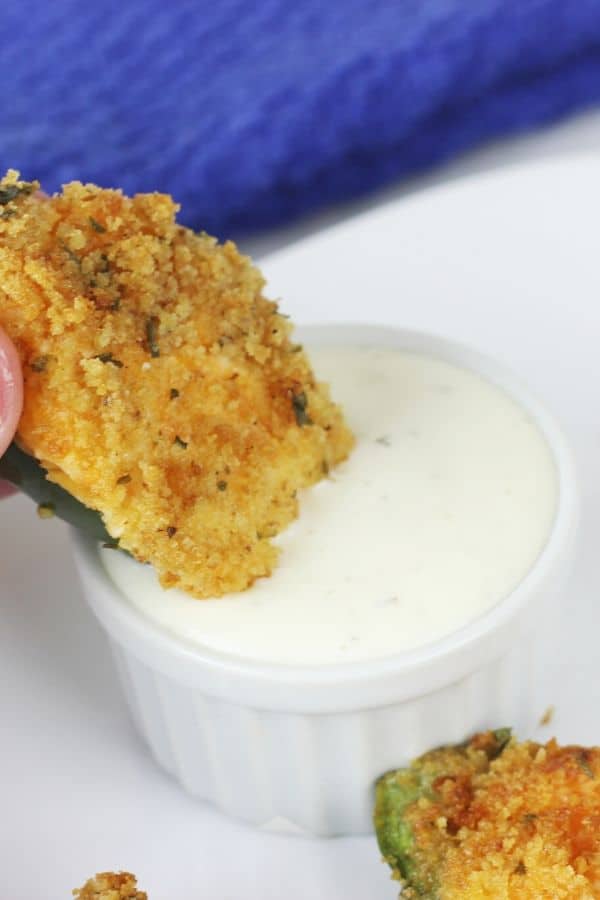 FAQs
How to serve up the stuffed jalapeno poppers?
Serve alone or pair with your favorite Ranch dressing, cheese sauce, or any other style of dip.
I love ranch with mine, it is how I prefer to eat them. But feel free to eat plain if you prefer, these jalapeno stuffed air fryer peppers are loaded with flavor.
Do I have to add the breadcrumbs on top?
If you want to leave off the seasoned bread crumbs, that is totally fine. I wanted to add a bit of crisp texture to my jalapeno poppers so I did the breadcrumbs. You could swap the breadcrumbs with crushed pork rinds as well.
To get the golden color you will mix the breadcrumbs with butter and then dip my peppers into it.
Can I double the air fryer jalapeno recipe?
Go ahead and make more if you want. Just batch cook if you need. Keep peppers in a single layer and space between each stuffed pepper, so that they get an even cook.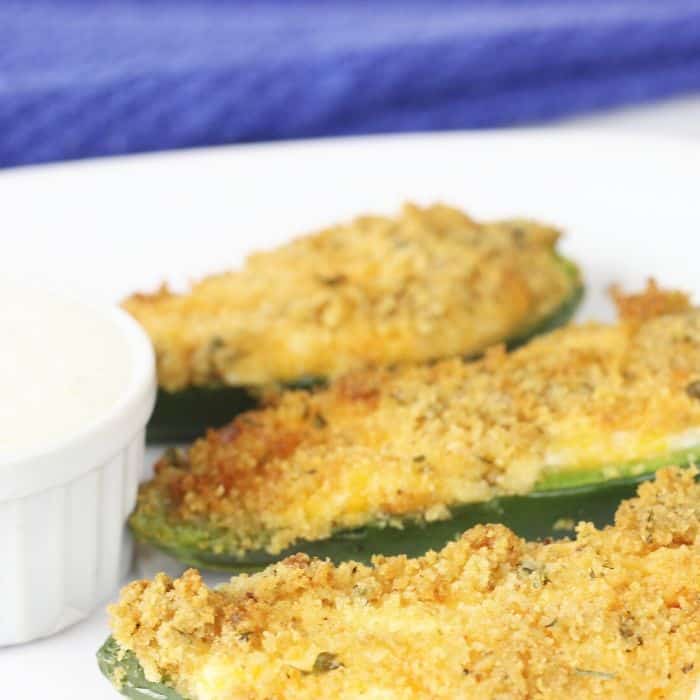 Craving More Appetizers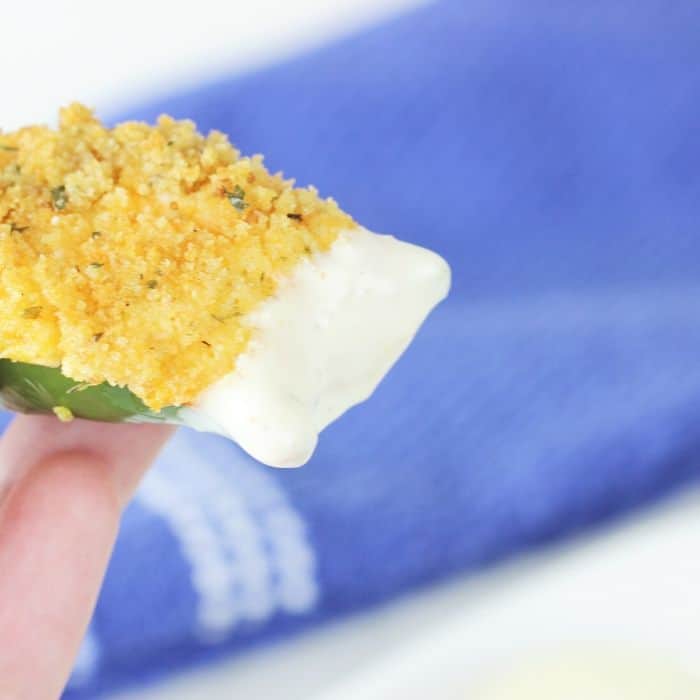 Air Fryer Stuffed Jalapenos
Servings 12 Jalapeno Poppers
Whip up these Air Fryer Stuffed Jalapenos. Cream cheese, shredded cheese and dipped in buttered bread crumbs. The ultimate jalapeno popper recipe.
Ingredients
6 Jalapenos or you can buy more
6 oz cream cheese softened
1/2 cup sharp cheddar cheese
1/4 teaspoon salt
1/4 teaspoon garlic salt with parsley
1/4 teaspoon smoked paprika
1/3 cup Italian breadcrumbs
1 tablespoon butter melted
Instructions
Start by slicing your jalapenos in half. If you don't like a lot of heat, you will scoop out the seeds in your jalapeno peppers along with the white membrane.

Take your halved jalapenos and rinse them under cold water, to remove the oil.

Now in a bowl you will add your cream cheese, shredded cheese, and seasonings and mix until the pepper stuffing is nice and creamy.

Spoon the popper filling into the jalapenos and set down.

In a small bowl mix your melted butter and bread crumbs until mixed.

Take your stuffed peppers and dip into the breadcrumbs. Shake off any excess and place on air fryer rack.

Turn air fryer to 325 and cook for 15-20 minutes. You want the bread crumbs on top of the jalapeno poppers to get golden brown.

Allow the hot jalapeno poppers to cool for 5 minutes before serving. Pair with your favorite dipping sauce.
Notes
How to Cook In Oven: Preheat oven to 425 degrees. Prep the peppers the same way, and then cook for 5-10 minutes. Check and then cook longer if the peppers are not fully done. It all depends on how large or small your peppers are. Hot or Mild Peppers – Remove seeds and white membrane to help lower the heat factor. Make sure to wear gloves if your skin is sensitive. The oil in the peppers can burn the skin. Cream Cheese – Make sure to use softened cream cheese. Shredded Cheese – Use pepper jack, Monterey jack, or any other variety of shredded cheese to change up the flavor of the peppers. Topping – For a lower carb option use crushed pork rinds instead of breadcrumbs. This will help give you the crunch without the excess carbs. Storing – These stuffed jalapenos are best served warm and fresh. But you can store in the fridge for 1-3 days. Each day the peppers will get softer. Eat cold or warm them up.
Nutrition
Serving: 1gCalories: 224kcalCarbohydrates: 8gProtein: 7gFat: 19gSaturated Fat: 11gPolyunsaturated Fat: 6gCholesterol: 53mgSodium: 469mgFiber: 1gSugar: 2g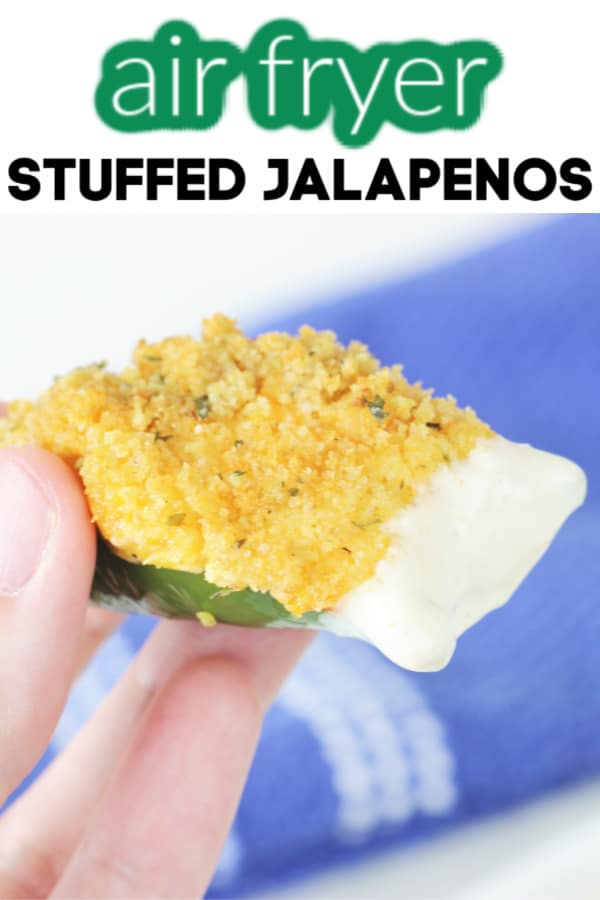 Reader Interactions